Land monopoly is not only monopoly, but it is by far the greatest of monopolies; it is a perpetual monopoly, and it is the mother of all other forms of monopoly.
Are you ready to embark on a property management adventure?
Writing a property manager resume is your golden ticket to success in this fast-paced and exciting industry. But fret not, my aspiring property management gurus, for I am here to guide you through this resume-writing journey.
Whether you're a seasoned professional or just dipping your toes into the property management pool, this article is your ultimate roadmap to crafting an irresistible resume that will make employers weak at the knees.
So, let's strap on our writing caps and get ready to unlock the keys to property management resume success!
How to Write a Property Manager Resume
The article explains how to write a property management resume. It produces an overview of the key points to consider when crafting a real estate manager resume, including:
Understanding the Job Title. It is crucial to understand the job description and the role that you are applying for.
Tailor Your Resume. Include relevant experience and skills that align with the job role and highlight any successes that you have had in previous roles.
Underline Your Strengths. Focus on achievements, awards, and any special certifications or qualifications that you possess which could give you an advantage over other candidates.
Formatting and Structure. Ensure that you pay attention to the format of the resume. Use headings, bullet points, and white space to separate text.
Proofreading. Finally, ensure that all spelling, grammar, and punctuation are correct by checking several times before submitting your resume.
Following these steps will help you construct an effective property management resume that is sure to impress potential employers!
Using Resume Builder Is the Best Solution
Are you looking for a better way to write your property manager resume? Why not try using a resume creator?
With an online template, you can quickly and easily create a professional-looking resume. There are many benefits to using a property manager resume template rather than writing it in Word as plain text.
For starters, property manager resume example provides you with an overview of how a good resume should look like.
Additionally, they often feature pre-filled sections which can help you save time when filling out the required information.
You can also customize the layout of the template to guarantee that your resume looks unique and is distinct from others.
It also allows you to take advantage of powerful features such as keyword optimization.
Due to our templates your resume will be more likely to pass through ATS filters, increasing your chances of getting noticed.
Finally, it can provide you with helpful tips on how to best present yourself in your application materials.
So why not take the stress out of creating your writing and choose an online property manager resume sample instead? Using our service, you can access a library of customizable templates.
They are sure to assist you in constructing an impressive resume almost certain to attract the attention of recruiters.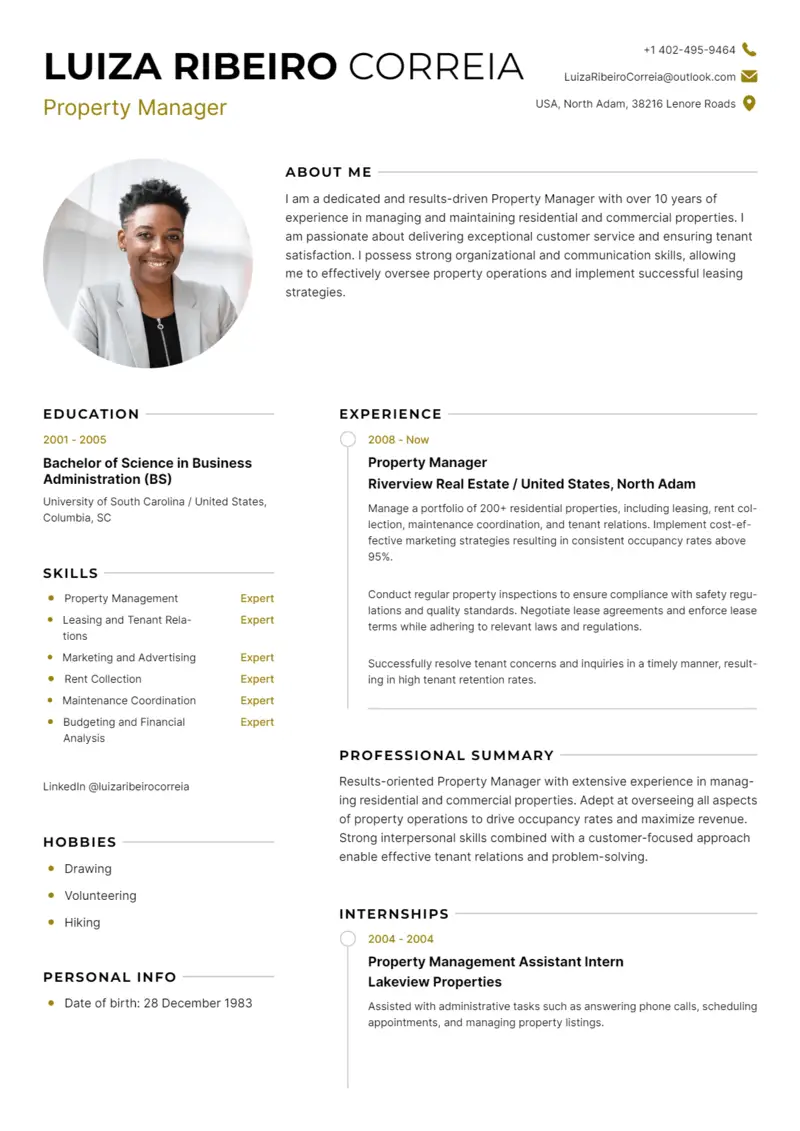 Property Manager Resume Example
Summary
A skilled property manager with 8+ years' experience in overseeing operations, rent, and maintenance for multi-family apartment constructions. Extensive history of success in maximizing occupancies and revenue while ensuring excellent client service. Adept at developing strategies to increase profitability and reduce expenses.
Experienced Property Manager
Managed operations of five luxury apartment buildings with a total of 560 units.
Developed effective marketing campaigns to increase occupancy rates.
Implemented cost-saving initiatives, resulting in an 8% reduction in operating costs.
Ensured strict compliance with all federal and state housing regulations.
Constructed comprehensive monthly fiscal summaries for executive analysis.
Coordinated tenant move-ins and -outs.
Responsible for resolving tenant complaints and disputes in a timely fashion.
Scheduled and oversaw service, reconstructions, and renovations of all properties.
Negotiated leases and renewals with tenants and vendors.
Trained and managed a workforce of 25 property managers, agents, and administrative personnel.
Education & Certifications
Bachelor's Degree in Business Administration – ABC University (2009)
Certified Property Manager (CPM) – Institute of Real Estate Management (2015)
Real Estate Authorization - State of California (2011)
Skills & Proficiencies
Property Management;
Leasing;
Financial Analysis;
Customer Service;
Regulatory;
Conflict Resolution;
Staff Training & Development;
Marketing & Advertising;
Contract Negotiation.
Property managers may work for real estate companies, property management firms, housing developers, or be self-employed.
Word to Employ
It is vital to use job-related language that will stand out to bosses. Employing industry-related words for description, such as "lease management" and "facilities maintenance".
To make your resume for property manager distinctive among others, use markdown for formatting. This can serve as a guide to draw attention to specific sections in the resume and make it easier to read.
Finally, ensure to include any relevant power words or phrases. These will show employers that you are knowledgeable in the field.
List of words to use:

Organization. Develop and implement processes, procedures, and systems to ensure effectiveness and efficiency.
Leadership. Lead, motivate, and develop personnel; create and drive a positive working environment.
Problem-Solving. Analyze problems, identify solutions, and resolve issues fast.
Budgeting. Create, manage, and adhere to budgets for property management operations.
Communication. Establish effective relationships with renters and stakeholders through clear socializing.
Contracts. Negotiate documents; review terms and conditions of agreements.
Rent Collection. Collect tariff pays and late payments; observe tenant accounts.
Repairs. Monitor preservation issues; coordinate fixes as needed.
Inspections. Conduct regular checkups of premises; abide by precautions.
Customer Service. Deliver outstanding client service to tenants while managing expectations.
Reporting. Generate accurate reports on rental income, fees, occupancy rates, etc.
Compliance. Abide by local laws, orders, policies, etc.
Marketing. Implement strategies to attract potential tenants.
Importance of Contact Information
When setting down data in a property manager resume stay concise and include only the necessary information. Place your contact details at the beginning of your resume so employers can quickly get in touch.
For a real estate manager resume, you should include:
Full name;
Current address;
Phone number;
The alternate method like an email address or a URL to your professional social media page.
Finally, make sure that your formatting is consistent throughout the drafted resume and that all of the information is easy to read.
Citing Experience
When creating a property management resume, recite and organize your work experience in an effective way. This will help possible directors quickly identify the relevant experience you have to offer and increase your chances of securing an interview.
It is best to tabulate your background in chronological order, starting with the most recent position.
When writing about each role, include the job title, name of the organization, dates of employment, and a description of key responsibilities. It can be helpful to use bullet points when sorting responsibilities.
This facilitates easier for recruiters to quickly scan through information and pick out key accomplishments.
For example, if you have worked as a property manager in the past, you could include information such as:
Property Manager at ABC Real Estate (August 2019 - Present)

Manage a portfolio of 75 residential properties, including single-family homes and multi-unit buildings;
Conduct routine inspections of rental units and ensure conformity with state and local directives;
Track tenant leases and oversee rent collection processes;
Negotiate services with vendors and review invoices for accuracy;
Prepare monthly financial reports for landlords and provide regular updates on tenant activity.
Formatting experience this way can be incredibly helpful when hiring for a property management position. It demonstrates that you have the knowledge and skills necessary to effectively manage properties.
Conversely, if your work history is listed without detail, or in random order, recruiters may not be able to accurately assess your suitability for the position. For example:
ABC Real Estate (since August 2019), Property Manager;

XYZ Incorporated (October 2018 - June 2019), Customer Service Representative;

123 Corporation (April 2017 - October 2018), Team Leader.
In this example, there are no details about the tasks you performed or achievements gained in each role. This makes it difficult for HRs to assess whether you would be suitable for the vacancy or not.
Listing Education
When recording educational information in a resume for a property manager, it is important to ensure that it is filed chronologically. This way, the reader will have an easy time understanding your educational background and your professional progress.
For example, if you are a property management graduate, you should chronicle this degree first, followed by any undergraduate degrees or certifications. You can also divide the information into two distinct records with bullets to render it more accessible.
Property Manager Resume Example 1:

Property Management (2018 - 2022), Bachelor's Degree, XYC University, Branson MO

Real Estate Credential (2020);
Masters of Business Administration (2020).
In this case, the candidate has clearly presented their academic record in a chronological sequence. A degree in management, along with a real estate license and MBA, can give you a leg up in the property job market.
The combination of these qualifications shows that the competitor has a strong academic background in business administration.
Property Manager Resume Example 2:

Graduates in Business Administration (2020);
Real Estate Permit (2020);
Bachelor of Arts in Property Management (2018).
Here, the interviewee has not presented education in a timeline. This can be confusing for the reader and could potentially reduce the chances of obtaining a position in managing properties.
Readers will be able to understand the progression of studies and decide if they fit the role by organizing the list in chronological order.
The educational requirements for property managers vary, but many employers prefer candidates with a bachelor's degree in business administration, real estate management, or a related field.
Property Manager Valuable Skills
It is necessary to feature both soft and hard skills on a property manager resume for a successful job application. Soft skills are interpersonal talents that enable a person to work with others, while hard skills refer to technical knowledge or expertise.
These two types of abilities together demonstrate to employers an applicant has the skills necessary to excel in the workplace.
The best way to organize these skills is by grouping them into categories such as client service, communication, critical thinking, and technical knowledge. Each group should be sorted separately, enabling principals to quickly identify which skills are related to the job they are hiring for.
Soft skills for a property manager resume:
Excellent communication skills;
Conflict resolution;
Time management;
Adaptability;
Awareness;
Problem-solving;
Leadership;
Teamwork;
Customer service.
Hard skills for a property manager resume:
Knowledge of building systems and procedures;
Knowledge of local laws concerning property administration;
Financial analysis and budgeting;
Contract negotiation and drafting;
Computer literacy (MS Office, databases);
Bookkeeping/accounting experience;
Marketing and advertising experience;
Familiarity with tenant screening processes.
By including a combination of both technical and social abilities, applicants can illustrate their qualifications for a career in property management.
To interact effectively with tenants, property owners, contractors, and legal professionals, property managers need strong interpersonal skills.
By being organized and paying attention to the details, applicants can make a compelling resume that will distinguish them from other contenders.
Write Property Manager Resume
Social Media: For and Against
All in all, attaching social media links on the apartment manager resume is advisable. It provides future patrons with an opportunity to quickly get to know the individual. It also helps to show that they are tech-savvy and up-to-date with the latest tendency in the industry.
Pros:
Gives directors an easy way to view the candidate's online presence.
Displays technical proficiency and knowledge of current trends in the management sphere.
Opens up networking opportunities with other professionals.
Cons:
Increases the risk of bosses seeing inappropriate content.
Could take away from more essential qualifications, such as education and experience.
Can be used as a way for employers to discriminate against certain candidates.
Job-specific examples:
For example, a property manager who's engaged on Twitter could potentially share insights on how local zoning laws and regulations are changing. While one who's heavily into Instagram could showcase properties they've managed or renovated.
Similarly, a Facebook page could point out a candidate's ability to network and build relationships within their professional community.
Property Manager Resume Summary
A well-written summary for a property manager resume should contain key details about your qualifications and masteries linked to the job. It should demonstrate your familiarity with the industry and your capacity to handle properties effectively.
Here is an example of an impressive summary:

Property Manager boasting 8+ years of experience in the Premises. Proven track record of successfully managing multi- or single-family and commercial properties. Experienced in repairs, budgeting, tenant relations, and legal compliance. Skilled in problem-solving, communication, and negotiation.
Here are 3 tips to help you write a great property manager resume:
Keep it brief. Your summary should be no longer than four sentences and focus on the most important aspects of your experience and skills.
Use relevant keywords. Use job-specific terms that showcase your knowledge of the industry so hiring managers can quickly identify your skills and qualifications.
Tailor it to each job. When applying for different positions, adjust your summary to match the job requirements so that employers can see how you fit their criteria.
By following these tips, you can create a powerful summary that prepares you for success in property management!
Personalize Property Manager Resume
Including individual particulars in a property manager's resume is essential for drawing attention from recruiters. The next sections should be included in the resume: Hobbies, Courses, Languages, Awards, Internships, References, and Certificates.
Hobbies gives HRs an insight into the applicant's interests outside of the workplace. This can help them to determine if the candidate will fit in with the company culture.

You can show your commitment to the field by listing pastimes such as attending open houses or reading industry publications.

Courses section allows candidates to show off knowledge and skills. It also gives a better understanding of the candidate's education level and experience.

It would be beneficial to list specialized lectures related to property management, including lease law or tenant rights.

Languages can reveal to headhunters how the candidate interacts with people from diverse backgrounds. Language skills are often a requirement for many positions in this field.

Fluency in Spanish as one of your languages could come in handy when dealing with tenants from Hispanic-speaking countries.

Honors is essential as it indicates an appreciation for achievements realized in prior roles or educational endeavors. Doing so gives employers an overview of how successful you have been not only at work but in other ways as well.

For example, such trophies as "Property Manager of the Year" or "Most Innovative Property Management Firm" will signify your winnings in the profession.

Internships on your resume showcases any experience you may have gained while working, even if it was unpaid or volunteer work. This can help to understand whether or not you have relevant experience and how well you might fit into the organization.

International internships concerning real estate could exemplify to supposed company experience working with laws and orders from different countries.

References should also be included on a property manager resume. This lets talent scouts approach former supervisors or colleagues to learn more about you and your skills.

Getting a letter of recommendation shows that you are willing to get feedback from the people who know you best. And can vouch for your abilities as an employee.

Credentials illustrate to directors that you have taken action to stay abreast of industry standards by taking extra classes or workshops regarding property management.

Certifications such as Certified Apartment Manager (CAM) or Certified Residential Property Manager (CRPM) would display your adherence to current industry trends and best practices.
Professional certifications such as Certified Property Manager (CPM) or Accredited Residential Manager (ARM) can enhance job prospects.
How to Write a Property Manager Cover Letter
Writing a memorable cover letter for an apartment manager's resume requires a detailed study of the position.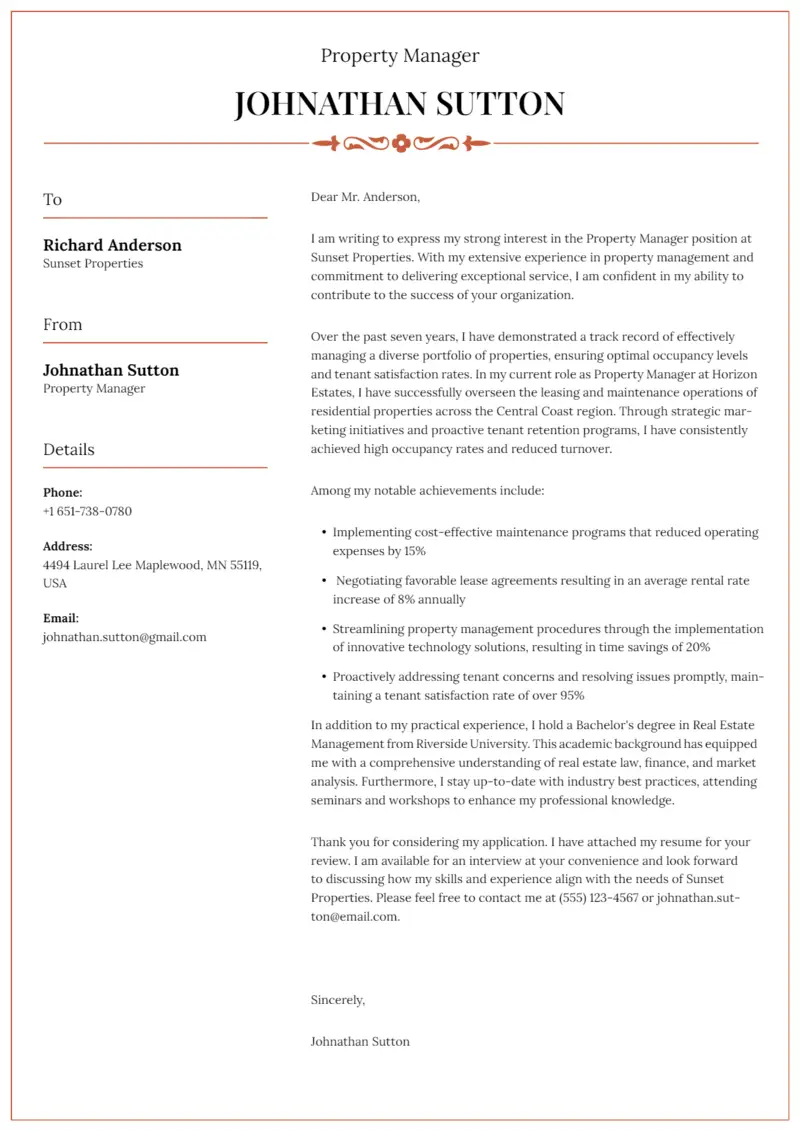 Here are a few pointers to boost you in creating a successful and powerful cover letter:
Lead with a strong opener. Catch the recruiter's notice with an attention-grabbing, confident opening line that summarizes why you are the perfect candidate for the job.
Demonstrate knowledge of the company. Show that you have done your research about the company and its culture, so you can customize a cover letter for specific needs.
Highlight experience and skills. For property management jobs, emphasize any experience or skills related to managing properties. Show how your qualifications match what the employer is seeking in an ideal candidate.
Use an appropriate tone. A cover letter should be professional yet personable and show enthusiasm for the position. Refrain from utilizing excessively casual language or unprofessional jargon.
Conclude with a call to action. End the cover letter with a polite, assured prompt that encourages the headman to contact you to discuss further details.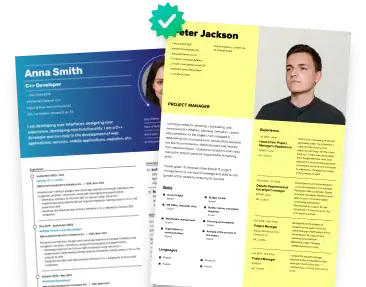 Good Example of Property Manager Cover Letter:
Dear [Hiring Manager],

I am writing in regard to the open position of Property Manager at [Company Name]. With my extensive background in real estate, I believe I am an ideal fit for this role.

As an experienced real estate professional, I have managed numerous household and commercial properties across various locations for over seven years. My expertise includes renter relations, leasing operations, budgeting, and financial reporting. I also possess strong interpersonal skills which allow me to build trusting relationships with tenants and other stakeholders alike.

Furthermore, I am familiar with all aspects of property management from marketing available units to handling service requests and emergency repairs. I am also knowledgeable about local ordinances, lease agreements, and fair housing practices - all necessary skills for a successful property manager.

My combination of both experience and skill sets makes me an excellent candidate for this position. I would welcome the opportunity to discuss my candidacy further in person or by phone at your earliest convenience.

Appreciate your consideration of my application materials; I look forward to hearing from you soon!

Sincerely,

[Your Name]
This is a good cover letter example because it shows relevant experience and aptitude. It also displays an understanding of the organization itself by explicitly tailoring it to its needs. The tone is appropriate but enthusiastic and it ends with an attentive call to action encouraging them to reach out.
Bad Example of Property Manager Cover Letter:
Hey there!

I'm writing about your Property Manager job opening at [Company Name]. You should hire me because I've been working in real property since college so I'd be great at this job! Plus, I'm super friendly so tenants would love me!

I've got tons of experience dealing with leases, finances, tenant relations - you name it! Plus, I'm up on all local ordinances regarding properties so nothing will surprise me!

So what do you think? Get in touch with me if you're interested! Thanks!

Sincerely,

[Your Name]

This is a bad example because it contains informal language (the use of "Hey there") as well as unprofessional slang ("Give me a call back").

It doesn't demonstrate any knowledge of the company or provide any specifics as to why they should hire this candidate. Only vague claims like "super friendly" or "tons of experience" without providing any details to back up those statements.
Cover Letter for Entry-Level Property Manager Resume:
Dear [Employer],

I am submitting my application for the position of Property Manager at your company. Although with no experience, I believe my transferable skills and qualifications make me an ideal candidate.

I am highly organized, with excellent attention to detail and a passion for working with people. I have a denoted proficiency in handling various tasks concurrently and keeping my cool in stressful scenarios. I am also a natural problem solver, which is essential in the Property Management field.

My educational background includes a degree in Business Administration, with a focus on finance. My studies included courses such as financial statement analysis, budgeting and forecasting, and marketing principles. This has given me the skills I need to succeed, as well as a deep understanding of the industry.

In addition, I am experienced in leading teams and managing projects. I was responsible for ensuring that all tasks were completed on time and that deadlines were met as a team leader. This experience has taught me how to work effectively within tight timelines and has helped prepare me for the role.

I would love the opportunity to apply my skills and knowledge to this position. I am confident that I can make a positive contribution to your team. Please feel free to contact me if you need any further information from me or would like to discuss my qualifications.

Thank you for your consideration.

Sincerely,

[Your Name]
Advice:
When writing a cover letter with no prior experience, it's crucial to emphasize transferable skills. Additionally, emphasize any pertinent academic performance that is relevant to the role, for example, accounting lessons.
Finally, display any past experiences that point to your project management skills or leadership capabilities that could be beneficial.
Reread Property Manager Resume
Proofreading and spell-checking are important when applying for a property manager job. It is a reflection of who you are and how you present yourself. Utilizing correct grammar and words to ascertain that your resume and cover letter are presented in a professional manner.
One way to proofread your property manager resume is to read it out loud. This can assist you in detecting any errors or clumsy wordings that you may have overlooked while reading silently. In addition, having somebody else look over the document can prove useful, as they may detect errors you missed.
Going through the resume backward, sentence by sentence, can be advantageous. This will enable the identification of any spelling errors or syntax issues more quickly. Lastly, using spellcheck is needed as it helps prevent typos from slipping through.
Overall, double-checking for accuracy is essential for making a good impression when applying for a job in this field. Taking the time to review your documents carefully can go a long way in helping you land the job you want.
The profession is expected to grow at a rate of 7% from 2019 to 2029, which is faster than the average for all occupations.
How to Write a Property Manager Resume
This article provides a comprehensive guide on how to create a resume for seeking a position as a property manager. The most important elements of a property management resume to focus on while writing it are:
Professional Summary: Describe your expertise and qualifications in property management.
Skills: Highlight your skills in customer service, budgeting, tenant relations, and other relevant areas.
Experience: Include employment history that relates to the job.
Education: List any related certifications and degrees you have obtained.
References: Provide contact information of recommendations who can prove your professional competence.
Writing a resume can be challenging, but there is an easy solution – use a free property manager resume template to simplify the process. This way, you can be sure that all necessary elements are included and the formatting is correct.
Start writing the resume with property manager resume examples now – don't wait until the last minute! Follow this guide to make sure your resume is professional and polished.