Looking to learn how to write a great CV? Even if you have never heard the term "CV", this article will show you that writing one is not hard at all! This guide will walk you through creating a remarkable CV that grabs the reader's attention.
"To shine your brightest light is to be who you truly are."
You will explore what a CV is and how to make a good CV, look at the difference between a CV and a resume, evaluate provided CV examples and templates, and discover useful strategies and tools you can use to help you along the way.
1. What is a CV?
A CV, or curriculum vitae, is a comprehensive document outlining your academic and professional qualifications. The goal of a CV is to showcase your expertise and accomplishments in the professional field.
A curriculum vitae typically includes the following:
Contact information;
Education history;
Work experience;
Skills and qualifications;
Publications and awards;
Other details, such as volunteer experience, etc.
Knowing how to write a CV is usually required to apply for jobs in academia or educational programs. However, certain employers may request a CV rather than a resume. Make sure you check the requirements of what document you need before creating a CV or a resume.
2. Why use a CV builder?
CV writing may seem time-consuming and intimidating. It may be difficult for beginners to know where to start, what to include in a CV, and how to make it stand out. In such a situation, using a CV creator from Resume Trick may prove helpful!
This free online CV builder will provide you with templates to assist you in putting together your curriculum vitae. CV templates can save a lot of time because the examples of the CV sections are already outlined for you. You just need to fill in the details.
The builder makes it easy to format your CV in an attractive way. You do not have to worry about aligning the text or adjusting margins. You can customize one of many curriculum vitae templates you choose so it highlights the most important things about you.
With the CV creator, your document will look professional in just a few clicks. Utilizing a CV builder also allows you to save and print your document quickly and easily. In a matter of moments, you will have an impressive curriculum vitae ready for submission!
3. CV vs Resume
One of the most common questions when beginning a job search is "What is the difference between a CV and a resume?" While both documents aim to outline your professional experience, qualifications, and skills, they are used in different settings.
When deciding CV vs resume (If not specified by the employer), it is important to think about what you want to accomplish with your application.
What is a resume?

A resume is generally a short one-page professional summary. It must focus on the abilities and knowledge pertinent to the particular position to which you submit the document. A resume usually focuses on your most recent work history and education.

What is a CV?

Examples of CVs are often longer than resumes and provide more detailed information about your education, research projects, and publications, as well as work experience and skills. CV writing highlights your accolades or achievements related to academic and professional performance.
The language used to write a CV and a resume is also different. Curriculum vitae tends to use more technical language whereas a resume should be written in a simpler manner and can be easily understood by recruiters.
CV vs Resume: when to use what
If you are looking to secure a specific role, it is advisable to use a resume instead of writing a CV. Remember, when you build a resume, it has to be adjusted for every job you are applying for.
If you are applying for a job in academia, internship, further study, or research roles, then you should use a curriculum vitae. A CV will better present your research skills and projects or publications you contributed to.
Now that you know the difference between a CV and a resume, you can pick the right document for you! No matter what document you choose, ensure that it is well-written and looks professional. Double-check that spelling and grammar are correct.
As an additional source of help, try a CV creator!
Use the free CV builder
4. How to format a curriculum vitae?
As you begin your CV writing journey, formatting the document correctly and making sure it looks neat is the key to success.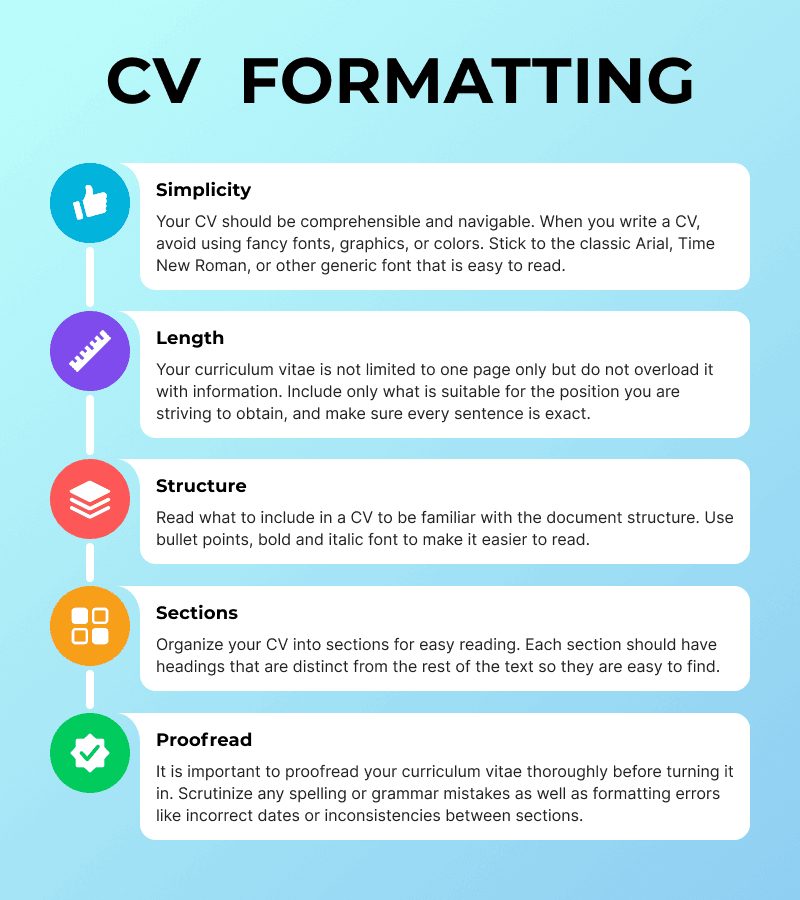 "Success isn't always about greatness. It's about consistency. Consistent hard work leads to success. Greatness will come."
Always keep the layout organized. Enumerate your skills and experiences with bullet points. Use bold or italics sparingly to emphasize keywords or phrases. You can also look at CV examples of other people for inspiration.
To avoid the hustle of worrying that your curriculum vitae's format is consistent, utilize the free online CV builder. With the provided CV templates, you will easily add your information in an organized manner for the best result.
Applying these suggestions will give your curriculum vitae a polished look and make it stand out! A well-written CV is essential for landing an interview!
5. What to include in a CV?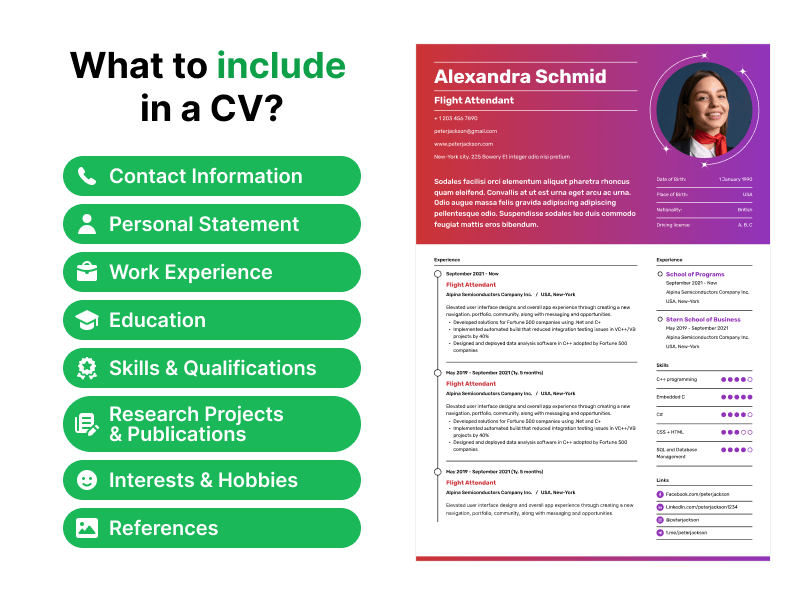 Your curriculum vitae has to enumerate any remarkable capabilities or talents that make you different from other candidates.
When creating a CV, keep the sections in order. A well-crafted CV will leave a favorable impression on potential employers. Here is the general set of CV elements you should incorporate:
| CV element | Description |
| --- | --- |
| Contact Information | Include your name, address, phone number, and email address. |
| Personal Statement | Write a CV-styled introduction about yourself, your experience, and your skills. |
| Work Experience | In your curriculum vitae, specify positions held, companies worked for, dates of employment, and responsibilities. |
| Education | List all degrees or qualifications you have achieved. Include institutions' names and dates attended. |
| Skills & Qualifications | When writing a CV, state any other credentials or certificates you possess that connect to the role. |
| Research Projects & Publications | Describe investigative projects you have conducted at work or school. If you have any publications, provide titles and publishing information. |
| Interests & Hobbies | Share on your curriculum vitae the outside-of-work activities that illustrate other attributes pertinent to the job application, such as creativity or teamwork. |
| References | While writing a CV, be sure to give the contact information of individuals who can elaborate on your performance. |
You can write in a CV that you possess proficiency in foreign languages, have volunteer experience, or mention activities that exhibit essential soft skills like teamwork or leadership.
Also, look at the suggested sections by the CV creator you use. The curriculum vitae templates are easily customizable to reflect your unique characteristics.
The complete list of what to include in a CV depends on the kind of role you are seeking and your unique skillset. You may choose to mention any other details about yourself on your curriculum vitae that describe you academically and professionally.
Following this structure on how to format a CV, you will know for sure that you have included all the information employers need to see when making hiring decisions and facilitate their access to the data needed promptly!
6. What to avoid in a curriculum vitae?
When writing a CV, you need to present yourself in the best light to secure the job you are targeting. However, some things should not be included in a curriculum vitae.
Things NOT to mention when writing a CV:
Personal details. While your contact information is necessary, you do not need to include your age, marital status, or religion.
Irrelevant information. Keep your CV focused on your relevant skills and experience. Do not write a CV with your middle school information or your pets' names. Such personal details will not help you get the job.
Unprofessional email address. Make sure the email you share is professional. It should not have nicknames or silly phrases in it.
Negative information. On your curriculum vitae, do not say anything negative about previous employers, give reasons for leaving a prior role, or comment negatively on anything.
Long descriptions. When creating a CV, keep sentences short (a maximum of 12 words) and avoid long paragraphs of text. Stick to facts and figures rather than flowery language.
Spelling mistakes. Typos and other errors make a bad impression and could cost you the job. Always double-check your work before submitting your CV.
By remembering these common mistakes, you will know how to make a CV that will stand out for all the right reasons and help you attain the position of your aspirations!
7. What contact information to provide?
Adding your contact details to a curriculum vitae is an important step. You want to make it as easy as possible for potential employers to contact you.
As per David Wiacek, the founder of Career Fixer, CVs in many countries often provide very detailed information about the applicant. People may even list details such as birth date or marital status, which usually is not a part of job application materials.
These are the things to mention:
Begin by stating your full name, spelled out correctly.
Include your address, city, state/province, and zip/postal code.
Provide a phone number where you can be reached during business hours.
Offer an email address that is professional and easy to remember.
Share links to your website or other online portfolios if applicable.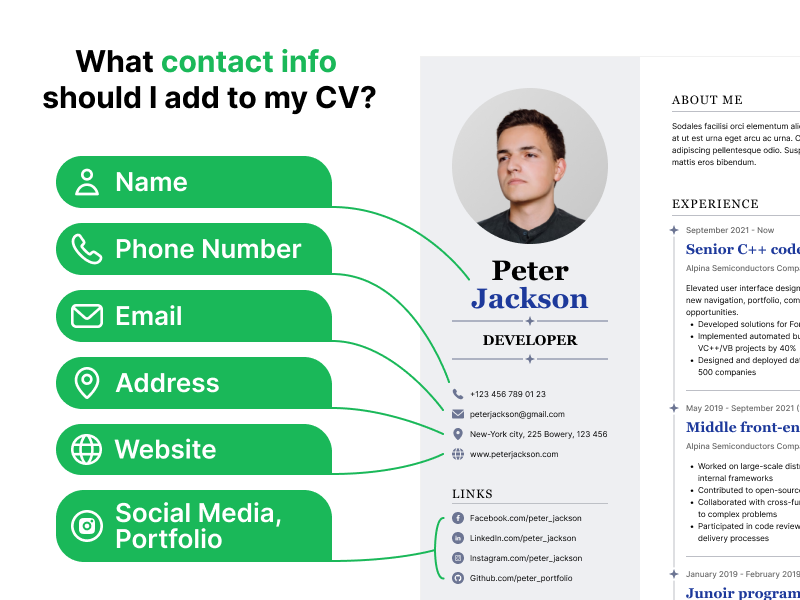 Remember, employers should be able to find these details. When creating a CV, place them prominently on your document so they are easily visible and readable. Confirm that all of the information is up-to-date, accurate, and professional.
8. How to write a personal statement?
A clear goal and profile description are essential for any curriculum vitae. It must be concise, clear, and well-written. It should also directly answer the questions "What do you want to achieve?" and "Who are you?".
When writing a CV objective statement, start with a strong action verb. Use words that best describe you and correspond to the industry. Limit your text to 3-4 sentences. Again, if you need help with what to say, look for examples of CVs.
The personal statement should explain your motivation for hard work while also giving an insight into who you are and elaborating on how your skills and experience make you an outstanding professional.
When you write a CV, clearly express what you anticipate achieving from the new role and how your abilities and background will facilitate this success. Your personal statement must emphasize your strengths, passions, values, and accomplishments.
Again, look at curriculum vitae examples for ideas. Including an objective in your CV will give employers a summary of your most valuable capabilities.
9. How to format a CV work history?
Your curriculum vitae should emphasize your work experience and the skillset you have developed through it. Internship and volunteer activities you have participated in the count too.
Start writing a CV with the most recent job or volunteer experience. Include the company's name, your job title, and the dates you were employed or volunteered.
For each entry, list your key responsibilities and outcomes. This will illustrate to employers an idea of your level of responsibility in each role and what you have achieved in your career so far.
Recruiters tend to prioritize candidates who have quantifiable accomplishments mentioned in their CVs, as it provides concrete evidence of their abilities.
For example, if you improved customer service satisfaction by 10%, include that statistic in your description. If you saved money for an organization, mention the dollar amount.
Exhibiting volunteering commitment in CV writing can show employers your commitment to making a positive difference in your community or industry.
If you have an extensive work history, write a CV with selected most pertinent examples. Employers are more interested in reading about relevant experience than long lists of past jobs.
Utilize dynamic verbs when describing your experiences. This is how to make a CV more engaging.
By following these tips, you can demonstrate your work experience in a way that will differentiate you from the competition. With impressive CV writing techniques, employers will be eager to meet with you and learn more about you!
10. How to organize the skills part?
A well-crafted skills section of your CV is the place where you can showcase your qualifications, talents, and experience. Identify the skills that are required by the position and focus on those.
When writing a CV, do not simply list all of your abilities. Instead, emphasize the ones that best fit the role. Mention both hard and soft skills.
Be specific in your curriculum vitae. Use concrete examples of how you have used your skills to achieve results in past roles. This will show that you know how to apply them effectively and professionally.
Emphasize transferable skills, such as problem-solving, communication, and teamwork, to let employers know you are a well-rounded candidate.
Don't:
Do not write a CV with generic abilities, like simply listing "Microsoft Word" or "Excel".
Do:
Be particular when writing a CV. Indicate that you have experience with "creating tables in Excel" or "formatting documents in Word".
Ensure you investigate the position you are doing the CV writing for to comprehend the required capabilities. Use keywords from the job listing to illustrate that you have put effort into creating a good CV.
Enumerate your CV with examples of any specialized aptitudes applicable to the job. Is there a specific software needed for the position? If so, mention your familiarity with it and any related experience you may have.
By heeding these suggestions, you will be on track to writing a CV that has an effective and comprehensive skills section. You will have a competitive advantage in the job hunt and put yourself one step closer to achieving your dream job!
11. What to include in the education section?
No matter what kind of job you are looking for, the education part of your CV writing is incredibly important. It highlights your academic successes and specifies the credentials you hold. This will give employers a better understanding of your level of expertise and knowledge.
Here is some advice on how to write a CV's academic section:
List the most recent qualifications first. Start with university degrees or other higher-level courses and work back from there.
Include key information, such as the institution's name, dates attended, and qualifications obtained.
List relevant modules and coursework if they demonstrate specific skills or knowledge that applies to the position.
If your grades are good, do not shy away from referring to them.
If you have any awards or distinctions, mention them too.
If you have done any additional training or certifications, indicate those too.
Use active language such as "spearheaded" or "mentored" to describe your achievements and activities during your studies.
Remember to list any clubs or societies you were involved in if they apply to the job.
For example, if you earned an MBA from a top university, begin writing a CV emphasizing that. If you have a course pertinent to the vacancy you are applying for, provide details such as the modules and skills learned.
Using action verbs in your CV can make a significant difference. Resumes with action verbs are more likely to be shortlisted and receive interview invitations.
Mention any professional memberships you hold or certifications you have achieved. Certificates show employers that you understand the industry standards and are willing to stay informed.
Creating such a CV will demonstrate your commitment to professional development and show that you are up-to-date with the field's best practices.
Always double-check the academic section of your curriculum vitae multiple times to ensure all details are correct and accurate. Put yourself in potential employers' shoes and consider what impresses them the most!
Build a CV for free now
12. How to talk about research?
When creating a CV, highlight your involvement in research and publications you may have. This will demonstrate your ability to think critically and creatively. By providing such detail in your curriculum vitae, you uncover to prospective employers your aptitude and eagerness to complete challenging tasks.
Think about any projects or online content you have created that will be relevant to writing a CV sentence or paragraph about. These demonstrate skills in various areas, including problem-solving and project management.

Personal projects can also address your creativity and proactivity. If you come up with an original solution to a problem, cover it in your CV writing.
When writing a CV, include a short description of each project or publication. Tell what it was about, when it was conducted/published, and other valuable details that will help create a bigger picture of your doings.
Remember to mention in your curriculum vitae what you gained from the research. Showing that you can draw meaningful conclusions from your work is vital for potential employers.
Include any related achievements, such as awards or recognition from peers or industry experts for your projects and publications. You may have received positive reviews on your article. Acknowledgment from others demonstrates proof that your work has real value.
All of these combined will aid you in creating a CV that draws a compelling picture of yourself as an inventive and motivated professional.
To make the process even easier, use a CV template that will give you hints of what else to mention to stand out.
13. How to format a CV's reference list?
Your references can be people who have supervised you in work or education, such as your former employer, manager, or professor. They can provide valuable insight into how you performed in those roles and your overall character.
"Instead of better glasses, your network gives you better eyes."
When writing about the references you have included in your curriculum vitae, make sure to provide their names, titles, and contact details.
Here is a common format for how to make a CV reference list:
Name: (Full name)
Title and Organization: (Position or job title, the company/school).
Contact Details: (Phone number and/or email address).
When you compile the list of those who will write a letter of recommendation for you, choose those who know you well. Your recommenders need to be able to comment on your professional experience and skills. Check with them beforehand to ensure they are willing and able to answer questions when asked.
It is recommended for your CV writing to have a brief description of how long and in what relation they know you and what they could comment on if asked about you.
For example:

John Smith - Manager at ABC Company - John supervised my role as a marketing assistant for two years. He can comment on my creative thinking, ability to work under pressure and coordination skills.
Remember to always ask permission from any references you list in your curriculum vitae before doing so. This will allow them to be prepared for any questions from the potential employer and ensure that any information provided about you is accurate.
14. What to mention in hobbies?
Injecting hobbies into your curriculum vitae is a powerful approach to distinguishing yourself from others. It is an opportunity to show potential employers that you have a range of interests that could add value to your job role.
When deciding what to include in a CV, contemplate how they could be advantageous or applicable to the position. These could range from sports and fitness activities to creative projects.
Do write in a CV:
If you are stuck for ideas, start by thinking about what you enjoy doing in your spare time, including any special talents or abilities you may have outside of work.
Search for CV examples for help. You should also consider activities that demonstrate leadership skills, such as joining a local community group or participating in outdoor events.
Don't write in a CV:
Avoid generic phrases like "I enjoy spending time with friends" or "I like going out" as they do not provide enough detail for an employer to get a sense of your character.

When writing a CV, you should not try to make yourself sound more interesting than you are. It is critical to be genuine when listing your hobbies and interests.
Using your passions in your CV writing is a wonderful way to differentiate yourself and bolster your hiring possibilities. Impress employers that you are more than just a set of skills - illustrate your personality and dedication to your industry too!
15. What to include in additional information?
As you continue to learn how to write a CV and what else to include in a CV, here are two supplementary sections that you can add to your curriculum vitae - awards and languages.
"Getting something done is an accomplishment; getting something done right is an achievement."
Keep in mind that these are just examples of CV elements. You are welcome to provide as many additional details to your CV writing as you believe will be beneficial for you.
Awards
Honors or accolades on your curriculum vitae show potential employers your willingness to take the lead and work toward success.
Awards also indicate that others have acknowledged your hard work and dedication. Moreover, they present you as a high-class professional whose projects are exceptional.
An easy approach to how to make a CV list of awards is to document all the recognition you have been acknowledged with, noting the date and institution that presented them to you.

This could include accomplishments for academic excellence or honor societies you were inducted into. If applicable, explain how these honors impacted your knowledge or skills.
Finally, write a CV containing non-academic awards or recognitions. This demonstrates other skills or values, such as community service or leadership awards.
Show possible recruiters that your abilities cannot be evaluated by grades or academic successes alone.
Languages 
This is another important section you may consider when thinking about how to write a CV that makes an impact.
Knowing languages is a great asset that can set you apart and give you an advantage for an internationally oriented position.
Begin by enumerating all the languages you know, including your native language. Depending on the extent of your knowledge, you can specify whether you are a beginner, intermediate, or advanced speaker.
If you are bilingual or multilingual, compile a curriculum vitae that reflects this unique aspect of your personality.
Do:
Include specific language qualifications if you have them, such as GCSEs or degrees. This will show a potential employer your knowledge level in each language.
Prove to employers your commitment to mastering new languages by referencing any courses or classes you have attended.
If possible, provide evidence of your language skills in action. Share examples of projects or tasks that required you to use the language. This could be anything from writing documents in another language to interpreting for an event.
By demonstrating your commitment to language learning and providing concrete evidence of your abilities, you will surely be capable of writing a CV that outshines the competition of other applicants and secures the job of your dreams!
16. How to write a CV - examples
Now that you have gotten familiar with the theory of CV writing, let's see examples of a CV to get a better understanding of what the result should look like. Below is a curriculum vitae example of a graduate student.
Name: John Doe

Objective: Seeking a challenging role in the field of marketing with an emphasis on digital marketing.

Education: Bachelor of Science in Marketing, ABC University, 2018.

Experience:

Digital Marketing Intern at XYZ Corporation, June 2017 - August 2017.

Worked on campaigns for clients across various industries.
Assisted in the development of content strategies and marketing plans.
Analyzed data to inform strategic decisions.
Managed social media accounts and created content for them.

Skills:

Digital marketing and SEO expertise.
Experienced with Excel, Word, and PowerPoint.
Strong written and verbal communication skills.
Ability to analyze data and draw insights from it.
Proficient in project management and multitasking.

Achievements: Awarded "Most Outstanding Intern" at XYZ Corporation for performance in the summer 2017 internship program.
This curriculum vitae example is a good starting point for any graduate looking to construct an impressive CV that will garner attention from employers.
Do:
Need advice on how to write a CV and examples for better understanding? Use the CV builder! With templates, you will feel confident that you present your qualifications in the best light!
By customizing a template or writing a CV by looking at curriculum vitae examples, you will enter the job market with a strong document and land your dream job!
Try the free CV builder
How to write a CV: conclusion
Creating a great CV takes effort and time. However, it is a worthwhile investment that will give you an advantage over the other applicants and help you land your dream job.
CV writing can seem overwhelming, but it does not have to be. You can easily create an effective and impressive resume with the right tools. The online CV builder is an ideal start.
They offer templates and step-by-step guidance for creating your own unique document. Implementing the described above steps, you can craft an effective curriculum vitae that showcases your best qualities and experiences. Good luck!