Constructing a letter of recommendation is a big responsibility. You are given the power to endorse your recommendee's skills and qualifications to help them land an opportunity.
Letters of recommendation hold significant weight in the hiring process. Most employers value them as an essential factor in their decision-making process.
Therefore, you need to do your best to craft a thoughtful and meaningful letter that accurately reflects the qualities and accomplishments of the person you are recommending.
With such weight that is put on your shoulders, you may see the task of writing a recommendation letter as a challenge. Especially if this is your first time being a recommender. However, it does not have to be.
This article will review the components that must be included in a recommendation letter.

You will find helpful tips on how to write a good letter of recommendation.

We will also discuss how to format and submit the letter to ensure it has the most significant impact.
In the end, you will find recommendation letter templates and examples for creating a complete picture of how to write this professional document.
1. What is a letter of recommendation?
A recommendation letter is a document that supports an individual's candidacy for a job, admission to educational institutions, or other opportunities. This correspondence is typically penned by a person knowledgeable of the individual and can assure of their character and credentials.
The letter's composer should be able to give valuable insight into the candidate's capabilities and talents that would not be simply procured through a resume or other documents.
"Your network is your net worth."
A reference letter can provide a more exact depiction of the person's qualifications and experiences, allowing them to be distinguished from others.
It is also important to remember that the letter of recommendation should be honest and genuine. Regardless of the relationship between the recommender and the recommendee, the letter must authentically attest to the job seeker's expertise.
2. Types of letters
Letters of recommendation are a crucial part of any job search. They provide employers with information about a candidate's character and qualifications. There are several types of letters of recommendation, each with its purpose.
| Types | Description |
| --- | --- |
| Professional | These references reveal the candidate's professional skills and experiences. These letters must emphasize the candidate's expertise and provide proof of their achievements in the workplace. |
| Academic | Such documents exhibit a student's academic performance and potential for success in a future program or position. These letters have to include specific examples that demonstrate the student's abilities and achievements. |
| Personal | These recommendation letters offer insight into a candidate's personality traits that would benefit an employer. These letters should focus on the individual's overall attitude, integrity, and other positive qualities. |
| Character | An employer or organization usually requests these to inquire about details concerning the candidate's character and reputation. The letter should highlight the person's strengths and accomplishments. |
A letter of recommendation is a valuable part of the job application process. Different types of letters offer unique insights about the candidate. Understanding each type can help you choose the best letter for your needs.
3. Who to ask?
A good letter of recommendation may make all the difference when getting the job you want. But how do you know who makes a good reference?
Letter of recommendation - examples of references:
Employer or colleague. Your manager from the previous job is usually the best reference. They have worked with you directly and can offer detailed insight into your strengths and abilities. They can also speak to your reliability and professionalism.
Professor or mentor. If you don't have any work experience or are applying for a position in academia, a reference from your educational journey is an excellent choice. They can talk about your academic performance, noteworthy accomplishments, and ability to take initiative and collaborate with peers.
Supervisor from a volunteer organization. Volunteering can provide valuable experience and demonstrate your commitment to the greater community. Having a coordinator who worked in such an organization serves as a reference and allows potential employers to see these qualities in action.
Ultimately, having reliable references is key to ensuring that a potential employer learns about you as much as possible. While many people may be willing to serve as references, not everyone will have the capacity to provide a detailed assessment of your skills or character.
Some hiring managers may consider recommendations from mutual connections or colleagues to be influential in their hiring decisions. This is why networking is important.
Choosing the right references helps ensure that your recommendation letter will make a great impression on hiring managers.
4. How to ask for a personal letter of recommendation?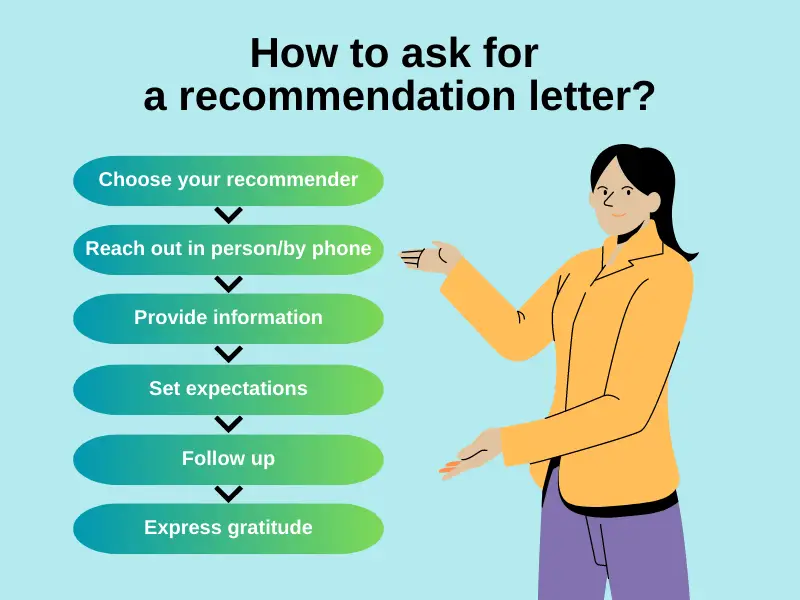 Acquiring a letter of recommendation could be daunting as you may feel nervous or afraid of rejection. Use these hints to help you ask confidently and politely.
Choose your recommenders wisely.
You must be sure that the person you pick is familiar with your abilities and can describe them in the best light.
Reach out in person or by phone.
Contacting your recommender via phone or a personal meeting is better than email. It also gives a space for a conversation to talk about the details to be included in the letter.
Provide information.
Give the chosen recommender your resume, list of accomplishments, job description, and other details to help them boost their letter with facts. Ensure they receive all the necessary materials to write the letter, such as a link to a submission form.
Set expectations.
Let the chosen person know when the recommendation letter is due, who should receive it, and any other relevant details.
Follow up.
Contact your recommender when you hear back from the company or school regarding their decision. Share the updates or any new details as they become available.
Show your appreciation.
Send a thank-you note after they write the letter to show your gratitude for their effort. Regardless of the outcome, be grateful for their willingness to help you achieve what you desire.
As you reach out to your potential recommender, be polite and professional. Make sure you request a recommendation letter well in advance to allow enough time to write it.
Be prepared that someone may not be able to commit to composing a supporting letter for you at the time. Hence, have a backup of who else you may ask for a letter of recommendation.
5. Recommendation letter format
The letter of recommendation format is similar to other professional letters, such as a cover letter or letter of interest.
Use these suggestions to help choose the proper recommendation letter format for easy and effective delivery.

Use a professional font. A standard font like Times New Roman of a font size 12 is the most common choice.
Align your text to the left margin, and leave adequate space between the lines and paragraphs.
Include the date at the top of the letter. This will facilitate the organization.
If possible, use the organization/company's letter blank to add credibility.
Keep your letter to one-page of 4-5 paragraphs long.
By taking note of these guidelines, you will indeed compose a recommendation letter that is pleasant to read.
6. How to write a letter of recommendation?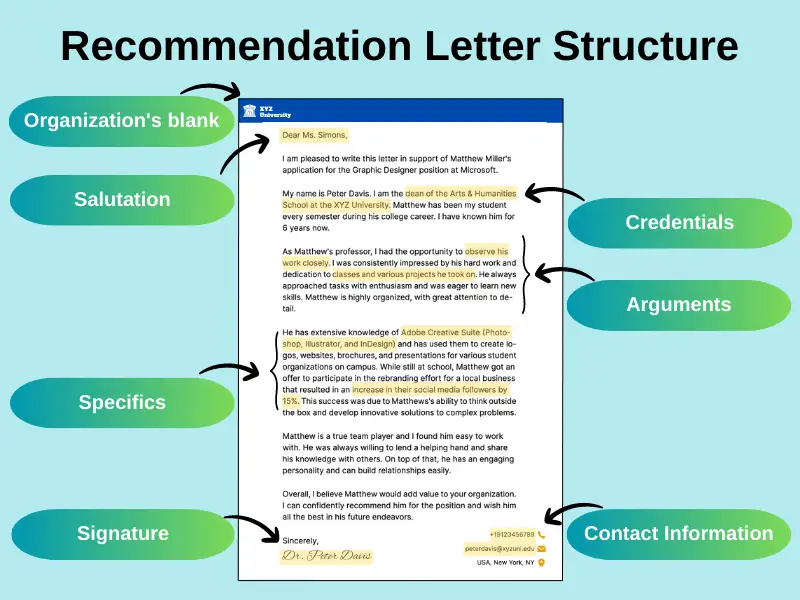 A recommendation letter is an important document that can help someone get their dream job or university acceptance.
"Networking is not about just connecting people. It's about connecting people with people, people with ideas, and people with opportunities."
Writing a great letter of recommendation is not always easy. Use the following advice to craft an excellent letter of recommendation.
DO:
Use an appropriate salutation. Start with "Dear Mr/Ms/Dr [Last name]" if you know the person, or "To Whom It May Concern" if you don't know whom you are addressing.
Introduce yourself. Tell who you are and detail your relationship with the individual. State how long you have been acquainted, how you met them, and why you are capable of outlining your reasons for providing a letter of endorsement.
Highlight Qualifications and Credentials. Indicate the unique attributes of the individual whom you are recommending. Describe any accomplishments they have achieved and special skills they possess. Illustrate other successes that make them great candidates for the job or university program.
Be Specific. Give concrete illustrations of the person who has excelled in their previous roles or studies. This will give your letter more credibility and provide substantial evidence to support your recommendation. Discuss any challenges they might have faced and how they overcame them.
Keep it Positive. While being honest about the person's abilities is important, keep your letter focused on their positive qualities and avoid using negative language. Talk about the applicant's character traits, such as reliability, commitment, hard work, and dedication.
Remain professional. Do not incorporate overly emotional language or funny stories that do not relate to the person's job performance or qualifications. These can hurt their chances of being taken seriously.
Restate your recommendation in the end. Close by summarizing your recommendation and expressing confidence in their success. You can also offer to provide additional information if needed.
Sign the letter. Finish with a closing like "Sincerely" followed by your full name, contact information, and signature.
Proofread. Read your letter multiple times to ensure it reads clearly and accurately reflects your opinion of the person. Double-check for typos and other mistakes.
By adhering to these guidelines and utilizing a concise layout, you can construct a highly persuasive letter of recommendation. You will be sure that it will provide the person you are advocating for an advantage over others.
7. Recommendation letter samples
To better prepare you for writing a recommendation letter, below are a few letters of recommendation examples composed for different occasions. Use them as a reference when constructing yours.
Sample letter of recommendation for job application
Dear Hiring Manager,

This letter supports John Wilson's application for the Assistant Manager's position at your company. John has worked as my colleague for the past three years. I am pleased to provide him with a recommendation letter for his job application.

John is an excellent team player and a dedicated worker who enthusiastically approaches tasks. He is a quick learner and is always willing to take on any challenge. He has impressive problem-solving skills and pays attention to detail. He is passionate about his work and strives to complete projects promptly.

John is highly organized and ensures tasks are completed efficiently and accurately. He works well under pressure and can handle multiple projects simultaneously without sacrificing quality or accuracy. His ability to prioritize tasks, as well as his excellent communication skills, have been invaluable assets to our team.

John also has excellent interpersonal skills, allowing him to collaborate effectively. He is reliable, punctual, and always puts the team's needs first. I would highly recommend John for any position he applies for that requires strong organizational skills, precision, and the ability to work in a team environment.

In conclusion, John has been an irreplaceable contributor to our group. I am confident that he will be an asset to any team he joins in the future. I urge you to consider John for the position he is applying for and wish him all the best in his job search.

Sincerely, Amanda Smith
Recommendation letter sample for internship
Dear Ms. Jefferson,

I am writing to recommend Jane Potts for the summer internship program at ABC Company. My name is Alisa Stones, and I am a Team Lead at XYZ Company. I have had the pleasure of working with Jane as her supervisor during Summer 2021. During this time, she has consistently demonstrated high levels of professionalism, dedication, and excellence in her work.

Jane is an extremely organized individual who always goes above and beyond what is expected of her. She has taken initiative on numerous projects and consistently exceeded expectations with her excellent results. She is also very detail-oriented and always pays close attention to even the smallest details in her work.

Jane is highly motivated and always enthusiastic to acquire new information. She is a quick learner and has been able to pick up new skills quickly during her time at XYZ Company. She exhibits great team spirit, collaborating effectively with her colleagues on various tasks and projects.

I believe Jane would be an ideal choice for your seasonal internship program, given her enthusiasm, dedication, and hard work ethic. She has all the qualities necessary to be an asset to your organization, making her an ideal candidate for the position. I am confident that she will be successful in any role she takes, and I highly recommend her for this opportunity.

Best regards, Alisa Stones
Sample letter of recommendation for graduate school application
Dear Admission Committee,

This letter is to recommend John Brown for admission to the MBA program at ABC University. My name is Peter Wescott. I am an Assistant Professor of Business at XYZ University. I have taught and been an academic advisor for John for four years, and I can confidently say he is an outstanding student.

John is an exceptional student who is highly motivated and dedicated to his work. His enthusiasm and hard work have resulted in him graduating with top honors in his undergraduate degree. He also has impressive research experience. During his time in college, he demonstrated strong analytical skills and gained a profound grasp of the topics we were studying.

John is also an excellent communicator. He could always clearly articulate complex ideas and concepts during our team meetings. Furthermore, he worked well with other members of the team and was able to foster creative collaboration among us.

Apart from his academic achievements, John has accumulated practical experience through internships at top companies in the field. This practical experience has given him hands-on knowledge that can be applied directly to his intended studies in graduate school.

Overall, I believe that John is an outstanding candidate for your graduate program. His passion, intelligence, and dedication make him a perfect fit for your institution. I strongly recommend him for admission into your program.

Sincerely, Peter Wescott
8. Recommendation letter template
Formulating a letter of reference can be challenging. However, it is an integral part of the job search process. Here is a letter of recommendation template to help you get started.
Recommendation letter template
Dear [Hiring Manager],

I am pleased to write this letter in support of [Name]'s application for [Position]. My name is [Your Name]. I am [Your Title]. I have known [Name] for [length of time], as we worked together at [Company].

In my role as [position], I had the opportunity to observe [Name] closely. I was consistently impressed by her hard work and dedication to the job. She always approached tasks with enthusiasm and was eager to learn new skills.

[Name]'s commitment to excellence was evident in all aspects of her work. She was highly organized, with great attention to detail. She also had excellent problem-solving skills and was quick to develop creative solutions.

[Name] is a true team player, and I found her easy to work with. She was always willing to lend a helping hand and share her knowledge with others. On top of that, she has an engaging personality and can build relationships easily.

Overall, I believe [Name] would add value to your organization. I can confidently recommend her for the position and wish her all the best in her future endeavors.

Sincerely, [Your Name]
Conclusion
Writing a quality letter of recommendation isn't easy, but it is critical to helping a person in their professional pursuits. A glowing letter of recommendation can mean the distinction between being successful and being forgotten.
In this article, you learned how to write a recommendation letter. With the right effort, you can help them make a great impression and secure the ideal job opportunity.
"You can have everything in life you want if you will just help enough other people get what they want"
It is vital to remember that the letter's content needs to be tailored to the particular applicant and reflect their unique strengths and skills. By following the outlined above steps, you can guarantee your letter of recommendation will be remarkable in every way.
Other relevant articles
As you help your recommendee by providing a reference letter for them, direct them to these useful articles:
With the help of these resources and our online resume builder and cover letter creator, they will surely succeed in their job search.