Having a great resume is the foundation of any job search, especially in a competitive field like psychology. Your psychologist's resume should represent your qualifications and achievements and demonstrate commitment to the profession.
"I believe that a different therapy must be constructed for each patient because each has a unique story."
This article provides a guide to creating a comprehensive psychology resume: from how to structure it to what sections to include. It covers the key points of creating a psychologist's resume, such as writing a professional summary, listing education, and detailing work experience.
Additionally, the article supports every point with concrete psychology resume examples as well as tips and examples of psychologist cover letters.
1. Try a resume builder
Are you looking for a new job, but stuck on how to write your psychology resume? Using an online psychologist resume template can be a great way to get started.
Resume Trick offers pre-made layouts that have numerous benefits compared to writing your own resume as plain text.
Advantages of using psychology resume templates:
Time savings. No need to create a layout manually or spend time searching for the right fonts and formatting.
Professional look. Assurance that your resume looks professional and is tailored to the job opening you aim for.
Field-specific terms. Inclusion of the distinct for the psychology industry keywords.
Ease of usage. Intuitive and easy-to-use templates allow you to craft an impressive resume with minimal effort.
So if you are looking for a way to quickly create an impressive and professional resume, why not use an online psychologist resume template, to begin with?
Save time and effort and invest more energy in finding the right job with your ideal psychologist resume!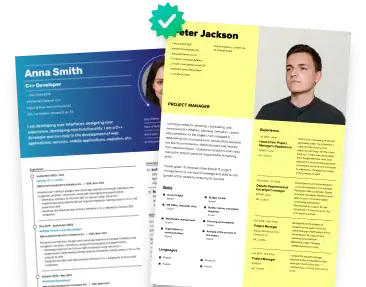 2. Psychology resume examples
Professional Summary

Experienced psychologist with over 10 years of expertise in providing individual, family, and group therapy to adults and children. Dedicated to fostering healthy and creative relationships with clients. Highly trained in addressing a variety of psychological problems.

Core Qualifications

Crisis intervention;
Cognitive-behavioral intervention (CBI);
Dialectical behavioral therapy (DBT);
Trauma-informed care;
Group therapy;
Assessment and diagnosis;
Client advocacy;
Professional ethics.

Professional Experience

Clinical Psychologist, ABC Mental Health Clinic, Atlanta, GA | 2015 - Present

Administer evidence-based therapy to clients of all ages and backgrounds.
Develop comprehensive treatment plans to meet individual needs.
Educate clients on strategies for emotional regulation and self-care.
Collaborate with a multidisciplinary team of medical staff to ensure patient well-being.
Monitor the progress of patients in long-term therapy sessions.

Child Psychologist, XYZ Children's Center, Atlanta, GA | 2012 - 2015

Conducted assessments of children from various backgrounds to identify psychological issues.
Provided support to children experiencing emotional disturbances or behavioral problems.
Facilitated play therapy sessions for children dealing with trauma or abuse.
Developed treatment plans for children experiencing anxiety or depression disorders.
Presented extensive reports on patient progress to parents and guardians.

Education & Certifications

Doctor of Psychology (PsyD), Georgia State University | 2010 - 2012
Masters of Science in Psychology, Georgia State University | 2008 - 2010
Certified Child Psychologist, National Association of School Psychologists | 2014
Certified Clinical Psychologist, Psychological Association of America | 2013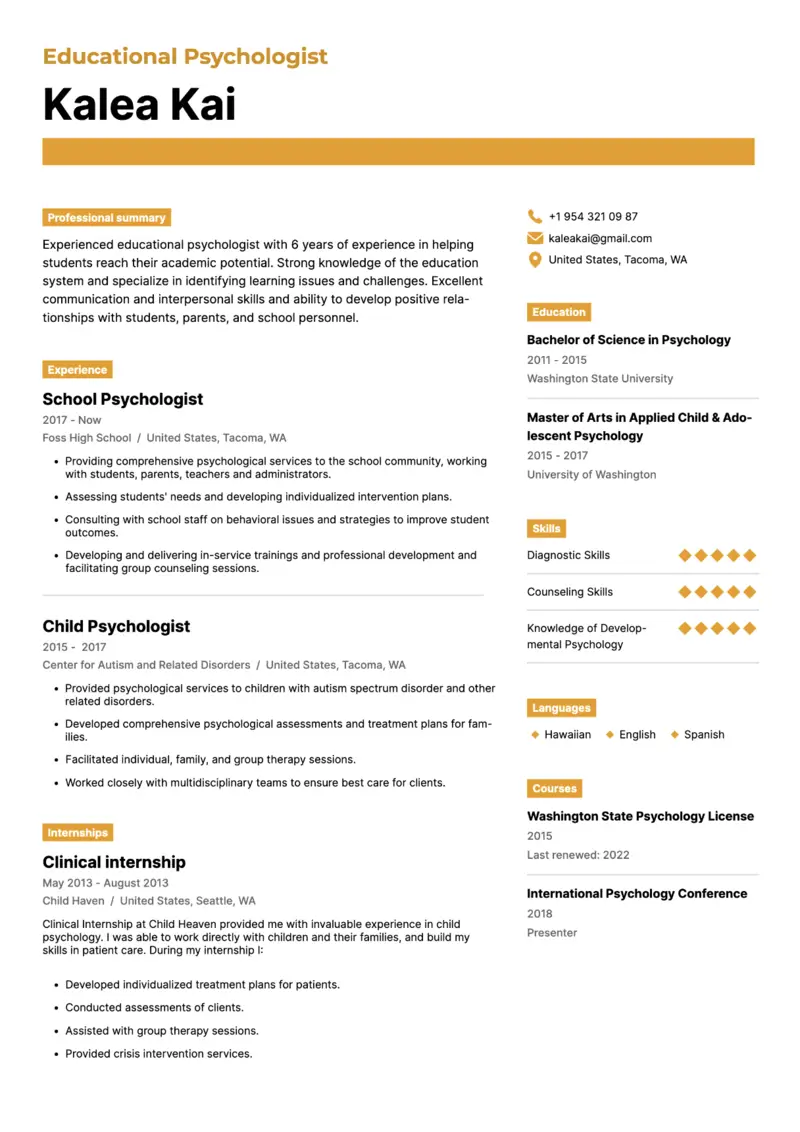 3. Format your resume
When writing a resume for psychology roles, use language that conveys professionalism and knowledge of the field. It is also crucial to employ industry-specific keywords or words from the job description. This will help you make your resume ATS-friendly.
Clearly compose your resume utilizing headings and bullet points to distinguish different sections of the resume. Be concise: the usual length of a resume is one page only.
Choose a readable font and adequate spacing between the lines to ensure that anyone looking at your document is able to clearly understand what you are trying to convey.
If you have run out of ideas, look at other psychology resume examples. Using the AI-powered resume builder will also help with writing suggestions.
4. Provide contact information
This section of the psychologist's resume has to consist of details for employers to easily identify you.
Start by including your full name, and contact information such as phone number, professional email, and current address.
Consider adding a link to your portfolio or other evidence of your work if available.
The median annual income for psychologists was $81,040 as of May 2021. About 14,100 openings for the profession are projected each year, on average, from 2021 to 2031. (U.S. Bureau of Labor Statistics)
5. Elaborate on work experience
When formulating a psychologist's resume, it is critical to include relevant experience.
The best way to do this is to list your entries chronologically, starting from the latest position and proceeding backward. This helps ensure potential employers can quickly review your psychologist qualifications and track your career progression.
There are over 63,579 psychologists currently employed in the United States. (Zippia)
For each job entry, give a brief description of your responsibilities, the name of the company, and the dates worked. Make a list of short sentences to highlight the skills and accomplishments you gained in each job.
Stress how you helped your employers meet their goals and objectives. For example, if you developed a new program that increased customer satisfaction levels or helped to reduce costs, include those details.
Psychologist resume - example employment history:
Child Psychotherapist at ABC Therapy Center (August 2018 - Present)

Developing and implementing individualized treatment plans for clients aged 4-14;
Conducting psychological assessments and delivering psycho-educational testing;
Leading group therapy sessions for children who have experienced trauma.

School Counselor at XYZ High School (July 2015 - June 2018)

Provided one-on-one counseling for academic, career, and personal matters;
Offered crisis intervention services during emergency situations;
Designed and delivered educational programs on topics, such as college preparation and mental health awareness.
Finally, add any affiliations with professional organizations appropriate to the position. This could include memberships in the American Psychologist Association (APA), or other psychology-related organizations.
Overall, showcase your psychologist's skillset when describing your job functions and experience. This will help recruiters find your resume when searching for qualified candidates.
6. List education credentials
Education plays a vital role in the resume for psychology specialists.
When providing information about your academic history, always list the credentials in chronological order starting with the latest degree earned. This will ensure a streamlined and effective look for your resume.
Although psychologists typically need a doctoral degree in psychology, a master's degree is enough for some positions. Most psychologists also need a license.
Incorporate relevant coursework you have completed that might benefit your desired position. For example, for the research psychologist job, include any courses related to research methods or data analysis that you have taken.
Finally, ensure you include any certifications or specializations you have obtained. This could be in a particular area of psychology or even related fields such as counseling or social work.
Such an approach can aid employers in understanding exactly what qualifications you have and how you could benefit their organization.
Psychologist resume - sample academic history (1):
Postdoctoral Fellowship in Cognitive Neuroscience - Stanford University (2017-2019)
Doctorate in Clinical Psychology - Duke University (2014-2017)
Master's of Science in Psychology- University of California (2012-2014)
Bachelor of Science in Counseling - University of Michigan (2008-2012)
Psychologist resume - sample of education segment (2):
Education:

Ph.D. in Psychology – University of California, 2020
M.A in Clinical Psychology – University of Texas, 2015
B.S in Counseling – University of New York, 2012

Psychologist' Certification:

Certified Cognitive Behavioral Therapist – Psychological Association of America, 2018
Licensed Professional Psychologist – State of California Board of Psychology, 2017
Certified Trauma Focused Psychotherapist – National Institute for Trauma and Loss in Children, 2016
When listing your education history on the psychology resume, be sure to include all relevant accreditations. You must be honest about your credentials. Falsified information could lead to severe professional and legal consequences.
By following these guidelines to organize educational information on your psychologist's resume, you allow employers to quickly identify the expertise you possess.
Use a psychologist resume template
7. Talk about psychologist skills
To describe the skills on a psychologist's resume, use specific job-related terminology and avoid repetitions. Listing both, soft and hard skills will present you as a knowledgeable professional with good people skills.
"The more you know yourself, the more patience you have for what you see in others."
Psychology resume - examples of soft skills:
Compassionate & empathetic;
Excellent communication & interpersonal skills;
Active listening & empathy;
Patience & understanding;
Respectful & nonjudgmental attitude;
Capacity to build trust & rapport with clients;
Flexibility & adaptability;
Problem-solving & critical-thinking skills;
Professionalism & confidentiality;
Self-awareness & creativity.
Psychology resume - examples of hard skills
In-depth knowledge of research methods and statistics;
Proficient in administering psychoanalysis;
Expertise in creating personalized treatment plans for patients;
Knowledgeable in using computerized data systems for patient records;
Training in crisis intervention and dealing with emergency situations;
Mastery of psychological theories, principles, and techniques;
Understanding of the DSM (Diagnostic and Statistical Manual of Mental Disorders);
Experience with evidence-based therapeutic interventions such as cognitive behavioral therapy (CBT), solution-focused therapy, and dialectical behavior therapy (DBT);
Capacity to comprehend psychological assessments and tests such as IQ, personality, projective, etc.;
Proficiency in psychometric assessment instruments such as the MMPI or NEO Personality Inventory;
Utilization of computerized psychological tools such as EMRs (Electronic Medical Records) and specialized software programs;
Familiarity with legal requirements of psychology practice.
Among psychologists, 64.8% are women, while 35.2% are men. The average age for a psychology specialist in the U.S. is 46 years old. (Zippia)
For more ideas on what skills you may want to gain and then include, look at other psychologist's resume examples for help.
8. Include social media: pros and cons
It is optional to include online profiles on your psychologist's resume. However, it could be beneficial in some instances as it can provide employers with a more holistic view of the candidate.
Pros:
Including social media connections on a psychology resume can help demonstrate your professional presence, public engagement, and digital skills.
It can also give employers insight into your interests which could be relevant to the job.
Cons:
Sharing social media links on a psychologist's resume may facilitate discrimination against applicants based on personal information such as religion, sexuality, or political views.
It could also grant employers access to content not pertinent to the position being applied for, which may be deemed inappropriate.
For instance, psychologists specializing in mental health research may benefit from including a link to their Twitter where they regularly post about relevant topics.
However, an occupational psychologist should leave social media profiles off the resume due to the potential of having personal content become visible to employers.
9. Write resume summary
A psychology resume summary should exhibit the top competencies that make them an ideal choice for the vacancy. It should consist of examples of your previous work achievements and how it has prepared you for the prospective role.
"Love, work, and knowledge are the wellsprings of our lives, they should also govern it."
Here are 3 tips on crafting an excellent psychologist's resume summary:
Focus on keywords related to the field of psychology. This shows your expertise in the field.
Highlight your psychologist qualifications and abilities that make you stand out as a superior candidate. Mention any certifications or awards to emphasize your proficiency in the area.
The summary should be concise yet descriptive. Stick to two or three sentences that accurately describe your psychology expertise without being too wordy.
Psychology resume summary - sample (1):

Skilled psychologist possessing 10+ years of practice in offering psychotherapy to clients from diverse backgrounds. Proficient in evidence-based approaches, including cognitive behavioral CBT and DBT. Proven record of helping patients reduce symptoms of depression, anxiety, and PTSD.
Psychology resume summary - sample (2):

Experienced psychologist boasting 10+ years of experience in psychotherapy services to individuals, couples, and families. Skilled in conducting assessments, diagnosing mental health disorders, and utilizing evidence-based treatments. Passionate about helping people improve emotional well-being and increase resilience to life stressors.
10. Share additional information
There are no strict rules on how many segments you can include in the resume. Therefore, based on the volume of the information, consider adding all or some of the following sections.
Ideas for supplementary details to share:
Hobbies. Additional insight into the individual's personality.
Courses. Training in different therapeutic techniques.
Languages. Capabilities to provide services to non-English speaking clients.
Awards. Recognition by colleagues and peers for work and accomplishments.
Internships. Dedication to and learning process to become an outstanding professional.
References. Evidence of the quality of your work.
Certificates & Licenses. Legal authorization and necessary psychologist certifications.
Adding this information to a psychologist's resume is essential because it highlights critical skills, experiences, and qualifications necessary for the job.
"Don't compare yourself with other people; compare yourself with who you were yesterday."
These details make up an impressive resume showing potential employers why you are the best candidate.
Build your psychology resume now
11. Compose a psychologist cover letter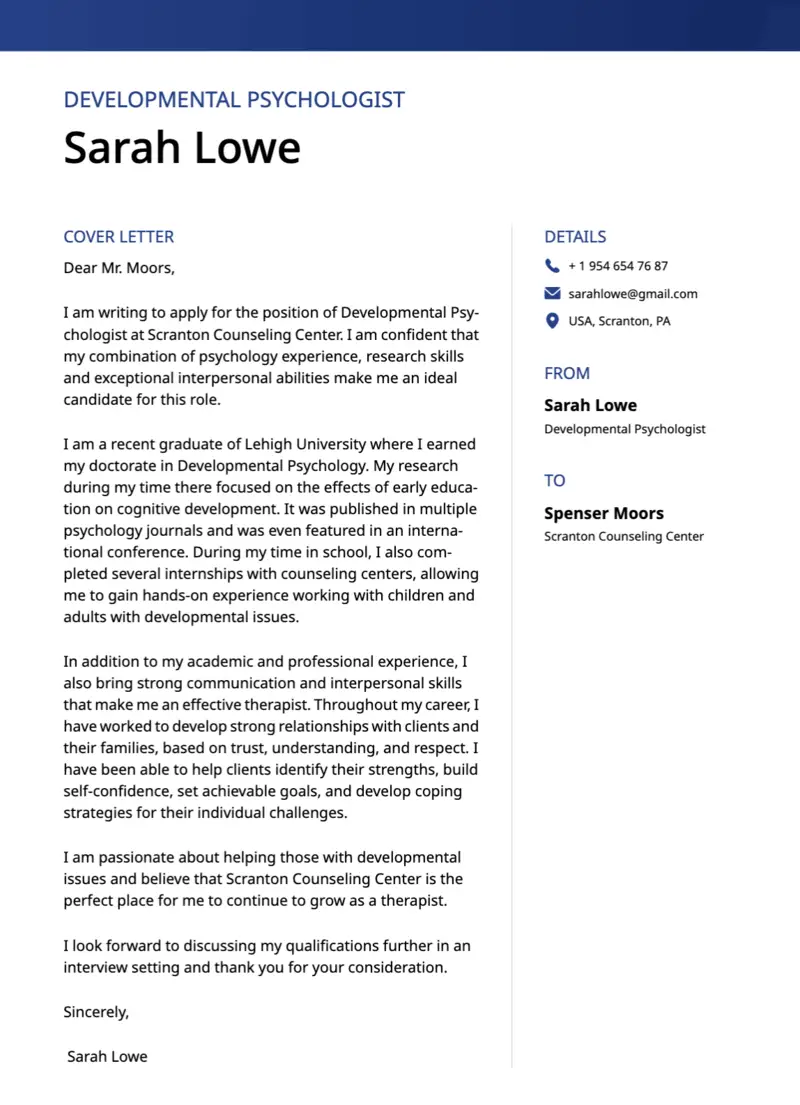 The psychology cover letter is ideal for introducing yourself to potential employers when applying for a job.
The highest salary for a psychologist in the U.S. is in San Francisco, CA. The annual average wage is $131,657. (Zippia)
Creating a unique, professional cover letter that will set you apart from the other applicants is crucial.
Here is what you can do to maximize the effectiveness of your cover letter:
Use a professional tone. The psychologist's cover letter has to be worded professionally as it is the first impression you will make on potential employers.
Avoid using cliches. Do not use generic or overly casual language, and focus on communicating your relevant aptitudes and background in the best way possible.
Show enthusiasm. Employers want to hire people who have passion for their work and are enthusiastic about the opportunity they are applying for.
Make it concise. Ensure that your psychology cover letter does not exceed one page. Be succinct by summarizing qualifications and experience in a few short paragraphs, and include only the most relevant information to the role.
Be specific. Cite particular illustrations to make your letter shine, and include precise examples of how you have contributed to past roles or projects.
Focus on gains. Explain any successes or challenges you have overcome with concrete details, such as numbers and figures if applicable.
Proofread. Before submitting, take the time to review the accompanying letter carefully. Make any necessary changes or corrections to ensure that it is free of errors and typos.
To get a better perspective, see the below psychology cover letter examples - good and bad.
Bad supporting letter for a psychologist's resume:
Dear Sir/Madam,

I am writing to apply for the job as a psychologist at [Company Name]. I have many qualifications including studying psychology at the university level and helping others through consultative meetings with needy patients.

So, I think I can excel in this role. Please give me a chance! Thanks!
This psychology cover letter is bad because it does not provide explicit information about why the applicant is qualified for the position. It also lacks personalization or enthusiasm, making it difficult for the reader to connect with the applicant's story.
Good cover letter for a psychology resume:
Dear [Employer Name],

I am reaching out regarding the psychologist role at [Company Name]. With my six years of experience providing counseling services in private practice, I believe I am well-suited for this position.

My professional experience includes assisting clients with psychological matters such as depression, anxiety, addiction, and trauma. I have additionally given individual and team therapy sessions, as well as crafted specialized approaches for each client's unique needs.

My greatest strength is my ability to listen actively while delivering compassionate support to patients facing complex challenges in their lives. I am also highly organized and detail-oriented, which has enabled me to effectively manage caseloads of up to 15 clients at once.

I would love to discuss how my psychologist qualifications can benefit your team at [Company Name]. Please contact me at [Phone Number] or [Email Address] to learn more about my background or have any questions. I appreciate your time and consideration.

Sincerely, [Your Name]
For those who don't have any work experience yet, writing a psychologist's cover letter may seem a bit challenging. However, it still can be done.
Here is a cover letter to accompany an entry-level psychology resume:

Dear [Hiring Manager],

I am interested in the psychologist job at [Company Name]. Although I do not yet have professional experience in psychology, I am passionate about making a difference in people's lives through counseling services. My academic background makes me a good fit for this role.

I recently completed my Master's degree in Psychology at [University]. I gained valuable knowledge in cognitive behavior therapy, interpersonal relationships, and mental health assessment techniques.

While at school, I offered individual counseling as well as facilitated leading group sessions for young adults struggling with depression and anxiety-related issues. This experience gave me insight into how people process emotions and manage stressors and strengthened my desire to continue working as a professional psychologist.

Overall, I believe that my educational history combined with my volunteer work gives me an excellent foundation. I wish to continue developing my skillset as an effective psychology specialist at [Company Name]. Thank you for considering my application. I would welcome the opportunity to discuss further how I could benefit your team during an interview setting if possible.

Sincerely, [Name]
12. Proofread your psychologist's resume
Proofreading and spellchecking are essential when seeking a psychologist position.
Your psychology resume and cover letter should be professional, and reflect your best qualities. Making sure these documents are accurate and free of mistakes is a must.
"I was always looking outside myself for strength and confidence but it comes from within. It is there all the time."
It is essential to use proper grammar and words when constructing your supporting letter and resume for psychology roles. Poor grammar can make it challenging to understand the content.
At the same time, spelling errors in your psychologist's resume can be a sign of carelessness or lack of attention to detail. Employers may view this negatively, affecting your chances of getting the job.
To proofread effectively, reading through the document several times is helpful. Once you have finished writing, take a break from the document before rereading it with a fresh perspective.
Read each sentence aloud, as this should assist you in finding errors more easily. Have someone else review your draft of the psychology resume for spelling and grammar mistakes if possible.
For extra accuracy, use tools such as Grammarly or an online dictionary and thesaurus to check for any wrong words or phrases. Look out for any typos or repetition of words that could be improved with synonyms.
Conclusion
Writing a psychologist's resume requires a unique approach that can illustrate a candidate's qualifications, experience, and knowledge in the field.
Key takeaways when writing a psychologist's resume:

Highlight your education. Ensure the degree you earned, the school where you studied, and any honors or awards you received.
Tailor your resume. Customize your psychologist resume according to the job requirements by highlighting relevant skills, qualifications, and experiences.
Include relevant experience. Focus on any clinical or research experience applicable to the role.
Showcase your skills. Indicate any special psychologist skills or certifications that demonstrate your expertise in psychology.
Choose an appropriate format. Select a professional format that compliments your qualifications and experience.
Proofread carefully. Before submitting your psychology resume, correct any grammar or spelling errors.
Above all, get help. Utilize resources such as psychology resume templates. Take advantage of the online resume builder to adjust your psychologist's resume to professional writing standards.
Following these tips will help you make a remarkable impact on prospective employers. Heeding the suggested methods, you can build an effective psychologist resume and secure the job of your dreams!