An outstanding secretary resume will distinguish you from other candidates and show your organizational and communicative skills. Therefore, crafting an exceptional resume is essential for any secretary who wants to leave a lasting impression on potential employers.
You can run the office without a boss, but you can't run an office without secretaries.
This guide will help you construct an impeccable secretary resume to highlight your skills and experience. So, if you want to take your career to the next level, read on and find out how to write a winning resume!
What Should Be on a Resume
This article provides a comprehensive guide to making a resume for a secretary position. It outlines the essential elements of a successful resume:
Begin with contact information to allow employers to reach out for an interview or further inquiry.
Add a summary statement. The summary is one of the first things employers see on your resume. Make sure it makes a strong impression and is comprehensive.
Detail your education and experience. This part should have clear descriptions of previous duties and accomplishments. Any special projects or awards can be highlighted.
List any relevant secretarial hard skills you possess, such as word processing, scheduling, filing, and other administrative tasks you are able to complete.
Highlight soft skills. Mention any transferable skills you have, like excellent communication and multitasking, and other abilities necessary for performing secretarial duties.
Include relevant certifications. This section will help show your competence in the field and give you a favorable advantage compared to other applicants.
With these tips in mind, writing a successful secretary resume will become easier than ever. Read on to write a resume that truly shines!
Use Resume Builder
Are you looking for a way to quickly create an outstanding resume? Look no further! Resume Trick is an online resume maker that provides 20 free resume templates.
The resume creator offers an array of customizable templates that could be used for any job category, from entry-level to executive. You can easily tailor the template to suit your needs and highlight your qualifications.
Using secretary resume resume templates has many advantages:
Flexibility. Choose any pre-made template and colors while preserving uniformity throughout the whole document.
Professionally designed. The resume will look professional and have proper readability. The resume builder also automatically makes your secretary resume Applicant Tracking Systems (ATS) compatible.
Time-saving. Save time by using templates instead of writing a resume from scratch. All you need to do is fill in your information, and you'll have a great-looking resume in no time!
Through the free resume builder, you'll be able to make an appealing and productive resume that can assist you in acquiring the job you want. Try it out today!
Secretary Resume Examples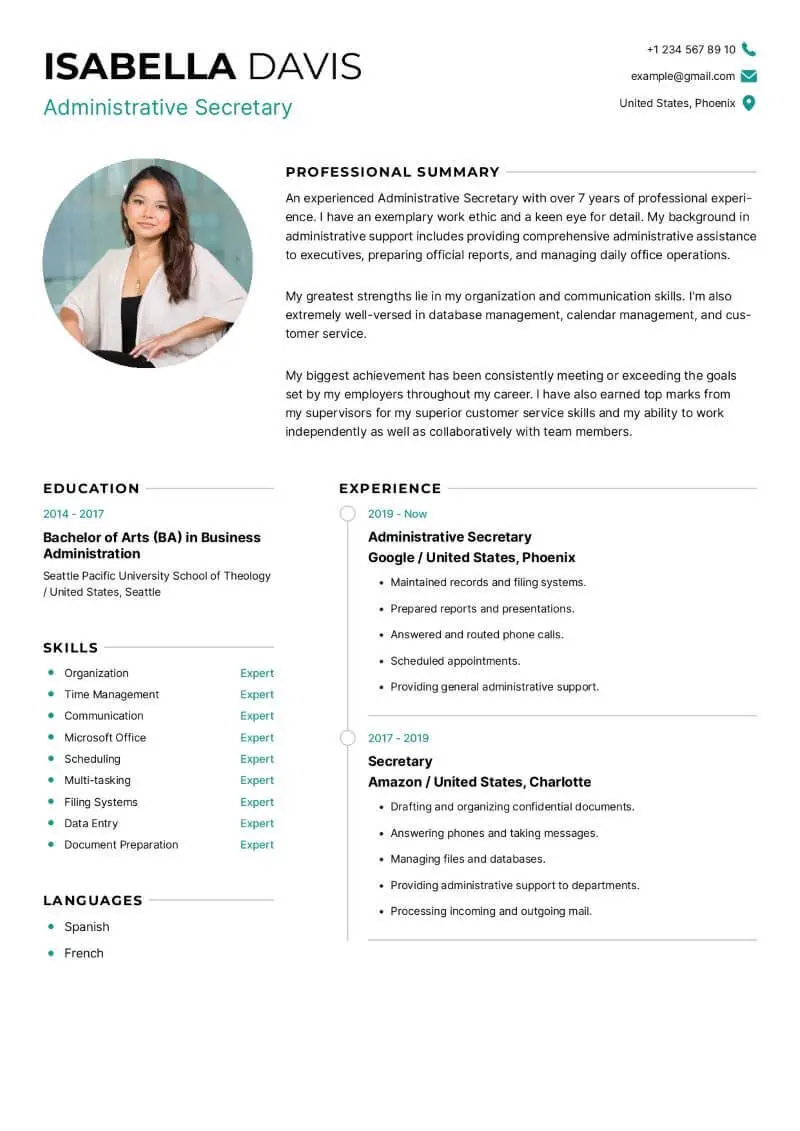 Professional Summary

An experienced administrative secretary with 5+ years of experience. I have extensive knowledge of administrative and secretarial duties, including organizing and managing files, scheduling meetings, and preparing documents. At my previous workplace, I successfully implemented a new filing system that greatly improved the company's efficiency and saved time and money. With my dedicated work ethic combined with experience, I believe I can be an asset to your organization.

Experience

Executive Secretary at ABC Corporation (2018 - Now).

Supported the Board of Directors by creating agendas and taking notes.
Established and maintained filing system.
Developed and distributed presentations for projects.
Managed calendars and travel arrangements.
Organized conferences and other events.
Supervised administrative staff, such as receptionists and clerks.
Handled confidential materials with discretion.
Assisted the accounting department with accounts payable and receivable issues.

Education

BA in Managment from XYZ University, 2017
Professional Writing Certification, AAA Business School, 2019
Advanced Certification in the Microsoft Office Program, BBB Training Center, 2018

Skills

Organization;
Time Management;
Communication;
Microsoft Office;
Scheduling;
Multi-tasking;
Attention to Detail;
Filing Systems;
Problem Solving;
Document Preparation;
Record Keeping;
Event Planning;
Superior organizational capacity.

Awards

Employee of the Month Award at ABC Corporation, 2019 & 2021
About Writing Style
When writing a secretary resume, it is essential that you use professional language and proper formatting.
Use specific job-related terminology and phrases commonly used in the field. This will help emphasize the skills and qualifications you have that are necessary for the role. Avoid repeating words or phrases several times in a row and replace them with synonyms. Strive for a unique and versatile style of writing.
Formatting can also be used to capture the attention of potential employers. Use clear formatting with headings and bullet points to emphasize key sections and make them easier to read. Additionally, when writing descriptions, try to keep sentences concise and limited to twelve words. This allows recruiters to quickly assess your qualifications.
Here are examples of words you can use to make your resume stronger:

Skilled: Prove extensive knowledge and experience in the relevant field.
Experienced: Have work history in the desired role.
Organized: Exhibit remarkable organizational aptitude and carefulness.
Responsible: Attest a strong sense of duty and commitment to assigned tasks.
Dedicated: Present deep devotion and loyalty to employers.
Innovative: Show creative problem-solving ability in challenging situations.
Reliable: Delivering dependable results under pressure.
Adaptable: Showcase capacity to adjust to changing conditions.
Motivated: Exhibit enthusiasm for learning new skills and taking on new challenges.
Professional: Demonstrate respect for colleagues, clients, and employers.
Detail-oriented: Pay attention to all aspects of work.
By following these tips for resume writing, you can create an effective secretary resume that will help you distinguish yourself.
How to Fill in Contact Information
When writing a resume for a secretary position, there are certain elements of contact and personal information to include:
Full name including any titles (i.e. Jr.).
Country and city you are currently residing in.
Phone number so the employer can contact you for further questions.
Email to receive relevant updates or correspondence related to your position.
Additionally, you should list any other pertinent contact information such as your LinkedIn profile or Twitter handle.
Your personal information should be legible and clearly presented. If you use an AI-powered resume builder to generate some parts of your resume, make sure to proofread it and break it into shorter sentences if necessary.
The correct contact details on a resume are critical for the employer to be able to contact you and invite to an interview.
How to Organize Experience
[Constructing a secretary's resume] necessitates itemizing and ordering the work history appropriately:
The format should begin with the most recent employment and work backward in reverse chronological order.
The job titles, company names, dates of employment, and main duties must be listed for every position.
You can organize your experience by making use of bullet points. Here are two examples of secretary job history that can be used as reference:
Corporate Secretary - ABC Enterprises (2012-2017)
Oversaw the issuance of documentation and ensured their accuracy and compliance with regulations.
Wrote, edited, proofread, and distributed Board of Directors meeting minutes.
Monitored changes to legislation and regulatory guidelines to ensure compliance with corporate policies.
Legal Secretary - XYZ Law Firm (2008-2012)
Drafted documents including pleadings, motions, contracts, and deeds.
Scheduled court hearings and managed attorney calendars.
Assisted attorneys in preparing for trial by conducting research and organizing evidence.
This kind of information in the resume can be extremely beneficial. It provides the employer with clear evidence that you possess the necessary qualifications for the role.
However, if the data is listed incorrectly or not formatted properly, it will create a negative impression. For example, listing the experiences without any chronological order or not specifying the duties performed at each job will reflect poorly on your resume.
According to indeed.com, the average annual salary for secretaries in the United States is approximately $31,686.
Consequently, it is crucial to accurately and professionally highlight your work experience when designing a resume for a secretary post. This will demonstrate to employers that you have the qualifications necessary for the position and boost your prospects of employment.
How to List Education
When mentioning educational information in a secretary resume, it is important to keep the formatting consistent and easy to read.
Education should be listed starting with the highest degree:
Bachelor's Degree in Business Administration, Thomas Jefferson University, 2017-2021
Associate's Degree in Accounting, Community College of Philadelphia, 2016-2017
It is also helpful to mention any additional certifications that have been obtained. If you are applying for a secretary position, you may want to include the following information:
Certified Professional Assistant (Association of Administrative Professionals, 2019)
Such courses demonstrate your knowledge of business administration and communication skills which are essential for a successful career as a secretary. The certification in particular shows that you have passed a professional exam demonstrating your proficiency in the field. It can give you an edge over other applicants.
Skills for Secretary Resume
Adding skills to a secretary resume will show qualifications for the position.
Responsibility without power, the fate of the secretary through the ages.
Soft skills are personal attributes that help a person interact with others and work effectively in a professional setting. They show a candidate's interpersonal and communication skills.
Examples of secretary soft skills:
Oriented to customer service and details;
Organized;
Able to prioritize tasks and multitask;
Communicative.
Hard skills are tangible abilities that are related to the job, such as computer or language competence.
Hard skills might include:
Proficiency with Microsoft Word and Excel;
Knowledge of office equipment and data entry expertise;
Appointment scheduling ability;
Familiarity with business software applications;
Experience with digital record-keeping systems.
Mentioning secretary skills in a resume will demonstrate that the applicant is thoroughly qualified for the position. It will also help the candidate gain recognition among other applicants.
Including Social Media
In general, having social media links on a resume might be beneficial under particular circumstances.
On one hand, it helps employers get a better understanding of the candidate's interests and personality.
On the other hand, it can be viewed as unprofessional if the content does not reflect positively on the job seeker.
Who can add social media:
Incorporating social media profiles may prove advantageous when seeking positions in creative industries.

Platforms like LinkedIn and portfolio websites could help demonstrate the applicant's experience.
Links to projects they have worked on could showcase their skills in web design or content creation.
Who shouldn't mention social media:
A secretary working for a large law firm should avoid including accounts that contain profane language or inappropriate images.

Similarly, a secretary in a corporate environment could choose to abstain from linking to more personal social media profiles.
Overall, it comes down to how each individual job seeker chooses to present themselves and whether they are comfortable with employers viewing their online presence. Ultimately, inserting social media references should only be done if the content is professional.
Secretary Resume Summary
An outstanding resume summary should reflect the capacity to assist senior managers, aid with meeting preparation, and oversee intricate day-to-day operations.
An example of a great summary in a resume for a secretary can be:
Highly organized and detail-oriented secretary with 5+ years of experience providing administrative support to executive teams. Proven track record of developing efficient processes, managing calendars, and preparing conference materials. Adept at problem-solving and excellent communication skills.
Tips for Writing a Great Resume Summary:
Be specific about your skills and experience. Make sure to give specific examples of your accomplishments relevant to the position you are applying for.
Use keywords. Include industry-specific words to describe yourself to ensure your resume distinguishes itself from the other applicants. This will guarantee that your resume is picked up by any automated ATS.
Use Secretary Resume Examples
Additional Information
Adding supplementary information to a resume is an important step to impress the recruiter. It provides more insight into the candidate's character and helps with questions for the interview.
Hobbies should be featured in the resume to show that the potential employee is well-rounded. If an applicant lists volunteering or playing a musical instrument as their hobby, this could demonstrate enthusiasm and community engagement.
Courses must be incorporated into a resume for the secretary position in order to validate qualifications and reveal dedication to learning. This is especially important for secretaries who are expected to have knowledge of office software or to take on additional responsibility.
Languages can be added to demonstrate aptitude for conversing effectively with clients from multiple cultures. It also demonstrates that they are open-minded and willing to learn new concepts and ideas.
Alaska, California, and Washington rank as the top three states in terms of salary for secretaries.
A secretary resume should showcase awards, indicating the level of professionalism and dedication towards the work. Awards can also reflect success achieved in the career and desire to continue doing so.
Mentioning internships confirms that the candidate has experience working in an office environment and has been able to utilize their skills in a real-life setting. An example could be listing any internships completed at local businesses or government offices.
References should also be included on a resume for a secretary position. This gives an independent opinion about the applicant's work ethic and skills from someone who has worked with them before. You can enumerate any former managers or colleagues that can vouch for your abilities.
Additionally, certificates can be affixed to a secretary resume. These illustrate acknowledgment by industry bodies for having specific qualifications or comprehension.
Secretary Cover Letter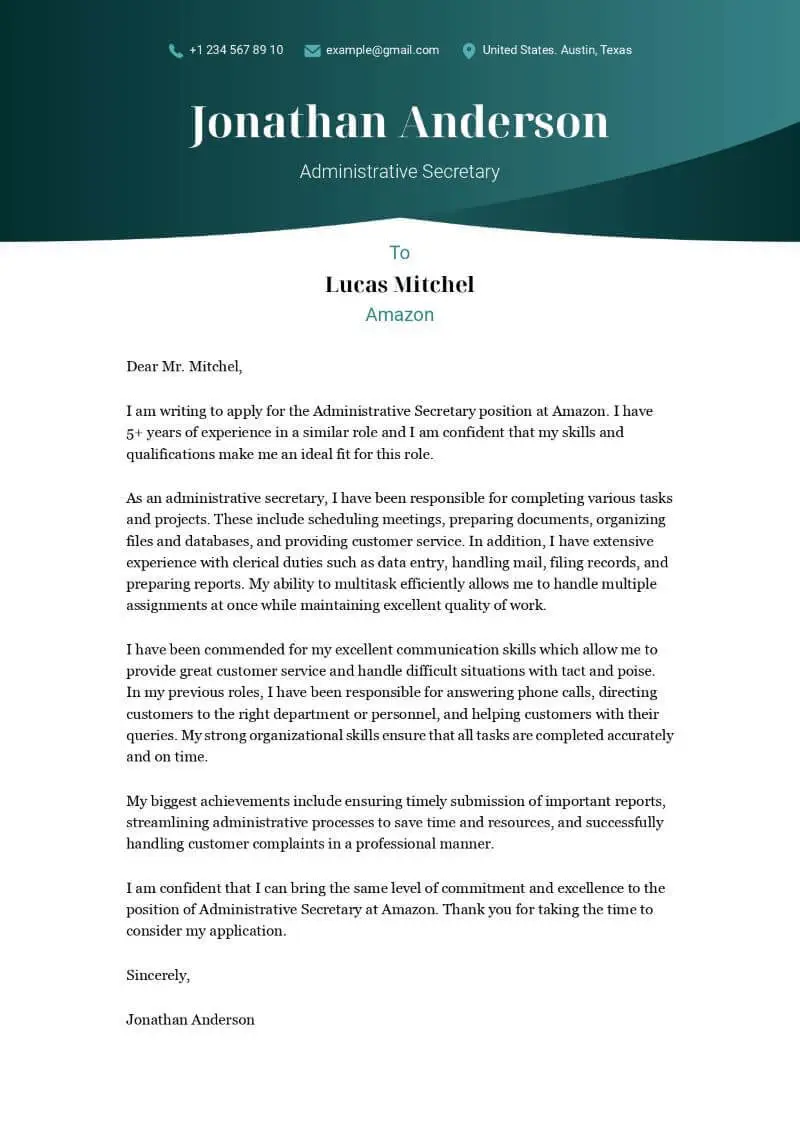 One of the most important parts of securing your dream position is to write a cover letter for a secretary job. An exceptional cover letter can make you stand out among other applicants and give potential employers a glimpse into why you'll be an asset to their team.
To get started, it's important to understand what a cover letter is and how it will be used in the hiring process.
A cover letter serves as a short document that accompanies your resume and introduces you to the employer. It should provide an overview of who you are and explain why you're qualified for the position. Additionally, discuss any relevant experience or skills that prove you are a good fit for the job.
When writing a cover letter, keep in mind that it should be tailored specifically to the job description. Utilize keywords from the job description to show how your background matches the role.
Start by introducing yourself and stating the reason you're applying for the job.
Elaborate on your qualifications and emphasize how they make you an ideal candidate for the role.
Remember to include relevant details about your past positions, such as achievements or awards you have received.
Finally, express genuine enthusiasm for the role and thank them for considering your application.
It's also important to guarantee that your cover letter is composed adequately and free of mistakes Proofread your secretary cover letter multiple times to catch any typos or grammar errors, as these can leave a bad impression.
Below are two example cover letters for a secretary role:
Good Example:
Dear [Hiring Manager],

I am submitting my application for the Secretary role at [Company Name]. With over five years of experience as an administrative assistant, I am confident I have the necessary skills to excel in this role.

Offering assistance to senior personnel, for example, arranging meetings and maintaining calendar entries. I am very organized and detail-oriented, which has enabled me to accurately track data and ensure deadlines are met. I am also highly proficient in Microsoft Office Suite, making me capable of handling day-to-day tasks quickly and efficiently.

Moreover, I have excellent communication abilities and experience providing customer service in a professional environment. I am confident that my combination of qualifications makes me a perfect candidate for this position.

Thank you for taking the time to consider my application. I am keenly excited to go into greater detail about my credentials in an interview setting at your convenience.

Sincerely,

[Your Name]
Bad Example:
Dear Hiring Manager:

I want to apply for the Secretary position at [Company Name]. My experience includes assistant positions where I was successful in tracking data & ensuring deadlines were met on time every single time & had excellent customer service skills & excellent communication skills too! Utilizing Microsoft Office is no problem either! I think I'm perfect for this job & would love to discuss more during an interview! Please call me at 123-456-789 or email me at example@example.com if interested!

Thanks!

[Your Name]
The first cover letter example is much better than the second one:
It clearly explains why the applicant is qualified for the job while also expressing genuine excitement for it.
It also provides relevant information about their past experiences rather than simply listing off generic skills without any context or examples of how they used them successfully in the previous position.
Plus, it finishes with a polite request for an interview as opposed to merely asking them to make contact.
If you have no work experience, you still can capture the attention to your resume by highlighting your skills and achievements.
Entry-Level Secretary Cover Letter Example
Dear [Recruiter],

I am writing to apply for the Secretary position at [Company]. I have a great passion for working in a corporate atmosphere and am eager to take on new challenges and develop my skills.

Although I have never worked as a secretary, I possess plenty of transferable skills that make me a valuable asset to your team. I have substantial knowledge of office procedures, good communication and organizational skills, and experience in data entry and customer service.

I am confident that I can quickly become acquainted with the needs of your organization and prove to be an effective member of your team. With my strong work ethic, meticulousness, and willingness to go the extra mile, I am certain I will make meaningful contributions to your team.

I would love the opportunity to discuss my qualifications further in person. Please feel free to contact me at any time via phone or email if you require additional information or have questions regarding my resume.

Thank you for considering my application. I look forward to hearing from you soon about this exciting opportunity.

Best regards,

[Your Name]
How do I write a cover letter for a secretary resume without experience?
Focus on transferable skills. Despite not having any background in secretarial duties, you may have other skills from previous jobs or studies that are applicable to the position.
Identify any pertinent credentials. If you have any relevant certifications or qualifications related to the role, mention them in your cover letter. This will demonstrate your suitability for the position even if you do not have prior experience.
Show enthusiasm. It is important to show enthusiasm for the role you are applying for and demonstrate why you believe that this is the perfect job for you. Make sure that this comes across clearly in your writing so that the employer can see how passionate you are about working in this position.
Reread carefully. As with any job application, it is critical to check the cover letter very carefully prior to sending it off - typos or grammar mistakes could mean that recruiters overlook your resume entirely!
Proofread Everything
Checking your resume and cover letter is essential to ensure that you are presenting yourself in the best possible light. Poor grammar, spelling errors, or incorrect word choices can leave a negative impression on employers and potentially disqualify you from the position.
Writing without revising is the literary equivalent of waltzing gaily out of the house in your underwear.
Meticulousness in the application shows your linguistic proficiency and precision. Employers will appreciate it when they receive an application with no typos or mistakes. Make sure the length of the secretary resume is appropriate.
When deciding on what words to use, ensure they accurately reflect the meaning you want to convey. Avoid using overly technical language, slang, or jargon that may be misinterpreted.
Start by reading your secretary cover letter and resume out loud. This can assist you to detect any clumsy phrasing or mistakes in the text.
Consider having someone else review your documents with a fresh pair of eyes.
Take advantage of online spellcheckers to help identify any spelling or grammatical errors.
As a final step reread your paper backward, sentence by sentence. This will help you isolate sentences and make it easier to see errors you may have overlooked before.
By taking these steps to proofread your application materials, you can rest assured that they meet the standards expected by employers for secretary positions.
Conclusion
A well-crafted secretary resume can help you stand out from the crowd. To simplify the process, consider using an online resume builder to create an impressive document with minimal effort. Start writing your resume for a secretary position now and get that dream job!
How to use a resume maker?
Pick a template. Browse through available resume templates and decide on one that best suits the job you are applying for.
Fill in personal information. Start by entering your name, job title, and contact information (phone number, email address, and address).
Write a professional summary. Craft a compelling summary statement that briefly introduces your career goals and highlights your key qualifications for a secretary role. This should be 3-4 sentences focused on showcasing why you would make an excellent secretary.
Add your education, work experience, and skills. Include all formal schooling and relevant work experience, and highlight any specialized expertise and skills required for a secretary resume.
Download your resume. Once your resume is complete, download the final version in PDF format. That's all! Now you can print it out or send it to the employer.
By following these tips on composing an effective secretary resume and cover letter you will sure be noticed among other applicants when applying for the position. Good luck!