Having a resume is an essential part of any successful telephone service role search. Your call center resume is the first impression that employers will have of you so it should be professional and accurate. A well-written resume can give you a competitive edge and boost your odds of success.
Customers remember the service a lot longer than they remember the price.
In this article, we will provide you with a step-by-step guide to writing a top-notch resume for a call center job. So brush up on your resume writing skills and let's get started! Read on for more insight into devising a successful call center resume today.
Call Center Resume Examples
Call Center Resume Template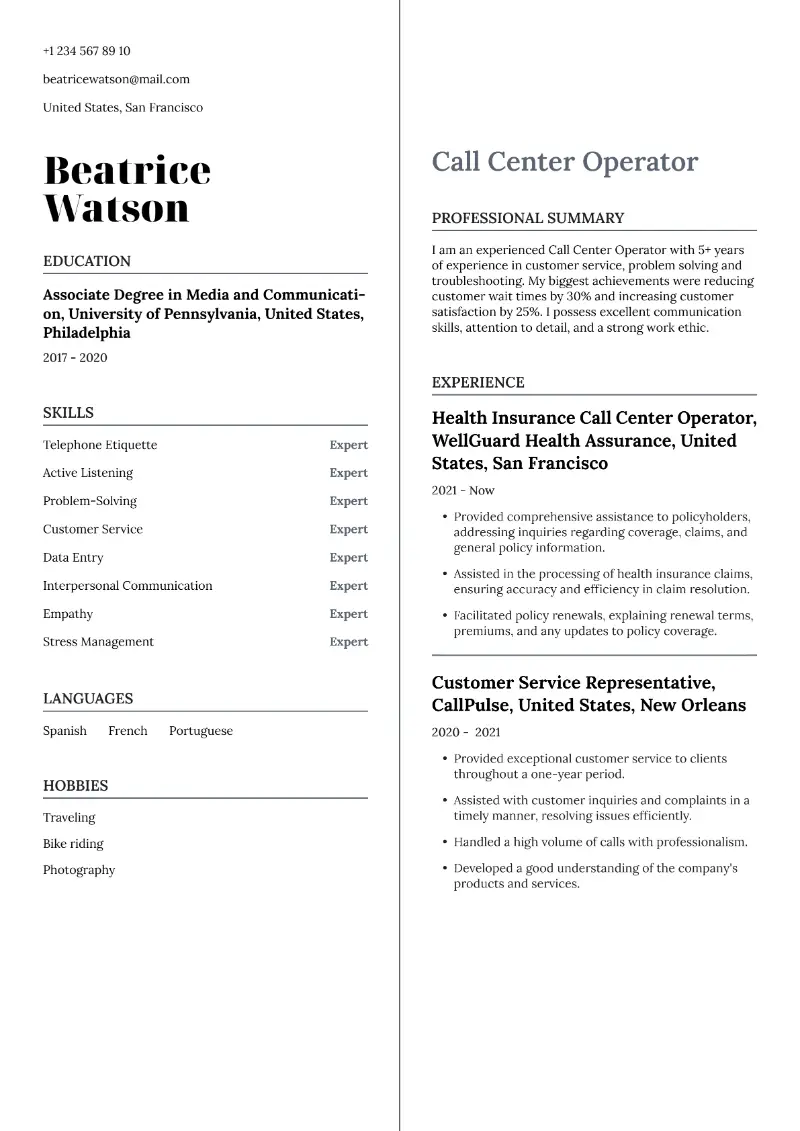 Call Center Resume Example
Summary

Highly organized and motivated customer service professional with 5+ years of experience in call center environments. Able to deliver customer satisfaction in fast-paced, high-volume environments. Demonstrated leadership skills for managing and training teams.

Relevant Experience

Call Center Supervisor, AnswerTech Hub, 2019 - Present

Manage a team of 10+ agents, providing training to ensure consistent quality service.
Streamlined processes to increase call resolution rates by 20% in the first 6 months.
Implemented a new customer tracking system to measure performance against established goals.

Client Support Specialist, ClearVoice Connect, 2016 - 2019

Processed 200+ calls daily with a focus on delivering fast and reliable solutions for customers.
Established meaningful connections with customers by delivering comprehensive product information.
Resolved complex customer inquiries quickly and professionally.

Telecommunications Agent, EchoLine Support, 2014 - 2016

Handled an average of 80 calls per day, successfully resolving customer complaints within set timeframes.
Utilized knowledge of telecommunications products and services to answer inquiries accurately.
Consistently maintained high satisfaction ratings (94%) through excellent communication.

Skills & Strengths

Communication Skills;
Customer Service;
Interpersonal Skills;
Telephone Etiquette;
Time Management;
Patience;
Adaptability;
Computer Literacy;
Data Entry;
Active Listening;
Conflict Resolution;
Stress Management.

Education & Certifications

High School Diploma, 2014
Call Center Certification, ExpertiseCert Academy, 2016
No Experience Call Center Resume Sample
Summary

Motivated and detail-oriented Communication Studies graduate seeking a position as a Call Center Representative. Good at adapting to new challenges and technologies. Eager to contribute excellent interpersonal and communication skills to a dynamic customer support team.

Skills

Communication;
Customer Service;
Problem Solving;
Adaptability;
Empathy;
Attention to Detail;
Patience;
Stress Management;
Cultural Sensitivity.

Education

Associate of Arts in Communication Studies

City College, Springfield, IL

Graduated: May 2022 Relevant coursework: Public Speaking, Management, Advanced Spanish.

Technical Proficiency

Microsoft Office Suite (Word, Excel, Outlook)
Basic Computer Troubleshooting

Extracurricular Activities

Community Volunteer

Springfield Cares (2022)

Contributed to a local community outreach program, enhancing interpersonal and teamwork skills.

Enrollment Office

Springfield City College

Assisted the enrollment office in answering phone calls from prospective students.
Customer Service Call Center Resume Example
Summary

Enthusiastic and customer-centric professional, seeking a challenging position in a customer service call center. Proven ability to deliver exceptional service, resolve issues efficiently, and contribute to a positive team environment. Adept at multitasking and adapting to evolving customer needs.

Relevant Experience

Customer Service Representative, TeleConnect Solutions (May 2022 - September 2023)

Respond promptly to customer inquiries, providing information and resolving issues.
Collaborate with team members to ensure consistent and high-quality customer service.
Maintain accurate customer records and handle data entry tasks efficiently.

Client Support Associate, DialEase Services (April 2020 - May 2022)

Assisted clients in navigating products and services, ensuring satisfaction and issue resolution.
Conducted training sessions for new hires, contributing to team efficiency.
Managed client accounts, ensuring accuracy in billing and resolving payment discrepancies.

Skills

Communication;
Problem Solving;
Patience;
Stress Management;
Cultural Sensitivity;
CRM Software;
Data Entry;
Microsoft Office;
Troubleshooting;
Billing Systems;
Training Delivery.

Education

High School Diploma

Certifications

Customer Service Excellence Certification (2022)

Languages

Fluent in English.
Conversational Spanish.
Use Resume Builder
Are you looking for a call center resume template to help you get ahead in the job search? Have you considered using an online service?
Using a resume template is a great way to make your application stand out and get noticed.
Here are some of the benefits of using a pre-made template instead of writing a plain text resume in Word:
Time saving. Writing a resume from scratch can be a lengthy process. However, with a free resume builder, you can have a professional-looking resume within minutes.
Customization. You can customize your resume to make it unique and eye-catching. Choose from different templates, colors, fonts, and formats to create the perfect fit for your job application.
Easy editing. You don't have to worry about formatting errors. Make changes to your resume with just a few clicks.
Professional appeal. A professionally designed template can present your qualifications and experience in an organized, attractive format that will grab the attention of potential employers.
Utilizing an online resume generator is the easiest way to get a leg up on the job search. With all of these benefits, you should definitely turn to web-based services for resume templates!
Style Recommendations
When writing a resume for a call center representative, it is important to use professional language and words to describe yourself. The resume should be clear and concise, using strong action verbs to emphasize accomplishments.
Below is a list of powerful phrases that you can use to make your resume for a call center job stand out:
Customer service expertise. Demonstrated ability to provide top-notch customer service.
Conflict resolution. Proficiency in resolving customer complaints and disputes effectively.
Multitasking. Skilled at managing multiple tasks simultaneously.
Communication skills. Proficient in verbal and written communication.
Problem-solving. Data analysis and accurate solutions identifying.
Phone etiquette. Knowledge of best practices for handling calls in a professional manner.
Data entry. Experience with entering customer information into a database efficiently.
Communications platforms. Proficiency with the most advanced communications platforms.
Call volume. Possesses the capacity to manage high call volumes with ease and professionalism.
Team player. Proven track record of working well in a team environment.
How to Fill in Contact Information
When adding personal information to a resume, remember not to go overboard. It's best to be concise and to the point.
Include in your call center resume:
Full name;
Country and city;
Email address;
Phone number.
Add your LinkedIn profile if you have one.
Listing personal and contact information in a resume for a call center manager is the opportunity to give the best impression of yourself.
Listing Call Center Experience
When drafting a resume for a job in the customer service industry, it's crucial to arrange your work experience details. That way your special talents and skills are highlighted and make you more desirable than other contenders.
Customers don't expect you to be perfect. They expect you to fix things when they go wrong.
One of the best ways to do this is to organize the experience section in reverse chronological order. List your current or most recent job first, followed by other relevant experience.
Remember to include details such as:
Title;
Company name;
Dates of employment;
Key responsibilities.
This allows employers to swiftly determine how long you've been working in the field and what type of roles you have held.
For each role you list, include bullet points that describe the tasks you performed.
A great call center resume sample of experience section:
Call Center Operator, ABC Corporation, (2021 - Present)

Answered customer inquiries via phone, email, or chat.
Troubleshooted technical issues.
Updated customer records.
Assisted customers with product selection.
Took orders and processed payments.
Specifying your experience with these particulars will help employers quickly assess your proficiency in delivering first-rate customer care and technical support. This can be particularly helpful if you are making a career switch and don't have direct experience in the call center industry.
Incorrect listing of work history can be confusing and unappealing to recruiters.
If you listed all of your work history without providing details on each role or placed it in chaotic order, it would be difficult for employers to determine what experience you have had.

Not using bullet points makes it complicated to quickly scan through your resume and assess your suitability for the role.
Overall, organizing your work experience information correctly is important when competing for a role in a call center. It will help to understand how your skills align with their needs and make it easier for them to decide whether they should reach out for an interview.
How to List Education
When writing about educational background for a call center role, start with the highest degree and work backward. This makes it possible for employers to easily see any relevant coursework that may apply to the job you are applying for.
For example, if you have graduated from a bachelor's degree program in customer service or communication studies, this should be given priority. You can then list any other experiences such as certifications or additional coursework in chronological order below.
A good example:
Bachelor's Degree in Communication, ABC University, California (2018-2022)
Associate's Degree in Business Communication, XYZ Community College, New York (2017-2018)
Call Center Specialist Certification, International Management Institute (2021)
Customer Retention and Satisfaction Seminar, AT&T University (2019)
The wrong way to list your education would be to simply provide a long paragraph with all of your educational experiences without any formatting or structure.
This can complicate a quick understanding of what you have written. It could lead to overlooking certain qualifications that will benefit you in the hiring process.
A bad example:
I have a customer service professional certification since 2017. In 2018 I went to ABC University in California and got a bachelor's degree in Business Administration in 2022. Recently, I took part in the Effective Call Handling Techniques Workshop (2023).
Customer Service Resume Skills
Including professional skills in your call center resume will demonstrate to potential employers that the candidate has a combination of qualities essential for success in a customer service role.
Soft skills such as exceptional communication, problem-solving, and customer service are essential for any position in a contact center.
Hard skills like familiarity with specific programs and technologies can be beneficial in certain roles.
It is important to arrange the section with personal skills for the resume suitably. Start by listing your most relevant soft skills first.
Soft skills:
Communication;
Active listening;
Problem-solving;
Multitasking;
Empathy;
Patience;
Adaptability.
Hard skills:
Knowledge of software programs;
Familiarity with web-based platforms;
Language proficiency;
Sales skills;
Phone system operation;
Experience with data entry.
It is vital to incorporate job-specific language when outlining your call center skills. This proves that you have the necessary experience and qualifications for the role.
In the United States, the average salary for a call center operator stands at $36,812 per year.
To ensure your resume stands apart from other applicants, vary your language and use specific examples from past jobs. This will demonstrate how you have applied your skills in real-world scenarios.
Including Social Media
A portfolio for a call center occupation might feature your Twitter, Instagram, Facebook, etc. It is an effective way to show employers communication skills and provide them with a better understanding of your personality.
Pros:
Exploring social media profiles allows employers to get a more detailed picture of the job seeker.
Employers get to know more about the applicant's interests and values.
Cons:
Social media links may not be advantageous if the posted content is not suitable for the job.
Employers may also be hesitant to hire a candidate if the company doesn't have any presence on social media.
Adding social media links on the resume for a call center job can be a good idea. However, it depends on the nature of your job search and your social media profiles:
For roles in customer-facing, having an active presence on Twitter or Instagram can show strong service aptitude.
For marketing, having a well-maintained account on platforms like Facebook or LinkedIn shows creativity and knowledge in digital marketing strategies.
Overall, only include social media accounts on your call center resume if they are relevant, professional, and add value to your application. Clean up your profiles to remove any content that could be seen as unprofessional or controversial. Make sure your privacy settings are appropriate.
Resume Summary for Call Center
An accurate reflection of the applicant's qualifications and experience is important for a successful resume summary in a customer service position. The summary should make it clear why the applicant is the best choice for the position.
An effective summary statement should include your experience with customer service, communication, problem-solving, and any other skills relevant to the role. Examples of language to use in a call center resume summary can include:
Experienced call center agent providing excellent customer service, communication, and problem-solving skills.
Passionate customer service specialist with more than 5 years of experience in quickly resolving customer issues.
Reliable call center manager offering exceptional time management, communication, and multi-tasking skills.
Experienced customer service representative with 3+ years of expertise in handling incoming calls and solving problems.
Knowledgeable call center operator leveraging strong telephone etiquette to ensure customer satisfaction.
Remember to be mindful of not repeating words too often in your resume. Keep the sentences no longer than 12 words each.
A great customer service resume summary example:
Skilled telephone support specialist agent with 5+ years of experience in customer service and problem resolution. Demonstrated proficiency in handling difficult customer interactions, multitasking, and providing accurate information promptly. Experienced in upselling services, addressing customer issues, and offering precise solutions. Awarded "Employee of the Year" twice.
Here are 3 tips on composing a noteworthy resume summary:
Be Concise. Keep your professional summary under 200 words to ensure that all key points are being made without taking up too much space.
Tailor Your Summary. Make sure the summary reflects the position you are applying for and any pertinent abilities or experience directly associated with it.
Use Action Words. Adjectives such as "handled" or "resolved" will help you emphasize your achievements and make your summary more impactful.
According to NICE, 78% of contact centers offer flexible scheduling for their agents.
Additional Information to Include
It is beneficial to incorporate extra personal information into a call center resume to demonstrate the applicant's skills. This can assist in making the recruiter aware of the potential employee's capabilities.
| Section | Reasons to Include |
| --- | --- |
| Hobbies | Hobbies show that you have an interest outside of work that could be of benefit to the role. If an applicant is interested in photography then they may have outstanding attention to detail. This would be beneficial when addressing customer queries. |
| Courses | Any courses that have been taken or are currently being studied can demonstrate that the applicant has actively improved their skills. If an applicant has recently completed a course in communication, they are willing to develop their skill set and improve their abilities for customer service. |
| Languages | Being able to speak multiple languages can be an asset for a resume for call centers. It enables them to assist customers from different countries who may not speak English. If an applicant speaks French as well as English this could prove advantageous when dealing with customers from France or other French-speaking countries. |
| Awards | Awards can demonstrate an applicant's commitment and accomplishments in regard to providing customer support. If an applicant has won an award for "Best Customer Service Representative" it will illustrate to recruiters their capability in similar positions. |
| Internships | Placing internships points out that applicants have had prior involvement in client service operations. If an applicant has completed an internship at a bank subsequently, this could provide them with experience interacting with patrons and handling customer queries. |
| References | References are important for call center resumes as they provide the employer with a third-party opinion of the candidate's qualifications. If an applicant has provided references from past employers this would give a better understanding of how well they performed in previous roles and how likely they are to succeed in the current role. |
| Certificates | Certificates furnish evidence of professional progress or qualifications that might be suitable for particular occupations. If an applicant has achieved a certificate in customer service this shows they know how to deal with customers effectively. This could be a great asset when performing their call center duties. |
Call Center Cover Letter
Constructing a cover letter is one of the most critical steps in your job search. A well-crafted cover letter can help you stand out among the competition and raise your prospects of getting an interview.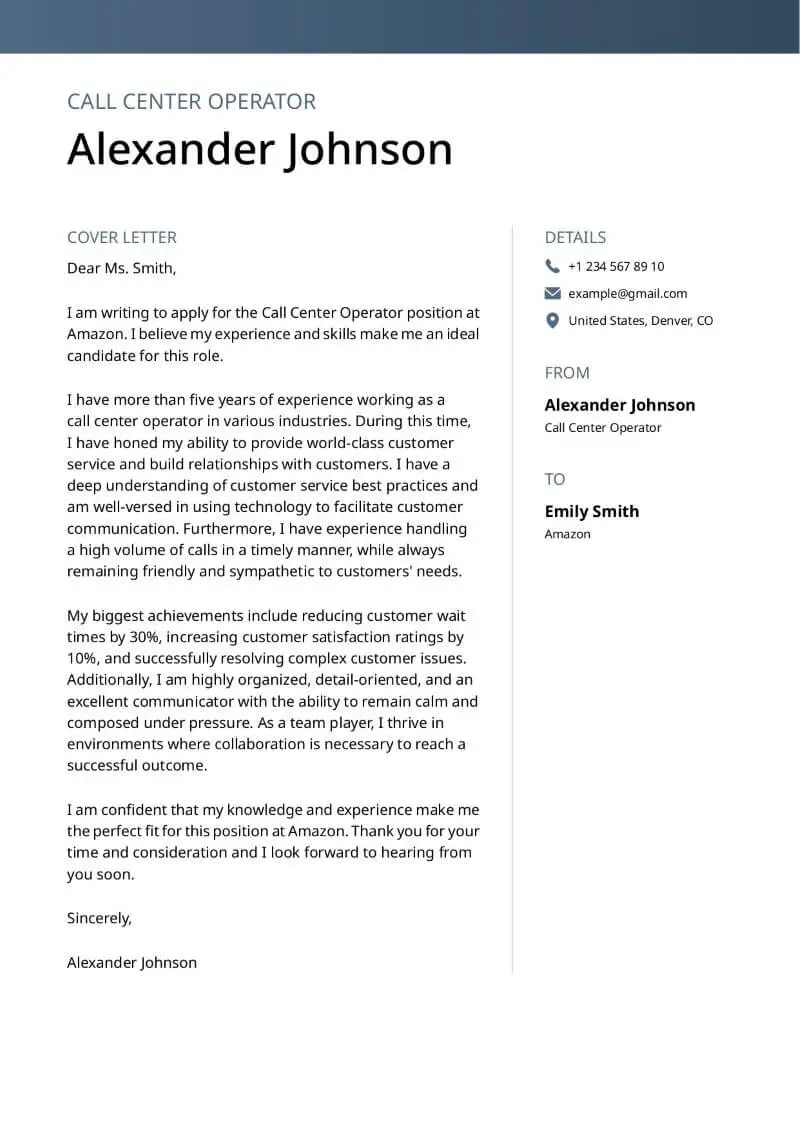 These tips can help you write an effective cover letter for a call center position:
Show enthusiasm and passion for the job. Demonstrate that you are knowledgeable about the industry and eager to work in the field.
Use strong language and emphasize your skills that will make you an excellent candidate for the position.
Make sure to address your letter to the hiring manager or recruiter specifically. Include their name, title, and contact information at the top of your letter.
Keep it concise. Your cover letter should be no more than one page long. Focus on the most relevant points about your experience, skills, and qualifications that make you suitable for the position.
Proofread your letter carefully before submitting it. Mistakes in your cover letter can hurt your chances of getting invited to an interview.
Dear [Hiring Manager],

I am applying for the Call Center Representative job at [Company Name]. With my superior interpersonal abilities, I am confident that I will become an asset to your team.

I have extensive experience in customer service both in-person and answering phone calls. During my two years working in customer service at [Previous Company], I developed problem-solving abilities. They have enabled me to handle various customer inquiries with ease and efficiency. My professional skills allow me to build strong relationships with customers. My knowledge of various software makes me adept at quickly helping customers over the phone or via email.

I am also extremely organized and detail-oriented; I am confident that my organizational skills will be beneficial when managing customers' problems as well as creating reports or updating databases. In addition, I have great multitasking abilities which make me ideal for juggling multiple jobs rapidly in a fast-paced environment.

I am thrilled by this opportunity and certain that I can bring great value to your team at [Company Name]. I would love to discuss my qualifications further during an interview, so please don't hesitate to get in touch about any concerns about my experience. Thank you for considering my application.

Sincerely,

[Your Name]
It is concise, demonstrates enthusiasm toward the position, highlights the qualifications, mentions previous experience, and ends with a polite request for an interview.
Let's consider a poor example:
Dear [Hiring Manager],

I came across your ad online to fill the role of Call Center Representative at [Company Name], so I figured I would give it a shot as I have been on the lookout for something of this nature, I thought it was worth a try. I've been looking for something like this for a while now! I'm pretty sure I'm qualified as I've had previous customer service experience and know what's expected of me when it comes to meeting customers' needs! Plus, I'm always on time with everything so punctuality won't be an issue! Anyway, if you think this sounds like something you'd be interested in then let me know!
This is not a worthwhile illustration because it offers no explicit information about related experience or qualifications. It doesn't showcase professionalism or fervor towards the position.
Plus, the tone does not reflect respect towards the hiring manager which could make a negative impression of the applicant's character.
Entry Level Cover Letter
Dear [Hiring Manager],

I am submitting my application for the telephone support job at [Company Name]. Despite my lack of understanding of the call center sector, I believe that my customer service and communication abilities make me an ideal candidate for this role.

I am a great communicator with excellent listening and problem-solving skills. Additionally, I have a knack for speaking clearly and professionally, both over the phone and in person.

Furthermore, I am highly organized, detail-oriented, and enthusiastic about helping customers. I am comfortable working independently as well as part of a team. As a self-motivated individual, I take the initiative to guarantee that customer needs are met quickly and efficiently.

I believe my skills make me an invaluable asset to your team. My resume is attached and provides further details on my qualifications and work experience. I look forward to discussing how I can contribute to your organization further.

Appreciate your consideration of my application. Please do not hesitate to contact me if you have any questions or would like to know more about my candidacy.

Sincerely,

[Your Name]
Advice on composing a call center cover letter with no experience:
Focus on your transferable skills. Showcase skills such as communication, problem-solving, customer service, professionalism, and organization are relevant regardless of prior contact center exposure
Highlight similar experiences. Even if you lack call center skills, ensure you incorporate any related experiences. They will demonstrate your suitability for this type of role.
Provide clear examples. Back up your claims with concrete customer service resume examples from other experiences.
Look for examples. Examine cover letter examples and use them as a reference.
Demonstrate enthusiasm. Show that you're glad to have the opportunity and eager to learn more about the role.
Follow instructions. Ensure to follow all instructions provided by the employer regarding submission requirements.
Proofread Call Center Resume
It is essential to proofread and spellcheck a resume and cover letter when pursuing an opportunity in the call center field. Using proper grammar and job-related words demonstrates a level of professionalism that employers look for in potential candidates.
A poorly written call center resume reflects a lack of care taken with the documents, which can be seen as a red flag by recruiters.
To ensure your resume and cover letter are error-free, it is important to do a thorough review.
Take a break from your writing before you start proofreading. It allows you to approach your work with a fresh perspective to spot errors more easily.
Read through your application papers out loud. This will help you catch any typos or wrong words you may have missed while typing.
Use online tools such as spell or grammar checkers to catch anything that may have been overlooked.
Print our resume to notice errors that you may miss on a computer screen. Use a pen or pencil and mark all mistakes or areas that need to be improved.
If possible, ask someone to read your text. Another pair of eyes can often provide ideas on improving the clarity and coherence of your writing.
To get an idea of what kind of language should be used, read job descriptions for similar positions. Pay attention to the words they use. This will give you an understanding of what employers are looking for in call center cover letters and resumes.
I was working on one of my poems all morning and took out a comma. In the afternoon I put it back again.
Apart from proofreading, ensure that your documents are customized for the exact role you're applying for. See if you can find ways to include information about relevant skills and experience that are specifically mentioned in the job listing.
By taking the time to thoroughly proofread and spellcheck your resume and job application letter, you can ensure that they are free of errors that could cost you the job!
Conclusion
Writing a call center resume can be overwhelming, especially if you are a new job seeker. Don't forget what should be on the resume:
Your contact information and a summary statement.
Relevant work experience, including job titles, employers, and dates.
Education and qualifications you have that are related to the job.
Special skills or technical proficiencies that you possess.
Language skills may be part of the operator's job.
Additional details such as volunteer work or awards related to your job search.
To make the process of creating a resume for a call center easier and less time-consuming, try using an online resume builder. This allows for faster customization of resumes according to the desired job position and helps in creating an impressive resume.
Take action now - get inspired with call center resume examples and start writing your resume today!