How to organize a resume? What resume sections are compulsory? Writing a resume can seem daunting. But don't worry; it's easier than you think.
Breaking down the resume into smaller sections can make the process more manageable. Moreover, it ensures that your resume is organized and formatted correctly is essential. In this article, we'll cover the basics of a resume and discuss each of the main sections.
What Should Be on a Resume
A typical resume should contain various sections to aid employers in swiftly analyzing applicants' qualifications and experience. These comprise:
Mandatory Resume Sections
Certain parts of a resume are always present on a resume.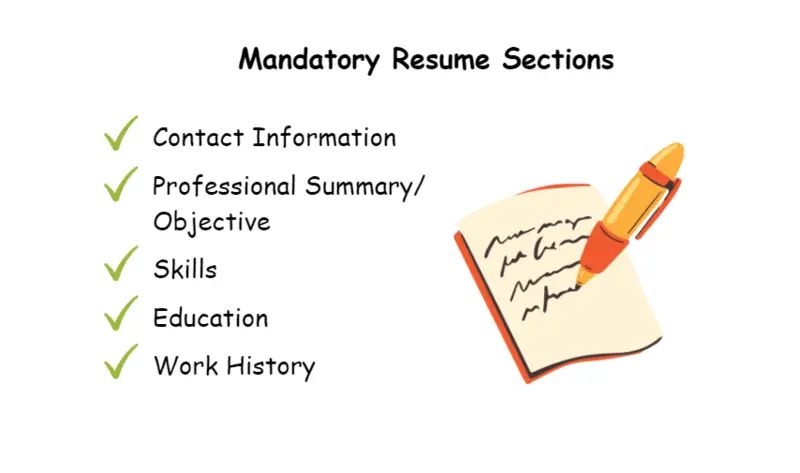 These resume sections should be written clearly and concisely in chronological order.
To remember all the details, it is better to use online resume builder. Thanks to its resume templates, you will never miss any important sections or encounter any formatting problems.
Just fill in the mandatory sections, add optional ones, and you are done. In addition, the implemented AI writer would help you draft the "Professional summary" and "Experience" sections.
Supplementary Resume Sections
There are many optional resume categories you can add to your resume, providing extra detail and enhancing the likelihood of securing employment. Several of the most ubiquitous ones are:
Awards and Certifications: Showcase any relevant certificates, such as software, language, or professional development.
Languages: If you possess fluency in multiple languages, list them here.
Publications: If you're a writer, list any published works you have.
Volunteering: Record your experience, such as pro-bono work or charity events.
Hobbies and Interests: Add pastimes and interests pertinent to the vacancy you are applying for.
References: Attach letters of recommendation from your past colleagues.
Regarding alternative resume sections, it pays to be judicious and only include those connected to the job opportunity. This will secure your resume being adapted to the role, assisting you to be noticed among other applicants.
Parts of a Resume
How to Order Resume Sections
With constructing a resume, one of the vital things to consider is the order of resume sections. Properly listing your sections on a resume can help capture the interest of HRs and create an impactful introduction.
Begin with your contact information. Place contact information at the top of your resume. This makes it easy for employers to get in touch with you.
Next, put a resume summary section or objective statement that gives the employer an overview of your skills and experience. This illustrates to employers why you're the right fit for the job and should be aligned with the position you're applying for.
Follow with work experience. List previous jobs in reverse chronological order, beginning with your most up-to-date job and moving backward. Insert job titles, company names, dates worked, and a summarized explanation of duties at each position.
Point education in addition to professional experience. List educational institutions attended, degrees earned, and relevant coursework or certifications received.
Remember any extra skills or qualifications that would be of value to an employer. These could consist of foreign language proficiency, computer skills, or any other special qualifications you have that could set you apart from the rest.
After skills come any applicable awards or honors you have received. This section should remain short but could incorporate scholarships or awards that demonstrate superiority in academics or other areas.
Finally, come any professional affiliations you may have, such as memberships in industry organizations or committees you've served on.
By structuring your resume as suggested, you'll ensure to draw managers' eyes and make a favorable first impression!
Now, let's have a closer look at the sections to include on a resume.
Contact Information Resume Section
When drafting your resume, contact information is among the paramount components of a resume. This area should include your full name, address, email, and phone number.
Guarantee that your contact data is up-to-date. Your prospective employer will need this information to contact you for an interview or any other questions they may have.
Create a new email that uses your full name. This will be advantageous for employers to remember and identify you. Also, avoid utilizing nicknames or numbers in your address. For example, instead of "partyanimal@gmail.com," use "janesmith@gmail.com."
Make sure to check this email account regularly. If employers try to reach you, they must ensure they're receiving a timely response.
When you provide your email, make sure you type the domain name, too.
If you have multiple email addresses, use the one that looks the most professional.
Your phone number must be one you are comfortable with a potential employer calling. If you don't want to use your personal cell phone number, consider setting up a Google Voice account or using a VoIP service like Skype.
Ensure that you check your voicemail frequently. It's also important to answer calls from unknown numbers.
Ultimately, be mindful of any country codes that might be essential when adding a phone number to your resume. If you're applying for jobs overseas, ensure the prospective employer knows how to dial you correctly.
This resume section aims to guarantee an opportunity for employers to contact you with minimal effort.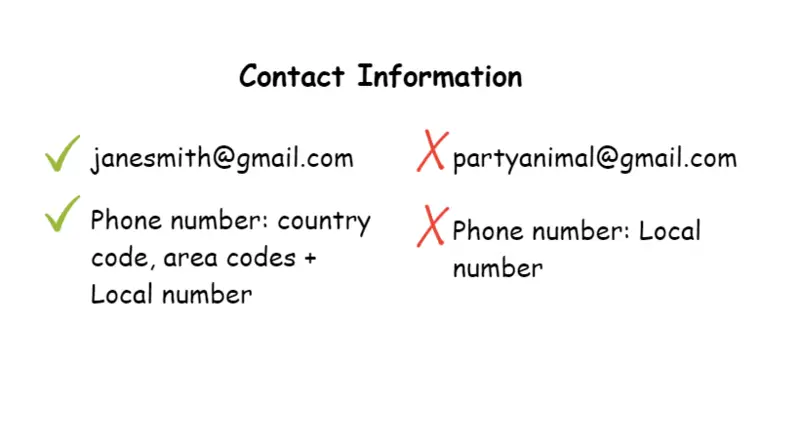 Verify that your contact info is accurate so potential bosses can communicate with you quickly and effortlessly.
Name Resume Section
Writing your name correctly is one of the important aspects of resume writing. It's the first thing employers and recruiters will see. Here's how:
Start with your first and last name at the top of the page, centered between the margins.
If you have a middle name, insert that as well.
Add any other names you go by professionally, such as a maiden name or nickname.
If you're including a professional headshot, be sure to include the name in a small type so it's visible but not distracting.
Following these steps will help guarantee that recruiters can find all of your pertinent contact information quickly and easily when looking over your resume.
Home Address
Your home address is your physical location, and it helps employers ensure that you are reliable and responsible.
It should be listed as a single line of text without extra symbols or punctuation. Just write the street number, name, city, province/state, and postal/zip code. For example: "123 Main Street, Toronto, ON, M4G 5T6".
It's best to list your current address if you have moved recently. This will show employers your expertise in securing a permanent residence. If you have lived at more than one address in the last years, list them chronologically in a separate section of your resume.
If you are from another country, list "International" as your residence. Note it on all job applications - not just those for jobs outside your country. This will help employers understand that you are willing to move if needed.
LinkedIn Profile and/or Website (optional) Resume Section
This resume section allows employers to instantly unearth supplemental data about you, such as your work experience and education. It also assists employers to gain insight into your professional accomplishments and career goals.
Mentioning a website showcases your technical expertise, especially if you apply for a tech-related job. Moreover, it provides employers a quick and easy way to connect with you.
Ensure that:
The information featured on your web presence is up-to-date and relevant to the career you are pursuing.
The content you share reflects positively on you as a professional.
Profile illustrates terms related to the occupation, as this helps employers find your account.
Inserting a link to an online portfolio or LinkedIn page in your resume can give employers an extra boost of confidence in hiring you. Make sure that it showcases all your best qualities as an applicant and that you keep it updated!
Resume Summary and Objective Resume Sections
These are two sections of a resume that are important. A summary presents employers with an outline of experience, skills, and expertise. An objective is a statement of professional goals and what they hope to gain from the position.
| Resume Summary Section | Resume Objective Section |
| --- | --- |
| A short paragraph summarizing the most important qualities that make the candidate stand out. Usually placed at the top. | Succinct expression of the contestant's professional ambition. |
| It must include years of experience, education, certifications, specializations, and other details to help the employer quickly learn about you. | Should not be general or too vague, but rather should explain the position they are looking for. |
| | Should also mention what skills and experiences would benefit the employer. |
Both sections must be tailored to every job opportunity to reflect the job seeker's unique qualifications and accomplishments successfully.
By including both a summary and an objective, employers can quickly get an overview of who the competitor is and what they can offer.
Work Experience Resume Section
Your work history section is the most crucial part of your resume. It should be customized to the position you're vying for and draw attention to your most pertinent and noteworthy successes.
Job Title and Company Name: List the title of your role along with the company name.
Dates Employed: List your position's start and end dates.
Responsibilities: Describe the tasks and duties you handled during your employment.
Achievements: Highlight any awards, promotions, or accomplishments demonstrating your skill and success.
Skills Used: Ensure to outline any aptitudes you employed on the job that could be helpful for future employers.
Remember to keep this resume section concise and focus on relevant information that pertains to the role. Your experience section must be personalized to each application so that it precisely depicts all of the best parts of your professional history!
Including numbers and measurable achievements in the "Professional Experience" section can significantly enhance your resume. According to a study by ResumeGo, resumes with quantifiable accomplishments were 40% more likely to receive interview requests than those without specific numbers.
Resume Education Section
A carefully constructed education section includes name and location, degree, major, minor, year graduated, and honors or distinctions.
To get started, begin with your most advanced qualification. Add all other degrees in descending date order after that. If you have multiple degrees from the same institution, list them separately.
If you're still in school and don't have a degree, incorporate your anticipated graduation date and courses in progress. You can also list classes you've taken applicable to the job.
If you have work experience relevant to the target role, consider listing it before your educational background in your resume. This is especially helpful if you are a recent graduate with limited work experience. Also, think about entering any extracurricular activities or volunteer experiences here too.
Make sure to highlight any honors or awards you have received. This could be scholarships, fellowships, or academic awards such as Dean's List recognition. It's also good to mention any relevant organizations or clubs you were involved with in school.
A well-written education section tells employers you have the skills to do the job and helps them learn about your background and experience.
Build a Resume Now!
Skills Resume Section
Your skills section is a key component of your resume. It must be concise and to the point, denoting your knowledge and abilities in a few sentences. The following are suggestions:
Highlight soft skills such as communication, problem-solving, and teamwork.
Include technical skills, such as knowledge of a specific software program or expertise in a particular area.
Use language from the job description when applicable.
Tailor your list of skills to each job you apply for.
Use action verbs when describing skills.
Keep it brief: no longer than six bullet points.
Avoid using generic phrases such as "proficient in Microsoft Office" or "excellent communication skills" - provide concrete examples.
List any special awards or certifications you possess that are related to the role.
References Resume Section
This resume section provides HRs with the contact information of individuals who can endorse you as a professional. Here are some tips:
Choose carefully. Select recommenders who are familiar with your work and accomplishments. They should be able to speak positively of you and your skills.
Include contact information. List each reference's name, title, company name, email address, and phone number.
Be consistent. Use the same formatting for each reference's contact information, such as italicizing titles or bolding last names.
Keep it short. Limit your list of references to 3-5 people who can best speak to your qualifications for the job you're applying for.
Ask permission first. Before including someone, make sure they're willing and available to talk to potential employers on your behalf.
Make sure it's up-to-date. Ensure that all references' contact details are up-to-date and correct before submitting your resume for consideration.
Including a "Certifications" section on your resume can provide a competitive advantage. LinkedIn reported that professionals who display certifications on their profiles receive, on average, six times the number of profile views.
Certifications Resume Section
It provides evidence of additional qualifications and expertise that will aid the employer in deciding to hire the individual.
The certification section should be located near the top of the resume, right after the academic section. This is because it's one of the first things employers look for when deciding whether to contact a candidate.
The certificates chosen should be pertinent to the specific job being applied for. For instance, if applying for a software engineering role, put certifications related to coding or programming languages.
Demonstrating certifications on a resume indicates to prospective employers that the applicant is proactive and dedicated to their professional growth. This can illustrate dedication to career growth and help make a strong impression on employers.
Do not exclude the credential title, completion date, and organization that issued it in an easy-to-read format.
Hobbies and Interests Resume Section
Hobbies and interests add color and substance to your resume. They show employers that you are an interesting person with various skills and experiences. Here's how to include hobbies and interests:
Consider which hobbies and interests most strongly align with the role you're seeking.
Make sure you have at least one hobby or interest listed on your resume.
Write a brief description, such as how long you've been interested in it, what aspects you enjoy most, and why it's important to you.
If possible, mention any unpaid work or extracurricular activities related to your hobbies or interests.
Utilize dynamic terminology to illustrate your hobbies and interests. For example, if you enjoy playing tennis, write "Competitive Tennis Player" instead of just "Tennis Player."
List hobbies that show off a positive quality or skill.
Hobbies and interests should not take up too much space – one or two lines are enough. However, they can be important if they demonstrate characteristics specific to the occupation.
Social Network Resume Section
Start by separating each of your social networks into its own section. This will make it easier to see which platforms you are active on quickly. Label each section with the name of the network, such as "Twitter."
Add URLs to your accounts. This allows employers to click the link and view your profile easily.
Finally, consider including some recent examples of posts or content you have created on the platform. This is an excellent method for showing off your creativity and understanding of the platform.
Formats of the Resume
When it comes to resume sections, the format is just as important. You want to make sure you use a comprehensible format that emphasizes your best qualities. These are the most popular resume templates formats: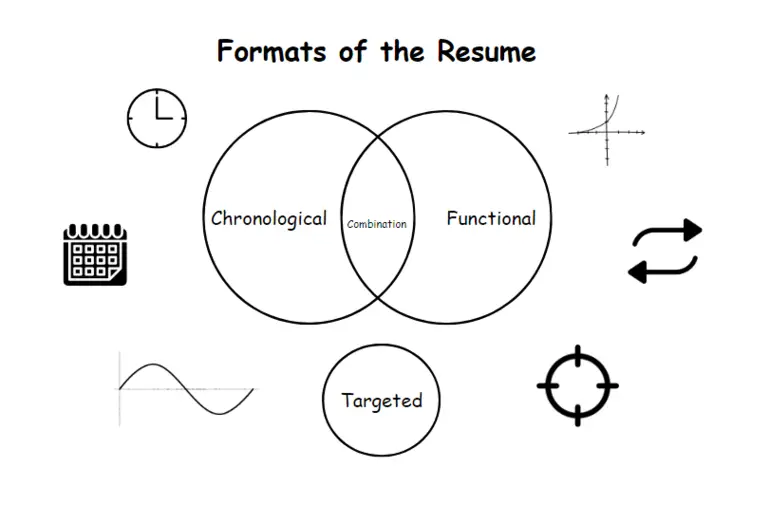 Chronological. This is the most common format. It lists your work history in reverse chronological order, beginning with your current job.
Functional. Emphasis is placed on your capabilities and credentials rather than your past employment. It is advantageous for those with breaks in their job history or transitioning to a new career.
Combination. As the name suggests, this format combines elements of chronological and functional resumes. It's a good choice if you need to highlight specific skills and experiences while still listing your history.
Targeted. This format is tailored to a specific job or industry; it emphasizes the skills most relevant to the employer's needs.
According to a study by TheLadders, recruiters spend an average of 6 seconds reviewing a resume, and a reverse-chronological format allows them to assess a candidate's recent work history quickly.
Personalize the Resume Parts
How can you make sure your sections of a resume stand out?
One approach is adding some "spice" to the resume sections.
Start by getting creative with the resume section titles you use. Instead of standard titles like "Work Experience" or "Education," opt for something more unique and eye-catching.
Once you have interesting section headers, now is the moment to focus on the content. Use powerful action words, such as "initiated," "spearheaded," and "developed." This will showcase and demonstrate your accomplishments in an impactful way.
To add some flair to your resume, consider using bullet points instead of long paragraphs to break up the text. This simplifies the ability to scan through information quickly. You can also use bolded words, italics, or underlining to highlight essential particulars.
Finally, thoroughly check your resume and cover letter before handing it in. Check spelling, grammar, and punctuation errors so that your document looks professional.
With these simple tips, you can give your resume sections some extra spice and ensure they are prominent and stand out!
Level-Based Resume Organization
| Graduates | Experienced Professionals | Career Changers |
| --- | --- | --- |
| If you recently graduated, start writing resume with your education section. Include details such as degree, program, GPA, and any awards or scholarships received. | If you have several years of experience, begin with a summary and skills. This is where you can showcase your most relevant accomplishments and qualifications in an easy-to-scan format. | Consider using a combination resume format. By outlining a summary or skills set relevant to the new career. |
| List your experience section, if applicable. If you don't have any professional experience yet, highlight any internships or volunteer work demonstrating relevant skills. | Follow this with a resume section that outlines your background. Include your past jobs and any promotions or awards you've earned. Detailed information on job duties as well as results achieved. | Follow up by displaying pertinent experience from prior positions or volunteer activities. |
| End with a skills section to highlight any specialties or certifications. | Finally, add an education block at the end. Remember to arrange it in chronological order and include the institution's name, the years attended, and the degree earned. | Revise an education section and find classes applicable to the new position you're seeking. |
The "Education" section is important, especially for recent graduates or candidates in academia. The National Association of Colleges and Employers (NACE) reported that 78% of employers preferred candidates with a bachelor's degree or higher.
Regardless of your career stage, think carefully about the order of sections to ensure they reflect your unique background.
How to Divide Resume Components
Creating a resume can be a challenging process. It's important to make sure the formatting is correct. The key to an easy-to-read document is the separation of sections.
For dividing up your resume, there are a few different ways to approach it.
The simplest one is to use a bold font for all the headings. This will streamline recruiters' process to scan your document quickly.
You could also split your resume by using horizontal lines or even adding boxes around various sections. Doing this can help break up the page.
An alternate choice is to apply color to distinguish sections. It's important not to go overboard with colors, though - try and keep it subtle and professional.
Finally, another way of breaking up sections is by using indentations or bullets.
In conclusion, there's no single method to separate parts of a resume; experiment with different ways until you find one that works best for you.
DOCs vs PDFs
One of the key decisions when submitting your resume is which file format to apply.
Typically, you'll be asked to submit a DOC or PDF file. Which one should you choose? Let's take a look at the differences between the two formats.
| DOC | PDF |
| --- | --- |
| Traditional format for Microsoft Word documents. It contains text, formatting, images, and other elements that make up the document. This format is easily editable and is accessible on any device with Microsoft Word installed. | Can be opened on almost any device without requiring additional software. They also have the advantage of being read-only, meaning they cannot be changed without unlocking them first. |
| Not secure and may contain viruses or other malicious software, making them less desirable for employers. | More visually appealing as they preserve fonts, formatting, and layout exactly as intended by the author. This makes them ideal for resumes as they maintain the original design of your document. |
Which choice should you make? While both formats have pros and cons, PDF files are usually considered the better selection due to their security and visual appeal. They allow your resume to shine compared to other applicants while also keeping it safe from potential threats.
Video Resume
Video resumes are becoming increasingly popular in the job market. A video resume is a short video clip that allows you to present yourself in a more engaging way that a traditional written resume cannot.
This can serve as used to showcase your credentials, skills, and personality. Here is the procedure for constructing a successful video resume:
Explore video resume standards. Take a look at examples of video interviews.
Research what recruiters want to see in your video resume. Look up job postings in your field and double-check to add relevant information they are looking for.
Prepare an outline of what you want to say. This guidance will assist you in presenting yourself effectively and ensuring that the video does not exceed two minutes.
Make sure you have good lighting and sound quality for the video. Poor sound or visuals can be distracting and take away from the message you are trying to convey.
Practice your script several times before recording so that you feel comfortable recording the resume.
When recording, make sure you're looking directly at the camera and speaking confidently and clearly about your qualifications and experiences.
Once you have recorded the video, edit it to two minutes or less and add captions if necessary for clarity.
When should you use a video resume
A video resume is especially helpful when applying for positions in creative industries like marketing, media, or design. It can also give you an edge over other applicants when competition is fierce with a large pool of candidates for the same position.
According to a resume study by TheLadders, the top half of your resume is the most critical section, as recruiters tend to focus on this area during their initial review. Ensure that the most relevant and impactful information is placed in this section.
What Goes on a Resume: Conclusion
The components of a resume depend on the job requirements and your individual experience. The optimal path forward is commencing with fundamental facts about yourself and then constructing upon that.
By adhering to these directions, you can construct a well-structured resume that creates a positive initial impression. Make your resume stand out with an easy-to-understand organizational structure.