Creating a compelling content manager resume that will catch the attention of recruiters and potential employers is a must when looking for such a job.
"Content builds relationships. Relationships are built on trust. Trust drives revenue."
As a content manager, you have the power to influence and shape your organization's public image. Be it SEO content writing, managing social media accounts or optimizing the website - their profit is in your hands.
Here you will find advice on writing a resume that will showcase your professional expertise in the best light.
How to write a content manager resume
This article provides a comprehensive guide on crafting a content manager resume.
First, it outlines the sections to include in your resume such as contact information, professional summary, education, and experience. Then, it explains the skills and qualifications you should put on the content writer's resume.
Additionally, it provides ideas for other things you can mention on your resume and how your document will benefit from them. All sections are illustrated with specific resume examples
Finally, the article offers an overview of how to write a cover letter for a content writing specialist.
So, if you want to learn how to create an outstanding resume for your next job application, keep reading!
Builder recommendation
Are you having trouble creating a resume that will get you noticed? Get your content manager resume ready in no time with Resume Trick!
Our free resume template will help you create the perfect resume without the hassle of writing from scratch.
Here's why using templates is far more effective than designing the resume as plain text:
Organization. Our templates are designed to be easy to understand and navigate. The sections are clearly labeled and organized, allowing you to simply enter the details.
Ready-made content. Our templates offer AI writing assistance for several sections to help you come up with the right wording.
Professional design. Our templates have a modern, professional look. It features clean lines, attractive fonts, and a color palette that looks great on any device.
Highlighted keywords. With our template, you can easily emphasize the abilities and background most pertinent to the position you are seeking. This helps your resume pass through applicant tracking systems (ATS) and grab the attention of recruiters.
So don't waste another minute worrying about how to write a perfect content writer resume. Let our free template do all the hard work for you. Get started today!
Content manager resume examples
Summary:

Skilled content writer with 10+ years of experience in developing and managing digital publications for large-scale projects. Capable of producing and maintaining engaging content that resonates with audiences. Skilled in SEO optimization, copywriting, and project management.

Key skills:

Copywriting;
SEO optimization;
Content strategy;
Project management;
Digital marketing;
Content curation;
Branding;
Social media management;
Networking.

Experience:

Content Manager | ABC Company | 2018 - Present

Developing a content strategy for global projects, increasing audience engagement by 25%.
Supervising a group of 5 content writers while overseeing projects from conception to completion.
Building relationships with influencers to increase brand awareness and organic reach.
Writing and editing blog posts and website copy to optimize SEO performance.

Senior Content Writer | XYZ Company | 2015 - 2018

Guided the formation of different digital marketing initiatives that elicited a 40% increase in website traffic.
Created a series of blog posts that increased conversions by 30%.
Collaborated with designers to create visually appealing layouts for online content.

Content Coordinator | LMN Company | 2012 - 2015

Developed copy for various marketing campaigns, resulting in a 10% increase in sales.
Scrutinized all online presence and responded swiftly to customer queries.

Education:

Bachelor of Arts in Journalism & Communications | ABC University | 2011 - 2015

SEO Certification | Google | 2018

Technical Proficiencies:

CMS platforms (WordPress, Drupal, Joomla);
HTML/CSS/JS;
SEO/SEM strategies;
Adobe Creative Suite;
Google Analytics;
Online social networks (Facebook, Twitter, Instagram).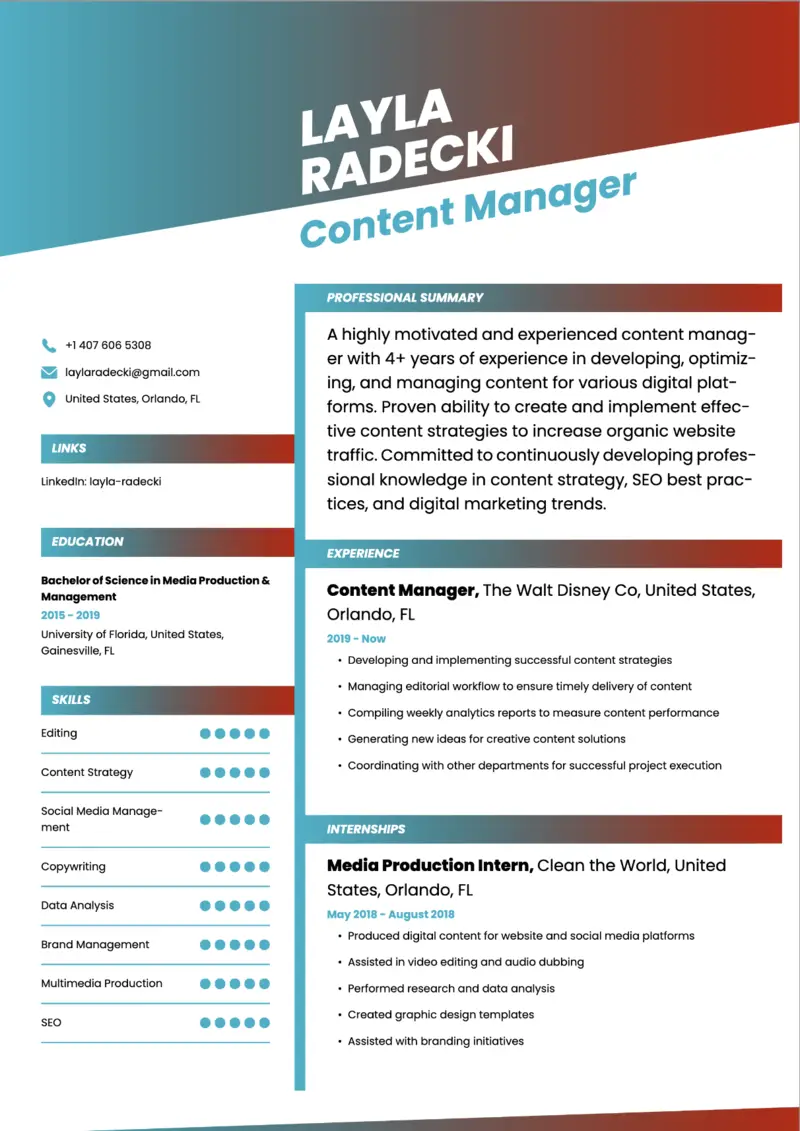 Resume contact information
When listing contact details in a resume, it is important to be concise and accurate.
Include only the most vital information that will help recruiters identify you during the hiring process.
Such information typically includes:
Your full name at the top of the resume;
Your current address or location where you are seeking the job;
Professional email address;
Up-to-date phone number that you always have access to.
Additionally, you may choose to include links to your personal website or LinkedIn profile, if you have them. More about social media inclusion is discussed further in the article.
Organize work experience
When assembling a resume for a content manager position, it's crucial to exhibit your professional history details in a way that catches the eye of potential employers.
The best way to accomplish this is to list your experience in reverse chronological order. Begin with the most recent or current role and work the timeline backward.
In the U.S., the average salary for a content manager with 7+ years of experience is $103,320. (BuiltIn)
For each entry, indicate the key responsibilities you held and the most notable results you achieved in that position. This will make it easy for an employer to quickly scan your resume and see what you have to offer.
You should also list your work experience in bullet points. This makes it easier for employers to skim through your content writer resume and quickly get an idea of what you have achieved.
Employment history example for content manager resume:
Content Manager at XYZ Company | 2018 - 2023

Developed a content strategy for client websites, including copywriting, SEO optimization, and multimedia content creation that increased traffic by 20%.
Analyzed user behavior data from Google Analytics to identify trends and inform content strategy decisions.
Led social media campaigns and created engaging content for networking channels which increased brand awareness by 25%.
Managed a team of content writers and ensured that all materials were on-brand and met deadlines
The above example demonstrates the value you can bring to a company as a content manager. It shows experience in developing strategies, creating content, and managing teams - all key skills for the role.
Additionally, it provides quantifiable results that help evaluate the impact you have made on the organization you worked for.
"Content marketing is no longer a numbers game. It's a game of relevance."
In contrast, listing your work experience in an unorganized way or without any explanation of what those roles entailed won't give employers enough information about the duties and outcomes you had in each job.
This can lead them to believe that you don't have the right qualifications or experience for the position.
On the other hand, it's important not to list your work experience incorrectly or use too much detail. For example, don't include every single task you did at each job - that will make your resume look cluttered and confusing.
Instead, focus on highlighting your main accomplishments and successes.
List education history
Academic background and especially continued learning of the technologies development is essential for a content writer. When writing your content manager resume, arrange your education information transparently and succinctly.
The projected job growth rate for content managers in the U.S. is 10% from 2018-2028. The average salary in the profession is $75,124. (Zippia)
Just like the previous section, present your academic journey in reverse chronological order, commencing with the most recent studies first.
Here are two examples of how to list and format your education history on a resume intended for a content editor or manager:
Recent graduate:
BA in Communications & Journalism | University of Texas (2022)

Graduated with honors (3.8 GPA).
Completed a diploma course in Digital Content Administration.
Presented research findings on modern digital media trends at a state conference.
Completed an internship at ABC advertising agency.
This education history demonstrates an understanding of different types of communications. Knowing both conventional journalism and digital content management can give you a leg up on other contenders who are only familiar with one area.
Experienced professional:
Certificate in Digital Media Handling | University of Texas (2022)

Master of Arts in Journalism | University of Texas (2021)

GPA 4.0/4.0.
Authored 15 articles on digital media strategies for XYZ magazine.

Bachelor of Arts in Communications | University of Texas (2019)

GPA 3.7/4.0.
Developed interactive websites using HTML5 and CSS3.
These two examples show how citing and arranging your educational qualifications can be helpful when seeking a job as a content manager. Employers will appreciate seeing related coursework, notable honors and awards, conducted research, and publications.
On the other hand, listing your education information incorrectly can make it difficult for employers to understand your qualifications. For example, if you do not include relevant classes, then it may appear that you lack the necessary skills for the job.
Therefore, ensure that your education information is listed accurately and formatted properly on your content manager resume.
Build your perfect resume now
Put skills on your resume
It is essential to showcase a blend of both soft and hard skills on a content editor resume for a detailed overview of one's abilities.
The key skills of a content marketing specialist are ad copy, content marketing, analytical research, content strategy, blogging, and editing. (BuiltIn)
Hard skills, like expertise with content management tools and professional software, demonstrate your specific technical abilities.
Soft skills, such as communication, problem-solving, and team collaboration, indicate your ability to perform effectively in a collaborative environment.
Content manager's hard skills:

Editing and copywriting;
SEO tools and strategies;
Web design;
Analytics and reporting tools;
Video production and editing;
HTML/CSS coding;
Adobe Photoshop / Illustrator / InDesign;
WordPress / Drupal / Joomla CMS Platforms;
Tools for managing social media;
Google Analytics and webmaster tools.
Content manager's soft skills:

Effective communication;
Problem-solving;
Project management;
Creativity;
Teamwork;
Decision making;
Time management;
Analytical thinking;
Collaborative attitude;
Adaptability;
Leadership;
Team management.
When constructing a content manager resume, you should list the skills you possess in order of relevance.
Begin with the most pertinent hard skills that are necessary for the role followed by soft skills that may be beneficial. Use specific keywords from the job description to show employers that you have the expertise they are looking for.
Include social media
"Content is fire. Social media is gasoline."
A content manager's resume may benefit from the inclusion of links to social media profiles. Social networking is one of the most important channels companies present their digital content, promote their product, and engage with customers.
Pros:
Sharing links to your Twitter, Instagram, and Facebook pages may be a way to demonstrate your understanding of the changing digital landscape.
If you have a portfolio of successful cases, the potential employers will immediately see what results they can expect from your work.
You can link to industry events you have attended or even include customer testimonials from social media accounts you managed in the past.
Cons:
If you share a link to an online profile that does not have any relevant content, it could create a negative impression since employers may feel like you wasted their time with unworthy details.
If you are not active on social media, this could be seen as a disadvantage in comparison to other applicants who do have up-to-date profiles and share their work successes online.
To leverage social media presence for a content manager's job application, you should ensure your profiles reflect pertinent abilities and experience.
For example, they can highlight and demonstrate your proficiency in managing several accounts by showcasing campaigns run across multiple platforms.
Write a resume summary
An exemplary resume for a content manager must demonstrate your key aptitude. For example, the ability to come up with content strategies and your expertise with the latest SEO trends and tools. It should also highlight your writing abilities, as well as your knowledge of analytics.
Content marketing manager resume summary example:
Dynamic content marketing manager with 5+ years of experience creating content strategies that drive results. Skilled in digital marketing, SEO optimization, UX writing, and data analytics. Demonstrated success in crafting engaging marketing materials and increasing overall web traffic. Devoted to crafting impactful digital experiences.
Content strategist resume summary example:
Experienced content strategist with more than 5 years of know-how in creating, implementing, and administering content for multiple digital media outlets. Skilled at optimizing content to maximize brand visibility, driving engagement, and building strong relationships with clients. Verified capacity to direct a team of authors and editors in creating persuasive content that meets deadlines and exceeds expectations.
Strategies for composing a powerful resume summary:
Highlight your most relevant skills and accomplishments. Use your summary to show off your top skills and key achievements that demonstrate your expertise in the field.
Use action-oriented language. Make sure to include words that describe you as a passionate and enthusiastic professional.
Keep it brief. Your overview should be no longer than four sentences long. Make sure that you include only the most important information about yourself and your professional experience.
Share additional information
Adding supplementary details to a content writer's resume is essential for making your application unique.
"Traditional marketing talks at people. Content marketing talks with them."
Consider including additional blocks such as hobbies, courses, languages, awards, internships, references, and certificates. They can help showcase your qualifications and experience more comprehensively.
| Resume Section | Advantage of Including | Example |
| --- | --- | --- |
| Hobbies | Demonstrate your interests outside of professional life and show that you are a well-rounded person with a range of skills and abilities. | Creative writing, running marathons, volunteering, blogging. |
| Courses | Illustrate your knowledge and expertise in the field. Recruiters can gain insight into your aptitude for content management by seeing which courses they have taken and how they have applied their knowledge. | Digital marketing, web design, SEO. |
| Languages | Indicate that you can communicate with different audiences across multiple nations and deal with international clients or project. | Spanish, French, Italian, etc. |
| Awards | Provide a sense of your achievement and success in the profession and that you have been recognized for your efforts. | Best employee of the month/year. |
| Internships | States that you have had real experience working as a content manager, even if you are a recent college graduate. | Part-time or full-time internships, personal projects, volunteering. |
| References | Provide a chance to contact those familiar with your work performance and can vouch for your skills and expertise. | Letters of recommendation from professors, past supervisors, colleagues |
| Certificates | Show recruiters that you have taken the time to invest in your continued education by taking specialized courses. It demonstrates how serious you are about your career. | Google Data Analytics Professional Certificate, Professional Certified Marketer, etc. |
Compose a cover letter
A stellar cover letter is essential when submitting your application for a content manager role. A well-crafted cover letter can help you elaborate on the points you mentioned on your resume. Moreover, it helps provide more details on why you are a great fit for the job.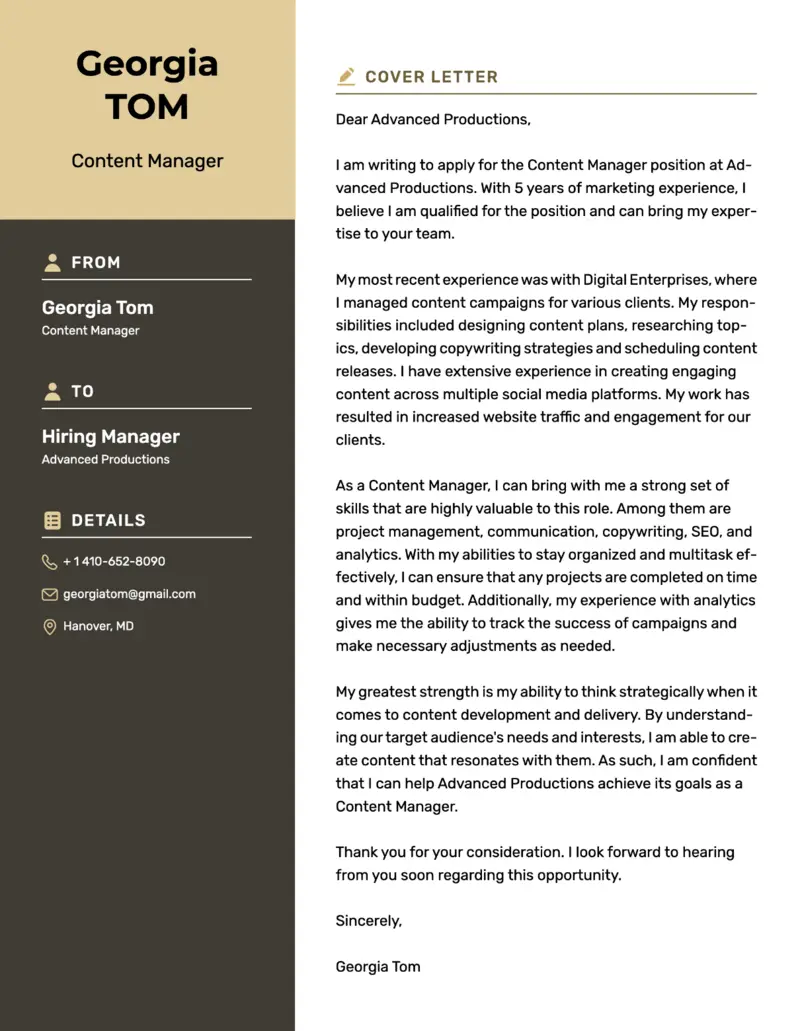 Here are some tips on creating an impressive content writer cover letter:
Be succinct and to the point. A cover letter should not exceed one page and should focus on emphasizing the key points of your resume, rather than repeating them.
Focus on the employer's needs. Ensure that you are aware of the employer's requirements and emphasize how your background fulfills those criteria in your cover letter.
Showcase your expertise. Explain why you're the right person for the role by highlighting your key skills, qualifications, and experience that are relevant to the position.
Use specific examples. Give examples of your past projects and successes that demonstrate what value you can bring to the organization.
Show enthusiasm and passion. Demonstrate your enthusiasm for the job by stating why you're interested in the position.
Proofread carefully. Ensure that there are no typos or grammatical errors, as this can create a bad impression of you as a professional.
Below are two examples of a cover letter for a content managing position, a bad and a good one.
Bad example:
Dear [Hiring Manager],

I am applying for the content manager position at [Company Name]. I have 10 years of experience working in this field with companies like ABC Inc., XYZ Corp., etc.

My abilities will certainly make a prompt influence at [Company Name]. Please consider my application favorably. Thank you very much!

Sincerely, [Name]
The bad example above fails to highlight any specific skills or qualifications that make the writer qualified for the role they are applying for. Nor does it showcase any enthusiasm or passion for the job itself.
It does not provide any evidence as to why this applicant would be suitable for the role. Simply stating their years of experience is not enough. The cover letter must demonstrate what they have these experiences and how they can use them to benefit the company.
Additionally, it does not state any understanding of what the employer is looking for or how they could meet these needs. The two are essential elements of writing a successful cover letter.
Good example:
Dear [Hiring Manager],

I am writing to apply for the content management position at [Company Name]. I am a highly experienced content creator with over five years of experience in the field. I am skilled in producing engaging, original content on various mediums, including web, print, and social media. I have extensive experience in managing content projects from concept to completion, ensuring quality standards are met while working collaboratively with stakeholders to meet objectives within budget and time frames. I am confident my skills can make an immediate contribution to [Company Name].

With my background in content creation and project management, I am sure that my expertise can bring valuable insights to [Company Name]'s team. My passion for creating compelling stories that draw readers in and create engagement has resulted in increased traffic to websites and higher responses on social networks. With my remarkable communication capabilities, I can work together with colleagues efficiently and connect with external stakeholders.

Drawing on my extensive experience in Content Management and my passion for generating engaging and motivating material, I am certain that I can offer immediate benefits to [Company Name].

Thank you for your consideration. I eagerly anticipate discussing this opportunity further with you.

Sincerely, [Name]
Example of a cover letter for a content writer with no experience:

Dear [Hiring Manager],

I am submitting my application for the position of content manager at [Company Name]. As an enthusiastic and creative individual, I believe I have the skillset necessary to excel in this role.

Despite having no previous job experience in a content writing capacity, I have a comprehensive understanding and expertise in the subject. During my studies at [University Name], I developed my writing and research skills, which I believe will be essential for this role. Additionally, I am highly organized and have experience with web platforms such as WordPress.

Furthermore, I am confident that my creative writing, as well as my ability to write engaging content, makes me a great fit for this role. In addition to this, I am a true team player with excellent communication skills. I can easily collaborate with multiple partners to guarantee deadlines are met.

I believe that my passion for content creation and my creative approach will make me an asset to your team. Please find attached my resume for your review.

Thank you for your time and consideration. I look forward to hearing from you soon.

Sincerely, [Name]
General advice on writing a cover letter for an entry-level job:
While crafting a cover letter for the content writing role, concentrate on the capacities you have that apply to the job description.
Focus on your experience related to working with job-specific programs and tools.
Be sure to emphasize any additional qualifications or certifications that set you apart from other applicants.
Include specific examples of how you've used your expertise in content management and writing to achieve success in past positions.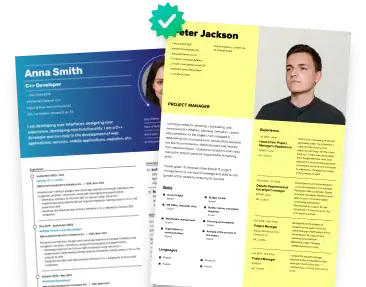 Proofreading
When seeking the role of a content manager, proofreading and spellchecking your resume and cover letter are essential.
Best paying cities for content managers are San Francisco, CA; Seattle, WA; New York City, NY; and Boston, MA. Many are working remotely and making just as much as those working in Washington, DC, and Los Angeles, CA. (BuiltIn)
Tips for polishing your content writer resume:
Read your application materials aloud. It can help pick up mistakes you may not have caught.
Have someone else read your materials. A fresh set of eyes can often spot errors that were missed on the first few reads.
Take advantage of spellchecking tools,This is also an effective method for spotting typos and other grammar issues.
Invest enough time when proofreading. Rushing through materials can lead to mistakes that could cost you an opportunity.
A well-crafted resume and cover letter may be the deciding factor between being chosen for a position or not. Good grammar and proper word usage can highlight an applicant's professionalism, thoroughness, and mastery of written communication.
Conclusion
This article offers an exhaustive overview of writing an outstanding content manager resume.
Preparing a resume for such a position doesn't have to be arduous. By following these steps and utilizing the online resume builder, you can craft a persuasive document that will assist you in getting the job.
So don't wait any longer - start writing your resume now!