As a mechanic, having a great resume is essential for getting noticed by employers. Your automotive resume should demonstrate your knowledge and expertise in the field, and highlight the skills that make you distinctive among other job seekers.
Formulating a remarkable resume can be tedious, but with our guidance, you'll have a resume that will secure you employment in no time. To learn how to craft an impressive mechanic resume, keep reading!
How to Write a Mechanic Resume: Topics to Discuss
This article can help you build an effective auto tech resume. It begins by outlining the main sections of a resume, including the summary, skills, experience and education.
Additionally, it provides job tips on how to optimize each section for maximum impact. It then goes into detail about the best ways to list certifications and what information should be included in a cover letter.
Lastly, it gives advice on how to make a resume shine among the competition and offers extra resources for further help.
All of this makes it easier for mechanics to assemble a stellar resume that will put them ahead in a competitive job market.
The Major Topics Discussed Are:
Sections of resume;
Additional information;
Cover letter writing;
Importance of proofreading;
Examples of resume and cover letter.
With this guide, mechanics can put together a resume reflecting unique qualifications and experience level, helping to get hired quicker.
Resume Builder Lends a Helping Hand
Are you struggling with writing your resume? Don't worry, we have a solution for you! An online resume builder can help you create an eye-catching resume without hassle.
Using a ready-made mechanic resume template is one of the easiest ways to ascertain that it looks great. They are designed by experienced professionals and come with useful tips.
Not only do these templates save you time, but they also protect you money. Constructing a resume from the ground up can be expensive if you need to hire a professional to do it.
The templates are also very easy to use, even if you're new to working with Word documents. Most include helpful instructions for customizing to make your document look unique.
The best part about using an online service is the abundance of mechanic resume examples available. To get inspired, all you need to do is choose one and look at it.
A variety of styles and formats are also available for you to choose from. So you can create a resume that works best for potential employers.
So don't waste any more time stressing over crafting your resume - just take advantage of our quick and easy resume creator today!
Mechanic Resume Sample
Profile Summary:
Highly experienced Automotive Technician with a track record of success in providing quality repairs and maintenance services to clients. Over 8 years of experience in diagnosing, troubleshooting and resolving automotive issues. ASE-certified mechanic with an excellent understanding of vehicle systems, including electrical, fuel, and engine management.
Key Skills:
Automotive Diagnostics;
Vehicle Maintenance;
Parts Replacement;
Electrical Systems;
Troubleshooting;
Tool Safety;
Brake System Repairs;
Customer Service;
Engine Management.
Experience:
Automotive Technician | ABC Auto Repair | 2012 - 2020.
Carried out exact diagnosis and repairs on automobiles of all brands and types.
Carried out comprehensive maintenance work such as oil changes, tune-ups, brake repair, and wheel alignments.
Successfully completed complex mechanical repairs such as engine or transmission replacements.
Inspected vehicles for visible signs of damage and wear.
Provided customers with reliable technical advice.
Auto Mechanic | XYZ Garage | 2008 - 2012.
Assessed vehicle performance issues and diagnosed the cause.
Repaired or replaced defective parts using specialized instruments.
Ensured safe and professional use of shop tools and equipment.
Followed all safety protocols when working with hazardous materials.
Education & Certifications:
Associate's Degree in Automotive Technology | ABC Technical Institute | 2008.
ASE Certified Master Technician | National Institute for Vehicle Service Expertise (ASE) | 2020.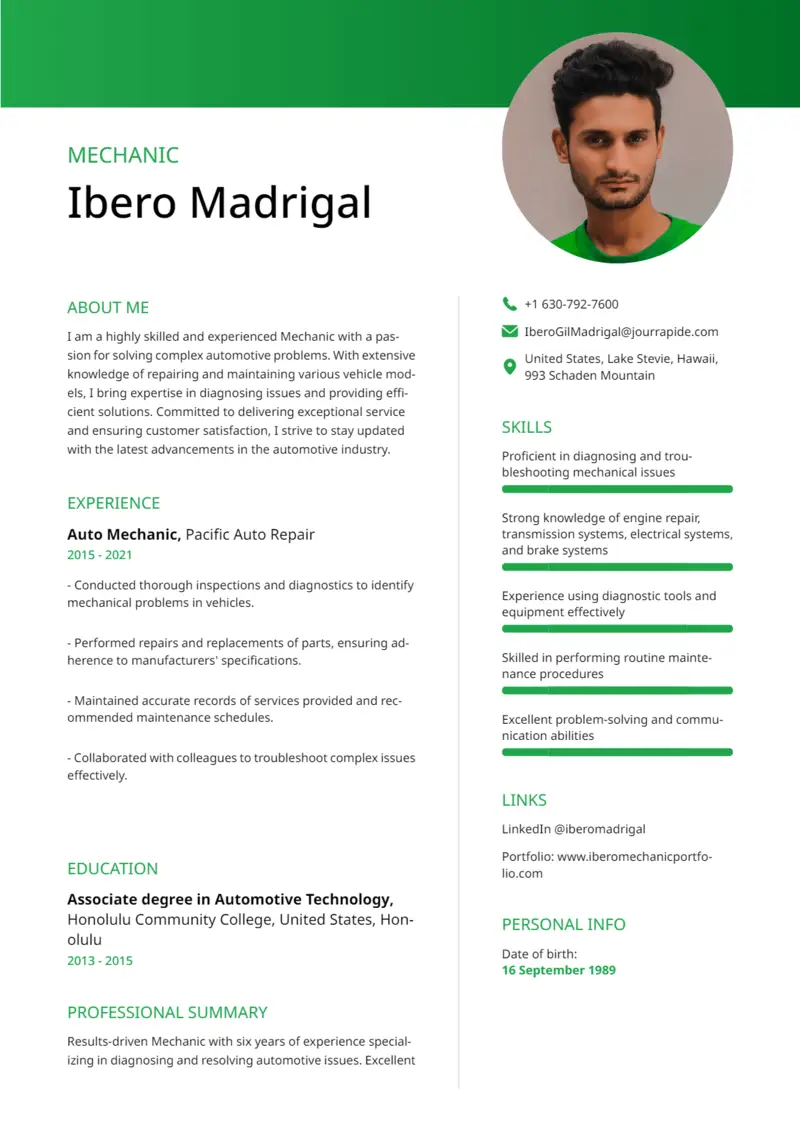 Auto Technician Resume Style Guide
When writing a resume as a mechanic, it is important to be concise and precise. Use technical language and industry jargon to explain your experience and qualifications.
Moreover, incorporating descriptive words throughout your resume is paramount. This will facilitate employers in rapidly locating the applicable talents they are searching for.
For example, if you specialize in diesel engines, make sure to mention this in your resume. Similarly, if you have certifications or licenses pertinent to the job position you are applying for, ensure to list them on your resume.
Powerful Words and Phrases:

Diagnose: Troubleshoot complex equipment, identify repair issues.
Repair: Conduct repairs of mechanical, hydraulic and pneumatic systems.
Maintain: Service and keep up vehicles, engines, components and systems.
Program: Knowledge in programming, configuring, and operating computer-controlled machinery.
Install: Fit parts on different types of vehicles and machines.
Assemble: Mount vehicle components according to schematics or instructions.
Test: Test operation of vehicles and their parts following maintenance or repair.
Inspect: Examine vehicles to detect any needed repairs.
Troubleshoot: Utilize diagnostic tools to classify causes of malfunctions or breakdowns.
Adjust: Modify, calibrate and tune compound machinery using precision instruments.
Calculate: Determine measurements accurately using mathematics skills.
Communicate: Socialize with customers and colleagues productively.
Mechanics typically work full-time, with many shops offering 24/7 service, which may require evening, weekend, or overtime hours.
Contact Information
When ordering personal and contact data in a resume, it is essential to include only pertinent and current information. For a mechanic resume, this should include your full name, address, phone number, and email.
How to Show Mechanic Experience
Collate and classify your work section in an accessible manner for employers. Here are some tips on how to do this effectively.
Organize Experiences Chronologically
Start with the last job and work backwards. This gain an overview of your experience, so they can decide whether you're a good match for the position. For example:

2020 - Present: Automotive Technician, ABC Motors;
2018 - 2020: Mechanic, XYZ Garage;
2016 - 2018: Apprentice Mechanic, 123 Auto Services.
List Experiences With Bullets
Utilizing bullet points assists in making your experience list more comprehensible. Make certain to include a brief description of each position, such as the tasks you were responsible for and any skills you developed.
Mechanic resume experience example:
Automotive Technician at ABC Motors:

Diagnosed mechanical issues in vehicles of all makes and models
Performed preventative maintenance services including oil changes, tire rotations, brake repairs and engine tuneups
Built relationships with clients by providing excellent customer service
Explain How Your Experiences Are Relevant
When seeking a mechanic role, it's crucial to explain employers understand why your experience is relevant. Showcase the skills you've developed and explain how they align with the requirements of the job.
Make sure your mechanics resume emphasizes expertise in working on both imported and local vehicles so employers are aware of your capabilities.
Avoid Formatting Mistakes
Wrong listings may prove hard for employers to comprehend and could potentially cost you the job. If you list work history out of chronological order or don't provide enough detail about each position, employers may think you're lazy or lack experience.
Confirm that you have thoroughly reviewed all facets of your resume prior to handing it in.
The majority (approximately 62%) of automotive service technicians and mechanics work for automotive repair and maintenance shops, while others may work for car dealerships, gas stations, or government agencies.
Education Section
Confirm that the education section is properly organized. It should ideally be listed in chronological order, starting with the current degree or diploma and working back through to earlier qualifications.
A good example of how to present academic information in an automotive technician resume could be as follows:

Diploma in Automotive Technology, University of Technology, June 2017 - Present.
Certificate IV in Automotive Mechanical Diagnosis, Technical College of Automotive Studies, May 2016 - April 2017.
Both of these degrees demonstrate an aptitude for mechanical work, which could prove advantageous when applying for a mechanic job position. Having knowledge and qualifications in automotive technology demonstrates competence and potential to employers.
Attention!
On the other hand, sorting education information incorrectly can create a bad impression. For example, recording qualifications in reverse sequential order or formatting them incorrectly can make it difficult for HRs to interpret.
Therefore, it is vital to make certain that education is clearly expressed and comprehensible.
In the end, it's necessary to compile and arrange educational facts properly when making a mechanic resume. This will help employers understand your qualifications quickly and easily, which could potentially increase your chances of getting an interview.
Ensure that the most recent education is listed first and formatted correctly with clear bullet points or separations. This will assist in establishing an encouraging image on possible employers.
Let's face it, to you it may be your motor that's knocking. To a mechanic, it's opportunity.
Mechanical Skills for Resume
It is important to include both soft skills and hard skills on their resume.
Soft skills are interpersonal capacities and qualities that help a person work well with others, such as communication and problem solving capabilities.
Hard skills are specific technical powers that are needed for a particular job, such as knowledge of an engine or welding.
When constructing your mechanic resume, it is crucial to incorporate both soft and hard skills suitable for the role. It is best to list on mechanic resume hard skills first, followed by your soft skills. When describing your hard skills, be sure to use job-related terminology.
Mechanic Resume Soft Skills:
Effective communication;
Interpersonal relationships;
Problem solving;
Adaptability;
Time management;
Critical thinking;
Close scrutiny;
Teamwork;
Organization;
Patience.
Mechanic Resume Hard Skills:
Knowledge of engine parts and systems;
Ability to read blueprints and diagrams accurately;
Competence in using hand instruments and power tools;
Proficiency in diagnosing mechanical problems;
Grasp of safety protocols and procedures;
Welding experience (MIG & TIG);
Mastery in using diagnostic equipment;
Familiarity with automotive technology;
Capability to perform basic maintenance tasks.
According to a survey conducted by Repairpal, the most common reason for vehicle repairs in 2023 is related to the "check engine" light.
Write Mechanic Resume
Should I Add Links into Mechanic Resume
A social media presence can be beneficial if used correctly by a mechanic. Including links on an automotive resume can give potential employers easy access to more information about the individual's qualifications and experience.
Pros:
It allows employers to get a better sense of the job-seeker's personality, interests, and qualifications.
It provides an opportunity to showcase additional skills and experiences outside of what is on the traditional resume.
It can also be used to connect with sphere contacts, open up new job opportunities, and build professional networks.
Cons:
There is always a risk of potential employers seeing something inappropriate or unprofessional on an account.
It can be time-consuming to maintain an active presence on multiple platforms.
Additionally, it might lead to confusion if there is conflicting information between the resume and social media accounts.
A mechanic could include links to their LinkedIn page or other professional networking sites, such as Automotive Industry Professionals (AIP). They could also link to any relevant blogs they write or technical skills they own.
This would provide potential employers with an extra level of assurance that the mechanic has the required expertise.
Resume Summary for a Mechanic
A right summary should be concise and showcase the candidate's best qualifications. It should include a combination of technical skills, work experience, and any certifications or specializations the mechanic has earned.
The summary should also reflect the jobseeker's enthusiasm for their craft.
Here is an outstanding example of a mechanic's resume summary:

Skilled automotive technician having 10+ years of proficiency in servicing and rebuilding engines, transmissions and other vehicle systems. Hold ASE certification in brakes, electrical/electronic systems, and suspension/steering structures. Committed to providing customers with excellent service and delivering quality repairs in a timely manner.
Here are three tips on writing a resume summary:
Include information on your certifications, specializations, and other credentials you possess that distinguish you.
Highlight your technical experience in specific areas such as brakes, electrical/electronic systems, engine performance.
Focus on your work ethic by emphasizing your dedication to presenting clients with premier service and producing superior repairs promptly.
More Details to Include
Enhancing your mechanic resume with extra personal info can portray you as a person with many talents. Most employers want to hire someone who is not only qualified, but also has a personality that will fit into their corporate culture.
Hobbies. Integrating hobbies into your auto tech resume can give hiring managers a glimpse into your interests. For example, if you enjoy working on engines or have a passion for vehicles, it could convey that you are enthusiastic about mechanics.

Courses. Presenting classes related to the mechanics field can prove to managers that you are dedicated to expanding your knowledge.

Languages. Speaking a language other than English can be an advantage, as it can help you communicate with clients or manufacturers from various countries. It also shows that you are open-minded and can adapt quickly to different cultures.

Awards. Displaying any honors or accolades can underscore to employers that you have been recognized for your diligence and dedication.

Internships. Mentioning any practical training tells human resouces personell that you have real experience and can perform the duties of a skilled mechanic.

References. By putting letters of recommendation on the mechanic resume, interviewers can gain an understanding of how others view your work ethic and professional qualities.

Certifications. Including any certifications that reflect your expertise in mechanics means that you have knowledge in the field, as well as a commitment to continuing your education.
Cover Letter for a Mechanic Resume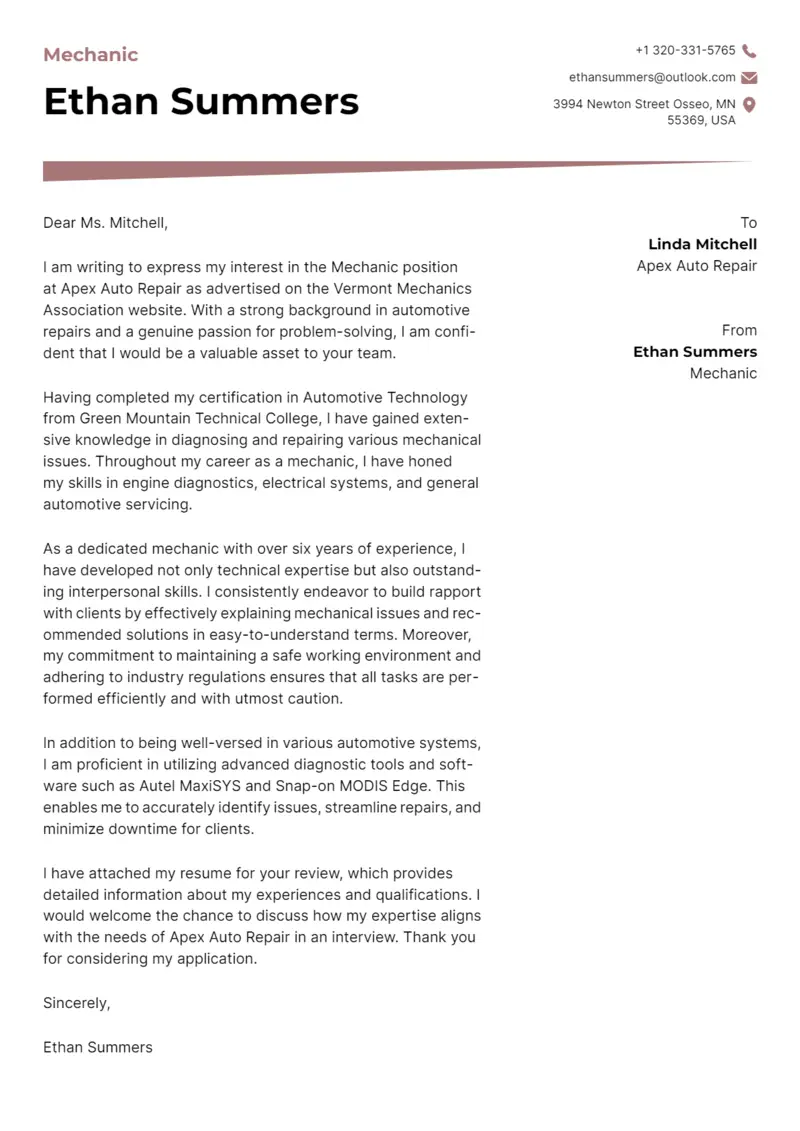 Composing a superb cover letter plays a key role in the job-seeking process. When you're applying as a mechanic, it's imperative to guarantee your cover letter is exceptional and emphasizes your competencies and qualifications.
Here are a few suggestions for crafting a powerful cover letter:
Be succinct. Letter ought to be no more than one page. Make sure you get to the point quickly and succinctly explain why you are applying for the job.
Showcase your relevant experience with automotive maintenance. Make sure to include how many years of experience you have in this field, as well as any certifications or qualifications you might have.
Demonstrate your enthusiasm for the role by talking about what you can bring to the position. Show that you're passionate about mechanics and automotive repair.
Avoid using slang or informal language. Keep it professional - use correct grammar, punctuation, and spelling.
Put words related to mechanics or auto repair to guarantee that it will be picked up by applicant tracking systems (ATS).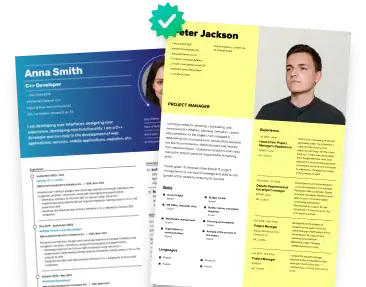 Good Cover Letter Example:
Dear [Hiring Manager],

I am writing to apply for the position of Mechanic at [Company Name]. With over seven years of expertise in car repairs and upkeep, I believe I am well-qualified for this position. I am certified in auto mechanics and hold two certifications from the ASE Institute. I am highly motivated and enthusiastic about mechanics, and I am confident my skills would be an asset to your team.

I am eager to discuss my qualifications further during an interview. Please contact me via email or phone if you need additional information from me. I appreciate your attention and thoughtfulness, and I look forward to hearing from you soon.

Sincerely,

[Your Name]
This is a good example of cover letter because it is clear, concise, and professional while still conveying enthusiasm. It also includes relevant qualifications and certifications which demonstrate the applicant's expertise in automotive repair.
Bad Cover Letter Example:
Hey there! I am [Your Name], and I'm applying for the Mechanic position at [Company Name]. I'm really excited to work with all y'all! I'm great with cars - been working on them since I was a kid! Plus, I have five years of experience with auto mechanics so y'all won't have any problems with me! Can't wait to hear back from y'all soon!
This is not the best illustration as it is too casual and does not demonstrate applicable experience in automotive maintenance.
It does not denote any enthusiasm for the role or show why they could be a great fit. Language is also not appropriate - too many slang words are used.
Cover Letter for Entry Level Mechanic Resume:
Dear Sir/Madam,

I am submitting my application for the role of Mechanic with your organization. I have a keen interest in mechanics and would be delighted to get an opportunity to learn more about this field.

Although I do not have any formal experience as a mechanic, I believe I have the necessary skill set to excel in the role. For the last three years, I have been working as a garage assistant and have gained a strong understanding of engine components and car parts. During my time there, I developed excellent diagnostic and problem-solving skills.

I am an enthusiastic individual who is eager to master and grow. I am confident that my commitment and enthusiasm will render me an indispensable member of your team. In addition, I am an outstanding communicator and can cooperate effectively with customers to provide satisfactory service.

I would be grateful if you could kindly consider my candidacy for the Mechanic role at your company. I anticipate hearing from you. and appreciate your effort and consideration.

Sincerely,

[Your Name]
Guidelines for Composing a Cover Letter for Mechanics:
Speak directly to the employer's needs by addressing how you can help them solve their problems or add value to their business.
Showcase any pertinent experience or capabilities that set you apart from the rest.
Ensure to furnish specific examples of how you helped previous employers reach their goals or solved difficult issues.
Demonstrate excitement for the job opportunity and explain why you have an interest in mechanics.
Demonstrate your knowledge of the sphere by including terminology in your cover letter.
Checking Resume and Cover Letter
Having an accurate and mistake-free mechanics resume while vying for the mechanic job is vital for establishing a strong initial impression.
It is important to use proper grammar and words to ensure you are accurately conveying your abilities and background in the most professional manner.
To proofread your resume, it's helpful to read it aloud or have a friend or family member review it it to you before submitting it. This helps you identify mistakes that you may have missed and gives you a better understanding of how your qualifications are presented.
Additionally, it is critical to double check for any typos or spelling errors as these could be off-putting for potential employers.
Incorporating the right words and idioms can be useful in forming successful documents. Make sure that the language used is appropriate, and avoid using jargon or slang terms unless they are industry-specific.
Lastly, it's vital to guarantee that all of the information in your resume is up-to-date and accurate. Make sure that contact data is correct, as well as any qualifications you list or certifications you possess. It's also important to remove any irrelevant information or items which could detract from your application.
Carefully scrutinizing your resume and cover letter when seeking a mechanic position is an essential part of the process.
Taking the time to review your mechanic resume and cover letter carefully can help ensure that they reflect your competence and demonstrate why you're the ideal candidate for the position.
According to a report by S&P Global Mobility, the average age of vehicles on the road in the United States is steadily increasing, reaching a record high of 12.5 years in 2022. This indicates a growing need for mechanics to service and repair older vehicles.
Conclusion
This article provides detailed instructions on how to write an effective auto technician resume. The main objective is to capture the recruiter's attention and highlight your experience in a concise manner.
Here are the key points to keep in mind when crafting the perfect mechanic resume:
Include your contact information and a professional summary at the top of the document.
Focus on relevant work history, including any related certifications or training.
Stress your knowledge of automotive maintenance, repair, customer service, and safety systems.
Highlight any experience managing a team or working with customers.
Make sure you list any specialized tools or equipment you are familiar with.
Include other skills such as computer literacy, problem solving, and communication talents.
End your resume with references and other details such as language proficiency.
Creating a well-structured resume can be daunting. To simplify the process, use online mechanic resume templates that follow industry standards and help you customize your document to land your dream job.
Don't wait any longer, start writing your resume now!