You may hate every minute of your training, but you shouldn't quit. You will suffer now but you will live the rest of your life as a champion.
Are you passionate about helping others achieve their fitness goals and leading a healthier lifestyle? It's time to showcase your prowess as a personal trainer.
In this guide, we will guide you through the process of crafting an impressive personal trainer resume that highlights your certifications, experience, and ability to motivate clients.
From showcasing your expertise in strength training to demonstrating your knowledge of nutrition, get ready to shape a knockout resume that leaves hiring managers in awe.
Get ready to break a sweat and sculpt a resume that elevates your personal training career to new heights!
How to Write Personal Trainer Resume
This article explains how to write a successful personal training resume. It outlines a comprehensive process for composing an effective resume, from writing a compelling objective to providing detailed work experience.
Provides job tips on how to write a resume and highlight relevant skills.
Emphasizes certifications and list any professional experience and education.
Suggests including specific keywords related to the position to make the resume more searchable and attractive to potential employers.
Gives advice on how to format the document and proofread it for accuracy.
By following these steps, you can be sure that your fitness instructor resume will set you apart and explain why you are the ideal candidate for the job.
Resume Creator for Help
Looking for a new job? Building a resume can be tricky. Try using a personal trainer resume template from a useful online service if you are seeking an easier solution.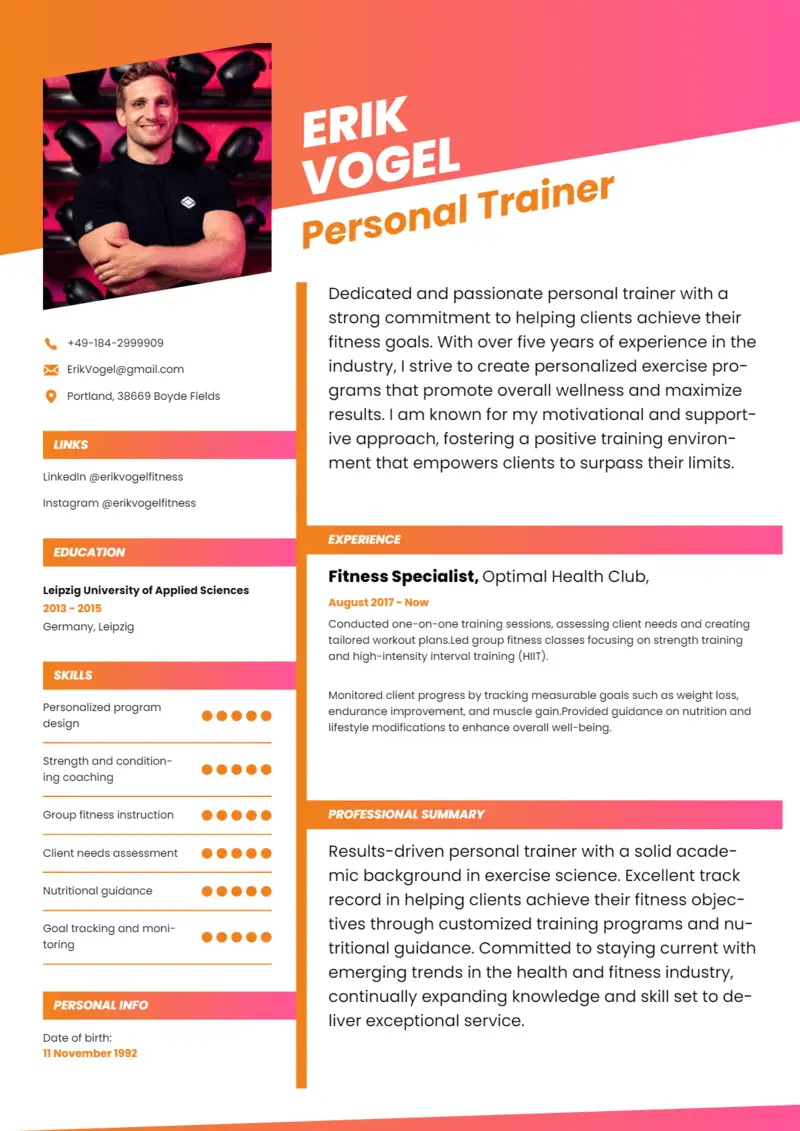 Using a personal trainer resume template can save time and effort, and you may be sure your resume looks professional without having to be concerned about the formatting.
You don't have to be an expert in Word or other software programs to use a template. It's easy to create a personal trainer resume with all the right sections, such as contact information, work experience, and education. You can also customize your template to make it more personalized and unique.
A professionally designed resume template will give you an edge over the competition and showcase your experience in the best possible way. By utilizing keywords associated with the job you're applying for, you can increase your chances of being seen by employers.
Overall, using personal trainer resume example is an efficient way to get inspiration for creating an impressive application that looks great.
Try the resume builder if you're searching for an easier way to craft a resume that gets employers' attention. Without worrying about missing important details, you can quickly and easily create a professional-looking document.
Personal Trainer Resume Sample
Professional Summary
Adept and accredited fitness professional with 5+ years of experience in physical conditioning and sports training. Proven ability to lead effective, targeted workouts and develop customized plans for clients of all ages or abilities.
Expertise in designing strength, endurance, and mobility programs that facilitate clients in realizing their goals. Dedicated to remaining informed of the newest fitness developments and practices on physical activity.
Core Qualifications
Certified Personal Trainer;
Cardiovascular Exercise;
Exercise Programming;
Nutrition Planning;
Prevention of Accidents;
CPR/AED Certified;
Client Motivation;
Fitness Assessments.
Work Experience
Personal Trainer, Anytime Fitness, Houston, TX | 2016-Present
Provide personalized fitness training for individuals and groups of varying ages and levels of ability.
Create specialized exercise regimens that meet personal aims.
Monitor client progress and adjust programs accordingly.
Educate clients on proper form, nutrition, and lifestyle habits for overall health and well-being.
Assist clients with stretching, balance exercises, strength training, cardiovascular activities, and others.
Sports Performance Trainer, 24 Hour Fitness, Houston, TX | 2014-2016
Trained team athletes on injury prevention strategies as well as strength, speed, agility, and explosive power development.
Led group classes in speed/agility development emphasizing proper form in running mechanics.
Conducted assessments to evaluate athletes' physical performance capabilities.
Education & Licenses
Bachelor of Science in Kinesiology | University of Houston | 2014.
Licensed Fitness Instructor (LFI) | National Academy of Sports Medicine (NASM) | 2015.
CPR/AED Certification | American Red Cross | 2014.
Personal trainers typically work in fitness centers or gyms, but they may also work with clients in their homes or offer online training services.
Utilize Specific Terms
It is valuable to use words that describe your experience level, while at the same time displaying how well-rounded you are in the fitness industry. Avoid unnecessary details or overly flowery language and concentrate on concise and direct phrases.
Also, strive to differentiate your fitness resume by using specific job-related terminology.
Words Recommended for Personal Trainer Resume:

Motivated. Demonstrated a high level of motivation and enthusiasm for personal training.
Experienced. Substantial expertise in the field of personal training across multiple settings.
Results-Oriented. Achieved successful results through individualized training.
Dedicated. Committed to helping clients with their fitness ambitions.
Organized. Developed and implemented effective training schemes.
Innovative. Created unique and engaging aerobics programs.
Adaptable. Adjusted programs to individual needs and goals.
Passionate. Inspired clients to reach their full potential.
Knowledgeable. Proficient in current exercise science, nutrition, and health topics.
Personable. Established strong relationships with clients through excellent communication skills.
Creative. Developed innovative solutions for challenging workout regimens.
Leadership. Facilitated group sessions with enthusiasm and professionalism.
For example, a proper language summary of a personal trainer's resume could read something like this:
Dynamic personal trainer with over 7 years of experience creating custom nutrition plans. Expert in developing personalized exercise programs for individuals of all ages and ability levels. Skilled in assessing clients' physical needs and tailoring exercise routines accordingly. Enthusiastic about helping others achieve their fitness goals by providing effective guidance and advice.
How Can Recruiters Contact Me
When listing personal and contact information in your personal training resume, make sure to include the most important data that a potential employer would need.
Add these details:
Name;
Address;
Phone number;
Email.
Additionally, you can also include a link to your website or social media accounts if you have them.
Finally, confirm that all of the information you provide is up-to-date and accurate.
Few Rules for Experince Section
When creating a fitness instructor resume, it is vital to organize your work experience section. Start with the most recent job experience and work your way back. This will help demonstrate your career progression as a fitness trainer.
Also advantageous to give precise illustrations of how you have utilized your aptitude and capacities as a personal instructor in past positions.
For example, if you were a personal trainer at a local gym, you might recite the following:
Personal trainer at XYZ Gim (2018 - Present) - Los Angeles, CA

Developed individualized fitness programs tailored to the needs of each client;
Assessed clients' fitness levels and created effective methods to improve their overall health;
Offered nutritional guidance, lifestyle coaching, and support to clients;
Worked with clients to develop realistic goals and helped them achieve their desired results.
This type of information helps potential employers understand the value of your experience as a personal coach. It demonstrates that you comprehend how to apply your skills to benefit clients and attain their objectives.
On the other hand, the inclusion of irrelevant or generic information on your personal trainer resume can be detrimental.
If you were employed as a fitness instructor at a gym but recorded unrelated duties like "answering phones" or "cleaning equipment", a possible employer would not benefit. In fact, they might think you lack experience.
Verify that the data on personal trainer resume is exact and applicable. Demonstrate concrete ways in which you utilized your personal trainer abilities in prior roles and make certain they are placed in chronological order.
This will illustrate the worth of your knowledge and make you more desirable to future employers.
Many personal trainers specialize in specific areas such as weight management, strength training, sports performance, or rehabilitation.
How to List Education
Writing a personal training resume is a matter of ordering and recording your data properly. This information is critical to getting hired as a personal trainer, so taking the time to ensure its accuracy and organization is essential.
Organizing Academic Information
Sorting your academic history chronologically, beginning with the current one, is crucial. This reveals to potential employers your learnings and how it relates to your ability to perform the job.
For each educational entry you catalog, include the institution name, graduation year (if applicable), program/degree, and any additional details such as major or minor.
Real Examples of Education History

University of Southern California (2020) - Bachelor's in Kinesiology;
University of California Los Angeles (2018-2020) - Personal Trainer Certification program.
Including this information can show familiarity and answer to the questions on your proficiency in the sphere and can be beneficial when competing for a personal trainer role position.
Wrong Listing and Formatting:
An example of mislisting and formatting education on a fitness coach's resume would be filing it without organization or chronology. This could confuse potential employers looking at the resume.

It could make it hard to understand what educational experience the candidate has acquired. It may also be difficult for them to assess whether the applicant's training is relevant to the position.
Overall, making sure everything is structured properly on a personal trainer resume is key for creating a favorable impression on potential employers.
Ensure that each academic venture is set down in chronological order, and provide pertinent information such as institution names, graduation years, degrees earned, etc.
Doing so will reveal your skill and familiarity with the field and make your application stand out.
Personal Trainer Resume Skills
To differentiate a personal trainer's portfolio, include both soft and hard skills on the resume.
Soft skills are advantageous because they demonstrate qualities that are important for the job. These include communication and interpersonal skills.
Hard skills show the recruiter that you have the necessary knowledge and experience to succeed in the role.
As you craft your fitness instructor resume, clearly present your competencies in the right way. For hard skills, specify any licenses that you possess, as well as any specialized training.
For soft skills, classify any traits that make you uniquely qualified such as patience, empathy, and problem-solving powers.
Soft skills for a personal trainer resume:
Positive attitude;
Flexibility;
Excellent communication;
Strong work ethic;
Good time management;
Ability to motivate and encourage others.
Hard skills for a personal trainer resume:
Knowledge of anatomy and physiology;
Experience creating personalized fitness programs;
Capacity to locate possible areas of enhancement;
Understanding of safety protocols related to exercise;
Proficiency with exercise equipment and machines;
Familiarity with nutrition guidelines.
Personal trainers are not only involved in fitness instruction but also serve as mentors. They provide education and guidance on nutrition, lifestyle changes, and maintaining long-term health and wellness.
Write Personal Trainer Resume
Social Media: Yes or No
Personal trainers should include their social media profiles in personal trainer resumes. Networks can be used to disclose personality and professional accomplishments.
It also serves as a way for recruiters to learn more about the individual and their professional career.
Merits of integrating social media:
Enhancing visibility to employers;
Showcasing skills, knowledge, and expertise;
Allowing employers to review the personal trainer's past work.
Potential drawbacks:
Employers may judge a person based on past posts or opinions;
Potential for inappropriate or offensive content to be seen;
Loss of privacy when making the links public.
For example, a personal trainer could exhibit their workout videos and client successes on Instagram, or post about their certifications on LinkedIn. Additionally, they could share blog posts and articles on Twitter, demonstrating their knowledge in the field.
However, individuals need to remain mindful of what they post and ensure that it is relevant and appropriate for potential employers.
Personal Trainer Resume Summary
A great resume summary for a personal trainer should concentrate on their experience, skill set, and specializations. It should also convey their enthusiasm for the role.
Example:

Enthusiastic and experienced personal trainer with over 5 years of hands-on experience in helping clients reach their fitness goals. Skilled in designing individualized programs, providing instruction on proper technique and safety, and motivating clients to stay on track. Specialize in developing strength training routines, conditioning exercises, and yoga classes.
Advice for composing an impressive summary of qualifications:
Focus on your key accomplishments. Highlight any successes you've had as a personal trainer that showcase your proficiency in the area.
Be specific. Include details such as specializations to exhibit your expertise.
Keep it concise. Aim to keep your summary no longer than 3-4 sentences so it will be easy to read and understand.
Add More Personalization
To display professional and personal qualities, it is important to include additional information on the personal trainer resume.
Adding blocks such as pastimes, classes, languages, honors, traineeships, testimonials, and certificates allows directors to get a holistic view of the candidate's skills.
Hobbies. Adding hobbies to your personal trainer resume proves the interviewee's interests outside the professional realm.
If one enjoys playing basketball or hiking, this provides a great opportunity to display to HRs what keeps the respondent motivated and active outside of work.
E.g. Basketball/ Hiking/ Yoga
Courses. A great way to show bosses that the candidate has taken extra steps to gain knowledge is to include job-related lectures.
If you have undergone training in nutrition or exercise science, it reveals that you are an expert in that subject.
E.g. Nutrition/ Exercise Science
Languages. For recruiters with clients from diverse cultural backgrounds, including languages other than English can be beneficial. This will demonstrate that the applicant is comfortable communicating with people from around the world and can help build clientele.
E.g. Spanish/ French
Awards. If a contestant has received awards for work in the past, it is a good idea to mention it on the resume for personal trainer. This shows that they have been successful in their work and have been recognized by others for their efforts.
E.g. Outstanding Personal Trainer Award – 2020
Internships. Include any internships you've completed on your fitness coach resume. This will show that you're familiar with the industry and have hands-on experience working with clients.
This will also give recruiters an insight into how you handle challenges and problem-solve in real-life scenarios.
E.g. Fitness & Wellness Intern - 2020
References. Recommendations from previous employers give hiring managers an idea of the kind of worker you are and how others view your abilities.
E.g. John Smith (Fitness Manager)
Certificates. Include any certifications or qualifications you've earned. This tells a recruiter that you have taken steps to improve your skills. If a candidate has a degree in nutrition or preventing injury, this shows a commitment to providing quality personal training services.
E.g. Certified Strength & Conditioning Coach - 2021
Including these items on your personal trainer resume will expose your strengths as a professional. This can help impress recruiters when applying for positions within the fitness industry.
Certification is often required to work as a personal trainer. Recognized certifications include those offered by the American Council on Exercise (ACE), the National Academy of Sports Medicine (NASM), and the National Strength and Conditioning Association (NSCA).
How to Write a Cover Letter for Personal Trainer
Making a great cover letter for a personal training resume is an essential part of the application process. A cover letter provides employers with an opportunity to demonstrate your identity and suitability for the role.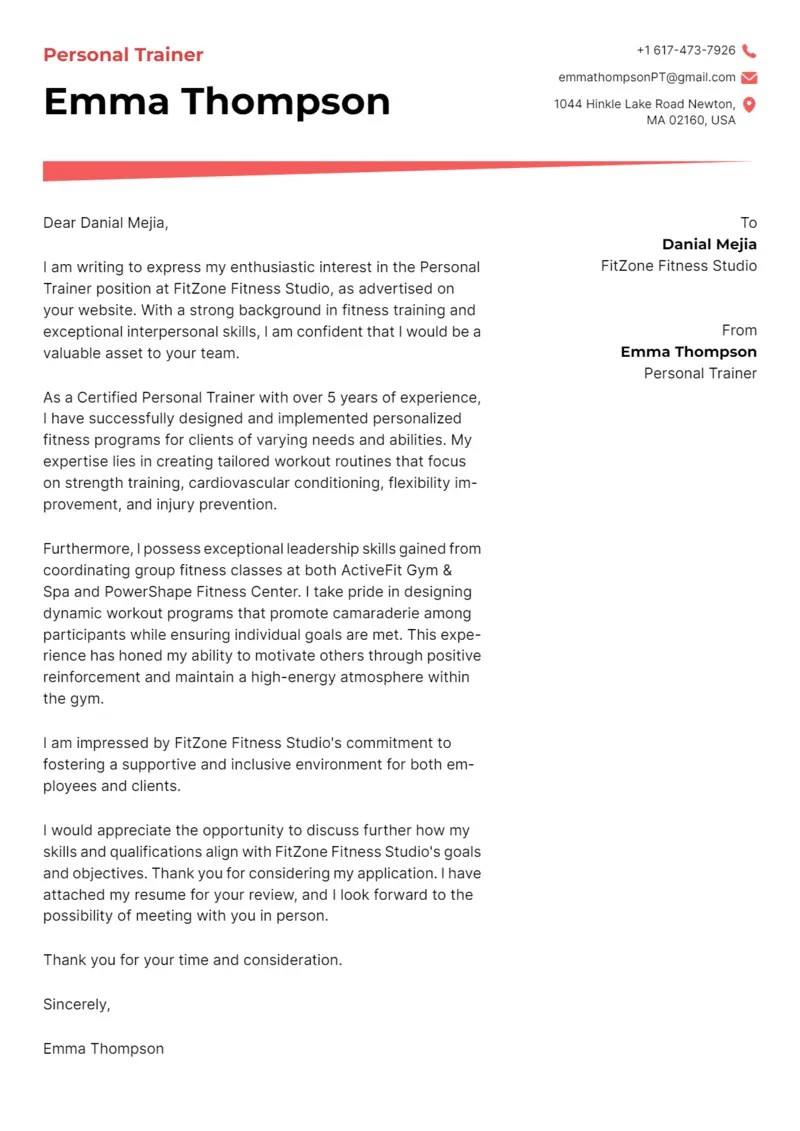 Here are some tips to help you create an effective cover letter:
Make sure your cover letter is tailored specifically to the job that you're applying for. Do research into the gym or organization and include specific details about why you're a great fit for their team.
Display your expertise and experience. Highlight the skills that make you a strong candidate, such as training, or education related to it.
Keep it professional and succinct. Employers may not have the luxury of perusing an extended and diffuse letter. Stick to the most important points about yourself in two to three paragraphs.
Utilize a language that expresses excitement and assurance in your competency to act as a personal trainer. Focus on how you can contribute to their team, rather than talking too much about yourself and your own interests.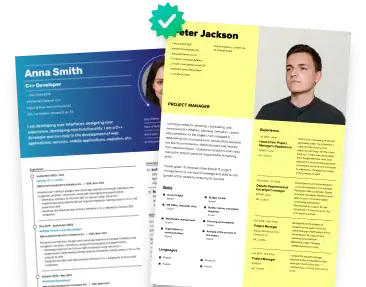 Here's an illustration of a good cover letter:
Dear [Hiring Manager],

I am writing in response to the opening for a Personal Trainer at [Gym]. With my extensive experience in fitness, I believe I am an excellent candidate for this position.

I've been a certified personal trainer for eight years and have worked with clients from all walks of life; from elite performers looking to improve their physical strength to beginners wanting to reach their fitness goals. I have extensive experience teaching fitness classes, designing customized regimes, and providing dietary advice and support.

My passion is assisting people in maintaining their health goals through exercise, and I know that my enthusiasm will be an asset to [Gym]. Thank you for considering my application. I look forward to hearing from you soon!

Sincerely,

[Your Name]
This cover letter example is effective because it is crafted precisely for the job opening at [Gym]. It also reveals the contestant's credentials while expressing a desire to help people meet their fitness goals through physical activity. These are all critical characteristics of a personal trainer.
Here is a prime example of a bad cover letter:
Hello!

My name is [Your Name]. I'm writing because I saw there was a position open at [Gym] as a Fitness Coach! I'm interested in applying because I love working out and helping people get fit!

I love fitness since high school. I took a few classes and started going to the gym! I'm also very friendly so people feel comfortable around me when they're working out!

Please consider me for this position; thank you so much for taking the time to read my cover letter!

Sincerely,

[Your Name]
This cover letter does not demonstrate its effectiveness because it does not specify qualifications or certifications. It only tells that the applicant enjoys exercising and helping others achieve their health goals.
It also doesn't provide any concrete examples or evidence of why they would be good at this job; instead, it focuses on vague statements about the applicant's appeal to fitness. And do not provide any details about how they would excel in this role.
Dear [Hiring Manager],

I am excited to apply for the position of Personal Trainer at [Company Name]. As an athletics enthusiast and fitness-minded individual, I believe I can bring my passion and knowledge to your team.

I have no previous training experience. However, I am confident that I can learn quickly and become a priceless asset to the company. I have a strong affinity for the sport and possess an unwavering drive to assist others reach their purpose.

Throughout my school career, I was always active in sports and was heavily into nutrition. My studies included courses such as Kinesiology, Anatomy & Physiology, Exercise Science, and Nutrition. Additionally, I have been involved in teaching group classes which have provided me with valuable insight into instructing individuals on proper exercise techniques.

As a Fitness Instructor for your facility, I could bring my enthusiasm for fitness and an eagerness to help others succeed. I'm able to combine my education, knowledge of exercise science, and commitment to assisting others.

I hope to hear from you soon about this exciting opportunity. Thank you for your time and consideration.

Sincerely,

[Your Name]
General Advice:
You should emphasize a dedication to physical activity, familiarity with exercise physiology, willingness to help clients achieve their goals, and eagerness to absorb information quickly.
Highlighting any applicable training or background (like instructing collective classes) that could be pertinent for the role.
Finally, make sure that your cover letter is professional yet personable so that it stands out among other applicants.
Proofread Personal Trainer Resume
Verifying a resume and cover letter when submitting an application for a personal training job is essential. Crucial to ensuring there are no typos or spelling mistakes, as these can be off-putting to potential employers.
Proper grammar and words also demonstrate your ability to communicate effectively and professionally, which will help you stand out from other applicants.
It is helpful to read them aloud to catch any mistakes you may have overlooked. Beneficial to have someone else review your work as another set of eyes can help identify errors you missed. You can also use online tools such as spellcheckers to help identify any errors that may exist.
Lastly, make sure you read the job description carefully before you submit your documents. This will prove that your documents are tailored to the position you are applying for and will present your adequacy in the best possible light.
The demand for personal trainers is driven by an increased emphasis on health and wellness and a growing awareness of the benefits of physical activity on overall well-being.
Personal Trainer Resume: Conclusion
This is a detailed guide on constructing a successful resume for a Personal Trainer position.
The checklist for a personal trainer's resume is:
Contact information: up-to-date phone number and email address, as well as a link to an online portfolio or other professional profiles;
Career goal: clearly state your professional objectives and the desired job position;
Education background: list relevant certifications, and any educational experience;
Work experience: include all positions related to the fitness industry, such as coaching, personal training, group exercise instruction, etc.;
Professional skills: emphasize your qualifications in areas such as strength training, nutrition, injury prevention, and fitness assessment;
Achievements: briefly mention any awards or recognition you have received related to your fitness occupation.
To make the process of creating a resume easier, it is recommended to use personal trainer resume examples for inspiration. This will help you quickly create a professional document that captures the attention of potential employers.
So don't wait any longer - start writing your fitness coach resume now and distinguish yourself from the competition!