Ready to capture attention and flash your photography skills?
Your journey begins with a striking photographer resume that showcases your creative vision, technical expertise, and passion for capturing unforgettable moments.
In this guide, we will guide you through the process of crafting an exceptional resume that highlights your unique style, showcases your best work, and leaves hiring managers eager to learn more.
Let's dive into the art of resume photography and pave the way for endless photography opportunities. Lights, camera, resume!
The rise of social media and demand for visual content has created new opportunities for photographers as brand influencers and content creators.
How to Write Photographer Resume
The article explains how to create a photography resume in an easy manner.
The main points are:
Crafting resume summary;
Building your important sections and showcasing experience and skills;
Adding extra information;
Proofreading your resume;
Writing a cover letter.
Follow these steps to create the photographer resume that will elevate you above the rest and impress employers!
Use Resume Creator
Are you looking for a professional photographer resume, but don't want to spend hours writing and formatting it? An online resume builder is your best bet!
Using a photography resume template can save you time, energy, and money. It also ensures that your resume looks sleek and professional. Plus, all of the templates are job-specific, so you can choose one that best suits your industry and profession.
With an online service, you can easily create a great-looking resume without any design knowledge. Simply pick one of the photographer resume examples and use it as a sample.
The best part? You don't have to worry about compatibility issues or formatting errors. Your resume will look great on any device or platform.
Having a template makes it easier to update your resume quickly when needed. Just make minor changes to the existing design and save your new version in a few clicks!
So don't waste time fiddling with Word documents. Instead, make use of a resume photographer resume template available online today!
Professional Photographer Resume Sample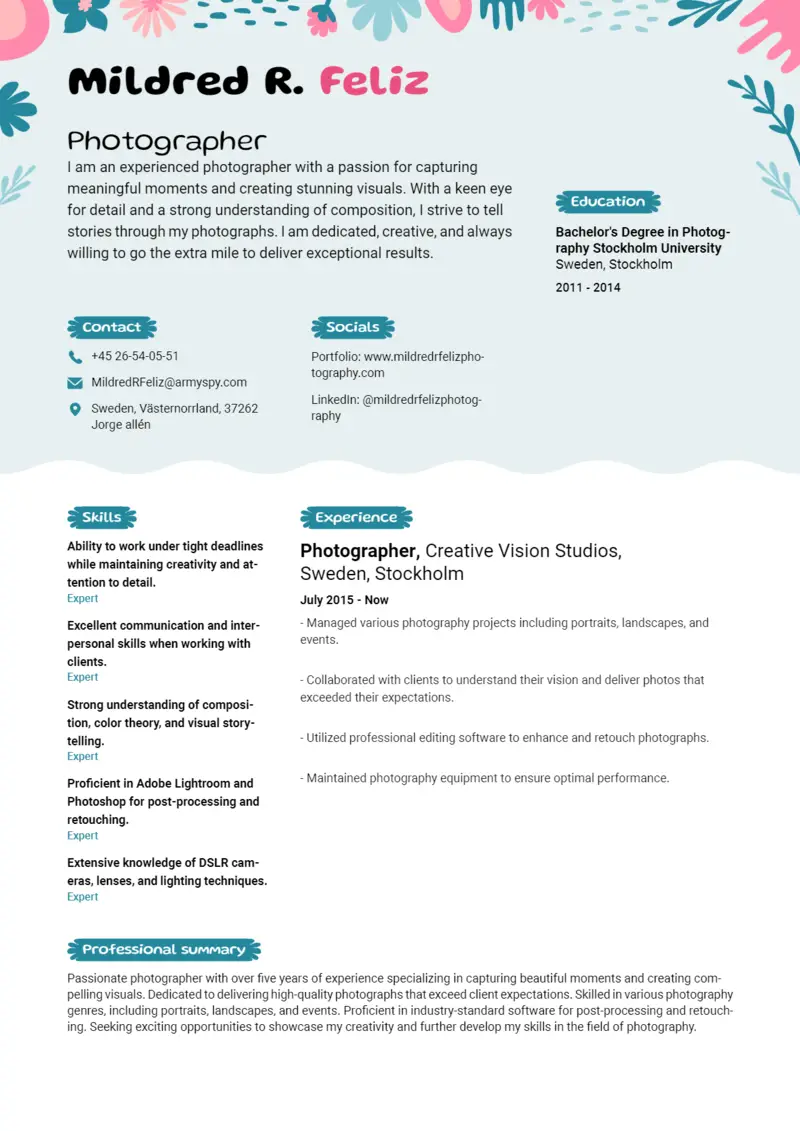 Objective:
Experienced and creative photographer looking to utilize my skills and knowledge to create amazing visuals.
Experience:
5+ years of experience in media production, studio lighting setups, and photo-editing software.
Worked on projects for commercial, editorial, and art photography.
Proficient with digital cameras and lenses from various brands.
Skilled in the setup and use of strobe lighting equipment.
Experienced in editing raw images in Lightroom and Photoshop.
Skills:
Ability to produce high-quality images under pressure.
Keen eye for composition and detail.
Understanding of the artistic principles of photography.
Excellent communication and collaboration skills.
Capability to take direction and work independently.
Capable of meeting deadlines in a fast-paced environment.
Education:
Bachelor's degree in Photography with a minor in Art History from XYZ University (2009).
Achievements:
Awarded "Best Photographer" at the XYZ Awards (2018).
Featured as a guest speaker at ABC Conference (2016).
Certifications:
Adobe Certified Professional (2015).
What Words to Use
It is paramount to demonstrate both technical proficiency and creativity in a resume for a photographer.
Use language that conveys the value you bring to the company through your photography skills. Focus on job-specific terminology to describe yourself and your duties, such as "photo editing", "composition", and "lighting setup".
More hints to follow:

Use powerful, descriptive words such as "captivating", "illustrative", "imaginative" and "visionary".
Describe your skills and experience in a creative way. For example, instead of saying "I'm a professional photographer", say "Accomplished photographer with extensive experience in capturing stunning imagery."
Promote your technical expertise by listing the types of cameras you use, and any special software or editing techniques you master.
Highlight awards and recognition you have received for your photography work.
Show your originality, like being able to come up with inventive ideas and create groundbreaking solutions.
Include examples of current projects or campaigns you have worked on with relevant details.
Mention any relevant training or certification courses.
Denote your commitment to the profession and record any memberships or affiliations with professional organizations.
Detail any volunteer work or community service activities.
Describe the of clients you have interacted with and the industries you are experienced in.
Name any customer feedback or appraisals.
How to Put Contact Information
Provide accurate and up-to-date information in your photographer resume. This ensures that employers can easily reach you for follow-up questions or if you are selected for job interview.
Consider including:
Name: Include your full name as it appears on your government-issued identification.
Contact Info: Include your current phone number and email address.
Location: Specify your preferred work location, such as city and state.
Portfolio: Include a link to your website, if applicable.
Presenting this information clearly and succinctly on photographers resume allows headhunters to better understand your qualifications and experience.
Photographers often specialize in specific genres, such as portraiture, landscape, fashion, wildlife, or automotive.
How to Show Your Experience
Assembling photography resume, it's vital to enumerate your work experience in an organized, chronological manner.
Doing so enables future employers to rapidly sift through the essential details and comprehend your expertise as a photographer.
One effective way of organizing your experience is to make a list of each job title and its associated duties with separate items. For example, if you have worked as a wedding photographer, a sample could look like this:
Wedding Photographer (2012-2016)

Planned and executed wedding shoots for over 250 couples;
Captured moments between the bride and groom and their families;
Edited photos to ensure they met client expectations.
Another way to organize it is by breaking down each job into its core responsibilities. This will display potential employers who see what you have done in each position and why you are the best fit for their vacancy.
For example, if you were a freelance photographer for a magazine:
Freelance Photographer (2017-2019)

Photographed events around the city for magazine articles;
Produced high-quality photos of celebrities for magazine covers;
Researched topics related to photography for upcoming articles.
This organization helps hiring managers quickly identify your talents and accomplishments. This is especially vital if you are trying to land a photography position.
On the other hand, it's important not to make mistakes when detailing your professional background. E.g., putting all your experiences in one long paragraph may make reading difficult.
Additionally, utilizing small fonts or packing too much information into one line can make comprehension difficult as well. These errors should be avoided when formatting your photographer's resume.
Overall, organizing your work experience information in a clear manner can be advantageous when seeking a photography job position.
Possible employers can quickly see the skills and accomplishments you bring to the table by using bullet points or outlining the key responsibilities associated with each position.
Photography is the simplest thing in the world, but it is incredibly complicated to make it really work.
Education Section
Organize the information in your resume for a photographer in chronological order. Start with the most recent educational experience and work your way backward.
Ensure that you include any pertinent courses and qualifications tied to photography, as this will exemplify your dedication and enthusiasm for the field.
Let's say you have obtained a degree in Fine Arts from a college. It included several photography classes, including an introduction to photography, digital photography, and a course on photographic composition.
You can order experience this way:
Completed Bachelor of Fine Arts Degree - College Name (Year)

Overview of Photography;
Digital Photography;
Photographic Composition.
In addition, if you have attended any workshops or taken any online photography courses, those are also worth mentioning in your photographer resume. For instance, you could write an online class on portrait photography like this:
Online Portrait Photography Course - Course Name (Year)
Displaying a comprehensive education section on your photographer resume will exhibit to employers that you are knowledgeable about the field of photography.
It can also reveal that you have taken the initiative by taking courses outside of your formal academic education. This will make you unique among other applicants who may not have any specialized knowledge about the subject.
On the other hand, avoid listing unrelated academic background. If you have a degree in Computer Science but no formal education in photography, it would be best to leave that information out of the photographer resume.
Overall, point out only relevant educational experiences in chronological order. Provide details about workshops pertaining to photography along with any certifications that you possess. This will illustrate that you have expertise in the art of photography and are prepared for the job.
Photography Resume Skills
It is vital to feature both soft and hard photographer skills so as to show the candidate's expertise. Skills for photography resume should be organized accurately and concisely, highlighting both technical and interpersonal ones.
Photographer Resume Soft Skills:
Creativity: Think outside the box and create unique images.
Communication: Clearly articulate ideas, directions, and opinions.
Time Management: Oversee projects and deadlines efficiently.
Collaboration: Work with clients, other photographers, and creative teams to achieve desired results.
Flexibility: Adjust on the fly when necessary.
Photographer Resume Hard Skills:
Technical Knowledge: Familiarity with cameras, lighting equipment, proficiency in photo manipulation programs, digital asset management tools, etc.
Digital Workflow: Ability to manage digital workflows efficiently and accurately.
Photography Techniques: Understanding of different visual approaches such as portrait, landscape, product, etc.
Post-Processing Skills: Competency in techniques such as retouching, color correction, image manipulation, etc.
Business Acumen: Understanding of practices in photography such as pricing models and client relations.
Write Photographer Resume
Social Media Links
Incorporating one's network profiles on the resume of a photographer can be beneficial. It enables employers to easily access your work and get an insight into your style, portfolio, and personality.
However, it is important to use social media links strategically and with caution.
Pros:
Demonstrates creativity and knowledge: Posts can showcase a photographer's creative eye and technical skills.
Increases visibility: Posting content on social platforms can help increase visualness for photographers.
Establishes credibility: Having a professional presence on the Internet can help establish reliability as a photographer.
Cons:
Limited space on a resume: Inserting social media connections could consume valuable space from other information that requires being integrated.
Outdated content: Keep social accounts up to date in order to ensure employers are seeing the most recent work.
Unprofessional content: Photographers should be aware of the info they post and make ensure that it meets the standards appropriate for the firm.
For example:
A wedding photographer might integrate their Instagram account, showing matrimony photos taken and showcasing style. A landscape photographer might include his or her Twitter account, which is a collection of photos of landscapes.
Photographers Resume Summary
An effective summary for a photographer resume should be concise and direct, emphasizing your most pertinent abilities and experiences.
Example:

Talented and creative photographer boasting five or more years of experience in commercial, editorial, and product photography. Specializing in creating high-quality images for print media, digital platforms, and web content. Experienced in using the latest equipment and editing software to achieve excellent results. Passionate about capturing beautiful moments and telling stories through pictures.
Here are 3 tips on writing a great photographer resume summary:
Focus on your key achievements - emphasize the projects completed or awards won that are relevant to the job.
Use strong language - make sure to use action verbs that describe your best qualities and capabilities.
Keep it concise - don't include any unnecessary information, focus on the important points that will differentiate you from the others.
With the rise of e-commerce, the demand for product photographers is growing. Global e-commerce sales are expected to reach $5.2 trillion by 2024, according to Statista.
More Information to Mention
Insert supplementary personal data to exemplify your proficiencies, competencies, and hobbies. This extra information can give the recruiter a better sense of your personality and potential suitability.
Hobbies are activities that you enjoy doing in your spare time. They can show that you have interests outside of work. For example, if a photographer enjoys outdoor pastimes such as hiking or camping, this may indicate a willingness to travel for business.
Courses can reflect your expertise in the field. Putting photo-related classes means that you are committed to honing your skills and staying abreast of the latest developments in photography.
Languages can be an asset to mention on a photography resume, as many clients are looking for photographers who can speak multiple languages. Being multilingual can open up opportunities for international assignments and collaborations.
It can also help you build relationships with customers from different countries.
Awards can be a testament to your level of achievement in photography. If you have received industry honors for excellence, this should be noted on your photographer resume.
Internships can provide valuable experience and help you develop new skills.
References can provide an unbiased assessment of your talents. Adding letters of recommendation to your photography portfolio suggests that other people believe in your abilities.
Photography or digital media certifications that demonstrate a high level of proficiency in the sphere can also be a plus.
This supplemental data could make all the difference when it comes to impressing recruiters and getting hired!
How to Write a Photographer Cover Letter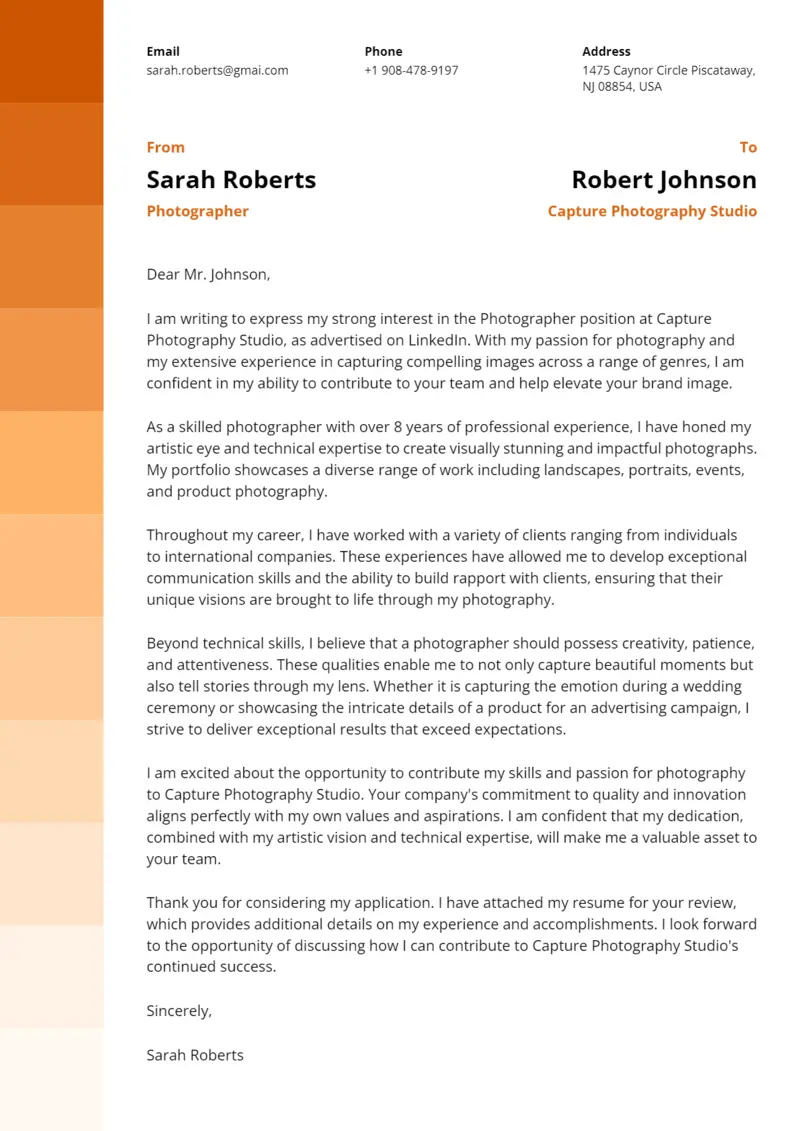 Crafting an impressive cover letter for a photographer resume is crucial for making an impact. Here are some tips:
Be specific: Tailor your letter to each individual job. Mention the company name, the job title, and how you found out about it. Show that you've done your research and can add value to the position.
Point out key credentials:: Exemplify your knowledge of the company, its products/services, and its mission.
Stay focused: Keep your cover letter concise and direct. Don't ramble on about irrelevant topics or get too personal. Remember that employers are looking for someone who can do the job - not a person with an interesting life story!
Be professional: Use a formal tone throughout and avoid slang or overly casual language.
Good Cover Letter Example:
Dear [Employer],

I am writing to express my interest in the position of [job title] at [Company name]. My background in photography is extensive. I have been a professional photographer for over five years, during which time I've worked with a variety of models across multiple industries. My skills include portrait, product, event photography, and more.

I would be an asset to [Company name]'s team, as I am passionate about delivering high-quality images that accurately reflect my clients' vision. In addition, I'm organized and detail-oriented, which makes me well-equipped to manage projects from start to finish.

I am thrilled about this opportunity and would like to discuss particulars on how I can apply my experience to the success of [Company name]. Thank you for your consideration — I eagerly await your response.

Sincerely,

[Your name]
Bad Cover Letter Example:
Hey [Employer],

So I heard you're hiring photographers and thought I'd take a shot at it 'cause why not? I've taken some pics here and there so yeah, I think I'm qualified! Plus I'm really funny so if you ever need someone around the office who can crack jokes...I'm your guy! Looking forward to hearing back soon:-)

The last example is bad because it's unprofessional. It doesn't stress any relevant experience or qualifications. It also fails to display an understanding of what the company does or what it's looking for in potential candidates. That's something no employer wants to see!
Cover Letter for Photographer Resume Without Experience:
Dear [Name],

I am writing to apply for the position of photography assistant that you recently posted. I have a passion for photography and believe this position is the perfect opportunity to get involved in the field.

Although I do not have professional experience in photography, my creative eye and artistic skills are abundant. During my studies, I have developed a thorough understanding of the principles of visual art, composition, lighting techniques, and post-production processing.

I also have a good understanding of cameras and other equipment. I am sure that my zeal, commitment, and imaginative approach will be of benefit to your organization.

The attached portfolio showcases a few of my recent works which demonstrate my knowledge of photography and my capacity to immortalize moments in unprecedented styles.

I am excited about the possibility of working with you and would welcome the chance to discuss how I can contribute to your team in more detail. Please let me know if there is anything else you need from me for consideration for this role.

Thank you for your time.

Sincerely,

[Your Name]
General advice on writing a photographer resume cover letter:
Make sure to customize each cover letter according to the specific job.
Don't just repeat what's already mentioned in your resume.
Stick to brevity - try not to exceed one page and focus on the most important points.
Use a professional tone - avoid slang or overly informal language.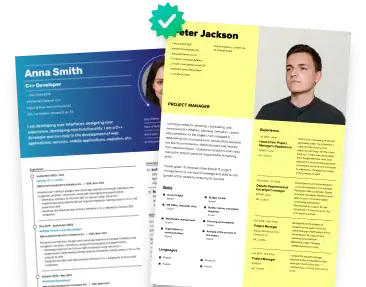 Check Photography Resume Once Again
Making sure your photographers resume and letter are flawless is essential when applying for a position in photography.
Not only does it ensure that you have conveyed your personality in the best possible light, but it also shows employers that you take pride in your work.
Using proper grammar and words is equally important when vying for a photography job. Poor grammar and spelling mistakes can detract from what you're trying to say, and leave a negative impression on potential employers.
Start by reading your resume aloud, which will help you pick up on any errors or awkward phrasing that you may have missed while skimming through it.
Additionally, ask a friend or family member to proofread it for you – they may be capable of identifying any omissions that you didn't.
Finally, run a spellchecker over the whole document to ensure that all of your words are spelled correctly. If you're unsure about the meaning of certain words or phrases, use a dictionary to check them before submitting your resume and cover letter.
You should also double-check any dates and facts included in the documents to make sure that everything is accurate.
How to Write a Resume: Let's Repeat
This article supplies an in-depth tutorial on constructing a captivating photography resume that may assist you in obtaining the job of your dreams.
When crafting your resume, the most important elements to pay attention to are:
Work experience: List your previous employers, the tasks you performed, and any acknowledgments or commendations you have been given.
Education: Include details of your qualifications, certifications, and any workshops or courses you attended related to photography.
Professional skills: Highlight the software and tools you are familiar with, as well as other skills like communication and problem-solving.
Portfolio: Showcase your best work and link it to the relevant jobs you have held.
Furthermore, recommended to include information about yourself that sets you apart from the other candidates, such as awards and achievements, volunteer work, and even hobbies.
Constructing a refined photography resume does not require excessive time. Consider using an online resume builder with photographer resume examples that can help simplify the process and make sure you don't miss anything important.
So don't wait any longer – start writing your photographer resume now!