Calling all mixologists and cocktail connoisseurs! It's time to shake things up and craft a bartender resume that will leave hiring managers thirsty for more.
In this article, we'll show you how to blend the perfect ingredients: your bartending skills, personality, and creativity, into a resume that will make you the life of the party.
Whether you've poured drinks for years or are just starting your bartending journey, our expert tips and tricks will help you stand out from the crowd.
So, grab your shaker, polish your glassware, and let's dive into the world of crafting an irresistible bartender resume!
How to Write a Bartender Resume
This article is a step-by-step guide on how to write a bartender resume. It outlines the key points for constructing an effective draft. They are:
Creating a captivating summary;
Highlighting relevant experience and skills;
Listing diplomas and awards;
Drafting a cover letter;
Ensuring that the resume is tailored to the exact job and proofreading it.
With this plan, building resumes for bartender can be a breeze.
A bartender is just a pharmacist with a limited inventory…"
Call to Action
Resume writing is a daunting task, and it can be easy to get bogged down in the details of formatting and phrasing.
Using a bartender resume template is a great way to quickly create an eye-catching resume. Here are some benefits: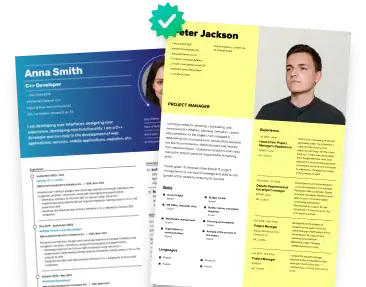 Tool offers pre-formatted text and layout that make your content stand out. Plus, you don't need to worry about formatting in Word as most bartender resume templates already have it sorted out.
With a template, you can select the appropriate design and style for your job application. Not only does this save time, but also makes the resume appear more orderly. You can use different fonts, colors, and graphics to enhance the resume.
If you want to get noticed by employers, choosing the right keywords is essential. Utilizing a resume creator you can incorporate industry-specific keywords and make them more pertinent to the job at hand.
Our bartender resume examples not only helps with undestanding what to write but also provides tips on how to highlight your skills and accomplishments. This increases your chances of getting selected for an interview.
Creating a remarkable resume doesn't have to be a struggle. With the help of our online service, you can draft your bartender resume in a few minutes. Check Resume Trick out today and apply for your dream job with confidence!
Bartender Resume Example
Objective:
Skilled bartender with remarkable social abilities, seeking a position as a mixologist in an upscale bar.
Experience:
5+ years of bartending experience in high-volume establishments.
Trained and supervised new staff in proper mixing techniques and product knowledge.
Established and enforced standards of sanitation, quality, and safety guidelines.
Developed cocktail menus to ensure repeat customers.
Maintained accurate inventory and ordering records.
Skills:
Highly organized and detail-oriented.
Knowledgeable in cocktails, spirits, beers, and wines.
Demonstrated proficiency in managing hectic conditions.
Familiarity with cash handling procedures and POS systems.
Great customer service attitude.
Flexible schedule with the possibility to operate nights and weekends.
Certifications:
Food Handler's Certificate (2020)
Certificate of Responsible Alcohol Dispensation (2020)
Education: Bachelor's Degree in Business Management (2018).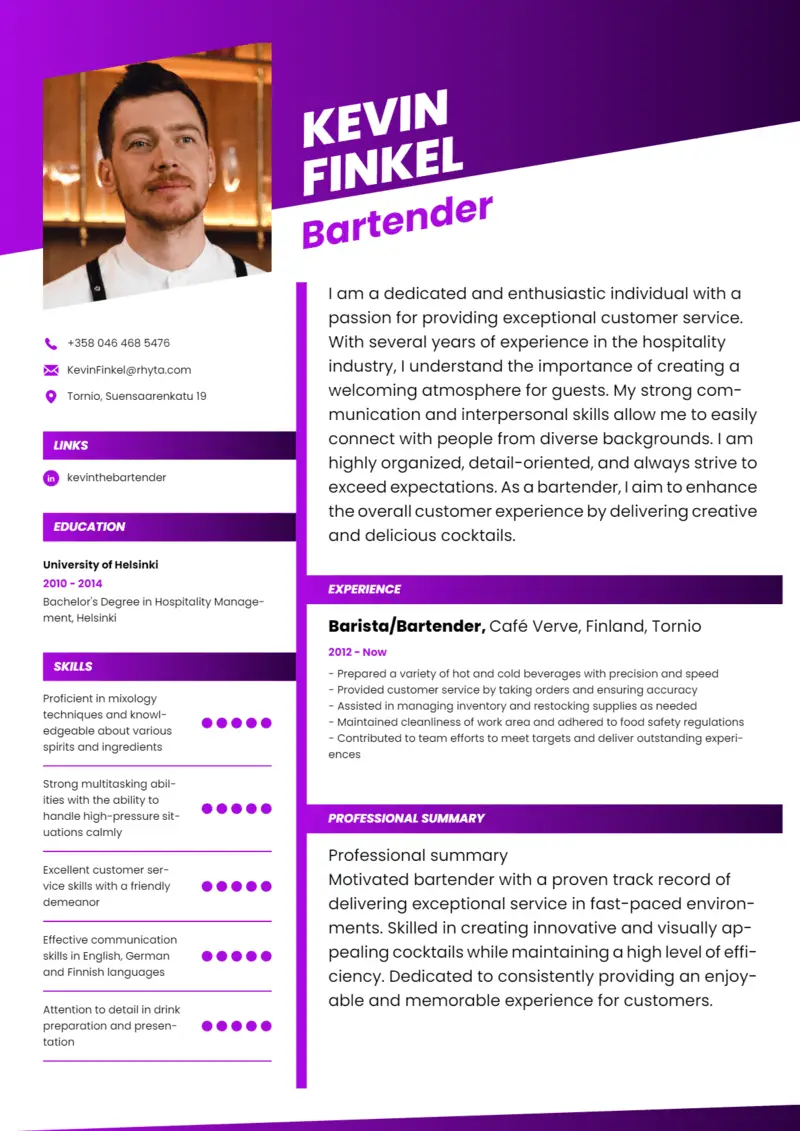 Style Guide for a Bartending Resume
It is a must to use language that best showcases their skills as a professional in the bar/restaurant service. The overall style should be polished and professional, yet succinct and attention-grabbing.
Use keywords, action words, and job-related words to describe yourself and to demonstrate your knowledge of the field and how you can use it to benefit employers.
Use bold, italics, and underlines to highlight important information such as job titles, dates of employment, and qualifications.
Avoid repetition of words by applying varied terminology such as "serve" instead of "provide" or "assist" instead of "help".
Powerful Words & Phrases to Use in a Bartender Resume:

Friendly and personable;
Superior capacity for providing excellent customer care;
Highly organized;
Ability to multitask;
Strong team player;
Knowledgeable of mixology techniques;
Efficient in time management;
Maintaining a safe and clean environment;
Ability to handle complex orders;
Efficient problem-solving skills;
Solid knowledge of liquor, wine, and beer brands;
Proficient in cash handling and responsible alcohol service;
Demonstrated capacity to cope with stress;
Meticulousness in order accuracy and garnishes;
Consistently exceeding customer expectations;
Ability to manage difficult customers.
Contact Information in Bartender Resume
You will need to make sure that all the necessary data is included in your draft. You will be dealing with clients in this position, so you have to prove your trustworthiness and professionalism.
You should put the following personal info:

Your full name: Indicate your legal name, including any titles (i.e. Jr).

Your address: Point out your current location, and if you prefer, your permanent address as well.

Your contact number: Add your phone number so that potential employers can call you. An alternate number, such as a cell phone or business line, may also be entered.

Your email: Make sure to use a professional-sounding email (i.e. firstname_lastname@domainname). This will help employers reach out to you quickly and easily.

Your website or portfolio (if applicable): If you have a site with your bartending proficiency, attach the link. This will give possible employers a clearer picture of who you are as a worker and what kind of experience you have.
By including all of these private details in your bartender resume, you'll show your sincerity about finding work in this field. With the right resume structure, you can be sure that employers will take notice and consider hiring you!
Experience Organization
When writing a bartending resume, it is necessary to state and arrange work experience lucidly and succinctly. It is best to record your experience in chronological order, beginning with the most recent job you have held.
This allows employers to easily identify your most up-to-date skills, which may be beneficial for them when hiring a bartender.
If you are applying for a bar job in a restaurant, employers like to know that you are an experienced bartender. You may present your job history as follows:
Bartender at Restaurant XYZ - April 2019 - Present

Prepared cocktails according to the restaurant's standards;
Upheld high-quality customer service;
Maintained cleanliness and organization of the bar area.
Below is another example of a bartender resume experience section. The person has been working as a freelance bartender for various events. You can list it as follows:
Freelance Bartender - June 2018 - Present

Served drinks at weddings, corporate events, and other private functions;
Maintained professional appearance and attitude while interacting with guests;
Adapted quickly to changing situations while on the job.
Be sure to cover work experience in an organized manner, and employ bullet points or lists, as shown above. This will make it easier to quickly read your resume.
It is also important not to make any mistakes when formatting or sorting your work experience. Incorrect formatting or data can give employers the wrong impression of you.
Overall, listing and organizing your work history is important because this helps employers understand the knowledge and skills you possess from your past jobs.
It is important that each job listed has detailed information about the type of duties performed. This will enable employers to assess whether you would be a good fit for their organization.
Bartenders must have a deep knowledge of different types of alcohol, including spirits, wines, beers, and liqueurs. They also need to be familiar with local and state regulations regarding alcohol service and responsible drinking.
List Education in a Proper Way
It is imperative to demonstrate and organize your educational info in a clear and succinct way. An effective way to do this is to sort data in chronological order, starting with the most current.
For example, you could start with a degree you have recently achieved, followed by any undergraduate degrees, then any vocational or professional qualifications. You can also add details of any courses or conferences attended to our bartender resume.
Yes:
Master's Degree in Food Science from the University of California – 2017;
Bachelor's Degree from the University of California - 2015;
Diploma from Professional Bartender School - 2012.
By writing your education history in this way, you are sending the message to employers that you are highly qualified. Your academic and professional qualifications demonstrate that you have the necessary capabilities needed to become a successful bartender.
No:
2017 – Postgraduate Certificate in Food Science, University of California;
2012–2015 – Bachelor's Degree in Culinary Arts, University of California;
2009–2012 – Diploma in Bartending and Cocktail Making, Professional Bartender Academy.
In this bartender resume experience example, education is not listed chronologically. That makes it difficult for employers to quickly or easily evaluate your qualifications.
Additionally, there is no mention of which program was obtained, and when making it is unclear what kind of qualifications you have.
Generally, it is crucial to present and organize everything on a bartender resume in an easy-to-understand and concise way. This will give you an advantage when applying for bartender jobs!
Bartender Skills for Resume
If you're striving to be a bartender, you need to list the right skills on your resume. That's what will rise you above other candidates and give potential employers confidence in hiring you. So, what should you include?
Soft Skills for Bartender Resume:
Amazing customer service skills;
Professionalism and integrity;
Great communication and interpersonal skills;
Attention to detail;
Ability to multi-task;
Problem-solving abilities;
Calm and collected under pressure;
Capability to work in a fast-paced environment.
Bartenders often have the opportunity to showcase their creativity through craft cocktails and mixology. They experiment with different ingredients, flavors, and presentation styles to create unique and innovative beverages.
Hard Skills for Bartender Resume:
Knowledge of standard bar drinks;
Experience using POS systems;
Mixology skills;
Knowledge of beer, wine, and spirits;
Understanding of food safety and sanitation practices;
Ability to operate a variety of equipment (blenders, ice machines, etc.);
Math skills for calculating bills quickly and accurately.
Being a successful bartender requires more than just knowledge of beverages - it needs a combination of both hard and soft skills.
The ability to find work balance, problem-solving on the fly, and preparing drinks like a pro are essential characteristics of a prosperous bartender.
If you have the proper set of skills as a bartender - as listed above - you'll be well on your way to landing the job.
Write Bartender Resume
Social Media Links
Overall, including social media links on resumes for bartending can be beneficial. Customers may look at the bartender's profile to find out more.
This can also provide a platform to perform their bartending skills. For example, they can contain photos of appetizers or videos of mixing refreshments.
Pros:
Showcase skills and personality to potential employers.
Give customers an opportunity to discover more info about the bartender.
Demonstrate bartending skills by providing visuals of cocktails.
Can help build a larger following in the occupation.
Cons:
Customers may have access to personal details viewed as objectionable.
Employers may not be comfortable with social media profiles being added to resumes.
Too many links can take away from the focus of the resume.
If a bartender has a large following on Instagram, they can link to their profile to indicate their mixology skills.
However, they should avoid any content related to alcohol or parties that might be considered unprofessional by employers.
Similarly, Facebook links should also be avoided if there is any content that could be seen as offensive or unprofessional on a bartender resume.
Add a Summary to a Bartending Resume
This is a great way to spread the word about the important skills you have. It should provide employers with an advertisement of your qualifications and make the bosses want to learn more about you.
You should emphasize relevant professional experience, certifications, and any other qualifications that are applicable.
Bartender Resume Summary Example:

Experienced and reliable bartender with 8+ years in hospitality. Skilled in crafting unique blendings, engaging guests, and providing outstanding service. Certified in responsible alcohol service and knowledgeable about food safety regulations. Achieved the highest customer satisfaction scores for two consecutive years at ABC Bar & Grill.
5 Tips on Writing an Admirable Summary:
Emphasize your most appropriate bartender resume skills and qualifications to draw attention to your strongest assets.
Keep it brief but informative – no more than three sentences typically works best.
Quantify your achievements where possible – specify details like guest satisfaction scores or years of experience to support your claims.
Do not use overly technical language – make it simple so that anyone can understand it without needing prior knowledge of the industry.
Focus on the positive – use this part to feature your successes rather than your failures or shortcomings.
Additional Information Not to Forget
Hobbies: Do not forget to add this issue to a bartender resume, as it demonstrates a well-rounded nature. On top of that, hobbies involving creative pursuits can indicate an eye for detail and artistic flair which are useful skills in this sphere.
Courses: Adding them can be valuable as it shows that the seeker has taken the initiative to research the subject. For instance, taking a course on mixology or service can make evident your dedication.
Many aspiring bartenders attend specialized bartending schools or take courses to learn the skills and techniques required for the job.
Languages: If a bartender is fluent in multiple languages, then it would be important to specify. Being able to communicate with customers from different backgrounds creates a more diverse atmosphere. Moreover, language skills could make it easier for bartenders to interact with foreign suppliers.
Awards: Grants are another great way to display exceptional talent and hard work within the bar sphere. Being named "Best Bartender" shows possible employers that they have been recognized for their skills by their peers and superiors.
Internships: They are also valuable additions to bartending resumes. Internships offer opportunities to learn through hands-on experience; it is especially advantageous in this line where customer interaction and problem-solving come into play regularly.
References: Including contacts on one's resume is important because it gives potential employers an independent opinion of the interviewee's performance in past jobs.
Recommendations should be chosen wisely. These are the people who have seen how well the claimant works in a professional setting. Search for former supervisors or co-workers who can testify to the competitor's ability to work behind the bar.
Certificates: Demonstrate further credentials that may not be included anywhere else on the resume; these could be diplomas from alcohol safety courses, proper handling of food & beverage procedures, or even certifications from precise brands of liquor (i.e., tequila sommelier).
Having these shows knowledge of industry standards and regulations which makes a competitor more attractive in comparison with other entrants without such credentials.
How to Write a Cover Letter for a Bartender Resume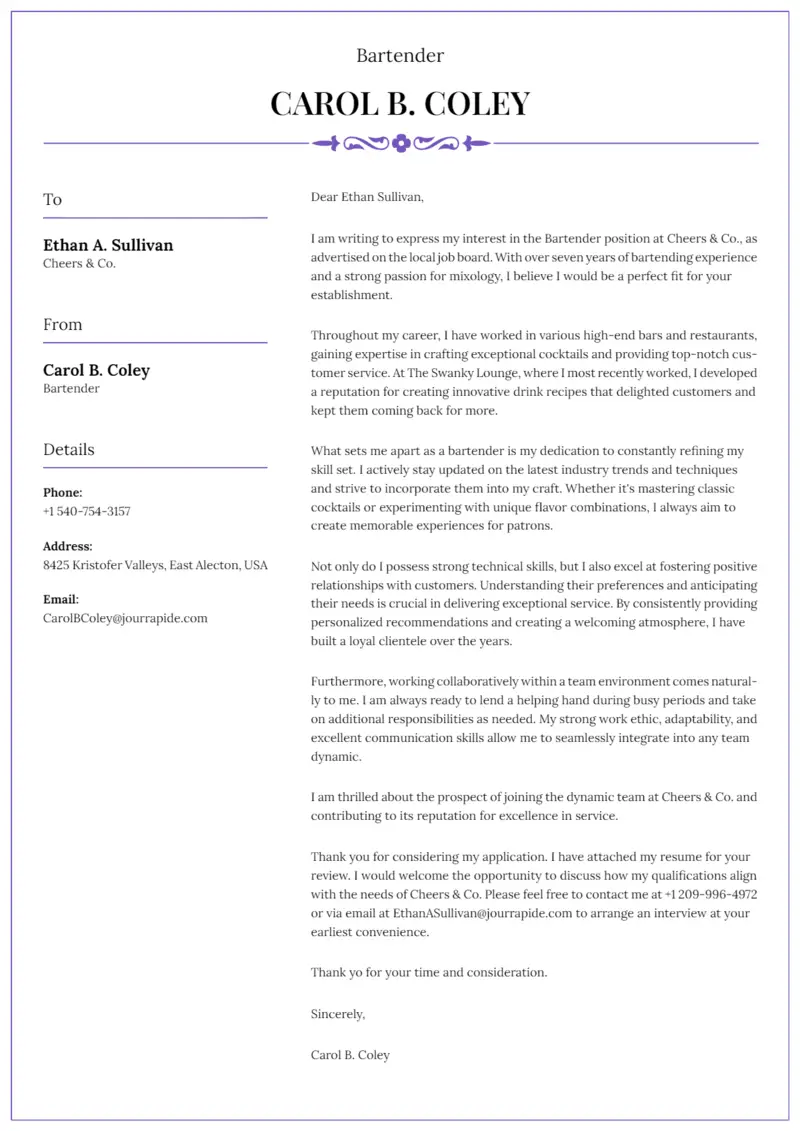 Preparing a cover letter for the bar resume, remember that you are not just selling your competence and experience, but also yourself. To make sure your cover letter would bring benefit, here are some points:
Do your research: Find out as much as you can about the establishment, and its specific needs. In this way, you can tailor the written cover letter accordingly.
Be definitive: Represent needed background that illustrates why you're the best fit for the bar.
Show your passion: Bring out your love for mixology, service, and the restaurant field in general.
Let it be concise: Use clear, laconic language to get your point across without taking up too much space or time.
With these hints, your letter will definitely stick out from other competitors and helps you land the job!
Good Example:
Dear Hiring Manager,

I am writing to apply for the position of Bartender at [Restaurant Name]. As someone who has worked in hospitality and customer service since I was 16, I have developed strong communication skills.

At my previous jobs, I developed exceptional customer service skills which I believe will be of great benefit to [Restaurant Name]. Additionally, I am highly organized and motivated with an affection for making great drinks that customers love!

I understand what it takes to make great beverages with speed and accuracy. This makes me confident that I could become an integral part of [Restaurant Name]'s team.

I am excited by the opportunity to join such an established team and hope that my enthusiasm and desire come through in this application. I would love to discuss this role further with you so please do not hesitate to contact me.

Thank you for your time and consideration!

Yours sincerely,

[Your Name]
Bad Example:
Hey there! This is [Your Name]! I heard there was a job opening up at [Restaurant Name] so just wanted to apply here real quick! I'm super good at making refreshments and people like me because I'm nice so just thought this job would fit me right? Looking forward to hearing back from ya real soon then we can talk more about it kk? Thanks have a great day!
This is considered a poor example because it is not tailored to the position. It does not reveal any relevant experience or qualifications that would set the applicant apart from other candidates.
It also lacks professionalism and sounds too informal. This can be a turnoff to potential employers when applying for positions such as bartending, where strong communication skills are essential.
Cover Letter for Entry-Level Bartender:
Dear [Hiring Manager],

I'm writing to express my interest in the bartender position at [Company]. I understand this is an entry-level position and I have no prior experience as a bartender. However, I'm confident, my strong customer service background and excellent communication skills make me an ideal candidate for the role.

In my current customer service role, I am responsible for providing exceptional service. I resolve inquiries quickly and efficiently and create a positive customer experience. My interpersonal and problem-solving skills are well-developed, which renders me a suitable candidate for your position.

I am also a highly organized individual with a desire for learning. I am eager to gain experience in the bartending field. I am sure that my drive and enthusiasm will be an asset to your team.

As I am just starting out, I am open to learning new practices and techniques in order to become the best bartender possible.

My resume is attached for your review. Please feel free to contact me if you have any questions or would like to know how I can help. I am grateful for your attention and thoughtfulness.

Sincerely,

[Your Name]
Tips on writing a great cover letter for a resume for a bartender without experience:
Highlight transferable skills from your previous roles that can be applied to bartending, for example, issue resolution.
Demonstrate passion, enthusiasm, and drive in wanting to master the bartending industry.
Showcase your organizational skills, as this is important when it comes to working behind a bar.
Ensure your cover letter is succinct but also provides enough detail about yourself and why you are suitable for the role.
Offer up references or contacts who may be able to provide further insight into your character or skillset if needed.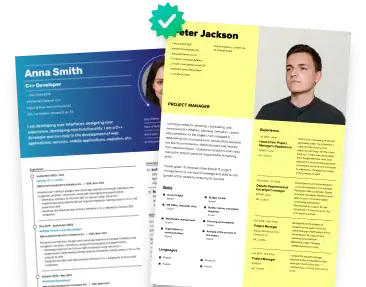 Proofread Everything
Spellchecking ready resume and cover letter is a must when applying for any job, and is especially important for a bar staff position.
Bartending requires scrupulousness, and all you are writing should prove this quality. Content should be free of errors, giving your potential employer a better first impression.
Use proper grammar and words. Poor or incorrect spelling can make it appear that you have not taken the time to put together a solid application.
Such a situation can cause your paper to be overlooked. Additionally, using clear language allows the reader to understand exactly what you are trying to communicate.
Bartending can be physically demanding, as it requires long hours on their feet, lifting heavy bottles, and repeatedly performing tasks such as shaking cocktails or tapping kegs.
How to Write a Bartender Resume
This article provides a detailed guide on how to put bartending on a professional resume. It covers the most important aspects of a bartender's resume, such as:
Listing professional experience and key accomplishments;
Detailing relevant qualifications and skills;
Highlighting any licenses;
Showcasing your capacity to provide excellent customer service;
Providing testimonials.
Writing a resume for a job as a bartender is an important task that requires attention to detail. To simplify the process, it is recommended to use an online resume builder with bartender resume samples.
Don't wait any longer - start writing your bartender resume today with a resume creator!