The chief financial officer is one of the key professionals in a corporation. When looking at CFO resumes, employers pay close attention to qualifications, skills, and, above all, practical experience.
"Operating a global business in a fast-changing world, you have to be grounded real-time in the external environment, have complete transparency, be fact-based and working with a great, collaborative team."
It is essential to structure your chief financial officer's resume in a way to display your knowledge completely and attractively. Such a resume will exhibit to the hiring manager your credibility and uniqueness.
This article will help you compose an outstanding CFO resume and land your dream job be it a hit for promotion or taking a risk for a higher-paying position.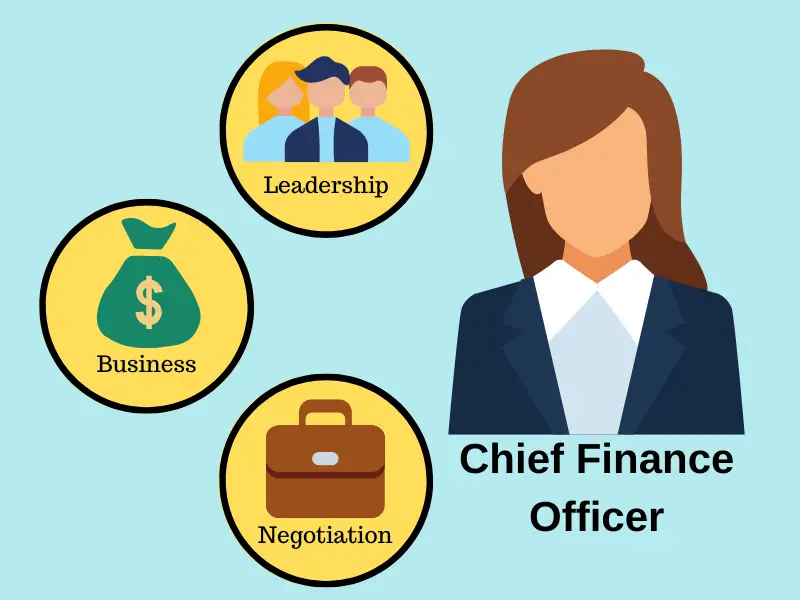 1. Article's overview
The article offers instructions on crafting an effective CFO resume.
Your resume has to be customized for each position by connecting your skills and experience to the ones mentioned in the job posting. Include a summary section that outlines your financial background and expertise. Detail your work history, highlighting achievements.
Other key points covered are:

Providing information on relevant financial experience and successes;
Tailoring the resume to the job description;
Emphasizing hard and soft skills;
Choosing the right organization, formatting, and wording;
Writing a CFO cover letter.
Above all, this article will present clear and specific CFO resume examples to give you a better idea of what a good resume should look like.
By adopting these procedures and steps to tailor a chief financial officer resume for each application, you can ensure it accurately reflects your qualifications.
2. Utilizing a resume builder
Are you looking for a way to have your resume stand out? Using a ready-made template can be a great way to create a unique, professional resume that will make recruiters take notice.
Take advantage of Resume Trick, an online resource that provides pre-made layouts for resumes in any field. You can quickly select the style and design that best suits your needs and preferences.
You will access a range of options of CFO resume templates to choose from, so you can build the perfect resume for you.
Pros of constructing your resume with a CFO resume template:
Quick. Starting with a template is much faster than creating a resume from scratch in a text editor. You don't have to worry about formatting, choosing the right words, and making sure everything is well-written.
Tailored. The offered chief financial officer resume templates already incorporate industry-specific terminology, so you are relieved of the task of including them yourself.
Appealing. You can choose a layout that represents your personality and professional approach. It ensures that employers will be drawn to your skills and qualifications.
In addition to being able to build a chief financial officer resume, you can always save a copy and adjust your document to the new position you are applying for. This will help avoid the hassle of starting from scratch each time you send an application for a job.
So if you are seeking an effortless path to building an eye-catching CFO resume that will grab the reader's attention, consider using Resume Trick!
3. CFO resume example
Objective

Dynamic and motivated CFO with 10+ years of experience in financial management, accounting, and budget planning. Aiming to maximize performance and foster long-term financial success at Walmart Inc.

Core Qualifications

Financial forecasting & analysis;
Strategizing & implementation;
Risk oversight & compliance;
Financial reporting & budgeting;
Redesigning business processes;
Cash flow management;
Cost control & reduction;
Operational excellence;
Regulatory & tax compliance;
Treasury & investment strategies.

Experience

Chief Financial Officer, Walmart Inc.(Bentonville, AR) | June 2021 – Present

Developing a financial plan in line with strategic business objectives.
Redesigning budgeting procedures to improve accuracy and reduce expense.
Negotiating and managing relationships with vendors to secure beneficial terms for the company.
Facilitating the design and implementation of new financial policies and procedures.
Automating manual processes to enhance efficiency and customer service.

Financial Manager, Walmart Inc. (Bentonville, AR) | October 2014 – June 2021

Managed financial operations and provided strategic guidance to operational teams.
Offered financial consulting to various departments in order to improve budgeting and financial performance.
Advised on financial risk management and developed financial strategies.
Analyzed business operations and investments and established internal accounting controls.

Financial Controller, Walmart Inc. (Bentonville, AR) | October 2010 – June 2014

Monitored cash flow and adjusted daily operations accordingly.
Maximized profits by creating cost-reduction strategies in collaboration with department heads.
Ensured compliance with all industry regulations and legislation.
Compiled financial statements, reports, and analyses to provide timely insights on performance.

Education

Master of Business Administration | Webster University (St. Luis, MO) | June 2014.
Bachelor of Science in Accounting | University of Arkansas (Fayetteville, AR) | June 2010.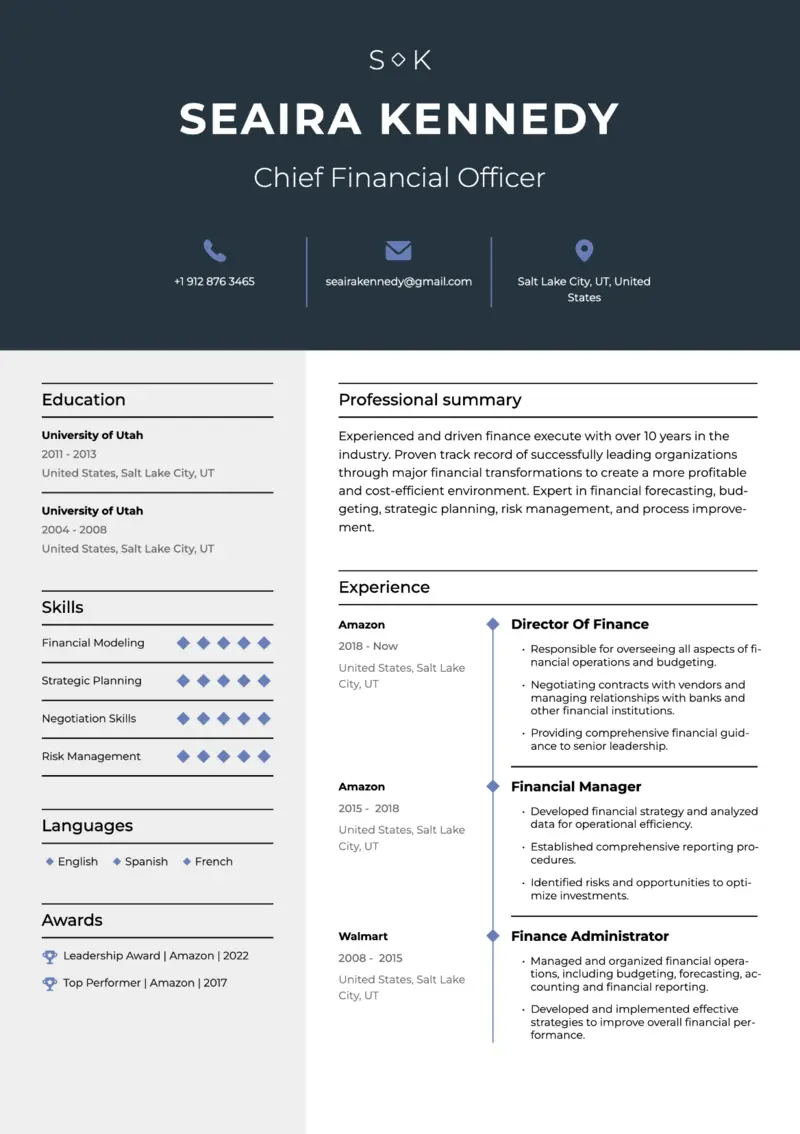 4. Structuring a CFO resume
A chief financial officer's resume serves as the professional snapshot of a job candidate, so it must be formatted correctly. The style should be consistent and the words should be carefully chosen to reflect the desired image of the applicant.
There are over 131,815 chief finance officers currently employed in the United States. (Zippia)
On your CFO resume, use clear headings and bullets to demonstrate accomplishments and job duties.
When selecting a font style and size, ensure they are easy to read. Popular choices are Arial, Times New Roman, or Calibri in sizes 10-12 point font.
For maximum impact, utilize bolding or italicizing to draw attention to certain points, such as a job or degree title.
Pay attention to the spacing between lines and paragraphs to make the document easier to read. Aim for one line of space after each heading or section title and between each paragraph.
By adhering to these guidelines when formatting your resume for the CFO position, you can ensure that it presents all your qualification in the best light.
5. Providing contact information
The overall advice for listing personal and contact information in a CFO resume is to maintain a professional and succinct appearance. Check that the information you mention is updated and accurate.
When creating a Chief Financial Officer (CFO) resume, include the following:
Full Name. State your full legal name as it appears on your ID.
Current Address. Mention your location or the desired area of your future job.
Email. Provide a professional email.
Phone Number. Share a phone number you can be reached at.
LinkedIn Link. If you have an up-to-date profile on LinkedIn, it would be beneficial to incorporate it too.
Having these details on your CFO resume will guarantee that potential employers can readily get in touch with you for a job interview or extra information.
"Keep true to yourself, and be authentic. Don't change yourself for an organization. Go find one that likes you just the way that you are."
Furthermore, your LinkedIn profile can give hiring managers an idea of your industry knowledge and experience. You are welcome to list any other personal facts that you believe are necessary for your prospective employer to know.
6. Outlining work experience
Chief finance officers are most in-demand in New York, NY. The construction industry is the highest-paying for these professionals. (Zippia)
The work experience segment of s chief financial officer resume must be carefully structured to illustrate your expertise. Arranging the experience in reverse chronological order allows an easier review of your employment history by possible employers.
CFO resume - example of employment history:

Chief Financial Officer, ABC Corporation (2021-2022)

Developed a streamlined budgeting process that increased accuracy and saved the company $100k annually.
Led a successful cost optimization project resulting in a 10% increase in gross margin.

Vice President of Finance, XYZ Enterprises (2018-2021)

Managed the financial operations of a multi-million dollar business unit.
Implemented a new accounting system that improved efficiency by 15%.
By presenting your job history clearly and concisely, you can show recruiters how your past experiences will be beneficial for the position. It helps to highlight accomplishments you have made in previous positions, as this will indicate HR managers your value as an asset.
Write your CFO resume
7. Sharing education details
When composing a resume for a chief financial officer position, the education section should also be arranged chronologically. This segment needs to elaborate on when and where you obtained your credentials and how they relate to the job position.
CFO resume - sample academic section:
Master of Science in Finance | The University of Southern California (USC), June 2022 Graduated with highest honors

Bachelor in Accounting | The University of California, Los Angeles (UCLA), California, June 2020 Graduated Magna Cum Laude

Certified Public Accountant (CPA) - Passed all four parts of the exam in June 2020
This academic history demonstrates a commitment to staying current on the latest financial trends and regulations. The qualifications are further supported by being highly qualified for the CFO position due to the advanced degree in finance and CFO certification.
For other ideas on how to structure your academic segment, look at CFO resume examples.
8. Exhibiting CFO's skills
Soft and hard skills on your chief financial officer resume will indicate that you have relevant capabilities to be excellent in the role.
"I consider leadership an essential skill required to build a solid career in finance. I aim to really lead with wisdom. That means to lead with compassion and empathy, even when mistakes are made."
Soft skills are attributes that make the candidate an effective team member. Hard CFO skills are technical abilities that are needed to complete the job tasks.
CFO resume - sample core competencies:
Apart from describing your skillset, a resume for chief financial officer positions should reflect your most valuable competencies. These include:

Financial planning & analysis. Able to analyze financial data, develop and manage budgets, and identify areas for cost savings.
Accounting & auditing. Expert in Generally Accepted Accounting Principles (GAAP) and auditing of financial statements.
Strategic planning. Capable of creating long-term financial plans that align with corporate goals.
Risk management. Knowledgeable in laws, regulations, and best practices to minimize risk and ensure compliance.
Business process improvement. Skilled in identifying opportunities to streamline the procedure, enhance efficiency, and reduce costs.
Leadership. Experienced in developing and motivating teams, effectively communicating goals, and driving results.
To organize the skills on the chief financial officer's resume, it is best to separate them into two sections: hard and soft attributes. Each should start with a heading so that employers can easily identify which capabilities are being featured.
CFO resume - examples of soft skills:
Capacity to think strategically;
Exceptional communication and interpersonal skills;
Careful scrutiny;
Strong problem-solving capabilities;
Ability to multitask;
Analytical thinking;
Adaptability;
Capacity to function under pressure;
Organizational skills.
CFO resume - examples of hard skills:
Solid understanding of financial principles;
Expertise in budgeting, forecasting, and financial modeling concepts;
Proficiency in financial software, such as QuickBooks, SAP & Oracle;
Mastery of business analytics tools, such as Tableau or Power BI;
Experience with risk management systems;
Knowledge of corporate tax regulations and compliance matters;
Advanced user of Microsoft Office applications.
Listing your CFO qualifications and skills should be clearly displayed on your resume to show the breadth and depth of your abilities.
9. Including social media links
Overall, including social media links on a chief financial officer's resume may be beneficial in certain cases.
28.1% of all chief finance officers are women, while 71.9% are men. The average chief finance officer age is 51 years old. (Zippia)
For instance, it can confirm your credentials as well as allow recruiters insight into your character. However, there are a few drawbacks that should be taken into consideration.
Pros:
Enhances credibility and adds a personal touch to the resume;
Displays additional skills, such as communication and understanding of trends;
Gives HR specialists a chance to contact your past clients and colleagues.
Cons:
Potentially exposes private details to unwanted attention;
May result in discrimination based on personal information;
Could be seen as unprofessional by some employers.
For example, if a CFO candidate has been featured in media outlets for their work or has an active presence on platforms like Twitter or LinkedIn, it could be advantageous to add these links.
On the other hand, if they don't have any posts or activities that are related to their profession, it may be better to leave them out of your CFO resume.
Ultimately, it is up to you to decide whether you want to share your social media profiles with hiring managers or not.
10. Writing CFO resume summary
An engaging resume summary for a CFO should highlight key abilities to manage complex projects and develop a plan of action for financial success. An exemplary resume summary could be:
Chief financial officer resume summary example:

Highly experienced Chief Financial Officer with 15+ years of experience in finance, accounting, and strategic planning. Proven history of accomplishment of leading successful projects and initiatives that generated significant ROI and increased financial performance. Skilled in developing innovative strategies to improve operational efficiency and reduce costs.
Here are 3 tips for writing a great statement:
Point out your experience and expertise in the field.
Exhibit major capability as a CFO.
Ensure that you present quantifiable results that demonstrate the influence of your work.
"Listen to all the voices in the room. Because sometimes, the strongest and best advice is delivered in a whisper, not in a shout."
11. Adding supplementary information
Enhancing your chief financial officer resume with additional personal information is advantageous for multiple reasons.
First, it allows the recruiter to better understand you and see what your interests and experiences outside of professional life are. Secondly, it adds more color to a resume, making it stand out from the rest.
Hobbies. For example, a chief financial officer has a hobby such as playing golf or squash. Describing yourself from a perspective different than professional can be highly beneficial for the application.
Courses. Taking courses in accounting, finance or economics can exemplify dedication to remaining current to date with the latest industry knowledge and developments. This can help show that they are capable of quickly adapting to new concepts and ideas.
Languages. Being fluent in foreign languages can be an asset in a global business environment. Having this proficiency indicates that the applicant is willing to go the extra mile to communicate effectively with people of different backgrounds and cultures.
Awards. Confirm that the candidate has been acknowledged for their outstanding commitment. It illustrates their potential to produce remarkable outcomes when presented with arduous tasks or projects.
References. References from past employers or coworkers evidence that the individual has made connections with others. These are the people who are willing to vouch for the job seeker when needed. It also gives the recruiter further insight into the individual's work ethic and performance on the job.
Certificates. Being certified in areas such as accounting and finance reveal that the job-seeker is well-versed in their field. CFO certifications demonstrate their devotedness to mastering the industry, portraying them as a great choice for the position.
By including this extra personal information in your resume for chief financial officer roles, you supply a throughout understanding of the person they are considering for hire. Thanks to this, they will make an informed decision when thinking about who is best suited for the job.
Use the online CFO resume builder
12. Composing a CFO cover letter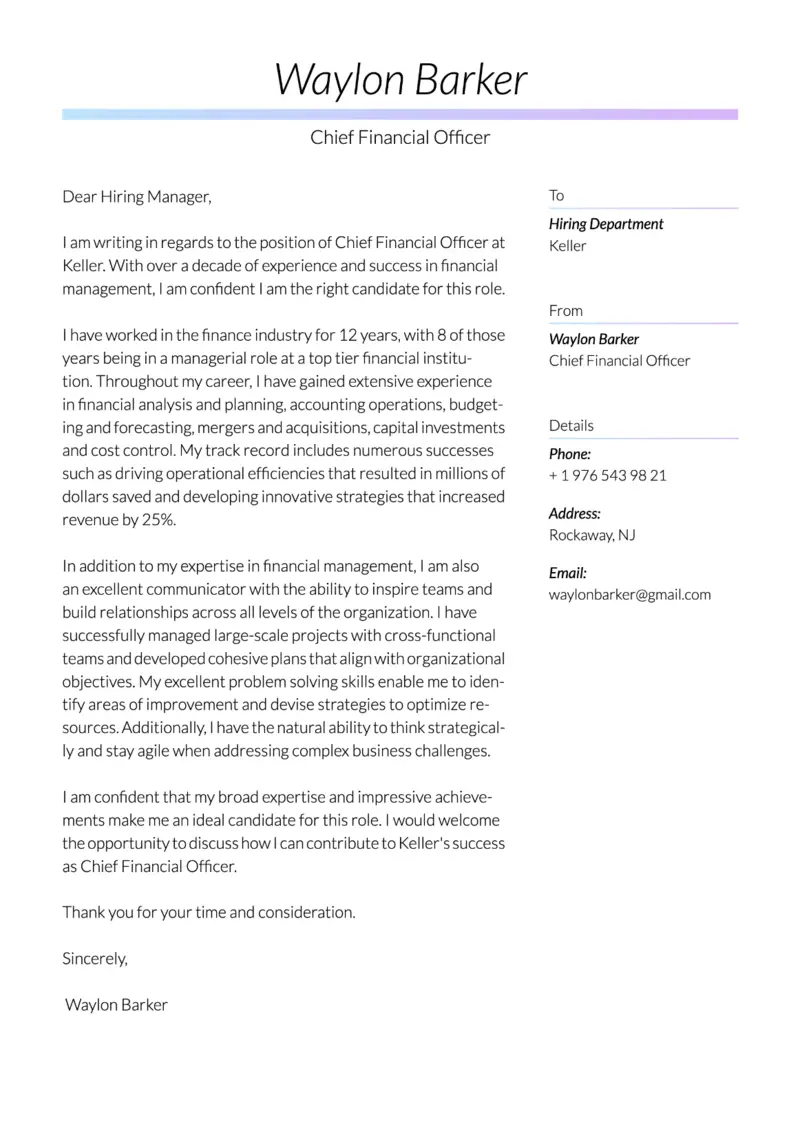 Crafting a supporting letter of application for a chief financial officer position is essential.
"If you want the team to move in the same direction, you need to show them how the work they do every day translates into numbers and facts."
A cover letter should be concise, yet provide a comprehensive summary of your professional qualifications and experiences. It should address the facts that make you a strong candidate. Below are a few suggestions to help you create a captivating letter of introduction for the role of a CFO:
Start with a solid introduction. The initial sentence of your cover letter must catch the reader's eye and urge them to keep reading.
State why you are interested in the position. Tell what drew you to the company and why you would be a valuable asset to the business.
Exhibit your CFO qualifications and skills. The cover letter has to highlight your pertinent capabilities, such as prior experience or education in finance or accounting.
Showcase your communication abilities. As a chief financial officer, you need to have exceptional verbal and written abilities. Present your ability to effectively convey complex financial data.
Provide examples. Whenever possible, list concrete examples illustrating how you have achieved success in similar roles in the past.
Keep it brief. Your accompanying letter must not be longer than one page.
A well-written CFO cover letter example:
Dear [Hiring Manager],

I am writing to apply for the Chief Financial Officer position at [Company Name]. With my extensive experience in financial management and my proven track record of driving strategic initiatives that positively impacted organizational growth, I believe I could be a great fit for this role.

In my current role as CFO at [Company Name], I was instrumental in leading several cost-saving initiatives that increased profits by 10%. I also successfully implemented accounting software upgrades which resulted in faster processing time and improved accuracy of financial reports.

My most recent experience includes creating financial models to support business decision-making and managing budgets of up to $20 million across multiple divisions. In addition, I have achieved several professional certifications including Certified Public Accountant (CPA) and Chartered Global Management Accountant (CGMA).

I am excited about the opportunity to bring my knowledge and experience in finance and accounting to [Company Name]. I believe I can be an asset as Chief Financial Officer, helping [Company Name] reach its goals even faster.

Thank you for your consideration. I look forward to your response!

Sincerely, [Name]
13. Becoming a CFO
If you do not have experience as a CFO yet but wish to advance your career, you may wonder "How to become a CFO?". To help you begin your journey, see the following CFO cover letter examples, the good one and the bad one.
Bad example:
Dear [Hiring Manager],

I am writing because I saw this job posting online for Chief Financial Officer at [Company Name]. I wanted to apply because it would be a great fit for me! I am good with numbers so this seems it will work out well between us!

I have no prior knowledge of this kind of job but I'm sure I could learn quickly if given the chance! I have worked as an accountant at [Company Name] and have completed a Bachelor's in Accounting and an MBA degree. I believe I have great potential, so please think about me when hiring someone new!

Thanks so much!! [Name]
Good example:
Dear [Hiring Manager],

I am submitting my candidacy for the Chief Financial Officer position at [Company Name]. With my experience in finance and accounting, I am confident that I would be an excellent addition to your team.

Most recently, I worked as a Finance Manager at [Previous Company]. There, I successfully managed all aspects of financial operations including budgeting, forecasting, investment analysis, cost management, capital planning, and compliance functions.

During my tenure, I was able to increase efficiency by 15%, reduce operational costs by 10%, and increase revenue by 8%. Furthermore, I was leading efforts to secure strategic investments from venture capital firms that ultimately resulted in strong growth for the company.

I have a proven track record of success in finance management roles, along with superior problem-solving and communication skills, both orally and written. It makes me confident that I can make an immediate impact as part of your team as Chief Financial Officer. Besides, I am highly motivated, organized, detail-oriented, and capable of managing multiple tasks simultaneously while achieving tight deadlines within budget constraints.

I would welcome the opportunity to discuss my CFO qualifications further with you during an interview at your convenience. Please feel free to contact me anytime via email or phone if you have any questions or would like more information about my background or experience level.

Thank you for your time and consideration; I look forward to hearing from you soon!

Best regards, [Name]
The contrast between these two scenarios is evident. One outlines precise particulars regarding their credentials while emphasizing their accomplishments. The other does not contain any specific details about their skills or capabilities applicable to CFO roles.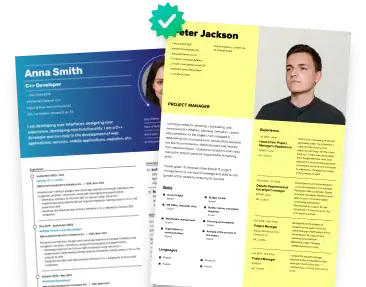 14. Proofreading application materials
Double-checking your CFO resume and cover letter is extremely important. Poorly written documents can create the impression that you are unprofessional or careless.
"At the end of the day, finance leaders have to be proper storytellers. You have to be constantly on top of your data and tell the story behind the numbers."
Employers look for applicants who show remarkable verbal and written proficiency, so it is essential to guarantee your application materials are free of errors.
Here are tips on how to proofread your chief financial officer resume:

Read it out loud. Reading aloud can help you detect mistakes you could have overlooked when reading silently.
Take a break. After writing, take some time away before you reread them. This will give you a fresh perspective and help you spot typos more easily.
Check the spelling. Use a spellchecker but do not rely solely on it. Sometimes it can miss errors or suggest incorrect words.
Look for assistance. Ask someone else to read through your papers and provide feedback. Having an extra set of eyes can find mistakes that you may have missed.
Proofreading your documents carefully before submitting them can make all the difference in getting an interview for a CFO position.
15. Final touch: expert tips
Producing a great CFO resume requires effort, but with the right advice, you will be able to create a standout document that will get you noticed.
Start by researching the job role and identifying what skills are most valuable for the position. Ensure that your resume displays those skills.
Include relevant certifications you hold. This is especially important for CFOs since it shows that you possess the necessary knowledge and experience in the field.
Ensure your resume is well-structured and legible. Incorporate bullet points to clearly highlight achievements, responsibilities, and skills.
Provide quantifiable data wherever possible to demonstrate the impact of your work. For example, if you have saved costs or generated revenue for an organization, emphasize these figures in your CFO resume.
Finally, always proofread your documents. Typos and other errors might cost you the opportunity!
Conclusion
Creating a winning chief financial officer resume may seem like a challenging task. Especially if you are looking for how to become a CFO to take your career to the next level.
To simplify the process, use an online resume builder with professionally written templates to help you get started quickly. Look at CFO resume examples for help and get yourself to the new career level!
So what are you waiting for? Start building your resume now to land the job you deserve!