In the dynamic field of dental healthcare, a well-crafted dental assistant resume is your passport to a successful career. Your resume serves as your introduction to potential employers, showing your qualifications, skills, and commitment to patient care.
The toothbrush doesn't remove six months of tartar 30 minutes before your dental appointment.
Whether you're a seasoned specialist or just starting to work in the field, this article will teach you how to create a perfect resume. Read on to discover how to make your resume shine as bright as your patients' teeth!
Dental Assistant Resume Sample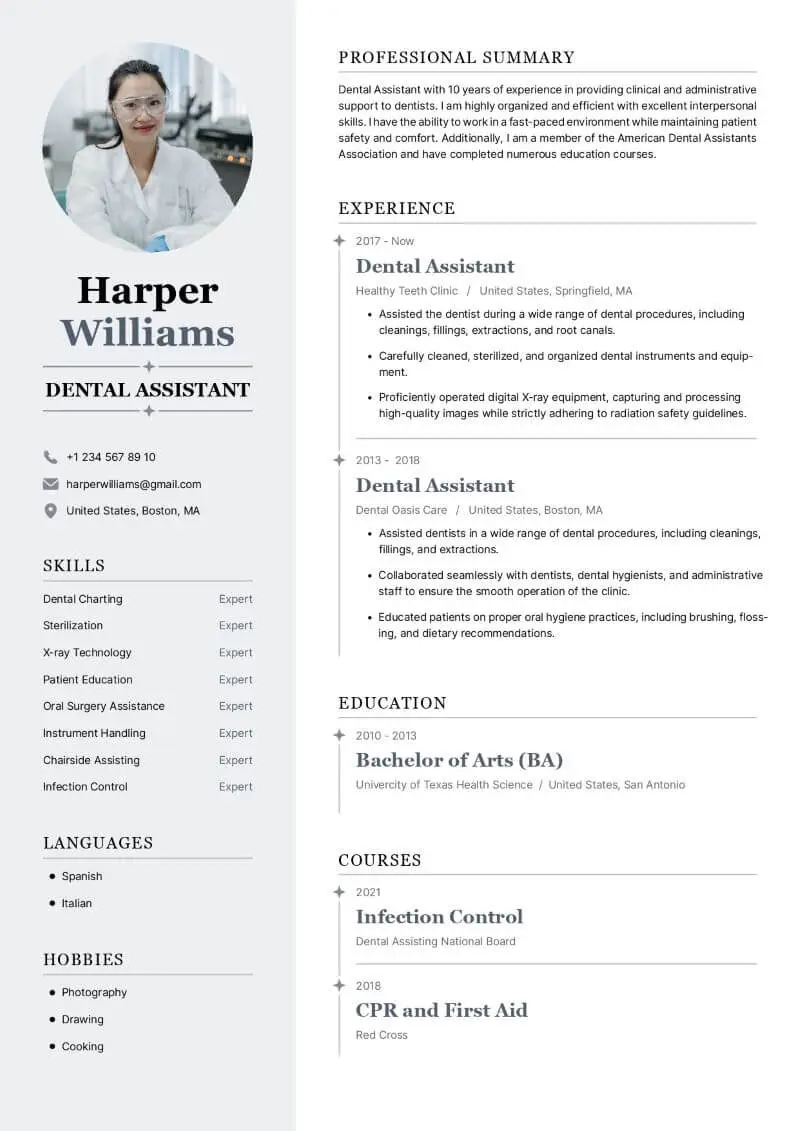 Experienced Dental Assistant Resume
Professional Summary

Dedicated and certified Dental Assistant with 7 years of experience providing exceptional patient care and support in a fast-paced dental practice. Proficient in chairside assisting, radiography, sterilization, and patient education. Adept at creating a reassuring environment for patients. Seeking to contribute my skills and expertise to a dynamic dental team.

Experience

Dental Assistant (2019 - 2023)

Smile Dental Clinic, Sacramento, CA

Assisted the dentist during dental procedures, ensuring patient comfort and safety.
Prepared and sterilized dental instruments and equipment for each appointment.
Performed digital X-rays and maintained accurate patient records.
Managed appointment scheduling and patient inquiries, optimizing office efficiency.
Educated patients on proper oral hygiene and post-treatment care.

Education

Associate Degree in Dental Assisting

California Northstate University, College of Dental Medicine (2014 - 2017)

Skills

Chairside assisting;
Digital radiography;
Sterilization techniques;
Dental software;
Patient education;
Infection control;
Strong communication;
Team collaboration.
Beginner Dental Assistant Resume
Professional Summary

Motivated and detail-oriented Dental Assistant seeking to utilize knowledge acquired from college training. Reliable and dedicated to providing comprehensive patient care with a focus on creating a comfortable and supportive environment for patients. Ready to leverage excellent interpersonal skills to provide high-quality service and contribute to the dental team's success.

Education

Associate Degree in Applied Science in Dental Assisting

NYU College of Dentistry (2019 - 2023)

GPA: 3.8/4.0
Coursework: Dental Science, Dental Radiography, Dental Office Administration, Oral Health, Dental Pharmacology, Dental Materials, CPR Training.

Certifications

Certified Dental Assistant (CDA) - Dental Assisting National Board (2022)
Certified in CPR and First Aid - American Red Cross (2023)

Skills

X-Ray processing;
Equipment management;
Electronic charting;
Patient relations;
Problem solving;
Patient scheduling;
Time management;
Teamwork;
Attention to detail;
Adaptability.
Use Dental Assistant Resume Templates
Use a Resume Builder
Are you looking for a quick way to write a resume? Using the free resume builder can be the perfect solution!
Pre-made templates provide an ideal starting point for constructing a resume for a dental assistant position.
Benefits of using an online resume builder:
All you need to do is fill in the information and the resume creator will make a professional-looking resume in no time at all.
Using a dental assistant resume template can save you time and energy as you don't need to start from scratch.
The resume templates are professionally designed and ATS-friendly.
You can customize your resume and select colors and layouts that are the right style for your sphere.
So if you need an easy way to create a polished, professional resume without spending hours writing it manually use an online resume creator.
Styleguide for Dental Assistant Resume
When composing a resume for the dental assistant position, it is essential to keep a professional demeanor and brevity.
Avoid repeating words several times in a row and make sure the text is unique and versatile.
Use specific words to describe yourself and job-related terminology to highlight your qualifications.
Remember to keep the sentences short, no longer than 12 words each.
A proper summary of a dental assistant resume can have the following action words:

Detail-oriented. Meticulously organizing patient files, sterilizing dental instruments, and providing quality patient care.
Excellent communication. Interacting with patients in a courteous manner, listening and responding to patient questions and concerns.
Multitasking. Managing multiple tasks simultaneously while attending to patient needs in a timely manner.
Strong clinical skills. Preparing examination rooms, taking and recording vital signs, and assisting with dental procedures.
Infection control. Cleaning and sterilizing instruments and maintaining a safe and clean work environment.
Attention to detail. Double-checking records for accuracy, ensuring medical protocols are followed.
Patient care. Providing compassionate patient care and educating patients about oral health.
Team player. Working cooperatively with dentists, hygienists, and other healthcare professionals.
Expertise in dentrix software. Utilizing computer software programs to schedule appointments and enter data into patient records.
Time management. Staying organized while juggling multiple patients at once and managing time efficiently.
Contact Information
It is necessary to include personal and contact information in a resume for a dental assistant position. This information should be accurate and up-to-date, so employers can easily get in touch with you.
Be sure to add the following details:
Full name. Place your full legal name at the top of your resume. Use a larger font or a bold style to make it stand out.
Address. Indicate the city and country you're currently living in.
Phone number. Provide an active phone number so the hiring manager can reach you.
Email address. Avoid using overly casual or inappropriate email addresses.
Experience
The best way to structure the experience section is in chronological order, starting with your most recent position. This helps employers get an idea of your career and the experience you have gained along the way.
Each entry should include the this information:
Job title. Clearly state your job title.
Employer. Add the name of the dental practice or clinic where you worked.
Dates of employment. Use "Present" if you are currently employed.
Bullet points. List specific responsibilities and achievements for each position.
You could list out your work experiences like this:
Dental Assistant (2020 - Present)

Bright Smiles Family Dentistry, Raleigh, North Carolina

Gained hands-on experience in chairside assisting, dental radiography, and infection control.
Assisted with dental procedures, including fillings, cleanings, and extractions.
Managed medical records and appointment scheduling using dental software.
Conducted preliminary patient assessments and maintained patient comfort.

Dental Assistant (2019 - 2020)

SmileCare Dental Clinic, Charlotte, North Carolina

Assisted the dentist with various procedures, such as cleanings, fillings, and extractions.
Managed patient records and updated medical histories.
Assisted with laboratory tasks, including preparing dental impressions and models.
Maintained strict infection control procedures to ensure patient and staff safety.
The details in these examples demonstrate that you are capable of providing quality dental care and have relevant experience for the job. They also show that you are familiar with the typical duties of a dental assistant and can be trusted to perform them.
However, if you were to list your experiences without any detail or context, it would be difficult for employers to understand what kind of skills you possess.
Bad example:
Dental Assistant, White Teeth Dentistry, Louisville, Kentucky

I helped the dentist a lot.
Cleaned everything.
Worked with patients.
Did some other stuff.
This example lacks specificity and details and doesn't give employers enough data. As a result, they may not consider you as a qualified candidate.
Overall, when listing your job experience for a dental assistant resume, include enough information so that employers can gain an accurate depiction of your competencies. This will make it easier for them to see why you are the ideal candidate for the job.
Education
When organizing educational history in a resume for a dental assistant position, it's important to start with your highest degree:
Bachelor's Degree in Dental Assisting - University of North Carolina at Chapel Hill (2019 - 2022)
If a dental assistant has just finished a course, it should be listed right after a bachelor's degree as the most recent qualification. Previous courses can be added below in reverse chronological order. It may be itemized as follows:
Infection Control Protocols Course - Collins Career Center (2023)
Patient Care and Communication Course - Northwood Technical College (2021)
On the other hand, it's important not to list qualifications that don't relate to the job role that you are applying for. For example, if you have completed a course in graphic design, this should not be mentioned in a resume for a dental assistant job.
Including irrelevant qualifications may lead employers to question your understanding of the role and result in them overlooking your application.
Dental Assistant Resume Skills
Incorporating both soft and hard skills into a dental assistant resume is essential.
Soft skills demonstrate interpersonal qualities such as communication, empathy, problem-solving, and teamwork.
Hard skills show dental healthcare, proficiencies such as record keeping, use of specialized equipment, and sterilization procedures.
When including your soft abilities, concentrate on qualities that are essential for success in the job.
Dental assistant soft skills:

Communication. Effective verbal and non-verbal communication when interacting with patients and explaining dental procedures.
Empathy. Empathetic and understanding to patients' concerns and fears.
Teamwork. Collaborative skills to ensure smooth operations in the dental office.
Adaptability. The ability to adapt to different situations and handle unexpected challenges.
Attention to detail. Keen eye for detail to make sure instruments are sterilized and properly set up, and records are accurately maintained.
Organization. Skills to manage patient schedules, maintain records, and keep the workspace clean and efficient.
Problem-solving. Addressing unexpected issues during procedures effectively.
When outlining hard proficiencies, center on those traits that are particular to the job.
Hard skills for a dental assistant:

Chairside assistance. Proficiency in assisting the dentist during various dental procedures, like providing instruments, maintaining a sterile field, and ensuring patient comfort.
Radiography. Taking dental X-rays, including digital radiography, and processing them accurately while adhering to safety protocols.
Radiation safety. Knowledge of radiation safety practices and the competence to protect patients and yourself from unnecessary radiation exposure.
Dental software. Familiarity with dental practice management software, such as Dentrix, Eaglesoft, or Open Dental, for appointment scheduling, record-keeping, and billing.
Digital photography. Proficiency in photography for documenting cases, treatment progress, and patient education.
Sterilization and infection control. Knowledge of infection control protocols, proper sterilization techniques, and compliance with regulations to maintain a safe and sanitary environment.
Equipment maintenance. Ensuring that dental equipment is functioning properly and knowing how to perform routine troubleshooting.
Dental materials handling. Capability to handle and mix dental materials like cement and amalgam.
Impressions and models. Skill in taking dental impressions and creating models for medical procedures, such as crowns, bridges, or orthodontic appliances.
Orthodontic procedures. Understanding and assisting in procedures like braces installation and adjustment are important.
Laboratory skills. Performing laboratory duties under the supervision of the dentist.
Charting. Maintaining and updating patients' records, their dental history and the present treatment plan.
CPR. Having the CPR or Basic Life Support training can literally be a lifesaving skill in an emergency situation.
Social Media
Adding social media profiles to a dental assistant resume is generally not relevant to the position. A potential employer should be able to quickly review your application papers to understand your skills, qualifications, and experience.
Why not?
Inserting irrelevant social media profiles can clutter your resume and distract from essential qualifications.
If your social media presence is primarily personal, it's best to omit it from any resume.
Resume Summary
A great resume summary for a dental assistant must emphasize your expertise, abilities, and qualifications. It must be concise and easy to read, while also giving the reader an impression of the applicant's professional identity.
Outstanding dental assistant resume summary example should look like this:

Accomplished and devoted Dental Assistant with 5+ years of experience giving first-rate patient care in a thriving dental practice. Proficient in delivering a wide range of treatments from preventive care to oral surgery. Highly skilled in taking digital radiographs, preparing dental materials, and executing lab procedures. Have a passion for helping patients maintain optimal oral health.
Here are 3 tips on crafting an impressive resume summary:
Focus on key information that will give you an edge over other applicants. Emphasize pertinent abilities, experience, and qualifications that match the job description.
Keep it succinct and to the point. Avoid repeating phrases or using too much jargon. Aim for 3-5 sentences that capture your most important attributes as a dental assistant.
Make sure to proofread your summary several times before submitting your resume. Double-check that you have provided accurate information about yourself and ensure there are no mistakes or typos.
According to Delta Dental nearly 2 of 3 Americans (65%) visit the dentist at least once a year.
Additional Information
Enhancing a dental assistant resume with extra personal details is an important step towards getting noticed by recruiters. It gives the recruiter a better idea of who you are as an individual.
Hobbies are an excellent way to demonstrate that the candidate has interests outside of their work life.
For example, if the candidate loves mountain biking or kayaks, this could demonstrate their physical fitness and passion for adventure.
Courses are an outstanding method to show one's knowledge in specific areas related to the job.
A dental assistant may have taken courses on oral hygiene or advanced procedures in dentistry. This will show their eagerness to gain further knowledge.
You don't have to brush your teeth – just the ones you want to keep.
Languages are also an important addition to a resume for a dental assistant position. A candidate who can speak several languages is able to communicate with patients from different cultures and backgrounds.
For example, if the candidate is fluent in Spanish then this can be a valuable asset for any practice looking for bilingual staff members.
Awards can be a fantastic tool for making one's resume more impressive than other applicants.
This could include excellence awards from professional organizations or awards for outstanding achievements in the workplace.
Internships provide an excellent opportunity for candidates to demonstrate their experience within their field before applying for a full-time position.
It was customary during the Middle Ages to kiss a donkey if you had a toothache.
References allow recruiters to contact previous employers who can vouch for your abilities and professionalism. A letter of recommendations can provide a profound understanding of how the candidate performs in their job role.
Certificates demonstrate that you have completed specialized training courses or certifications relevant to your field of study.
They can serve as proof that you have received formal education in areas such as dental hygiene or dental laboratory technology.
Dental Assistant Cover Letter
Writing a cover letter for a dental assistant job is key to helping you land the job.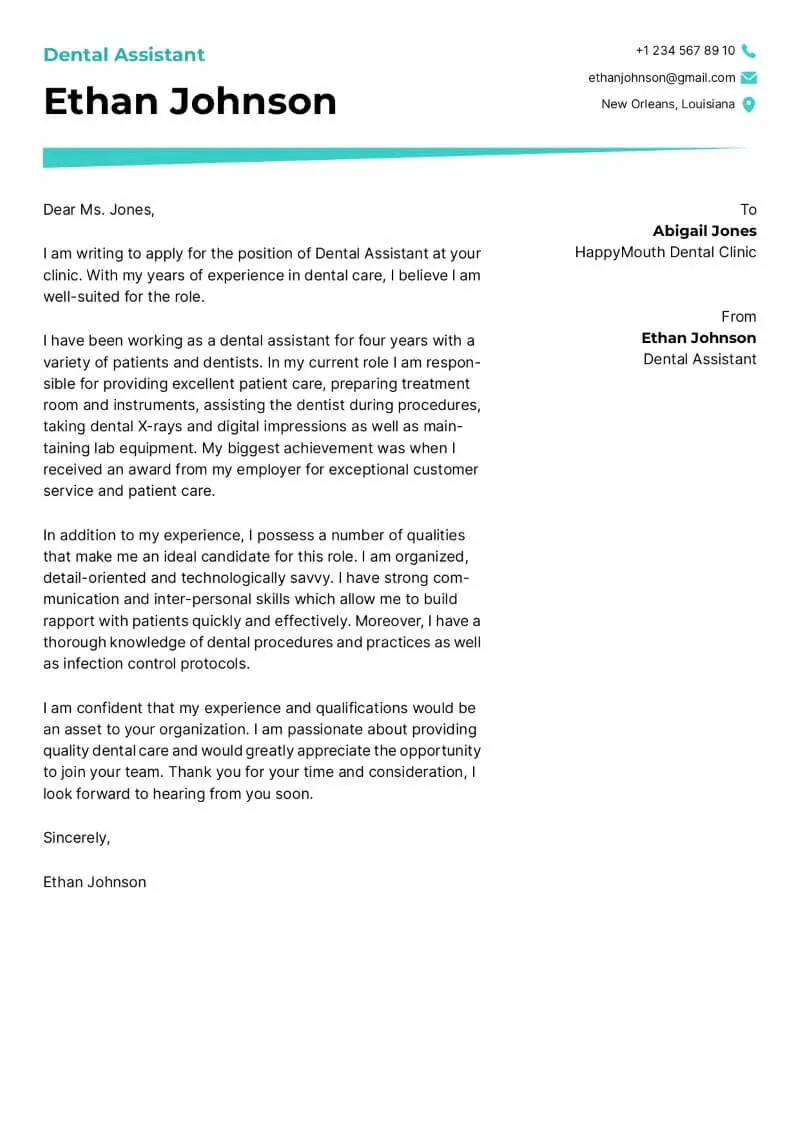 Good Example:
Dear Ms. Anderson,

I am writing to express my interest in taking on the Dental Assistant job at ABC Dental Clinic. With over five years of experience as an assistant in a busy dental office, I believe I am well qualified for this position and would be an asset to your team.

I am highly organized and detail-oriented, able to effectively juggle multiple tasks while guaranteeing accuracy in my work. Additionally, I have excellent interpersonal skills which allow me to easily build rapport with patients and coworkers alike. I am sure that my knowledge and experience will be beneficial to your clinic and its patients.

I would love the opportunity to discuss this position further with you and learn more about ABC Dental Clinic's goals and ambitions. Thank you for your time and consideration; I look forward to hearing from you soon.

Sincerely,

Evelyn Wilson
Bad Example:
Dear Hiring Manager,

I'm writing because I am applying for the role of dental assistant at XYZ Dental Clinic. I believe I'm qualified because I've done this kind of work before at another place and I think I could do it here too. Thanks for considering me!

Michael Martinez
The first example is more effective because it begins with addressing the recipient by name and contains details about relevant experience and skills.
The second example does not provide any specifics about qualifications or experience and can't make an impactful impression on the employer reading it.
Here are some advice on writing a convincing cover letter:
Start with a strong introduction. Begin a cover letter with an engaging statement that grabs the reader's attention. Introduce yourself and explain why you are interested in a dental assistant position.
Clearly state the purpose. In the opening or second paragraph, explain the purpose of your letter. Mention the specific position you're applying for and where you found the job posting.
Highlight your relevant skills. The cover letter should be tailored to the role you are applying for. Make sure you highlight any relevant experience, education, or skills that are pertinent to the job and help you stand out as a candidate.
Address potential concerns. If you have employment gaps or other issues in your work history, briefly address them in a positive way without dwelling on them. Focus on how you've grown and what you've learned from those experiences.
Back up your claims with examples. To effectively showcase your skills, provide specific examples of how you have used them in past roles or projects. This helps demonstrate your abilities and makes it more likely that the employer will take notice of you.
Use Cover Letter Builder
Entry-Level Dental Assistant Cover Letter
Dear [Name],

I am writing to apply for the job of dental assistant at [Company Name]. I understand that I don't have any direct experience in this field, but I believe that my enthusiasm and passion for the role can make up for it.

I am a recent graduate of [School Name], with a degree in [Major]. During my studies, I developed my knowledge of dentistry and the related processes. I also possess excellent organizational skills, which I think would be a great asset to your team.

Furthermore, I am a fast learner who is eager to learn everything necessary to perform at a high level as a dental assistant. I am confident that if given the opportunity, I will be able to demonstrate my commitment and capability in no time.

If given a chance to prove myself, I am sure that you won't regret your decision. Please feel free to contact me if you need more information or have any questions about my candidacy.

Thank you very much for considering my application.

Sincerely,

[Your Name]
Advice on building a cover letter for an entry-level dental assistant resume:
Highlight relevant skills. Emphasize any relevant qualifications you possess that would make you an ideal candidate for the role. If you don't have direct experience but are confident that you can do the job well, explain why and how your other experiences have prepared you for this role.
Show your enthusiasm. Make sure to express your enthusiasm for the role and explain why this particular job interests you. Showing genuine interest can help convince the employer that you are the right person for the job.
Keep it short and clear. Keep the cover letter concise and understandable - within one page. Use simple language and avoid making it too long-winded or difficult to understand.
Proofread carefully. Before submitting your cover letter, check it multiple times for grammar mistakes and typos - employers don't like sloppy work.
Proofreading
A resume or cover letter with misspellings or incorrect grammar will make a poor first impression. It reduces your chances of getting invited to an interview.
To proofread your dental assistant resume and cover letter:
Read your application papers aloud. This helps you catch awkward phrasing and repetitive sentences.
Use spell and grammar checkers to remove basic errors.
Start at the end of your document and read it backward, sentence by sentence. This can help you focus on individual words.
Ask someone to look over your documents and give feedback. They can point out any errors you might have missed.
Take a break from writing before doing this final read-through as you may catch mistakes that you didn't notice.
With thoroughness, you can guarantee that the dental assistant job documents are faultless and make a good impression on recruiters and hiring managers.
A CareerBuilder survey showed that 77% of hiring managers will not consider a job applicant if their resume contains bad grammar or typos.
Conclusion
Having a well-crafted resume is essential for landing any job. It is crucial to ensure yours is distinctive from the rest applicants.
To simplify the process of creating a resume, use an online resume builder. This will help ensure that your resume is tailored specifically for the dental assistant position and all the required information is included.
To help get you started, here are the key points to pay attention to when writing a resume:

Emphasize any pertinent certifications or experience in dentistry.
Make sure to include contact information and relevant references.
Showcase your ability to work effectively with all types of patients.
Describe any special skills that could be beneficial.
Writing a solid resume for a dental assistant job doesn't have to be difficult. Just take the time to plan it out properly and get inspired with dental assistant resume examples. Don't wait another minute – start writing your resume now and take one step closer to getting hired!