Whether you're a graphic, interior, or fashion designer, your resume should be a reflection of your creativity and professional expertise. Having an outstanding designer resume will make a great first impression and can increase your chances of getting invited to an interview.
"Everything is designed. Few things are designed well."
If you want to understand how to craft an eye-catching designer resume example, keep reading this article. We'll uncover the tips that will help you stand out in a competitive field and land the design job of your dreams.
How to Write a Designer Resume
The article explains a step-by-step process for writing an exceptional resume. It focuses on key aspects crucial for a resume for designers:
Structuring the resume.
Formatting guidelines.
Adding personal information.
Detailing education and work experience.
Showing your skills as a designer.
Employing these steps, you can create a remarkable designer resume that will give you an edge over other candidates.
Use a Resume Builder
Are you looking for a way to create a great resume quickly and easily? Have you been struggling with writing or formatting your own resume using Word?
Look no further! An online resume builder is the perfect solution. You will be able to create a professional-looking resume in minutes with pre-made designer resume templates.
Advantages of using the resume builder:
The resume creator will save you a significant amount of time compared to starting from scratch.
You'll get access to professional resume layouts that present all your information in the best way possible.
Customize the template to fit your individual needs. Add custom sections and tweak the colors until it's exactly how you want it.
All the formatting and spacing will be taken care of, ensuring your document looks polished.
So if you're stuck trying to create a perfect resume, consider using a free resume builder. You'll save time, and effort, and end up with a stunning document that will make you stand out to potential employers!
Designer Resume Sample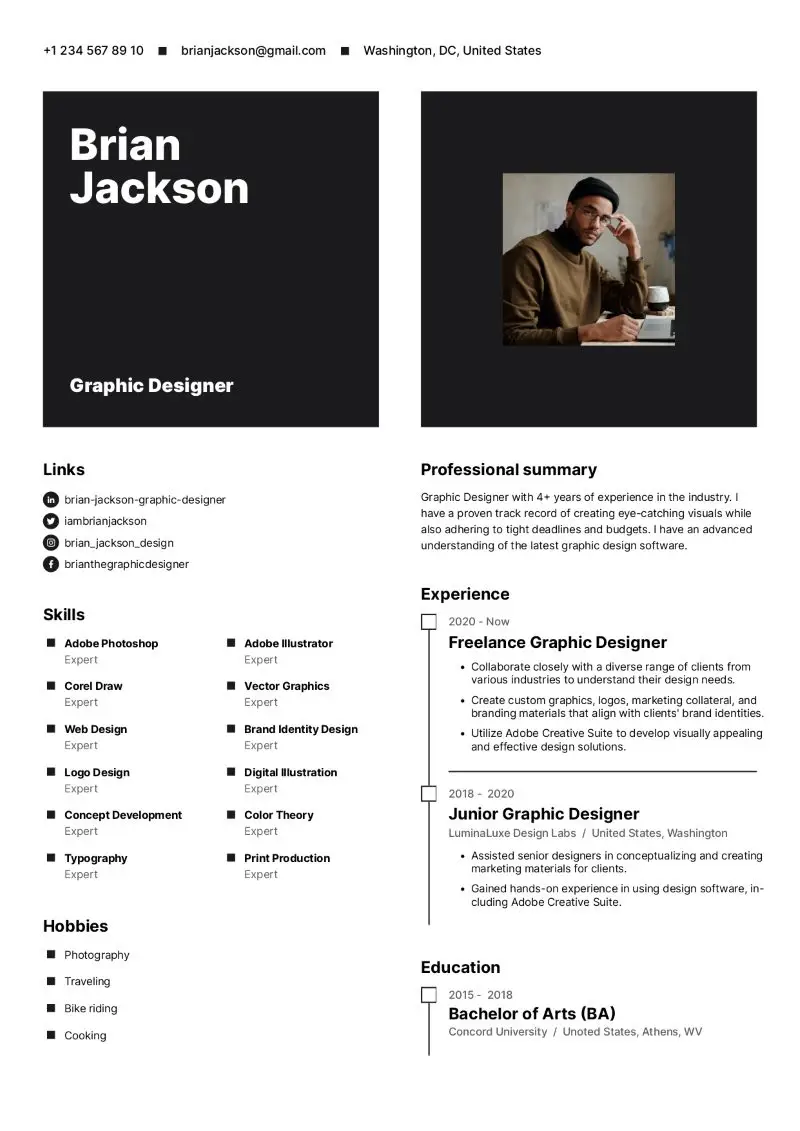 Resume Summary

Creative, experienced designer with a passion for creating user-friendly products. Experienced in UX/UI design, illustration, and working with clients. Seeking a challenging and rewarding role to build engaging products and experiences.

Experience

UX/UI Designer - PixelCrafters Studio (2017 - 2022)

Created wireframes, prototypes, and user interface designs.
Developed high-fidelity mockups for web and mobile applications.
Conducted user research to improve the usability of products.

Freelance Designer (2014 - 2017)

Designed graphics for websites and print materials.
Worked on logos and branding elements for client companies.
Collaborated with clients on design projects within budget constraints.

Education

Bachelor of Arts in Graphic Design

Massachusetts Institute of Technology (2010 - 2014)

Skills

Graphic design software;
Layout design;
Color theory;
Attention to detail;
Vector graphics;
Web design;
Digital illustration;
Motion graphics;
Creativity;
Presentation skills.
Style guide
When writing a resume for designers, it is crucial to sell yourself and showcase your skills and experience.
Use words to describe yourself, your creative abilities and technical skills.
Include job-related terminology and industry buzzwords to demonstrate your knowledge of the design world.
Make sure you use proper formatting for readability and clarity.
Write in a conversational tone and avoid using overly complex or flowery language.
Keep sentences short and concise, no more than 12 words per sentence.
Your designer resume should also display your creativity. You can accomplish it through the utilization of bold fonts, formatting, and color palettes. Utilize visuals such as logos or illustrations you have created to give employers an understanding of your capabilities as a designer.
By following these tips, you will create an eye-catching resume that eclipses the competition!
Contact Information
Personal and contact information in a resume for designers is a crucial component. It should be displayed at the top of your resume to make it easy for potential employers to reach you.
You should generally include:
Your name. The full legal name is typically placed at the top of the resume in a larger font size to make it stand out.
Address. Include your city and state. However, if you're open to relocation, you might mention this.
Phone number. Ensure that your voicemail message is professional in case employers leave a message.
Email address. Avoid using unprofessional or obscure email addresses.
You may also choose to include any professional websites or portfolio links related to the design sphere.
Remember to ensure that all the contact information you provide is accurate and up-to-date.
Experience
When creating a designer resume, it's essential to organize the experience section. Your work history should be presented in a way that is simple to read. The most effective way to achieve this is to arrange your work experience in chronological order.
Start with your current or most recent position and work backward.
Use bullet points to list your responsibilities, achievements, and contributions in each role.
Highlight specific projects or accomplishments that demonstrate your design skills and impact.
Keep your descriptions concise and use action verbs to begin each point.
For example, if you're a graphic designer who has worked at various agencies over the years, you should list each of those experiences, with the most recent one first.
Graphic Designer at ABC Agency (2020 - 2022)

Worked with clients to understand their design needs and objectives, resulting in a 20% increase in client satisfaction scores.
Led the design process from concept to execution, producing visually compelling and effective marketing materials.
Utilized Adobe Creative Suite (Photoshop, Illustrator, InDesign) to develop and refine design ideas.
Conducted thorough market research to stay up-to-date with design trends and competitor strategies.

Freelance Visual Artist (2018 - 2020)

Created custom graphics, logos, marketing collateral, and branding materials that align with clients' brand identities and messaging.
Managed all aspects of projects, from initial client consultations and project proposals to design execution and final delivery.
Ensured on-time completion and client satisfaction.
Build and maintain strong, long-term client relationships based on trust, reliability, and high-quality work.

Junior Graphic Designer at XYZ Agency (2015 - 2018)

Assisted senior designers in developing design concepts and executing marketing materials for clients.
Gained hands-on experience with design software, including Adobe Creative Suite.
Conducted market research and competitor analysis to inform design decisions.
Supported the team in meeting project deadlines and maintaining design quality.
By organizing your work experience chronologically like this, you will help employers easily see your development over the years. That way they can get an idea of where you are now in terms of your career.
It also serves as a great way to demonstrate the various roles you have fulfilled and the responsibilities you've had.
Education on a Designer Resume
Structuring educational history in a resume for designer positions is an integral step that is relatively straightforward. It is advised to list it in chronological order, starting with the most recent education. This will show employers that the applicant is up-to-date on current technologies.
Mention the degree you earned, such as a Bachelor of Arts (BA).
Include the name of the university or college where you studied.
Mention the location (city and state/country) of the educational institution.
State your graduation date.
A good example:
Bachelor of Fine Arts (BFA) in Interior Design University of California, Berkeley, CA May 2023

Certification in AutoCAD for Interior Design The Academy of Art University, Los Angeles, CA June 2022

Certification in Universal Design Design Institute for Inclusive Environments, Online June 2020
In this example:
The highest level of education (BFA in Interior Design) is listed first, with the university name, location, and graduation date.
Additional relevant certifications are included, demonstrating a commitment to inclusive and accessible interior design practices.
A bad example:
Degree in Art from a prestigious college in California.

Plus, I took some classes on design at different universities.
This example has several issues:
It lacks specific details about the degrees or courses.
The description of coursework is very vague and doesn't provide any insight into what was actually studied or learned.
The use of informal language does not present a professional image.
There are no dates, making it unclear how recent or relevant the education is.
The unnamed Californian college doesn't inspire confidence in the quality of education received.
The iconic Nike logo was designed in 1971 by a student named Carolyn Davidson for just $35.
Designer Resume Skills
Incorporating skills into a designer's resume is essential as these abilities can set you apart from other hopefuls and demonstrate your proficiency.
Soft skills are general qualities such as communication, problem-solving, and self-management.
Hard skills are technical abilities like coding or graphic design.
Begin by listing your hard skills first, as they are the most important for this job.
Hard skills examples:

Graphic design software. Mention your proficiency with design software, such as Adobe Creative Suite (Photoshop, Illustrator, InDesign), Sketch, CorelDRAW, or other industry-standard design tools.
Typography. Highlight your expertise in selecting and using fonts effectively in design projects, including knowledge of typography principles and font pairing.
Visual composition. Showcase your capacity to create visually appealing layouts. Specify a strong understanding of grids, alignment, balance, and hierarchy.
Color theory. Emphasize your knowledge of harmony, contrast, and the use of color in design to evoke specific emotions or convey messages.
User interface (UI) design. Prove your proficiency in designing user interfaces for websites, applications, or software, such as wireframing, prototyping, and user experience (UX) design principles.
Web design. Point out your ability to create visually engaging websites, incorporating knowledge of HTML, CSS, and responsive design frameworks.
3D modeling. Add your skills in 3D modeling software like Blender, 3ds Max, or SketchUp, along with rendering techniques.
Motion graphics. Describe your capability to create animated graphics or videos using software like Adobe After Effects or similar tools.
Computer-aided design. Show proficiency in CAD software if you have experience in architectural or interior design, including tools like AutoCAD or SketchUp.
Next, list your soft skills in order of relevance to the job. They enhance your ability to work effectively with clients and colleagues while contributing to a positive work environment.
Soft skills may include:

Creativity. Showcase ability to think outside the box and generate innovative design solutions that meet client expectations and needs.
Communication. Emphasize the capacity to articulate your design ideas clearly and concisely, both verbally and in writing. Effective communication ensures your vision aligns with client requirements.
Collaboration. Stress your aptitude for working well in a team, collaborating with other designers, copywriters, marketers, and clients to achieve a unified design vision.
Time management. Explain your proficiency in managing project timelines, meeting deadlines, and juggling multiple tasks efficiently to ensure success.
Attention to detail. Point out your commitment to precision in design work, ensuring that every element aligns with the overall concept and standards.
Client-centered approach. Show your dedication to client needs by delivering designs that align with their brand identity.
Conflict resolution. If applicable, describe the ability to handle design conflicts or disagreements in a diplomatic and professional manner.
Stress management. Highlight ability to work under pressure and manage stress effectively, ensuring that project quality remains high even in demanding situations.
Continuous learning. Mention your commitment to staying updated with design trends, tools, and techniques, showcasing dedication to personal and professional growth.
Social Media
A designer is one of the jobs that may and should include social media links like Twitter, Instagram, Facebook, and others. This would be an excellent opportunity to display your work and draw in prospective employers.
What social media can you include on a designer resume:
Professional social media. If you have professional profiles that showcase your work, skills, and portfolio, it can be beneficial to include them. A personal website will demonstrate your design expertise and accomplishments.
LinkedIn. This platform is valuable for professionals in most industries, including design. A well-maintained LinkedIn profile can provide additional context about your qualifications, work history, recommendations, and connections in the industry.
However, always ensure that your online presence aligns with the image you want to project to potential employers.
Don't forget about:
Relevance. If your profiles primarily feature personal content or unrelated topics, it may be best to exclude them.
Privacy settings. Adjust privacy settings if needed to limit public access to personal information.
Professionalism. Remove any unprofessional content, update your photos, and regularly show your best work.
Designer Resume Summary
A remarkable resume summary of a designer should demonstrate the applicant's expertise and qualifications. It should also briefly showcase their portfolio, list any professional accomplishments, and highlight any awards they may have received.
An illustration of an outstanding resume summary for a designer:
Designer with 10+ years of experience creating award-winning designs for clients in multiple industries. Experienced in creating logos, websites, digital products, and print materials. My portfolio showcases over 50 successful projects for high-profile clients. Received numerous awards for innovative designs from renowned organizations. Certified Adobe Creative Cloud user.
Here are 3 tips on creating an effective fashion, interior, or graphic designer resume summary:
Use job-related terminology. Incorporate key phrases relevant to the design industry so that your resume is distinguishable from the others.
Avoid repetitions. Utilize synonyms or rephrase sentences to make your summary more unique.
Use formatting. Break down points into bullet lists so your summary is easier to read and comprehend.
Additional Information
It is beneficial to add supplementary personal information to a resume. This data can help recruiters get an understanding of your skills and personal characteristics in relation to the job they are recruiting for.
| Section | Reasons to include |
| --- | --- |
| Hobbies | Mentioning hobbies can may convert into advantageous qualities at work. If you list that you enjoy photography or drawing, it may show you have an eye for detail or creative skills. |
| Courses | Including courses can give an insight into any extra qualifications that you have. If you have taken a course in Adobe Photoshop or Illustrator software, this will indicate you have a good knowledge of these programs. |
| Languages | Being able to speak multiple languages can be beneficial in many jobs. It is particularly important in design roles where communication with clients from different countries is often required. |
| Awards | Awards show that you have achieved something throughout your career. It can also demonstrate areas where you excel. |
| Internships | Incorporating internships displays that you have expertise working in the industry. Such applicants have had the opportunity to acquire valuable skills connected to design. |
| References | Adding references to your designer resume can provide third-party assurance that you are a reliable and trustworthy worker. It also allows recruiters to contact people who know about your work ethic and performance levels. |
| Certificates | Displaying certificates related to design illustrates that you have a deep understanding of the area. If you have obtained a certificate in web design then this could show recruiters that you are knowledgeable about using HTML code. |
Designer Cover Letter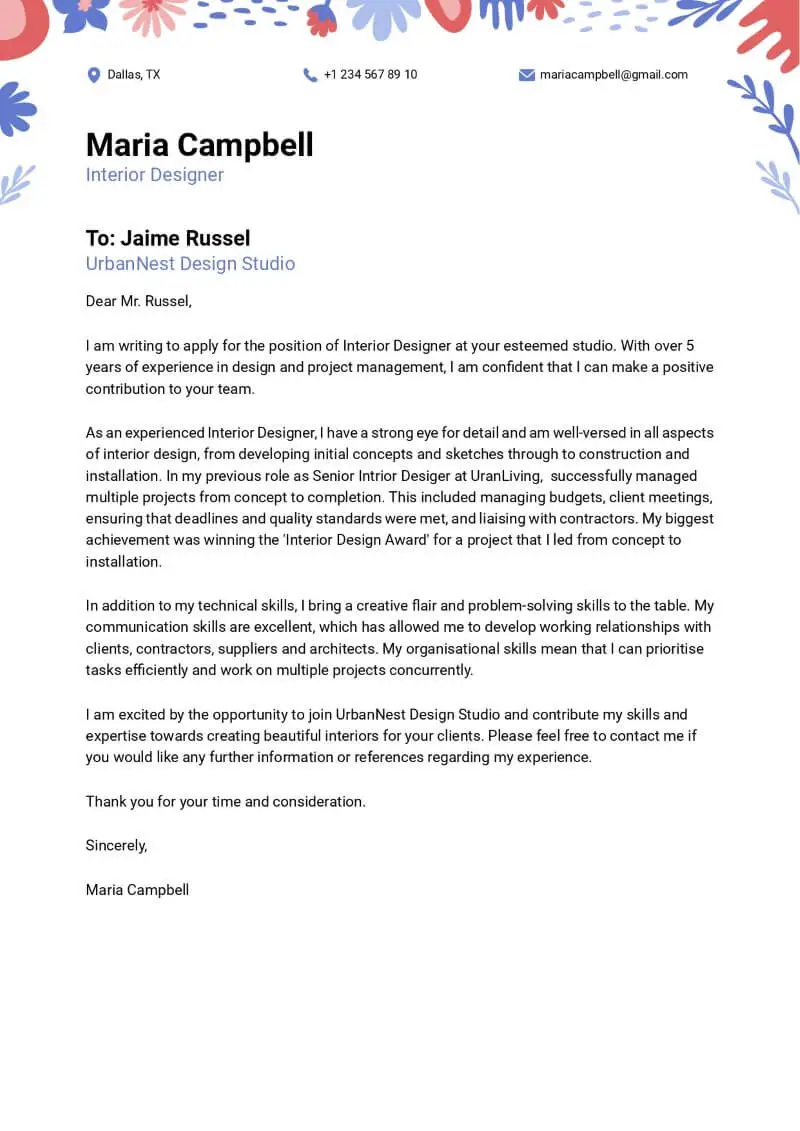 When looking for a designer job, writing a well-crafted cover letter is essential to your success. It should demonstrate your enthusiasm for the role, highlight your unique skills and why you are the perfect candidate.
"Make it simple, but significant."
Here are some pointers to help you write an effective cover letter for any designer:
Start by researching the company and the job position to identify what type of designer they're looking for. This will help you tailor your cover letter to their specific requirements.
Introduce yourself in the opening paragraph and explain why you're interested in the role and how your skills can contribute to the team.
Emphasize your qualifications that align with the job description, such as design techniques you've mastered or any awards you've received.
Showcase your design portfolio, if you have one. That way employers can see examples of your work.
Keep it concise. A good rule is to limit the cover letter to one page.
A good example:
Dear [Hiring Manager],

I am writing in response to your posting on [website] for a designer position at [Company]. As a highly skilled designer with extensive experience in developing creative visuals and graphic designs, I believe I would be a great asset to your team. With my expertise in Adobe Creative Suite tools and my strong eye for detail, I am confident I can make an immediate impact on [Company].

My portfolio showcases my ability to create beautiful designs that accurately reflect brand identities while engaging audiences with visual appeal. Beyond my technical abilities, I am passionate about collaboration and think outside of the box when approaching design challenges.

My current work as a freelance graphic designer has given me opportunities to communicate closely with clients across many industries such as fashion, retail, hospitality, and more – all of which have facilitated gaining insight into different design philosophies.

I am eager for this opportunity to join [Company] where I can continue to hone my creative talents while contributing new concepts that will help drive business success. Thank you for considering me for this role and I look forward to speaking with you soon about how I can be a valuable addition to your team.

Sincerely,

[Name]
A bad example:
Hey there!

My name is [Name] and I'm interested in applying for the designer job at [company]. I think I'd be great at this job because I'm really good at Photoshop and Illustrator. Plus, I have some really cool ideas about using those programs to create awesome designs! Let me know if you think I'm right for the job! Thanks for considering me!

Your [Name]
This is a bad example because it does not provide any details on the applicant's qualifications or experience related to designing graphics or visuals.
It also lacks professionalism and doesn't address why they are uniquely qualified for the role or how their skills could contribute to success at the company.
Entry-Level Designer Cover Letter
Dear [Recipient],

I am writing to apply for the position of Designer at [Company]. As a passionate and creative individual, I am confident that I possess the necessary skills required for this role.

Although I may not have any specific work experience as a Designer, I am eager to start my journey in this field. I have recently graduated with a degree in Graphic Design and have taken many courses in Adobe's suite of creative products. Additionally, I have an excellent eye for detail and strive to create visually pleasing designs.

I am passionate about staying updated on the latest industry trends, which has allowed me to produce works that are modern and aesthetically pleasing. To further develop my design skills, I have also undertaken freelance projects to gain more experience.

I believe that my qualifications and passion for design make me an ideal candidate for the position at [Company]. As such, I kindly request you to consider my application. Please feel free to contact me if you require further information or clarification.

Thank you for your time and consideration.

Sincerely,

[Your Name]
General advice on writing a cover letter for designers without work experience:
Emphasize education. Since you don't have work experience, highlight your educational background. Mention your degree and any relevant coursework that demonstrates your design skills.
Showcase personal projects. Discuss any personal design projects, freelance work, or volunteer jobs you've undertaken. Describe the creative solutions you implemented and the results achieved.
Highlight transferable skills. Write about transferable skills that are valuable for the role. These may include problem-solving, creativity, or attention to detail.
Mention software proficiency. List design software and tools you are proficient in even if you haven't used them in a professional context.
Express enthusiasm. Show that you've done your research and are excited about the possibility of contributing to their team.
According to IBISWorld, freelance graphic designers make up around 90% of the industry.
Use Cover Letter Builder
Proofreading
Taking extra care to proofread and spellcheck a resume and cover letter prior to submitting an application for a designer job is extremely important. Poor grammar, spelling mistakes, and typos can give an employer the wrong impression of your level of professionalism and attention to detail.
Following are some tips for proofreading:

Read your document out loud to yourself or someone else. This can help you identify awkward phrasing or missing words.
Focus on one type of mistake at a time. For example, go through the document once to check for spelling errors, then again for grammar, punctuation, etc.
Use spell- and grammar-check services, but don't rely solely on them. Automated tools may miss contextual errors.
After working on a document for a while, take short breaks to refresh your mind.
Ask a friend, family member, or colleague to review the document. Fresh eyes can spot mistakes that you might have overlooked.
It's also important to ensure that the contents of your application papers are well-structured and present your qualifications in the most favorable manner. Double-check that all the information is accurate and relevant to the job posting.
Conclusion
Crafting a designer resume may be daunting and overwhelming, but it doesn't have to be. This article provides you with great designer resume examples and a detailed guide on composing an effective resume that will get you noticed.
Remember the most important components of any resume:

Start with a compelling summary statement that highlights your unique value as a designer and the relevant experience, skills, and strengths you bring to the job.
Focus on the most relevant accomplishments that show why you are the best candidate for the job.
Include keywords related to design and your specific skillset.
Make sure your resume is formatted correctly and looks professional.
Tailor your resume for each job you apply for by highlighting the skills and qualifications that are specifically mentioned in the job description.
Using an online resume maker is an easy way to simplify the process of writing a professional designer resume. You can create a stunning resume quickly by choosing from multiple templates.
Now that you know what components to include in your resume, start writing it today and make sure it stands out!