As an executive assistant, having a great resume is key to landing your dream job. An executive assistant's resume should showcase the candidate's proficiency in multi-task, managing multiple projects, and excelling in a fast-paced environment.
Overall, writing an executive assistant resume is essential for any potential job candidate. It helps demonstrate your skills while successfully communicating your value to employers.
Executive ability is deciding quickly and getting somebody else to do the work.
How to Write an Executive Assistant Resume
This article explains how to create a resume for an executive administrative a step-by-step manner.
It starts by discussing the purpose of a resume for an executive assistant. Which is to supply employers with a concise and comprehensive overview of one's abilities.
Next, the article provides guidelines for writing a competent summary for an executive assistant resume that outlines one's qualifications, experiences, and key skills.
Additionally, it discusses how to format the resume and make sure it looks neat and organized.
Use Executive Assistant Builder
Are you writing a resume and feeling overwhelmed? This task is important, so it's essential to take your time and do it right.
If you're looking for an easier way to begin, why not employ an online resume builder? Using a ready-made resume template from a reliable online service may be the perfect solution.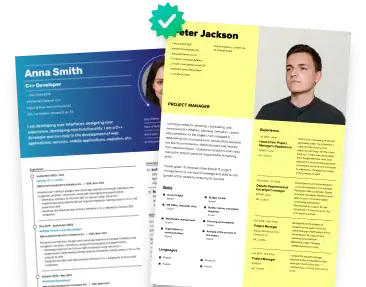 Below are the benefits of preferring executive assistant resume templates:

Time-saving - Saves your time because all the formatting is done for you. You can just fill in your information and be done in a minute!
Customisable - Customize the executive assistant resume templates with your details and style without needing to write everything from scratch. This makes it easier to compose a unique and experienced resume that reflects your personality.
Easy to use - Resume samples for executive assistants are usually user-friendly and straightforward to utilize.

Professional - Executive assistant resume examples are designed by specialists who know what employers want. They will help you create an eye-catching resume that will grab your attention.
Utilizing a resume builder is the best way to get started on creating an impressive and effective draft quickly and easily. So why not give it a try today?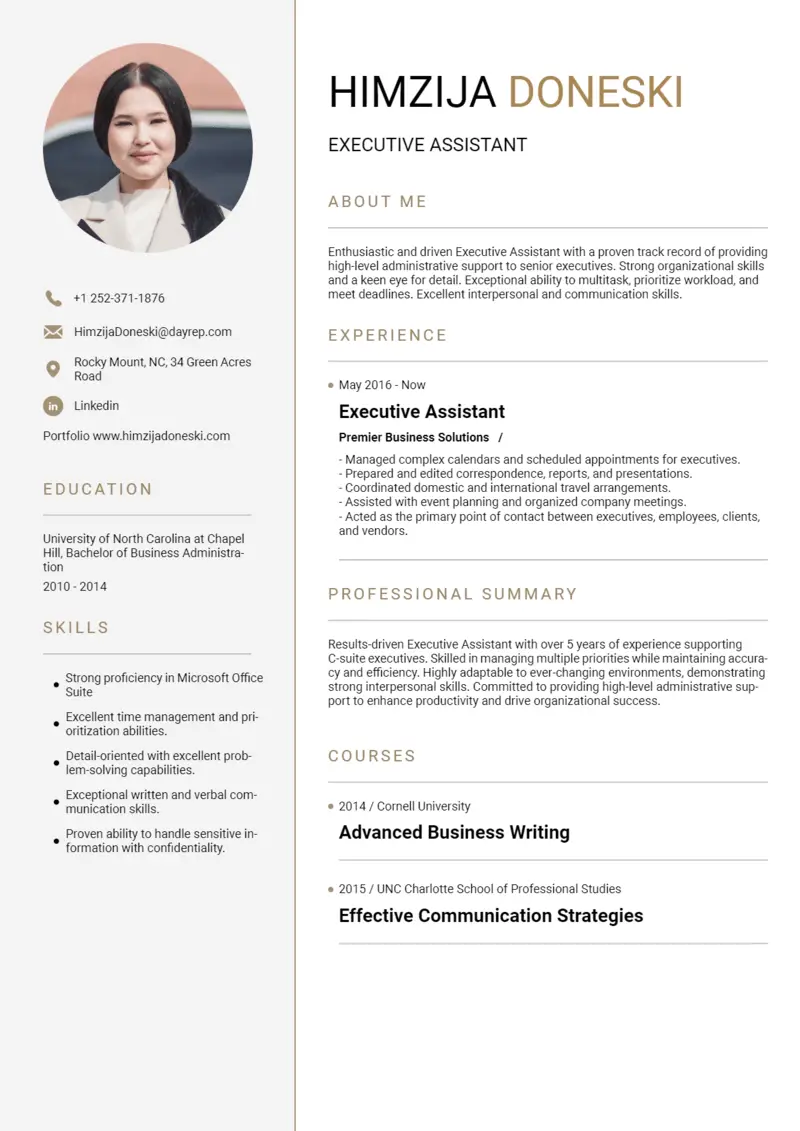 Executive assistants typically work closely with high-level executives and have access to sensitive information. Maintaining confidentiality and demonstrating trustworthiness are essential aspects of the job.
Strong Words in Assistant Resume
Employers are busy people and have no time to sift through lengthy resumes. How can you ensure your resume for executive assistants is eye-catching? Use power word to describe yourself to show potential employers that you have the skills they're looking for.
Here are adjectives you can use on your executive assistant resume::

Organized: Determine your capability to manage multiple tasks.
Dynamic: Express your enthusiasm and versatility when facing new challenges.
Insightful: Describe your ability to quickly understand complex problems and develop creative solutions.
Collaborative: Exhibit that you are a team player who can efficiently communicate with colleagues and stakeholders.
Efficient: Highlight your professionalism in managing time, meeting deadlines, and reducing costs.
Trustworthy: Demonstrate your commitment to maintaining confidentiality and integrity.
Dependable: Unveil your reliability when taking responsibility for critical tasks.
Detail Oriented: Illustrate your meticulousness to effectively carry out assignments.
Adaptable: Emphasize your flexibility when adapting to changing environments or roles.
Tech Savvy: Detail your knowledge of common software programs.
Filling in Contact Information
It is necessary to add both personal and contact information to your executive assistant resume. This ensures that possible employers can easily reach out to you and get a better sense of who you are as a person.
Add your full name, address, phone number, and email. If you have recently moved or changed your number, ensure to update this data.
Your email should also be appropriate; avoid using nicknames or funny phrases.
Write alternate forms of contact such as a Skype ID.
Specify any certifications or licenses that are specific to the position.
Your contacts in the executive assistant resume should be up-to-date and accurate.
State Experience Properly
Start by understanding the aim of your resume when listing and organizing your professional background information. All executive assistant resumes should be a reflection of your career journey, showcasing your accomplishments and unique skills.
To begin, make sure you note the following information for each job:
Job title;
Company name;
Dates of employment;
Checklist of duties.
When organizing and presenting this information in executive assistant resumes, there are a few key points to keep in mind:

Ensure only relevant experience is on your resume. If an employer doesn't need to know about a particular job or task, omit it.
Point each position in reverse chronological order with the most recent experience first. This will give employers an easy-to-follow timeline of your career chronicle.
Consider formatting your resume with headings and incorporating bullet points. Begin each entry with a bold heading that holds the job title and employer name.
How to Add Education Details
When it comes to structuring education section for an executive assistant resume, the most important thing is that it should be organized in chronological order. This format makes it easy for employers to quickly identify.
Start by naming your most recent education first, and then work backward.
For example, as you recently completed a BA in Business Administration, the education block should look something like this:

Bachelor's Degree in Business Administration: University of XYZ, 2020. GPA 3.8.

Associate's Degree in Office Management: University of ABC, 2018. GPA 3.7.
Having a solid educational background on a resume can be highly beneficial when applying for an executive assistant job position. It spectacles that you're well-prepared to fulfill executive assistant duties.
Attention!
Recording educational information incorrectly or without enough detail could have a negative impact. If you simply list your degrees without details like dates and GPA, potential employers may not fully assess your credentials. This could make them less likely to consider you for the role.
That's why it's important to ensure that your executive assistant resume is organized correctly and clearly displays all information on your qualifications. These can help you distinguish yourself from other applicants and reflect enthusiasm for knowledge in the field.
Soft Skills and Hard Skills to Put
It is imperative to highlight both soft and hard skills for an executive assistant resume.
Executive Assistant Soft Skills:
Communication Competence - in both verbal and written formats.
Organization - the capacity to keep track of tasks and prioritize accordingly.
Time Management - managing their own time as well as others to meet deadlines.
Adaptability - the capability to adjust quickly when priorities change.
Problem-Solving - the ability to troubleshoot and come up with effective solutions.
Interpersonal Skills - being able to cultivate relationships and work collaboratively with colleagues.
Executive Assistant Hard Skills:
Microsoft Office Suite - Competence in Word, Excel, Outlook, PowerPoint, etc.
Scheduling Software - Calendly or Google Calendar knowledge.
Database Handling - Familiarity with the supervision of databases, and customer contact information.
Project Administration - Proficiency in operating principles.
Administrative Support - Mastery in official procedures.
Bookkeeping - Knowledge of basic accounting principles such as creating invoices.
It is critical to emphasize sets of skills in constructing your executive assistant resume so that employers can have a clear understanding of your capabilities.
While a formal education is not always a requirement, many executive assistants have a college degree. Some employers may look for candidates with specific skills or certifications, such as proficiency in office software or project management.
Write Executive Assistant Resume
Social Media on an Executive Resume
The choice to attach social link identities depends on a person's individual goals and preferences. One should consider the pros and cons before making a decision.
Pros:
Social network connections can provide employers with a more holistic view of the candidate. If the candidate has used the Internet to write about their achievements, then the employer can learn about their accomplishments.
Online presence may also demonstrate technical proficiency and communication skills. It is advantageous for positions that require strong communication and technical skills.
Including media links to evaluate the candidate's traits.
Cons:
Be mindful of considering potential privacy concerns. If a candidate has shared information not to be made public, it could be detrimental to the chances of being hired.
Bear in mind to consider how employers may interpret certain posts or comments. They could give employers cause for concern about the interviewee's suitability for the role.
Additionally, it may be difficult for employers to differentiate between professional and personal content. This could lead them to make assumptions about a competitor's character or qualifications that are not accurate.
Resume Summary
Crafting an outstanding resume synopsis for an executive assistant is essential to constructing a powerful job application. It must also be concise, giving employers a strong understanding of who you are and what you offer.
Here is an example of a great executive assistant resume summary:

"Highly organized and detail-oriented Executive Assistant having served at the highest levels of business. Years of experience supporting senior executives in the corporate world. Possessing excellent interpersonal skills and well-developed solving capacities. Demonstrated a history of streamlining administrative processes for maximum efficiency and productivity. Sophisticated in taking initiative to ensure the smooth running of daily operations."
Executive assistants often have diverse responsibilities, including managing schedules, organizing meetings and events, coordinating travel arrangements, handling correspondence, and performing various administrative tasks.
What Else to Include
Hobbies: It can furnish employers with a glimpse into your character and interests. Some examples of activities to incorporate are: reading, traveling, playing sports, volunteering, cooking, or gardening. It should be noted that this section has to be brief.
Courses: Courses can display your dedication to learning and continuous professional development. This information can be added in either a separate block of the executive assistant resume or within the relevant experience.
Languages: Such skills illustrate your capacity to converse with individuals from different backgrounds. Additionally, be useful if you are applying for an international role. Take care to encompass both spoken and written language proficiency levels.
Awards: Adding trophies to your office assistant resume can demonstrate recognition for achievements in the workplace or industry.
Internships: They are a great way to gain hands-on experience in a particular field or sphere.
References: It facilitates employers to check up on past work performance or get a second opinion. Make sure that you have permission from referees before including their contact details. You may also write "References available upon request" statement instead.
How to Write Cover Letter for Executive Assistant Resume
Following are a few suggestions to help craft the perfect cover letter:
Be concise and direct. Apply short sentences and keep your words to the point. Your goal is to make a strong impression in a few lines.
Use formal language but avoid being too stiff. Emphasize your enthusiasm for the role and your dedication to doing it well.
Highlight your relevant qualifications and experience that match the job requirements. Give examples of how you have used your skills in the past to achieve success or save time/money for your employer.
Explain why you are passionate about working for this particular employer, if applicable.
Make sure all contact information is included (email address, phone number, LinkedIn profile, or website link if applicable) to your cover letter.
Avoid using generic phrases such as "I am sure I possess the ability to perform the job" or "I am an experienced executive assistant"; they don't tell employers anything specific about you or how you can impact their organization.
Proofread your cover letter several times to ensure there are no spelling mistakes or grammar errors. Due to this employers will take your application seriously and consider you as a candidate for the job.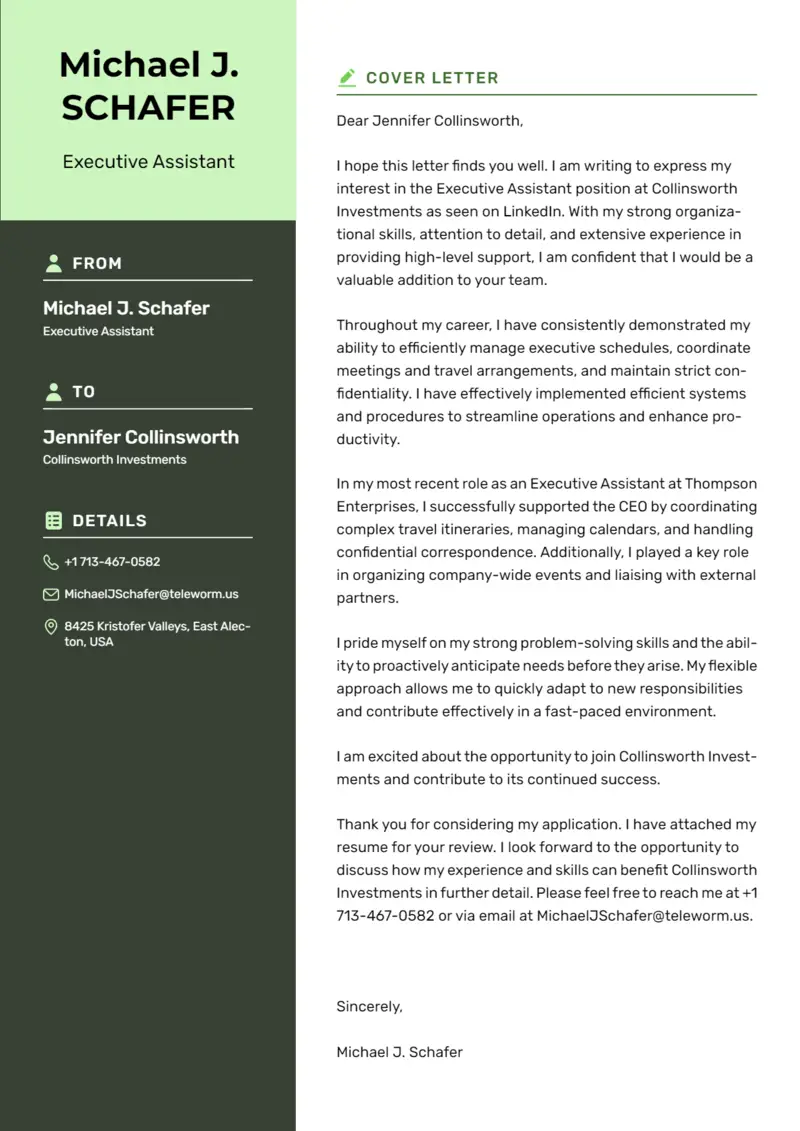 An exemplary full cover letter for an executive assistant resume:
Dear [Hiring Manager],

I am writing in response to the opening for an Executive Assistant at [Company Name]. With my background in administrative support and service, I believe I am well qualified for this position.

My tenure as an Executive Assistant at [Current Company] has provided me with the opportunity to develop important skills. Calendar management, travel arrangements, event planning, data entry, and customer relations - all of these are in line with the requirements. As a professional, I can increase your team's productivity by developing efficient processes that contribute to business success.

I was attracted to [Company Name] by its focus on innovation and commitment to delivering exceptional customer service, which aligns with my own career goals. If given the opportunity, I would love to join your team and utilize my administrative and client service skills to help [Company Name] succeed.

I anticipate the chance to further discuss my qualifications in an interview setting. I am available at any time to answer any questions or comments related to my application via phone or email.

Sincerely,

[Your Name]
This cover letter example is great because it succinctly summarizes the candidate's qualifications while also expressing enthusiasm for joining this particular company. It stands out from generic cover letters that don't specify how they can benefit the company.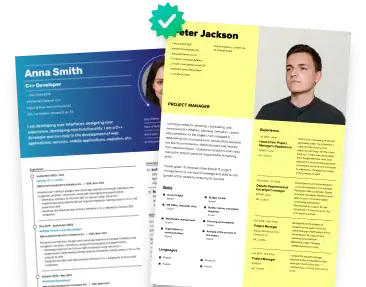 An example of a poor complete letter for an executive assistant resume:
To Whom It May Concern:

In answer to ad posted by [Company Name] seeking an executive assistant position. I think I would be an ideal candidate for this position. I have had a lot of experience in customer service and administrative support roles throughout my career so far. I am also extremely organized!

If hired for this position, I will do my best work each day - no matter what tasks come up! That's just how I am! I'm really good at managing calendars so that's another plus too!

So anyway that's why I should be hired - thanks!
This cover letter is bad because it does not express any enthusiasm about the firm. The candidate talks about himself without giving details on why he is suitable for this particular role with this particular employer. And it does not include any contact information.
Cover Letter for an Entry-Level Executive Assistant Resume:
Greetings,

I am submitting my application for the role of Executive Assistant at your company. I am a motivated, organized individual who is passionate about acquiring knowledge and expanding my skills within this position.

Despite not having any prior knowledge as an Executive Assistant, I have several traits that make me a good choice for this role. I am highly detail-oriented, excellent at multitasking, and have strong communication skills. I also have a knack for problem-solving and thrive when presented with challenging tasks.

I understand the importance of reliability and punctuality in this role. I have always been able to classify my tasks and complete them in a timely manner. My organizational skills enable me to process information fast.

I trust that my blend of interpersonal and administrative capabilities makes me the perfect fit for the Executive Assistant role. I would be appreciative of the chance to elaborate on my abilities further via an interview.

Thank you for your consideration.

Sincerely,

[Name].
Tips on Crafting an Outstanding Letter for a Beginner Executive Assistant:
Highlight transferable skills from other jobs or volunteer positions that can be used in this position.
Mention how your personality would add value to the team.
Show your enthusiasm for learning about the job and developing in it over time.
Demonstrate your interest in the company's mission and values.
Utilize concrete examples that illustrate your ability to prioritize tasks, stay organized, manage deadlines, and work autonomously.
Executive Assistant Resume: Conclusion
This article gives a detailed guide to help create a resume for a job of an executive assistant.
The most important things to consider while writing an executive assistant resume:
Start with your contact information and professional summary.
Highlight your professional experience, listing the positions held and accomplishments achieved.
Include any industry-specific certifications you've earned.
Detail your education, including any coursework or training.
Showcase your skills that are related to the job.
List awards, honors, and affiliations you've achieved throughout your career.
Add any volunteer work or community involvement that may be relevant to the position.
Writing a resume can seem like a daunting task but with the right guidance, it's easy to prepare and submit an impressive resume.
To make the process easier and faster, try using an online resume builder. These tools provide step-by-step instructions and help you customize your resume for different positions.
Don't wait any longer – start writing your executive assistant resume now!