Are you a natural-born leader who thrives in the fast-paced world of business management? Aspire to be the driving force behind a successful organization?
It all starts with a top-notch general manager resume that showcases your exceptional leadership skills and business acumen. In this guide, we'll take you on a journey to craft an impressive resume that highlights your track record of success, strategic thinking, and ability to inspire teams.
Get ready to unlock limitless career opportunities, impress hiring managers, and pave your way to becoming a standout general manager. Let's dive into the art of resume perfection!
Ready, set, lead!
How to Write General Manager Resume
The article goes into great detail on constructing a General Manager Resume. It provides advice on what to include, what not to include, and how to format and structure a resume to make the best impression.
The structure of the guide is divided into 3 main steps:

Start with the basics. List your contact information, qualifications, work experience, and education.
Enhance your mastery. Focus on those specifically related to the job you are applying for and emphasize any achievements or awards that you have received.
Finally, customize it. Tailor general manager resume for each job opening, emphasizing the aspects pertinent to that particular position.
Overall, this tutorial offers useful tips for creating an effective executive summary that helps you make a lasting impression and increase your chances for employment.
The general manager role is diverse and can be found in industries including hospitality, retail, manufacturing, and healthcare.
Resume Builder Can Help
Are you in the market for a job? Having a great resume is key to getting the attention of potential employers. Instead of wasting hours writing a resume from scratch, why not use a resume builder?
The good news is there is an online service that provide professionally designed general manager resume templates. With their help, you can quickly assemble an eye-catching and informative resume that could augment your likelihood of obtaining an interview.
Benefits of Using a Template Include:

Customization: Most templates offer a range of custom-built options so that you can rapidly adapt your resume to the job. This includes customizing fonts, colors, and layout.
Formatting: General manager resume examples ensure your writing looks neat and organized, this ensures recruiters have a simpler time perusing it. They also save you time by automatically formatting your resume for ATS (Applicant Tracking Systems) compatibility.
Professionalism: Templates offer you access to high quality designs created by experienced masters.
Using a resume creator is a great way to create an effective job application with minimal effort. If you're looking for an effortless method to create a standout resume, why not to try our online resume service?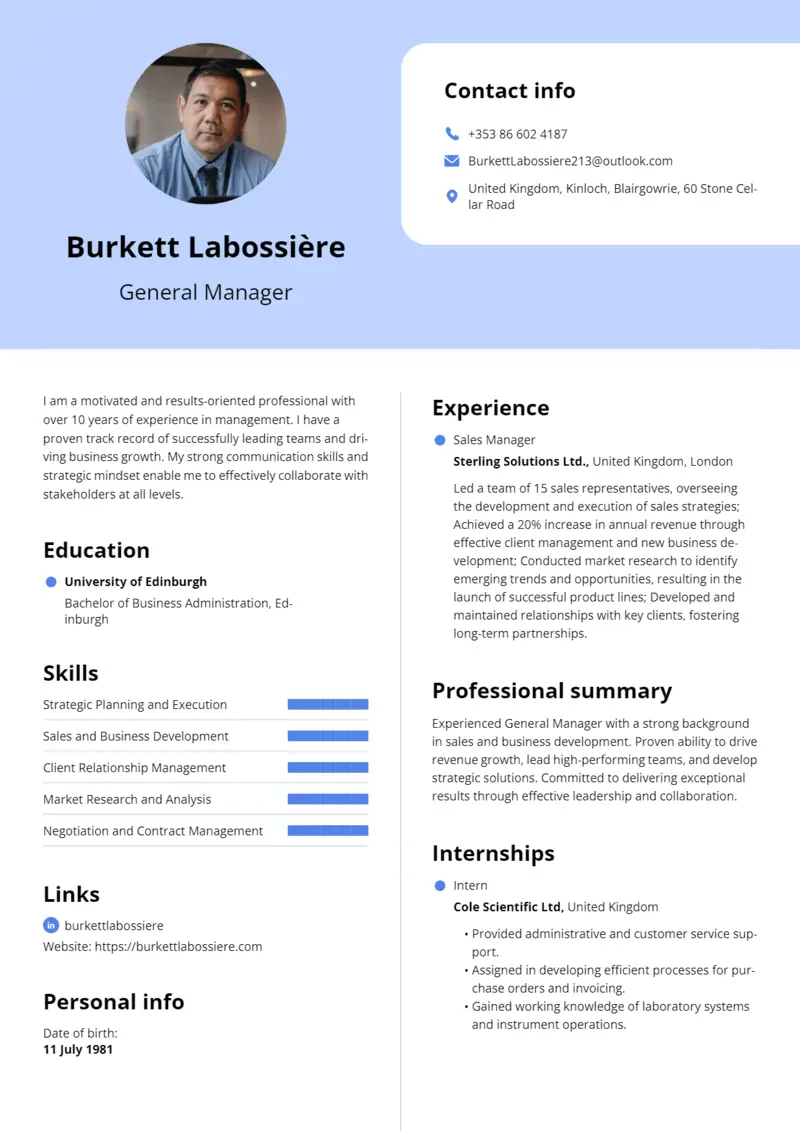 General Manager Resume Sample
Summary
Results-driven expert with over a decade of expertise in supervising and directing teams. Proven ability to drive initiatives, implement process improvements, and develop strategies that add value. Skilled in building relationships, collaborating effectively with all levels of stakeholders, and leading cross-functional teams.
Employment History
General Manager - ABC Company (2016 - Present)
Directed operations for a chain of 5 restaurants with annual revenue of $5M.
Led effective recruitment and onboarding processes, resulting in improved employee retention.
Developed and implemented cost-saving offers that increased profitability by 10%.
Established effective internal controls to ensure compliance with regulations and policies.
Created monthly performance reports on sales trends, cost drivers, and key metrics.
Led the team to successfully achieve goals for customer satisfaction ratings.
Assistant Manager - XYZ Company (2013 - 2016)
Managed daily operations of a restaurant with annual revenues of $2M.
Implemented process improvements that increased efficiency and reduced waste by 15%.
Recruited, trained, managed, and evaluated a team of 20+ employees.
Developed budgets and forecasts that resulted in increased profits by 25%.
Developed a system for tracking feedback that improved customer service ratings by 20%.
Ensured compliance with applicable company policies.
Education & Certifications
Master's Degree in Business Administration – University of Technology (2013).
Bachelor's Degree in Finance – University of Management (2010).
Servsafe Certification (2019).
Skills & Competencies
Planning & Execution;
Leadership;
Process Improvement;
Finance & Forecasting;
Regulatory Compliance;
Risk Management.
Style Guide for General Manager Resume
Only the general manager can mold the resources, processes, and values that affect innovation , into a coherent capability to develop and launch superior new products and services repeatedly.
Appropriate professional language should be used throughout the resume. For example, words like "team building", "risk assessment", "market analysis", "data-driven selection", etc. can be used when describing job duties and responsibilities.
An example of the proper language for the executive summary is as follows:
Results-oriented leader with 10+ years of experience managing multi-million dollar projects. Demonstrated history of of developing high performing teams and driving operational excellence. Experienced in strategic thinking, management, budgeting, and policy implementation.
When using markdown for formatting, use headings and bullet points to break up text into shorter sections. This will make the GM resume more organized and comprehensible.
In addition, include keywords relevant to the job description across your general manager resume to make it more searchable by employers.
Strategic Planning: Developed and implemented effective strategies that drove business growth and profitability.
Leadership: Fostered a positive work environment and built established teams that achieved exceptional outcomes that delivered results.
Financial Management: Streamlined operations, reduced waste, and improved cost efficiency for greater savings.
Organizational Skills: Established efficient processes and systems to maximize productivity and increase customer satisfaction.
Decision Making: Evaluated data, analyzed risks, and made decisions to ensure successful outcomes.
Problem Solving: Resolved issues quickly and effectively with innovative solutions that produced lasting results.
Project Management: Managed multiple projects simultaneously within tight deadlines while maintaining quality standards.
Innovation: Developed creative solutions to complex problems, resulting in increased revenue and market share.
Team Building: Built strong relationships between stakeholders, fostering collaboration and cooperation to achieve desired objectives.
Communication: Conveyed ideas clearly and concisely both verbally and in writing to verify understanding by all parties involved.
Contact Information
Regarding the implementation of personal and contact data in a manager resume, keep it to the point and clear. Be guarantee to encompass all pertinent details that your potential employer might need.
Such as:
Your name;
Email;
Phone number;
Address and other contact details.
You may also want to include an area of expertise or a link to an online portfolio if applicable.
According to the Bureau of Labor Statistics, the average annual salary for general managers in the United States is approximately $122,860.
Show Off Your Experience
As a general manager, making sure to list and organize your work experience accurately is imperative when crafting a GM resume. As a rule of thumb, list experience in chronological order.
That implies that the most recent experience should take precedence, followed by prior jobs and experiences. You can also make the listing easier to read by organizing the job history with bullet points.
For example:
June 2020 – present: General Manager at ABC Corporation:

Manage daily operations of a large-scale corporation with over 500 employees;
Oversee human resources, budgeting and accounting departments;
Lead far-seeing planning initiatives to identify potential cost savings and improve operational efficiency.

May 2019 – June 2020: Regional Manager for XYZ Company:

Supervise sales team of 10 employees across three states;
Develop and implement sales strategies to increase revenues by 20% in one year;
Establish new processes for customer service training and support.
On the other hand, it's important not to record any experiences that don't relate to the position you are applying for. Do not use too many words or overly long sentences in your general manager resume.
For example, this would be an incorrect format:
I was working as a Regional Manager at XYZ Company from May 2019 until June 2020. There I supervised a sales team of 10 people spanning three states, implemented and executed effective plans to drive a 20% increase in revenue %, and constructed fresh protocols for client service orientation and assistance.
Such sentences are too long and make it hard for HRs to quickly scan through your work experience.
How to List Education
It is important to arrange the experience chronologically. This ensures that the employer can view your academic history from most recent to oldest, giving them a full picture of your educational background.
Below are two examples of how to properly list and format education background for a general manager resume:
University of Maryland (2020 - 2022), Masters in Business Administration (MBA).
University of Delaware (2016 - 2020), Bachelor of Science in Business Administration.
Including this information demonstrates your enthusiasm for acquiring and understanding, which can be useful in going after a managerial occupation.
Having an advanced degree or specialized qualifications shows employers that you are committed to developing yourself and becoming an expert in the field.
Furthermore, with a degree in business administration, you possess the right experiences to fulfill the duties of a general manager.
An example of wrong listing and formatting would be not including the dates that you attended school or not recording the degree you attained.
For example, you are not giving the employer any information about your education if you only list the University of Maryland without dates or degrees.
General Manager Resume Skills
Add both soft skills and hard skills to the GM resume, as it will make the job seeker stand out.
Soft skills are a set of personal traits that help someone interact with others and work in a team. This includes communication, troubleshooting, decision making, and leadership.
Hard skills are the technical abilities needed for the job such as knowledge of accounting, IT systems, data analysis, and project management.
Include both sets of skills in an organized way. Start by sorting your hard skills first and then add your soft skills.
Use specific job-related language when describing your skills; you can also use action words such as "assisted" or "created" to make your resume more impactful.
General Manager Resume Soft Skills:
Communication;
Problem solving;
Teamwork;
Interpersonal relations;
Time management;
Empathy;
Adaptability.
General Manager Resume Hard Skills:
Accounting;
IT systems management;
Data analysis;
Budgeting and forecasting;
Performance measurement and evaluation;
Strategic implementation;
Risk management;
Process improvement.
Write General Manager Resume
Social Media in Manager Resume
Incorporating web profiles to the credentials of a chief executive is no longer an unusual thing. It can be an asset, as it helps employers to better understand the candidate's skills.
Generally, it's best to include only links relevant to the job, such as LinkedIn, Twitter, or other online profiles.
Pros:
Employers can access extra information about an applicant, including their interests and online community management experience. This can be particularly beneficial if the job requires digital marketing skills.
Additionally, it provides potential employers with an insight into the competitor's personal brand, which could help them to stand out from other applicants.
Cons:
Having too many social media links on your general manager resume might be viewed as unprofessional and could negatively impact your chances of getting the job.
It might also give employers a negative impression of a candidate if its profile contains inappropriate content or are overly active.
Furthermore, adding irrelevant links might create confusion for employers and distract from the relevant information.
How it may look on a GM resume:
For digital marketing roles, including links to platforms like Twitter, Instagram, and YouTube can show employers how candidates manage and engage online audiences.
For a human resources position, including LinkedIn can display the contendant's professional network and ability to build connections with colleagues and industry professionals.
General Manager Resume Summary
An effective resume summary for a general manager should emphasize your relevant experience and accomplishments. It must be concise, yet comprehensive enough to paint a clear picture of your talents.
An example of an outstanding resume synopsis:

Experienced General Manager with 8+ years of experience managing multiple teams in the hospitality industry. Proven record of leading projects to successful completion, increasing operational efficiency by 25%, and reducing costs by 16%. Adept at managing customer relationships and overseeing daily operations. Passionate about developing strategies that maximize customer satisfaction.
Tips for writing great manager resume summaries:
Use specific words to denote your expertise in the field. This will differentiate you from the other applicants.
Focus on quantifiable achievements, such as increased efficiency or cost savings. This will show future employers what you are capable of.
Maintain brevity - target no more than 4-5 sentences and refrain from repeating words or phrases.
The SHRM survey also found that 56% of GMs have budget responsibilities, including financial planning, cost control, and profit optimization.
How to Personalize GM Resume
It is important for a general manager to add additional personal information to the resume. It helps the hiring manager determine the interviewee's suitability and get answers to some questions.
Hobbies are important to include on a general manager's resume because they allow hiring managers to see how the applicant spends his or her free time. They can also indicate the contestant's interests.
Thus, it is likely that they have the aptitude to work in teams and possess strong communication skills.
Courses provide an overview of any training or educational qualifications that a candidate has achieved. It also gives recruiters an understanding of how committed the candidate is to developing skillset.
For example, if a manager has taken a service course, it could illustrate that they know how to best interact with customers.
Languages demonstrate cultural awareness and can prove advantageous for those applying for vacancies in businesses where communication with other countries or cultures is involved.
It is essential that these are accurately stated as employers may ask candidates to indicate language proficiency during the hiring process.
A good example would be "Fluent in English and Spanish".
Awards highlight any accomplishments or achievements that have been made by the individual and reflect positively on them as an employee.
These could be winnings from past roles, such as Employee of the Month, or external honors, like Best Customer Service.
Internships provide evidence of real-world experience. They help employers gain a better understanding of the kind of work experience the job-seeker has in their field.
Specify what duties were held during the internship and what were performed. This will give employers a comprehensive view of the executive's skills.
References allow employers to connect with people who can vouch for a candidate's skills. This makes it easier to make an informed decision when hiring.
It is advisable to acquire recommendations from previous employers or university professors who know or have worked with the attendee in some capacity.
Credentials provide employers with evidence of any qualifications the contestant has obtained, such as health and safety or first aid training.
Ensure that any certificates listed are relevant to the position being applied for. This enables hiring managers to understand what specific skills the person has mastered.
In summary, hiring managers can gain a deeper insight into your capacities by adding this information to your general manager resume resume. This helps them make more informed decisions when selecting candidates for positions within their organization.
General Manager Cover Letter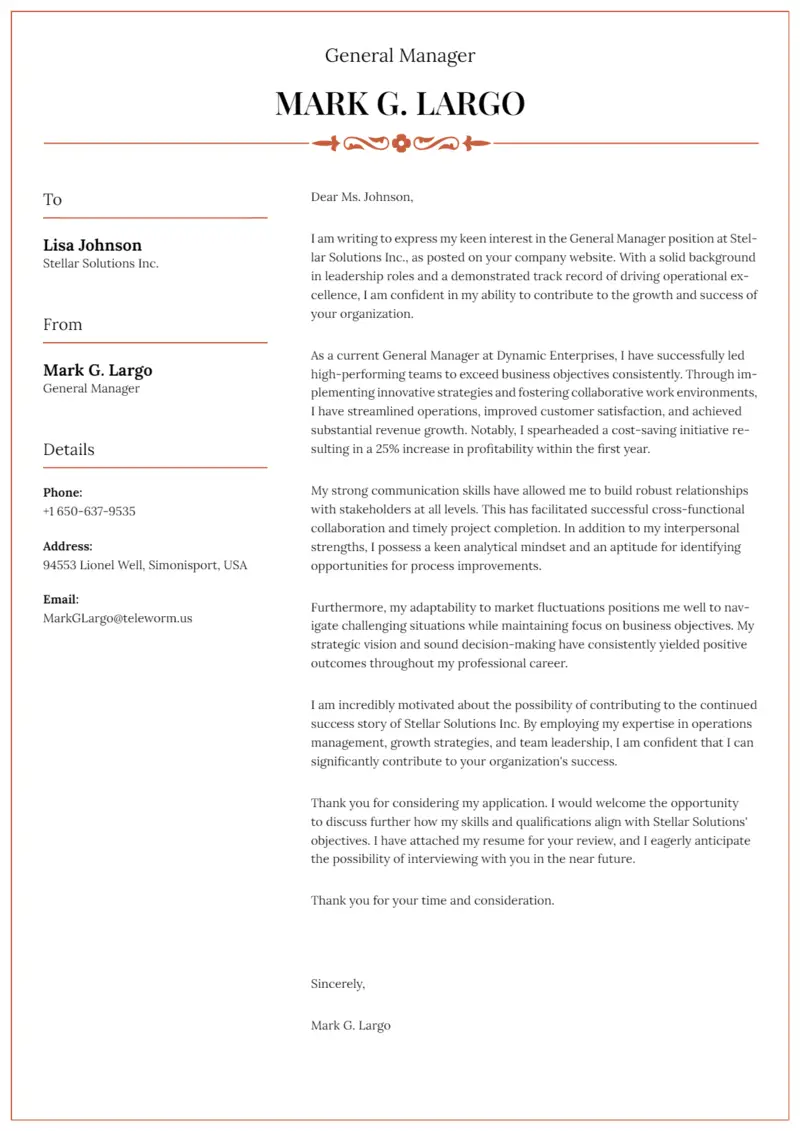 When composing a cover letter for a general manager job, it is imperative to be succinct and formal. It should be no longer than a page and should be tailored to the specific role you are applying for.
Good Cover Letter Example:
Dear [Hiring Manager],

I am pleased to announce my candidacy for the position of General Manager at [Company Name]. Having worked in the Hospitality Industry for 8 years, I am confident that I am the right person to fill this position.

As General Manager at [Previous Company], I successfully developed numerous initiatives that resulted in increased customer satisfaction and improved financial performance. I feel that my expertise in developing and implementing marketing strategies, streamlining operations, and increasing profitability will be an asset to your company.

In addition to my extensive experience, I am highly organized and detail oriented. I am also excellent at interacting and communicating with others. I am passionate about creating a positive working environment and take pride in leading by example.

I look forward to sharing more particulars about my abilities with you in an interview. Please feel free to contact me if you require any additional information or wish to arrange a meeting.

Sincerely,

[Your Name]
Bad Cover Letter Example:
Hi there!

My name is [Your Name]. I am putting in an application for the job of General Manager at [Company Name]. No doubt that my familiarity with the hospitality industry, gained over 8 years, makes me an ideal candidate for this position. Other reasons why you should hire me include my great organizational skills and interpersonal capacities. Plus, I always strive to cultivate an atmosphere of collaboration and success. Let me know if you want more info or want to set up a meeting!
Explanation
The good cover letter example demonstrates the applicant's understanding of the job requirements as well as their enthusiasm. Moreover, clear and short, with proper grammar and formatting.
The bad example, on the other hand, is overly casual in tone with poor grammar and spelling mistakes. It fails it omits to cite any relevant qualifications or experience that make the candidate suitable.
Cover Letter for Entry-Level Manager Resume:
Dear [Hiring Manager],

I am writing to apply for the General Manager position at [Company Name], and I am very excited about the opportunity. Although I have no prior experience in this role, I believe that my combination of professional skills and knowledge will be beneficial to your organization.

I have a proven track record of success in leading teams and projects, as well as a prove of delivering results on time. Additionally, I possess strong interpersonal and communication skills, excellent problem-solving talents. My degree in business administration has also given me the skills to understand complex data and the ability to interpret it into actionable insights.

As a leader, I strive to foster an inclusive environment where everyone is encouraged to contribute ideas and work together towards common goals. I have also been praised for my organizational abilities, which allow me to juggle multiple tasks and stay focused on the most important objectives.

In addition to my professional knowledge, I am passionate about learning new things and adapting quickly to changing environments. As someone who loves a challenge, I would be an excellent fit for the role of General Manager at [Company Name].

If you have any queries or need more information concerning my credentials, don't hesitate to reach out. Thank you for your consideration; I look forward to hearing from you soon.

Sincerely,

[Your Name]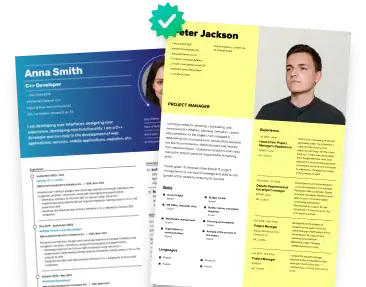 General Advice:
Highlight your relevant education and skillset. Emphasize the qualifications that are important for this job and that you can support with evidence from your studies and other experience.
Show excitement for acquiring fresh knowledge and promptly adjusting to ever-evolving situations. This is greatly sought after for any job role, particularly managerial ones.
Demonstrate your leadership skills by providing examples of how you've led teams or projects outside of a management role, and helped those teams achieve their goals.
Be laconic, but provide enough detail to give the hiring manager a good understanding of your suitability, while leaving them wanting more so they want to interview you!
When it comes to customer satisfaction and loyalty, general managers play a critical role. A Bain & Company study found that just a 5% increase in customer retention rates can have a 25%-95% impact on profit growth.
Proofread GM Resume Carefully
Proofreading and spellchecking paperworks is essential prior to seeking a general manager position job. The use of proper grammar and words can make a difference in the success of an application.
Poor grammar, spelling mistakes, or typos can create an unfavorable impression, possibly leading to the person being overlooked for the position.
It is best to take some time away from the document after writing it, and then come back to it with fresh eyes.
Reading aloud can help identify errors that may be missed through silent reading.
Gaining an alternate view from someone who has no knowledge of the content is also advantageous.
The usage of spellcheckers may help catch some errors. But they are not always reliable and often overlook homophones as well as words that were misused. Therefore, double-check each word to ensure accuracy.
Additionally, paying attention to the structure of sentences and making sure all punctuation is correct will help build an error-free document.
Finally, having a professional review the general manager resume and cover letter can help ensure that nothing has been overlooked.
Professional proofreaders will not only catch any typos or spelling mistakes, but they will also provide feedback on the content and suggest improvements.
Conclusion
This article provides a detailed guide on how to assemble an impressive manager resume.
To create a successful document, keep the following in mind:
Focus on key achievements and skills that make you a strong candidate for the job.
Tailor your resume to the specific job requirements.
Use relevant keywords from the job description and industry-related jargon.
Utilize easy-to-scan bullet points and short sentences.
Keep it brief, no more than two pages long.
Proofread your resume before submitting it.
Creating a general manager resume can be intimidating, so why not employ an online resume maker to simplify it? With this user-friendly tool, one can easily customize their resume for any open position and have one ready in no time!
Get started now using this amazing resume builder and increase your chances to land your dream executive job!