Having a great resume is essential for any flight attendant who wants to succeed in their career. In this article, we'll show you how to compose a persuasive flight attendant resume. It not only exhibits to employers you have the qualifications for the job, but it also demonstrates your passion and commitment to the role.
From highlighting your experience to crafting a strong summary, here are some tips for creating a compelling flight attendant resume and getting noticed by headhunters. Ready to begin? Read on to learn how to make a perfect resume for airline jobs!
To most people, the sky is the limit. To those who love aviation, the sky is home.
How to Write a Flight Attendant Resume
This article explains how to write a resume for flight attendant job in a step-by-step manner.

It begins by providing an overview of the job and its requirements.
Then goes on to detail the different sections of the resume, such as the Contact Information, Summary Statement, Professional Experience, Education, and Skills.
The article provides hints on how to effectively underline your qualifications including skills related to customer service and safety, as well as any other relevant job experience.
It also gives advice on how to format the resume and make it distinguishable from others.
Finally, it offers advice on what to include in the cover letter.
With this advice, you can craft a superb flight attendant resume that will give you an edge!
Flight attendants are known by various job titles in different countries. In Japan, they are called "flyers' attendants", in India, they are known as "air hostesses" or "air stewards", while in Dubai they are referred to as "cabin crew".
The Solution: Use Resume Builder
Are you ready to put together a resume that will attract employer attention? A well-crafted resume layout can be just the thing to help you separate yourself from the competition.
By using an online resume builder, you can quickly get a pre-designed flight attendant resume template that looks amazing and shows off your skills and experience in the best possible way.
Below are a few of the benefits of utilizing flight attendant resume examples:
Time savings. Creating a resume from scratch can take hours. With a template, you can customize it with your data in minutes.
Professional look. Your resume ought to be visually striking. Templates provide a polished and modern look that will make HRs take notice.
Optimized content. Flight attendant resume samples come preloaded with job-specific content and keywords tailored to the position you're applying for. This helps ensure the resume looks great and contains all the necessary info managers seek in job applicants.
Reliability. When starting a draft from the beginning, typos and formatting errors are easy to make. Templates come preformatted and checked for accuracy, so there's no need to worry about any mistakes that could cost you an interview.
Use an online resume creator and pick the best flight attendant resume template that will stand out from the crowd. Impress future employers with your talents and background. Check out our services today to find the perfect template for your job search!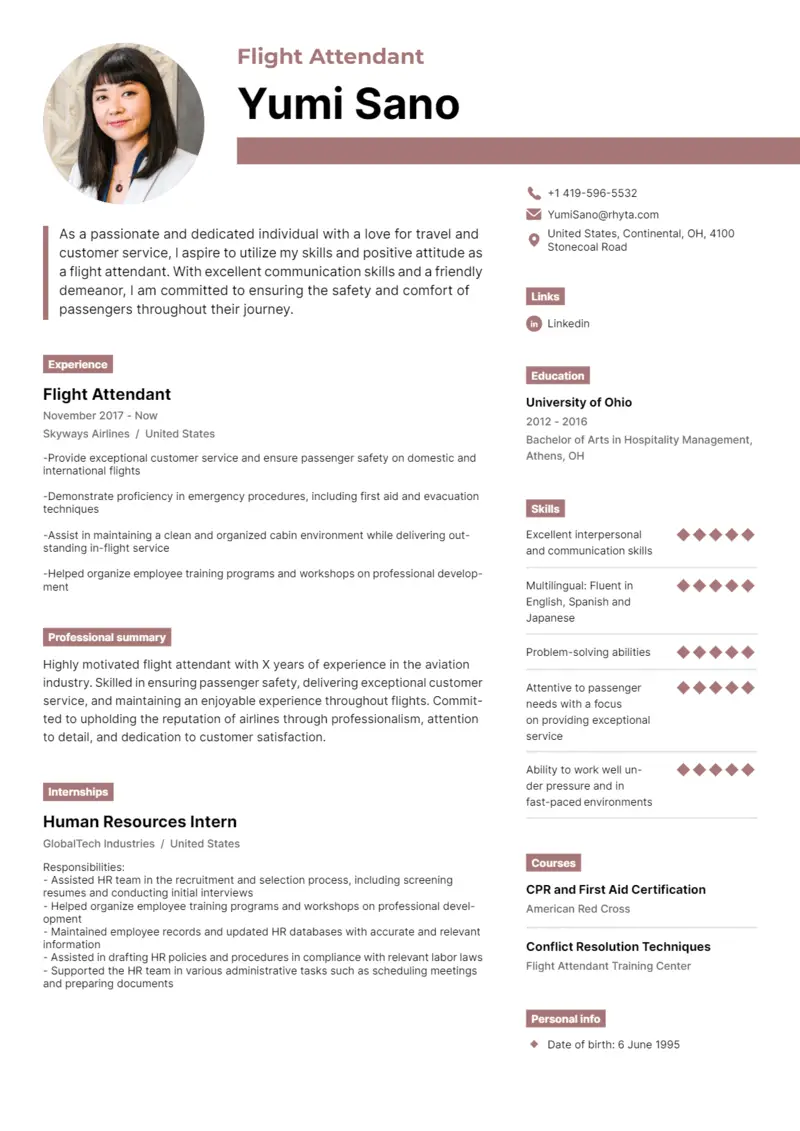 Flight Attendant Resume Sample
Professional Summary:
Highly-motivated Flight Attendant with 6+ years of experience in the aviation industry. Committed to providing a safe and comfortable flight experience for passengers. Skilled in food and beverage services, emergency protocol, and customer service.
Core Qualifications:
FAA Certified Flight Attendant;
Crisis Management;
Passenger Safety & Security;
Proficient in Microsoft Office;
Outstanding Interpersonal Abilities;
High Degree of Precision;
Multilingual (English/Spanish/French).
Experience:
Flight Attendant, Aerometrix Airline, Los Angeles, CA | 2017 - Present
Provide onboard customer service that exceeds passenger expectations.
Ensure passenger safety during boarding and deplaning.
Support safety protocol and follow company guidelines during crisis management.
Handle refreshment service while maintaining safety regulations.
Provide language translation services as needed (English/Spanish/French).
Flight Attendant, United Airlines, San Francisco, CA | 2013 - 2017
Assisted travelers with stowing luggage in overhead bins.
Delivered customer service with a warm and welcoming attitude.
Display competence in aircraft safety procedures and provided travelers with accurate details before take-off.
Responded to passenger inquiries regarding flight schedules, connecting flights, and other related issues.
Education:
Bachelor of Science in Aviation Management, University of California – Los Angeles | 2013
A flight attendant typically spends an average of 75 to 90 flight hours in the air per month (IATA).
Resume Style Guide
When crafting a flight attendant resume, keep the overall style professional and concise. Use words to describe yourself that are commonly associated with the role of a flight attendant, such as "customer service","safety", and "comfort". Avoid using too many words or complex language, as this can be off-putting to possible employers.
Ensure that you draw upon any applicable expertise in customer service or hospitality. Additionally, highlight any certifications or qualifications you may have related to being a flight attendant. Any prior experience in the airline sphere should also be added to your resume.
Powerful Words and Phrases for a Cabin Crew Resume:

In-flight services: Provide attentive care and ensure passenger support.
Emergency procedures: Execute accident protocols with precision.
Safety regulations: Adhere to all standards.
Customer service: Deliver superior service with a professional attitude.
Communication: Possess strong verbal and written skills.
Flexibility: Adaptable to sudden changes in schedule.
Teamwork: Work cooperatively in teams to achieve common objectives.
Problem-solving: Quickly identify and resolve customer service issues.
Resourcefulness: Proactively seek solutions to challenging situations.
Multi-tasking: Effective at multitasking without compromising quality.
Organizational skills: Maintain efficient workflow in a fast-paced environment.
Time management: Manage hours wisely to accomplish goals on schedule.
Attention to detail: Check documents for accuracy and take corrective action.
Interpersonal skills: Establish good relationships with customers and colleagues.
Contact Information to Fill In
When presenting personal and contact data on an airline resume, it is vital to be brief and accurate.
Share only the data required to help understand who you are. Include your:
Full name;
Address;
Phone number;
Email;
Any social media links that are pertinent to the job.
Including private information in a cabin crew resume should be always done thoughtfully and with intention.
Historically, airlines had strict height requirements for flight attendants. For example, some airlines used to require flight attendants to be a minimum of 5'2" tall, while others required a minimum height of 6'0" for male flight attendants.
Demonstrate Experience
Compile your work background in such a way as to make the most positive impression on hiring managers. The best strategy to do this is to arrange your flight attendant experience chronologically, with the most current position first.
Utilizing bullet points is likewise advantageous when specifying any related experience. This makes it easier for HRs to quickly identify important aspects of your background. It also helps them determine if you are a good fit for their organization.
Flight attendant resume experience examples:

Flight Attendant, WYX Airlines, 2019-2022

Furnished outstanding client care during flights;
Helped travelers with seating arrangements and baggage;
Ensured safety protocols were accurately followed;
Prepared and served food and drinks during voyages.
Illustrating particular incidents from your career as a cabin crew will illustrate your proficiency. It will also demonstrate to employers that you are familiar with the area and have the knowledge necessary to successfully serve passengers.
Wrong Example:
On the other hand, listing unsuitable experiences or using the wrong formatting can have a negative impact on your cabin crew resume. Placing experience at the end of the resume or utilizing too much text without any pointers can make it difficult for directors to gain insight into what you can bring to their organization.
To sum up, structure and organize your work history in a manner that is easy for potential bosses to read and comprehend. Check that you provide comprehensive information about each job you have had as well as any relevant experience.
Doing so will ensure that the company can assess your qualifications quickly and accurately when considering your application.
Write Flight Attendant Resume
List Your Academics
When writing a flight attendant resume, education particulars should be organized in a way that emphasizes your accomplishments for the job.
Put your education in chronological order, starting with the most recent. Begin by stating the name of your institution, the degree or certificate you attained, and the dates of attendance.
Flight attendant resume education sample:

University of Seattle: BSc in Aviation Sciences; 2016-2020;
Community College of Denver: Associate's Degree in Airline Management; 2014-2016.
Including this type of flight attendant educational experience is helpful when you are seeking a path as a cabin crew member. It unveils to the hiring manager that you have knowledge of aviation and understand airline management principles.
University of Seattle:

B.S. in Aviation Science; 2016-2020;
Minor in Business Administration; 2017-2019.

Community College of Denver:

Diploma in Airline Administration; 2014-2016.
Attention!
Avoid making mistakes when formatting this block as a paragraph instead of employing bullets or omitting important information like years attended. These errors can give off a negative impression to hiring managers, hampering their ability to properly evaluate your aptitude for the position.
Overall, take the time to perform your education information so that it accurately reflects your qualifications and skills. By listing it chronologically and using proper bullet point formatting, you can ensure that recruiters can quickly review and evaluate the resume.
Flight attendants undergo extensive safety training to handle various emergency situations. The Federal Aviation Administration (FAA) requires flight attendants to complete at least 12 hours of initial training and annual recurrent training.
Flight Attendant Skills For Resume
It is essential to mention a variety of skills in a resume for flight attendants. Soft skills represent qualities that make a person easy to work with, such as communication, empathy, and problem-solving skills.
Hard skills are specific abilities that can be measured: language proficiency, mastery of airline regulations, and client service experience. Both sets of skills are necessary for success as a flight attendant.
It is vital to signify both hard and soft skills. To make sure they stand out, order your most relevant skills first, under the appropriate subheadings. Use job-definite language that best describes your abilities and qualifications. Also, specify any achievements you have related to the position. Flight attendant resume skills examples to put on a resume:
Soft Skills:
Outstanding interpersonal and communication skills;
Empathy and understanding of customer needs;
Capacity to resolve customer issues efficiently;
Highly organized with great attention to detail;
Talent to work well in a rapidly changing environment;
Flexibility to work on short notice;
First-class customer service demeanor;
Ability to follow instructions accurately;
Excellent problem-solving abilities;
Good team player with a positive attitude.
Hard Skills:
Knowledge of aircraft safety procedures and equipment;
Certification in food sanitation handling and service standards;
Proficient in airport navigation systems and ground operations procedures;
Proficient in Microsoft Office Suite and other airline-related software programs;
Bilingual or multi-lingual ability in English, Spanish, French, or another language;
Expertise in FAA regulations and international aviation rules;
Capacity to successfully complete safety training courses on time.
Social Media: For and Against
Overall, including social media links on your airline resume can be a double-edged sword. On the one hand, it gives employers an easy way to see your extracurricular activities and interests outside of work. On the other hand, it could make them question your professionalism and dedication to the job.
Pros:
Connections on social media can demonstrate your enthusiasm for aviation, as well as any volunteer or charity work you may have done.
It also signals that you are tech-savvy and on top of the latest trends.
Cons:
Managers may be concerned about inappropriate pictures or posts that you have shared on the Internet. This could lead them to believe that you won't be able to maintain the professional image necessary for a flight attendant role.
A potential employer may appreciate seeing a picture of you visiting an aviation museum or sharing information related to air safety on Twitter. They might be less impressed if they stumble across photos of you at late-night parties or activities that are not appropriate for a professional role.
Flight Attendant Resume Summary
A resume for flight attendant job should include a great summary that captures the essence of who you are and what you bring to the position. It should be concise, clear, and distinct.
Flight attendant resume summary example:

Flight attendant with extensive experience of more than 5 years of providing superior service and comfort to passengers on international flights. Proven ability to handle challenging situations with tact and professionalism. Skilled in service, conflict resolution, and safety protocols. Certified in first aid, CPR, and emergency response procedures.
When crafting a flight attendant resume summary, take into account the following points:
Use Specific Language. Be sure to incline industry terminology in your summary. This will ensure that your experience and qualifications are accurately reflected.
Focus on Your Strengths. These mean proficiency in customer service, conflict resolution, communication, or any other specialized aptitudes you have.
Keep it Short and Sweet. Your summary statement should be brief and concise - no longer than three sentences - so that employers can read it quickly and understand your main achievements at a glance.
Build Your Flight Attendant Resume
Adding Some Extras
Enhancing a cabin crew resume with additional information is critical. It helps the recruiter get a clearer picture of the interviewee. These blocks give insight into the candidate's professional background, pastimes, experiences, and qualifications.
For example, hobbies can show the recruiter that the job seeker has outside interests which may prove an asset in the line of work. You should also add any courses you have taken which are job-related.
Languages are also an important piece of the airline resume puzzle. They indicate to hiring managers that the contestant has good communication skills and can interact with passengers from different cultures.
The awards section can reveal any outstanding achievements or accomplishments which can be beneficial to the organization's success.
Internships provide evidence of prior experience in a particular sector. They also evince that an applicant has transferable skills which could be advantageous for working in the aviation sector.
References provide an independent opinion of an individual's skills and character, that can be used as a basis for evaluating their suitability.
Finally, certificates are crucial to add to a resume for flight attendant as they demonstrate any classes obtained by the competitor which would be beneficial for fulfilling duties.
Being a flight attendant provides opportunities to interact with people from diverse cultures. In fact, according to IATA, approximately 196 nationalities are represented among flight attendants worldwide.
A flight attendant could list their hobbies such as traveling or photography, and courses they have completed like customer service or health & safety training.
Also, mention languages spoken (e.g. Spanish or French), awards received - air cabin crew excellence award, internships undertaken at airline companies or travel agencies, references who can vouch for their work ethic.
How to Write a Flight Attendant Cover Letter
Writing the ideal cover letter for an air hostess job can be intimidating. However, with the right advice and guidance, it can be accomplished quickly and effortlessly.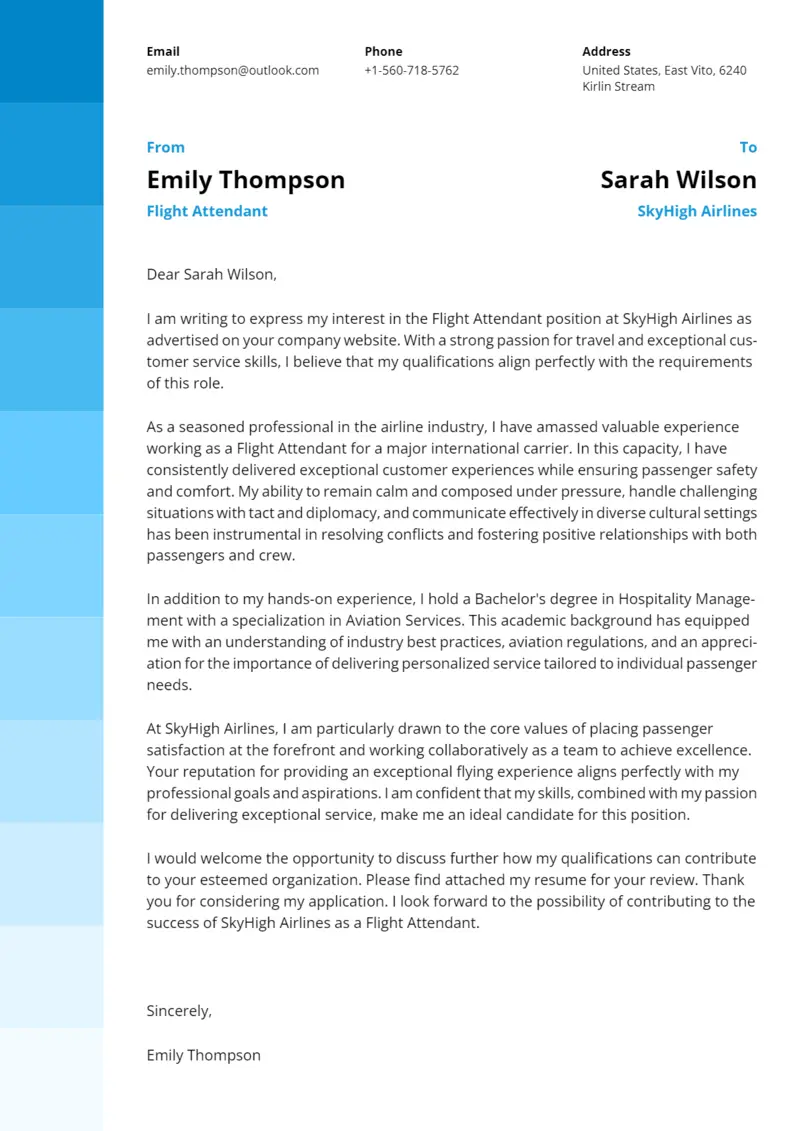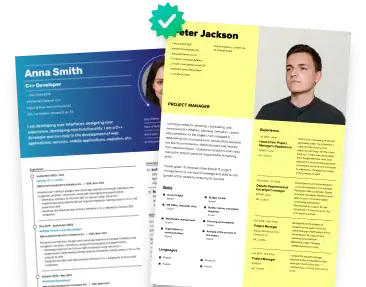 Good Example:
Dear Hiring Manager,

I am writing to express my interest in the role of Flight Attendant at ABC Airlines. I have years of experience providing excellent customer service in the hospitality industry. I'm confident that I can bring the same level of excellence to your team.

My current role as a Customer Service Representative has given me extensive experience in bringing high-quality service. From organizing seating plans to addressing any complaints or issues that may arise, I have proven myself to be an efficient, reliable, and responsible employee. Additionally, I have a comprehensive understanding of safety practices and air travel guidelines which makes me an ideal candidate.

Moreover, I am highly organized and able to manage multiple tasks simultaneously while maintaining a positive attitude and professional demeanor throughout my shifts. My passion for helping others combined with my drive to succeed make me a valuable asset to your organization.

Thank you for considering my application, and I look forward to speaking with you further about this opportunity.

Sincerely,

[Your Name]
A superb cover letter example for a resume for flight attendant job should be concise, professional, and tailored to the advertised job details. It should focus on your talents and how you can bring value to the company.
This cover letter is concise yet detailed in its explanation of why the individual is qualified for the position. It focuses on their strengths and how they can be valuable to the organization. It also emphasizes their proficiency in the safety procedures and flight regulations necessary for this type of job.
Bad Example:
Dear Recruiting Team:

I am applying for the Flight Attendant job at ABC Airlines. I feel that my qualifications are well-suited for this position. I have over five years of experience in Customer Service roles with excellent references from previous bosses. I also hold an Associate's Degree in Hospitality Management. This has provided me with strong customer service and problem-solving skills that will be essential. I am also very organized and able to work efficiently under pressure to verify that passengers receive exemplary service when traveling on ABC Airlines.
A poor submission for employment would be too verbose or overly ordinary. It should never be generic - it should be tailored precisely to the job description at hand.
It must accentuate skills rather than simply listing qualifications; this will give employers an understanding of how those skills could add value to their organization.
This is a substandard representation of a cover letter as it is too generic. There is no indication of how the candidate could contribute to the company or how his or her skills could benefit the organization beyond what is stated in the qualifications section.
Additionally, there is no mention of any knowledge of safety procedures or regulations which are vital.
Cover Letter for Entry-level Flight Attendant Resume:
Dear Hiring Manager,

I am writing to submit a candidacy for the vacant position of Flight Attendant with your airline. I am eager to get started in this role as I have a passion for travel and customer service.

Although I have no prior experience specifically as a Flight Attendant, I do have extensive experience in client service. I have a sincere desire to ensure that every passenger has a safe and enjoyable flight. I believe my background in hospitality, service, and sales makes me an excellent choice for your Company.

I am confident that my organizational and problem-solving abilities, combined with my friendly and courteous nature, will be an asset to your team. In addition, I am bilingual in English and Spanish, which allows me to communicate with a diverse range of passengers.

I understand that being a Flight Attendant necessitates swift decision-making and meticulousness to ensure each flight goes smoothly. I am more than willing to learn all of the necessary procedures to excel.

Please consider my application for the job of Flight Attendant at your airline. I look forward to hearing from you soon.

Sincerely, [Your Name]
Emphasize any skills you possess that will help you succeed in a Flight Attendant job without prior experience. Examples include customer service, problem-solving, organization, and communication skills. Illustrate relevant experiences you may have such as hospitality or sales work that display your capacity to deliver excellent service.
In addition, make sure your cover letter template is distinct from the airline you are applying to. Research the company's mission or values. Finally, ensure it is concise and professional while also showing your enthusiasm.
Avoid Making Mistakes in Resume
It is mandatory to proofread and spellcheck your papers. Not only does this indicate a meticulous approach and professionalism, but it also displays that you take the job seriously. Grammar and words are also a very important part of the cabin crew resume/cover letter as they exhibit your ability to communicate effectively.
To guarantee that your draft is well-written, one should read it out loud or have someone else review it. This can help to catch any spelling, grammar, or punctuation errors.
Additionally, a spellchecker can identify any typos that may have been missed.
Also, employing synonyms can assist in making the text more distinctive and captivating.
Remain professional throughout the process by avoiding slang words or informal language. It may be beneficial to have a third party evaluate the resume/cover letter. They can provide an impartial opinion on how it looks and offer advice on how to improve it. To avoid it you can use flight attendant resume templates.
In conclusion, proofreading and spell-checking your resume and cover letter is a must when seeking employment as an airline steward. It demonstrates your attention to detail as well as your communication skills.
Writing Flight Attendant Resume: That's It!
A flight attendant resume is a key to success when applying for a job in this field. To create an awesome resume, certain elements should be added and highlighted.
Here is the list of key elements:
Personal Information: Write your full name, address, phone number, and email.
Objective Statement: Show employers why you are the best fit.
Qualifications: List your relevant abilities and certifications.
Professional Experience: Mention any previous background in service and hospitality.
Education and Training: Outline any educational or instructional experience you have had.
Skills: Emphasize the skills that make you an ideal candidate.
Creating resumes for airline jobs can be confusing and time-consuming. Fortunately, an automated Resume Creator can help simplify the process and provide direction on crafting a resume that will set you apart. So don't wait anymore - use flight attendant resume examples!