A great resume is essential for any food service job. It's the first and sometimes the only chance a potential employer has to get to know you and your qualifications. A well-crafted food service resume can make the difference between getting an interview or not.
Knowing how to construct a superb food service worker resume example is vital if you are looking to start or enhance your career. This article will provide an in-depth tutorial on creating a remarkable resume.
So don't wait any longer: read on and learn how to write a winning resume for food service!
How to Write Food Service Resume
This article provides a step-by-step guide on constructing a service industry resume.
It covers the following main points:

Making the Introduction. Include contact information, such as name, address, phone number and email.
Writing a Summary. Utilize this space to underline your knowledge of the catering business, list any related qualifications and emphasize your capacity to surpass customer expectations.
Work Experience. Detail all previous work experience related to the job you are applying for, along with dates worked, duties and accomplishments.
Education. Mention any pertinent certifications or diplomas concerning food service.
Skills. Highlight any skills that may be beneficial, such as problem solving or team management.
By following these steps you can construct a comprehensive and tailored resume of food service worker that will make you stand out from other applicants.
Try Resume Builder
Do you need a resume fast? Apply convenient online resume builder to create a professional-looking resume in no time. Our ready-made food service resume templates will help you get the job done quickly and easily.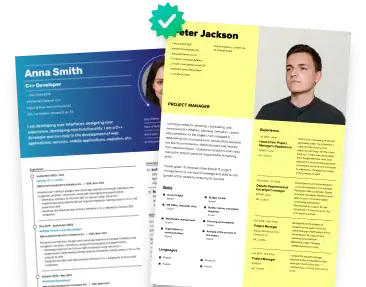 No more endless hours of composing a resume in Word. All you need to do is input your own information.
Using one of the food service resume templates will give you an edge over other competitors. Designs have been crafted with job recruiters in mind, so they contain all the key elements that decision-makers search for. Plus, they'll help you format your resume correctly so it's easy to read and looks professional.
What's more, our templates are completely customizable, so you may add or remove sections to suit your needs. Whether you're applying for an entry-level position or a C-suite executive role, you'll find a template that fits the bill.
The service also allows you to save your work as a PDF, making it simple to send your resume via email. And if you don't like what you see, you might always initiate again from scratch or choose another template without having to waste hours retyping everything.
So why not give our online resume creator a try? You won't regret it!
Food Service Resume Sample
Objective:
Seeking a position as a Food Service Worker to utilize my customer service and hospitality experience.
Skills:
Food prep and sanitation;
Interpersonal communication;
Cash handling and point of sale system;
Inventory control and stocking;
Knowledge of health codes and regulations;
Team collaboration;
Food safety techniques;
Multitasking and troubleshooting;
Attention to detail.
Experience:
Chef's Restaurant, Miami, FL, Food Preparer | Current.
Greet guests with friendly service and assist with menu selections.
Prepare sandwiches, salads, soups, and desserts.
Assure all food and beverages are prepared according to company standards.
Maintain cleanliness of work areas, equipment, utensils, dishes, etc.
Receive payment for orders and accurately process cash transactions.
Fast Bites Cafe, Miami, FL, Food Service Staff | 2016 – 2018.
Received orders from customers over the phone or in person.
Prepared food items employing recipes as directed by management.
Inspected serving areas to guarantee cleanliness and hygiene standards were met.
Followed all health regulations when handling food products.
Education:
Miami High School | Attended from 2014 to 2018.
References:
Upon inquiry.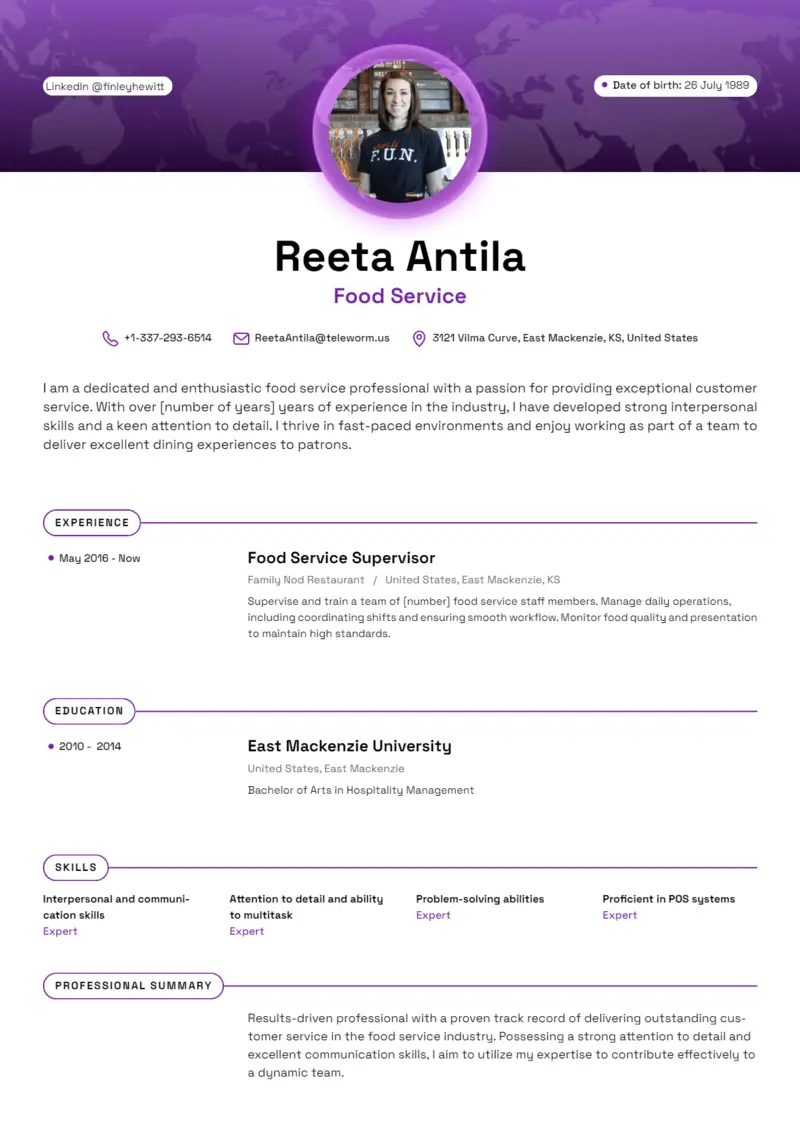 The food service industry is expected to add 1.9 million jobs between 2019 and 2029, representing a growth rate of 14% (Bureau of Labor Statistics).
What About Formulations
When creating a food service worker resume, employ phrasing that accurately depicts the occupation. Language should be clear, concise, and professional. Avoid operating overly complex words or phrases.
Employ specific job-related terminology and action words to describe yourself, and focus on the duties and responsibilities that are relevant to the position.
Markdown formatting should be used to make the document look neat and organized. Emphasize key skills and knowledge areas with bullet points.
Food Service Worker Resume Example:

Skilled Accomplished Food Service Practitioner possessing 10+ years of experience providing first-rate customer service in fast-paced restaurant environments. Good at menu development, inventory management, and kitchen staff supervision & training. Certified ServSafe Manager & ProStart Instructor with a passion for creating memorable culinary experiences.
Necessary Words for Food Service Resume:
Served. "Served meals to hundreds of clients daily";
Prepared. "Prepared a variety of appetizers, salads, and entrees";
Delivered. "Delivered food orders quickly and accurately";
Managed. "Managed staff of 10 employees";
Ensured. "Affirmed customer satisfaction on all orders";
Exceeded. "Exceeded sales goals by 10% each month";
Upheld. "Upheld strict health and safety standards";
Maintained. "Sustained sanitary work surroundings";
Developed. "Developed new systems to improve efficiency";
Trained. "Trained new staff on food safety protocols";
Organized. "Organized weekly inventory and restocking plan";
Coordinated. "Coordinated catering orders for large events";
Balanced. "Balanced cash register at end of shift for accuracy";
Monitored. "Monitored temperatures of food to attest safety";
Maximized. "Maximized customer satisfaction with exceptional service".
Contact Info
When listing personal and contact information in a food service worker resume, stay succinct, relevant, and concise. All data ought to be inserted in the header of the resume so that employers can readily locate it.
This includes your full name, current address, phone number, and email.
Additionally, including links to your professional website or LinkedIn profile can help you stand out. Be sure to handle bullets for formatting so that your resume is professional.
A good restaurant is like a vacation; it transports you, and it becomes a lot more than just about the food.
Food Service Experience
When creating a food industry resume, list and organize your work experience in an effective way. List your most recent job in the restaurant business first, pursued by earlier positions in chronological order. This allows employers to easily see your present experience and track your career progression.
If you are currently working as a cook at a well-known restaurant, you would list that first. Then go back in time ordering each of your past food service occupations.
When sorting your job history, adopt bullet points to facilitate rapid recognition of the key elements of each position. Here is an example of a correctly formatted work background for food service worker resume:
Cook, XYZ Restaurant (2018 – Present)

Prepared meals according to established recipes and quality standards;
Followed safe food handling procedures while preparing meals;
Effected cleanliness of kitchen area counting equipment and utensils;
Assisted with training new employees on the appropriate ways to handle food.

Line Cook, ABC Café (2014 – 2018)

Prepared soups, salads, sandwiches, and other light entrees;
Ensured accuracy of orders by double checking before handing off to server;
Collaborated with team members to create creative menu items;
Maintained a clean workspace by following established health code protocols.
Having this type of experience can be beneficial when trying to acquire a food service job. It is the demonstration that you have hands-on experience in the industry. Employers will be able to quickly identify what skills you possess and how they are applied to their organization.
On the other hand, if your work experience is not formatted correctly it can make it difficult for employers to understand your background.
If you list your work without using bullet points or put all of jobs into one paragraph, employers may have difficulty distinguishing between roles and may pass on reviewing your application further.
Franchises are a significant contributor to the food service industry, with more than 310,000 franchised food service locations in the U.S. alone.
List Education
Make sure that your education information is listed in an organized and visible way. It should be the first section of the food service worker resume, and it should always be listed chronologically, starting with the most recent qualification.
For example, you have a Bachelor of Science degree in Food Science and Technology. You might list this in the catering resume as follows:
Bachelor of Science - Example University (August 2015 - June 2017)

Courses included Food Science & Technology.
Graduated with a 3.6 GPA.
This type of education is very relevant to the service industry, so showing that you have experience with the subject matter can give you an advantage.
In contrast, if your education is not related to the food industry, you can still include it in your resume provided that it is presented properly. For instance, let's say you have a degree in Economics. You could list this on your resume like so:
Bachelor of Arts.

Major: Economics.
University: Example University, September 2019 - August 2021, 3.8 GPA.
This can still be very valuable to employers in the restaurant sector. It reveals that you are capable of understanding complex financial principles and making decisions based on data analysis.
In contrast, incorrectly structuring your education or not formatting it adequately can make comprehension of your qualifications difficult for potential employers. If you were to simply list all without any structure or organization like this:
Wrong Example:
Bachelor of Science Food Science & Technology Example University, Bachelor of Arts Economics Example University.
It would be challenging for employers to promptly discern which degree is associated with food service and which isn't. Therefore, it's important to take the time to duly format and organize your education information when creating your resume.
Food Service Skills for Resume
In order to craft an effective food service worker resume, it is important to include relevant soft and hard skills.
Soft skills refer to the interpersonal qualities that an individual brings to the position, such as having good communication skills, and being organized.
Hard skills are those related to technical knowledge or specific qualifications, as experience using a POS system or understanding of edibles safety guidelines.
Begin by creating a list of all your abilities and then determine which ones are applicable to the job opportunity you are seeking. Organize them in order of relevance, with your most impressive skills at the top.
Soft Skills:
Power to collaborate effectively with others;
Excellent customer service skills;
Highly organized and detail-oriented;
Capacity for multi-tasking;
Flexibility and adaptability;
Positive attitude and strong work ethic.
Hard Skills:
Proficiency in food safety standards and sanitation regulations;
Experience exploiting POS systems;
Knowledge of food preparation techniques;
Ability to calculate quickly and accurately;
Capacity to lift heavy supplies and equipment;
Familiarity with restaurant operations and menu items.
Write Food Service Worker Resume
Social Media Accounts
Overall, it can be advantageous to incorporate social links into resumes for service industry. It can demonstrate a candidate's communication skills, creativity and connections with people in the industry.
On the other hand, it may be seen as a distraction that takes away from the professionalism of the resume.
A chef could benefit from having links to Instagram account which showcases their creative dishes. Or Twitter account which points out the industry knowledge.
A server could also attach links to social profiles to illustrate proficient customer service aptitudes, comprehension of up-to-date developments in the sector, and alluring character traits.
However, candidates should be aware that employers may view mentions of social media on resumes as unprofessional. Candidates must exercise discretion when including them and ensure they are representing themselves positively online.
In conclusion, involving Internet links on a food service resume can open up new opportunities for job seekers.
Food Service Worker Resume Summary
A powerful resume summary for an opportunity in food service should illustrate the applicant's expertise, understanding, and credentials in the field. It should also emphasize the aptitude to deliver superior customer service and build strong relationships with customers.
Food Service Worker Resume Example:

Experienced Food Service Professional with 5+ years of experience in the hospitality industry. Proven track record of providing outstanding guest service and exceeding guests' expectations. Skilled in handling all aspects of food preparation and service, along with ordering, stocking, and maintaining supplies. Adept at working in a fast-paced environment while adhering to health regulations.
Tips:
Apply relevant keywords from the job posting to reiterate your skills and experience.
Showcase your accomplishments with quantifiable evidence such as metrics, numbers, or percentages.
Stick to the essentials by only encompassing information that is immediately relevant.
Avoid writing overly long sentences or paragraphs that can detract from your key points.
The restaurant industry has a ripple effect throughout the economy. For every dollar spent in the restaurant industry, an additional $2 is generated in other industries, resulting in a positive multiplier effect.
What Else to Add
Strengthening a food service resume with supplementary personal data is essential for displaying the pertinent abilities, qualifications and experience for the job.
Hobbies can be an indication of transferable skills. If a candidate plays an instrument or is involved in a sport, this could reflect an aptitude for working as part of a team and managing the time effectively.
E.g. "Participating in local charity events, playing tennis".
Courses are evidence of the candidate's commitment to further appreciation of the industry. It may also reveal that the individual has completed extra classes related to safety or customer service.
E.g. "Food Safety & Hygiene Level 2 Certificate".
Putting languages on a catering CV is paramount as they are highly valued by employers in the food sector. Knowledge of several languages can make it easier to communicate with guests from different backgrounds and cultures.
E.g. "Fluent Spanish".
Awards should be detailed to show that the job seeker has been recognised for the hard work and dedication. These may include those won in previous jobs or in competing within the sphere.
E.g. "Employee of The Month at Local Restaurant".
In order to demonstrate any practical experience that the competitor has had in the industry, a restaurant resume should comprise internships. This could take in volunteer positions or paid traineeships that establish the commitment to a career in food service.
E.g. "Volunteer at Local Soup Kitchen".
References (letters of recommendation) can give future employers more information about a candidate's past performance, character and attitude to working.
E.g. "Available upon Request".
Ultimately, attesting certifications should be featured as these can indicate that the candidate has attained specialized qualifications. Such as health and safety certificates connected to customer service or hospitality management.
E.g. "Barista Training Course Certificate".
How to Write a Cover Letter for a Food Service job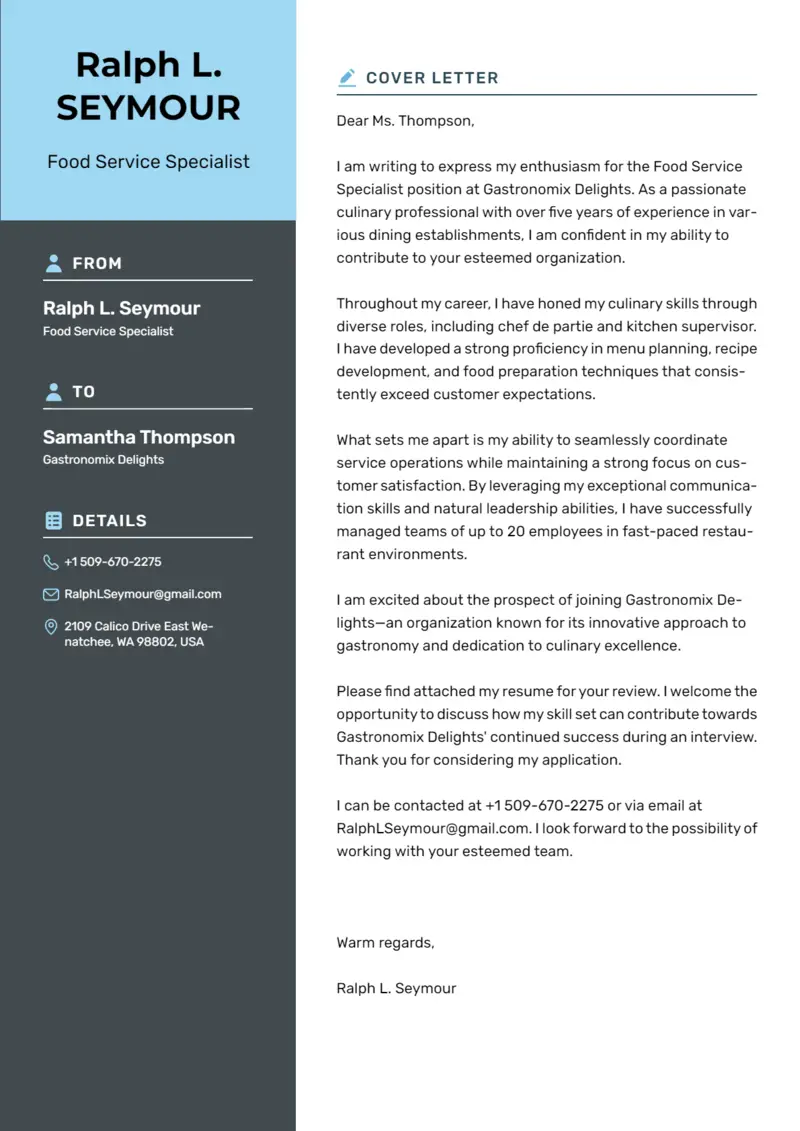 Constructing a cover letter to attach to a resume for food industry can be overwhelming. There are many things to consider when crafting a successful document that will attract potential employers and distinguish itself from the competition. Here are some tips on how to craft an appealing letter of request:
Your cover letter should not exceed one page. Avoid lengthy descriptions or long-winded stories, and focus on the main points you want to make.
Make sure you understand what the company does and what type of employees they are looking for. You can use this knowledge to tailor your cover letter to suit their needs.
Your cover letter must demonstrate your applicable experience, including any positions within the restaurant and catering sector. As well as any certifications that show your dedication to professional growth.
Bring out particular skills and experiences in your cover letter that make you an ideal candidate for the position. It should also draw attention to your qualifications, such as culinary techniques.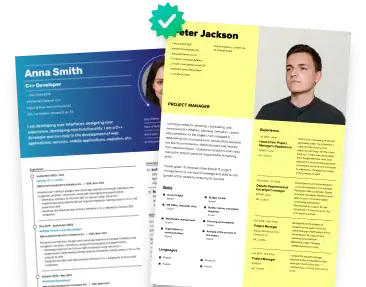 Let us now examine two food service cover letter examples:
Good Cover Letter Example:
Dear [Recruiter's Name],

I am submitting my candidacy for position of Culinary Professional at [Company Name]. With more than five years in the food service industry, I am confident I would make a great contribution to your team.

My current role involves preparing and serving meals to customers in a rapidly changing environment. I possess a broad understanding of various culinary techniques and I am experienced in working with a variety of kitchen tools and equipment. My superior customer service skills have enabled me to take care of guest queries professionally and efficiently while upholding stringent food safety standards. Additionally, I have completed several courses in nutrition which have helped me gain an in-depth apprehension of healthy eating habits and dietary requirements.

I believe my qualifications and experience render me a suitable choice. I am excited about the prospect of joining [Company Name] and contributing to its success. Thank you for considering my application and I eagerly await your response.*

Sincerely,

[Your Name].
This cover letter exemple is beneficial as it succinctly yet thoroughly illustrates pertinent experiences while considering the word limit. It also mentions why the applicant is interested in working with this particular company which shows relish and dedication.
Bad Cover Letter Example:
Hello [Company Name],

I was thrilled when I saw your posting for a Food Service Worker position on [Job Board]. With my 5+ years in food service, I'm certain I would be a colossal addition to your team!

I'm currently employed as a Food Service Employee at [Current Company], where I've been making meals since 2015. In my role, I'm responsible for addressing customer inquiries with the utmost care while upholding high standards of food safety. That's something that I'm passionate about! I've also taken several classes in nutrition over the past few years so I have a thorough comprehension of nutritious eating patterns, dietary needs etc.

I'm deeply motivated to work with [Company Name] and contribute positively - not just to the team but also to its continued growth! Please give my application due consideration - thank you!

Sincerely,

[Your Name]
This example is inadequate since it lacks clarity. It does not offer sufficient information concerning significant qualifications or experiences that render this contestant distinctive or fitting for the specific role.
Furthermore, it does not explain why the appellant desires to be employed by this corporation, which could indicate a lack of eagerness.
Cover Letter for an Entry-Level Food Service Resume
Dear Hiring Manager,

I am writing to apply for the Food Service position with your company. I have a strong interest in the job and believe my skills and enthusiasm make me an ideal candidate.

Although I do not yet have any formal work experience in food service, I have been passionate about cooking since I was young. My interest has led me to take culinary classes at my local community college. And I work hard to stay up-to-date with the latest trends in food service. I am confident that my knowledge of production, customer service, and food safety regulations is sufficient for me to excel in this position.

In addition, I have a proven ability to think quickly on my feet and can adapt to changing environments easily. My friendly personality makes it easy for me to form relationships with both customers and colleagues alike. I am also highly organized and consistently meet deadlines while working independently or within a team setting.

I would like the opportunity to discuss how my qualifications make me a suitable applicant for the Food Service job at your company. Please feel free to contact me by phone or e-mail at your convenience. Thank you for your time and consideration.

Sincerely,

[Your Name]
Tips for Writing a Cover Letter with No Experience:
Ensure you research the firm and tailor your cover letter accordingly.
Accent on transferable skills that you've gained through other jobs or activities such as leadership, problem solving, communication or organizational skills.
Concentrate on what you can do to support the company's mission rather than what you expect from them.
Long cover letters may be off-putting so try not to exceed one page if possible. Utilize bullet points to separate break up the text where appropriate.
The food service industry offers a significant number of entry-level job opportunities. It is often the first job experience for many teens and young adults. Approximately 33% of those employed in the industry are aged 16 to 24.
Proofread to Avoid Mistakes
Ensuring that one's food service resume and accompanying cover letter when seeking a food service job are proofread and spellchecked is essential. It is important to use correct grammar and words.
Grammatical errors, spelling mistakes, and typos can give the wrong impression and potentially cost you a job opportunity.
Here are several tips:

Read out loud: This will help you pick up any omissions that you have missed while reading it silently.
Take a break: After writing your resume, set it aside for a few hours or even overnight before proofreading it. You'll have the capacity to read it with fresh eyes.
Have someone else look it over: Ask a trusted friend or family member to review your resume for errors. It's always helpful to have another set of eyes double check your work.
Employ spell check: Most word processing programs have built in spellcheckers; make sure you operate them prior to submitting your resume.
Edit grammar and punctuation: Syntax can be tricky, so take care to go through your document carefully to guarantee it is correct.
By taking the time to blue pencil the resume for restaurant and cover letter, you may give yourself an edge over the competition by ensuring there are no mistakes that could cost you an interview or worse yet, the job.
Bottom Line
Do you want to apply for a job in food service but lack the skills to compose a food service worker resume?
Here is a detailed checklist that will assist you:
Start with personal information. Include your name, address, phone number and email.
Present your objective. Show the employer why you are suitable for the job.
Add your work experience in chronological order. Describe your duties and achievements.
List your education, certifications and any other qualifications related to food service.
Highlight your skills such as customer service, communication, problem solving and time management.
End up with references and other related information.
Creating a food service worker resume can be a tricky process, so make sure to pay attention to every particular and utilize language that is pertinent to the job. To simplify the procedure, try using an online resume creator - this way you can start writing your resume in no time!