It's not a faith in technology. It's faith in people.
Attention all tech enthusiasts! Are you ready to take your career as an IT help desk professional to new heights?
Look no further because we've got the ultimate IT help desk resume writing guide just for you. In this brief but impactful article, we'll unravel the secrets to crafting a winning IT help desk resume.
So, grab your mouse and get ready to unleash your inner tech wizardry!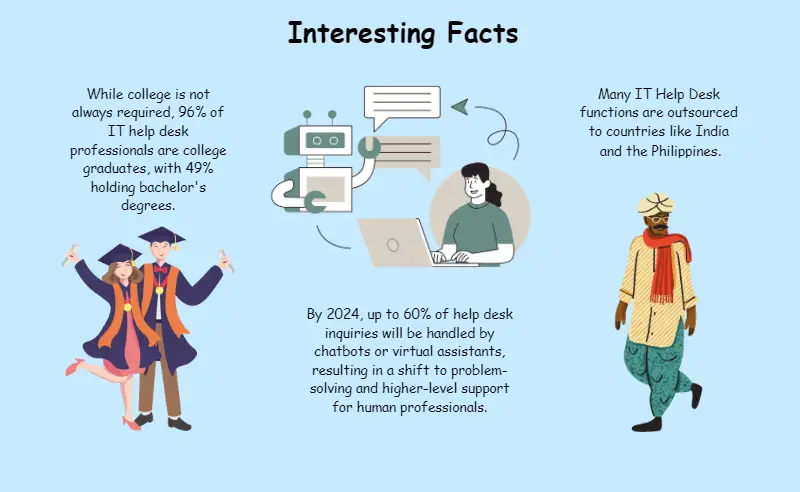 How to Write a Help Desk Resume
The article covers the main points of writing a resume for the position of a help desk technician:
Structure: Craft an effective formation and create a memorable summary statement.
Customize: Choose a resume type and template that are easy to read and present your information clearly.
Content: Highlight relevant job experience, technical expertise, certifications, and achievements.
Review: Check for any grammar or spelling errors and proofread several times before submission.
By following these steps, you can create a compelling IT help desk resume that will stand out and let you land your dream job!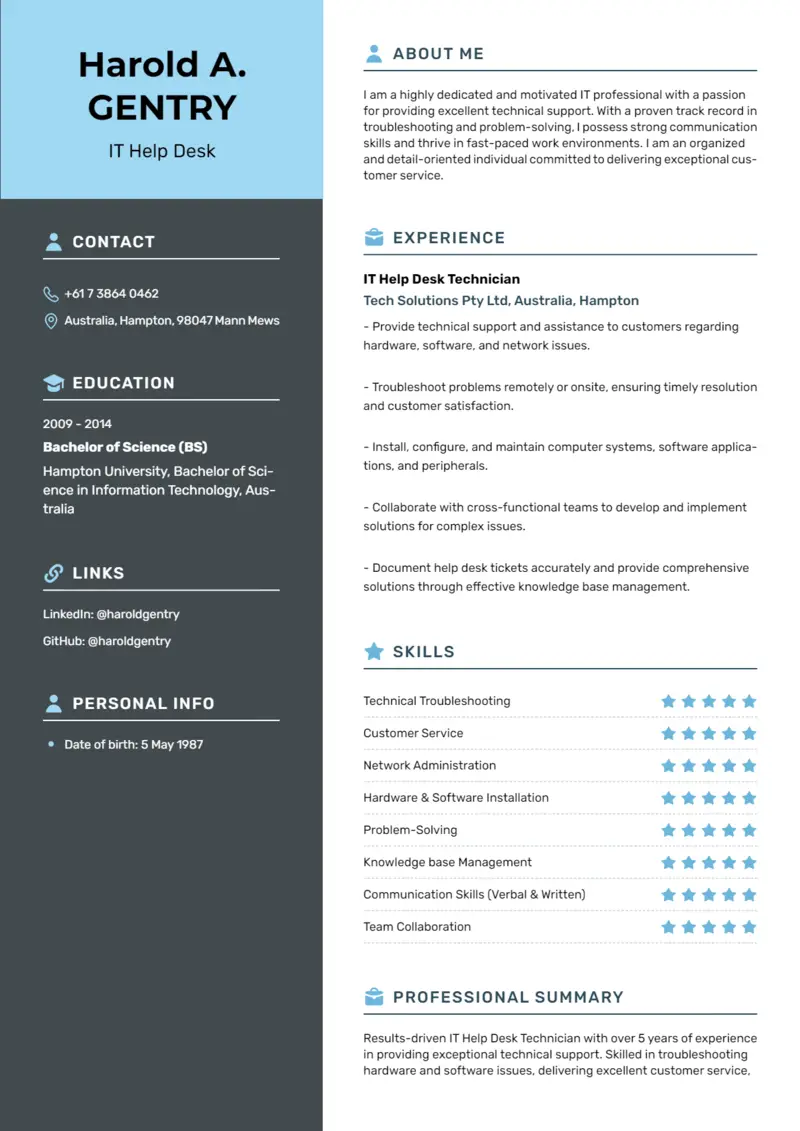 Employ Resume Creator
Are you looking for an easy and simple way to create a professional help desk specialist resume?
If so, you can use a ready-made help desk resume template from our online service. Using it is much more convenient than trying to write a resume in Word as plain text.
Here are some of the benefits of using a resume template:
Saves Time - You can get your resume ready in few minutes, instead of spending hours writing it from scratch.
Autonomy - Once you create an account, all your resume drafts will be stored there so you can open them on any device.
Accuracy - A well-designed template comes with formatting features that make sure your resume is accurate and up-to-date.
Consistency - A template ensures that your resume has a consistent format, making it easier to read and understand.
Flexibility - You can edit the content and customize the design of the template to suit your needs.
Attention to Detail - You can add details such as certifications and awards to give your resume more credibility.
A Professional Look - A polished and professional look is essential for standing out from the competition.
So if you want to create an impressive resume quickly and easily, try using resume builder!
Help Desk Resume Sample
Objective:

Seeking a challenging and rewarding Help Desk position in a renowned organization.

Skills:

Remarkable client service competency;
Proficient in troubleshooting hardware and software problems;
Knowledge of Windows, Mac OS, iOS, and Android operating systems;
Capacity to multi-task and manage time effectively;
Experienced in server administration with Linux/Unix and Windows platforms;
Familiarity with basic networking concepts (TCP/IP, DHCP, DNS);
Skilled in data entry and document management;
Ability to maintain confidentiality with sensitive client information.

Experience:

Technical Support Specialist at XYZ Corporation, June 2018 - February 2020:

Provided technical assistance to customers via phone, email, and onsite visits.
Installed, configured, and maintained computer hardware and software.
Diagnosed network issues and repaired hardware components.
Trained new employees on using the company's computer systems.
Maintained up-to-date records of customer requests.
Resolved customer inquiries efficiently within SLA.
Created user accounts for new employees.

Technical Support Intern at ABC Company, January 2017 - May 2018:

Addressed customer questions about product utilization.
Implemented various IT security measures as instructed by the senior staff.
Handled escalated customer complaints effectively.
Monitored server performance closely to detect any potential security threats.

Education:

Bachelor of Science in Computer Science awarded by the University of California in 2018.

Certifications:

CompTIA A+ Certified Professional
Styleguide for Service Desk Resume
Writing a resume for a help desk role requires the use of precise and concise language.
Focus on the specific skills and experience you have that will be relevant to the IT help desk support position, and highlight any certifications or awards. Do not forget to include words that accurately describe you as a specialist.
Avoid using too many adjectives, as they can make your resume sound overly generalized.
Power words to use:
Strong analytical skills: Provide evidence of your ability to analyze, diagnose, and resolve complex problems.
Problem-Solving: Demonstrate your ability to identify the root cause of an obstacle and create solutions.
Customer Service: Display your capacity to provide quality service in a timely manner.
Documentation: Illustrate your commitment to accurately documenting processes and procedures.
Expertise: Highlight your mastery in hardware, software, and more.
Troubleshooting: Promote your aptitude for determining the cause of problems and developing solutions.
Communication Skills: Enhance your social abilities with customers and colleagues.
Time Management: Reflect on your ability to complete tasks quickly and efficiently.
Networking skills: Detail your understanding of how networks are built, maintained, and secured.
Strategic Thinking: Focus on your capability to plan, organize, and strategize for successful outcomes.
Adaptability: Evidence of how quickly you can adapt to changes in technology or customer needs.
Patience: Underline how well you can handle difficult clients while still providing quality service.
Detail Orientation: Point out your facility for focusing on small details while keeping an eye on the big picture.
Resourcefulness: Evince your ingenuity by coming up with creative solutions.
Importance of Contact Information
When indicating personal and contact particulars in a resume, it is vital to be to the point. Revealing too much information can make the resume seem cluttered while giving too little can create a barrier for employers to distinguish you.
In order to create a successful help desk resume, the following data ought to be incorporated:
Full name;
Address;
Phone number;
Email;
Website (if applicable).
It is optional to include social media accounts if they are professional ones. See more info below.
Overall, including the correct contact details is essential for helping employers reach you easily. Guarantee that all the information is accurate.
Experience for Help Desk Resume
When creating a service desk resume, document and structure experience section in a clear and concise manner. This makes it easier for potential employers to quickly assess your credentials and decide if you are the right person for the job.
The best way to list your work experience is in chronological order, starting with the current job first. For each entry, include the job title, employer name, location, and dates of employment.
You should also provide an overview of your duties in each role. Ensure that you use bullet points to make your descriptions brief and legible.
For example:
Help Desk Analyst - ABC Company - San Francisco, CA (April 2020 - Present)

Observe incoming inquiries and offer technical assistance when necessary;
Troubleshoot hardware and software issues by phone or remote access;
Install operating systems on new computers and update existing ones.

IT Support Technician - XYZ Corporation - Seattle, WA (February 2019 to Present)

Resolved technical support tickets within agreed timelines;
Developed user guides and provided on-site training sessions for end users;
Performed system maintenance tasks such as backups, software updates, and virus scans.
These examples demonstrate that the applicant is familiar with various help desk duties and is able to handle different types of customer service requests. Having such experiences on your resume will make you a desirable prospect when seeking a help desk position.
On the other hand, it is vital to avoid the unclear listing and formatting of work experience in such a resume.
For instance, grouping all experiences into one big paragraph may make it challenging for possible recruiters to accurately evaluate your qualifications.
It is also crucial to abstain from including irrelevant information or exaggerating job titles. Doing so will only give an unpleasant impression of yourself as a candidate.
The IT help desk job can be demanding, with high call volumes and the need to solve issues within strict timelines. A survey found that 67% of IT help desk professionals reported experiencing high levels of stress, which can lead to burnout.
List Education
Education should be listed chronologically, with the most recent first. Additionally, it is essential to enumerate any special courses or pertinent tech training programs you may have acquired.
For example, if you are applying for a helpdesk role, you might want to record all of your customer service, IT support, or troubleshooting certifications. This will show prospective employers you have the specific skills necessary for the job.
Sort education information in a way that is clear and comprehensible for recruiters and managers. A helpful tip is to itemize when listing your educational experience. This will make your resume for help desk support easier to read and more organized.
For example:
Bachelor of Business Administration - University of California (2014-2018);
Certified Information Technology Professional (CITP) - Microsoft (2020);
Introduction to Programming - Stanford Online (2020).
Conversely, an example of inaccurate education listing and formatting would be omitting bullet points when performing educational experience, certifications, or other key details.
This will pose a challenge for those responsible for hiring to discern and grasp the significance of your academic background.
Help Desk Skills for Resume
Try to demonstrate a mix of soft and hard skills in the IT help desk support resume. This will give employers a deeper and more thorough understanding of your abilities.
Soft skills are interpersonal qualities, such as communication, and customer service, while hard skills involve technical knowledge and experience.
Along with technical proficiency, employers also seek strong communication and problem-solving skills in IT help desk sphere.
Ensure that all proper skills are included. List the job-specific technical qualifications and experience required for the role.
You should include any applicable soft skills that demonstrate your capability to interact with customers and colleagues. It is necessary to organize resume skills in an easy-to-read format so employers can discern which qualifications you possess swiftly.
Help Desk Resume Soft Skills:
Communication: Ability to effectively communicate verbally and in writing.
Troubleshooting: Capacity to quickly identify problems and develop solutions.
Customer service: Knowledge of how to meet clients' needs and provide excellent service.
Teamwork: Understanding of working collaboratively with colleagues.
Time management: Capability to prioritize tasks and manage multiple projects simultaneously.
Help Desk Resume Hard Skills:
Networking knowledge: Apprehension of computer networks, systems, hardware, software, and troubleshooting techniques.
Operating systems knowledge: Knowledge of computer OS such as Windows, Mac OS X, or Linux.
Technical support experience: Experience providing tech assistance to consumers or colleagues.
IT security knowledge: Comprehension of IT security best practices and procedures.
Database management: Knowledge of databases such as MySQL or Oracle.
By including both soft and hard skills in the help desk resume, you can more fully demonstrate that you have what it takes to succeed in the role.
Write Help Desk Resume
Social Media Inclusion
Overall, it can be an effective way to demonstrate your digital savvyness and ability to keep up with the latest technologies by incorporating references to web platforms into a service desk resume.
On the other hand, it can detract from the purpose of a resume, which is to highlight professional achievements and experiences.
Pros:
Demonstrates digital skills and technical proficiency.
Can show future employers how tech-savvy the applicant is.
Cons:
Can distract recruiters from seeing important job-related qualifications.
Might appear unprofessional in more traditional workplaces.
For a help desk resume that requires frequent customer interaction, it would be beneficial to include links to accounts that demontrate how you interact with client.
Additionally, for a role that involves working with new technologies, demonstrating an active presence on technology-specific social media platforms such as GitHub or Stack Overflow can be a great way to show initiative and interest in the field.
Help Desk Resume Summary
Constructing a remarkable summary can be daunting. Showcasing your key strengths and skills and how you can benefit the company is paramount. An example of an effective resume synopsis tailored to a help desk position follows:
I am an experienced and knowledgeable Help Desk technician with over 5 years of experience in providing IT support and troubleshooting solutions. I have expertise in identifying and resolving technical issues and managing customer queries in an efficient and timely manner. My exceptional communication skills allow me to provide clear explanations and guidance to users. And strong organizational skills help me stay organized when I'm juggling multiple tasks.
To compose an excellent resume outline, here are 3 points to reflect on:
Highlight your key skills and experiences. Emphasize the most relevant qualities that make you suitable for the position. List any professional certifications or qualifications that you possess that would be beneficial for the role.
Showcase your achievements. Provide examples of how you have used your skills to solve complex problems or improve customer service. Demonstrate that you are able to deliver results and will be able to do it.
Use industry-specific terminology. Using language according to the field will show employers that you understand the standards and processes. This will help illustrate your knowledge and experience in the area.
Adding Some Extras
To impress the recruiter, supplement the help desk resume with additional personal information. This can be done by adding blocks such as hobbies, classes, languages, awards, internships, references, and certificates.
IT is ever-changing and there is the need to evolve in order to stay relevant.
Hobbies show that you have interests outside of work. They can help the HRs get an idea of whether your personality is a good fit for the job.
You may express an interest in technology if you have hobbies such as programming or computer repair.
Courses related to technology or customer service will display you are knowledgeable in these areas.
Having taken a course in customer service could demonstrate your ability to give superior client care to customers.
Languages are a testament to your ability to communicate with people who may not have the same language skills as you. Providing help in multiple languages can also make it easier for customers to get assistance.
If you are proficient in Spanish, this could be useful for helping customers who may speak this language but not English.
Additionally, honors can prove advantageous to list in an application since they indicate your successes and talents in the field. Showing your winnings can indicate that you were previously successful and dedicated, and would likely continue to be so if hired.
Winning a customer service award in a past position can demonstrate your potential to excel at a help desk.
Completed internships demonstrate prior knowledge in the sphere and an understanding of how processes work in the workplace. Experience with customer service can show recruiters how well-equipped you are for the job.
You can document your knowledge and skills by completing an internship that involves software development or service support.
A service desk resume may also include letters of recommendation to prove your past performance and trustworthiness from former employers or colleagues.
Letters from your last job can give hiring managers an idea of what kind of worker you were and whether or not they should hire you at hand.
Certificates are also a valuable addition, showcasing your level of expertise and knowledge in certain areas related to the job. Certifications in client service or technology fields can demonstrate to HRs that you have skills they would find valuable in a help desk job search.
A certification related to software troubleshooting could demonstrate your aptitude.
How to Write IT Help Desk Cover Letter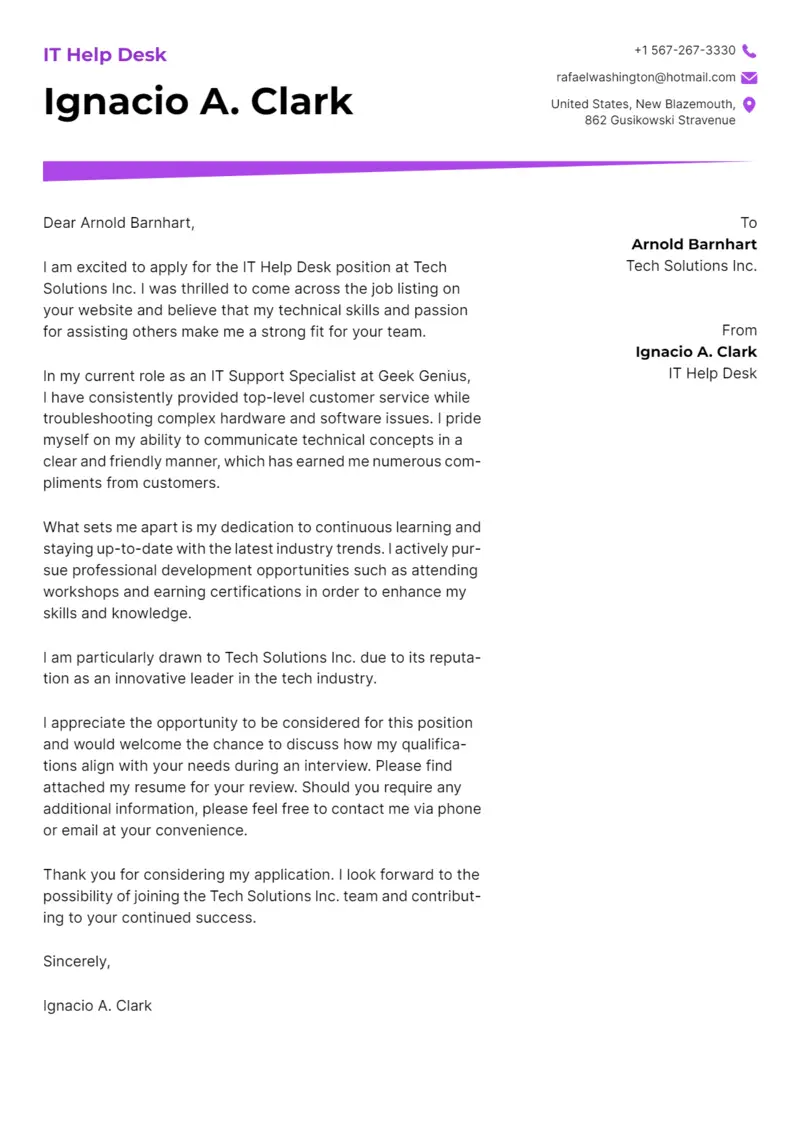 Constructing an engaging cover letter for a help desk technician resume necessitates several considerations.
You should know that it is not just about your resume; it's also about how you present yourself in the letter. A good letter should be short, concise, and to the point.
Here are some tips for crafting an impressive cover letter:
Be specific. When writing your cover letter, ensure that you include specific examples of how your experience has prepared you for the job. Describe why your skills and experiences make you well-suited for the position.
Highlight your qualifications. Prove them by highlighting any applicable credentials, training, advanced knowledge, or experience. Focus on qualifications that are directly applicable to the position.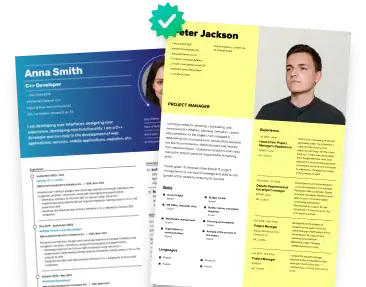 Good Example for Help Desk Resume:
Dear [Name],

I am submitting an application for the job of help desk at [Company]. With my experience in customer relations and technical assistance, I believe I am uniquely qualified.

My current role as an account manager for [Company] provides me with the knowledge to provide support and troubleshoot problems for customers every day. My technical strengths include working with various software programs, networks, and databases - all skills that would serve me well as a Help Desk employee. I am certain that my abilities and knowledge make me a perfect choice.

Aside from my technical proficiency, I have remarkable customer service talents that enable me to successfully communicate with customers through phone or email. I also have experience resolving customer issues quickly and competently. These skills would be a great asset to [Company] as part of their assistance desk staff.

I am very excited by the prospect of working at [Company]. I look forward to hearing from you regarding my resume.

Sincerely,

[Your Name]
This cover letter example stands out because it demonstrates the candidate's relevant qualifications and why the opportunity appeals to them. It's free from spelling and grammar errors which display scrupulousness and professionalism.
Bad Example for Help Desk Resume:
To the Recruiting Team,

I am seeking the Assistance Desk position at [Company]. I would be an ideal candidate given my background in customer service and technical support roles. Plus, I'm really good with computers so I think this job would suit me perfectly!

I'm sure my experience makes me qualified for this job - no one else could do it better than me! Plus, since customer service is one of my strengths, I'm certain I can manage any technical issues customers might have promptly and effectively. Please consider my candidacy, you will not be disappointed!

Sincerely,

[Your Name]
The cover letter fails to demonstrate specific qualifications or explain why the position interests you or what makes you a top candidate. Additionally, the lack of professionalism indicates an absence of attention to detail, which potential employers may find unappealing.
Cover Letter for Entry-Level Help Desk Resume
Dear Hiring Manager,

I am writing to express my interest in the Help Desk post at your organization. Notwithstanding my lack of experience in this field, I am sure that my credentials and aptitudes make me a prime contender for the role.

My background is in computer science, which has given me in-depth knowledge of basic PC operations and programming. I am a quick learner and have a passion for problem-solving. I believe these qualities would be perfect for the Help Desk occupation.

My customer service proficiency has been honed from my part-time jobs while studying. My ability to listen and understand customer needs, as well as provide timely solutions, makes me ideally suited for this role.

I am very interested in joining your team and am available for an interview at your convenience. Please find my attached resume for further details about my qualifications and experience. Thank you for your time and consideration.

Sincerely,

[Your Name]
Tips on Writing a Cover Letter for Entry-levels:
Focus on your transferable skills which align with the help desk job description such as customer service, technical competency, communication ability, etc.
Showcase any related volunteer or internship work you've done that gives you experience helping people with computers or other IT tasks.
Emphasize any qualifications you may possess that are associated with help desk assistance or IT problem resolution.
Demonstrate how you can use your knowledge of computer hardware and software to help customers quickly find solutions to their problems.
Describe why you have a strong interest in providing technical assistance and how your energy will be an asset to the company if hired.
Proofread Help Desk Resume
Carefully checking a help desk technician resume and cover letter before submission is essential. It is important to use proper words in order to make a good impression on the employer.
Not only does it show that you took the time and effort to write the help desk resume correctly. It also shows that you are detail-oriented and take pride in your work.
Here are a few tips to help you check your documents before sending them:

Examine the help desk resume closely and confirm that all data is correct.
Verify all spelling and punctuation to guarantee that everything is accurate.
Ask someone else to read through the writings for a fresh perspective.
Use a spellchecker or grammar checker to find any errors that may have been missed.
Make sure all sections of the resume are formatted properly and consistently throughout the document.
Going through the papers out loud will assist you in recognizing any mistakes or clunky phrases that need to be amended.
Have an expert review of your documents, such as a professional proofreader or career coach, for additional feedback and guidance.
You can rest assured that you have put your best foot forward in your job search by taking the time to spell-check your papers.
Working in the IT Help Desk can provide a stepping stone for various career paths within the IT industry. Many professionals progress to roles such as IT Manager, Network Administrator, Systems Analyst, or IT Project Manager, leveraging the experience gained in Help Desk operations.
Conclusion
This article offers an in-depth guide to composing a help desk resume for a greater likelihood of success.
The most crucial aspects to take into account when creating a resume for IT help desk support:
Include relevant work experience: List any past IT positions or customer service roles, as well as job duties that are applicable to the help desk role.
Highlight technical skills: Include any certifications, programming languages, and software you're familiar with that relate to the job.
Demonstrate problem-solving ability: Showcase your knowledge of troubleshooting techniques and creative solutions you've used in the past.
Use appropriate language: Use industry-specific terminology that accurately describes your capabilities.
If you need help in constructing your service desk resume, consider using a resume builder with help desk resume examples that can inspire you and give beneficial guidance. Take action now and start writing your perfect help desk specialist resume today!