Attention all kitchen warriors! It is time to turn up the heat and cook up a line cook resume on employers' countertops.
In this article, we will chop, sauté, and simmer our way through the process of crafting a standout resume that showcases your knife skills, ability to handle pressure and culinary wizardry.
The number of employed line cooks in the United States was approximately 1.1 million as of 2022, according to the Bureau of Labor Statistics.
Whether you are a seasoned line cook or just getting started in the world of professional kitchens, we have all the ingredients you need to create a resume that will get employers lining up to taste your talents.
So, grab your chef's hat, sharpen your knives, and let's get cooking!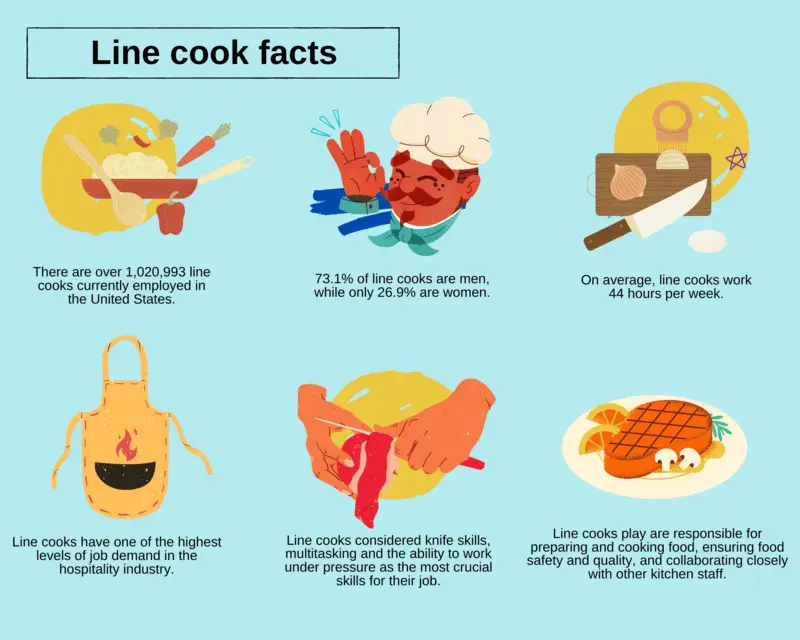 Line cook resume examples
1. Line cook resume sample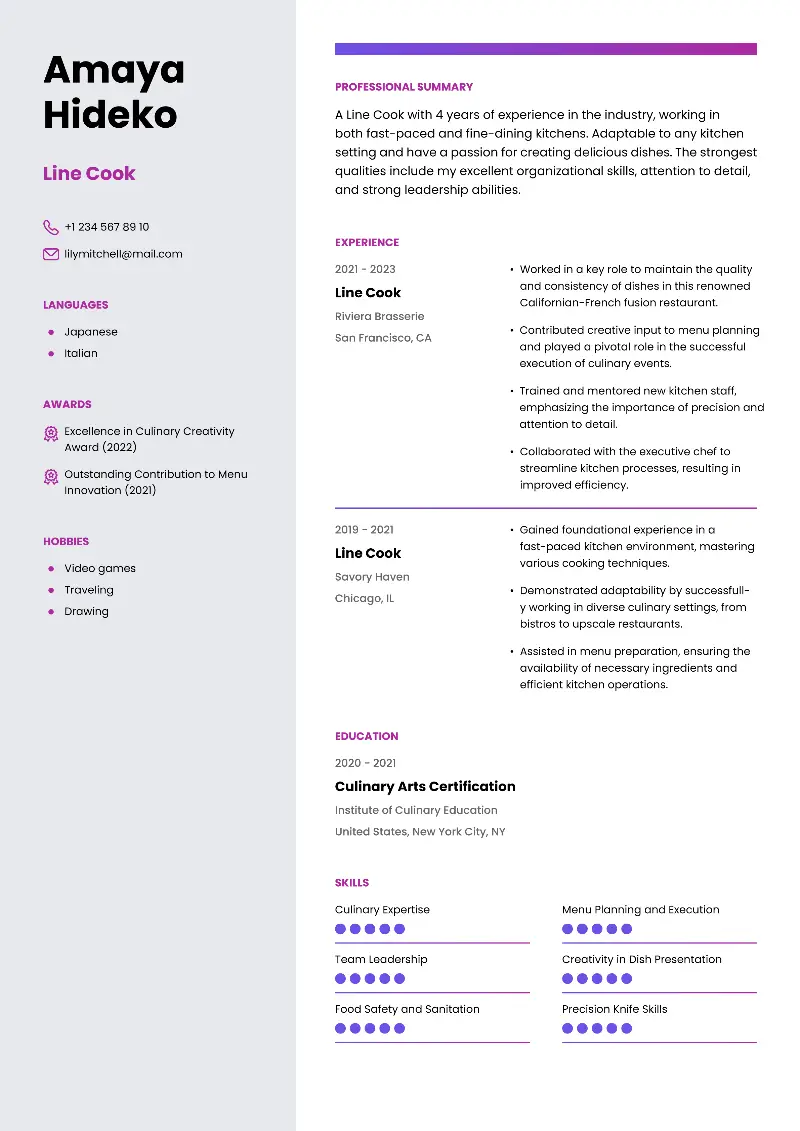 2. Fine dining line cook resume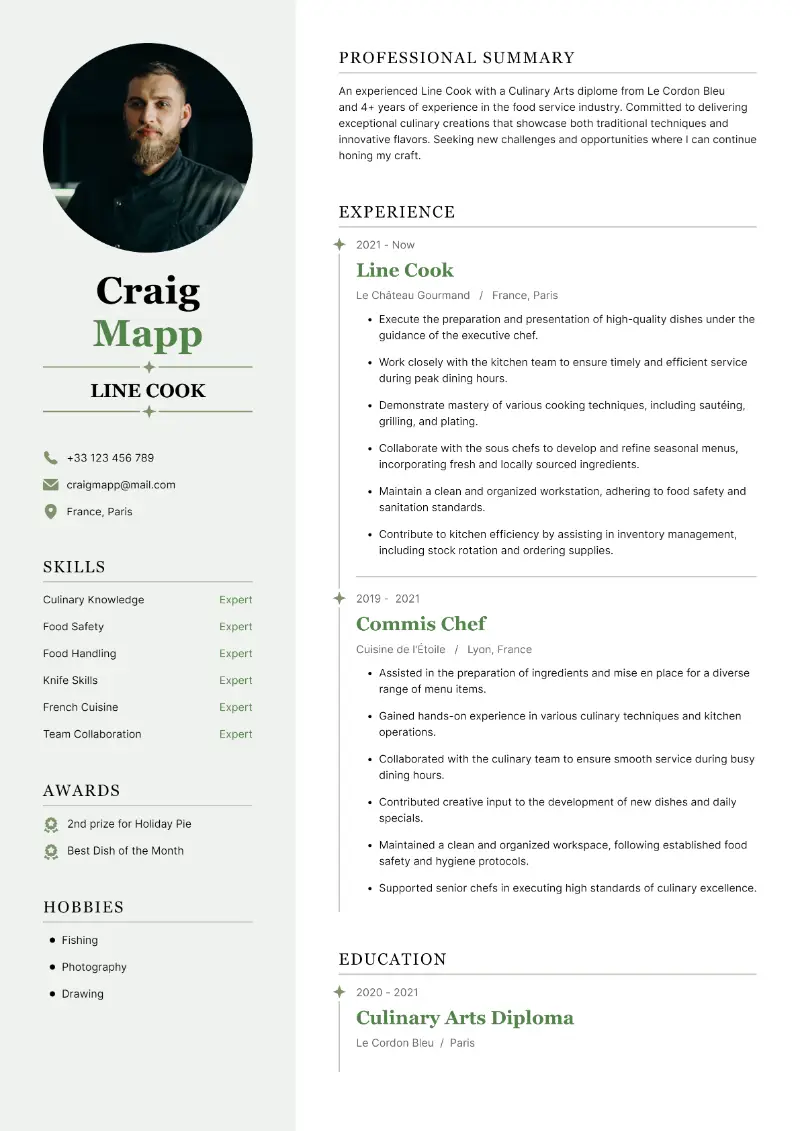 3. Experienced line cook resume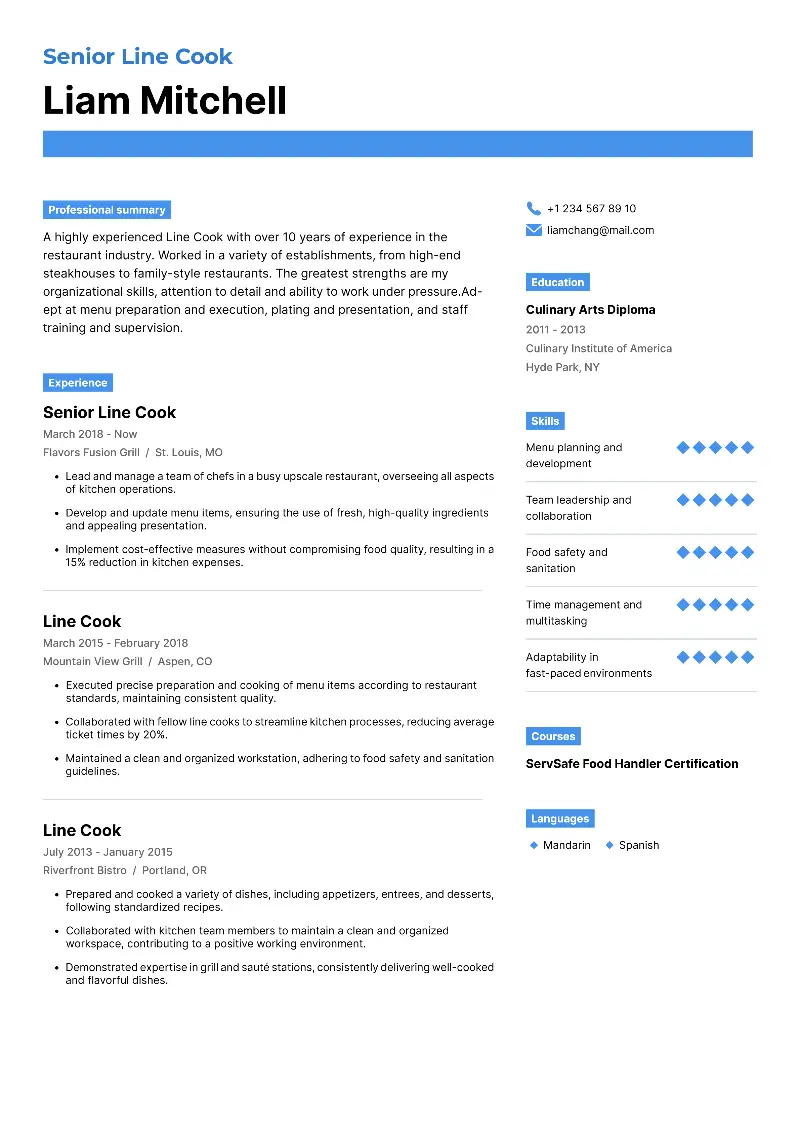 4. Entry-level resume for a line cook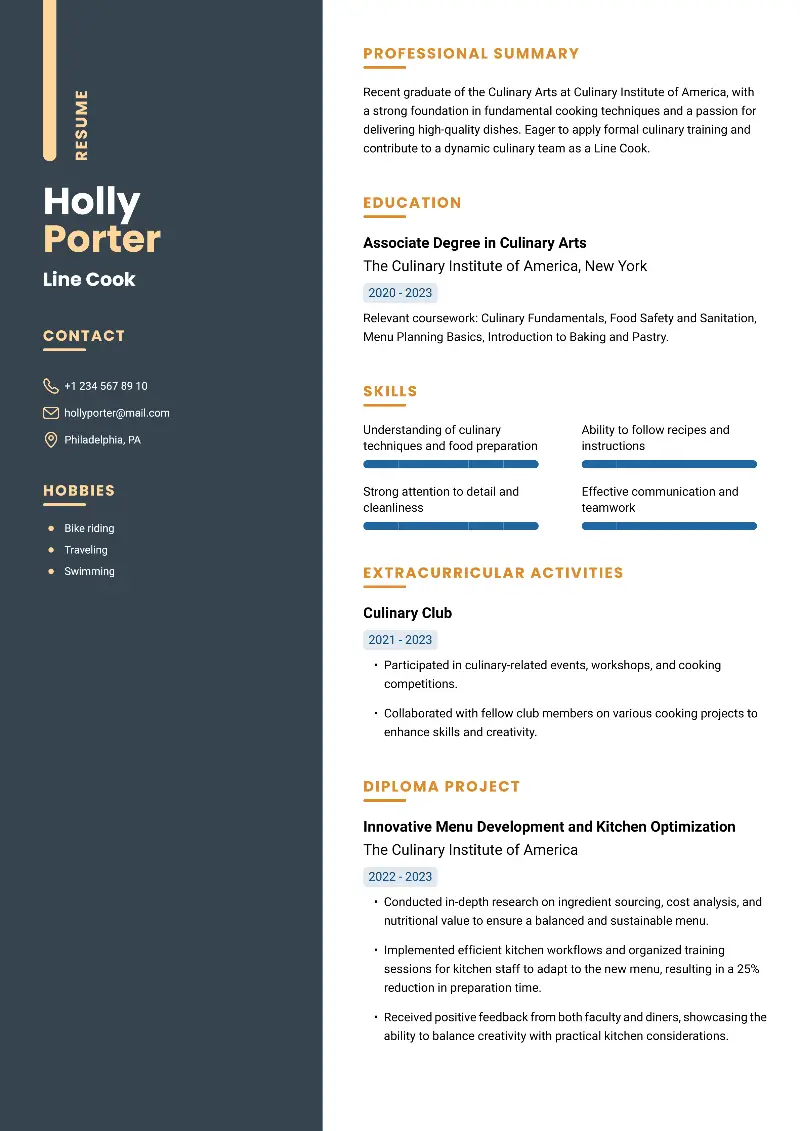 Build your resume
Are you ready to apply for your dream job? Whether it is your first time creating a resume, or you want to update an existing resume for a line cook, using a ready-made template is a great way to get started.
Resume Trick offers many professionally designed line cook resume templates specifically tailored for the position and the industry. This means you can pick a layout that matches your personality and build your outstanding resume.
You will also find ready-made content blocks, such as objectives and summaries, that can be readily personalized with your own information. Such an approach ensures your resume has a professional look and presents your candidacy in the best light.
"Line cooking done well is a beautiful thing to watch. It's a high-speed collaboration resembling, at its best, ballet or modern dance."
Building a resume for line cooking jobs from scratch can be time-consuming. With a pre-made layout, all you need to do is add your own details and make some minor edits.
Plus, our templates are already optimized for ATS (Applicant Tracking System) scans, increasing your chances of being noticed by recruiters.
Ready to make it happen? Get started now by choosing one of the professional line cook resume templates from Resume Trick!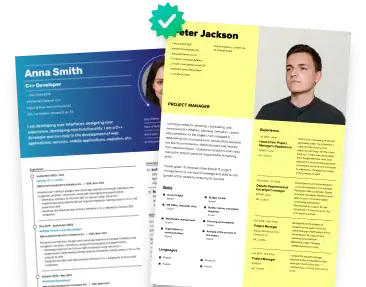 Include contact information
Listing personal and contact information in a resume for line cooks is important. This resume section provides the key details to identify you as a person.
Make sure to state the following:
Your full name;
Current mailing address or location where you are looking for a job;
Up-to-date phone number to reach out to you;
Professional email address for further communication;
LinkedIn profile for additional references (if applicable).
Locate these details at the top of your resume. You may even bold the name and the phone number or emphasize them in any other way. This will ensure that hiring managers clearly see who's resume is in their hands.
Structure work experience
As you craft your line cook resume, remember to list employment history facts clearly and elaborate on the specific skills you have. The best way to do this is to list your experiences in reverse chronological order, starting from the most recent experience first.
Include the name of the previous employer, the dates worked, and your title. It is helpful to use bullet points when cataloging the duties and achievements.
Line cook resume - sample employment history:
Line Cook, ABS Restaurant | September 2018 - December 2022

Prepared assembled food items consistent with standard recipes and sanitation guidelines.
Maintained cleanliness and organization of assigned work area.
Collaborated closely with fellow kitchen staff members to guarantee efficient operations.
Monitored stock levels of kitchen supplies and notified management when items needed replenishing.
The above resume example showcases to possible employers that you have the aptitude and comprehension necessary for a successful culinary role.
It will also demonstrate that you are familiar with the duties and can meet the requirements of the job.
Line cooks play a vital role in the culinary industry. They are responsible for preparing and cooking food, ensuring food safety and quality, and collaborating closely with other kitchen staff to deliver satisfying dining experiences to customers.
Therefore, remember that carefully organizing your work experience is essential when applying for any line cook job. Doing so will make you more noticeable than other applicants and give potential employers confidence in your competence as a line cook.
Pick a resume template
Share education details
In compiling a line cook resume, the focus should be placed on practical skills. However, the education section of your resume is also important. It needs to be ordered chronologically and encompass all important information concerning your academic background.
You should state any type of degrees, courses, seminars, or other educational activities you took part in. Elaborate on how they equipped you with knowledge and abilities to perform the tasks of a line cook.
Line cook resume examples of credentials listings:
Example 1:
Completed Culinary Arts Program at ABC Culinary School, 2020.
Attained expert Line Chef rank at XYZ Professional Chef Program, 2019.
High school diploma at MyHometown High School, 2018.
If you are in college or have an uncompleted degree, mention any relevant classes and extracurricular involvements that are applicable to the job you are seeking.
Example 2:
ABC University - Culinary Arts Diploma (2020).
XYZ College - Certificate in Food Safety (2019).
Displaying this type of relevant education on the resume will demonstrate to hiring managers your line cook qualifications. Evidently, the person with the above qualifications took the initiative to learn more about the industry and hone their skills as a line cook.
"Cooking is about passion, so it may look slightly temperamental in a way that it's too assertive to the naked eye."
Overall, when writing a line cook resume, ensure that you list and organize academic information correctly. Include all relevant listings in chronological order so hiring managers can understand your qualifications quickly.
All of these will serve as an illustration that you possess the essential experience and capabilities for the job.
Line cook resume skills
Incorporating both hard and soft line cook skills into a resume is essential, as it can demonstrate the applicant's aptitude.
Hard skills involve technical expertise that is linked to cooking. Soft skills are more personal and interpersonal qualities that can help a line cook succeed in their role.
The majority of line cooks consider knife skills, multitasking abilities, and the ability to work under pressure as the most crucial skills for success in their job.
When developing an application for a line cook occupation, it is necessary to illustrate both competencies.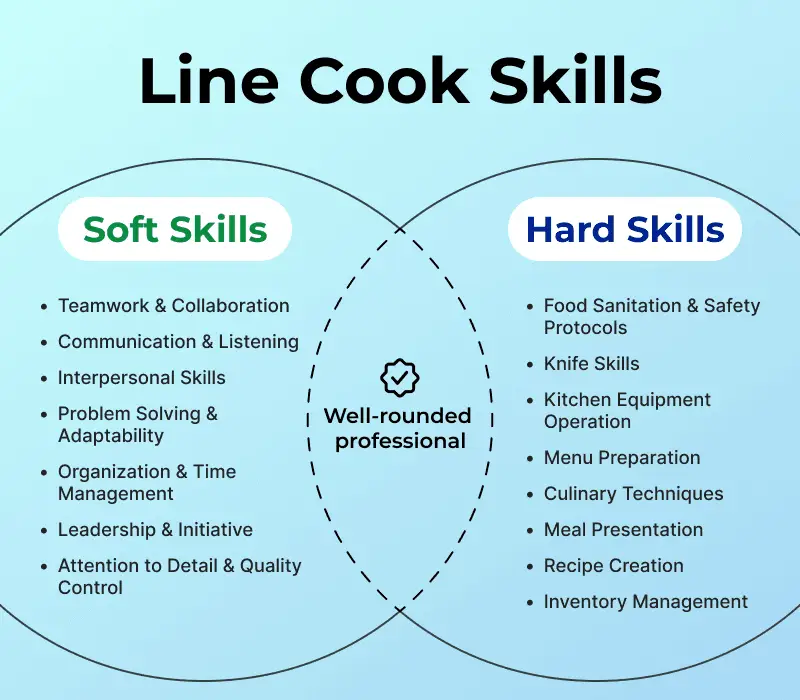 By featuring both types of skills on a resume for line cooking positions, you can show your unique expertise and improve the odds of being hired.
Social media links
A resume for a line cook must include information about the candidate's experience in the kitchen, their qualifications, and other pertinent details. However, it is not necessary to add social media profiles such as Twitter, Instagram, and Facebook.
Pros:
Social media links in a resume are only advantageous if you have a YouTube cooking channel or are keen on crafting recipes that you post in your blog. This will let recruiters see your skills and passion for the industry.
In addition, having access to your social media profile may provide evidence of your well-rounded personality. This could be beneficial in the hospitality industry.
Cons:
Adding social media to a resume includes potential distractions from your actual qualifications and experience. Employers may be more interested in seeing what kind of job experience you have and not the things you post online.
Additionally, having social media links included can open up you to criticism or judgment from employers based on online activity.
Overall, it is ultimately up to you to decide whether or not to share social media accounts on the resume. Consider all pros and cons and make a decision based on how your online profiles will increase your chances of securing the job.
Line cook resume summary
An impressive resume statement for a line cook should provide an overview of your most distinguished capabilities, as well as your professional goals. It must be concise and include relevant keywords that outline your ability to be an effective, efficient cook.
Line cook resume summary sample:

Highly experienced line cook boasting 3+ years in various restaurants. Expert in executing various cooking techniques, including frying, sautéing, baking, and grilling. Skilled in preparing meals according to health safety regulations and customer preferences. Proven record of providing customers with excellent dining experiences. Striving to use my cooking expertise to help grow a successful restaurant business.
Tips on writing a great resume summary:
Personalize your summary statement by highlighting the unique skills on your resume summary that set you apart from other candidates.
Use powerful action verbs such as "executed", "prepared", or "provided" to emphasize your achievements and demonstrate your proficiency as a line cook.
Make sure your objective does not exceed four sentences and you do not repeat the same information multiple times throughout the document.
Additional information
Enhancing a line cook resume with personalized information can assist in showcasing your abilities, qualifications, and background related to the job. It also gives prospective employers a peek into your personality and character, which can be profitable for the hiring decision.
A study by Indeed found that line cooks have one of the highest levels of job demand in the hospitality industry, accounting for a significant portion of job postings in the culinary field.
Hobbies can illustrate your zeal for cooking and food.
For example, sharing excitement about experimenting with new recipes or liking reading cookbooks can demonstrate a passion for cooking.
Courses show that you have taken steps to gain more knowledge of the industry and boost your professional skills.
If you finished an online course in food safety or a certification in food handling, this verifies your deep understanding of the subject.
Languages demonstrate that you are capable of communicating and exhibiting the ability to converse with clients of varied linguistic backgrounds.
For instance, indicating that you know both English and Spanish exemplifies your capability to communicate effectively with customers whose mother tongue is Spanish.
Awards are beneficial as they display remarkable success in the field.
Share if you were honored with a badge for concocting creative dishes or have been praised for distinguished customer service skills. This can be evidence of success in your career.
Internships illustrate professional experience in the industry.
For example, you may have completed an internship at a restaurant specializing in French cuisine. This could evince your experience working with different types of cuisines.
References provide recruiters with an insight into your work ethic and performance in previous positions.
Hiring managers can choose to contact your former supervisors or ask them to write a recommendation letter for you. This can attest to your aptitude for performing well.
Certificates manifest that you have obtained specialized proficiency or finished extra guidance connected to cooking.
For example, holding a certificate such as ServSafe Food Handler Certification shows that you possess specific knowledge and skills required for the role.
Build your line cook resume for free
Line cook's cover letter
Writing a good cover letter when pursuing a line cook job is essential to make sure your application stands out from the crowd. A great supporting letter should capture the attention of the reader and give them a better understanding of your competence.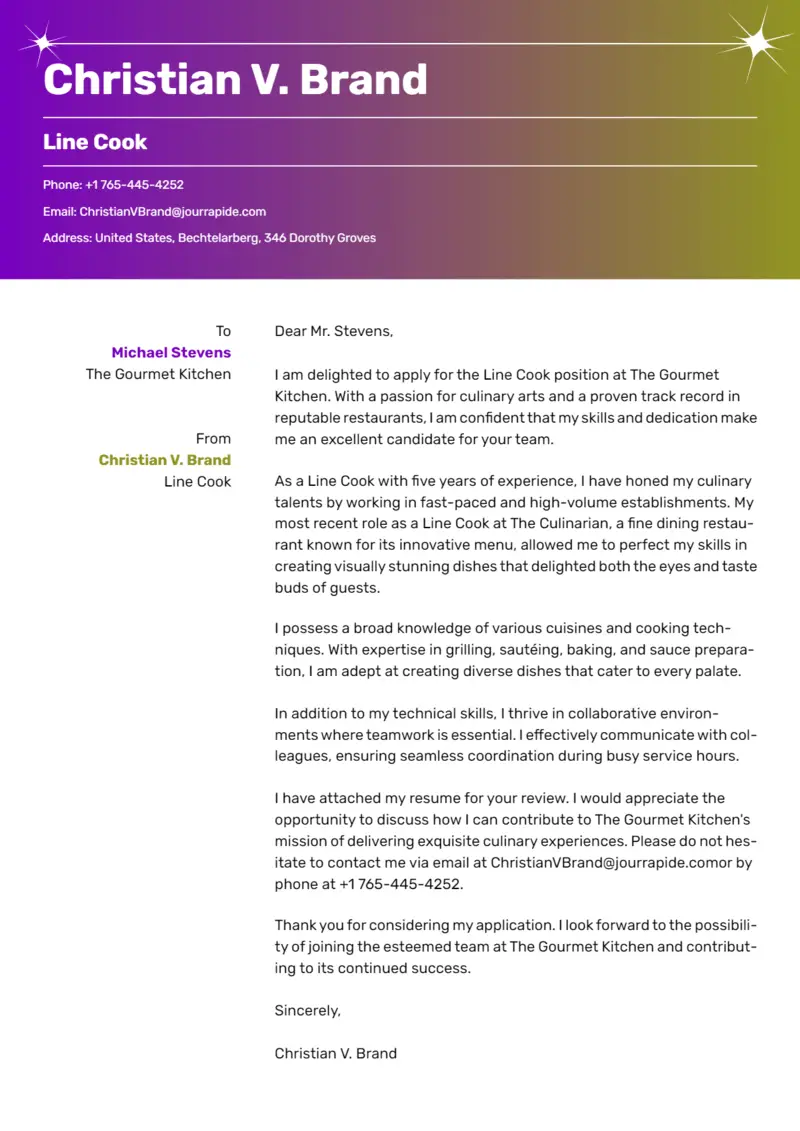 Here is advice to help you craft a remarkable cover letter for a line cook role:
Research the company and role
Before you start writing your line cook cover letter, it is important to do some research into the company you are applying to and the role itself.
This could assist you in tailoring your letter more effectively, highlighting the relevant skills and experience that make you an ideal candidate.
Write clear and concise content
As you compose the letter to support your resume for line cooking roles, make sure you keep it brief and to the point. Focus on sharing examples of what makes you suitable for the job.
You should also ensure that any information provided is accurate and up-to-date.
Demonstrate passion and enthusiasm
As a line cook, being passionate and enthusiastic about preparing food is key to excelling in this role. Make sure that this comes across in your cover letter by demonstrating your love of cooking. Equally important is to say why you are excited about joining their team.
Use specific examples
Rather than just providing a summary of your qualifications, provide concrete examples that prove their relevance to the position. Exhibit any successes or awards you have earned throughout your career as a line cook as these will illustrate why you are the perfect fit.
Add something unique
Apart from including all of the above points, mention unique facts about yourself. It can really help make your cover letter noticeable compared to other applicants.
Include any extracurricular activities, hobbies, or special line cook skills that show off your personality or exhibit any additional qualifications or certifications.
Line cook resume - examples of cover letters
Good example:
Dear [Hiring Manager],

I am sending this letter to apply for the Line Cook job at [Company Name]. I am an experienced chef with over 10 years in the industry. I am confident that my skill set will be valuable in helping [Company Name] reach its culinary goals.

I am particularly passionate about creating unique dishes that draw upon both classic and modern techniques. This, I believe, will be beneficial in working towards [Company Name]'s ambitious plans.

My experience includes working in high-pressure environments during peak hours. More to that, I took the leading role in developing menus through consultation with customers to best meet their tastes and dietary requirements. I am equally comfortable working independently or collaboratively with colleagues - whatever is required to get the job done!

In addition, I have completed courses in food safety management. This has allowed me to develop excellent organizational skills and maintain exemplary standards of hygiene throughout my workday.

My hardworking attitude and commitment to delivering exceptional customer service have been recognized numerous times. Customers appreciated my enthusiasm for creating delicious dishes with fresh ingredients sourced from local suppliers wherever possible!

I would be delighted to discuss my qualifications further at an interview if given the opportunity, so thank you for considering my application today. I look forward to hearing back from you soon!

Sincerely, [Name]
This cover letter example clearly displays relevant skills, qualifications, and achievements related to being a line cook. It also shows passion and enthusiasm which is essential in this role. This is something that can't be conveyed simply through a list of skills on a resume alone!
Bad Example:
To Whom It May Concern:

My name is [Your Name] and I am applying for the Chef role with [Company Name]. I have 8 years of experience cooking meals in various restaurants so I think I'm qualified for this job.

I can follow recipes accurately and work efficiently under pressure during the busiest times. I also understand how to store food in accordance with health standards. So, there won't be any problems with safety regulations if hired by [Company Name].

Please consider me for the vacancy as it would give me great experience for my career development in cooking! Thank you for taking time out of your day to read this email - please contact me if interested!

Sincerely, [Name]
This example lacks detail about why the applicant is suitable for the position. Instead, it is just listing their qualifications without providing any evidence as proof of their capabilities. Such writing makes it difficult for recruiters to assess why they should hire them over other candidates.
Line cook cover letter examples with no experience
Dear [Hiring Manager],

Submitting my application for the role of Line Cook at [Restaurant]. Although I have not held a position as a line cook before, my enthusiasm and passion for the culinary arts are unparalleled.

I have always been passionate about food and cooking. I have been experimenting with recipes since I was a child and took a course on professional cooking at my local community college. I have also worked in the service industry for several years, so I understand the importance of client assistance and teamwork.

Having had a lot of practice with recipes, I am confident that I will be able to quickly learn any menu items you may have. In addition, I am a fast learner and an excellent problem-solver which makes me ideal for this position.

I would bring enthusiasm and commitment to this job as well as my strong work ethic and attention to detail. With my background in customer service, I am certain that I could provide guests with an outstanding dining experience.

I am very excited about the opportunity to join your team. I do believe that my skills would make me a great candidate for this role. Please find my resume enclosed and feel free to contact me at [phone number] or [email] if you need more information.

Thank you for your time and consideration. I eagerly await your response.

Sincerely, [Name]
General advice on writing cover letters for line cook resumes without previous experience:
Showcase your passion for cooking in your cover letter. Mention any classes you have taken or cookbooks you have read that demonstrate your commitment to the culinary arts.
Highlight any customer assistance experience you have to demonstrate your ability to interact with customers professionally.
Focus on transferable skills such as problem-solving, quick learning, commitment to excellence, etc. To show why you're the right fit even with no prior experience as a line cook.
Proofread your cover letter carefully before submitting it — typos or mistakes can indicate a lack of effort which is not desirable in this field.
To get more support, compose your supporting materials with a cover letter builder.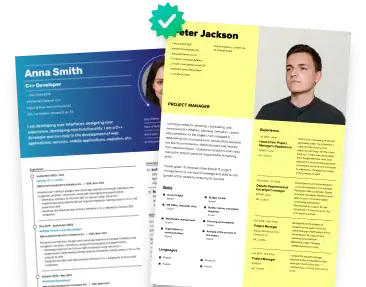 Proofread your resume
It is incredibly important to reread and spell-check your resume and application before sending the documents in.
Do:
Proper grammar, use of words, and punctuation demonstrate that you take the job seriously and are willing to put in the effort required to make a great impression.
Don't:
Poor grammar, spelling errors, and typos make you appear careless and unprofessional in the eyes of recruiters.
To proofread effectively, it is best to read the document out loud or have someone else read it for you. This will help catch any mistakes that may have been overlooked when reading silently.
Additionally, it is helpful to read backward, starting from the bottom of the page. This allows you to focus on each word individually rather than getting lost in the flow of the text.
Spellcheckers is also an essential tool for checking for typos and misspelled words.
Finally, it is imperative to analyze your job application and cover letter to support your line cook resume with a sharp eye and confirm they both precisely reflect your talents and qualifications.
Make sure they are concise, clear, and free from errors before submitting them to potential employers.
Final advice
Are you on a job hunt for your next position as a line cook? Try these strategies to make an impression on other applicants:
Research the Company. Before applying, research the company and get to know its culture, values, and mission. This way, you can adjust your application materials to their requirements.
Write a Strong Resume. A good line cook resume is fundamental for drawing the attention of employers. Highlight your experience in the kitchen, as well as any additional skills or certifications.
Use Keywords. Many hiring managers use software to scan resumes for keywords related to the job description. Make sure your resume contains words like "line cook", "kitchen experience", and "culinary arts" so it gets picked up by these programs.
Network. Reaching out to personal contacts and networking with other industry professionals can help you find job openings. They may know about a job opening that is not advertised online or elsewhere.
Follow Up - After submitting an application, it is important to follow up with the hiring manager or recruiter. This shows that you are organized and committed to finding a job in the kitchen.
Also, do not overlook looking at line cook resume examples and using services to help, such as online resume builder. Applying all these ideas and consulting other line cooks as a reference, you can boost your possibilities of attaining your ideal occupation in the culinary world!
Conclusion
This article provides a detailed guide and step-by-step instructions on how to write a line cook resume. If you are weighing up a role as a line cook, follow this guide to make an outstanding resume that will assist you in obtaining the job.
Make sure to showcase your line cook qualifications and experiences that make you unique. Using an online resume builder can simplify the process of creating an effective and impressive resume!
So don't wait any longer - start building your resume now!