"Behind every great leader there was an even greater logistician." 
Building a remarkable logistics resume is detrimental to setting yourself apart from others and acquiring your dream job.
A well-written resume can provide employers with an overview of your qualifications and skills, while also highlighting your unique strengths. This article will guide you in crafting a compelling resume for a logistics role that will ensure you get the consideration you deserve.
Logistics is ranked #16 out of 100 best jobs in 2023, and #4 best business job with the median annual salary of $77,030. (U.S. News)
1. Article overview
This article outlines the procedure for composing a logistics resume. From understanding the fundamentals of resume writing to using the right keywords and phrases, this guide will show you how to create a powerful document that will make you shine amongst the rest.
You will learn:

How to formulate an attention-grabbing summary;
How to best outline your education, work experience, and other qualifications.
How to compose an attractive logistics cover letter.
Besides, you will also find logistics resume examples to help you get a better perspective of what a successful resume for a logistics manager or logistics coordinator resume looks like.
2. Builder recommendation
Are you looking for a way to create a logistics resume quickly and easily? Utilizing an online resume-building service can be a great solution!
The Resume Trick platform will help you formulate an outstanding resume while saving you time and energy. The online builder offers resume templates that are tailored to specific industries or job application processes. All you need to do is to choose the logistics resume template.
Benefits of the resume builder:
Industry-specific layouts allow you to focus on the content and not on the formatting side of resume composing.
The system hints at what kind of details you need to provide, so all important information will be included in your logistics resume.
Online templates for resumes in logistics also make it easy to craft a professional-looking document without spending hours building it from scratch.
You can save multiple copies of your resume and adjust each of them for various roles. This will guarantee that your application will be perfect every time.
So, why not give a logistics resume template a try? You will be glad you did!
3. Logistics resume examples
Experienced logistics professional with 5+ years of experience leading distribution, warehousing, and transportation operations. Proven ability to plan and coordinate complex shipments, ensuring timely delivery of goods and services. Skilled in developing efficient supply chain networks to reduce costs and optimize resources.

Skills

Familiarity with expertise in logistics management.
Proficiency in using warehouse equipment.
Understanding of inventory and distribution processes.
Proficient in Microsoft Office programs.
Excellent communication and organizational skills.
Ability to coordinate multiple projects simultaneously.

Education

Bachelor's Degree in Logistics, ABC University, 2016.

Experience

Shipping and Receiving Manager | XYZ Company, 2020 - Present

Manage all aspects of shipping and receiving for the organization.
Develop and implement policies and procedures for efficient operations.
Monitor shipment progress to ensure on-time delivery to customers.
Oversee warehouse staff, maintain inventory accuracy, and resolve customer issues quickly.

Supply Chain Manager | ABC Corporation, 2016 - 2020

Collaborated with internal teams to successfully meet customer deadlines.
Prepared and verified orders for shipment; tracked shipments using internal software.
Created detailed reports on daily shipping activity; analyzed trends in order volume.

Certifications

Certified Supply Chain Professional (CSCP), 2017.

Affiliations

Member of the American Logistics Association (ALA).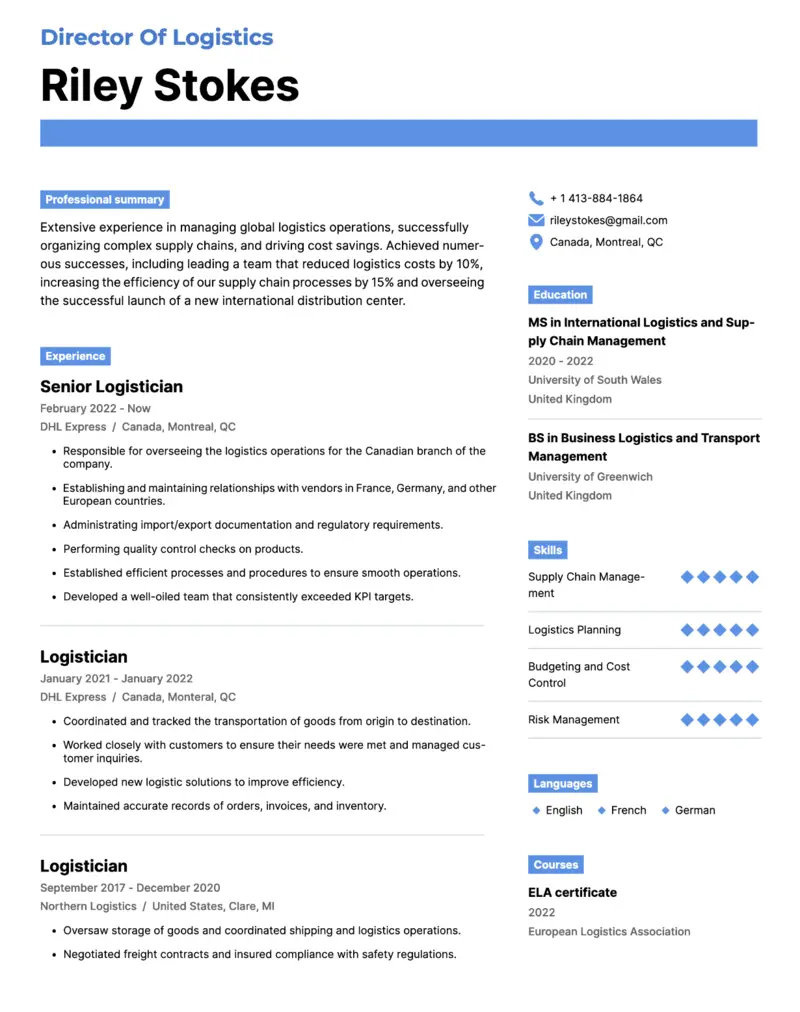 4. Contact information
"Logistics is simple, but not easy."
This section has to consist of the essential details that will help recruiters easily identify you.
Make sure you include the essential details:
full name;
telephone number;
email address;
mailing address.
You may choose to provide additional facts like having a disability or expressing a desire to relocate. If you have an active LinkedIn profile, share a link to it too.
Make sure all the information is up-to-date and presented professionally.
5. Work experience
The logistics manager's resume must also present their knowledge in coordinating all aspects of supply chain management. It also has to prove that the candidate is able to develop efficient plans for streamlining processes throughout the supply chain.
There are over 72,460 logistics specialists currently employed in the United States. 33.5% of all logistics specialists are women, while 66.5% are men. (Zippia)
To present that you have all of the necessary experience when writing a logistics coordinator resume, you have to arrange and categorize your work experience clearly.
On the logistics resume, our work history should be listed in chronological order, starting with the most recent job. This allows recruiters to quickly scan your background and identify the qualifications you possess to do well in the role.
Logistics resume - sample employment history:
Logistics Manager | ABC Company (2019-Present)

Developed data-driven solutions for inventory management, reducing costs by 15%.
Spearheaded successful process improvement initiatives that increased efficiency by 30%.
Trained over 20 new employees on transportation processes and safety protocols.

Logistics Coordinator | XYZ Company (2016-2019)

Streamlined shipping processes resulting in cost savings of 10% annually.
Oversaw daily operations of a fleet of 5 trucks and 15 drivers.
Coordinated delivery schedules with over 70 vendors.
These types of accomplishments demonstrate to recruiters your relevant experience, which can make you a desirable candidate.
Above all, it provides specific examples of tangible results you achieved in each position.
Also, consider using bullet points. This will make your resume more organized and assist recruiters in gaining a better understanding of your qualifications.
6. Education credentials
Logistics professionals must possess knowledge in areas such as math, accounting, finance, and analytics. They should understand the concepts behind cost analysis and be able to apply them to guarantee maximum profitability for their organization.
A bachelor's degree is typically required to enter the occupation, although an associate's degree may be sufficient for some logistician jobs. (U.S. Bureau of Labor Statistics)
As you move to work on the academic section of your resume, start with the latest educational experience and work backward.
For each entry, state the name of the institution, the type of credentials earned, and the year you obtained it. You may also choose to incorporate such details as honors, GPA, relevant coursework, and other facts that make your education unique.
Logistics resume - sample academic history:
Bachelor of Science in Logistics Management - University of Illinois (August 2019 - June 2021)

Courses comprising Supply Chain Management, Business Analytics, and Logistics Processes & Planning
Graduated with honors

Associate of Science in Logistics Operations - College of Southern California (August 2017 - June 2019)

Courses included Supply Chain Management, Business Analytics, Transportation & Logistics Systems
Graduated with a 3.8 GPA
Having a well-organized education history on your logistics resume will indicate your dedication to logistics as a career. Employers will know that you have the knowledge and skills necessary to carry out tasks efficiently and safely.
Use the logistics resume builder now
7. Logistics skills
When assembling a logistics resume, it is advantageous to add a section on skills. Illustrating the skills you possess, both soft and hard, is needed to make your application more competitive.
By incorporating an overview of your skillset on the resume, you will provide potential employers with a perspective of your professional abilities.
"The line between disorder and order lies in logistics…"
Logistics professionals are expected to have strong communication skills to effectively coordinate different areas and collaborate with partners.
This industry requires exceptional problem-solving skills to identify bottlenecks throughout the supply chain and find solutions quickly.
Additionally, they have to be organized and understand how to manage time and resources efficiently to maximize productivity.
Logistics resume - examples of soft skills:

Communication;
Problem-Solving;
Critical Thinking;
Leadership;
Adaptability;
Interpersonal Skills;
Time Management;
Decision Making;
Organizational Skills;
Negotiation Skills.
Your logistics resume ought to show that you have the capacity to handle the paperwork and fulfill regulations.
Additionally, logistics professionals should possess an understanding of new technologies that can help improve efficiency throughout the entire process.
Logistics resume - examples of hard skills:

Expert in Supply Chain Management Systems;
Proficient in Warehousing & Inventory Management;
Proficiency in the Operation of Freight Forwarding Software;
Understanding of Customs Regulations & Procedures;
Capacity to Work with Multiple Software Platforms;
Expertise in Transportation Logistics & Planning;
Capable of Analyzing Shipping Data & Trends;
Experience with International Shipping & Documentation Requirements.
By including an extensive list of relevant logistics resume skills, you can demonstrate your qualifications efficiently and improve your chances of landing an interview.
8. Sharing social media
Including links to social media profiles on a resume can be both advantageous and unfavorable. Consider the pros and cons before you make the final decision on whether or not to have network links on your logistics resume.
Pros:
Having access to the candidate's social media accounts can offer greater insight into the individual's character and background.
It also serves as an excellent opportunity for employers to get a better understanding of the applicant's work ethic and attitude.
Cons:
Revealing certain personal information on social media could lead to discriminatory hiring practices, such as ageism or sexism.
Some companies might view it as unprofessional if a job seeker is too active on social media during work hours.
For example, when applying for logistics positions such as delivery driver or warehouse worker, an employer might find it useful to take a look at social media posts.
For instance, it may show how reliable and punctual the candidate is. Posting regular updates about their career progress, like receiving an award or completing a course, could demonstrate commitment and dedication to their job.
Application for more senior roles, like looking at a logistics manager's resume, social media can also be beneficial.
Employment of logisticians is projected to grow 18 percent from 2022 to 2032, much faster than the average for all occupations. (U.S. Bureau of Labor Statistics)
An employer may favor posts related to professional development activities and industry news, as these could show the job seeker's enthusiasm for learning new things and staying up-to-date in the field.
Overall, you have to evaluate how advantageous sharing social media links on your logistics resume may be before making them a part of your application.
9. Resume summary
A great logistics resume objective should emphasize your key experience and qualifications. It should communicate your involvement in the industry, alongside your expertise and accomplishments.
Logistics resume objective sample

Logistics expert boasting 10+ years of experience managing supply chain operations. Excels in identifying areas of improvement to increase efficiency and reduce costs. Possesses excellent problem-solving and communication skills to manage staff and drive projects to successful completion. Experienced in transportation, inventory control, and negotiating contracts with vendors.
Tips for writing a great resume summary:
Highlight any specialized aptitudes or technical knowledge you have that is pertinent to the role.
Focus on key accomplishments and qualities that make you stand out.
Use powerful words to express your abilities and describe the impact on past projects. like "coordinated", "managed", and "developed".
Aim for 3-4 sentences that are of a limited length to guarantee that the most important facts are clearly identified.
Logistics specialists are most in demand in Atlanta, GA. The government industry is the highest-paying for logistics specialists. (Zippia)
10. Additional information
Adding extra individual details to a logistics resume helps to present your candidacy in a special way. This information can provide the recruiter with a more comprehensive understanding of your skills and abilities, as well as your interests and qualifications.
Think about supplementing your resume with the following sections.
| Resume Section | Description | Example |
| --- | --- | --- |
| Hobbies and interests | Hobbies can demonstrate your dedication to improving skills outside of professional duties. | Running marathons or volunteering with a local charity organization demonstrates a commitment to hard work and giving back to the community. |
| Continued education | Courses show the recruiter that you are dedicated to continuing your professional development. | If you have taken courses in supply chain management or business analytics, it will highlight your insight into understanding the fundamentals of successful logistics operations. |
| Language proficiency | Languages could prove to be advantageous when working with international suppliers or vendors. | Having language skills can also emphasize an ability to easily collaborate with global partners and customers. |
| Accomplishments | Awards received for your professional accomplishments can suggest that you are immensely experienced in the profession and have accomplished success. | If you were awarded "The Best Employee of the Month" or gained other types of recognition for your work, mention those that are most notable. |
| Internships and volunteering | Internships can illustrate that you have hands-on experience in the field, even if they are unpaid. | If you had an internship at a logistics company or completed a trainee program, make sure to include these details on your resume to support your qualifications. |
| Recommendations | References allow recruiters to obtain more detailed information about your qualifications and work ethic. | Providing recommendation contacts on the logistics resume from past employers, colleagues, or mentors can paint a better picture of who you are as a person. They can better evaluate how you would fit into the company's culture. |
| Certifications | Certificates can be used to exhibit your expertise in specific areas. | Having certificates from programs like Lean Six Sigma or Certified Logistics Professional (CLP) can indicate an eagerness to track advances in industry trends and technology. |
| Professional affiliations | Professional memberships can be beneficial for demonstrating your professional expertise. | If the applicant reads trade magazines or attends seminars and conferences on logistics. This may show an indication that they are highly knowledgeable of best practices in the industry. |
While you may have many talents and things you wish the potential employer to know about you, be mindful of the resume's length. You do not want to overwhelm the reader with too much information.
Build your logistics resume now
11. Logistics cover letter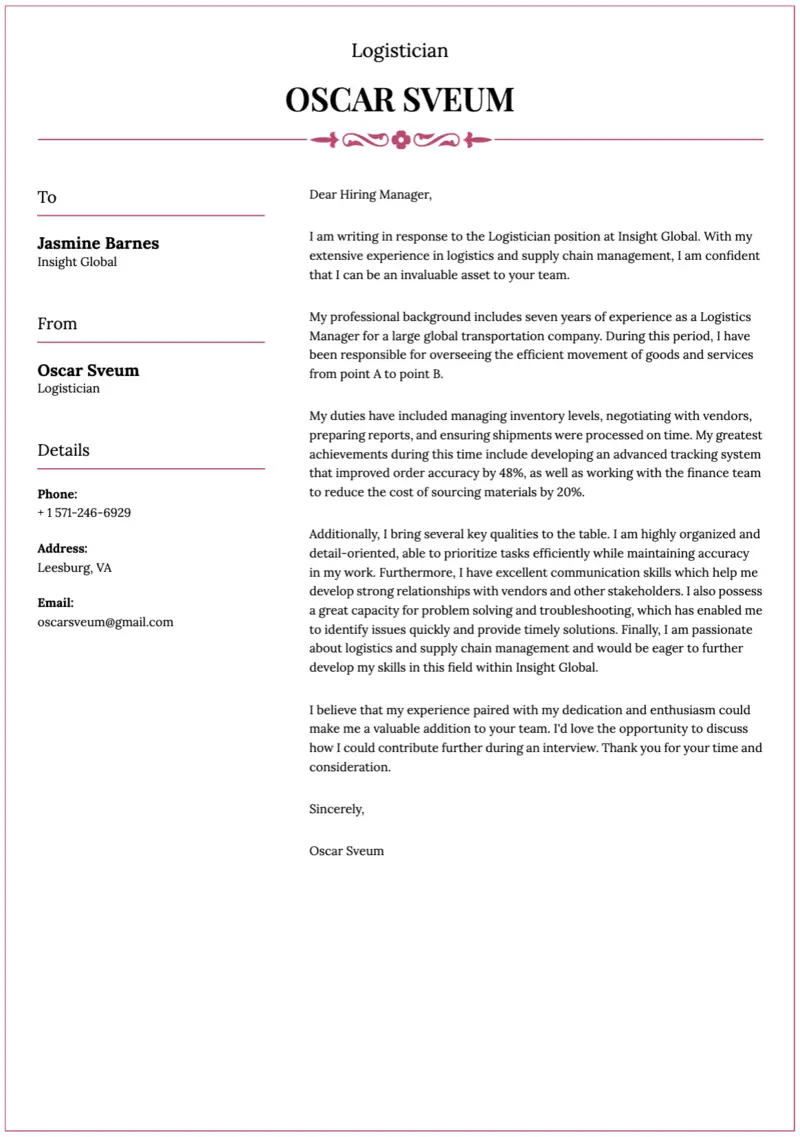 Composing a cover letter is an important part of your job application. It is the first thing a hiring manager will read and it can help you distinguish yourself from others.
A great cover letter must be brief and direct, while still highlighting your particular talents and experiences. Look at the below suggestions for composing your supporting letter:
(1) Make your letter brief and to the point.

The goal of your supporting letter should be to show the hiring manager why you are the perfect fit for the position.

So, do not offer a lengthy explanation of every detail of your career. Make sure to keep the supporting letter concise and focused on the particular job.

(2) Tailor it to the particular role.

Generic cover letters offer no value, so make sure you tailor yours to the specific job you are applying for.

This means including details about the company and position that make it clear that you have done your research and understand what they are looking for.

(3) Use action words.

Your letter of introduction should be engaging and compelling, so make certain to employ strong language throughout.

Using powerful words can help bring your experiences to life and make them more vivid for the reader. So, try to incorporate them throughout the letter whenever possible.

(4) Proofread carefully.

Before sending the letter, double-check it for any typos or grammatical errors that may have slipped by during writing.

Typos can make it appear as though you're sloppy or careless, which is not a great first impression to give potential employers!

(5) End with a call to action.

Make sure to thank the recruiters for their time. Encourage them to reach out if they have any questions or would like additional information.

Doing this shows that you are confident in your abilities, and it also leaves a good impression on the prospective employer.
By adhering to these tips, you will be sure to create an impressive submission that will catch the eye of the reader.
Good example of a cover letter for logistics:
Dear [Hiring Manager],

I am writing to apply for the Logistics position at [Company Name]. With my proven expertise in transportation, warehouse operations, and team management, I am confident I can make a positive contribution to your organization.

In my current role as a Logistics Manager. I have been responsible for managing teams of up to 20 people and ensuring that shipments are received and dispatched correctly. I have also implemented processes to improve warehouse efficiency and reduce costs.

I have extensive experience with transportation management systems, including EDI-based systems such as Oracle Transportation Management (OTM). I have knowledge of supply chain software like SAP, JDA, and Manhattan Associates.

My ability to manage multiple tasks simultaneously makes me an ideal candidate for this role. I have excellent communication skills, allowing me to work effectively with internal and external stakeholders. Additionally, my problem-solving skills enable me to resolve any issues quickly and accurately.

I feel I am well-qualified and have the necessary experience to be a successful applicant for this role. Attached is my resume for your review. I look forward to discussing this opportunity in further detail with you soon.

Sincerely, [Name]
This example demonstrates how a good cover letter to support a logistics resume should be written. It uses professional language that is concise yet provides sufficient information about the applicant's qualifications for the role they are seeking.
Bad example of a logistics cover letter
Hi there! My name is [Name] and I think I'd be perfect for this logistics job! With my experience in supply chain management and operations, I believe I would be a great fit for this position! Plus, I've heard your company pays well! Please hire me because my skills could be beneficial to your team! Thanks!
This example is not professional or appropriate as a cover letter for any employment opportunity. It does not demonstrate the candidate's professionalism in any way and lacks details about their qualifications or experience pertinent to the position they seek.
Example of a cover letter for an entry-level logistics resume:
Dear Hiring Manager,

I am writing in response to your advertisement for a Logistics position at your company. Despite having no professional experience in the area, I am confident that I can make a valuable contribution to your team.

My education history includes a Bachelor's degree in [Field] as well as a certificate in [Specialization]. I have a strong background in customer service, data entry, and inventory management. While working, I gained highly specialized skills such as problem-solving, communication, and time management. These capabilities are indispensable for success in any logistics role.

I am an organized and detail-oriented individual who is passionate about the Logistics profession. I have researched the industry extensively and believe I have the necessary qualifications to make an immediate impact at your company.

In addition to my relevant qualifications, I am an excellent communicator and adept at working with people from diverse backgrounds. I am also comfortable working with technology and different software tools.

Thank you for your consideration of my candidacy. I look forward to hearing from you soon.

Sincerely, [Name]
General advice on writing a cover letter for a logistics job without experience:
Highlight any transferable skills you have acquired from other jobs or volunteer work. These could include problem-solving skills, communication abilities, data entry proficiency, or even customer service experience.
Research the industry thoroughly so you can mention specific job-related skills and competencies that will be relevant to the job in your cover letter.
Show excitement about the field and tell why it interests you so much. Display your enthusiasm for learning more and advancing your career within this field.
Explain why you think you would be an ideal fit for the job despite having no prior professional experience in logistics roles yet. Focus on the fact that you bring unique abilities** to the table that will help you excel in this position quickly and effectively.
End your letter by thanking the hiring manager for their time and expressing your eagerness to hear from them soon for further discussion of this opportunity.
12. Proofreading
Checking your application materials for accuracy is critical for job searching. It is important to guarantee that your logistics resume and cover letter are free of errors and convey professionalism.
"Without logistics the world stops."
Grammar mistakes, typos, and spelling errors can leave a negative impression on the employer and could potentially result in a rejection.
Here are a few points for proofreading your logistics resume:
Reading your resume aloud will allow you to spot any errors that slipped through your initial scan.
Having another person read through your resume can help you identify mistakes that you may have overlooked.
Using a spelling and grammar checker can assist you in detecting any misspellings and other mistakes that could be present in your resume.
Taking short breaks between proofreading sessions will guarantee that no mistakes are missed.
Using proper grammar and words is also important when applying for a logistics job. Logistics is an industry that necessitates effective communication capabilities which can be illustrated through the use of accurate syntax and vocabulary.
Employers will be looking for applicants who can convey their ideas clearly and accurately. Hence, it is important to proofread your resume and cover letter to make sure that they display these traits.
Conclusion
This article provides a comprehensive guide to drafting an efficient logistics resume. Creating a resume for logistics roles can be a daunting task, but using an online resume builder can simplify the process.
Applying these tips, you are in a good position to compose an impressive logistics resume that will put you ahead of the competition.
So what are you waiting for? Start writing your perfect logistics specialist resume now!