Success isn't about the money you make, it is about the difference you make in people's lives.
An outstanding resume is a critical part of any medical assistant's job search. It is your opportunity to make a statement and showcase your best skills and accomplishments - the first impression a potential employer will have of you.
Writing a professional medical assistant resume may be a tough process. But with the right tips and guidance, you can create an impressive resume that will impress HRs.
In this article, we'll walk you through the process of how to write a resume for a medical assistant. Get started creating your own successful medical assistant resume today!
Medical Assistant Resume Examples
Experienced Assistant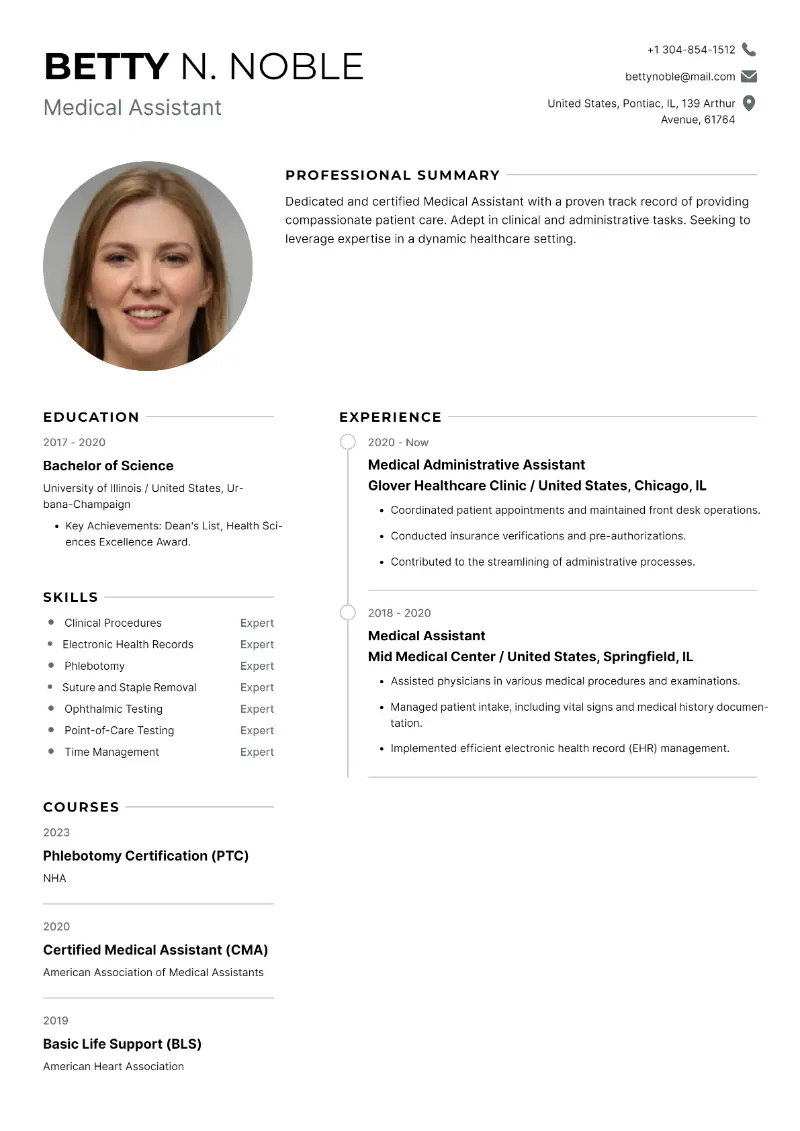 Summary:

Dedicated and certified Medical Assistant with a proven track record of providing compassionate patient care. Adept in clinical and administrative tasks. Seeking to leverage expertise in a dynamic healthcare setting.

Education:

Bachelor of Science in Health Sciences

University of Illinois at Urbana-Champaign

Graduated: May 2020.
Key Achievements: Dean's List, Health Sciences Excellence Award.

Work Experience:

Administrative Assistant | Glover Healthcare Clinic, Chicago, IL | June 2020 - Present

Coordinate patient appointments and maintained front desk operations.
Conduct insurance verifications and pre-authorizations.
Contribute to the streamlining of administrative processes.

Medical Assistant | Mid Medical Center, Springfield, IL | May 2018 - May 2020

Assisted physicians in various medical procedures and examinations.
Managed patient intake, including vital signs and medical history documentation.
Implemented efficient electronic health record (EHR) management.

Skills:

Clinical procedures.
Electronic health records (EHR).
Phlebotomy.
Suture and staple removal.
Ophthalmic testing.
Point-of-care testing (POCT).
Time management.

Certifications:

Phlebotomy Technician Certification (PTC) (National Healthcareer Association (NHA))

Certified Medical Assistant (CMA) (American Association of Medical Assistants)

Basic Life Support (BLS) Certification (American Heart Association)
Entry-Level Medical Assistant Resume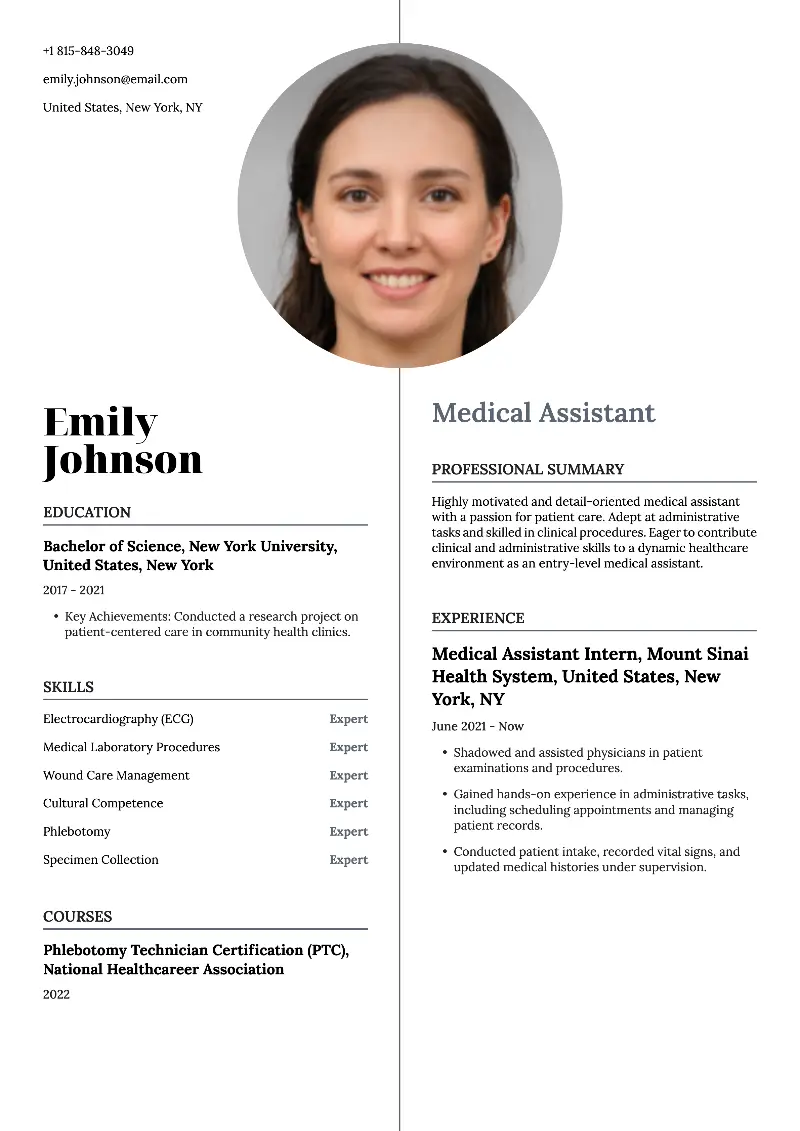 Summary:

Highly motivated and detail-oriented medical assistant with a passion for patient care. Adept at administrative tasks and skilled in clinical procedures. Eager to contribute clinical and administrative skills to a dynamic healthcare environment as an entry-level medical assistant.

Education:

Bachelor of Science

New York University, New York, NY

Graduated: May 2021.
Key Achievements: Conducted a research project on patient-centered care in community health clinics.

Work Experience:

Medical Assistant Intern | Mount Sinai Health System, New York, NY June 2021 - Present

Shadowed and assisted physicians in patient examinations and procedures.
Gained hands-on experience in administrative tasks, including scheduling appointments and managing patient records.
Conducted patient intake, recorded vital signs, and updated medical histories under supervision.

Skills:

Electrocardiography (ECG).
Medical laboratory procedures.
Wound care management.
Patient education.
Specimen collection and processing.
Phlebotomy.

Certifications:

Phlebotomy Technician Certification (PTC) (National Healthcareer Association (NHA))
The demand for medical assistants is driven by advances in medical technology, an aging population, and expanding healthcare services.
Use Online Resume Builder
Are you trying to craft the perfect resume? Writing one from scratch can be daunting, and knowing where to start is difficult. Fortunately, we have a resume builder that provides ready-made templates.
Using a pre-made template is the quickest method of getting your resume up and running quickly. You may choose from various designs and layouts, so you're sure to find something that suits your needs. Plus, you won't have time to format your paper or worry about typos.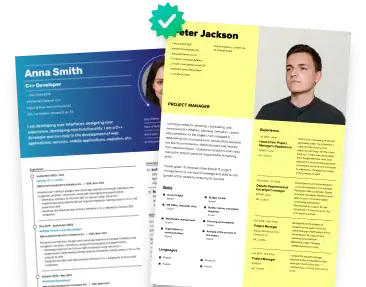 Benefits of applying ready-made medical assistant resume samples include:
Saving time - have a polished resume ready in just minutes;
Professional appearance - you don't need to be an experienced designer to create a well-crafted resume;
Easy customization - tailor the template to fit your own job search;
Increased visibility - templates are optimized for keyword searches, which makes it easier for recruiters and hiring managers to find your resume.
So if you're looking for an efficient way to write a standout resume, consider using an online template. Its time-saving features, professional design options, and customizable format make it the perfect solution for any job seeker.
Power Words for Medical Assistant Resume
It is critical to keep the language professional, concise, and straightforward.
Use such words when describing yourself in the resume:

Experience: organized, managed, implemented, developed, coordinated, supervised, recorded, researched;
Knowledge: proficient, skilled, certified;
Leadership: directed, guided, motivated, supervised, trained;
Responsibilities: answered phones, scheduled appointments, collected patient information, processed insurance forms and payments;
Patient care: administered medications and injections, assisted with medical examinations and treatments, monitored vital signs;
Communication: interfaced with physicians and other healthcare professionals on patient issues. Educated patients and families on healthcare concerns;
Problem-solving: identified and addressed potential challenges quickly;
Organization: maintained accurate medical records and filing systems. Ensured compliance with HIPAA regulations;
Customer service: provided outstanding client support to patients and their families;
Technology: utilized various computer programs for scheduling appointments and processing insurance payments.
How to Fill in Contact Information
When detailing personal and contact information in a resume, including only the most relevant and up-to-date data is crucial.
A medical assistant resume should contain:
The candidate's full name;
Address;
Phone number;
Email;
Additional contact details.
Any certifications or licenses related to the field of medicine must be included. A professional website or public social media profile link may also be added.
List Experience
It's necessary to organize resume sections accurately and effectively.
Start by listing it chronologically, beginning with your most recent job. This will facilitate it more accessible for potential employers to understand the sequence of your job history.
Mention the name of each employer, the job title, and the dates of employment. For each job, detail your primary duties and achievements. Tailor your experiences and accomplishments to the specific role you are applying for.
It is helpful to organize the list into bullet points. Here are two examples of how you might list experience:
Medical Assistant, XYZ Practice (2017 - 2019).

Greeted patients, verified medical records, and entered patient information into a computer system;
Prepared treatment rooms for patient examinations;
Administered medications per doctor's orders;
Assisted with minor surgical procedures;
Scheduled patient appointments and processed insurance claims.

Medical Assistant, ABC Medical Group (2013-2017).

Recorded vital signs such as blood pressure and temperatures;
Collected specimens and prepared them for lab testing;
Performed routine laboratory tests, including urinalysis and HgbA1C;
Assisted physicians in examinations and treatments;
Provided education to patients on health topics such as diet, exercise, and disease prevention.
These are two ways to show your assisting experience on your resume for medical assistant. Remember to incline detailed descriptions of your responsibilities and any notable accomplishments demonstrating your value to the vacancy.
Demonstrate Education
When recording educational information on an assistant's resume, it is essential to organize it chronologically. Begin with the highest academic level reached and work backward from there.
Look at the examples of what your education history may be:
Medical Assistant Program – XYZ College, 2017.

Finished medical aide curriculum with a 4.0 GPA;
Certified as a Medical Assistant by ABC College;
Completed coursework in vital signs, EKGs, pharmacology, and lab exams.

High School Diploma – ABC High School, 2015.

Graduated top 10% of class;
Conducted in-depth research project on advances in medical technology;
Earned multiple awards for excellence in science and math.
When adding an educational background to a medical assistant's resume, ensure to write the name of the school attended. Add the degree or certificate obtained and any coursework completed.
If you have any awards or honors related to your studies, point them out. Also, be sure to mention any honors or high GPAs!
Verify that the education section is organized in proper order. It presents any achievements you have made throughout your academic career that could be relevant to the post.
Doing this will help you outshine other applicants and give you an edge over the competition.
While some medical assistants receive on-the-job training, most employers prefer candidates who have completed a formal medical assisting program. These programs typically lead to a certificate or diploma, and some offer an associate degree.
Skills for Medical Assistant Resume
Spotlight on hard and soft skills that illustrate your capability to perform excellent patient service when listing them on a resume.
Medical assistant resume skills worth highlighting:
Soft Skills:
Communication: Listen and accurately convey information.
Compassion: Empathize with patients.
Interpersonal Skills: Work effectively with a variety of people.
Adaptability: Adjust quickly to different situations.
Focus on Details: Pay close attention to detail.
Organization: Stay organized and prioritize tasks.
Problem-Solving: Identify and resolve issues rapidly.
Hard Skills:
Medical Terminology: Common knowledge of terms and abbreviations.
Digital Medical Records (DMR): Proficiency in entering patient data into EMR systems.
Clinical Procedures: Understanding basic techniques such as drawing blood or monitoring vital signs.
Sterilization Control: Awareness of safety protocols for sterilizing instruments and preventing the spread of infection.
Pharmacy Management: Understanding how medications are managed and dispensed in healthcare.
Patient Education: Ability to provide clear patient education regarding medical treatments, medications, and preventive health measures.
Social Media: Yes or No
A medical assistant's resume may conclude social links to help them differentiate themselves and showcase their personality. But there are some pros and cons you'd better consider:
Pros:
An online presence can demonstrate the assistant's apprehension of current trends, technology, and patient care.
It can show possible employers that the applicant is comfortable using digital tools.
Cons:
Employers may not be willing to consider a medical assistant who is too active on social media. Or those who have posted inappropriate content.
They may find information about you that you do not want them to know.
You need to be careful about what you post and write posts carefully to avoid misunderstandings and revealing confidential information.
Job-specific examples:
A Twitter account that demonstrates comprehension of healthcare topics and current events.
An Instagram account that features photos of their work in a hospital or clinic setting, showcasing their skills and expertise.
Medical Assistant Resume Summary
An excellent summary for a medical assistant should highlight the applicant's experience, skills, and qualifications. It should also be concise, easy to read, and tailored to the job description.
Example of a good summary of a medical assistant:

Dedicated and experienced Medical Assistant with 10+ years of experience providing administrative, clinical, and laboratory support to physicians in busy outpatient clinics. Highly adept at taking vital signs, preparing patients for exams, administering injections, collecting specimens, and performing routine diagnostic tests. Possesses superb organizational, communication, and problem-solving skills. Dedicated to delivering high-quality care services in compliance with applicable medical regulations.
Here are 3 tips on crafting a stellar resume summary:
Make sure the summary is mostly 4-5 sentences.
Use industry words from the vacancy description to create a targeted summary for your desired role.
Underline your relevant qualifications, experience, and skills pertinent to the position.
Medical assistants have a wide range of responsibilities that can include taking patient medical histories, updating medical records, scheduling appointments, assisting with examinations, drawing blood, administering medications, and performing basic laboratory tests.
Additional Information
Including this information on a resume is necessary to demonstrate the medical assistant's qualifications, credentials, and experience.
Hobbies can give employers insight into the applicant's personality and interests outside of work.
E.g. Working out, playing volleyball, cooking, and reading medical blogs and journals.
Courses provide evidence of knowledge acquired through education or training.
E.g. Completed a course in medical terminology, human anatomy and physiology, office administration, and pharmacology.
Multiple languages are an advantage in medical support roles, as you often communicate with patients from different countries.
E.g. Fluent in English and Spanish. Intermediate in French.
Awards show any recognition they may have received for their performance or other achievements.
E.g. Received the Medical Assistant of the Year award from the American Medical Assistants Association in 2019.
Internships bring real-world evidence of experience. References can help employers learn more about a candidate's character and skills.
E.g. Interned at a local family clinic and assisted doctors with patient care, administrative tasks, and clinical procedures.
Providing references and letters of recommendation from former supervisors or colleagues is vital for verification purposes.
E.g. Dr. Susan Johnson, MD

Title: Chief Medical Officer.
Hospital: ABC Medical Center.
Contact: s.johnson@email.com | (555) 123-4567.
Certificates demonstrate that an individual has achieved a certain level of expertise and qualification in their field. For example, becoming a CMA requires completing a formal course of study and passing an exam demonstrating mastery of the material.
E.g. Certified Professional Medical Assistant having certification from the National Center for Competency Testing (NCCT).
How to Write a Medical Assistant Cover Letter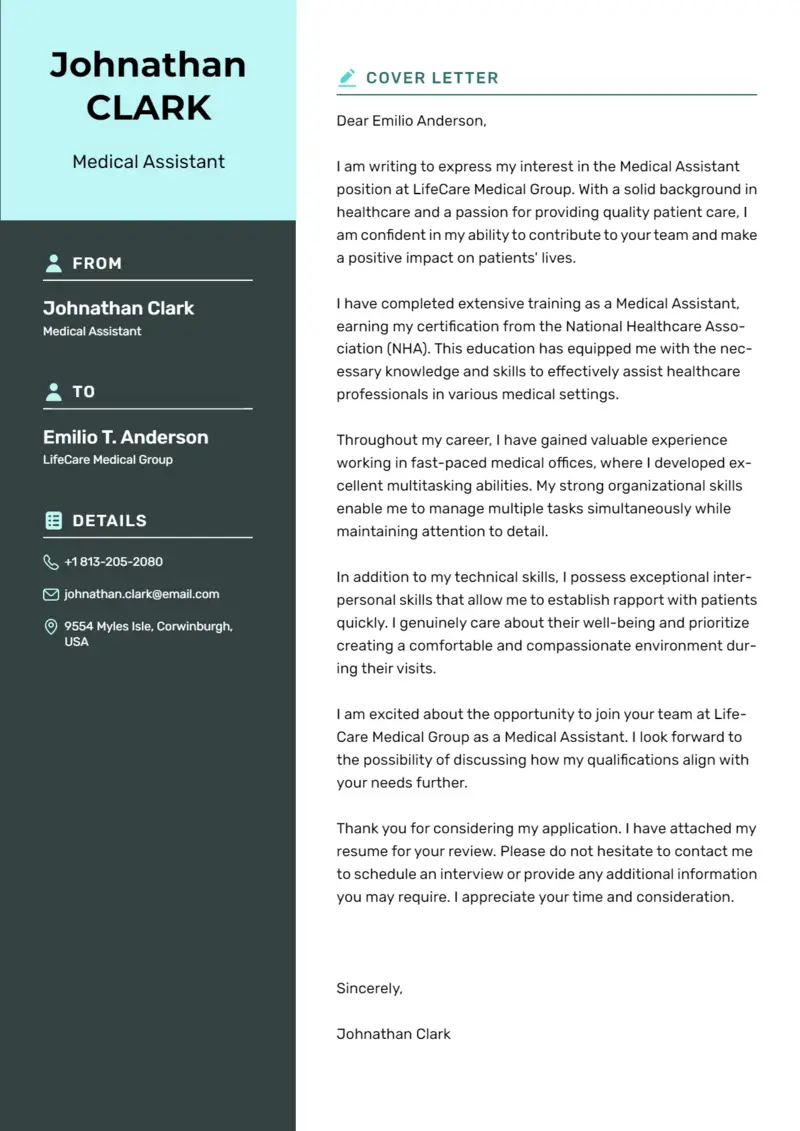 Composing a cover letter is necessary for the job search process as a medical assistant. It allows you to excel over other applicants and highlight your qualifications, strengths, and experience.
Consider these suggestions to keep in mind when writing the medical assistant cover letter for resume:
Keep it brief - Ensure your cover letter is one-page maximum. Keep it concise, focusing on why you would make a great assistant.
Focus on skills and experience - Emphasize pertinent abilities and background in the medical sphere. To not miss any important details, use a cover letter template.
Tailor the content of the job - You should customize every resume to fit the specific job role you're targeting. Include details about how your skills and qualifications make you well-suited for the position. Or just use a template.
Proofread it carefully - Check your letter multiple times before submitting it. Even minor errors can create a negative impression of you.
Now, let's look at examples of cover letters.
Bad Example:
Dear Hiring Manager,

I want to apply for the job of Medical Assistant at XYZ Medical Clinic. I have previous work experience, which makes me suitable for this job. Please consider me for this position, as I firmly believe I can do well in this role.

Thank you,

[Your Name]
The lousy example needs more particulars about why the applicant should be accepted. It doesn't enter any information about relevant skills or experience in the medical field.
An effective approach would be to provide definite examples of how their past work and education make them ideal candidates for this position. They should focus on tailoring the content specifically to ABC Medical Center.
The candidate makes generic statements about wanting the job and being qualified without providing any evidence or explanation.
Good Example:
Dear Dr. Smith,

I am sending this letter to seek the assistant medical role at the ABC Health Center. With my three years of experience providing administrative support in a medical office setting, I am the perfect addition to this role. And my certification as a Credentialed medical assistant should also be noted.

I am meticulous and detail-oriented when scheduling appointments and entering medical records into databases. I also have excellent customer service skills and enjoy helping people with their healthcare needs. These skills make me a suitable pick for this position. I would be an asset to ABC Medical Clinic's team.

Thank you for your time and consideration. I anticipate your reply concerning this opportunity.

Sincerely,

[Your Name]
Cover Letter for Medical Assistant Resume With No Experience:
Dear Dr. Smith,

I am putting forth my request for the medical assistant opening at the ABC Healthcare Facility. I am an undergraduate in healthcare administration with coursework focusing on medical terminology and billing codes. My academic background makes me an excellent fit for this role.

Additionally, I have volunteer experience at XYZ Hospital. It has given me a strong understanding of how different departments within a hospital work together. I had valuable insight into patient care needs in both clinical and administrative settings.

My educational and volunteering experience has prepared me with all the necessary qualifications for this role. They would be advantageous in helping ABC Medical Clinic provide exceptional administrative support services to its patients and staff members.

Appreciate your time and thought; I look forward to hearing from you soon regarding this opportunity!

Sincerely,

[Your Name]
Importance of Proofreading
Proofreading and spellchecking are essential components when applying for an assistant medical job. Poorly written resumes and cover letters can harm your opportunities of getting a job.
Not only should you ensure words are spelled correctly, but you also use proper grammar, punctuation, and capitalization. Correct words can make all the difference in how you present yourself to potential employers.
Here are some tips for checking a medical assistant resume:

Read aloud. This can assist you in catching mistakes that may not be evident when reading silently.
Have someone else look through it for you. A fresh set of eyes is great for catching errors you may have missed.
Employ the spellchecker in Microsoft Word or in other software.
Take a break after writing and return to it with fresh eyes.
Use online resources to help with grammar and punctuation, such as Grammarly or Hemingway App.
In conclusion, spell-checking is essential to any job application, especially for a medical assistant position. Assure that your resume and cover letter are accurate, error-free, and properly formatted to maximize your chances of success!
Some medical assistants have the opportunity to specialize in specific areas such as ophthalmology, podiatry, cardiology, or dermatology. Specialization can open doors to more focused roles and potentially higher salaries.
Conclusion
Crafting a medical assistant resume can be depressing, but following essential tips can make the process easier.
The first step is to create an organized and concise format. Utilize bullet points and white space to make the document more readable.
Add any certifications, such as CPR and First Aid, or clinical procedures you know. Summarize any volunteer or internship experiences, and tailor the resume to the job you're applying for.
Highlight any customer service experience and describe how you interact with patients professionally.
Defining your previous work history, provide details about the duties you performed and any successes you achieved.
Finally, verify that all contact particulars are accurate and up-to-date so employers can quickly reach you. Or, to never miss a detail, just use a resume builder with medical assistant resume templates.
By following these tips, you can confirm your resume stands out from the crowd and points up your qualifications effectively!
FAQs
Can I include an internship under work experience for a medical assistant resume?

Absolutely. Use the term "Medical Assistant Intern" and detail your responsibilities, skills gained, and any notable experiences during the internship.

How should I handle gaps in my work experience in a medical assistant resume?

Be honest but strategic. If there are gaps, briefly explain them in a cover letter. Highlight any activities or learning experiences during that time, such as volunteering or additional training.

How do I address a lack of direct work experience?

Focus on transferable skills gained in related roles or during education.

What are effective ways to prepare for a medical assistant job interview?

Research common interview questions and practice your responses. Be ready to discuss your experiences, both clinical and administrative. Familiarize yourself with the healthcare facility and its values. Dress professionally and be prepared to ask thoughtful.

Are there any specific scenarios or challenges in the medical field that I should be prepared to discuss during an interview?

Be ready to discuss how you handle stressful situations, work under pressure, and address conflicts within a team. Share examples of times you demonstrated resilience, adaptability, and effective problem-solving in a healthcare setting.

What questions should I ask the interviewer?

Inquire about the team dynamics, the typical patient population, and any opportunities for professional development. Ask about the facility's approach to patient care and how they integrate technology into medical assistant responsibilities.