Receptionists play a key role in any organization, as they often give the first impression about the company.
So, without saying, they should have an attractive receptionist resume. In this article, we'll provide a step-by-step guide to help you create an effective resume! that will get you noticed.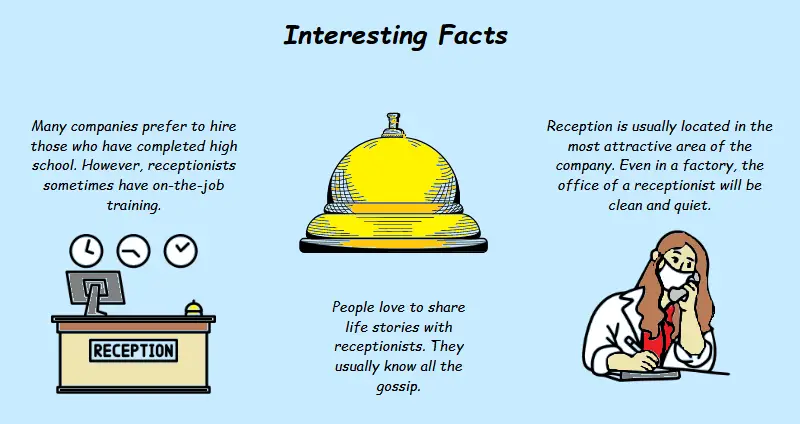 Receptionist Resume Sample
Profile Summary:

Dynamic, detail-oriented receptionist with over five years of hands-on experience in both customer service and administrative aid. Excellent communication, multitasking, and organization skills. Proven ability to collaborate with other team members and coordinate successful events.

Skills:

Customer Service: Proficient in greeting visitors and responding to requests in a professional manner.
Multitasking: Capability to juggle multiple tasks simultaneously while maintaining accuracy and meeting deadlines.
Organization: Highly organized with the ability to prioritize tasks, manage time purposefully, and stay on track.
Computer Literacy: Skilled in using software such as the Microsoft Office Package, Outlook, and databases.
Awesome Communication: Demonstrated success in providing information to customers on time.

Professional Experience:

Receptionist | ABC Company, Branson, MO | October 2021 - Present

Welcome visitors by greeting and directing them to the department.
Maintain an orderly front desk area and guarantee that each visitor is checked out before leaving.
Manage incoming telephone calls and ensure that messages are passed on accurately.
Assist with administrative duties such as filing, photocopying, data entry, etc.
Create and maintain filing systems for documents and records.
Schedule appointments for staff members and customers.
Monitor office supplies inventory and order new items when needed.

Receptionist | XYZ Corporation, Branson, MO | June 2020 - September 2021

Greeted visitors upon arrival and assisted with any inquiries they may have had.
Answered calls promptly and directed them accordingly or took messages as needed.
Maintained an up-to-date database of contact information for customers, vendors, partners, etc.
Assisted with event planning by coordinating catering services, booking venues, etc.
Updated social media accounts regularly with relevant content related to company activities.

Education:

High School Diploma | ABC High School | June 2019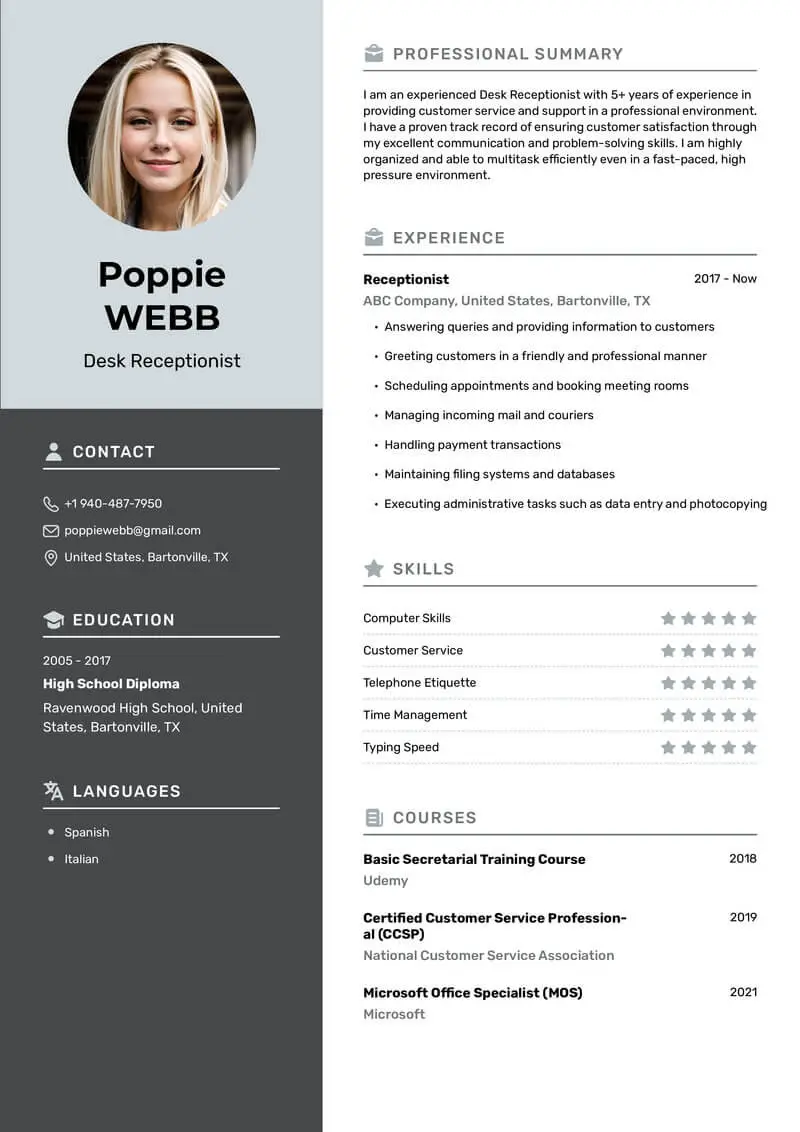 Entry-Level Receptionist Resume Example
Below, you'll find a sample resume for an entry-level receptionist with no prior experience in hand. This example shows how to highlight transferable skills gained from other fields while still focusing on experience and achievements related to the desired position.
Summary Statement

Possess exceptional customer service and communication skills. Have a proven track record of managing several tasks at once while keeping a high degree of accuracy and attention to detail. Dedicated to providing exceptional service and support.

Skills

Communication Skills: Maintain effective verbal and written communication with customers, visitors, and co-workers. Can provide clear and concise information while maintaining a friendly tone.
Telephone Etiquette: Skilled in answering the telephone in a courteous and professional way, directing calls to the appropriate person or department, and taking accurate messages.
Organization: Adept at managing multiple tasks, prioritizing projects, and meeting deadlines.
Time Management: Capable of working independently while remaining focused on achieving goals in a timely manner.
Computer Literacy: Possess basic computer skills to manage e-mail, schedules, and maintain records. Experienced user of Microsoft Office Suite and various software applications.
Interpersonal Communication: Demonstrated ability to communicate effectively with individuals from diverse backgrounds.
Multitasking: Able to answer phone calls while greeting visitors, and respond to e-mail while scheduling appointments.
Problem-Solving: Proven ability to solve problems and handle conflicts.
Team Player: Work well in a team environment and collaborate with other employees.

Work Experience

Retail Clerk - ABC Store (January 2022 - Present)

Greet customers warmly upon entering the store and answer questions in a friendly manner;
Operate cash register accurately;
Assist customers in locating items within the store when needed;
Collaborate with team members to ensure quality customer service.

Waitress - XYZ Restaurant (May 2020 - December 2022)

Welcomed guests as soon as they arrived, providing them with menus and answering any initial questions;
Took orders, delivered items promptly, and handled payments;
Resolved customer complaints quickly and professionally.

Education

BA in Business Administration - ABC University (August 2020 - Present)
High School Diploma - ABC High School (May 2017)

Certifications

Certificate in Microsoft Office (2020)
CPR/AED Certified
Use Resume Builder
Are you a receptionist looking for a job? Composing a receptionist's resume from scratch can be daunting. You need to ensure that all the relevant information is included and it is as appealing as possible.
You only get one chance to make a good first impression, and yours may be in the hands of the receptionist.
But don't worry - there is a solution! Ready-made receptionist resume templates are available online in our free resume builder, providing you with a straightforward tool for drafting an effective resume.
Benefits of using receptionist resume templates:
Professional design. You'll get a stunning layout that shows off your skills.
Accurate formatting. You won't have to worry about margins, font sizes, or any other technical details.
Industry-specific terms. To help you land your dream job, the template will come preloaded with all the correct specified skills.
Easy editing. You can quickly make changes and updates to reflect your current experience level.
Career Blog. A large collection of receptionist resume examples can provide inspiration if you are unsure what to write.
Taking advantage of a resume creator is a productive way to build a polished and professional document that will capture attention. Get started today and take the first step toward launching your receptionist career!
Use Action Words
The receptionist resume should be easy to read and follow, so you need to keep the language simple, competent, and clear.
Try to use specific words that will grab the interest of prospective employers. Use such words to describe yourself as organized, systematic, professional, reliable and customer service-focused.
Here are some more powerful phrases that can be used to create an appealing resume for the front desk:
Professional demeanor;
Exceptional customer service;
Time management skills;
Multitasking skills;
Personable attitude;
Excellent communication skills;
Problem-solving ability;
Resourceful and reliable;
Efficient administrative support;
Adept in the Microsoft Office;
Adaptable and detail-oriented;
Proven track record of success;
Proficient in data entry techniques;
Skilled in written and verbal communication;
Capacity to arrange tasks in order of importance;
Expertise in scheduling appointments;
Experienced in handling customer inquiries;
Ability to handle multiple phone lines;
Skillful in conflict resolution;
Knowledge of office procedures and protocols.
Indicate Contact Information
When it comes to structuring a receptionist resume sections, it's important to write down the personal and contact data in the right way. Remember that not all information should be included.
For starters, make sure you have your full name at the top of the resume. This will help employers identify you during their hiring process.
You should also write your phone number and email address so that employers can easily get in touch with you.
Finally, be sure you include the city or town where you currently live. This is especially important if the position requires travel or relocation or if the employers need to arrange any interviews with you in person.
List Experience
When writing a reception resume, it is crucial to document and organize the work experience effectively. It is recommended to list your experience in chronological order, starting with your most recent job.
Experience: Receptionist Resume Examples.
1) Receptionist at ABC Company, Surfside Beach, SC – 2020 - Present

Greet and welcome guests;
Answer incoming calls and direct them to the appropriate personnel;
Respond to inquiries from the public or other external sources;
Maintain a professional environment within the office and act as a liaison between management teams.

2) Front Desk Clerk at XYZ Corporation, Surfside Beach, SC – 2017 - 2020

Managed calls and directed them to staff members;
Maintained a log of all visitors and vendors visiting the office;
Processed payment for customers for goods purchased in the office store.
Highlighting this sort of experience on resumes for receptionist position demonstrates to potential recruiters that you possess the required skill set.
It also shows that you have experience working in customer service or administrative roles. Include this information when applying for a receptionist job position.
Attention!
It is vital to avoid the formatting of work history in a receptionist resume. You should not mix jobs from different periods together.

Lack of organization may cause potential employers to have a difficult time understanding the job history. Also, it is important to use bullet points instead of paragraphs. They make it easier for employers to quickly review your resume.
Format Education Correctly
Education information on a front desk resume can be key in helping you to attract the attention of a future employer.
When considering what education to include, think about anything that can be suitable to the position you are applying for.
Start with the most recent educational achievement and work backward. If you have multiple certifications, note them in descending order of relevance.
For each degree or certification, specify the institution name, location, dates of attendance, and degree/certification earned. Candidates should be consistent with the formatting here so that it's easy for potential employers to reference their academic history.
For example, let's say a receptionist has a degree in Business Administration and a qualification from an administrative support course. This education should be sorted in this order:
Bachelor of Science in Business Administration

Local University, Springfield, MA;
Class of 2020;
GPA 3.5;
Administrative Support Course;
Dean's List for three consecutive semesters.
Another receptionist may have obtained a Certificate in Medical Office Administration from a technical school. The following are the educational details:
Diploma in Medical Management

Technical School, Dellwood, FL;
Class of 2018;
Completed with Honors.
It's also important to confirm that your education information is formatted correctly. It will be difficult for HRs to read and understand if you record your degrees or certificates as one long sentence.
This could lead them to overlook your qualifications, so it's best to order everything in bullet points with the year included.
State Skills for Receptionist Resume
Remember that a resume is the first point of contact between you and employers. Include both soft and hard skills on a receptionist resume to demonstrate the abilities needed to succeed in the job.
Soft skills refer to interpersonal abilities, such as communication, and customer service.
Hard skills denote technical aptitudes, such as computer software mastery and data entry expertise.
A study by MIT Sloan School of Management found that a friendly and helpful receptionist can significantly increase customer satisfaction and loyalty.
Assembling a resume requires clearly stating the skills applicable to the job. To make the document legible, receptionist skills for resume should be organized into two separate sections.
Soft Skills for Receptionist Resume:
Communication;
Interpersonal Skills;
Problem-Solving;
Adaptability;
Time Management;
Customer Service;
Organization;
Stress Management;
Attention to Detail;
Multi-tasking.
Hard Skills for Receptionist Resume:
Filing & Records Management;
Computer Proficiency (Microsoft Office Suite);
Scheduling & Calendar Management;
Typing & Word Processing (50+ words per minute);
Answering Phones & Transferring Calls;
Cash Handling & Credit Card Processing;
Document Preparation & Scanning;
Medical Terminology (optional).
Write a Receptionist Resume
Think About Social Media
Resumes for receptionist position may include links to your profiles on networking sites to create trustworthiness and display personality.
According to a survey by OfficeTeam, 80% of managers consider a receptionist's appearance and professionalism as important factors in representing the company's image.
Pros:
Showcases the experience in customer service, engagement, and communication;
Displays the receptionist's character;
Gives potential employers an easy way to contact the worker;
Helps employers gain a better understanding of who the applicant is.
Cons:
Could lead employers to make judgments based on the content of the account page;
Employers may be concerned that the candidate spends too much time on the Internet;
This can induce employers to form negative impressions if the online profile is not updated regularly.
For example, a receptionist with an Instagram account could demonstrate their ability to keep up with current front desk trends. A Twitter account could illustrate their aptitude for engaging in conversations with customers effectively.
Write a Receptionist Resume Summary
A successful resume summary for a receptionist should emphasize your key abilities. It should also be a brief summary of why you are the best person for the job.
Receptionist Resume Summary Example:
Experienced receptionist with 7+ years of experience in handling office duties such as answering phone calls, greeting visitors, managing daily schedules, and providing administrative support. Skilled in customer service and troubleshooting, with the ability to stay organized in a fast-paced environment. Knowledgeable in Microsoft Office, including Word, Excel, and PowerPoint.
Here are 3 tips on writing a receptionist resume summary:
Focus on your most important qualifications. You should include the most relevant information about yourself that is related to the position for which you are applying.
Keep it concise. Your resume summary should be no longer than 3-5 sentences. It should be written in an easy-to-read format so recruiters can quickly scan the information and decide if you're a good fit.
Highlight your accomplishments. When writing a resume summary, take the time to mention any awards or achievements you've earned during your career as a receptionist.
Add Extra Information
Incorporating extra details into a reception resume is essential for several reasons. It helps to give the recruiter an idea of the candidate's skills and background, as well as their personality.
| Information Type | Description | Example |
| --- | --- | --- |
| Hobbies | Sharing what you like to do in your free time gives an insight into a person's interests and character. | Volunteering, public speaking events. |
| Courses | Classifying classes on a receptionist's resume shows employers that the candidate has pursued additional education to improve their skill set. | Online courses on customer service best practices or communication techniques. |
| Languages | If the competitor speaks multiple languages fluently, this should be indicated. These abilities can be beneficial for companies with clients who speak different languages. Knowledge of languages shows the person's capability to communicate with people from diverse backgrounds. | Fluent in Spanish. |
| Awards | Honors recognize a job-seeker's achievements and can be a useful addition to a resume. If a contestant has won an award in the industry, this would underline the commitment to excellence in their profession. | Corporate Receptionist of the Year, The David Campbell Trophy. |
| Internships | Internships represent invaluable experience and reflect an individual's willingness to learn and develop professionally. It indicates that the candidate possesses hands-on experience that can be applied in the workplace. | Administrative Support Internship, The Spartanburg County Foundation, Spartanburg, SC. |
| References | Letters of recommendation enable forthcoming employers to obtain third-party validation of qualifications and skills. | Three references on the resume from those who can vouch for their character, work ethic, and capabilities. |
| Certifications | Certificates are proof of completion of certain tasks or training programs. | Certified Professional Receptionist (CPR), Certified Administrative Professional (CAP). |
Craft a Receptionist Cover Letter
When writing a cover letter, keep in mind that your goal is to present yourself as a skilled and organized individual. You have to show the capability of handling the day-to-day duties of the position.
Here are some suggestions to guide you on how to compose an effective cover letter:
Research the company values. Before writing a cover letter, it's important to find out as much as you can about the company. This will help you tailor your letter to the position.
Address letter to a manager. Try to identify who will be reviewing your application. Address your letter directly to them, using their name and job title if possible.
Be concise and clear. The cover letter should be kept to one page, so ensure that every sentence is succinct and legible. Keep it professional, but don't be afraid to show some personality.
Highlight skills and experience. Use examples from your past experiences that demonstrate your most relevant abilities for the job you're applying for. This could include customer service experience and knowledge of peculiar software or systems.
Showcase why you're suitable for this job specifically. Explain your interest in the position and what makes you uniquely qualified for it. Prove that you understand what is required of a receptionist in this particular company.
Follow up after submitting your application with a call or email if possible. It shows initiative and demonstrates that you're serious about the position. You should include your contact information at the end of your cover letter.
This way, recruiters will know how to reach you if they need more information or want to set up an interview with you right away. To create a cover letter more easily, try to use cover letter builder with AI writing assistant.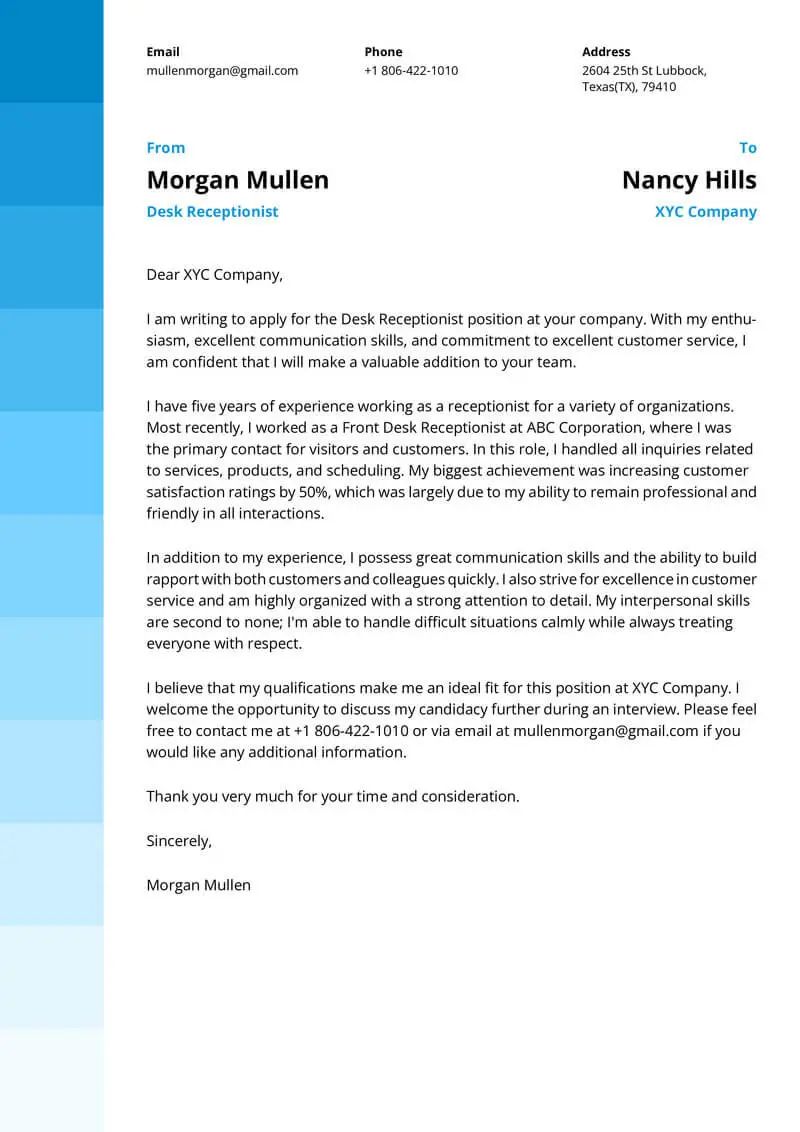 Example of a Good Cover Letter:
Dear [Name],

I am submitting my application for the receptionist role at [Company]. Having spent over five years in Customer Service roles, my capacities make me the perfect candidate.

I have extensive experience providing excellent customer service both in person and over the phone. I also have experience working with advanced computer systems such as [software]. I am confident in my ability to give accurate information in a quick and valuable manner while always remaining professional and courteous when dealing with customers or clients; I take pride in my proficiency in being calm under pressure and handling difficult situations effectively when they arise.

I also understand that being a receptionist requires multitasking between different tasks such as managing appointments, taking messages, answering phones, sorting mail, restocking supplies, etc. By providing top-notch customer service. My organizational skills and ability to work efficiently indicate that I am a good fit for this position.

I am excited by the opportunity presented by this role. I have a strong belief that I owe what it takes to be an asset to [Company]'s team of Receptionists Please refer to my attached CV for further evidence of my suitability.

Thank you for taking the time to consider my application; I look forward to hearing from you soon!

Best regards,

[Name]
The first cover letter example is good because the candidate has done their research into who should read it (addressing them by name). It is concise yet shows enthusiasm, provides evidence from previous experiences demonstrating its suitability, follows up with contact details, and finishes politely.
Example of Bad Cover Letter:
To whom it may concern:

I'm writing in response to your Receptionist ad. I think this would be a great fit for me as I'm interested in customer service & I could do a great job here!

I have 3 years of experience working with clients & have been employed by [Company] since then; so I already know many of their systems & processes & would fit right into this new environment! Also, I'm organized & great at multitasking, which makes me perfect for multi-tasking like sorting mail & restocking supplies while providing quality service!

I'm very excited about this opportunity & believe that I would be an asset here. Please find attached my resume!

Thanks very much!

[Name]
The second example is bad because there has been no effort put into analysis, and no evidence of why the person is a good choice.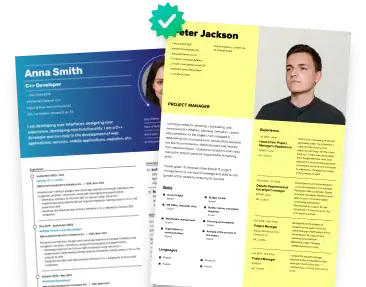 Cover Letter for an Entry-Level Receptionist Resume
Dear [Hiring Manager],

I am writing to apply for the role of receptionist at [Company Name]. As a recent graduate with a degree in [Degree], I am eager to gain experience in the professional field.

I understand that while I have no prior experience as a receptionist, I have the transferable skills that make me an ideal hire. My excellent communication and organizational skills have been honed during my studies and two internships. In addition, I am certain of my capacity to learn quickly, work well under pressure, and provide outstanding customer service.

To further demonstrate my enthusiasm and qualifications for the position, I would welcome the opportunity to meet with you in person. Please find enclosed my resume for your consideration.

Thank you for your time and consideration.

Sincerely,

[Name]
Some hints on crafting an excellent cover letter for reception resume if you don't have any experience:
Highlight any relevant volunteer or extracurricular activities that demonstrate your communication skills;
Showcase any skills or abilities gained through education or other professional pursuits;
List examples of how you go above and beyond when providing customer service;
Emphasize your ability to multitask and stay organized;
Focus on how you can be an asset to the company with your unique combination of skills and abilities;
Demonstrate your enthusiasm for learning new systems and processes.
Research suggests that receptionists play a crucial role in shaping the organizational culture and creating a positive work environment.
Double-Check and Remove Errors
When submitting your receptionist resume, it is important to proofread and spellcheck your documents. Using proper grammar and words shows that you are capable of communicating professionally.
Moreover, proofreading reflects that you take the job seriously and have respect for the organization. A small mistake could lead to a bad impression or even disqualification from the competition.
Here are tips on how to proofread your receptionist resume:

Read through the draft multiple times.
Check for typos, spelling, and grammatical errors.
Ask someone else to review it.
Use a reliable spellchecker or grammar tool such as Grammarly.
Print out the document and read it aloud.
Double-check that everything is accurate and up to date.
Make sure that the formatting is consistent throughout.
Receptionist Resume FAQs
What responsibilities does a receptionist have?

A receptionist typically has several duties, including greeting visitors, answering phones, and handling mail and packages. Also, they schedule appointments, file and organize documents, manage databases, provide information to visitors, and take messages. Depending on the company, the receptionist may also be responsible for other tasks like ordering supplies or running errands.

What qualifications do I need?

The qualifications for this role can be company-specific. Generally, you'll need basic computer skills such as knowledge of Microsoft Office applications and good telephone manners. Some employers may also require experience in customer service or secretarial roles.

What skills do I need to be a successful receptionist?

You'll need extended communication skills to interact with guests and clients. Having good organizational skills will be an advantage in operating administrative tasks like filing documents and managing databases. Additionally, you should have strong analytical skills to handle issues that may arise during your shift.

What is the salary range for receptionists?

The salary can vary based on location and experience level. According to PayScale, the average hourly wage for a receptionist is $14.30 per hour. Salaries can range from $9.31 to $20.08 per hour.

How do I become a professional receptionist?

It requires learning the necessary skills and gaining experience in administrative roles. Such certifications as Certified Professional Receptionist (CPR) or Certified Medical Receptionist (CMR) are of high importance. Especially if you plan to work in particular industries like healthcare or hospitality. Additionally, continuing education courses will help you stay up-to-date on industry trends and regulations.
Let's Sum Up
A receptionist resume is a document that must be carefully crafted to be noticed by a potential employer.
Below are key takeaways to keep in mind when creating one:
Describe your experience in detail and demonstrate how you can use it to benefit the company.
Utilize job-specific terminology to highlight your qualifications.
Showcase your skills and experience.
Use an effective and professional resume template.
Keep paragraphs short to fit the needed resume length.
Constructing resumes for receptionist position requires a lot of time and effort, but utilizing an online resume builder can help. This type of web application allows users to customize their resumes with professional designs and easy-to-use tools.
If you are looking for a job as a receptionist, now is the time to start crafting your resume. With our templates, you can create an effective resume in just minutes!