As the orchestrators of dining establishments, restaurant managers oversee day-to-day operations, ensuring seamless service, staff coordination, and customer satisfaction.
Crafting an effective restaurant manager resume involves more than just listing these skills. It's about blending experience and expertise into a cohesive narrative.
This article serves as a guide to creating a resume that stands out in the competitive world of hospitality. From showcasing leadership finesse to highlighting operational skills, readers will be guided through the process of building a resume that captures attention.
The restaurant industry is one of the largest employers in the United States. More than 11 million people work in food and beverage establishments.
Restaurant Manager Resume Samples
Summary:

Results-driven Manager having 8+ years of experience in the food industry. Expertise in developing efficient strategies for restaurant operations and staff management. Skilled at resolving customer complaints, creating an inviting ambiance, maintaining quality standards, and increasing loyalty.

Core Qualifications:

Customer Service Management;
Menu Planning;
Cost Control;
Inventory Management;
Food Preparation;
Quality Assurance;
Employee Management;
Financial Reporting;
Sales Promotion Strategies;
Food Safety Regulations Compliance.

Experience:

Restaurant Manager

Luxury Hotel, Los Angeles, CA | May 2016 – Present

Develop menus and pricing strategies to maximize profits and optimize customer satisfaction.
Implement cost control measures to manage expenses and boost profitability.
Monitor food preparation methods to guarantee adherence to health standards.
Train and coach new staff on restaurant policies and procedures.
Professionally resolve customer complaints to ensure satisfaction.
Manage restaurant inventory and stock levels to meet demand.
Design promotional materials to attract customers.

Assistant Restaurant Manager

High-End Restaurant, Los Angeles, CA | Mar 2013 – Apr 2016

Guarantee compliance with health and safety regulations.
Standardized food preparation techniques to verify quality service.
Developed employee training sessions to improve customer service skills.
Maintained records of all transactions for financial reporting.
Created attractive displays to showcase menu items.

Education & Certifications

Bachelor of Science in Hospitality Management

University of Southern California | Graduated 2012

ServSafe Certification

National Restaurant Association | 2019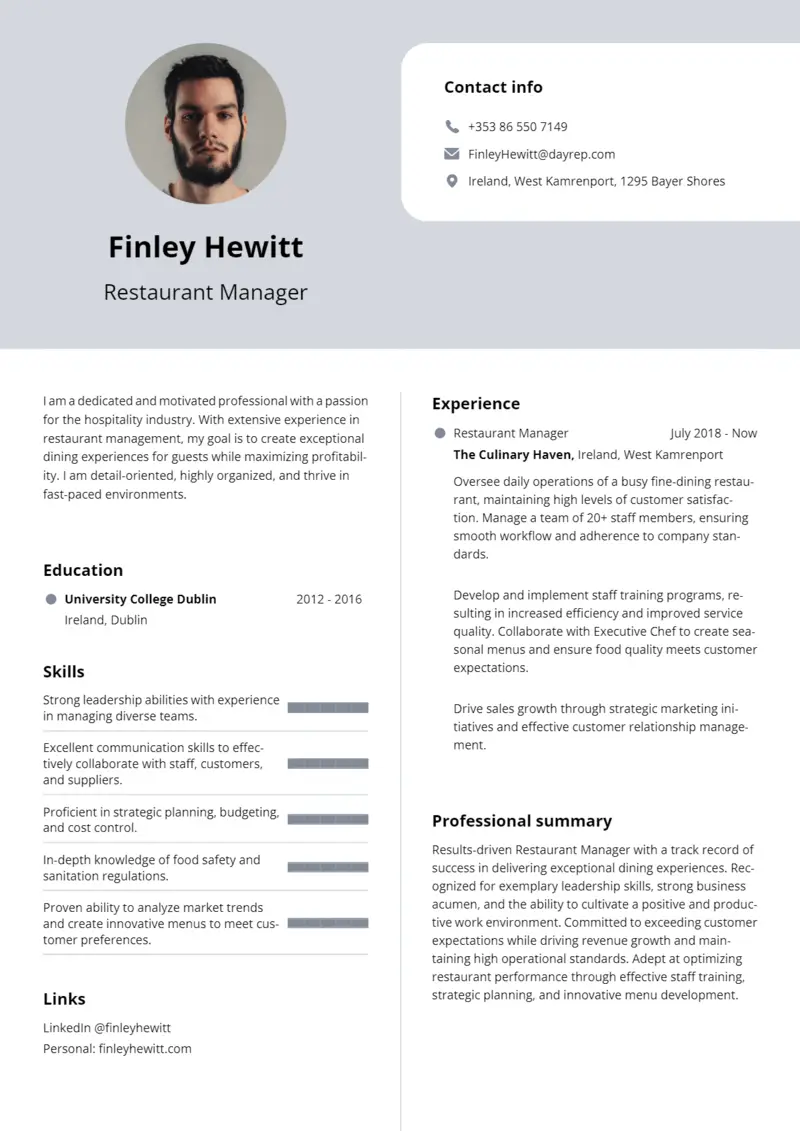 Resume Summary

Results-driven Restaurant Manager with a demonstrated history of elevating operational efficiency, enhancing customer satisfaction, and driving revenue growth. Proven success in menu development, cost control, and team leadership. Currently managing culinary operations at Culinary Delights, where I've increased monthly revenue by 20% and achieved a 30% improvement in customer satisfaction. Seeking the opportunity to apply my expertise in restaurant management at Savory Bistro.

Professional Experience

Restaurant Manager | Culinary Delights | Cityville | June 2017 - Present

Successfully increased monthly revenue by 20% through strategic menu planning and pricing adjustments.
Implemented cost-control measures, resulting in a 15% reduction in overall operational expenses.
Led a team of 25 staff members, fostering a positive work environment and achieving a 30% improvement in customer satisfaction scores.

Assistant Manager | Gourmet Fusion | Townsville | January 2015 - May 2017

Collaborated with the head chef to revamp the menu, resulting in a 25% increase in customer orders.
Conducted staff training programs, improving service quality and reducing customer complaints by 20%.
Implemented a new inventory management system, reducing food wastage by 15%.

Education

Bachelor of Business Administration in Hospitality Management

University of Culinary Arts
Cityville, State
Graduated May 2014
Thesis: "Optimizing Front-of-House Operations for Enhanced Customer Experience"

Skills

Operational Management;
Financial Analysis;
Menu Development;
Staff Training;
Inventory Management;
Customer Relationship Management;
POS Systems;
Health and Safety Compliance;
Vendor Negotiation;
Event Planning.

Certifications

Food Safety Manager Certification (State ABC Certification, 2018).
ServSafe Certification (National Restaurant Association, 2016).

References

Available upon request.
Restaurant managers can work in various types of establishments, including fine dining restaurants, fast food chains, casual dining restaurants, or catering services.
Make Life Easier with Resume Builder
Are you looking for a resume template to make your job search easier? Consider using a resume builder that offers a wide variety of ready-made restaurant manager resume templates.
Benefits of using a template:
Time savings. Writing a resume in Word from scratch can take several hours. But with a resume creator, you can quickly and easily customize it to fit your needs.
Style consistency. A professional restaurant manager resume should be consistent in layout and style, and a ready-made template can help ensure this.
Organization. Pre-made templates come with sections already in place, helping you organize work experience, education, and other important information clearly and concisely.
Accuracy. Because the templates are formatted correctly, you won't have to worry about margins being too big or too small. This helps ensure accuracy and makes sure your resume looks professional.
Customization. Pre-configured templates let you swiftly alter colors, fonts, and other design elements to create an attractive and unique look.
Using an online service to find a resume template is convenient and easy. You can search by job title, industry, or format to find the perfect restaurant manager resume examples for your needs. Plus, most services offer free samples so you can try them before you buy.
What Words to Use
It is crucial to capture the attention of the potential employer quickly and efficiently. The overall style should be professional yet conversational.
Using concise language and description words will help to emphasize the individual's accomplishments, skills, and qualifications.
Another great way to make an impression in a restaurant management resume is to apply specific job-related terminology. This can include words such as "sales growth," "cost savings," "service excellence," and "operations optimization."
More Phrases to Utilize in a Restaurant Manager Resume:

Customer Service.
Leadership.
Problem-Solving.
Organizational Skills.
Training & Development.
Team Building.
Inventory Management.
Financial Management.
Menu Planning & Execution.
Marketing & Promotion.
Contact Info
The necessary personal and contact information should comprise:
Candidate's name;
Job title (restaurant manager);
Physical address;
Phone number;
Email;
LinkedIn page or other online portfolio (if applicable).
The business of feeding people is the most amazing business in the world.
Experience Section
Structure this section and arrange your employment history details clearly on a restaurant manager resume. The best way to do this is to list it chronologically, beginning with the most recent position and moving backward back through your background.
Ensure that you add specifics such as the restaurant name, the type of cuisine they served, and the duties you were responsible for.
For instance, if you are looking for a restaurant manager occupation, you may want to incline:

2016-2020: Restaurant Manager at Italian Cuisine Restaurant:

Managed staff of 15+ employees;
Implemented new systems for customer service and satisfaction;
Oversaw daily operations of restaurant.

2014-2016: Assistant Manager at Chinese Cuisine Restaurant:

Supervised front-of-house staff members;
Developed strategies to improve customer satisfaction and retention;
Ensured compliance with health codes and regulations.
Employers can tell the quality of your experience from a well-structured work history. Also, it lets them get a better idea of whether or not you will be able to meet their standards. The employer will also have the capacity to observe how your skills have developed over time.
On the flip side, you shouldn't make mistakes like ordering your work experience in an unstructured way. This could potentially lead them to think that you do not have enough experience.
Wrong Example:
For example, if you simply write "Worked at an Italian restaurant as a manager from 2016 - 2020" without providing any further details about your role or responsibilities, it would not give the employer enough information about what you did in this position.
The number of restaurant manager jobs is expected to grow at a rate of 3% from 2019 to 2029, adding approximately 10,500 new jobs. (National Restaurant Association)
Listing Academics
It is crucial to note educational background correctly and according to the accepted standards. Here are a few tips to keep in mind:
Use chronological order for the most part. This means recording your degrees/certifications from most recent to oldest.
Format the section using clear headings and bullet-pointed lists. This will make your resume more organized and reader-friendly.
*Illustrate any pertinent schooling or accreditations that could be of help when seeking a job as a restaurant manager. For example, if you have a degree in hospitality management or a food safety certification, ensure that you list those.
This is an illustration of what an education section for a restaurant management resume might contain:

Bachelor of Science in Hospitality Management, University of Florida (2015)

Courses passed:

Food and Beverage Management;
Hotel and Lodging Management;
Accounting for Hospitality Managers.

Food Sanitation Credential - Supplied by the National Restaurant Association (2019).
Holding a diploma in hospitality management illustrates that you comprehend the fundamentals of the industry. Having a possessing a nutrition safety qualification conveys that you understand the value of security measures.
On the other hand, here is an example of what NOT to do when formatting your academic section:
DON'T
B.Sc. in Hospitality Management. University of Florida (2015). Courses: Food and Beverage Management, Hotel and Lodging Management, Accounting for Hospitality Managers. Food Protection Credential. Culinary Professionals' Organization (2019).
The above example is wrong for several reasons:
It's not organized chronologically;
There is no clear heading or use of lists with bullets;
It doesn't show which qualifications are relevant to the restaurant manager role.
Restaurant Manager Resume Skills
It is essential to incorporate both soft skills and hard skills into a restaurant manager's resume.
Soft skills are the interpersonal qualities that make you effective in working with others, such as customer service and communication.
Restaurant manager hard skills for resume refer to the technical knowledge and capacities needed to complete job tasks, such as food safety and inventory management.
Start by mentioning your hard skills first as they are often more impressive. Then follow with a list of soft skills that complement your hard skills, such as troubleshooting and leadership.
Restaurant Manager Resume Soft Skills:
Interpersonal Communication;
Conflict Resolution;
Team Leadership;
Customer Service;
Problem-Solving;
Organization & Time Management;
Flexibility & Adaptability;
Stress Management.
Restaurant Manager Resume Hard Skills:
Inventory Management;
Financial Analysis;
POS Systems;
Menu Engineering;
Health and Safety Compliance;
Staff Training;
Customer Relationship Management;
Creating staff schedules;
Vendor Negotiation;
Event Planning;
Data Analysis.
Write a Restaurant Manager Resume
Social Media: For and Against
A restaurant manager's resume may include social media links such as Twitter, Instagram, and Facebook. The inclusion of social media details in your restaurant resume is entirely at your discretion, allowing you to choose the level of personal or professional information you wish to present.
Here are some pros and cons to help you decide.
Pros:
Provides future employers with an understanding of the work ethic.
Gives managers insight into mastery in the industry.
Increases visibility of the professional profile.
Cons:
May result in bosses making judgments on personal character or lifestyle.
Social media channels can be misused, resulting in damaging an individual's professional reputation.
Could be distracting for directors from focusing on job-specific information in the resume.
Below are restaurant manager resume examples when you should include social media::
A manager's Twitter account could highlight the latest promotions or events at their restaurant.
An Instagram profile could demonstrate their food presentation skills by showcasing images of dishes they have created.
How to Write a Summary
A Restaurant Manager resume summary should be a concise overview of your professional experience and qualifications. It should underline your key attainments, duties, and skills.
Restaurant Manager Resume Summary Example:

Skilled Restaurant Manager boasting over 10 years of experience in the hospitality industry. Successfully managed a variety of food and beverage operations, with a track record of increasing profits, customer satisfaction, and staff retention. Highly proficient in customer service, and accounting. Proficient at anticipating customer needs and responding to feedback.
Here are three tips on writing great resume summaries:
Focus on key accomplishments. Spotlight achievements that demonstrate your background in the restaurant industry and how you were able to improve customer satisfaction.
Point out relevant skills. Showcase the specific skills that make you an ideal candidate for the role like customer service, inventory management, or financial planning.
Be concise. Use short sentences and keep your summary to four to five lines maximum so that it is easy to read at a glance.
What Else to Add
Placing supplemental personal information on a resume for restaurant manager gives the HRs a deeper understanding of who you are beyond your work experience.
Hobbies. Mentioning pastimes on your resume can demonstrate that you have interests outside of work.

For example, if the restaurant manager position you are seeking requires someone with exceptional customer service skills, listing hobbies such as volunteering or public speaking could prove that you have honed these skills in a non-work setting.

Courses. Documenting relevant classes you have taken can illustrate the knowledge and experience desired. For example, courses in hospitality management or food safety would show that you have studied topics related to the role.

Languages. Whether you are fluent in several languages and the restaurant you are applying for serves patrons from a variety of nations, including this information can be an asset as it reflects your ability to communicate with people from different cultural backgrounds.

Awards. Emphasizing honors can reinforce your excellence in the field. If recruiters need person with remarkable leadership and organizational skills, highlighting any recognitions could indicate that your skills exemplify a superior level of competence.

Internships. Incorporating any traineeships can reveal that you have real-world experience working in a restaurant environment.

References. Letters of recommendation from previous employers or colleagues will inform interviewers of how respected and valued you were in past positions.

Certificates. Detailing any professional certificates will establish your technical knowledge and expertise in the sphere.
Continuing education is essential for restaurant managers to stay abreast of industry trends, regulations, and techniques. Professional certifications, such as those offered by the National Restaurant Association Educational Foundation (NRAEF), can enhance career prospects.
How to Write a Restaurant Manager Cover Letter
Submitting an exceptional cover letter is a key component when applying to be a restaurant manager. A cover letter provides an opportunity to showcase your experience and qualifications and to explain why you're the best fit for the position.
Composing a letter of interest for a restaurant manager opening necessitates underlining the talents that make you an outstanding candidate.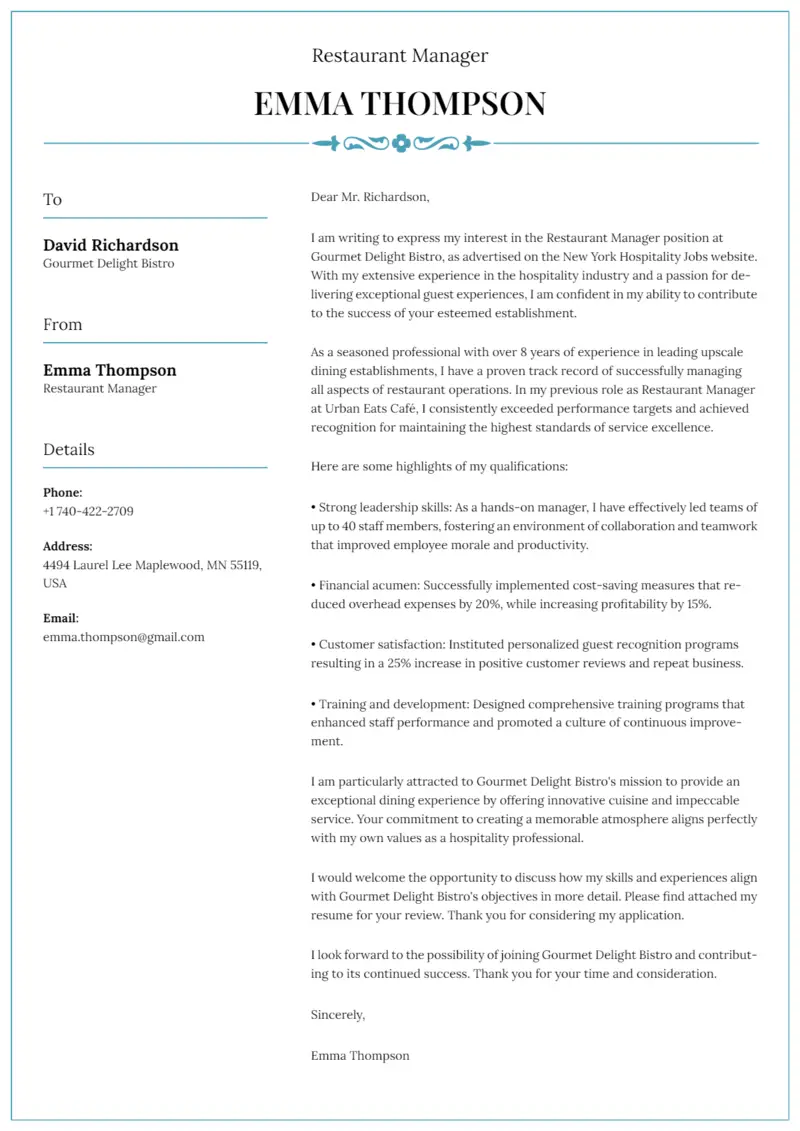 Tips to help you craft a successful letter of application:
Tailor your cover letter to the job description. Be sure to read the job specification carefully and adapt your letter accordingly.
Use keywords. Many HRs use applicant tracking systems (ATS) to sort through resumes and cover letters. To ensure that your application stands out, use keywords from the contents of the duties.
Keep it brief. Cover letter should be no more than one page long and should focus on why you are the ideal candidate for this job. Ensure that keep each sentence concise and clear.
Mention specific foresight. Use a concrete statement to support how you can contribute to the success of this position.
Good Example of a Restaurant Manager Cover Letter:
Dear Hiring Manager,

I am sending this application for the post of Restaurant Manager at (Company). With over seven years of experience in food service management, I believe I am uniquely qualified for this opportunity.

Throughout my career, I have consistently exceeded expectations by creating successful marketing strategies, increasing revenue, and developing team members' skills to maximize productivity. I have an impressive track record of increasing revenue by up to 12% in six months. This speaks to my ability to deliver results regardless of the environment I'm placed in.

Based on my strong leadership abilities, organizational skills, and expertise in developing customer relationships, I know that I will be able to excel as a Restaurant Manager at (Company). I would welcome the opportunity to discuss my qualifications further in person and am available at your convenience to schedule an interview.

Thank you for your time and consideration; I eagerly await your response.

Sincerely,

(Your Name)
Bad Example of a Restaurant Manager Cover Letter:
Dear Hiring Manager,

I'm very enthusiastic to submit my request for the role of Restaurant Manager at (Company). As someone with ten years of experience working with restaurants, I think I'd be perfect!

I've worked with a lot of restaurants over the years. Because of it, I know what it takes to make them successful: marketing strategies, increasing sales, improving team leaders' skills, etc., plus I'm great with customers! I think these qualities make me well-suited for this role. On top of that, I have lots of energy, which I know is great for managing people!

Anyway, please consider me as an applicant – if there's anything else you need just let me know! Thanks very much!

Sincerely,

Your Name
The first cover letter example is good because it focuses on specific skills and points to tangible accomplishments, such as increasing revenue by 12%. It also uses concise and professional language.
However, the second example is poor because it lacks concrete examples and doesn't clearly show the importance of this role. Instead, it relies on general statements that don't provide enough information about experience or skills.
Cover Letter for an Entry-level Restaurant Manager Resume:
Dear Hiring Manager,

I am writing to apply for the position of restaurant manager at (Company name). Despite my lack of experience in restaurant management, I feel passionate that I have the qualities and skills necessary to succeed in this role.

I have held a number of customer service roles, including working as a barista and a server. In these roles, I've developed strong communication, problem-solving, and time-management skills. Additionally, I'm passionate about providing excellent customer service and making sure that customers leave with a positive experience.

I understand that managing a restaurant is far more complex than being a server or barista. However, I am eager to learn new things and am confident that I can quickly adapt to the vacancy of restaurant manager. Moreover, I am particularly motivated by the opportunity to work for an organization like (Company name), which has an excellent reputation in the industry.

Thank you for considering my application for this role. I eagerly anticipate receiving your response in the near future and showcasing why I am the ideal candidate.

Sincerely,

Your Name
General advice on writing a cover letter for restaurant manager resume with no experience:
Ensure that cover letter is concise and clear, emphasizing your key skills and qualifications.
Avoid long sentences or paragraphs.
Focus on transferable skills that you have acquired from previous jobs or academic experiences.
Use concrete examples of how you've used these skills in the past to demonstrate your value as an employee.
Highlight any certifications or awards received related to customer service or management.
Demonstrate your enthusiasm for the job by mentioning why you are interested in working for the company specifically.
Include any relevant extracurricular activities or volunteer work that demonstrates your dedication to outstanding customer service.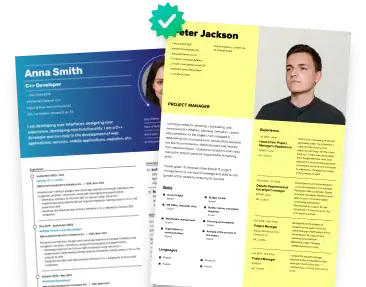 Double-check Your Resume
Spelling is an important consideration when you are applying for a restaurant manager position. Many applications are reviewed by potential employers. They will also be judging the quality of the resumes and cover letters in their hands.
Typos, misspellings, and grammatical errors can make a bad impression on a resume or cover letter. They can also be a sign of a lack of concern for accuracy.
It is imperative that you use correct grammar and words. It indicates that you have the strong communication skills needed for the position.
Here are some tips on how to proofread your resume:

Read the document out loud. This will help you pick up on any errors more quickly.
Have someone else read it. A fresh pair of eyes can sometimes spot mistakes that you may have missed.
Utilizing a spellchecker. This will guarantee that all words are spelled correctly.
Don't rely on spellcheckers alone. They may not catch homophones (words that sound the same but have different spellings).
Take your time. Don't rush through the process as this can lead to mistakes being missed.
Double-check all details. Ensure the dates and other information are accurate.
Restaurant managers' work schedules can be demanding and often include evenings, weekends, and holidays, as these are peak times for dining out.
How to Write Restaurant Manager Resume
This article offers an extensive examination of devising an impressive resume for a role in restaurant management. Crafting a resume may be challenging and time-consuming, but the following tips will help you get the job you want:
Start with the basics: insert your contact information.
Describe any relevant qualifications and education you have, such as hospitality management certificates and courses.
Detail your professional responsibilities, focusing on achievements that demonstrate your ability to handle managerial tasks.
Include other sections as necessary, such as certifications, training, affiliations, or volunteer work related to the hospitality industry.
Finally, double-check the resume to guarantee it is free of typos and grammatical errors.
Utilizing a web-based resume creator with restaurant manager resume examples can make this process simpler, faster, and more effective. If you follow these steps carefully, you can create a first-class resume that will give you a competitive edge over other applicants.
Now is the time to start writing an outstanding restaurant manager resume!