As a team lead, you are guiding your group to successful completion of projects. To be given such responsibility, you ought to have a good team lead resume that highlights your capabilities.
"Good management consists in showing average people how to do the work of superior people."
In this article, we will provide you with a guide on how to construct an outstanding resume for the team lead position to draw the interest of recruiters. Keep on reading to increase your chances of getting the desired job!
1. How to build a team lead resume?
This article provides a guide to composing an effective team leader resume.
It covers the resume-building process, including such points as what elements to include in the resume and how to format each section.
In addition, it brings team leader resume examples to illustrate each point.
Finally, it offers an overview of team lead cover letter writing.
By following the outlined advice, you can ensure that your resume is well-crafted and optimized for maximum impact.
2. Why use a resume builder?
Are you struggling to create a resume? Don't worry: it is easier than you think.
Consider using a pre-made team lead resume template so you can design a resume that will be attractive to prospective employers. An online resume template service Resume Trick can help you get started.
You don't need any knowledge of coding or graphic design to get started.
Pick a template that you like and customize it with your information.
Highlight your skills and experience without worrying about alignment or font size.
Plus, job recruiters often look for specific keywords when scanning resumes or utilizing an ATS. Team leader's resume templates make it easy for you to include those words in the right sections.
Additionally, you can save different versions of your resume for different jobs and industries. It is now easier to tailor your resume to each job. This makes it easier to apply for multiple jobs at once.
Team lead resume templates provide a great way to quickly create a professional-looking resume without spending hours in an editor trying to format your text. They also make sure your resume looks consistent and organized.
When applying for a job, don't stress out over formatting or design. Create an effective resume in no time with Resume Trick!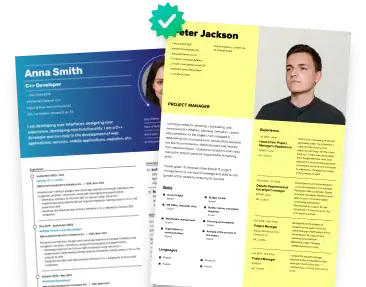 3. Team lead resume examples
Education

University of California | Bachelor's Degree in Management (2015 - 2019)
Udacity | Nanodegree in Product Management (2020)
Udemy | Scrum Master Certification (2020)

Professional Experience

Team Lead | ABC Company (Jan 2021 - Present)

Manage a 10-person team responsible for customer service support.
Develop processes for streamlining customer service operations.
Reduced resolution time for customer inquiries by 30%.

Leadership Strategist | ABC Company (June 2019 - Dec 2020)

Lead marketing campaigns for high-growth clients.
Develop innovative strategies for increasing sales and customer engagement.
Achieved an increase of 15% in client retention.

Core competencies:

Strong organizational and communication skills.
Ability to juggle multiple assignments and organize them efficiently.
Knowledge of team dynamics and effective leadership strategies.
Experience in managing complex projects and leading teams.
Demonstrable history of success in producing results.
Proficient in problem-solving and decision-making.
Skilled in conflict resolution and negotiation.

Technical Skills:

Skilled in the use of Microsoft Office programs (Word, Excel, PowerPoint).
Proficient in project management applications (Asana, Trello).
Experienced in using customer relationship management systems (Salesforce).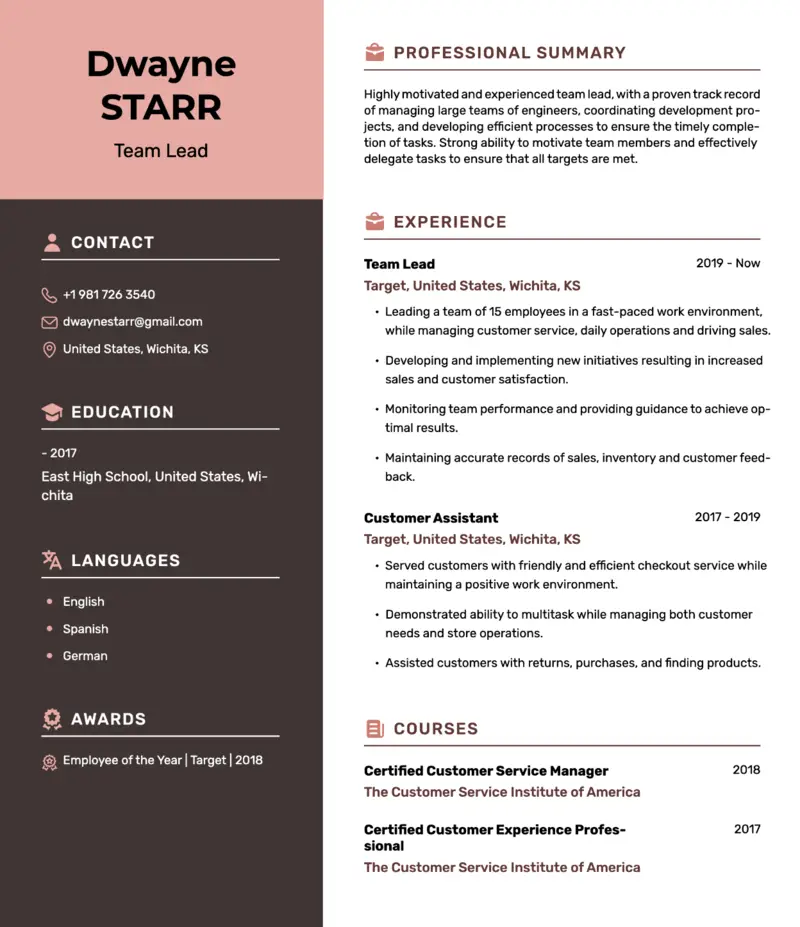 4. How to format a team lead resume?
To strengthen your application for a team leader's role, your resume must be crafted in a way to demonstrate your professionalism. Following are some ideas to help you make a team lead resume that is well-written:
Formatting. Use an easily readable font such as Arial or Times New Roman. Avoid using multiple fonts or font sizes. Keep the layout concise and consistent.
Style. Use an active voice and write in the first person. Be clear and concise in your descriptions so employers can quickly understand your qualifications.
Word Choice. Select persuasive action words to describe yourself and your experience precisely. Do not use jargon or unprofessional phrases.
Spacing. Use white space to draw attention to key sections of your resume. Include enough line breaks to make it easier for recruiters to read.
By utilizing the tips outlined above, you can craft a persuasive team leader resume. It surely will make a lasting mark on employers and bring you one step closer to the job you want.
5. What contact info to provide?
This part of the team lead resume is short but the most important one.
Usually, personal and contact details in a resume consist of the full name, mailing address, phone number, and email to reach out to you.
You may also choose to share your LinkedIn profile to offer an additional source to learn more about your candidacy.
Double-check that this information is correct and current, to ensure that employers can get in touch with you quickly if necessary.
6. How to organize work experience?
The work experience resume section must be structured in a way that will demonstrate your ability to successfully lead a team.
List your relevant employment history in chronological order, beginning with the most recent job and progressing backward.
45% of all team leaders are women, while 55% are men. The average team leader age is 42 years old. (Zippia)
When listing jobs, ensure to include the name of the company you worked for, the job title you held, and the dates you started and finished each role.
You should also provide a brief summary of what your responsibilities were for each role and outline any notable accomplishments.
Team leader resume - sample employment details:
Team Lead at ABC Company (Jan 2019 – Jan 2023)

Led teams of up to 20 people in both remote and on-site settings.
Created processes and procedures to guarantee timely task fulfillment.
Established strong communication between team members.
Developed strategies to maximize productivity while minimizing costs.

Program Manager at XYZ Company (Nov 2017 – Dec 2018)

Oversaw all aspects of program planning and execution.
Ensured programs were delivered on schedule and within budget.
Collaborated with internal stakeholders to coordinate resources and timelines.
Advised teams on best practices and solutions to problems encountered during program execution.
Examine the particular team lead job description before resume writing. See how your expertise relates to the requirement.
Detail your experiences as a team leader to illustrate to hiring managers that you possess the required expertise and abilities for the job. Doing this effectively can give you an edge over other candidates.
7. How to share education credentials?
Your academic experience plays an equally important role as your work history.
Share what credentials you have, mentioning degrees and any higher education courses taken, certifications, and training completed.
Make sure to state the name of the institution that issued the degree, the title of the program, and the dates attended. You may choose to supplement the entry with details like awards, GPA, or relevant coursework.
Team lead resume - sample academic background:
2019-2021 Bachelor's Degree in Business Administration, ABC University

Graduated cum Laude with a 3.5 GPA
Campus Leadership Excellence Award (2020), Head Resident Assistant of the Year (2021)

2015-2017 Associate's Degree in Business Administration, XYZ Community College
This documented experience illustrates several aspects of listing one's educational information.
An Associate's degree demonstrates that the applicant possesses the fundamental knowledge and abilities needed to manage a team.
A Bachelor's degree indicates that the candidate has a thorough understanding of the field and can take on more responsibility. The selected awards show that the individual has been in various leadership roles even before beginning a professional career.
"Coming together is a beginning. Staying together is progress. Working together is success."
In conclusion, invest enough time to outline your academic journey and talk about the experiences that are applicable to the job. This will help strengthen the point of why you are an ideal candidate for the position.
Write a team leader's resume for free
8. What team leader's skills to list?
It is important to incorporate both soft and hard skills into a team lead's resume to make it more competitive.
The average base pay rate for team leaders in the U.S. is $66,800 per year. (Glassdoor)
Soft team lead skills show your interpersonal qualities, while hard skills demonstrate the technical or professional knowledge you possess.
Below are examples of both types of skills that you may include in your resume:
Team lead resume examples - soft skills:
Leadership;
Communication;
Problem-Solving;
Teamwork;
Adaptability;
Decision-Making;
Motivation;
Conflict Resolution;
Creativity;
Adaptability;
Time Management.
Team lead resume examples - hard skills:
Guidelines for Customer Service;
Scheduling Expertise;
Technical Writing Experience;
Management software;
Knowledge of Regulatory Requirements;
Project Management;
Process Improvement;
Data Analysis;
Quality Assurance;
Database Administration;
Risk Assessment.
Consider organizing your team leader skills on your resume in separate lists.
Incorporate job-related terminology that employers are likely to understand.
Your goal is to clearly present your abilities to persuade potential employers that you are capable of completing the job.
9. Should I include social media?
Overall, it is beneficial to include connections to social media accounts on the team lead's resume. However, consider the pros and cons of sharing these details before incorporating them into your resume.
Pros:
help show your tech-savviness;
stay current with the latest trends in communication;
provide employers with an insight into your character;
useful when the position requires knowledge of digital management.
Cons:
employers may find some content as inappropriate for a professional setting;
may expose posts that could be interpreted as discriminatory or offensive;
provide irrelevant information if not managed properly.
For instance, suppose the job includes the responsibility to manage the company's Facebook page or Twitter account. Then, having links to such accounts can demonstrate that you have experience in these areas.
Similarly, the role may involve writing content for blogs or articles. Then, providing a link to an individual's blog or portfolio can help employers get a better understanding of their writing style and experience.
"A leader must inspire or his team will expire."
It is up to you to decide whether to share your social media on your resume or not. Consider the pros and cons and find out if you should provide these details to recruiters.
10. How to craft a resume summary?
A professional summary is a section of the team leader's resume that has to be an effective overview of your key qualifications.
It should demonstrate your ability to manage projects and motivate team members, as well as any specialized knowledge you may have.
Team lead resume - sample of a summary:

Experienced Team Lead with over 5 years of experience in leading, managing, and motivating teams to achieve success. Exemplary leadership skills and expertise in the usage of project management tools. Established a history of completing projects on time and within budget.
Here are 3 tips on writing great resume summaries for a team leader:
Highlight your accomplishments. Include details of any successful projects you have managed, as this will demonstrate your leadership and problem-solving abilities.
Demonstrate your technical expertise. Illustrate any technical abilities such as familiarity with project management systems, leadership practices, and other skills pertinent to the position.
Use keywords. Incorporate industry keywords that apply to the job you're applying for; this will help you stand out from other applicants when employers search through resumes.
11. What additional information to supply?
As you build your team lead resume, think of supplementary facts you may share to create a well-rounded picture of your character.
For instance, consider adding some or all of the following blocks: hobbies, courses, languages, awards, internships, references, and certificates.
Team leader resume - examples of additional elements:

Hobbies help show your personality and interests outside of work or school life. For example, a team lead resume might include that the candidate enjoys volunteering at a local animal shelter or playing soccer in an adult league.
Including courses can demonstrate continuing education or other specialized knowledge that you have acquired. For example, a team lead might list a course in leadership development or project management that they attended in recent years.
Awards show recognition of outstanding achievements and past successes. Awards may come from previous employers or organizations such as volunteer work or student clubs.
Highlighting any languages that you are fluent in could be advantageous to the organization if they need someone who is multilingual. It shows that you can communicate with international clients and colleagues.
Internships exemplify that you possess hands-on experience in the profession. If you had an internship at a non-profit organization performing coordinating tasks, this will demonstrate your experience with working in managing software.
Providing references enables employers to contact past supervisors or colleagues for more information about your work ethic and capabilities. This shows that you earned respect among those who have worked with you.
Certificates show additional credentials you have obtained to increase the area of your expertise. If you have accreditation in agile project management, then this can display additional skills which could profit the organization.
Providing such details on your team leader's resume will add a unique touch to your profile. Employers will see that you invested time and effort to prepare your document rather than just sending a generic resume.
Build your team lead resume now
12. How to write a cover letter?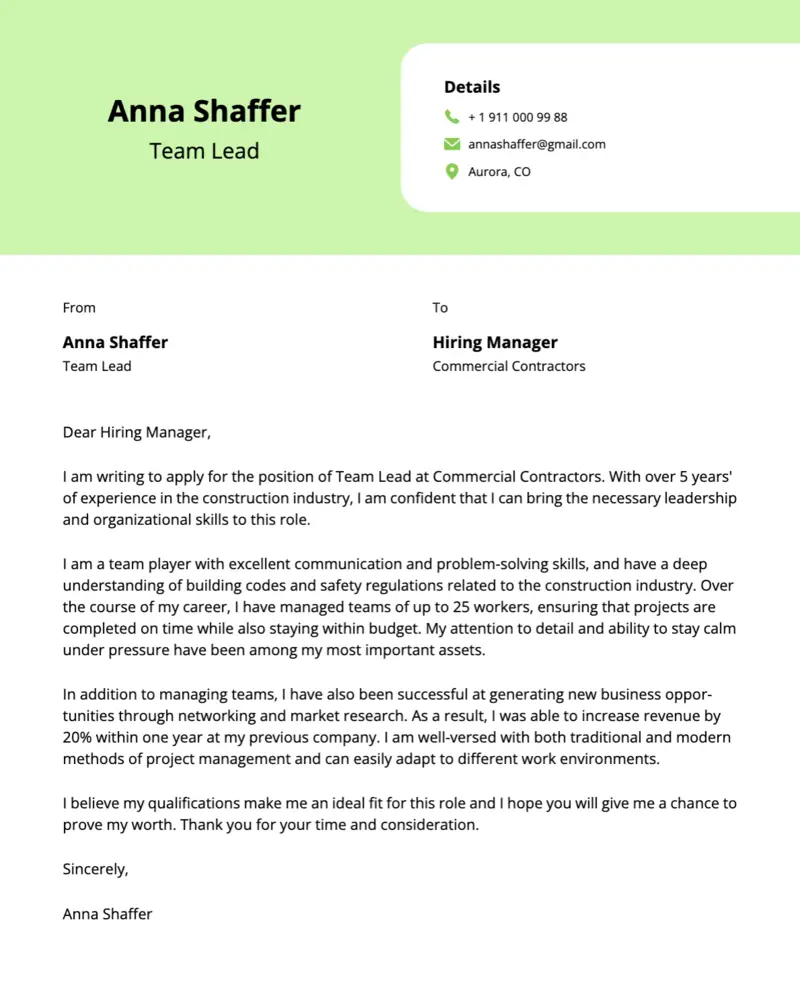 Crafting an impressive cover letter for a team lead job is an essential part of your application.
Over 386,857 team leaders are currently employed in the United States. (Zippia)
A well-structured and an impactful accompanying letter should emphasize your talents and knowledge, prompting the recruiter to take a look at your resume.
Follow these guidelines to help you craft an outstanding document:
Use a professional tone. Your cover letter must be composed professionally, avoid overly casual language or slang. Demonstrate your enthusiasm for the job and ensure that you include relevant keywords from the job description.
Personalize your message. Ensure that you adjust the cover letter for each job application and address it directly to the hiring manager. This will show that you have done your research and are genuinely interested in the position.
Showcase your skills. Focus on exhibiting your abilities that match the requirements of the team leader role. Talk about your unique qualities and how you would apply them in the prospective job setting.
Focus on achievements. Incorporate pertinent achievements in your supporting letter, such as successful projects or awards you have won that are related to the job you are applying for. By doing this, you will illustrate your capacity to add value to their team.
Keep it brief. Do not exceed one page when writing your letter, as recruiters often receive hundreds of applications for open positions and don't have enough time to read lengthy cover letters.
Team leader cover letter - bad example:
Hi there,

I saw your posting online and I think this Team Lead position is perfect for me! I do not have a lot of experience managing projects and leading teams but I know exactly what you are looking for! My problem-solving skills are top-notch - no task is too hard!

Plus, I am an excellent communicator who is always willing to take on new challenges. Overall, I think I am an ideal candidate who would provide lots of value to this position! So consider my application before someone else hires me!

Thanks!

Best, [Name]
The above team lead's cover letter example is bad because it lacks citing relevant experience and does not demonstrate any research into the company or job description.
It does not showcase any of the applicant's relevant qualifications or enthusiasm for learning. Above all, it does not use formal language and indicates arrogance.
Team leader cover letter - good example:
Dear [Hiring Manager],

I am writing to apply for the Team Lead role at [Company Name]. With over 8 years of professional experience in management roles. Hence, I believe I am an ideal candidate for this role due to my proven track record of successful project execution and team-building abilities.

During my most recent role as Manager at [Company Name], I led a team of 15 customer service representatives through various projects with great success. I utilized my strong problem-solving skills and communication abilities. In addition, I was responsible for developing strategies that enabled us to increase our efficiency by 30%.

Furthermore, I possess excellent leadership qualities. They have enabled me to successfully mentor junior staff members and manage complex projects with tight deadlines within budget constraints. My experience has also given me a comprehensive knowledge of product development processes, enabling me to stay abreast of industry trends and best practices.

I am sure that my wide-ranging skill set renders me a perfect choice for this position. I look forward to meeting with you in person so we can discuss how my qualifications can benefit [Company Name]. Thank you for taking the time to consider my application.

Sincerely, [Name]
Team lead cover letter for someone without experience
As you work on your cover letter for a team leader entry-level position, keep it concise and focused on relevant experience. Be sure to highlight any technical team lead skills or qualifications you have that make you well-suited for the role.
Address the specific requirements outlined in the job description and tie your experience to those requisites. Finally, proofread your letter multiple times as little mistakes can be a red flag for employers!
Dear [Hiring Manager],

I am writing to express my excitement for the Team Lead opportunity at [Company Name]. I understand that the role requires experience in leading teams. However, I am confident that my background in providing assistance and resolving issues makes me an ideal candidate.

Throughout my career, I have consistently demonstrated my skill in efficiently managing tasks, meeting deadlines, and leading collaborative projects. I am also highly skilled in analyzing situations and making sound decisions based on limited information. As a customer service representative, I have been able to demonstrate my conflict-resolution skills by listening carefully and providing solutions that are beneficial to both parties.

I believe that my commitment to customer service and problem-solving would be a great asset to your organization as a team lead. I am confident that I could quickly learn the details of this position and become a valuable member of your team.

If given the opportunity, I can provide you with more details about my experience and qualifications during an interview.

Thank you for your time and consideration.

Sincerely, [Name]
13. How to proofread the resume?
"A leader takes people where they want to go. A great leader takes people where they don't necessarily want to go, but ought to be."
Ensuring everything is accurate and grammatically correct is an essential step before submitting your application. It reflects on the quality of your work and professionalism.
To check your team leader's resume and cover letter materials, read each sentence aloud to yourself.
You can also get someone else to look it over, as a second set of eyes can help identify mistakes.
Additionally, take a break between writing and proofreading, so that you can come back with a fresh perspective.
Finally, take advantage of online tools such as grammar and spell checkers to ensure that everything is perfect before submitting.
Doing this will enable you to make a great impression on hiring managers with your team lead resume and supporting materials.
Conclusion
This article furnishes you with a step-by-step approach to crafting an effective team lead resume.
By following these steps, you can assemble an impressive team leader's resume capable of catching the eye of recruiters.
To make the process easier, try using the online resume builder. Don't wait any longer - start building your resume now!