How to write an application letter? There are already so many documents you need to prepare during a job search. You have your resume and cover letter as essentials, potentially your CV or portfolio depending on your field.
Then, you should update your digital presence on LinkedIn and a personal website. Oh, and you should probably get some letters of recommendation and certifications.
So, why not add one more?
Thankfully, an application letter is more of a specialty document than one you would need to share often. However, there doesn't seem to be much information on application letters. Many articles describing them as just a synonym for a cover letter.
While the two have a great deal in common, the application letter has a very specific time, place, and style.
What is a letter of application? How do I know when to use one? Why should I write one in the first place?
All these valid questions are answered throughout this article, along with best practices, and tricks to land an interview through a stand-out letter of application.
77% of hiring managers give preference to candidates who submit a cover letter, even if they're deemed optional on the application form. (ResumeLab)
What is an Application Letter?
There are very few personal problems that cannot be solved through a suitable application.
Simply put, a letter of application is a written summary of your skills, experience, and accomplishments. It's a professional document written with paragraphs and bullets. There you can convey why you want to work for a company and why your qualifications best align with the needs of the organization.
Application Letter vs Cover Letter
Well, that sounds a lot like a cover letter. And you would be very right. But there are a few key differences between the two documents, mainly:
Length
Purpose
Level of Detail
Independence
Let's dive into each a little deeper.
Purpose of the Application Letter
A cover letter and an application letter showcase your achievements. But they differ from a resume in the sense that you can add some flavor to it.
The emphasis on bullet points and succinctness renders the resume a fairly clear-cut document that prioritizes objectivity and facts.
The paragraph-style format of the two letters allows you to leverage language in a way to invoke an ethos of what your professional personality is. And why you could easily assimilate into that specific company's culture.
But, to separate the pair, a cover letter communicates your interest in a singular position. Often one that you have found on a job board or website.
A letter of application displays your enthusiasm in working for a singular company and can be sent without prompt. But we will get more into that in a few sections.
The takeaway a cover letter tries to maximize a chance and an application letter aims to open an opportunity.
---
Length
The easiest difference to spot between a cover and an application letter at a cursory glance is how long the document is.
A cover letter should never be over one page long. The more succinct you can make it, that's often for the better.
However, a letter of application gives you plenty of room to breathe as it can be two full pages and still be completely appropriate.
---
Level of Detail
Naturally, with all the extra space, you can go into so much more detail on an application letter than you can on a cover letter.
As we already covered, a cover letter usually targets a specific position attached to a job posting. So, you want to tailor the content of your cover letter to specific keywords. Choose a project or achievement that you can share in a paragraph that showcases two-to-three top skills applicable to the position.
An application letter laughs at such simplicity. You often have four to five paragraphs of information so you can cover career highlights, hurdles tackled, metric-based achievements, and your professional philosophy; sometimes with room to spare for your additional skills and expertise!
---
Independence
Finally, the letter of application can fly solo, much like a resume.
After all, you would never submit a cover letter without a resume, and you should always include a personalized cover letter with your resume.
The application letter is like a combination of a resume and a cover letter. It fuses the objective-focused bullets of a resume with the personal touch of a cover letter.
As a result, in the very rare circumstances that you would submit an application letter (which we will get to in just a moment), that's the only document you need to share with a hiring manager.
Anything more might be too much for a recruiter, causing your resume and application letter to go never seen. Stick with the 2-page document as an initial outreach method. If you have piqued their interest, then you can forward your resume or any other career documents.
When to Use an Application Letter?
We have covered what a letter of application is and how it differs from a cover letter. Now we have to cover when it's appropriate to send one to a company's hiring department.
As mentioned already, it's rare for an application letter to be required for a typical job posting. That role is fulfilled by the cover letter.
But there are three distinct scenarios where an application letter could work to your advantage.
There's No Formal Job Opening
Let's say you know what company you want to work for. It could be due to some personal significance, the company being an industry leader, or having a reputation as a great place to work. Whatever the case may be, there's a high likelihood that you aren't the only person who would love to work for that specific company.
Consequently, when a position is finally opened, hundreds, if not thousands, of applicants are sure to pile in.
If you are in this position, you need to be proactive to raise your chances of working for that company; and that's when a letter of application can help open the door for you.
But, why send an application letter and not a resume or cover letter?
It might be best to avoid sending the resume immediately could be seen as brazen, not helping you set the appropriate first impression. Additionally, due to the bulleted nature of a resume, it is much easier for the reader to scan it, miss vital details, and leave after just one job entry.
Therefore, you have to get them to read the entire document. A cover letter is better suited for this as it's much harder to skim paragraphs than it is for bullets. Also, it's easier to build a narrative structure in a cover letter, engaging the HR to read a story rather than a laundry list of action verbs and numbers.
However, a cover letter is short. You have less than 400 words to greet the reader, convey skills and accomplishments, and conclude it. There just isn't enough room for you to share your comprehensive professional experience.
An application letter fuses the positives of a resume (the fact-based bullets) and a cover letter (the narrative structure) to state your case on why they should instantly consider you for an upcoming vacancy.
The carefully chosen bullets allow the hiring manager to quickly scan the document. And become curious for more, and then read the letter from start to finish, learning the extended synopsis of your work experience. It's all in one package.
So, consider cold calling for the next step in your professional journey. You could land a spot on the shortlist of your dream company because you showed initiative.
82% of buyers say they have accepted sales meetings after a connection that began with a cold call. (Zippia)
Academic Programs
Creating career documents for professionals in academia proves to be a tricky task.
Often, especially for recognized experts in their field, they have numerous research papers, keynote addresses, patents, affiliations, and academic appointments that would make a typical resume extend past 2 pages.
Side reminder: Always limit your resume to two pages. Research shows only 3% of executives prefer three-page resumes. Whereas 96% prefer a one- or two-page resume.
While a comprehensive CV resolves this issue, an extended document that can be as many as 10 pages isn't very inviting.
As a result, in your resume, you have to include important academic achievements with little-to-no context.
Yet, the application letter is perfect for this task. A customized letter of application can highlight and explain critical accomplishments that could lead to a new professorship or research collaboration.
Moreover, two pages are nothing in academia. Academics regularly immerse themselves in extended, complex documents and dissertations. So the "extended" format of the application letter turns out to be a non-factor here.
Internships
If you're seeking an internship, chances are you have very limited work experience, especially in your target industry. While a well-crafted resume can win an HR over, something with a more personalized and proactive touch that differentiates you from your peers is vital.
A letter of application gives the space and narrative structure to outline and explain the three requirements when searching for an internship:
Passion for the Industry
Passion for the Company
Passion to Learn and Develop
You will still need a formal resume for the recruiting process; but an application letter can create an internship opportunity when one didn't previously exist.
Application Letter Structure
In many ways, an application letter's structure and flow are the same as that of a cover letter.
Both require a:
Heading
Introduction
Body with Skills and Accomplishments
Conclusion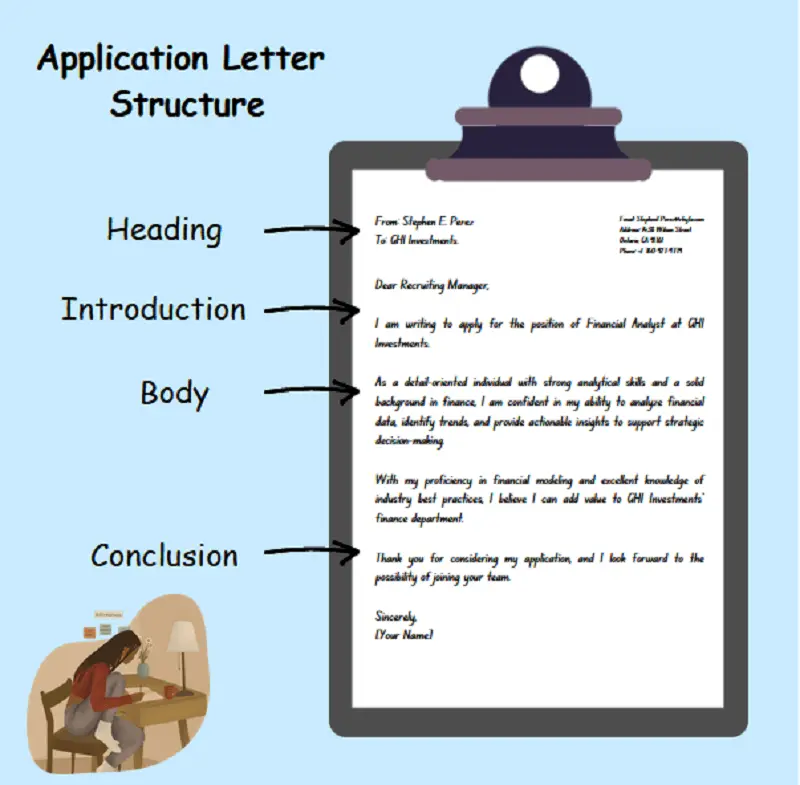 The main difference comes in the "Body" section. Instead of one paragraph and some assorted attainments, it's multiple paragraphs with bullets interspersed throughout.
Due to the extended nature of this document, outline your letter of application first. This will ensure you stay on topic, communicating all the required abilities and achievements for the desired position. The outline does not have to be in-depth, but rather look something like this:
Heading
Introduction

State Interest
Brief Career Overview
Top Skills

Start of Career Accomplishment

Skills Demonstrated
How I Can Use Them at This Company

Bullets of Related Accomplishments
More Recent Career Achievement

Skills Demonstrated
How I Can Use Them at This Company

Additional Bullets from the Most Recent Position
Conclusion

Restate Interest and Skills
Call to Action
Thanks
Heading
This is the most straightforward section, as it's exactly the same as a cover letter.
Just be sure to include:
Your Name
Your Location
Contact Information (Email & Phone Number)
Date of Writing
For now, you can omit LinkedIn profile links and personal websites as those can be shared in a resume. Remember, in this application letter, we are engaging them to learn more, not everything about us.
Introduction
This is your most important paragraph. It sets the tone for the rest of the document while either persuading or dissuading the hiring manager to read further, especially in a longer paper like a letter of application.
Let's look more closely at the introduction outline from above:
Introduction:
State Interest
Brief Career Overview
Top Skills
First, you will want to explicitly state that you are interested in working for that company and for what position or department. In this, do not say what your name is. Your name is at the top of the document and the "My name is..." start is cliche.
Then, share a one-sentence overview of your career that substantiates you have the necessary experience for that role.
Finally, connect it all with some of the top skills that you possess that are most often required in that position.
It's a simple and concise structure, but it will provide the hiring manager with enough information to encourage them to read more. Too short and there isn't enough meat on the bone to continue reading. Too much and you run the risk of boring the reader.
Example:
I'm contacting you to express my interest in a sales representative position at Company X. With over six years of biomedical sales experience, I emphasize relationship building to generate company wins. I pair this with the ability to cross-functionally collaborate, merging disparate departments to align with organizational objectives.
Body
Just as you would in a cover letter, you want to give the hiring manager or recruiter a reason to hire you. It's time to show off a little.
If you have applicable experience, then this section should be fairly straightforward as you can just expand on some of your most relevant wins.
However, if you don't have the experience, you want your desire to learn and develop to take center stage while tying in transferrable skills you've accrued from other positions, extracurriculars, and volunteer experiences.
Referencing back to the outline we made:
Start of Career Accomplishment

Skills Demonstrated
How I Can Use Them at This Company

2-3 Bullets of Related Accomplishments
More Recent Career Achievement

Skills Demonstrated
How I Can Use Them at This Company

Additional Bullets from the Most Recent Position
You will want your application letter narrative to be chronological, starting with your oldest applicable experience. Then, in the next paragraph, you should share something you have recently accomplished, ideally in your most recent position.
The bullets between the paragraphs serve as highlights of your professional journey, connecting the timeline of your previous and more recent experiences. These can be simply presented as they would be on a resume.
The final bullets after the second section should be other accomplishments from your last position. This substantiates that you are a professional who can create an immediate impact at a new company.
Feel free to customize this rough outline to best encapsulate your career. Some best practices are to never have more than 3 bullets consecutively without a part to break them up.
Additionally, don't be afraid to use shorter sentences and paragraphs. White space is your friend here as recruiters will not want to read a wall of text.
Finally, leverage action verbs throughout the letter of application, just as you would on a resume or cover letter. These better engage the reader, making your achievement that much more substantial.
Conclusion
83% of recruiters agree that a great cover letter can land a candidate an interview, even if their resume is good enough. (ResumeLab)
You've stated your case, providing factual details and a career story, so it's time to wrap it up! Just as your introduction is very similar to one you would see on a cover letter, so is the ending.
Conclusion:
Restate Interest and Skills
Call to Action
Thanks
You still want to butter up the company a bit. Reiterate your enthusiasm not only in the potential opportunity but in the company itself and its mission. Here, try to intersperse your interest with your stated skills to align your offered value with the needs of their organization.
Then, you must invoke action. Explicitly state that you will follow up within a reasonable time frame. Two weeks is a good standard. You can invite them to call you for an interview or some type of further discussion regarding the (potential) position.
In the end, thank them for their time and consideration. They just read two pages from an unprompted source.
Example:
I hope that my passion for innovation and emerging technologies can become a part of the continued success of Company X. I look forward to the possibility of discussing a potential position with you further. Thank you for your consideration.
Application Letter Example
Letter of Application Short Examples
The simpler you say it, the more eloquent it is.
Dear [Hiring Manager],

I am writing to express my interest in the (Position) role at (Company). I have four years of experience in (Relevant Field). I'm confident that my skills and qualifications make me an ideal candidate for this role.

I possess strong organizational and problem-solving skills, as well as excellent interpersonal communication abilities. During my current role as a (Role), I have demonstrated success in meeting deadlines while managing multiple tasks simultaneously. I am also familiar with a variety of software programs related to the position, including (List Programs).

I believe that I would be a great addition to the team at (Company). I am eager to apply my skills and knowledge towards helping the company reach its goals.

Thank you for your consideration. I eagerly anticipate your response.

Sincerely,

[Your Name]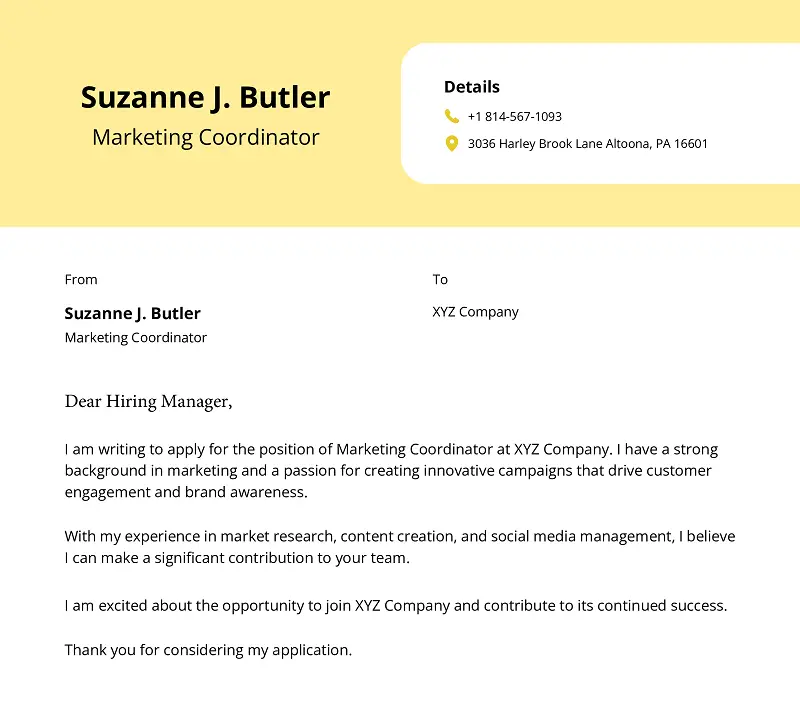 Dear Hiring Committee,

I am excited to apply for the Software Engineer position at DEF Inc.

As an experienced software developer with a proven track record of developing high-quality code and solving complex technical problems. I am confident that my skills align perfectly with the requirements of this role.

With my attention to detail, strong problem-solving abilities, and collaborative mindset, I believe I can contribute significantly to DEF Inc.'s software development team.

Thank you for considering my application, and I look forward to discussing this opportunity further.
Letter of Application Long Examples
Please note that these examples are still condensed versions of long application letters. A longer application letter can include additional details about relevant experiences, accomplishments, skills, education background, certifications, etc., tailored specifically for the job requirements.
Dear Hiring Manager,

I am writing to apply for the position of Marketing Coordinator at XYZ Company. I have always been passionate about marketing and have developed a strong foundation in this field through my education and previous work experience.

I graduated with a Bachelor's degree in Marketing from ABC University. There I gained a solid understanding of market research, consumer behavior, and strategic marketing planning.

During my time at university, I actively participated in various marketing projects and internships. Those provided me with hands-on experience in implementing marketing strategies, conducting market analysis, and managing social media campaigns.

Following my graduation, I worked at DEF Company as a Marketing Assistant. There I was responsible for developing content for digital channels, managing social media accounts, and analyzing campaign performance.

During my tenure, I successfully increased social media engagement by 30% and implemented email marketing campaigns that resulted in a 20% increase in leads.

In my most recent position as a Marketing Specialist at GHI Corporation, I further honed my skills in project management, campaign optimization, and data analysis. I led cross-functional teams to develop integrated marketing campaigns that generated significant brand awareness and increased customer engagement.

Additionally, I conducted thorough market research to identify new target segments and emerging trends, which successfully led to the development of innovative marketing strategies.

I believe that my comprehensive knowledge of marketing principles, coupled with my hands-on experience in executing successful campaigns across different channels, make me an ideal candidate for the Marketing Coordinator position at XYZ Company.

I am confident that my strong analytical and creative skills, combined with my ability to collaborate effectively with diverse teams, will enable me to deliver exceptional results.

Thank you for considering my application. I am eager to contribute my expertise to XYZ Company's marketing initiatives. I would welcome the opportunity to discuss how I can bring value to your team.

Sincerely,

[Your Name]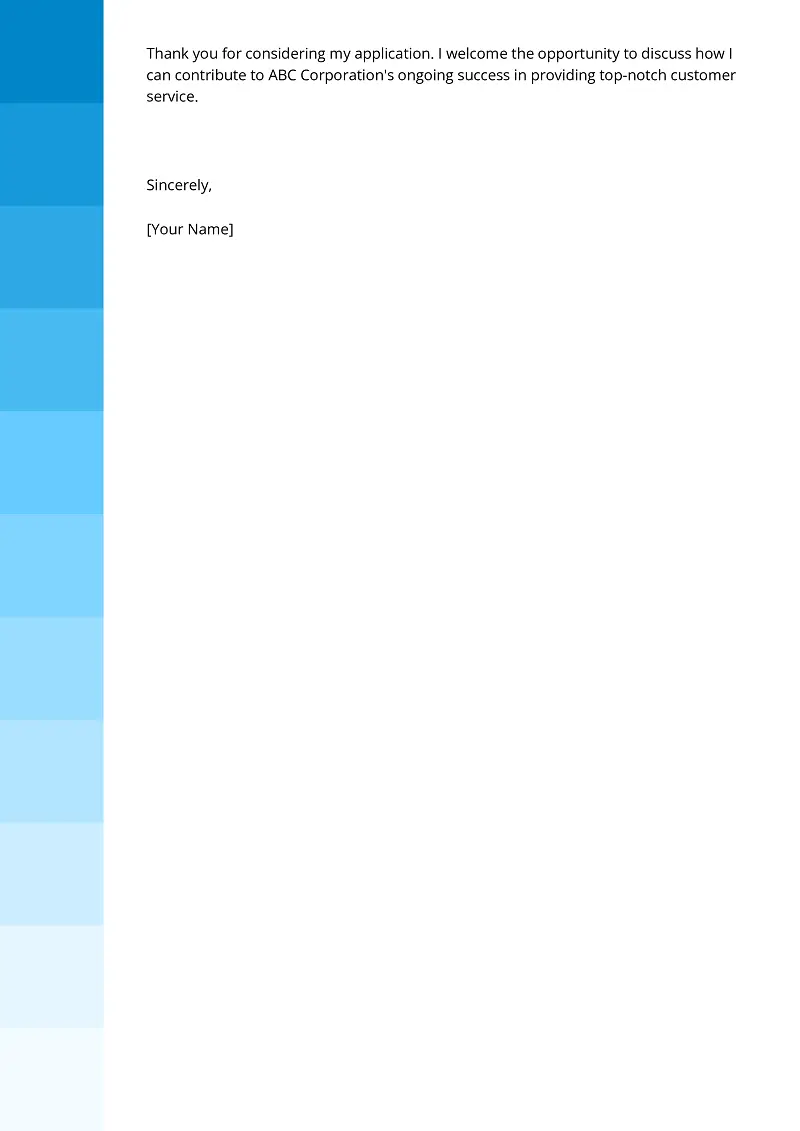 To Sum Up
While an overall rare document, the application letter has a valuable niche in the modern job market.
It can open doors that weren't initially there for new professionals and executives alike. A letter of application also gives you the extended space necessary to dive into more of your great accomplishments.
If you're looking to create opportunities and stand out among the crowd, an application letter is a viable, and underused, tool.