A civil engineer resume must be written with care and precision. It's the key to gaining recognition from potential employers. A great resume will showcase your skills and experience, highlight your achievements, and make you stand out from the crowd.
In the article, we'll provide a step-by-step guide on how to build a civil engineer resume that will aid you in getting the job. So if you're ready to build an impressive resume that'll get you hired, read on!
Civil engineers are employed in a variety of industries, with the largest number working in architecture, engineering, and related services, according to the Bureau of Labor Statistics.
How to Write Civil Engineer Resume
This article supplies an in-depth tutorial for structuring a civil engineering resume.
The process starts with composing a profile summary: highlighting work experience, important qualifications, and any other relevant skills.
Then, focus on the experience section by including job titles, company names, dates of employment, and key responsibilities.
Next, list your educational qualifications, such as degrees, diplomas, and certifications. Also, detail any relevant coursework or research projects.
Finally, add any additional sections that may prove useful to your application.
By following this guide you will be able to create a memorable resume for civil engineering that could catch the attention of prospective employers. Utilize job-specific terminology and highlight your best skills to ensure a successful outcome.
Ease Up - Use Resume Builder
Are you searching for a method to make your resume remarkable? A civil engineer resume template can help you create an eye-catching and memorable document that will leave a lavish impression.
Utilizing a resume creator, you can easily access ready-made templates that will give the resume the edge it needs.
Advantages of prefering a template crafted by experts:

Resume Formatting: A template ensures the correct style of a resume, counting headings, sections, font size, margins, and spacing. This facilitates easier reading and understanding of your content.
Time-Saving: Instead of drafting from scratch, use the template as a starting point and add your own content. This saves a lot of time in terms of creating and editing your draft.
Optimized Layout: A professionally designed civil engineer resume template is optimized to showcase your most important information in an attractive and organized way. This helps highlight your job experience and qualifications.
Design Appeal: Templates provide stylish designs so that the resume looks more professional and appealing to potential employers.
Content Suggestions: Many civil engineer resume examples provide ideas on what kind of information to include in each section. This makes it easy for you to craft a well-structured and comprehensive resume.
So if you want to create an outstanding resume without having to worry about layout, apply a resume builder to access high-quality resume templates. It's the perfect app to ensure your application stands out from the rest!
Architects and engineers are among the most fortunate of men since they build their own monuments with public consent, public approval and often public money.
Civil Engineer Resume Sample
Summary:
Highly-qualified civil engineer boasting 10+ years of industry experience. Skilled in project management, design, construction, and engineering-related tasks. Extensive portfolio of successful projects and pleased customers. Seeking to leverage virtuosity and accept new challenges at a reputable company.
Education:
Baccalaureate in Civil Engineering, ABC University, 2010;
Master's Degree in Project Management, XYZ University, 2012.
Professional Experience:
Civil Engineer - ABC Company, 2010-2020.
Made designs for various projects such as bridges, roads, and buildings.
Adhered to building codes and safety regulations.
Guided projects from initiation to fruition along with budgeting and timeline management.
Coordinated with architects, contractors, and other stakeholders to confirm the project ends satisfactorily.
Monitored progress of construction sites and implemented corrective measures.
Wrote reports for clients on project status and budgets.
Project Manager - XYZ Company, 2014-2015.
Developed project plans for new projects including timelines and milestones.
Worked in collaboration with stakeholders to guarantee efficient completion of projects within budget constraints.
Managed multiple projects simultaneously while ensuring adherence to quality standards.
Carried out regular site visits to evaluate construction progress and take action as necessary.
Prepared detailed financial reports showing cost projections versus actual expenses.
Skills & Expertise:
Project Management;
Design & Development;
Construction & Maintenance;
Budget Management & Reporting;
Building Code Compliance;
Client Relationship Management.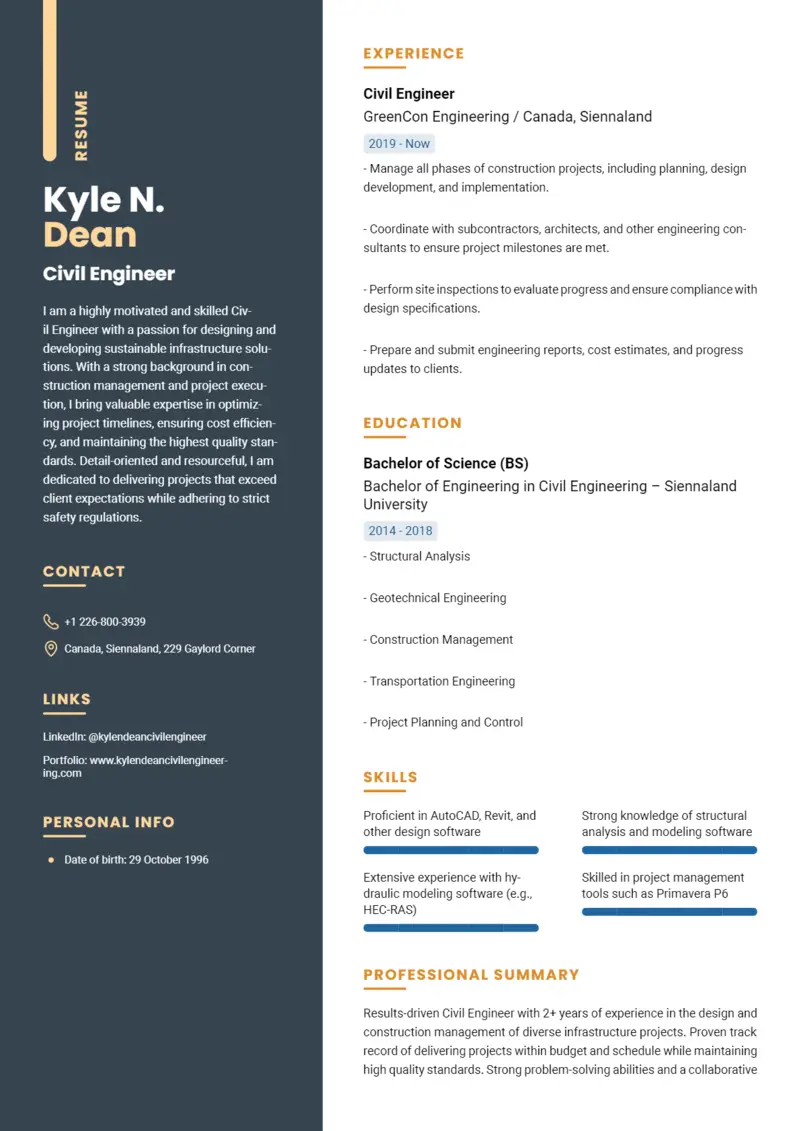 Civil Engineer Resume Wording
Stay professional and include job-specific words to describe yourself. Prefer language that is easily understood by people who are not experts in the field.
Example:

Highly experienced Civil Engineer with over 10 years in the field. Proficient in all aspects of engineering, from design and project planning to construction management and quality control. Experienced in leading teams on large-scale projects, ensuring that all deadlines are met within budget. Proven track record of successful projects completed on time. Skilled in problem-solving, communication, and customer service.
Power Words for Boosting Resumes for Civil Engineers:
Assessed needs and designed effective solutions to meet them.
Calculated structural load requirements and ensured safety compliance.
Brainstormed innovative designs and crafted detailed drawings.
Facilitated team discussions and guided project progress.
Arranged materials and coordinated activities with stakeholders.
Debugged existing systems and identified potential upgrades.
Built prototype models to test design performance.
Advised on civil engineering principles and consulted with clients.
Articulated technical concepts in a clear and concise manner.
Organized data sets to improve accuracy and efficiency.
To design and oversee construction projects, civil engineers apply principles of mathematics and science. In their designs, they also take into account environmental, sustainability, and safety factors.
How to Fill in Contact Information
When listing personal and contact information on a resume, it is important to keep in mind the purpose of the document. The information should be succinct and relevant to the job role.
For a civil engineer resume, the following points must be included:
Full name;
Physical address;
Email;
Phone number;
LinkedIn profile (if applicable).
Civil Engineering Work Experience
The most effective approach is to structure your civil engineer resume experience chronologically, beginning with the last job. This will help you present your skills and qualifications in the best possible light.
It will also show potential employers the progression of career and how it has shaped you into the civil engineer you are today.
If you have been employed as a civil engineer for five years, start with your current job and then specify your previous positions. You can do this by creating lists with bullets, such as:
Civil Engineer, ABC Company (2020 - Present): Responsible for designing, planning, and overseeing the construction of bridges, highways, and other civil engineering projects.
Project Manager, XYZ Company (2017 - 2020): Managed a team of engineers on various projects including highway construction and bridge maintenance.
These two examples illustrate how listing and organizing your work experience by date can be advantageous. It shows employers that you have extensive knowledge in the field and that you are capable of handling complex tasks.
Furthermore, it can provide employers with insight into your growth as an engineer over time.
Attention!
However, it is critical to refrain from formatting or ordering your experience in a way that does not showcase your skills properly. For example, employers will not understand what roles you held or how long you worked if you sort all of your experience without specifying dates or job titles.
So be sure to pay attention to detail.
Education in Engineering Resumes
When it comes to organizing and structuring the educational details while writing a civil engineer resume, do it chronologically. Take care to include all relevant information.
If a civil engineer has a bachelor's degree in civil engineering and additional certifications, list the degree followed by the certificates. This ensures that hiring managers can easily review all the essential qualifications.
Here's an example:

B.Sc. in Civil Engineering, University of California, Los Angeles, CA - May 2020.

Completed coursework on construction methods & materials, hydrology & hydraulics, survey & geomatics, foundation engineering, and more.

Professional Engineer (PE) Certification - November 2020.

Licensed professional engineer in the state of California with the ability to prepare engineering plans and sign off on final designs.

Project Management Professional (PMP) Certification - August 2021.

Certified project manager with experience overseeing multiple projects from inception to completion.
Stressing this type of detail lets employers know that the candidate is competent. It also indicates that they have taken the initiative to obtain certifications that could prove advantageous for their career.
Example of how NOT to order educational information:
Bachelor's Degree - University of California, Los Angeles,
Professional Engineer Certification,
Professional Certification in Project Management.
Such a list does not provide any context about how the education is relevant to the job or what courses were taken in the course of study. It doesn't include any information regarding when these certifications were obtained.
As such, this kind of formatting doesn't do justice to a civil engineer's qualifications and won't impress potential employers.
According to the ASCE, the United States will need to invest approximately $6.6 trillion in infrastructure improvements by 2039 to meet the nation's needs.
Skills for Civil Engineer Resume
It is important to cover both soft skills and hard skills in resumes for civil engineering. This reflects the range of skills that the engineer possesses.
Soft skills refer to interpersonal qualities like socialization and problem-solving, while hard skills are technical abilities related to the field. Putting them gives employers an idea of their full capabilities.
It is best to organize these skills into two distinct sections. Soft skills should come first, followed by hard skills.
Soft Skills for Civil Engineer Resume:
Teamworking;
Leadership;
Analytical thinking;
Problem-solving;
Conflict resolution;
Negotiation;
Time management;
Adaptability.
Hard Skills for Civil Engineer Resume:
CAD design experience;
AutoCAD proficiency;
MS Office proficiency;
Structural engineering knowledge;
Building construction knowledge;
Project management experience;
Knowledge of relevant software packages such as Revit or Civil 3D;
Industry qualifications and certifications.
Write Civil Engineer Resume
Include Social Media or Not
Overall, including web links on civil engineer resume is not necessarily a must, but it could be advantageous. In particular, these links could be used to the advantage of a civil engineer who is active on social media channels.
Pros:
Network links can contribute to the overall impression of the civil engineer as well as demonstrate their talents.
It also helps HRs get a better idea of the person behind the resume. It enables them to get a more holistic view of the candidate's professional background.
Cons:
Potential presence on the Internet could distract recruiters from focusing on the engineering experience and skills listed in the resume.
There is also the risk that employers may find inappropriate or controversial content that could damage the chances of getting hired.
A civil engineer might include a link on his resume to prove his academic knowledge in the field if he uses YouTube to post tutorials and lectures on engineering topics.
Additionally, if they use LinkedIn to network with other engineers, they could attach this link to showcase their active involvement in the engineering community.
Civil Engineer Resume Summary
Powerful summary for civil engineering resume should showcase their skills and experience. It should be concise yet informative; it should provide a clear picture of why you are the best candidate for the job.
Example:

Skilled civil engineer possessing 8+ years of experience in large-scale infrastructure projects. Proven mastery in developing cost-effective solutions that meet safety and structural requirements. Adept at leading teams of surveyors, inspectors, and engineers to ensure the successful completion of projects.
3 tips on writing great resume summaries for Civil Engineer Resume:
Promote your strengths. Focus on listing your areas of expertise and any awards or certifications you've earned.
Use keywords. Incorporate industry-specific terms or phrases in your summary that employers are likely to search for when they are looking for a civil engineer.
Mention accomplishments. Bear in mind to put in information about any notable projects you've completed, as well as any significant obstacles you've overcome on the job.
To ensure successful project completion, civil engineers often work on multidisciplinary teams with architects, urban planners, environmental scientists, and construction professionals.
More to Include to Civil Engineer Resume
To make a positive impression on bosses and increase the chances of a successful application, enhance a resume for civil engineering with extra personal details.
Hobbies are an opportunity to convey personality and interests outside of work. For instance, one may list his interest in hiking or rock climbing because it shows his ability to solve challenges.
Courses provide evidence of skills and knowledge related to the role. A civil engineer can document his or her technical knowledge by taking classes in engineering design.
Knowledge of several languages is an advantage for many occupations. As an example, courses in French or Spanish at university would be useful when working with international colleagues.
Awards showcase outstanding achievements in the field. For example, a civil engineer could have an award for excellence in project delivery or innovation.
Internships are great experiences for any job seeker to gain hands-on experience in the field. A civil engineer may have completed an internship with a leading construction company. During this time, he or she learned best practices in the industry.
References and letters of recommendation are essential to attest to performance and reliability from former employers or colleagues.
Finally, certifications are important papers demonstrating qualifications. Add copies of certificates that illustrate his or her level of competency in the field.
Civil Engineering Cover Letter Examples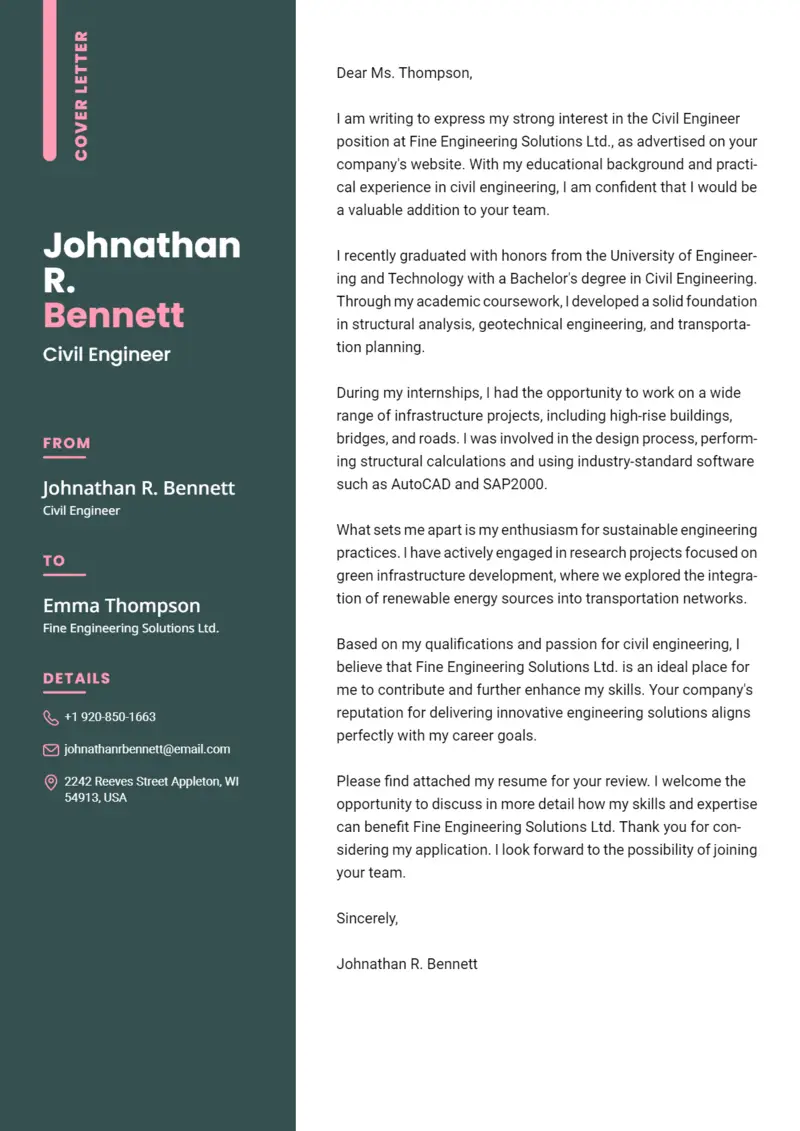 Writing a great cover letter is key to getting your civil engineer job application noticed. It should be tailored to the position and address what you can bring to the institution or company.
Keep it concise and positive; you don't need to use flowery language or overly long sentences.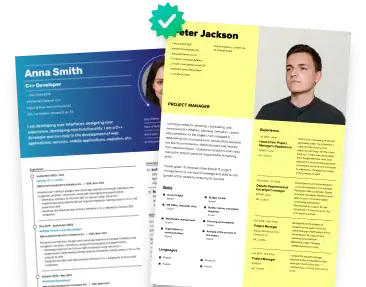 Strategies to Follow:
Begin with a strong opening statement that conveys your enthusiasm.
State why you are applying.
Display your awareness of the industry and the company by referring to specific projects or initiatives.
Provide examples of how you have used your social skills in previous roles.
Mention any relevant technical skills, such as programming languages, software applications, etc.
Supply contact information so that employers can easily get in touch with you.
Conclude with a polite closing paragraph thanking them for their interest and time.
Good Cover Letter Example:
Dear [Hiring Manager],

I am forwarding my application for the position of Civil Engineer with [Company Name]. I am an experienced civil engineer with 10 years of experience in the design and construction of large-scale infrastructure projects in a variety of industries, including transportation, energy, and utilities. My competence lies in all phases of project development, along with regulatory compliance.

I also master AutoCAD, GIS, and other civil engineering software and tools. In addition, I am well-versed in communication protocols for project management, cost accounting, procurement, contract administration, scheduling, and reporting requirements.

I also have a strong track record for leading complex engineering teams to deliver results effectively. I believe my skills and passion for engineering make me an ideal candidate for this position. For more details on my qualifications and experience, please see my attached resume.

I welcome the opportunity to further discuss my qualifications in an interview. I appreciate your time and consideration.

Sincerely,

[Your Name].
Bad Cover Letter Example:
To all who read this:

I'm writing this letter because I want to be a civil engineer at [Company Name]. I have the necessary experience and expertise to do the job well. I'm great at AutoCAD so that's definitely a plus! Plus I'm really good at problem-solving too! So please consider me for the job because I think I'll do a really perfect job if given the chance!
The poor example falls short, not great as it does not provide concrete examples of past experiences or accomplishments nor does it give out contact info for follow-up inquiries from potential employers.
The cover letter example also lacks politeness in its closing statement which could leave potential employers with a negative impression about the applicant's professionalism.
Cover Letter Template for Entry-level Engineering Resumes
Dear [Hiring Manager],

I am submitting my candidacy for the civil engineer position at [Company Name]. Although I have no work experience yet in this field, my education and relevant skills make me a strong candidate.

I recently concluded my BSc (Hons) in Civil Engineering from [University Name], where I developed a profound understanding of the essentials of engineering and gained hands-on familiarity with different software applications. I have excellent analytical and problem-solving skills, as well as the ability to think creatively and come up with innovative solutions. I am also detail-oriented and highly organized, capable of managing multiple tasks simultaneously.

I am a great team player, with strong communication and interpersonal skills. During my studies, I was able to work together efficiently with fellow students and professors on different projects. I am confident that I can bring these same qualities to the [Company Name].

I understand that while this role requires technical competence, it also needs someone who is passionate about their work.

Thank you greatly for your commitment; please do not hesitate to contact me if you need any information or have any questions.

Sincerely,

[Your Name].
Some Tips:
Focus on your education. Use your cover letter to emphasize your training and the things you learned in college.
Present your transferable skills. Outline any transferable skills from previous jobs.
Strengthen any relevant extracurricular activities. If you don't have much experience, highlight any civil engineering projects you've been involved in outside of your formal education.
Assert your enthusiasm. Remind the hiring manager how excited you are about the opportunity to join their team and how motivated you are.
Proofread Carefully
Ensuring that your civil engineer resume and job application letter are accurate and correctly spelled before embarking on the path of civil engineering is essential. A single typo or grammar mistake could ruin everything.
Using proper syntax and words in resume shows that you care about the details and take your application seriously.
What to Do
Read it out loud to yourself.
Ask someone else to look it through.
Use a grammar checker and spellchecker to catch any mistakes.
Have a friend or family member check it as they can spot errors that you may have missed.
Proofread multiple times, paying close attention to every detail.
Print out a hard copy of the resume and study it carefully.
Check for any typos, spelling errors.
Taking the time to proofread your drafts shows employers that you take pride in your work. Doing so can make the difference between getting an interview or not.
How to Write Civil Engineer Resume
This article provides an extensive overview of how to compose a resume when seeking a civil engineering occupation.
There are several important hints to consider when creating a resume, such as:

Use a professional format;
Include your contact information;
Include relevant background and skills;
Mention certifications, licenses, and awards;
Outline any volunteer work or community engagements;
Write a compelling summary statement.
To make the process of writing a resume simpler and quicker, we suggest utilizing an online resume constructor. With such a platform, it's possible to easily create an impactful civil engineer resume in minutes.
Making sure all the important points are included in the resume is essential for getting noticed by employers. Proving your qualifications and experience can set you apart and improve your chances of landing a civil engineering job.
Don't delay – begin constructing your draft immediately with the assistance of a resume builder!