If you're a certified nurse assistant (CNA) with a passion for healthcare and a desire to pursue your dream job in this dynamic and rewarding industry, you've arrived at the perfect destination.
The realm of CNAs is marked by both immense opportunity and fierce competition, where the quest for the ideal role can be akin to navigating a complex medical procedure.
In this comprehensive step-by-step guide, we aim to serve as your trusted companion on this journey, arming you with the knowledge and tools needed to craft a compelling CNA resume example that will shine brilliantly amidst a sea of applicants.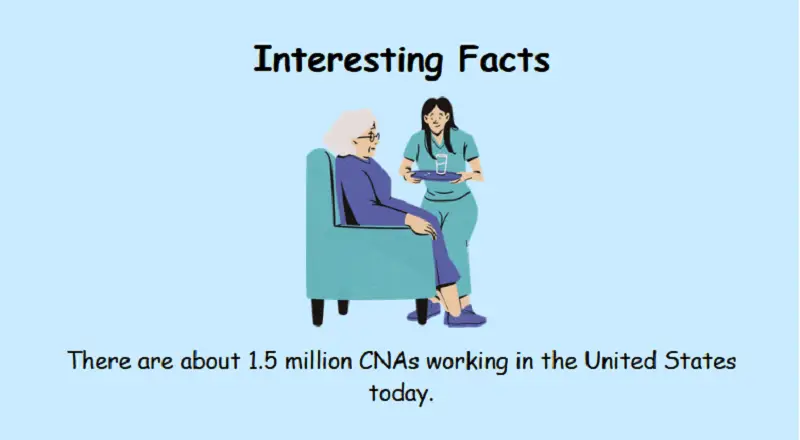 In the following sections, we will meticulously dissect each component of an effective certified nursing assistant resume, empowering you to confidently present your qualifications, experiences, and aspirations to prospective employers.
Nurses dispense comfort, compassion, and caring without even a prescription.
So, let's embark on this transformative process together as we equip you with the strategies and insights required to secure the job you've always dreamed of in the healthcare industry.
Choose the Right CNA Resume Format
When crafting your resume for CNA, the initial decision you'll need to make is selecting the appropriate resume format.
This choice fundamentally shapes how your qualifications and experiences are presented to potential employers. And it's crucial to opt for the format that best aligns with your unique background and career goals.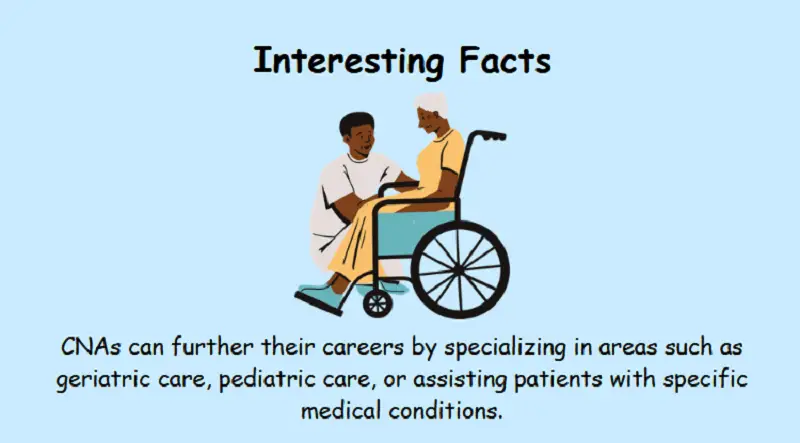 Here are the three primary resume formats you can consider:
Reverse-Chronological Resume Format:
This format stands as the gold standard in the world of resume writing and is overwhelmingly preferred by recruiters and hiring managers.
The core principle is to spotlight your work experience clearly and chronologically, starting with your most recent position and working backward in time.
This structure lets you emphasize your professional journey and accomplishments, making it an ideal choice for CNAs who wish to showcase their practical experiences in healthcare settings.
Using this format for a CNA resume example, you can strategically position your work history front and center. You will demonstrate your hands-on skills, patient care expertise, and dedication to the field.
Functional Resume Format:
The functional format takes a different approach by focusing on your skills rather than your work history.
The format is particularly valuable if you're a CNA with specific circumstances. Such as employment gaps or a desire to transition into another role within the healthcare field.
It allows you to underline your core competencies, certifications, and relevant skills, offering a more flexible way to present yourself. However, be cautious when opting for this format, as it may raise questions about your work experience if not executed effectively.
Combination (Hybrid) Resume Format:
The combination resume format balances the reverse chronological and functional formats.
It offers you the opportunity to display your qualifications prominently while incorporating a concise summary of your work history.
This format can be a strategic choice for certified nursing assistant resume, highlighting their hands-on experience and core competencies. It's instrumental if you want to emphasize specific skills or achievements gained during your CNA career.
In the context of writing CNA resume, the reverse-chronological format is often the preferred choice. It efficiently highlights your practical experience, allowing you to show the breadth and depth of your contributions to patient care.
Given the competitive nature of the healthcare industry, this format helps you demonstrate your qualifications and commitment clearly. However, remember that the choice of format should align with your individual circumstances and career objectives.
By selecting the suitable format, you can write a resume that impresses and successfully communicates your readiness to excel in the CNA role.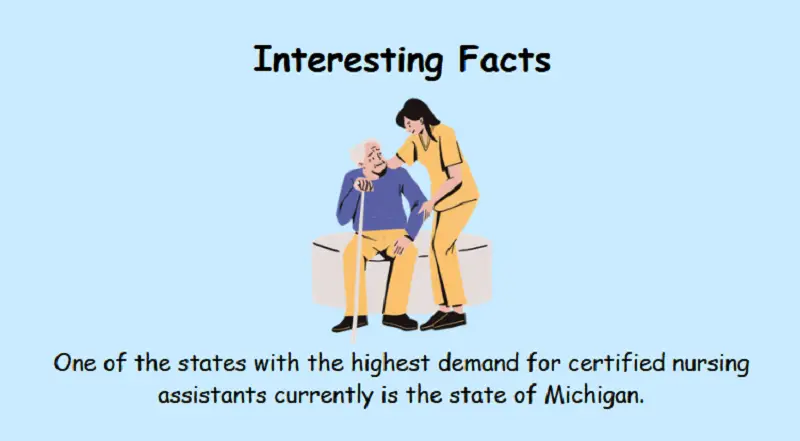 CNA Resume Examples
Summary

Dedicated Certified Nursing Assistant with 5+ years of experience in providing quality support to elderly patients. Compassionate and caring nature, with excellent communication and problem-solving skills. Possess current CPR certification.

Skills

Patient Care
Medication Administration
Vital Sign Measurement
Charting Documentation
Wound Care
Infection Control
Mobility Assistance
Bathing/Hygiene Assistance
Feeding Assistance
Emotional Support
Compassionate Care

Experience

Certified Nursing Assistant, ABC Hospital, Chicago IL | Aug 2015 - Present

Provide patient care to elderly residents in long-term care facility.
Document vital signs, input patient information into electronic medical records.
Assist residents with activities of daily living such as bathing, dressing, grooming, feeding and mobility.
Manage tracheostomy and ventilator care for assigned residents.
Perform therapeutic treatments such as catheter insertion and insulin injections according to physician protocols.

Certified Nursing Assistant, XYZ Nursing Home, Chicago IL | May 2012 - Aug 2015

Furnish elderly patients with top-notch care in a nursing home setting.
Ensure safe environment for all patients by following infection control protocols.
Assist with resident transfers using Hoyer lifts or wheelchairs.
Accurately measure and record vital signs including temperature, pulse, respiration rate, blood pressure etc.

Education & Certifications

Certified Nursing Assistant: State of Illinois | Current
CPR Certification: American Red Cross | 2020
High School Diploma: ABC High School | 2010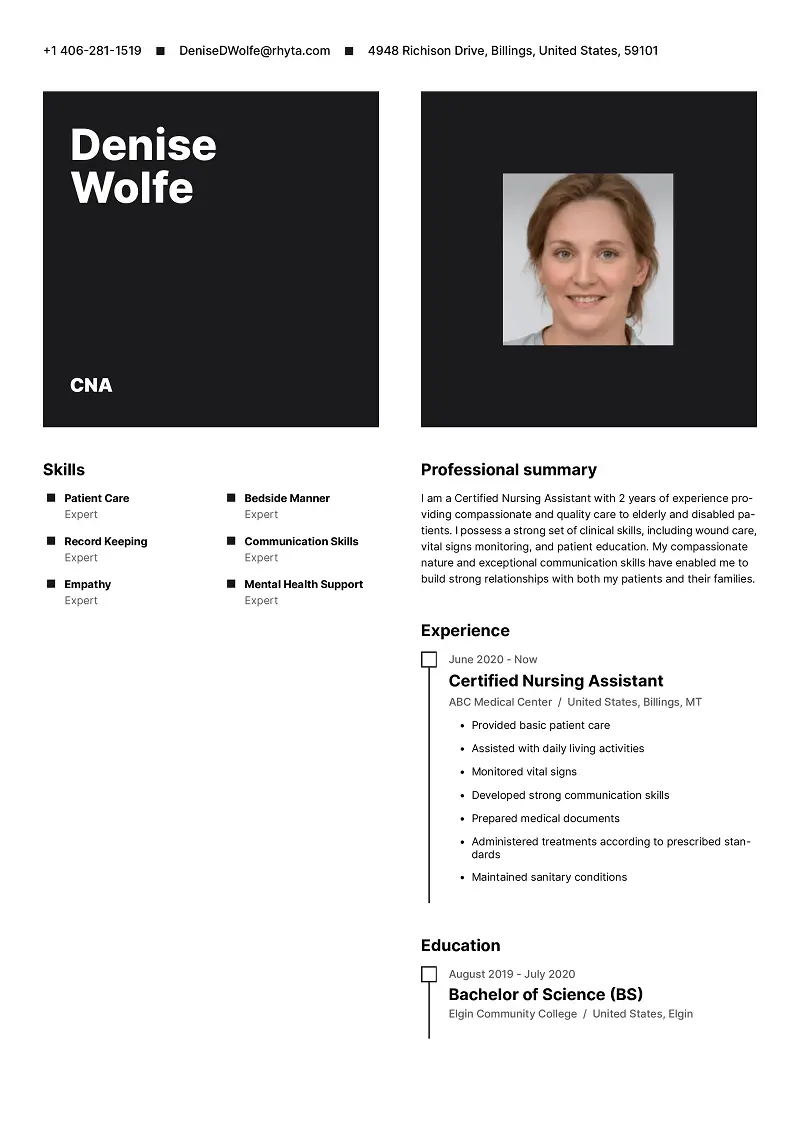 Write a CNA Resume
Create a Clean and Readable Layout
Creating a neat and easy-to-read layout for your CNA resume is not just a matter of aesthetics; it can significantly impact how hiring managers perceive your qualifications. A well-structured resume enhances readability and ensures that essential information stands out adequately.
Here, we delve deeper into the key elements of an impeccable resume formation:
1. Margins:
Adequate margins play a pivotal role in crafting a visually appealing resume for CNA. They build a sense of spaciousness, preventing your document from appearing cluttered or overwhelming.
By maintaining generous white space on all sides of your resume, you provide readers with breathing room. You make it easier for them to navigate through your qualifications and experiences.
Moreover, white space contributes to a polished and professional presentation, reinforcing your attention to detail - a quality highly valued in healthcare.
2. Length:
The length of your CNA resume is a critical consideration. In the fast-paced world of healthcare hiring, where recruiters sift through many applications daily, brevity is often appreciated.
Consequently, aim to condense your resume into a concise one-page format whenever possible. This succinct approach ensures that your most pertinent qualifications and accomplishments are showcased without overwhelming the reader.

It demonstrates your ability to distill complex information efficiently - an attribute that resonates well with the demands of the CNA role.
3. Font:
The choice of font may seem like a minor detail, but it plays a substantial role in enhancing the overall readability of your resume. Opt for a professional and easily legible font that is universally compatible with digital and print formats.
Examples of suitable fonts include Arial, Calibri, or Times New Roman. A clean, well-chosen font conveys professionalism and ensures your resume's content is accessible and easily digestible.
4. Bullet Points:
The strategic use of bullet points is essential to an effective layout. It offers a structured way to organize information, making your certified nursing assistant resume visually appealing and easily scannable. Each bullet point is a focal point, drawing the reader's attention to key accomplishments and responsibilities.
When crafting these points, focus on conciseness and clarity. Use action verbs to convey your contributions and emphasize quantifiable achievements whenever possible. This approach enhances the impact of your resume and showcases your ability to communicate information correctly - a skill vital in healthcare settings.
5. File Format:
Your choice of file format can influence how your resume appears to prospective employers. To preserve the formatting integrity of your CNA resume, it's advisable to save it as a PDF (Portable Document Format).
PDFs are universally compatible and maintain the form and typography you've meticulously designed, regardless of the device or operating system used for viewing. This format ensures that your resume looks polished and professional, no matter how it's accessed.
6. Consider Resume Templates:
Crafting a well-designed resume draft from scratch can be a time-consuming endeavor. Use professional CNA resume templates and CNA resume samples to streamline the process and achieve a visually impressive result.
These templates are specifically tailored for different professions and industries, including healthcare.
They offer preformatted layouts, fonts, and styles that adhere to industry standards, making inputting your information and creating a stunning resume easy.
Utilizing resume templates for CNA saves valuable time and ensures your resume has a polished, cohesive appearance that leaves a lasting impression.
By paying attention to margins, length, font choice, bullet points, file format, and templates, you can ensure that your resume not only stands out but also communicates your professionalism and attention to detail - an essential quality in healthcare.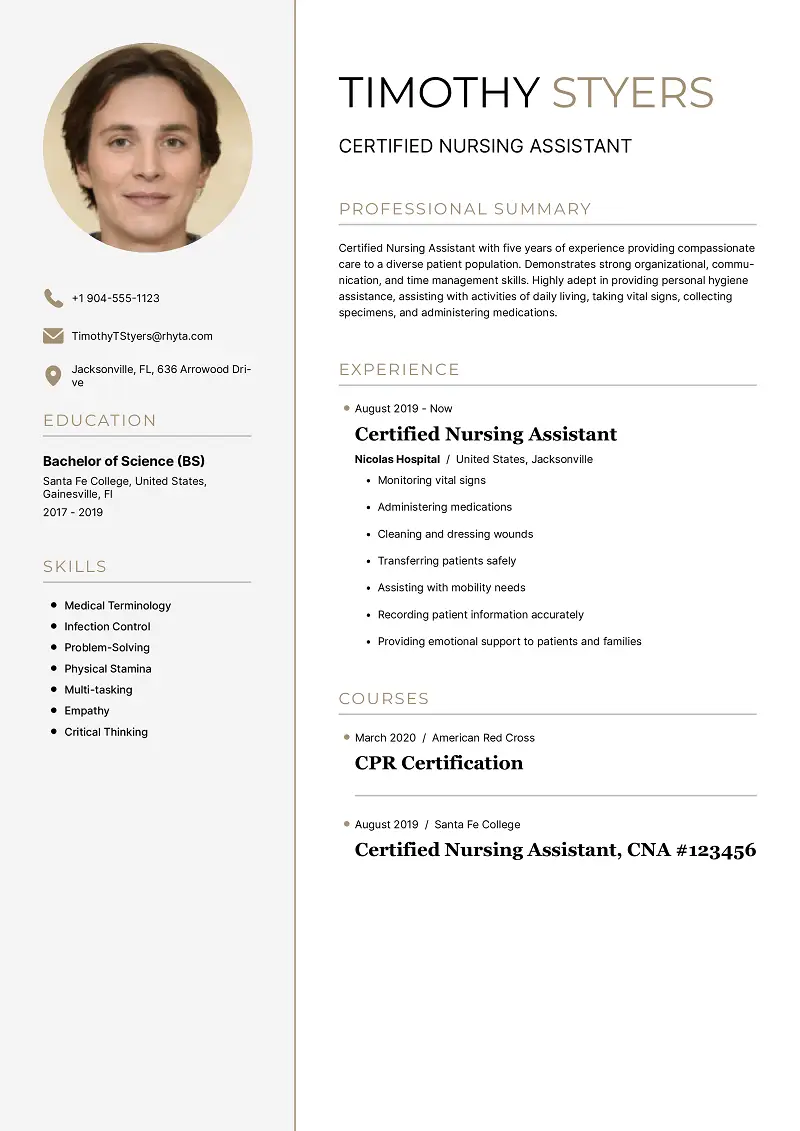 Understand Each Section
Crafting a winning CNA resume is similar to assembling the vital pieces of a healthcare puzzle. Any component serves a unique purpose, forming a comprehensive portrait of your qualifications and dedication to the certified nurse assistant role.
In this section, we'll delve into the key elements that constitute a stellar resume for CNA. By dissecting every block, understanding its significance and finding out how to organize sections, you'll be better equipped to create a standout resume.
Your Contact Information
Your contact information is not merely a technicality on your resume; it serves as the gateway through which potential employers can reach out to you.
This section, often found at the very top of your resume, is your first point of contact with hiring managers and recruiters. It should be meticulously crafted to ensure you are easily reachable and leave a positive impression.
Here's what you should include in this crucial section:
| | Description |
| --- | --- |
| Your Full Name. | Your full name should feature prominently and boldly on your resume. It's a basic identifier and an opportunity to establish your professional identity. Using a legible and slightly larger font for your name can make it stand out, ensuring HRs remember you. |
| Professional Title (Optional). | While it's not mandatory, including a professional title can provide a quick snapshot of your qualifications. For instance, you might add "Certified Nurse Assistant" after your name. This brief addition immediately advertises your core expertise and can be particularly useful when applying for roles with specific requirements. |
| Phone Number. | Your phone number is a direct line of communication between you and potential employers. Make sure it's accurate and functional. Consider using a voicemail message if you anticipate calls from unfamiliar numbers. Additionally, ensure that your voicemail inbox is not full, which can deter potential employers from leaving messages. |
| Email Address. | Your email address should be professional and easily recognizable. Avoid using quirky or informal email addresses, as they can be perceived as unprofessional. Opt for an address that incorporates your name or initials. Regularly check your email account, as timely responses are a sign of professionalism. |
| Location. | Including your locality is especially important in the healthcare industry, as employers often need to assess your proximity to their healthcare facility. Mentioning your city and state is usually sufficient. If you're open to relocation or applying for positions in different districts, you can specify it in your cover letter or objective. |
Including these essential contact details creates a streamlined and efficient channel for prospective employers to initiate contact. It also reflects your commitment to transparency and accessibility, qualities highly valued in healthcare.
As you craft your resume, remember that this section is the starting point of your professional journey, so make it count.
Craft a Memorable Resume Summary or Objective
Constant attention by a good nurse may be just as important as a major operation by a surgeon.
Your CNA resume summary or objective is your inaugural encounter with the hiring manager - a chance to make a lasting and positive impression. It is the opening statement that sets the tone for the rest of your resume.
Tailoring this section to your unique qualifications is paramount for captivating the reader's attention and compelling them to delve deeper into your credentials.
Below, we explore the nuances of creating a compelling resume summary or objective based on your specific background:
1) CNA Resume Summary: Showcasing Your Professional Prowess
If you possess relevant work experience in healthcare and as a certified nurse assistant (CNA), a resume summary is your ideal choice. This succinct paragraph serves as a spotlight on your professional background, skills, and achievements. When constructing a CNA summary for resume, consider the following elements:
| | Description |
| --- | --- |
| Position. | Start with your current or most recent CNA position. This conveys your up-to-date experience and demonstrates your continuity in the field. |
| Years of Experience. | Mention the number of years you've dedicated to the CNA role. This provides context and suggests your level of expertise. |
| Key CNA Skills. | Highlight your core skills, emphasizing those particularly relevant to the position you're applying for. These might include patient care, vital sign monitoring, or infection control skills. |
| 1-2 Top Professional Accomplishments. | Showcase specific accomplishments or milestones from your career. Use quantifiable metrics when possible, as this adds credibility. For instance, you may mention how you improved patient satisfaction scores or aided a certain number of patients during your tenure. |
2) CNA Resume Objective: Emphasizing Potential and Aspirations
If you lack direct CNA experience or are transitioning into the role, a resume objective is your opportunity to shine. This section allows you to underscore your skills and express your career goals. Here's what to include in a well-crafted objective:
| | Description |
| --- | --- |
| Certifications. | Include your CNA certification, assuring your foundational knowledge. |
| Related Experience. | Highlight any relevant experience you may have, even if it's not directly in a CNA role. If you've worked in a caregiving capacity, share how these experiences have equipped you with transferable skills like patience, empathy, and teamwork. |
| Relevant Skills. | Emphasize the skills that make you a strong fit for the CNA role. These include communication skills, attention to detail, and working under pressure. |
| Motivation to Work for the Organization. | Express your genuine interest in working for the company you're applying to. Highlight what draws you to their mission, values, or healthcare philosophy. |
Your summary or objective is a brief narrative that introduces you to potential employers. It should leave them with a sense of your qualifications, aspirations, and the value you bring to the CNA role.
Crafting this section with care demonstrates your ability to articulate your professional identity. It aligns your goals with the organization's mission - a compelling introduction that piques the hiring manager's curiosity.
In-Demand CNA Resume Skills
In the dynamic healthcare landscape, CNAs are indispensable pillars of patient well-being. They embody a unique blend of kindness, competence, and adaptability, contributing significantly to the quality of care provided.
Caring is the essence of nursing.
When constructing your resume for CNA, it's paramount to understand the distinct roles of two skill categories: soft skills and hard skills. These competencies enhance your resume's appeal to prospective employers and demonstrate your desire to excel in the demanding healthcare environment.
CNA Resume Soft Skills:
| Skill | Description |
| --- | --- |
| Compassion. | Compassion is the cornerstone of a CNA's role. It involves showing empathy, understanding, and genuine care for patients. For instance, comforting a distressed patient or offering emotional support during challenging times showcases your humanity. |
| Patience. | Patients may require extra time and attention. Demonstrating patience when helping patients with mobility issues or communication struggles underscores your dedication to their well-being. |
| Active Listening. | Listening to patients' concerns, needs, and preferences ensures you can provide tailored care. Acknowledging a patient's worries or requests demonstrates your attentiveness. |
| Interpersonal Skills. | Effective communication and interpersonal skills are vital for collaboration and building trust with patients and their families. Your ability to interact respectfully and professionally is exemplified during team discussions and patient interactions. |
| Dependability. | Reliability is crucial in healthcare. Consistently arriving on time for shifts, completing tasks as assigned, and being a trusted team member are ways to showcase dependability. |
CNA Resume Hard Skills:
| Skill | Description |
| --- | --- |
| Patient Positioning. | Competence in positioning patients safely in bed or for medical procedures to prevent injuries or discomfort. |
| Vital Sign Monitoring. | Accurately measuring and recording vital signs like blood pressure, pulse, and respiratory rate to assist in patient assessments. |
| Hygiene and Personal Care. | Providing essential care services such as perineal care, assisting with bedpans, and ensuring patients' personal hygiene needs are met. |
| Medication Assistance. | Administering medications, adhering to protocols, and recording medication intake accurately. |
| Infection Control. | Implementing rigorous infection control measures to maintain a sterile and safe healthcare environment. |
| EHR Software Proficiency. | Expertise in Electronic Health Record (EHR) systems for precise documentation and record-keeping. |
By seamlessly integrating these skills into your resume and illustrating how you've applied them in real-world scenarios, you not only bolster the resume's appeal but also paint a vivid picture of your commitment to exceptional patient care.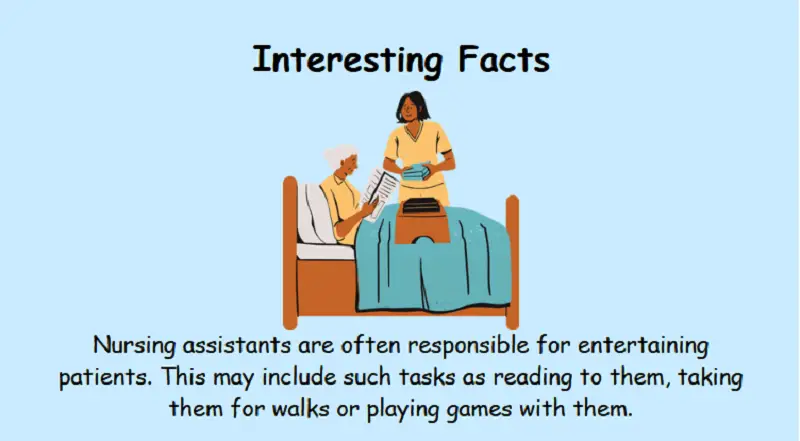 These skills, when thoughtfully showcased, serve as a testament to your readiness to thrive in the multifaceted realm of healthcare.
Spotlight Your Work Achievements
The work experience section of your CNA resume example is the beating heart of your document. It is a place where you can vividly showcase your contributions, mastery, and the tangible difference you've made in the healthcare field.
To ensure this section effectively communicates your value to potential employers, it's crucial to approach it strategically. Here's how to craft this section to stand out:
1) Organize for Clarity and Impact:
Begin your work experience section by detailing your most recent CNA position. This chronological order ensures that hiring managers get a sense of your current experience and career trajectory.
For each position, include the following key information:
Job Title: Clearly state your job title to convey your role within the healthcare team.
Company Information: Mention the name and location of the healthcare facility or organization where you worked. If the facility is not widely known, consider providing a brief description to offer context.
Employment Dates: Present the duration of your employment in the "mm/yyyy" format, giving recruiters a sense of your tenure.
List Accomplishments and Responsibilities: This is where you have the opportunity to shine. Rather than merely outlining your day-to-day tasks, prioritize showcasing your achievements. Use this section to illustrate how you excelled in your role and the positive impact you had on patients.
2) Emphasize Achievements over Responsibilities:
In the competitive world of healthcare, quantifiable acquirements are the currency of credibility. Instead of simply listing responsibilities, infuse your work section with attainments that reflect your proficiency and dedication.
Use concrete numbers and metrics to convey the scope and significance of your contributions in your certified nursing assistant resume.
For example:

Responsibility: "Aided patients with daily activities."

Achievement: "Aided 14 patients with daily activities, ensuring their comfort and well-being."
By quantifying your efforts, you provide tangible evidence of your capabilities and the extent to which you positively impacted patients and their healthcare outcomes.
3) Tailor Relevance:
While your professional journey may encompass various roles, tailoring these sections to underline the experiences most relevant to the CNA position is essential.
Focus on highlighting roles, responsibilities, and accomplishments that directly align with the skills and expertise sought by potential employers.
This targeted approach demonstrates your ability to discern and prioritize the most pertinent aspects of your background, making you a more compelling candidate.
4) Enliven with Action Verbs:
Infuse vigor and dynamism by commencing each entry with action verbs. Action verbs add energy to your descriptions and convey a sense of initiative and engagement.
Here are a few examples:

Assisted.
Provided.
Aided.
Collaborated.
Facilitated.
Implemented.
Spearheaded.
These action verbs paint a vibrant picture of your role in patient care and the health team, contributing to a more engaging and powerful story.
Your work experience section is your canvas to depict your journey as a certified nurse assistant. You'll present a compelling narrative of your impact and capabilities by organizing it with clarity, emphasizing accomplishments, tailoring relevance, and enlivening it with action verbs.
This section informs hiring managers of your professional journey and leaves a lasting impression of your ability to excel.
Address Your Education Concisely
Develop a passion for learning. If you do, you will never cease to grow.
While some healthcare roles require extensive formal education, becoming a certified nurse assistant (CNA) follows a different trajectory - one that values hands-on training, certifications, and practical skills over traditional degrees.
As such, the academic section plays a distinct role in your resume, focusing on the essential details that underline your readiness.
Here's how to handle this section with precision:
1) Degree Name (If Applicable):
For many CNAs, formal degrees are optional. However, if you hold a relevant degree that aligns with your CNA career, it's worth mentioning it briefly. This demonstrates your commitment to healthcare and your foundational knowledge.
For instance:

Relevant Degree (If Applicable): "Associate of Science in Nursing" or "High School Diploma."
2) College, University, or Educational Institution:
Indicate where you pursued your qualifications. Even if your education doesn't include a traditional degree, sharing this information adds credibility to your training. It also underscores your attitude to your chosen profession.
For example:

Institution Name: "XYZ School of Nursing" or "ABC High School."
3) Location (Optional):
While optional, writing the district of your educational institution on CNA resume can provide context, especially if it is well-known. Or if you attended school in a region that may be relevant to your job search.
An example might be:

Location: "New York, NY" or "Los Angeles, CA."
4. Attendance Years:
Specify the years during which you attended the university. This information gives potential employers an idea of your timeline and dedication to your education. It's presented in the "mm/yyyy - mm/yyyy" format.
For instance:

Attendance Years: "09/2018 - 06/2020" or "09/2015 - 06/2019."
5. CNA-Related Courses (If Applicable):
If you lack extensive work experience in the CNA role but have completed relevant classes during high school, college, or vocational training, consider mentioning them here. These courses can highlight your knowledge.
For example:

Relevant Courses: "Certified Nursing Assistant Training Program" or "Medical Terminology Course."
Demonstrate your commitment to the healthcare field by succinctly addressing your education and demonstrating your basic knowledge.
While CNAs may not require the same formal education as other healthcare professionals, this section underscores your readiness and dedication to delivering compassionate and effective care. It complements your work experience and certifications, creating a well-rounded portrait of your qualifications as a CNA.
8. Showcase Your CNA Certifications
Certifications are the bedrock of your qualifications. They validate your competence and assure potential employers of your commitment to providing high-quality patient care.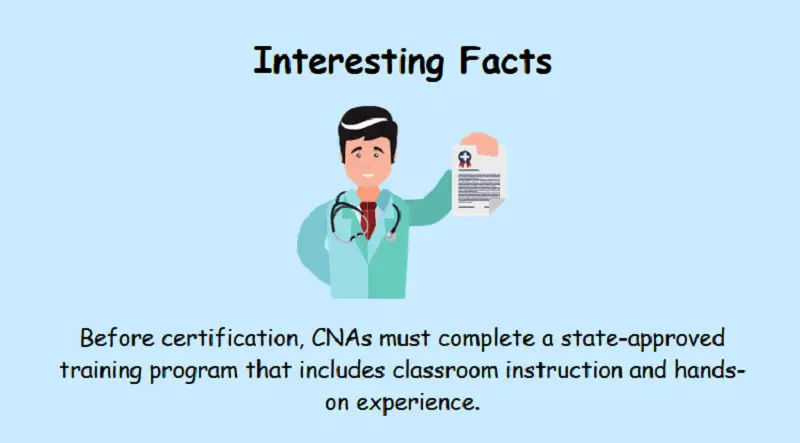 When presenting your certifications on your CNA resume, follow these guidelines to make a lasting impression:
| Points | Description |
| --- | --- |
| Certification Name. | Clearly note the name of the certification you've obtained. Most CNAs' primary certification is the Certified Nursing Assistant (CNA) certification. |
| Name of the Certifying Agency. | Mention the name of the organization or agency responsible for certifying you as a CNA. This lends credibility to your qualifications and ensures potential employers recognize the credentials. |
| Year of Certification. | Provide the year when you obtained the document. This helps employers gauge the recency of your training and knowledge. |
| Location (if Applicable). | If it is tied to a specific place, such as a state certification, include where you obtained it. This can be especially relevant if you apply for positions in different states with varying certification requirements. |
| Expiration Date (if Applicable). | If your CNA certification has an expiration date, include it. Keeping your diploma up-to-date is essential to remain eligible for CNA positions. |
| Expected Date of Certification (if You're Still in Training). | If you're currently undergoing CNA training and expect to obtain your certification soon, mention the anticipated date. This shows proactive planning and readiness for the role. |
Common CNA Certifications:
Certified Nursing Assistant (CNA) Certification. This is the foundational certification for CNAs, indicating your competence in providing basic nursing care to patients.
Cardiopulmonary Resuscitation (CPR) Certification. CPR certification is vital for CNAs as it equips you with the skills to respond to cardiac emergencies promptly.
Basic Life Support (BLS) Certification. Similar to CPR, BLS certification focuses on life-saving techniques and is often required for healthcare professionals, including CNAs.
Home Health Aide (HHA) Certification. If you plan to work in home healthcare, an HHA certification may be necessary. It covers skills specific to caring for patients in their homes.
By presenting your certifications clearly and concisely on your certified nursing assistant resume, you meet employers' expectations and convey your commitment to maintaining the highest standards of care in your role as a CNA.
9. Optional Resume Sections
If you have extra space on your resume, consider adding optional sections to gain an advantage over other applicants.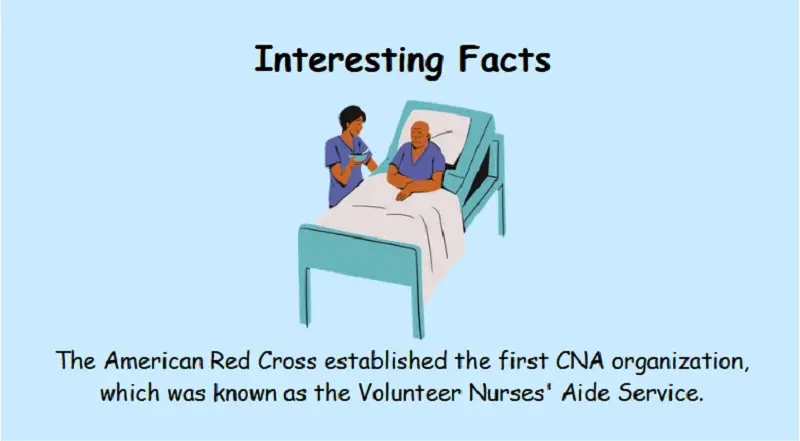 Possible sections include:
Associations and societies, along with your role in them.
Attendance at relevant conferences or events.
Awards related to nursing.
Language skills and proficiency levels.
Conclusion
America's nurses are the beating heart of our medical system.
Creating a successful CNA resume is a meticulous process that demands careful attention to detail. With this guide at your disposal, you will be fully equipped to meticulously craft a compelling resume that meets and exceeds potential employers' expectations.
Armed with your well-structured certified nursing assistant resume, you'll significantly boost your chances of securing your coveted CNA position - a role where your dedication to patient care truly shines.
Best of luck in your upcoming job search. May your journey to your dream CNA job be as fulfilling as your commitment to making a meaningful difference in healthcare.