Writing a concise resume objective is vital while creating your resume, as it's the first thing employers will see. A carefully crafted objective can help candidates make a positive first impression on potential employers.
However, it is important to write an objective for resume correctly and not to confuse with the summary. In this article, we will define what a objective statement is, how to write it, and see some examples.
Show me your resume and I will tell you what occupational diseases you may have.
Resume Objective: What is It?
A resume objective is a declaration that details the job seeker's career aspirations and how they intend to accomplish those goals. It typically appears at the top of a resume, and summarizes an applicant's skills, experience, and qualifications.
The objective should focus on the employer's needs and emphasize how the job seeker can contribute to their success. It should be customized for each job application, as employers are looking for candidates with particular skills and experience.
For example, a job seeker could write in their objective:
"Enthusiastic professional in search of a sales representative position with VTR Company that will utilise my strong communication, customer service and negotiation skills."
This statement provides an overview of the applicant's background, relevant skills, and career goals.
A well-crafted objective on your resume provides employers with an insight into what you can bring to the table. They will immediately see why you are qualified for the job.
To make the task easier, use an online resume builder. With Resume Trick and AI writing assistant, it would be easy to write a consistent, well-formatted resume objective statement.
Resume Summary vs Resume Objective
A resume objective and a resume summary are two very different things. Let's look at the major differences:
| Tables | Resume Summary | Resume Objective |
| --- | --- | --- |
| Purpose | Furnishes a clear description of your professional experience, expertise, and successes. | Shows why you would be a great fit for the company and position. |
| Key difference | It ought to be crafted in the third person with 2-4 sentences. Highlights the most important skills and qualifications required for this position. | Located at the beginning of your resume, but speaks directly to the hiring manager. |
| Examples | "Highly organized professional with four years of experience in customer service and project management. Seeking to leverage my expertise to help XYZ company improve operational efficiency". | "Newly graduated college student who has experience in customer service, public relations, and project management. Demonstrated success in leading teams to meet deadlines on time and under budget. Adept at identifying opportunities for process improvement and implementing solutions quickly". |
In case you have more than five years of experience, it's usually better to stick with a summary statement instead. A resume summary is more concise and focuses on your overall experience and accomplishments instead of just listing objectives.
Necessity of an Objective on Resume
Objective is an optional section that outlines your professional goals and how your capabilities and background make you well-suited for the job.
When deciding whether or not to include a career objective in a resume, it's important to consider the role you're applying for and the type of employer.
So when should you use it?
It's advisable to add a resume objective statement if you are just beginning your career.
Add an objective on resume if you are transitioning into a new field and wish to emphasize transferable skills.
It's also useful if you are targeting a specific company or industry, as it allows you to tailor your resume to the position.
If utilized appropriately, a resume objective can be an efficient way of distinguishing oneself from other applicants and catching the eye of employers. Now let's see how to write an objective for a resume.
How to Write a Resume Objective
Formulating a powerful career objective section for your resume is essential to grab the attention of a potential employer. A good objective for a resume ought to be straightforward, exhibiting why you are the best candidate.
Here are a few tips to help you write an effective objective statement:
Keep it brief. Aim for 3-4 sentences that succinctly describe the reasons for your application and what makes you special.
Be specific. Include keywords from the job description and highlight specific skills.
Highlight your strengths. Use your statement to point up your capabilities and expertise that make you an excellent match.
Avoid clichés. Steer clear of generic phrases such as "hard-working" or "team player" that don't really add any value to the objective statement.
Tailor it. Customize it for each job application, as this will indicate that you have invested the energy to research the role and company before applying.
By following these hints, you'll be able to put an impressive career objective on your resume that will enable you to outshine other candidates and increase the probability of securing an interview.
Basic Components of an Objective
Crafting a powerful resume objective may seem intimidating, but with the proper assistance, you can create an extraordinary one.
Start with a short introduction that explains why you are applying for the job. These ideas should be concisely expressed in two sentences or less, and must accurately specify the vacancy.
Explain how you would fit in well within the organization. Show that you understand the company's mission and values, and how they align with your own.
Conclude your objective statement by expressing enthusiasm and motivation to contribute to the success of the company.
Use action words for description like "I am eager" or "I am committed" so employers can tell that you are ready to take on this new challenge.
By including these components in your resume objective, employers will see that you have devoted the energy to build a thoughtful and persuasive introduction to yourself as a candidate. This can make all the difference in getting an employer's attention!
Resume Objective Samples
Below are some examples of resume career objectives for different positions.
Administrative Assistant
An objective statement for an administrative assistant should be pithy, precise, and straightforward. It should provide a brief summary of your skills, qualifications, and career goals, and how you plan to use them in the role. Here are the examples:

"Professional with a track record of organization and 5 years of experience seeking an administrative assistant position. Have superb communication, interpersonal, and organizational skills. Utilizing my know-how and background to effectively take up the administrative role at your company."
Executive Assistant
Including a well-structured objective statement in your executive assistant resume can assist you in transcending the other applicants. An illustration of a career objective for an assistant may be: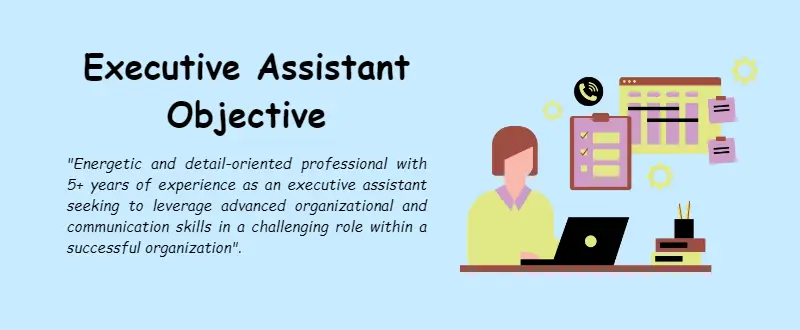 "I am passionate about succeeding in this role and am confident that I could make valuable contributions to the ABC organization's success. With my strong organization skills, commitment to excellent customer service, and knowledge of computer applications, I am certain that I can provide the highest level of administrative support as an Executive Assistant."
Project Manager
Are you an experienced project manager looking to further your career? An effective resume objective can help showcase your expertise to potential employers. Here are the examples of a strong, concise career objective for a resume: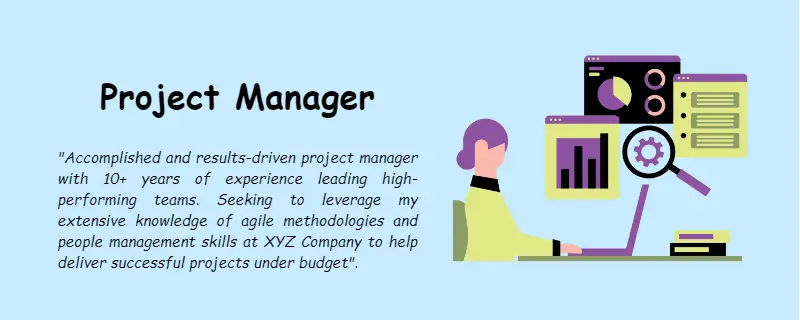 "Results-oriented professional with 5+ years of experience in project management, budgeting, and team leadership. Eager to employ my proficiency and information to assist ABC Corporation realize its ambitions. Proven success in developing effective strategies, coordinating resources, and delivering projects on time and within budget."
Data Analyst
Writing an objective statement for a data analyst's resume can be tricky. These could be samples of what an analyst's resume objective might look like:

"A highly organized and motivated specialist who has been in data analysis for five years. Possesses strong quantitative skills and a deep knowledge of data mining techniques. Looking to use my expertise to help XYZ Company drive business decisions through effective analysis of available data."
Secretary
Are you looking to become a secretary? Look at this successful secretary resume objectives: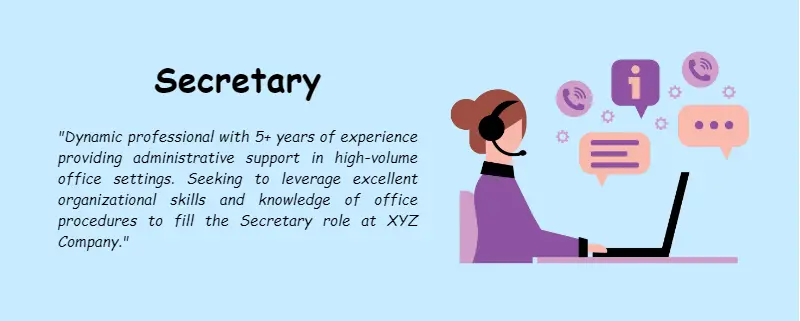 "With 3+ years of experience in the field of office administration, I am sure that my capacity to juggle various assignments and prioritize effectively will be beneficial to ABC Company. Possessing exceptional problem-solving skills, I am able to think quickly and make sound decisions in various situations."
Social Media
A successful marketing manager ought to possess knowledge of how to create and curate content, develop campaigns, and analyze data. This is how to write a resume objective for a manager:

"Highly motivated and creative social media specialist with five years of experience in growing online communities. Demonstrated capacity to create engaging content that drives user engagement. Experienced in leveraging analytics to increase customer satisfaction and brand loyalty."
Waitress
A succinct waitress resume objective should focus on your core talents and qualifications. Ensure that reflects the requirements for the vacancy you have applied for.
The examples of an objective for a waitress resume might be: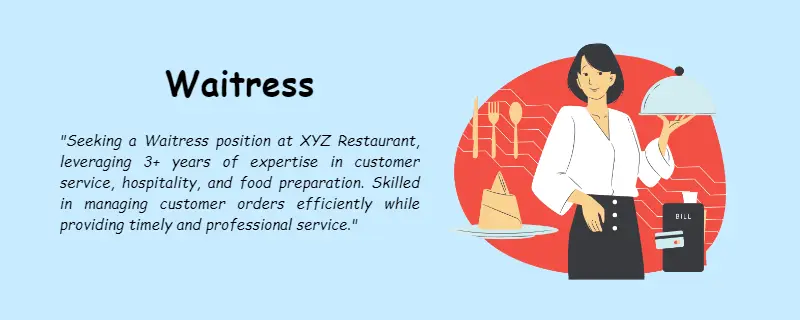 "As a highly motivated, outgoing, and organized professional with more than three years' experience in customer service roles, I am eager to join a team of waitresses at MON restaurant. Passionate about providing exceptional hospitality experiences to customers. Highly skilled in using point-of-sale systems and have the ambition to exceed customer expectations."
Teacher
Your objective statement should be in line with the job requirements and place emphasis on the skills and experience that make you a top candidate for the role. Here are the illustrations of a successful entry-level teacher resume objective:
"Results-oriented educator with 5+ years of teaching in a variety of educational environments. Demonstrated ability of successfully creating engaging lessons that meet state standards. Committed to delivering students with the highest quality educational experience. Focused on assisting students in realizing their complete potential."
Nurse
Nursing is an essential part of healthcare. A strong career objective statement in the resume can show potential employers that you are the right fit for the job. Below are the samples:

"Registered Nurse boasting more than 5 years of pediatric care experience. Seeking to leverage proven patient assessment and treatment skills as a Pediatric Nurse at ABC Medical Center, contributing to improved patient outcomes and satisfaction."
Babysitter
Do you want to land your dream babysitting job? Crafting a precise, to-the-point, and effective objective statement on your babysitter resume can help set you apart from the crowd. Check out these excellent resume objectives for a babysitter:
"Fun-loving, responsible babysitter with two years of experience providing excellent care for children aged 3-12. Dedicated to creating a safe and stimulating environment that encourages learning and development. Passionate about helping children explore their interests and reach their potential. Seeking a role as a babysitter where I can utilize my childcare experience and enthusiasm for working with kids."
House Cleaner
House cleaners are essential members of any home. They keep living spaces neat and tidy for their clients. A house cleaner's resume objective should plainly articulate what assets you can offer and why your proficiency is suitable for the role.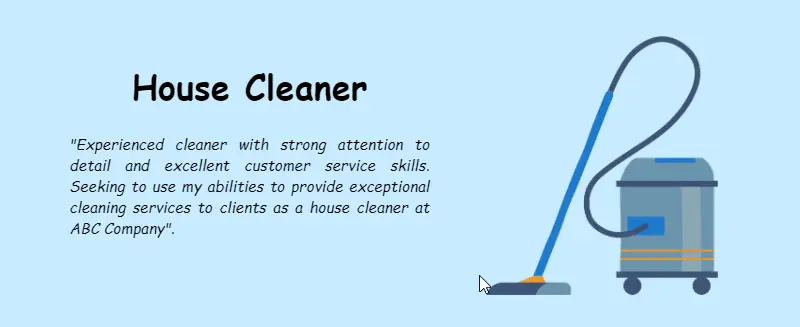 "Highly organized and detail-oriented professional seeking a house cleaner position with ABC Company. Having great verbal and analytical abilities, as well as a determined work ethic. Eager to use my knowledge and experience to ensure a spotless environment for clients."
Resume Objective Tips
A well-crafted objective statement can help you make a great initial reaction. Note some important tips to remember when writing your objective:
Concentrate on what the employer needs. Your statement should demonstrate your comprehension of the employer's requirements and how you can satisfy them.
Focus on the future. Use language that shows you're looking forward to future opportunities with the company.
Make sure it's error-free. An objective statement with typos or grammar mistakes will make a poor impression on employers, so be sure to proofread carefully before submitting your resume.
New Applicant Resume Objective
Developing a captivating resume objective can make your resume memorable. A good resume objective is succinct and precise.
Here are some samples of effective resume objectives for a novice:
Recent graduate in search of an entry-level position to build upon my skills and education in the field of ____.
Self-motivated individual seeking a managerial capacity to put my organizational and communication aptitudes to use.
Experienced professional aiming to expand my expertise in the area of ____ by joining a results-driven team.
Detail-oriented individual seeking an entry-level position in accounting to leverage my analytical skills.
Seeking an administrative role that allows me to use my knowledge of office procedures and technology.
Talented candidate in quest of a marketing role to utilize my creative thinking and social media knowledge.
Goal-oriented professional looking for an entry-level accounting job to increase efficiency with my data analysis capabilities.
Career Change Objective Statement
Are you considering a career change? A well-written resume objective may become the deciding factor during the hiring process. It needs to be prominent and capture the attention of the hiring manager.
Look at some resume objective examples to help you get started:
Experienced professional desiring to enter a distinct career field with an emphasis on customer service and project management.
Highly committed candidate seeking to leverage strong communication, organizational, and problem-solving skills in a new role.
Proven leader eager to utilize previous experience in sales, marketing, and finance to take on challenging roles in an innovative company.
Results-oriented professional eager to bring extensive knowledge of operations and human resources to a growing organization.
Experienced analyst seeking an opportunity to move into a managerial position with extensive experience in analyzing data and resolving issues problem-solving.
Self-motivated professional with excellent research skills and knowledge of software development looking to transition into a new field.
Passionate individual seeking an entry-level role that will permit me to make use of my creativity and interpersonal skills in a new setting.
Remember that your objective should be aligned with the position you are aiming for and should reflect your special set of skills and experiences.
Write a Resume With an Objective
Resume Objective: Conclusion
Composing impactful objectives for resumes can be the key to setting oneself apart and obtaining a job. It should highlight the skills, experience, and qualifications that make you the best candidate for the position.
By being clear, concise, and tailored to the position you are vying for, your resume objective can make employers take notice. It should include keywords that are relevant to the job and your industry.
Utilizing these strategies, you can write an effective objective statement that's sure to get the attention of employers!