Your resume is always the first impression you make on a potential employer, so why not make it the best? As a medical staff, it is important to have a great nurse resume example that stands out from the competition and showcases your skills, qualifications, and experience.
To do what nobody else will do, in a way that nobody else can, in spite of all we go through - is to be a nurse.
While writing a nurse resume may seem like a routine task, there are certain nuances and details that can make all the difference.
Read on to find out how you can create a resume that truly displays your value as a healthcare professional.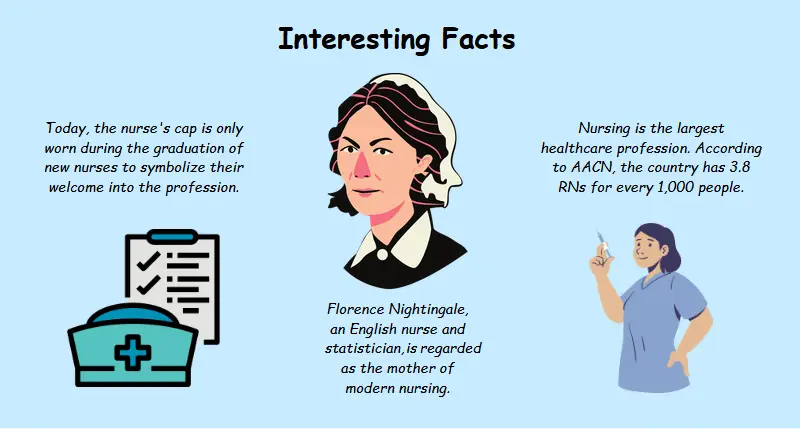 How To Write Nursing Resume
This article provides step-by-step guidance on how to compose a nursing resume. It outlines the key factors to consider, such as:
Researching the words that are better to use in a resume;
Understanding the necessity of social media links;
Proofreading your application papers.
It explains what exact segments to include:
Contact information;
Relevant experience and education;
Transferable skills;
Professional summary;
Cover letter.
Also, it covers how to format and organize resume sections in your professional nurse resume.
Use a Resume Builder
Preparing a nursing resume is a daunting task for any job seeker. That's why it's worth considering using a resume writing tool like Resume Trick. The online service can provide you with a multitude of formatting options and templates to choose from, enabling employers to recognize your application.
A pre-made nursing resume template is convenient. Crafting a resume as plain text can be time-consuming and overwhelming. With a template, you can build a more attractive resume in less time. You don't need to worry about inserting the right resume blocks - it's already done for you.
The nurse resume builder uses an AI writing assistant to make sure your experience and summary are listed correctly.
You'll also benefit from having access to the nursing resume examples. They might give you some extra inspiration when writing a resume.
A nurse resume template is designed to help you showcase your skills and qualifications in the best possible light. It confirms that your information is clearly presented and easily understood by recruiters.
For those who lack resume writing experience or want to save time but still stand out to recruiters, Resume Trick is perfect. So why not consider using it?
Nursing Resume Samples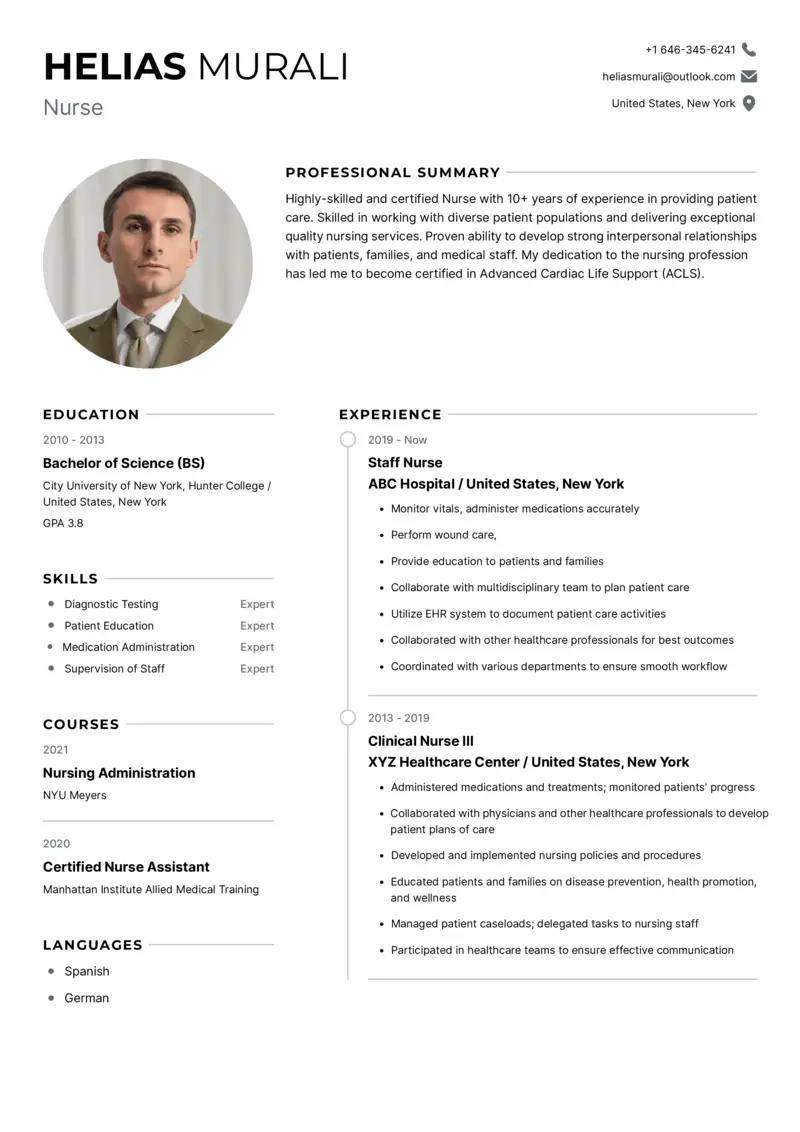 Summary

A highly motivated and compassionate nurse with 10+ years of experience in the medical field. Demonstrated expertise in providing exceptional care and creating a safe, comfortable environment for patients. Committed to promoting dedicated to advocating outstanding care.

Education

B.S. in Nursing, University of California, Los Angeles - 2006.

Skills

Excellent interpersonal skills;
Knowledge of evidence-based practice;
Skilled in administering treatments;
Proficient in clinical documentation and patient charting;
Fluent in Spanish and English;
Expert in patient triage and assessment;
Advanced knowledge of medical terminology and procedures;
Knowledgeable in all aspects of patient care.

Experience

Nurse Practitioner, XYZ Clinic, 2012 - 2015.

Provided primary health care services to adult clients;
Performed physical assessments and screenings for common illnesses;
Prescribed drugs upon diagnosis of disease or injury.

Registered Nurse, ABC Medical Center, 2007 - 2014.

Provide direct patient care and coordinate care planning with physicians;
Administer medications as prescribed;
Monitor and evaluate patient progress, response to treatment, and vital signs;
Assist with new patient admissions and discharges, including transferring patients to other medical facilities.

Certifications & Licenses

Registered Nurse License - State of California.
Basic Life Support (BLS) Certification, California.
Use Effective Words
It is undoubtedly important to use a professional style and phrases that effectively communicate your qualifications and value.
As a nurse, we have the opportunity to heal the heart, mind, soul, and body of our patients, their families, and ourselves. They may forget your name, but they will never forget how you made them feel.
When describing yourself in a nurse resume, use such words as "administered", and "monitored". "consulted", "assessed", and "supervised". They would give the reader an idea of the types of duties you did in each role.
Here are some effective words and phrases:

Patient-centered care: Show your core on quality patient care.
Clinical expertise: Highlight any specialized skills or certifications you possess.
Team player: Express your capacity to work cooperatively with other experts in the health care field.
Collaboration: Underline your talent to effectively communicate with colleagues and other healthcare staff.
Compassionate care: Make evident your engagement to provide the best possible treatment for patients.
Dedicated professional: Reveal your adherence to the selected profession and patient care.
Detail-oriented: Illustrate your focus on accuracy and precision when performing tasks.
Interpersonal communication: Describe your social capacities with patients, colleagues, and other professionals in healthcare.
Proactive problem solving: Declare your approach to critical thinking.
List Contact Information
Be careful and thoughtful while listing contact information, as not all data should be included. The amount of info that can be mentioned in a nursing resume depends on the type of job for which you are applying.
It is essential to include your name, address, phone number, email.
Some Details:
Your name has to be cited in a clear and concise way. For example, if you have a middle name, indicate it. This way the employers will distinguish you from other candidates with similar names.
Your mailing address and phone number should be up-to-date. In case you have recently moved or changed your number, make sure to update this information.
Choose an email that you check regularly and that is professional in nature.
However, it is also important to remember that too much private information in a nurse resume can be overwhelming for employers. Consider only including information that is necessary for probable employers to contact you or verify your qualifications.
Describe Experience
Nurses outnumber physicians by more than three to one in the United States.
When creating a professional nurse resume, verify that the experience block is organized properly. This will help emphasize your professional accomplishments and make it easier for potential employers to quickly identify the relevant information.
Generally speaking, it is best to list your nursing experience in chronological order, starting with the most recent job and working backward. This will enable the reader to rapidly recognize any progress or changes in your career.
If you have been a Registered Nurse at a hospital for the last five years, it would be advisable to list this job first and provide a brief job summary that highlights your main responsibilities and accomplishments.
You could then list any other prior nursing roles you had such as a Licensed Practical Nurse or Certified Nursing Assistant, along with any other relevant positions.
They might list their duties on a nursing resume as:
Chief Nurse, VA Health Care Center, Fayetteville, NC, 2020 - 2022

Provided patient care in accordance with established protocols;
Performed assessments and administered medications;
Collaborated with other healthcare professionals in developing care plans;
Educated patients and families about health matters.
By specifying this level of detail, you can help employers quickly identify what type of care and services you are able to provide.
Attention!
Avoid listing work experience in an unclear or disorganized manner in your nursing resume.

For instance, if an individual lists their job history by simply stating "worked as a nurse" without giving any further details, this can be seen as unimpressive and may result in employers passing over their application.
It is essential to list your work chronologically and use bullet points to clearly illustrate each job's duties and responsibilities.
The lamplight has become a global symbol of nursing, widely recognized as the symbol of Florence Nightingale and her life-changing work in the field of nursing.
Tell About Education
Nurses are the heart of healthcare.
When organizing the education section of your nurse resume, write all of your relevant educational experiences in chronological order. This allows employers to scan your qualifications and get a better understanding of what you can bring to the table.
If you recently graduated from a nursing program, this should be the top priority. You may also opt to add any associated certifications or specializations you have acquired since then.
Nurse Resume Example 1:

Master of Science in Nursing, University of Maryland, Baltimore (2022).
Bachelor of Science in Nursing, Johns Hopkins University, Baltimore, Maryland (2020).
Certified Registered Nurse Anesthetist (CRNA), American Association of Nurse Anesthetists (2020).
Organizing your educational experiences this way helps employers see your experience in both clinical and academic aspects.
The Certified Registered Nurse Anesthetists (CRNA) certification also indicates that you have specialized training in anesthesia and can be an invaluable asset to any healthcare organization.
Nursing Resume Example 2:

Master's Degree in Nursing, University of New York, NY (2022).
Bachelor of Nursing, Samuel Merritt University, Oakland, CA (2020).
Certified Practical Nurse Certificate, Community College of Baltimore County (2018).
In this case, HRs can see that the candidate has a real-world experience as a registered nurse in addition to the formal education at Samuel Merritt University. This combination shows that you have both the knowledge and skills necessary to excel.
It's important to avoid listing your educational experience incorrectly on your nurse resume. Sorting your undergraduate degree before your LPN license or other certifications could confuse or even imply that it's not as important as it really is.
To practice as a registered nurse, all nurses must pass the NCLEX. The exam assesses basic competency for practice and is standardized across all US states.
It's also essential to evade using overly long sentences or lists that may be difficult for employers to read through quickly.
Mention Nursing Resume Skills: Examples
Highlight both your hard and soft skills.
Hard skills are those technical that are easily quantifiable and can be revealed through experience.
Soft skills, on the contrary, are more subjective transferable skills, that point out an individual's ability to interact.
Nursing Soft Skills for Resume:
Excellent communication;
Compassion and empathy;
Problem-solving;
Stress management;
Interpersonal sensitivity;
Effective listening;
Good organizational and time management;
Attention to detail;
Flexibility and adaptability.
Nursing Hard Skills for Resume:
Knowledge of medical terminology;
Ability to use medical equipment;
Experience in performing medical procedures such as injections, wound dressing, etc.;
Understanding of clinical protocols, standards, and guidelines;
Knowledge of pharmacology principles and medications;
Capability to recognize signs and symptoms of illnesses or injuries;
Understanding of health insurance regulations and laws related to healthcare services;
Proficiency in electronic health records systems (EHR).
Write a Nurse Resume
Include Social Media: Yes or No
Overall, incorporating social media links in a nurse resume may prove advantageous, as it gives employers an idea of your character. You should review the type of material shared on your social media accounts when deciding whether or not to include such links.
Pros:
It can help employers gain insight into your interests and medical accounts, that you follow.
It may give them a better sense of how well you socialize with others and how you present yourself in everyday life.
Cons:
If there is any questionable content or posts on your profile, it could reflect poorly on you.
Employers may form an opinion about you based solely on what they see on your profiles without taking into account other factors.
If your Instagram profile is filled with professional photos of your nursing experience and achievements, you'll have an advantage.
Alternatively, if the candidate has posts that could be considered unprofessional or offensive, it would be best to omit the link from their nursing resume.
Compose Nursing Resume Summary
An important point is to create a statement that reflects your qualifications, experience, and goals in a concise and professional manner. An admirable nurse resume needs to be tailored to the specific position you are hunting for.
*Do not confuse resume summary with resume objective.
Example of a Great Nurse Resume Summary:

Self-motivated and compassionate Registered Nurse with 5+ years of clinical experience in medical-surgical, pediatric, geriatric, and ICU settings. Possess current RN license in California, BLS/ACLS certifications, and extensive knowledge of nursing care plans and protocols. Skilled at developing trusting relationships with colleagues and patients while providing superior patient care. Highly organized with exceptional written/verbal communication skills.
Tips on Writing the Nursing Resume Summary:
Include an overview of your past experience and qualifications that are relevant to the position you are hiring.
Utilize keywords from the job description to bring up your familiarity with the post.
Keep it concise - your summary should be no more than 4-5 lines long.
Consider Adding Extra Information
Hobbies: Adding pastimes to your nurse resume can be beneficial because it shows that you have interests outside of your job. If you enjoy running or playing sports, this means that you are eager to stay fit and healthy. And it is an important quality for healthcare professionals.
On average, a nurse will walk four to five miles during a 12-hour work shift. To compare, most Americans walk only two to three miles during an 18-hour day.
Courses: Out of these, recruiters can find out additional skills and knowledge you have gained. As an example, taking classes on medical coding or anatomy can show your appreciation of the latest trends.
Languages: The ability to communicate with patients from different backgrounds and cultures can be very profitable. If you are fluent in Spanish, this can be incredibly helpful when working in hospitals in the states with a large Spanish-speaking population.
Awards: They attract people to the fact that you are recognized for your hard work and commitment to the profession. Winning an award for patient care or customer service excellence validates that you have the desire to deliver exceptional care.
That's always great to illustrate that you have gone above and beyond what is expected of nurses. Your will to put in an extra effort shouldn't be understated.
Internships: If you interned at a hospital or clinic setting, sharing it on the resume will let employers know that you are aware of safety and regulatory practices.
References: Recommendation letters provide possible employers with additional information about your work ethic and capabilities from someone who has worked closely with you before.
This will be a very strong point if you have contact details of the people who can attest to your dedication and level of care for patients. Recommendations also reveal that there is someone willing to vouch for your abilities.
Certifications: Certificates tell employers what additional training and qualifications you possess that are relevant for the job. Holding a certificate in first aid or CPR training indicates that you understand the seriousness of safety protocols.
Write a Nursing Cover Letter
Crafting an excellent cover letter when applying for a nursing job is essential. Introduce yourself, highlight any relevant experience or qualifications, and explain why you would be a good fit.
Here are some tips on writing a great nursing cover letter:

Use an appropriate greeting: Begin your cover letter with a formal phrase, such as "Dear Hiring Manager" or "To Hiring Manager".
Keep it simple and brief: Keep your cover letter succinct, no longer than one page in length.
Underline enthusiasm: Show that you are passionate about working in nursing and are excited to join the team.
State why you're the top choice: Highlight key qualifications and abilities that render you suitable. Demonstrate how you can bring value to the organization through your experience and skill set.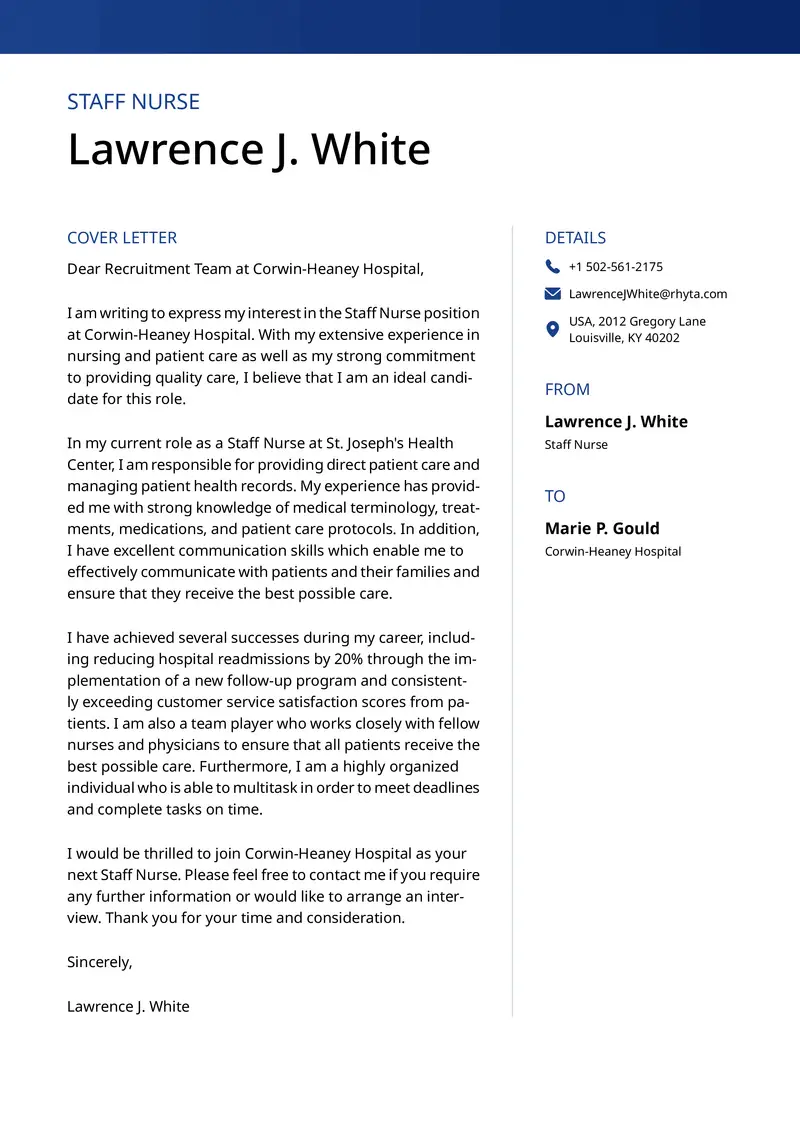 Good Example:
Dear [Hiring Manager],

I am submitting my candidacy for the role of Registered Nurse at [Hospital Name]. I believe my patient care experience and commitment to providing superior healthcare services make me an ideal candidate for this position.

Since graduating with my bachelor's degree in Nursing from [School], I have worked in both inpatient and outpatient settings. They offered comprehensive healthcare, educating patients on disease prevention and treatment plans, administering medications, facilitating laboratory tests, and managing patient records with accuracy and efficiency.

I have also maintained superb working relationships with colleagues, physicians, and other healthcare professionals while ensuring compliance with regulations set forth by governing bodies such as the JCAHO.

My combination of clinical expertise and interpersonal skills makes my qualifications make me a perfect fit. As a Registered Nurse at [Hospital Name], I believe I can provide exemplary care while contributing to its success through my commitment to patient excellence.

Thank you for your time and consideration; I look forward to discussing this prospect further.

Sincerely,

[Your Name]
The above cover letter example describes the qualifications and relevant experience, and shows enthusiasm for working in nursing. Additionally, it contains all the necessary information which makes it easy for employers to reach out to the candidate if needed.
Bad Nursing Cover Letter:
Hi! I'm applying to be part of your team! I'm really excited about this opportunity because I love taking care of people – it's been my passion ever since I was little! My experience includes working in retail stores where I interacted with customers on a daily basis. This has prepared me well for interacting with people in a healthcare setting! Plus I'm great at multitasking – something that would come in handy when managing multiple tasks during shifts! So please look at me as a member of the team – thank you!
This is not a good cover letter. It does not provide specific details about relevant qualifications or experience that make the applicant a good fit for the vacancy.
Also there is no formal greeting or contact data included which does not facilitate employers' efforts to reach you if needed.
Cover Letter for an Entry-Level Nursing Resume:
Dear [Name],

I am writing to apply for the position of nursing assistant in your facility. I have no previous experience as a nurse. However, I am confident in my ability to learn and adapt quickly and provide excellent patient care.

I have just completed my studies at [Name of School] with a degree in Nursing. During my studies, I was consistently praised for my attention to detail and my capacity to work effectively with others. I am also fluent in [language], which could be an advantage when treating people from various origins.

I am passionate about providing premium care and ensuring that the facility I work for follows the highest standards of quality. In addition, I have strong communication skills, and I am able to easily build rapport with clients and their relatives.

I would love to use my knowledge and skills to contribute to your team and become an integral part of your organization. Please feel free to contact me if you have any questions or would like me to provide additional information regarding my qualifications.

Appreciate your time and thoughtfulness.

Sincerely,

[Your Name]
Tips for an Entry-Level Cover Letter:
Focus on your skills, rather than the experience that you don't have.
Demonstrate your commitment to the field by highlighting your relevant educational background; include any honors that reveal your hard work, such as Dean's List or scholarships.
Showcase any extracurricular activities that express leadership skills; this could include anything from being a leader in a club or organization, or taking on roles outside of class.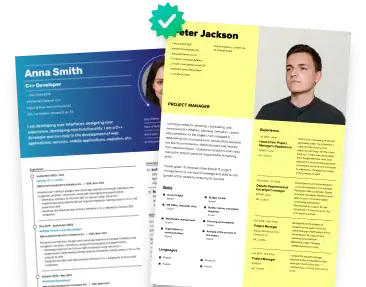 Proofread to Perfection
Ensuring the correctness of a nurse resume and cover letter is extremely important. It is the first impression potential employers will have of you, and sloppy mistakes can change that perception negatively.
A poorly written resume can not only hurt your chances of getting the job. It can also give the impression that you do not take your job seriously. Catching errors in spelling and other writing conventions is critical to creating a strong, professional impression.
To affirm accuracy and quality, proofread your documents several times.
Read out loud to catch any errors that you may have missed while reading silently.
Try to take breaks while checking. This way, you can come back with fresh eyes and catch small mistakes that you might have missed before.
Use tools like Grammarly or ask a friend or family member to review your documents for any errors.
Ensure that you avoid any jargon or slang terms. Pick words wisely as they can illustrate your superiority over other applicants.
Check the length of a resume and the absence of excessive information.
Overall, taking the time to spellcheck your documents is essential when seeking an occupation. Make sure your nurse resume and cover letter are error-free to project a professional image.
Constant attention by a good nurse may be just as important as a major operation by a surgeon.
Conclusion
Following a few simple steps will help you prepare an outstanding resume for nurses. Memorize the few key takeaways:
The summary statement should provide a brief overview of gained qualifications, and background.
Relevant certifications, education, and experience should be stated in reverse chronological order.
Specific job duties and accomplishments have to be written in detail.
If you have any special skills or knowledge that may be applicable, it is best to include them.
With these tips in mind, you can create the best nurse resume example and shine like a star.
Writing a resume doesn't have to be hard! An online resume builder can help you quickly assemble all the components into a professional document that potential employers will notice.
So what are you waiting for? Start building your nursing resume now!