As an event planner, having a great resume is vital to standing out from the competition and landing your dream job. Crafting a well-written event planner resume is essential to demonstrate to employers the skills and experience needed for the job.
"A goal without a plan is just a wish." 
This article provides a guide on how to compose a successful event-planning resume. It outlines the critical components of a professional resume, including qualifications, education, experience, and references.
Additionally, it provides tips for event planner's cover letter writing.
The article also explains the importance of customizing each resume to suit the job description and using industry-related keywords.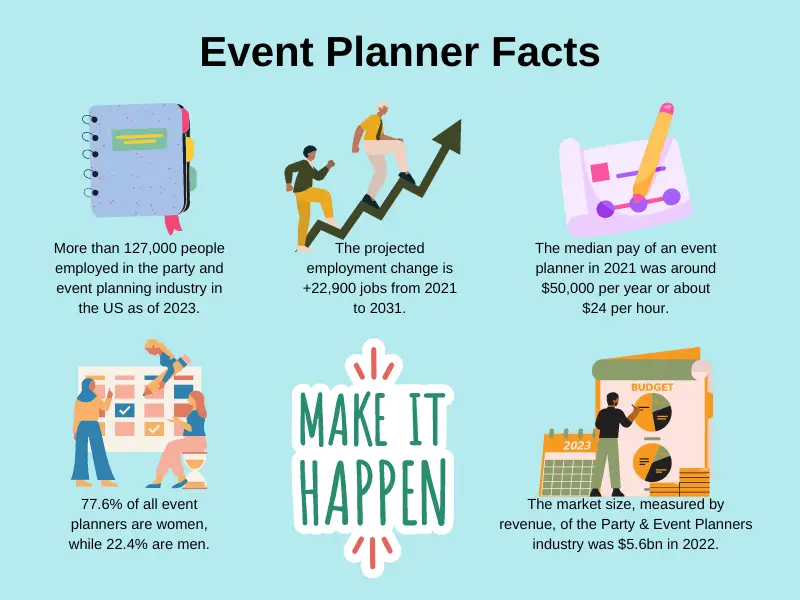 1. Resume builder
Are you looking to write an event planning resume? Need help figuring out where to start? The online resume builder can be the perfect solution!
Using an event planner resume template is an easy way to create a well-structured, professionally-looking document. It will save you time and effort!
You will not need to format your paper from scratch. All the hard work has already been done for you!
You only need to fill in the pre-made event planner resume sample with information about your job history and other relevant experience.
You can use field-specific expressions suggested by the AI. Hence, you will be able to show your event planning skills and qualifications in the language that recruiters and employers are familiar with.
If you are applying for multiple roles at once, you can save different versions of your resume. Moreover, with the web-based resume-building service you can tailor the application for each event planner's job description.
You can easily customize the event planning resume with different fonts, colors, and layouts so that it mirrors your personal style and brand. This makes it easier for employers to remember who you are and what you bring.
The event planner's resume templates will help ensure you remember all critical information about formatting and style. Since it has been professionally designed, you can be sure it meets current standards.
Why not give a resume builder a try today? You will have a pro-looking resume ready in no time at all!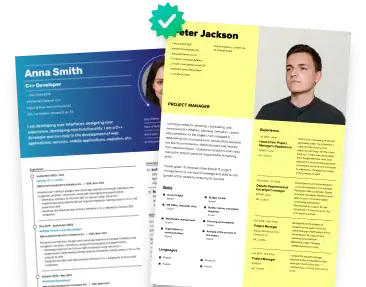 2. Event planner resume examples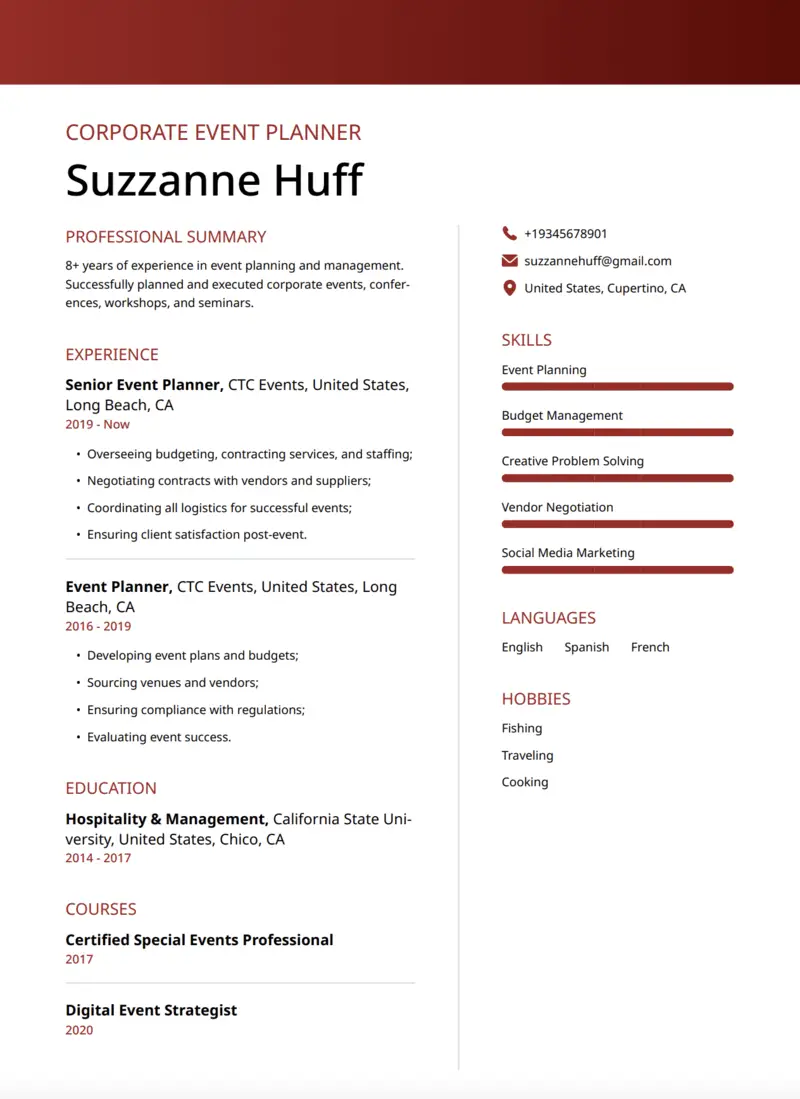 3. Writing suggestions
When crafting an event planner resume, focus on the skills that make you excel in the field. Use clear and concise wording to present your experience and credentials.
Emphasize your organizational skills, and incorporate education or certifications you have obtained associated with event planning. For example, if you have a hospitality degree or an event planning certificate, this should be included.
4. Contact information
When including contact and personal information in a resume, it must have only the most relevant details. It is also vital to check that the information is up-to-date and accurate.
An event planner's resume should state your name, current address, professional email, and phone number.
You may choose to add social media accounts in case they are associated with the event planning field. More on the inclusion of such accounts will be discussed later in the article.
5. Work experience
The resume sections' structure is the key when creating your event planner's resume. For employment overview, list your past positions chronologically, starting with the last one.
The median pay of an event planner in 2021 was around $50,000 per year or about $24 per hour. (US Bureau of Labor Statistics)
Each listing should contain the job title, company name, location, and dates you held the position. Even if this is not related to paid employment, it can demonstrate your dedication and commitment to the profession.
Briefly overview your role and responsibilities within each position. Focus on showcasing successes during your time with that employer. Add bullet points under each job to detail your primary responsibilities and accomplishments.
Avoid generic statements like "responsible for planning events" and instead provide specific examples by mentioning tangible results.
Event planner resume - sample work history:
Event Planner – Company ABC – New York City (August 2020 – Present)

Manage all aspects of corporate events, including budgeting and vendor selection;
Create detailed plans for events, such as conferences and product launches;
Liaise with clients on pre-event preparations and post-event follow-ups;
Source venues and negotiate contracts for event space rental.

Event Coordinator – Company XYZ – Los Angeles (April 2018 – July 2020)

Coordinated logistics for up to 3000 attendees at large-scale events;
Originated themes for parties and other social gatherings;
Created efficient timelines for event setup and breakdowns;
Troubleshoot technical issues during events.
Finally, cover volunteer work and other involvements that may be connected to event coordination. This may consist of internships, personal projects, or volunteer events.
More than 127,000 people were employed in the party and event planning industry in the US as of 2023. (IBISWorld)
Unpaid activities will show HR specialists your passion for event planning and the expertise necessary for success in the profession.
With a clear organization on your event planning resume, potential employers will better understand your performance in the past. This will help them evaluate how you could benefit their company.
6. Education
Your academic history on the event planner's resume should be listed chronologically, just as in the section on employment. Start with the most recent degree or certifications and work backward from there.
"Plans are nothing. Planning is everything."
Include relevant details such as the degree/certification name, school/institution name, location, date of graduation/completion, and any additional event planning certifications or awards you may have earned.
This is what your credentials may look like if you are an event planner who recently graduated from college.
Event planning resume - examples of education section (1):
Bachelor of Arts in Event Management - University of California Berkeley (Berkeley, CA) - Graduated in 2022.
Certified Meeting Professional (CMP) - Event Professionals International (New York, NY) - Completed 2022.
Or perhaps you are a more experienced event planner. Then your academic details may look like the following.
Event planning resume - examples of education section (2):
Master's in Business Administration - Harvard Business School (Boston, MA) - Graduated 2022.
Bachelor's Degree in Hospitality Management - University of San Diego (San Diego, CA) - Graduated 2020.
Licensed Event Planner (LEP) (CEP) - The National Association for Event Planners (Chicago, IL) - Completed 2019.
You may also share details of your participation in student organizations or clubs, athletic events, and other things you have done while in school.
Build an event planner resume
7. Professional skills
Ensure to list both hard and soft event planning skills on your resume. Hard skills are special technical abilities, while soft ones are more people-oriented traits.
77.6% of all event planners are women, while 22.4% are men. (Zippia)
Event planner resume - examples of soft skills:
Organization. The skill to plan, coordinate, and manage resources efficiently.
Communication. The talent to establish and maintain relationships with customers, vendors, and other stakeholders.
Interpersonal. Excellent communication and problem-solving skills.
Problem-solving. The proactive approach to anticipating potential issues and finding solutions.
Creativity. Development of innovative and original ideas for events.
Time Management. The ability to set priorities, meet deadlines, and multitask.
Flexibility. Easy adjustment to changing conditions and unexpected events.
Negotiation. The knowledge of resolving conflicts and reaching mutually beneficial outcomes.
Adaptability. The ability to work well under pressure in a fast-paced environment.
Detail-oriented. The capacity to focus on details when planning, organizing, and executing events.
Multitasking. The mastery of multitasking and prioritizing tasks effectively.
Event planner resume - examples of hard skills:
Budgeting. The knowledge of fund allocation and financial management practices concerning event planning.
Vendor Management. The expertise in selecting retailers, negotiating contracts, and managing vendor relations.
Venue Selection. Familiarity with venues suitable for various types of events.
Risk Management. The ability to potential risks and emerging contingency plans.
Event Design. The talent to create attractive, engaging, and functional event designs.
IT Proficiency. Familiarity with software programs to manage event planning tasks, such as Microsoft SharePoint or Eventbrite.
Contract Negotiation. The skill to negotiate favorable terms with suppliers.
Marketing. Experience developing promotional materials such as flyers, brochures, invitations, etc.
Customer Satisfaction Analytics. The capability to create reports upon completion of the events using metrics, such as ROI.
SMM. Understanding of social media marketing for event promotion and audience engagement.
Graphic design. Proficiency in graphic design programs such as Adobe Photoshop or InDesign for creating event visuals.
8. Social media
An event planner's resume may incorporate social media links to help potential employers better understand the candidate's work. Such digital channels can provide insight into a person's managerial and creative skills, as well as the talent to collaborate and communicate.
Pros:
Demonstrates creativity and organizational skills.
Can display a portfolio of work samples in photos, videos, or other content.
Provides an accurate reflection of the applicant's online presence.
Shows how well the individual collaborates with others.
Can be used to contact colleagues and past clients.
Cons:
Employers may be concerned about an unprofessional online presence, such as inappropriate posts.
If not managed properly, there can be a lack of privacy on social media platforms.
Employers could find irrelevant information that may be used against the applicant during the interview process.
For example, the event planner might have a Twitter account that regularly showcases their events. Similarly, they could have an Instagram blog that features images from previous conferences they organized.
These accounts can help recruiters and prospective employers have an additional way to examine their event planner's skills and experience in this field.
9. Resume summary
The projected employment change is +22,900 jobs from 2021 to 2031. (Bureau of Labor Statistics)
An event planning resume summary needs to focus on your key capacity to provide a memorable guest experience while taking charge of other duties. Highlight your expertise in coordinating, designing, and implementing events.
Tips on writing an exceptional event planner's resume summary:
Highlight your most relevant skills and experience first. When writing the summary, start by describing the skills you have that are directly related to the specific job.
Showcase your accomplishments. Instead of describing your duties, list your achievements in each role. This will show employers that you are capable of producing results and making an impact in the workplace.
Keep it brief. Resume summaries should be no more than 4-5 sentences. Ensure all the information included is pertinent to the position you are seeking.
Event planner resume - examples of summaries (1):

Skilled event planner equipped with 3+ years of success organizing large-scale events across various industries. Proven track record in managing funds, schedules, and vendors to create remarkable experiences that meet customer expectations. Skilled in event design, marketing campaigns, and client relations.
Event planner resume - examples of summaries (2):

Event planning expertise of 6+ years of experience coordinating events of all sizes. Demonstrated excellence in leading projects from start to finish, meeting deadlines, and staying within budget. Skilled in problem-solving, project management, and providing excellent customer service.
Summarize your talents and credentials in a few sentences so that the reader can get a good idea about who you are.
Use keywords and phrases from the event planner's job description so the hiring manager understands how your skills match the business needs.
10. Additional details
Consider adding extra facts to the event planner's resume to create a comprehensive outline that covers all aspects of your personality. Doing so will add a personal touch to your profile.
Hobbies indicate your interests and passions outside the professional environment.
Courses & Internships show that you have invested in furthering your knowledge about the field.
Languages demonstrate the ability to work with people from different cultural backgrounds.
Awards & Certificates evidence your skillset and expertise in event planning.
References provide potential employers with additional insight into your character and professional capabilities.
"If you can visualize it, if you can dream it, there's some way to do it." 
Hobbies, courses, languages, awards, internships, and certificates can demonstrate your supplementary event planner's qualifications and expertise.
Build an event planning resume
11. How to write an event planner cover letter
Drafting a cover letter is an essential part of applying for event planner jobs. A great supporting letter has to exhibit your skills and distinguish you from other applicants.
Here are tips to help you write an outstanding cover letter:

Be specific. Your letter should be tailored to the vacancy you are applying for. Reflect on the needed competencies listed in the event planner's job description.
Avoid generic. Do not use cliches or vague phrases and focus the event planner's cover letter on how your knowledge can benefit the employer.
Highlight your experience. If you have previous event planning and organizing expertise, highlight it in the letter. Mention volunteer or professional roles where you planned events or managed logistics.
Be confident. Even if you do not have any practical experience yet, emphasize related skills that will make you succeed in the role.
Add personality. Use the letter to explain why you are passionate about working as an event planner. Besides, state how you would be an asset to the team.
Express excitement. Show genuine enthusiasm and a willingness to learn. Remember to share why the company is an excellent fit for you and your career goals.
Proofread carefully. Once you are finished writing, ensure that you read through the event planner's cover letter carefully and correct all the errors before sending it over to HR.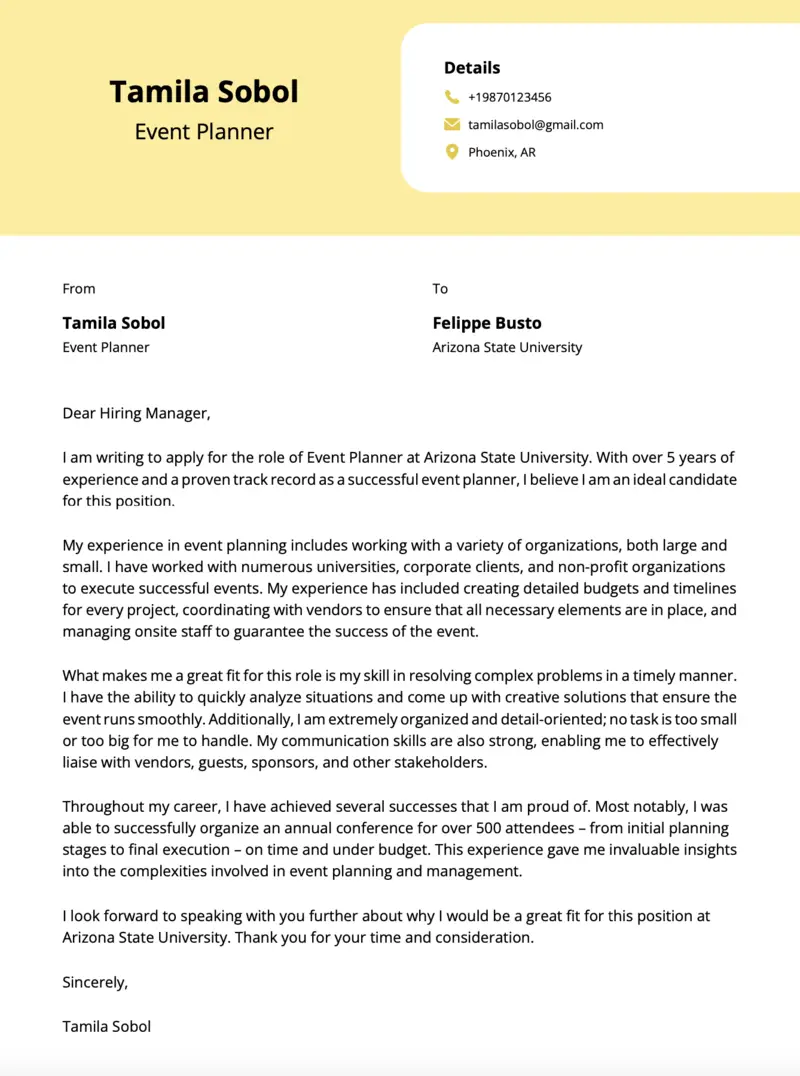 Now let's examine some examples of effective and ineffective cover letters to support an event planning resume.
Bad example of an event planner's cover letter:
To whom it may concern:

I am applying for the opportunity to be an event planner at [Company Name]. I think I would do a great job because I have been working as a project manager for quite some time now. I am very organized with money and stuff like that so this job seems perfect for me! I have done much customer service too so feel free to contact me anytime if you need more information! Thank you!

Sincerely, [Name]
This example is not specified enough. It does not provide details about why the applicant is qualified or what fascinates them about event planning.
The lack of details makes it sound like a generic application without much care about the position and the company. Additionally, several grammar errors may give a negative impression of their meticulousness and professionalism.
Good example of an event planner's cover letter:
Dear [Hiring Manager],

I am submitting my candidacy for the event planner job at [Company]. As a professional event planner possessing 10 years of experience, I am sure I could be a good fit for this role.

I have planned and executed successful events for corporate clients, government organizations, non-profits, and private celebrations throughout my career. My experience also includes organizing high-profile events such as weddings, anniversaries, and galas.

I am adept at creating budgets and managing costs while ensuring quality outcomes. Moreover, I possess outstanding communication skills enabling me to interact effectively with vendors and customers.

My expertise in event preparation strategies and my creative flair make me an ideal choice for the vacancy of event planner at [Company]. I am confident I could bring my experience and eagerness to positively impact your business.

I anticipate speaking further about this opportunity in an interview setting. Thank you for your time and consideration.

Sincerely, [Name]
This cover letter example is good because it clearly outlines why the applicant is well suited for the job based on their experience level and skill set.
It also lists particular characteristics of past event planning experiences and any noteworthy achievements or projects completed in this field.
Finally, it has a thank-you statement conveying the applicant's politeness and professionalism.
Cover letter for entry-level event planner's jobs:
For those who still need to gain work experience in the field, focus on other transferable skills such as organization, communication, problem-solving, etc.
Include examples from activities such as volunteering or organizing events in your community that demonstrate your ability in these areas.
"Limitations live only in our minds. But if we use our imaginations, our possibilities become limitless."
An example of an event planner's cover letter may resemble this:
Dear [Hiring Manager],

I am seeking the role of event planner at [Company]. Though I have yet to gain professional experience in event planning, I possess many qualities that make me a strong candidate for this role. This includes solid communication skills, attention to detail, organizational ability, and problem-solving capabilities.

Through volunteer work with local charities, I have developed strong communication abilities that allow me to effectively interact with customers from all walks of life. The same characteristics I utilize to deal with clients in the event planning setting.

Additionally, through my studies at [University], I have sharpened excellent managerial skills permitting me to plan ahead and anticipate potential issues. This was demonstrated clearly through my involvement in organizing multiple charity events on campus, including barbecues and fundraising activities. With my careful consideration throughout every stage of planning, the events saw great success.

Finally, my ability to quickly assess situations enables me to think on my feet when problems arise. This skill has been exemplified throughout various roles both inside and outside of the university. I successfully solved problems with minimal difficulty by utilizing creative thinking techniques.

I am excited at the prospect of bringing all these attributes together as part of [Company]'s event team. I would welcome the chance to discuss my application further. I appreciate your attention.

Sincerely, [Name]
12. Proofreading
Confirming that you present yourself in your event planner's resume in the best light is vital for the job-searching process. Hence, a professional document with no grammar or spelling errors is needed to help do just that.
The market size, measured by revenue, of the party and event planning industry was $5.6bn in 2022. (IBISWorld)
Here are a few strategies to assist in proofreading your event planning resume:
Read documents out loud. It will be easier to identify any mistakes you may have made.
Have someone else review it. When another person reviews your resume, they may catch errors you could have missed.
Use a spellchecker or a grammar tool. This can help automate searching for typos or grammar mistakes in the letter.
Allow yourself the necessary time. Do not rush with the proofreading process. Give yourself enough time to go over the documents.
Proofreading and spellchecking are integral parts of putting together a professional resume when seeking an event planner's role.
Make sure to invest enough time in polishing the event planner's resume and the accompanying letter.
Conclusion
Writing a stellar event planner's resume is the key to success in your job search. It should be detailed, and informative and demonstrate your professional abilities.
Use the online resume builder and follow the above tips while writing your event planning resume to impress potential employers!