No matter where you are in your career, writing a resume can be a difficult task. You need to sell a prospective employer on the value you create while touting your skills, achievements, and expertise using the right resume format.
Thankfully, there is an online resume builder with templates and examples that use proven, ATS-compliant strategies to help you create the perfect career document.
However, most available free resume templates are what is called a "combination resume" and will suit professionals with an existing and consistent career history.
What if that doesn't apply to you? You could have limited experience or have a professional gap. Then you need a seldom-used resume outline that highlights your skills rather than the experience.
In comes the functional resume.
What is a Functional Resume?
The functional resume (also known as a skill-based resume) places your mastery in the driver's seat. It prioritizes transferrable and pertinent skills to communicate the impacts you can make on an organization.
Instead of the reverse-chronological ordering, you see in most popular resume examples, your experience is divided by overarching skill sets, like problem-solving, data analysis, project management, etc. You still include your professional experience but as an abbreviated section towards the end of the document.
To frame it another way, recruiters always want to see bullets on a resume, right? Rather than placing those bullets underneath a job title with a specific company, you attribute your accomplishments to an expertise category.
When to Use a Functional Resume?
You should explore using a functional resume format if the usual reverse-chronological might uncover something that you would rather a recruiter or HR not see.
Four main categories of people should turn to a functional resume template:
| Category | Description |
| --- | --- |
| Career Changers. | You do not have enough experience, so you want to highlight transferrable skills that are pertinent to the desired position. This includes professionals who might have worked in a variety of roles, such as freelancers and temporary employees. |
| First-Time Job Seekers. | You could be a recent graduate or someone who hasn't been employed before. As a result, you want to emphasize skills you have accrued through education, mentorship, and extracurriculars. |
| Professionals with Employment Gaps. | You were away from the workforce for more than 2 years, so a chronological resume would highlight your hiatus, detracting from your existing expertise. |
| Professionals with Non-Traditional Experience. | You have a relevant skill set, but it isn't a result of "traditional" employment. For example, you might edit YouTube videos as a hobby but are looking to transform that into a full-time career. Other examples could include volunteering or professional development courses. |
You Should Probably Use a Combination Resume
While one of the above situations may describe you to a "T", you may still want to avoid writing a functional resume. Skills-based resumes are, by far, the least used type of resume format because the disadvantages of style often outweigh the positives.
Pros:
Hides employment gaps.
Organizes a varied work history.
Displays non-traditional skills.
Cons:
Non-ATS-friendly resume.
Difficult for hiring managers to review.
Hard to form a cohesive narrative.
Can highlight lack of experience.
Now, let's compare that to the pros and cons of a combination resume, the professional resume format typically preferred by companies and recruiters.
Pros:
ATS compliant.
Easy for a hiring manager to skim.
Reverse-chronology easily shows your career path.
Highlights your most recent, and applicable, experience.
Cons:
Adds attention to career gaps.
Harder to structure and create.
Lack of experience can make it feel unpopulated.
Likely requires customization for each job posting.
For over 95% of professionals, the combination resume is going to be the best resume format. As it is easily parsed by both computer and human eyes, maximizing your chances of getting an interview.
If the combination resume is usually preferred, how can we circumvent some of the cons?
Adds attention to career gaps
- Typically, you can directly explain career gaps by including the reason for your hiatus as a job title with the years. You can further address a gap in a cover letter and during the interview.
- Additionally, you can disguise small gaps by omitting months from your start and end dates.
Example:
Project Manager | 2022 - Present.
Full-time Caregiver | 2019 - 2022.
Project Supervisor | 2018 - 2019.
Harder to structure and create
- This is where resume templates and builder will be your best friend. They offer an invaluable and ATS-friendly starting point you can customize to best showcase your professional experience.
Lack of experience can make it feel unpopulated
- Don't be afraid of having a little white space on your resume - it can actually help you! A resume with thoughtful white space is much easier for HR to skim than one that is just a wall of text.
- Most professionals don't need a resume that is longer than one page. You should only have a two-page resume when you have over 10 years of experience. And if you hold a position that is director-level or above.
- Include other resume sections, like "Volunteering" or "Professional Development", to fill out any needed space. Just like traditional work positions, these can substantiate key skills that could net you the position.
Confining a resume to a single page is good advice for anyone.
Likely requires customization for each job posting
- This one is harder to get around. To maximize your chances of landing an interview or continuing the conversation with a potential employer, it is always recommended that you customize your resume according to the job posting. You might find it useful to have multiple copies of the same resume that have slightly different emphases to aid your job search.
- Remember that these customizations often don't need to be comprehensive. Slight changes to your professional summary, and skill section, and a few bullets might be all that you need.
How to Write a Functional Resume?
If you still want to use a skill-based resume, how do you go about creating one? Options for templates and guides are much more sparse than a combination resume.
Thankfully, in many ways, most sections are analogous between the two.
Let's go through the essentials, section by section, to ease the process as much as possible.
Header & Contact Information
A study by TopResume found nearly one in four applicants will fail to have all the necessary contact data. With this, 52% of employers would instantly reject a candidate if they don't include contact information.
In this section, you must have your:
Name.
Phone Number.
Email Address.
Tip: Always use a professional email address. Ideally, it will be your name with no numbers, using either a Gmail or personal website domain. Consider making a dedicated email for a job search.
It may also benefit you to have your LinkedIn profile, job title, and personal website. For the former, only include the link if your profile is up-to-date and represents something that employers should see.
Ideally, you should be updating your LinkedIn profile every year. Or whenever you start a new job search as you could land your next big opportunity through the growing platform.
You can include your job title if your skills align with the position you are vying for. If you are a project supervisor looking to make the jump to a manager. However, if you are switching industries or focuses, you will likely want to omit the job title as it could confuse employers.
Finally, a website could be a hugely beneficial asset, especially if you are creative with a portfolio of work. Just as with a LinkedIn profile, ensure that it is something you want employees to see.
Refrain from including things like personal blogs or other social media pages unless they are directly related to your career focus.
Example:
John Doe

johndoe@gmail.com | (123) 456-7890 | linkedin.com/john.doe
Functional Resume Summary
Remember, a professional resume summary is very different from an objective statement. For the most part, objectives are outdated and will only invite eye-rolls from recruiters. The goal of your functional resume should always be to present the value you create. And not what you are hoping to get out of the position.
In your summary statement, you want to highlight your expertise, relevant skills, and some type of impact you've made in a previous role.
You want this section to be brief, no more than 3 sentences, since the longer it is, the less likely someone is to read it. Here's a rough template you can use to write your professional summary.
Example:
Professional with X years of experience in (impact 1) and (impact 2) for (focus of proficiency) companies. Leverages (top skill 1) and (top skill 2) to (impact 3). Propels company success through a dedication to (top skill 3) and (top skill 4).
Skills
In a traditional resume, your professional experience is the most important section. For a skills-based resume, you leverage an extended skill section to build your professional brand.
Instead of filing achievements under job titles, you will want to use functional resume headers, or headings that state a broad skill the subsequent bullets exemplify.
Just as with a reverse-chronological or combination resume, you want to omit all pronouns. Start each bullet with a strong action verb to engage the hiring manager.
With this, whenever possible, include some type of metric or number to substantiate your accomplishment, providing important context and enhancing its memorability.
For this example, the applicant is looking to transition into branding and content creation from a background in customer service and retail.
Client Relations

Evaluated the needs of over 20 clients daily to synthesize tailored solutions that leveraged proprietary technologies.
Cultivated relationships with key, high-spend customers to boost acquisition rates by 15% and retention by 34%.

Brand Development

Increased personal website traffic by 17% after SEO enhancements driven by Google Trends research.
Represented Company X as a brand ambassador at local events and concerts.
Professional Experience
You've put in the hard work with your skills section, so now your experience block should be a breeze.
For a functional resume format, you don't need any bullets, responsibilities, or achievements tied to a specific role.
You will only need the essentials:
Job Title.
Company.
Start and End Years.
Location (sometimes).
Even if you are using a skill-based resume due to a career gap, you will want to include the years at a given position. Remember you can add the reason for the hiatus as a position (per the example earlier in the article).
For that same applicant, their professional experience section may look something like this:
Target | New York, NY

2021 - present.
Customer Service Supervisor.

Nike Outlet | New York, NY

2018 - 2021.
Customer Service Representative.
Education
Most functional resumes will conclude with a straightforward education section.
However, if you are a recent graduate, you may elect to move this section to the top, after your professional summary, as the skills you developed during your schooling are much more relevant.
You can also turn this section into an "Education & Certifications" one. This is especially useful for those looking to change careers as it can show expertise in a skill without practical experience.
Some other tips include:
If within 5 years of graduation, include any honors gained and your GPA (if it's over 3.5).
You can likely omit your high school degree. A much better use of space would be another bullet or two to support your skill set.
Also consider including coursework - a semester dedicated to the study of Tableau fundamentals could lead to an entry-level data analyst position, for example.
Example
Bachelor of Arts, Communications | State University, 2017

GPA: 3.8, Phi Beta Kappa Honors Society
Relevant Coursework: Introduction to Accounting, Financial Planning & Analysis, Finance Fundamentals for Startups, FinTech Principles
Functional Resume Examples
Limited experience

Here's a sample of a functional resume for a job seeker without experience:

Objective:

Seeking an entry-level position in marketing that will utilize my strong organization and communication skills.

Highlights of Qualifications:

Superior written and spoken communication proficiency.
Ability to multitask and prioritize tasks efficiently.
Highly organized and detail-oriented.
Proficient in Office Applications.
Self-motivated, with the capacity to work independently or as part of a team.
Personable and friendly attitude with customers and colleagues alike.

Education

Bachelor of Arts with a focus in Business Administration, University of Washington, Seattle WA (2018).
Certificate in Digital Marketing, University of Washington (2019).

Relevant Skills & Accomplishments:

Developed social media strategies to increase website traffic by 20%.
Created content for websites and blogs to improve SEO rankings.
Monitored brand reputation online, responding to customer feedback in a professional manner.
Authored articles for various publications covering topics related to marketing.
Implemented promotional campaigns in an effort to boost sales by 15%.
Career Gap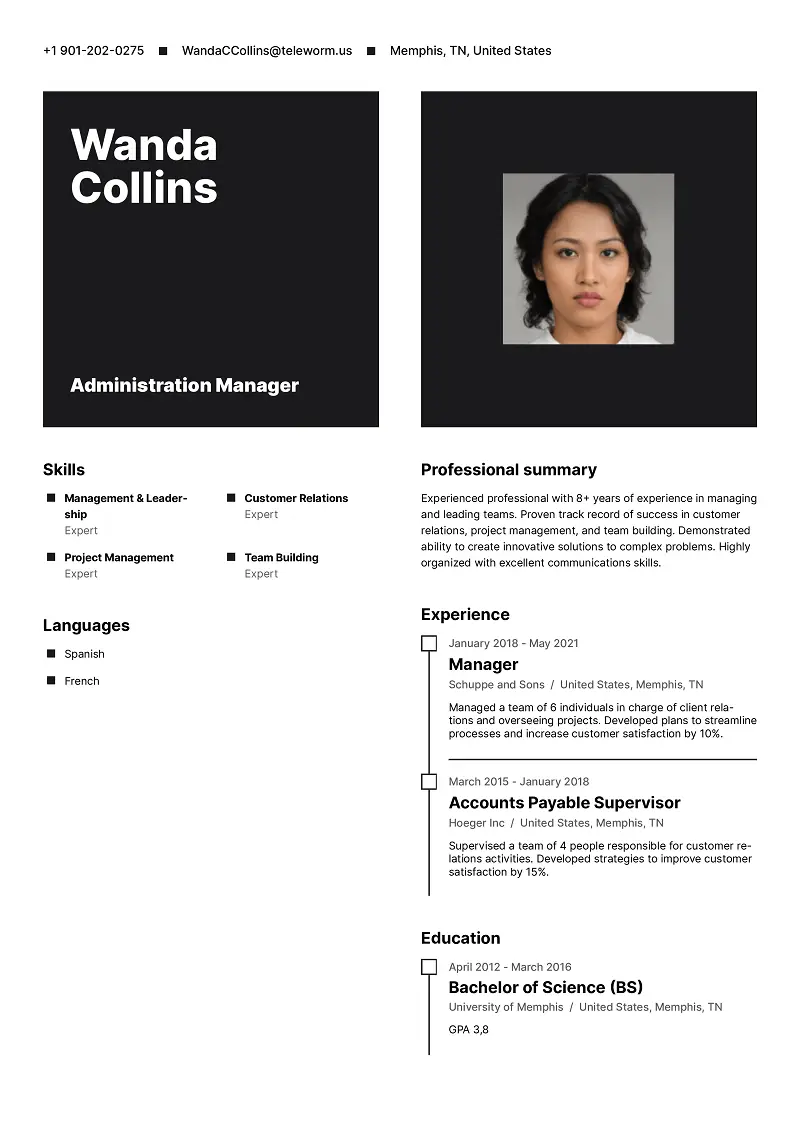 Career Changer
An example of a functional resume for career changers can be seen here:
Objective:

To capitalize on my background in marketing and communications to transfer into a career in customer service.

Summary of Qualifications:

8+ years of experience in marketing.
Demonstrated a history of successful project completion.
Strong background in customer service.
Capability to handle several tasks productively.
Excellent written and verbal communication skills.

Relevant Experience:

Managed project rollouts with stakeholders from diverse departments.
Developed and implemented strategic marketing plans for multiple projects.
Coordinated customer service initiatives to bolster satisfaction ratings.

Skills:

Utilizing project management tools (MS Project, Monday).
Word processing (Microsoft Word, Google Docs).
Investigating data (Excel, Tableau).

Education:

Bachelor of Science in Communications, ABC University.

Certifications/Awards:

Certified Project Manager (CPM), XYZ Corporation; President's Award for Excellence, ABC Company.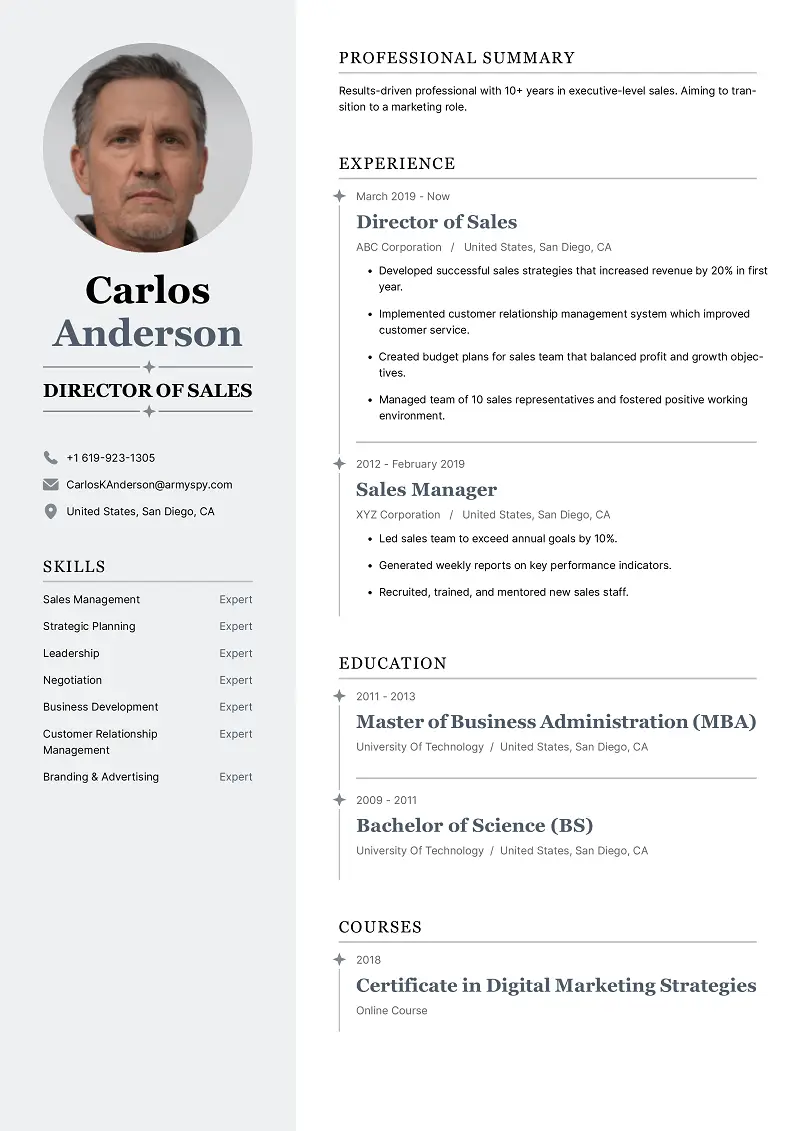 Recent Graduates
Are you a new graduate possessing minimal work experience? Here is a resume that outlines your capabilities and proficiency.
Summary:

Highly motivated recently-conferred graduate possessing excellent problem-solving skills. Possesses strong knowledge of computer programming, web design, and data analysis. Looking to leverage education and experience in a professional environment.

Skills:

Experienced in C++, Java, HTML, CSS, and SQL.
Skilled in developing user interfaces using Adobe Creative Suite, WordPress, and Dreamweaver.
Proficient in using Excel and Tableau to analyze data and identify trends.
Outstanding communication abilities; able to express ideas accurately and succinctly.

Education:

Bachelor of Science in Computer Science, XYZ University.
Associate of Arts in Business Administration, ABC College.

Work Experience:

Interned for XYZ Company as a software developer for one year

Developed software applications using various programming languages.
Maintained databases for company records.
Updated existing customer service applications.
Assisted with troubleshooting customer service issues.

Achievements & Awards:

Awarded "Software Developer of the Year" at XYZ Company for outstanding performance.
Led successful development projects that exceeded customer expectations.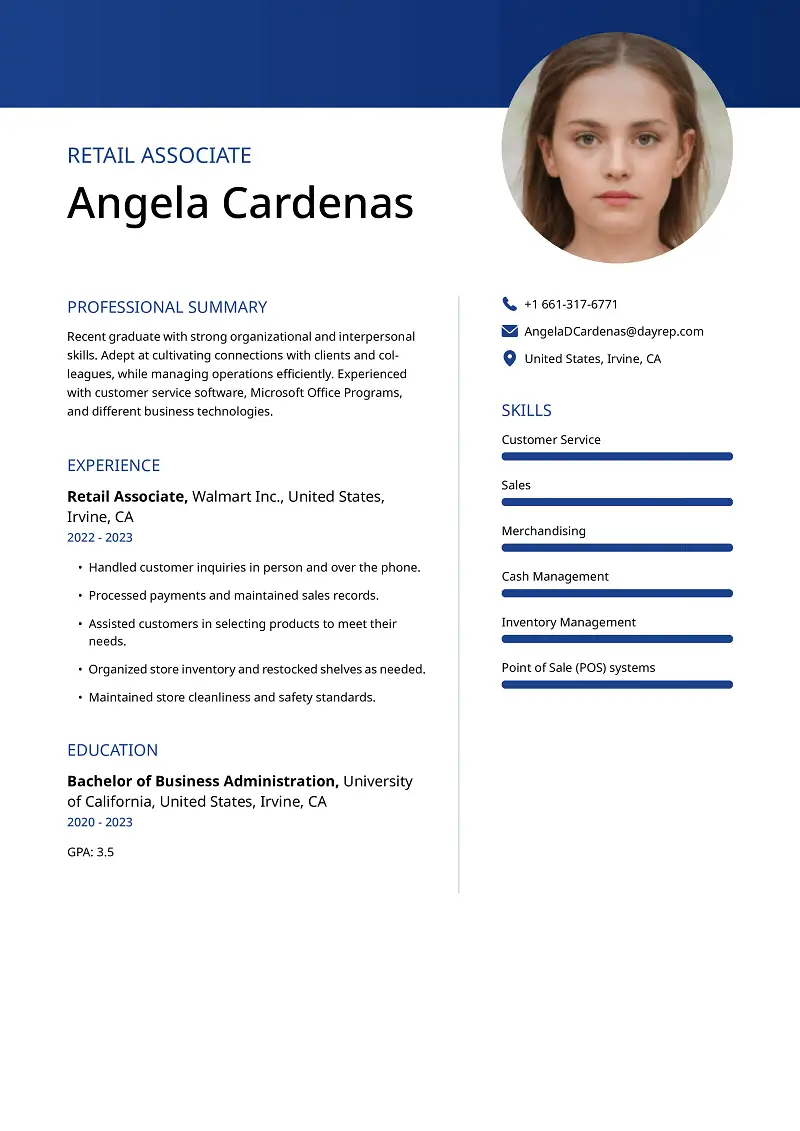 Writing a Functional Resume: Conclusion
While rarely used (and with good reason), the skills-based resume can be a boon to a professional who has found themselves in a unique situation or is looking to break into a new industry. It highlights your skills, rather than your career history, to showcase the value you can create for an employer.
If you find yourself searching for work in a new sector, after a break from the workforce, or as a budding professional, the functional resume could be the style you need to nab your next opportunity.