A nanny plays a crucial role in the lives of families by providing care, support, and guidance to children. The responsibilities of a nanny extend far beyond mere babysitting, encompassing child development, safety, and overall well-being.
A nanny's resume is your first impression on potential employers. It is the key to securing a position that allows you to impact the lives of children and their families positively.
Being a nanny means being a listener, a teacher, a role model, and a friend all rolled into one.
In this article, we will explore how to create an impressive resume for a nanny, whether you are transitioning from another job or seeking to advance your career in childcare.
Use a Resume Builder
Resume Trick is an free tool that will help you create a well-formatted resume with ease.
There are several reasons you should use a free resume builder:
Save time. With nanny resume templates you can simply input all the information. The tool will organize it automatically.
Professional-looking. The service ensures that the output looks polished and adheres to industry standards.
Formatting. The resume builder takes care of aspects like font size, bullet points, margins, and headers.
Easy updating. Your nanny resume example will be stored online. If you need to edit it in the future, you can do so without having to start from scratch.
So, if you find yourself staring at an empty Word document, consider using an online resume builder and take a crucial step towards landing your dream job.
Understanding the Role of a Nanny
Before we dive into the nitty-gritty of putting together a nanny resume, let's take a closer look at what being a babysitter really means.
Nannies have a pretty important job, as they're responsible for taking care of kids, usually right in the family's own home. But it's not just about keeping an eye on the little ones – being a nanny is about a whole lot more!
Taking care of children
At the core of a nanny's role is looking after the kids in their care. This means ensuring the children are well-fed, clean, and appropriately dressed.
Nannies don't just do this stuff mechanically. They turn these everyday tasks into opportunities for learning and bonding.
Every meal is a chance to teach about food, and each bath is a chance to explore and have fun. Nannies also plan and supervise activities for the kids' ages and interests. This is where the magic happens – play becomes a way of learning and growing.
Being a bit of a teacher
Being a nanny sometimes means helping with homework, encouraging kids to read, or teaching new things. Some nannies are like tutors, helping kids with schoolwork and making learning fun.
Others bring unique nanny resume skills, like speaking another language or playing a musical instrument, and share those talents with the kids they look after.
Keeping kids safe
Above all, nannies are there to keep the kids safe. They're like professional babysitters, ensuring everything around the house is safe for the children. They have a watchful eye to prevent accidents and ensure the kids are out of harm's way.
Helping around the house
Some employers want a nanny to perform more tasks than just taking care of the kids. Nannies might help cook meals, do laundry, or keep things tidy. It's all part of keeping the household running smoothly while the kids have a good time.
This is typical for a live-in nannies that have all living expenses paid and provided by the employer.
Being a nanny is quite an adventure, filled with daily discoveries and cherished moments. Nannies play a crucial role in shaping where every day brings new opportunities for growth and bonding. Understanding this role's ins and outs helps create a standout nanny resume.
So, now that we've explored the essence of being a nanny let's move on to the practical steps of putting together an impressive nanny resume example.
What to Include in Your Nanny Resume
A well-structured resume for a nanny position should showcase your qualifications, skills, and experience to potential employers. Here's a breakdown of the key sections you can include in your resume:
1. Contact information
Start with your name, phone number, email address, and location. Make sure your contact details are clear and up to date.
Jessica Williams

(123) 456-7890
jessicawilliams@gmail.com
Albuquerque, NM
2. Professional summary or objective
Write a compelling statement summarizing your experience, qualifications, and career goals. For example:
"Dedicated and nurturing nanny with 8+ years of experience providing exceptional childcare. Skilled in child development, safety, and creating a stimulating environment. Committed to promoting the well-being and growth of children in my care."
3. Work Experience
List your previous nanny positions in reverse chronological order. Include the family's name, location, and the duration of employment.
Under each job, detail your responsibilities and accomplishments. Highlight any specific age groups or special needs you've worked with.
Nanny

Johnson Family, Albuquerque, NM (July 2015 - September 2023)

Provided care for two children aged 4 and 9, managing their daily activities including hygiene, meals and after school activities.
Arranged educational games, sports, and supervised homework.
Accompanied children to different on and off-site activities.
Introduced and encouraged progression in children's music and art skills.
Maintained a safe and healthy environment at home.

Child Care Provider

Playtime Daycare, Albuquerque, NM (January 2011 - June 2015)

Cared for children ranging in age from infancy to 5 years old.
Organized activities that stimulated children's growth, learning and development.
Coordinated and participated in parent-teacher meetings.
Assisted with meal and snack time, nap time, and hygiene education.
4. Education
Include any relevant education or training. Mention certifications like CPR, First Aid, and any child development or early education coursework. If you have a degree in a relevant field, such as education or psychology, mention it.
Associate of Arts in Early Childhood Education

The University of New Mexico (2016)

Certificate in Child Development

Southwest University, Albuquerque, NM (2022)

Certified in Pediatric CPR and First Aid

American Red Cross (2023)
5. Skills
Highlight your babysitting skills for a resume.
These may include:
Childcare and child development knowledge.
Communication and interpersonal skills.
Conflict resolution and problem-solving abilities.
Cooking and meal preparation.
Housekeeping and organization.
Time management and flexibility.
6. References
Include references from previous employers or colleagues who can vouch for your nanny resume skills and character. Obtain permission from these individuals before listing them as references.
Emma Johnson

Family with two children for whom I was a live-in nanny.

Phone: (123) 456-7890
Email: emmajohnson@gmail.com
7. Optional Sections
Depending on your background, you can add additional sections, such as:
Languages. If you speak multiple languages, this can be a valuable asset in a nanny position, especially if the family desires language instruction for their children.
Hobbies and interests. Mentioning relevant hobbies or interests, like art, music, or sports, can help you connect with families who share these interests.
Nanny Resume Examples
Now that we've covered the essential components let's see how you can combine them in your resume. Below you'll find 2 nanny resume examples.
Resume Summary

Caring and devoted professional nanny with 6 years of experience working in early childhood environments. Passionate about child development and learning, with a focus on creating nurturing and stimulating environments for children. Skilled at fostering emotional health and physical safety while implementing age-appropriate activities.

Experience

Nanny

Clarkson Family, New York, NY (2019 - Present)

Looking after three children aged 3 and 6, focusing on their developmental and educational growth.
Preparing nutritious meals and snacks, and enthusiastically participating in dietary planning.
Facilitating educational activities, including painting, reading, crafts, and neighborhood outings.
Assisting with homework, learning tasks, and other school related work.

Assistant Teacher

Little Minds Pre-School, New York, NY (2017 - 2019)

Assisted in planning and implementing daily preschool schedule.
Helped with supervision of children in classroom and outdoor activities.
Worked with individual students to promote learning and skill development.

Education

Associate's Degree in Child Development

City College of New York (2017)

Skills

First Aid and CPR certified.
Excellent communication.
Interpersonal skills.
Child development.
Early childhood education.
Planning educational activities.
Clean driving record.

References

Michael Clarkson

Family with three children for whom I provided after-school care.

Phone: (345) 678-9012
Email: michaelclarkson@gmail.com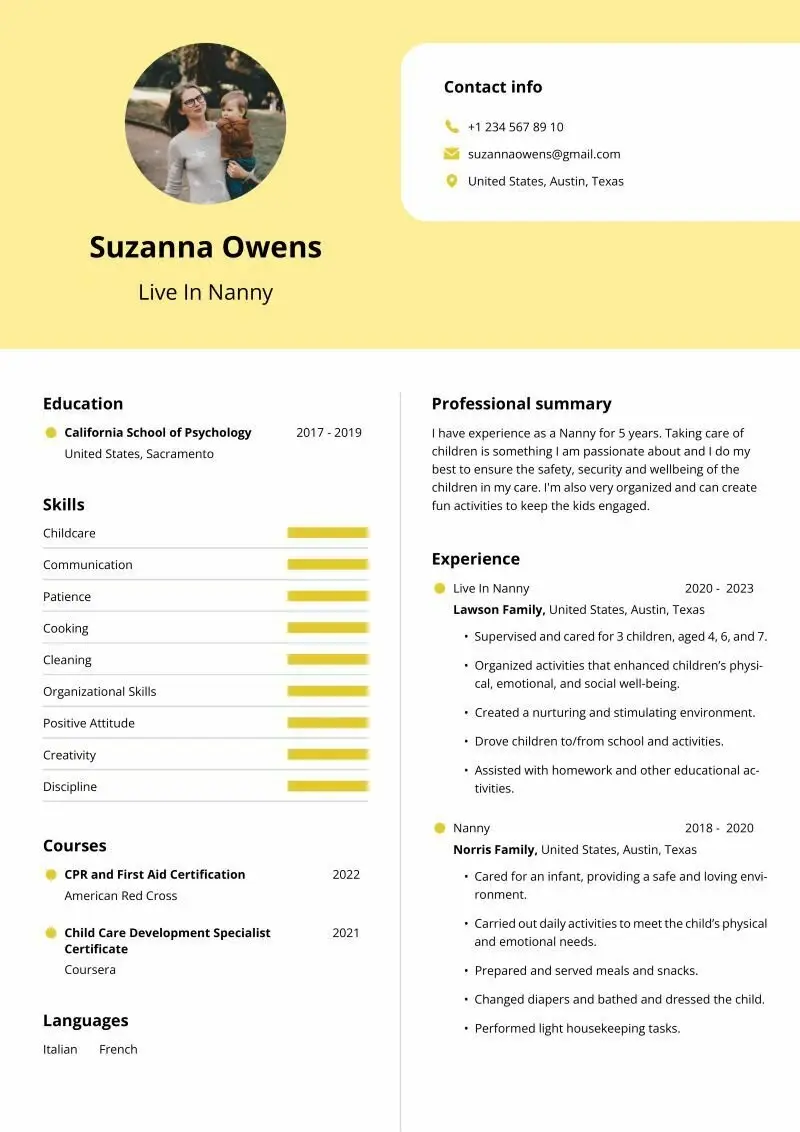 Transitioning to a Nanny Career
Making the shift to a nanny job from a different career can be both challenging and immensely gratifying. It's a path that requires thoughtful preparation and an understanding of how to leverage your existing skills and experiences.
A resume for a nanny job serves as the gateway to this exciting new career, and it's crucial to emphasize your potential as a strong candidate. Let's dig deeper into some practical tips for navigating this transition seamlessly.
1. Highlight transferable skills
Your previous job may have granted you a treasure trove of skills that can seamlessly transfer into childcare. Start by identifying these babysitting skills and showcasing them prominently in your resume.
For instance, if you have a background in customer service, emphasize your communication skills, which are invaluable when interacting with both children and parents. Highlight how your knack for problem-solving can be applied to various situations that may arise in childcare.
Moreover, if you've held roles requiring multitasking, time management, or conflict resolution, don't hesitate to spotlight your skills. Demonstrating how these competencies are relevant to childcare can set you apart as a well-rounded candidate.
2. Emphasize relevant experience
Even if you've never held a formal nanny position before, chances are you have experience caring for children in some capacity. It could be through volunteer work, coaching, mentoring, or even assisting friends or family with childcare.
These experiences, though informal, are invaluable and can be woven into your nanny resume.
For many teens, babysitting has been a first job, dating back as far as the 1950s when the practice was popularized in the United States.
Detail your involvement in these roles, outlining the responsibilities you undertook and the ages of the children you worked with. Mention any specific achievements or milestones you helped them reach.
Perhaps you've successfully guided a group of children through a summer camp program or provided after-school support that improved their grades. These instances demonstrate your capacity to care for children.
3. Showcase your commitment
One of the most compelling attributes you can bring to your resume for a nanny position is your passion for childcare. Express your genuine dedication to providing a safe, nurturing, and enriching environment for children.
You can share anecdotes or stories in a cover letter for nanny. This will reflect your deep-seated love for working with children.
Explain why you're drawn to this career path and what drives your desire to impact their lives positively.
Your connection to childcare can be a powerful selling point, assuring potential employers that you're not just looking for a job but a meaningful vocation.
4. Obtain necessary certifications
In the world of childcare, certifications can be a significant asset.
Consider obtaining certifications in CPR, First Aid, and childcare safety if you haven't already.
These credentials serve as tangible proof of your commitment to a child's well-being and safety. They demonstrate that you're proactive in ensuring the children under your care are protected in any unforeseen circumstances.
Additionally, some families may specifically seek out nannies with these certifications, so having them on the resume can make you a more appealing candidate.
If you've completed any relevant courses or training related to child development and early childhood education, mention them as well. These qualifications can reinforce your wish to provide high-quality childcare.
Cover Letter for Nanny
Each cover letter should be personalized and tailored to the specific job at hand.
Research about the family or agency you're applying to.
Highlight how your skills and experiences match what they're looking for.
If there's mention of certain needs, such as comfort with pets or flexibility with hours, make sure you address your ability to meet these requirements.
It's also important to showcase your passion for child care. Families looking for a nanny are entrusting you with their children's safety and growth.
Conclude your nanny cover letter by thanking for considering your application and express your interest in having an meeting with them to discuss further.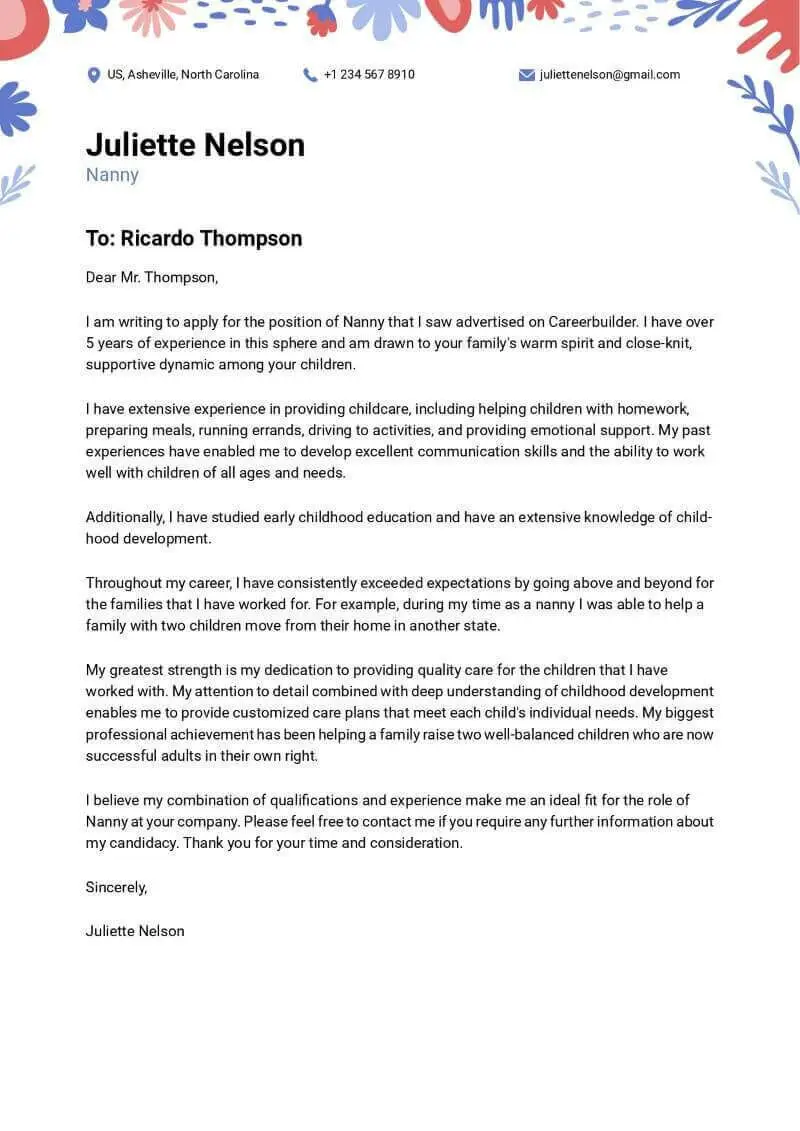 Create a Professional Cover Letter
Furthering Your Education
While educational requirements for nannies vary, continuing education can be an advantage in your job search. Pursuing courses in child development, early childhood education, or related fields can enhance your qualifications and demonstrate your commitment to ongoing learning.
Additionally, some families may prefer nannies with specialized skills or certifications.
For example, suppose you aspire to work with children with special needs. In that case, taking courses or obtaining certificates in special education or autism spectrum disorders will make you a more attractive candidate.
Many online and in-person courses are available, making it convenient to gain valuable knowledge.
The most commonly preferred sitter profile matches the following: CPR and first aid certified, non-smokers, between the ages of 20-25.
Tips on Crafting an Exceptional Nanny Resume
To further improve your nanny resume, consider these dos and don'ts:
Dos:
Tailor your resume. Customize your resume for each application, emphasizing skills and experience that align with the specific family's needs.
Use action verbs. Begin bullet points with strong action verbs (e.g., "Facilitated age-appropriate activities" or "Promoted positive behavior through effective communication").
Quantify achievements. Whenever possible, use quantifiable data to showcase your impact (e.g., "Improved child's reading level by two grades in six months").
Be honest. Honesty is crucial. Never exaggerate your qualifications or experience.
Proofread. Carefully proofread your resume to eliminate grammatical errors and ensure clarity.
Don'ts:
Include irrelevant information. Avoid including personal information, such as your marital status or unrelated job experiences.
Neglect references. Always seek permission from references before including them on your resume. Don't list references without their consent.
Use a generic resume. Each job application is unique. Avoid sending a generic resume to multiple families without customization.
Forget to update. Regularly update your resume with new experiences, skills, and qualifications.
Use jargon. Avoid using industry-specific jargon or acronyms that families might not understand.
Conclusion
Creating a standout nanny resume example is the first step toward a rewarding career in childcare. By understanding the tasks of a nanny, tailoring your resume to your unique qualifications, and emphasizing your commitment, you can make a lasting impression on potential employers.
Whether switching a job or seeking to further your education, your dedication will help you secure the desired nanny position. So, start crafting your resume for a nanny job today and embark on a fulfilling journey as a trusted caregiver to children and families.