As a Personal Assistant, your resume is the first point of contact between you and the hiring manager. Without a great resume, you won't have a chance of getting the job.
Use this step-by-step guide to writing a compelling personal assistant resume to ensure that your application makes an impact.
We'll show you exactly how to create a resume that will get you noticed, from recognizing the key skills employers are looking for to crafting an attention-grabbing cover letter.
How to Write a Personal Assistant Resume
This article steadily provides a comprehensive guide on how to put together a personal assistant resume. It covers the basics of creating an effective resume for the job, including how to structure it, highlight skills and experience, and tailor it to the job.
To start, the article recommends focusing on mentioning the most important parts of the resume:

Summary. Here a statement that summarizes relevant experience and qualifications should be written.
Skills. For this section, be sure to list specific skills that are relevant to being a personal assistant. For example, scheduling meetings, coordinating travel arrangements, and managing digital calendars. Furthermore, communication and problem-solving skills can be emphasized.
Experience. Adding relevant work experience is one of the most important parts of writing a personal assistant resume. Here you can list any previous administrative experience alongside their duties and accomplishments.
Education. When it comes to Education, include details such as certificates or degrees. Lastly, any additional information such as awards or volunteer work may be included in this section as well.
Finally, it's essential to tailor each resume for every job opportunity and make sure it reads clearly and professionally. With these tips in mind, you'll have a strong assistant resume ready for submission!
Solution: Use a Resume Creator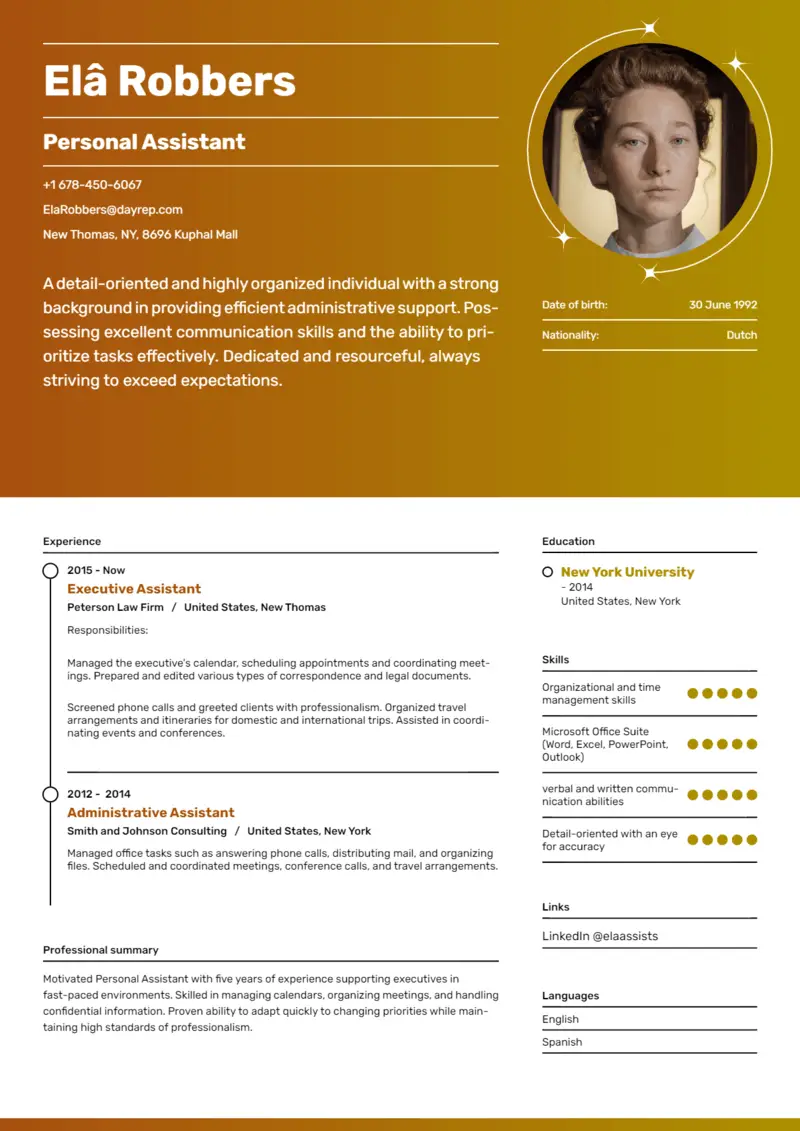 Are you looking for a way to stand out in the job market?
A well-written resume is key to getting noticed by potential employers. However, creating one from scratch can be daunting. That's why an online service offering ready-made personal assistant resume templates is a great choice.
Using a resume builder allows you to quickly create a professional-looking resume without spending hours formatting and filling out each field.
The templates are designed to highlight your skills and experience, making it easier for recruiters to find the information they need.
You can customize the draft as much as you want. You can also adjust the fonts and colors to ensure your resume is unique compared to others.
It is more secure than writing your resume in plain text on Microsoft Word.
With an online resume builder, you can save your work in the cloud and access it from anywhere. This means the document won't get lost if something happens to your computer or if you need to share it with potential employers.
Resume Builder is a valuable tool for job seekers who want their resumes to look professional. So don't waste any more time trying to write a resume from scratch!
Explore the available personal assistant resume examples to get inspired today and take your job search to the next level.
Personal Assistant Resume Sample
Summary
Detail-oriented and organized professional with 4+ years of experience in assisting at a personal level. Highly skilled in administrative duties, responding to phone calls, scheduling, and managing files. Proven ability to prioritize tasks while maintaining excellent client service.
Skills
Administrative Issues;
Calendar Management;
Scheduling Appointments;
Email Correspondence;
Trip Arrangements;
Entering information;
Customer Service;
Filing & Record Keeping;
Time Management;
Multi-tasking;
Problem-Solving;
Microsoft Office & G Suite Proficiency.
Experience
Personal Assistant, XYZ Inc., San Francisco, CA | April 2018 - Present.
Streamlined daily workflow for executive staff by controlling calendars and scheduling meetings.
Increased efficiency by automating processes.
Handled confidential documents and communications with discretion.
Prepared agendas, reports, budgets, and presentations using MS Office & G Suite.
Coordinated arrangements including flights, transportation, and accommodations.
Personal Assistant Intern, ABC Corp., San Francisco, CA | June 2017 - March 2018.
Assisted the executive staff with clerical duties: data entry, filing, and record keeping.
Managed the company's website content including creating new pages and updating existing ones.
Answered calls and responded to emails in a timely manner.
Education
Bachelor of Science in Business Administration | University of California Berkeley | 2016
Certifications
Certified Professional Secretary | International Association of Administrative Professionals | 2019
From business and entertainment to politics and academia, personal assistants can work in a variety of industries.
Personal Assistant Power Words
The overall style should be professional and concise. Ensure that the words you use to describe yourself are relevant to the position of a personal assistant are included. Use formatting such as bullet points to make the text easier to read.
Powerful words and phrases for a resume for personal assistant:
Organized: Effectively coordinated events, meetings, and tasks.
Efficient: Streamlined processes to improve productivity.
Adaptable: Quickly adjusted to changing workflows and priorities.
Confident: Demonstrated leadership in team-based projects.
Resourceful: Leveraged available resources to meet deadlines.
Detail-oriented: Thoroughly reviewed documents for accuracy.
Flexible: Adapted rapidly to competing demands on time and attention.
Multitasker: Successfully managed multiple assignments at once.
Communicative: Facilitated effective communication between colleagues.
Proactive: Anticipated needs and took the initiative to solve problems.
Problem solver: Developed creative solutions to challenging situations.
Diligent: Met deadlines by prioritizing and working diligently.
Collaborative: Built relationships with colleagues to achieve common goals.
Self-motivated: Driven and determined to complete assignments on schedule.
Contact Information
When listing personal and contact information in a personal assistant resume, ensure that the data is accurate and up-to-date.
Include:
Your full name;
Email address;
Phone number;
Other contact details which could be used to reach you.
It is requisite to include your city or town of residence as well as a link to your LinkedIn or other professional profiles.
What to Add to Experience
It is essential to structure your resume to demonstrate the work experience information on the assistant resume in an efficient way. You should start by sorting your history in chronological order, starting with the most recent job and working your way backward.
For all jobs, provide key information like the company name and location, job title and duties, duration of employment, and anything else relevant. It's also helpful to include a brief description of what you did in each role.
This will give employers an idea of the types of matters you are used to handling and how well you can perform them.
Using bullet points is an effective way to make your employment section stand out and easier for employers to read through quickly.
For example:

Personal Assistant for ABC Company (2019 – 2020):

Assisting the CEO with daily chores;
Arranging meetings;
Taking notes, running emails and phone calls;
Preparing reports, and organizing travel plans.

Executive Assistant at XYZ Corporation (2017 – 2019):

Assisting the Executive Director in managing their schedule;
Creating presentations;
Organizing events;
Running errands.
Now recruiters can easily see your skills and how they can benefit your personal assistant search. It also shows that you are organized and have taken the time to present your experience clearly.
Conversely, if you don't record the experience chronologically or use numbered lists, employers may find it difficult to assess your skills.
Incorrect Example
Worked in a position of a personal assistant at ABC Company from 2019-2020. Organized meetings; Responsible for correspondence; Prepared reports and travel plans; Worked as an assistant at XYZ Corporation from 2017-2019; Assisted executive director with scheduling and presentations; Managed events and ran errands.
This format on a resume for personal assistant can confuse hiring managers and makes them unsure of your experience.
The median annual salary for personal assistants ranges from $10,346 to $213,043 in the United States.
Personal Assistant Resume Education
It is imperative to compile and sort your educational credentials appropriately. Begin with the last school or program and move backward chronologically. Here are two examples of academic histories for personal assistants:
Bachelor's degree in Business Administration, ABC University Name, 2018 - 2022.
Associate's degree in Office Administration, XYZ Community College, 2014 -2018.
Having a clear education section will show potential employers that you have the necessary qualifications to be an effective personal assistant.
Education history can demonstrate knowledge and skills in areas such as service, communication, organization, time management, problem-solving, etc. which are all valuable.
An incorrectly formatted or incomplete education section can have a negative effect on your personal assistant resume.
Bad Example:
Listing your training in reverse chronological order or omitting dates makes it difficult for employers to gauge your skills' currency. In addition, providing too much detail about individual courses can be off-putting to employers.

As they are more interested in your overall educational experience than specific course information.
Many employers prefer candidates with at least a high school diploma or equivalent, although formal education is not always required. Some personal assistants may choose to pursue additional certifications or an associate's degree in administrative assisting or business administration.
Personal Assistant Skills
Incorporate both interpersonal and technical skills into a resume of a personal assistant.
Soft skills are the personal qualities that make someone a great employee, such as communication, organizational, and problem-solving capacities.
Hard skills are technical capabilities related to the job, such as using office software, and other specialized tasks. Both of these types of skills should be included to demonstrate their potential value to employers.
To write the skills to mention in a PA resume, it is best to organize them into two sections.
Soft Skills for Personal Assistant Resume:
Communication and interpersonal skills;
Exceptional organizational talents;
Problem-solving aptitude;
Ability to multitask and prioritize;
Expertise in scheduling proficiency;
High level of accuracy;
Adaptability;
Discretion;
Reliability;
Positive attitude.
Hard Skills for Personal Assistant Resume:
Computer programming;
Mastery of office applications (Excel, Word);
Data entry experience;
Knowledge of customer service protocols;
Experience with bookkeeping or accounting software;
Social media marketing know-how;
Graphic or web design expertness.
Write Personal Assistant Resume
Social Media Links
Overall, integrating social media connections on a personal assistant resume is generally a good idea.
Pros:
It can show an employer that the applicant is tech-savvy and experienced in using social media platforms.
Having these links on the resume can give the employer some insight into the potential employee's skills.
Cons:
For example, employers may be concerned about the applicant's online activity or lack of professionalism.
They may also worry about private or confidential information being shared on social media networks.
If a candidate chooses to attach social media links, they must ensure the profile pages reflect the professional image they want to project. They should also delete any posts that may reflect negatively on them or their boss.
For example, a personal assistant might include LinkedIn profile as well as Twitter handle on the resume. Guarantee that LinkedIn page includes relevant keywords and experience so that employers can easily find it.
They should guarantee that any tweets they have posted in the past are professional and appropriate for the workplace.
Personal Assistant Resume Summary
An effective summary of a resume should effectively highlight the individual's skills, experience, and qualifications in a powerful way. It should be the abilities that will make the applicant an asset to the prospective employer.
Personal Assistant Resume Summary Example:

Personal Assistant boasting more than 5 years of expertise providing smooth administrative aid to C-level executives. Proven track record of successful project management, calendar coordination, and travel arrangements. Great in relationship-building, communication, and problem-solving. Highly organized with meticulous scrutiny.
Here are 3 tips on writing a great resume summary for a personal assistant:
Use specific job-related terminology to demonstrate your understanding of the role and to outshine the competition and other applicants.
Include measurable accomplishments or results from previous roles to highlight your achievements in the field.
Make sure your resume summary is aligned with the description and tailored specifically for the role you are applying for.
Add More Details
Enhancing the content of an assistant's resume is essential for impressing the recruiter and conveying the necessary information about an applicant. This information can include hobbies, lectures, languages, awards, internships, references, and certificates.
Hobbies. Including them on a personal assistant resume shows the recruiter that a candidate has some other interests.
For example, if a candidate is applying for an executive assistant position that requires extensive travel, it would be useful to list pastimes such as photography or exploring different cultures. This could show the hiring manager that the candidate is willing to try new experiences.
Courses. Taking classes like computer programming or graphic design shows a potential employer you are willing to learn new skills. And that you adapt quickly to changing technology.
Evidently, the job-seeker took initiative outside of academic studies to better prepare themselves for the desired career.
Languages. Mentioning any foreign languages that a competitor is proficient in can be extremely beneficial. Many positions require knowledge of multiple languages in order to communicate with clients from other countries.
Having this ability could provide them with a competitive advantage compared to those not speaking languages fluently.
Awards. A PA resume should include any recognitions that illustrate the contestant's success across the field. This could give them a leg up against other applicants who may not have anything listed on their resumes.
Internships. These ones are a great way to gain experience in the same sphere as your target job. They give an insight into how certain tasks and processes are carried out within the company.
References. Providing recommendations is essential for any potential employer looking for a personal assistant. It provides them with contact information for people who can vouch for the applicant's character and skills.
Before organizing a reference on your resume, it is important to provide accurate data. Do not forget to ask permission from the person you are listing as a referral.
Certificates. Finally, sorting an applicant's certifications can demonstrate that they have additional training relevant to the role. This can be especially helpful when applying for positions where specific certificates are required such as medical assistant or IT.
How to Write a Cover Letter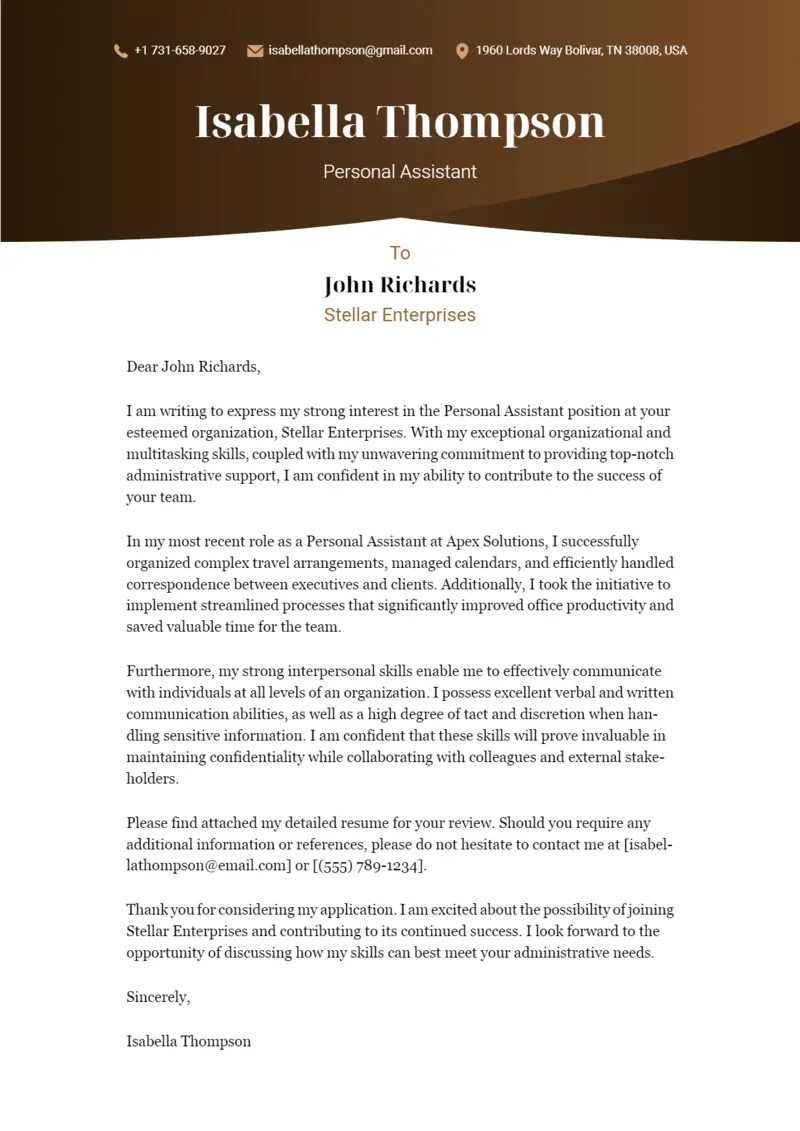 Crafting an application for a personal assistant resume can be intimidating, but with the right assistance, you can achieve it effortlessly. Following are some tips to help you write an effective and professional cover letter:
Introduce yourself. Start your letter with a brief introduction of who you are and why you're keen on the work of a personal assistant.
Showcase relevant skills. Highlight the skills and experiences that are most relevant to the position. Illustrate concretely how your aptitude has enabled you to attain recognition in past roles.
Demonstrate enthusiasm. Show your desire for the role and the company by expressing why this specific job excites you. Your excitement should be genuine, as employers will be able to tell if it isn't.
Keep it concise. Keep your cover letter succinct and direct; employers don't want to wade through excessive amounts of text. Stick with brief sentences that do not exceed 12 words, and make sure your message is straightforward and comprehensible for readers.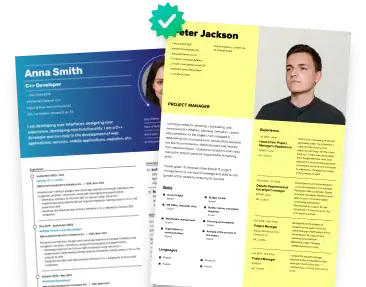 Now, let's have a look at cover letter samples.
Good Example:
Dear [Hiring Manager],
I am writing to apply for the position of Personal Assistant at [Company Name]. My proficiency and passion make me an ideal selection.
I have over five years of background in customer-facing positions where I provided exceptional service to customers while meeting all needs efficiently. Additionally, I organized events, managed projects from start to finish, and took care of administrative responsibilities like arranging appointments. I am sure that my talents will be advantageous to your team.
I enjoy the opportunity to work closely with senior management while being part of a larger team focused on helping the company achieve its goals. I take pride in my work and strive to exceed expectations in everything that I do; I believe I can bring value to this role.
Thank you for taking the time to consider my application; I am excited to discuss this opportunity with you soon.
Sincerely,
[Your Name]
This cover letter example is really good. In just a few short paragraphs, it describes the candidate, relevant skills, why the seeker is excited about the role, and shows commitment and passion.
Personal assistants often work full-time in an office environment, but their schedules can be unpredictable, and they may be required to work evenings, weekends, or travel with their employers.
Bad Example:
To whom it may concern,

I am writing regarding the opportunity of Personal Assistant at [Company Name]. My previous client service experience includes organizing events, managing and seeing projects through to completion, and handling administrative duties like scheduling meetings. I look forward to working with you in the future. I strongly believe that my masteries are well-suited.

This is why I am interested in your company - please consider me as a candidate!

Sincerely yours,

[Your Name]
This is a bad example because there is not enough detail about what differentiates them or why they are passionate about this vacancy. Instead, they simply list qualifications without context or examples of how they have used them in the past or plan to use them if hired.
Cover Letter for an Entry-Level Personal Assistant Resume:
Dear [Name],

I am writing to express my interest in the vacancy of Personal Assistant that I recently learned about. With my eagerness to learn and help others, I believe I would be an excellent addition to your company.

Despite having no history as a Personal Assistant, my educational credentials and prior occupations have furnished me with the aptitudes essential for this job.

I recently completed my studies in Business Administration at [University], and I have worked as an administrative assistant. This has given me an understanding of what it takes to run a successful business. Furthermore, my involvement in volunteering activities has sharpened my communication and interpersonal abilities, which are necessary for this occupation.

I'm able to contribute significantly to your team by taking on any tasks assigned to me with enthusiasm and dedication. My commitment to excellence and strong work ethic will ensure that all of my duties are completed accurately and on time.

I am thrilled for the opportunity to meet with you in person and discuss how I can be of assistance to your crew. Please let me know if you would like me to provide additional information on my background.

Thank you for your time and consideration.

Sincerely,

[Your Name]
General Advice on Writing Cover Letter:
Start off with an attention-grabbing introduction that outlines why you are the ideal candidate;
Explain your interest in the role and what makes you qualified for it;
Highlight your relevant skills, education, and experiences;
Showcase how you can contribute to the company;
Be succinct - keep your letter to a single page;
End on a positive note by thanking them for their time;
Proofread your cover letter before submitting it.
Errors to Avoid
Going through and correcting errors in your personal assistant resume and accompanying letter is essential.
Poor grammar, typos, and spelling mistakes will make a bad impression on the hiring manager. It shows that you are not organized and lack precision, two qualities that are required for a successful personal assistant.
You should avoid using slang, jargon, or abbreviations as they can be difficult to understand and may give an impression of unprofessionalism.
Also, make sure your sentences are concise and clear. A hiring manager may not take the time to read long, drawn-out texts.
To check your personal assistant resume and job application letter, you should read them aloud or have someone else review papers for you. This will help you pick up typos or other errors that you might have missed.
Additionally, you should use spellcheckers such as Grammarly to confirm that all spelling and grammar mistakes are corrected. Lastly, you should look through it multiple times before submitting your resume to guarantee perfection!
The personal assistant profession offers opportunities for growth and advancement, with some PAs becoming executive assistants or taking on specialized roles within their field.
Personal Assistant Resume: Last Words
Creating a resume for a personal assistant can be a daunting task. But with the right guidance you can simplify it.
Here's what to consider when writing your resume:
Include a professional summary at the top that highlights your qualifications, experience, and skills.
Use clear headings and subheadings to organize information such as education, work experience, and languages.
List accomplishments with details like dates, results, and numbers.
Use keywords from job postings to ensure that your resume is optimized for ATS software.
Format your resume to look neat and organized.
Focus on the specific demands of the role you are seeking. Ensure that you list facts concerning former jobs or internships in which you gave support or had comparable roles. Include any certifications related to the administration or customer service that you have obtained.
Also, emphasize any language and any other technical skills relevant to the role.
To simplify the process of composing your resume, consider using an online resume creator. Build a professionally designed and formatted document with all the essential elements of a personal assistant resume. Don't hesitate - to begin crafting your resume right away!