A great real estate resume is indispensable for impressing the clients and getting the job of your dreams. Building a resume from zero can be intimidating, so we have established a step-by-step guide for constructing the ultimate document.
From showcasing your experience to composing a compelling summary statement, this tutorial can be a great aid in writing a resume. Continue reading to find out how to craft an impressive resume for a real estate agent!
In real estate, you make 10% of your money because you're a genius and 90% because you catch a great wave.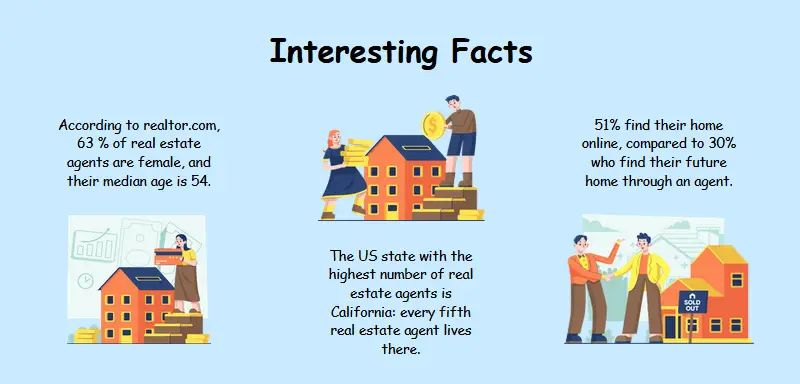 How to Write a Real Estate Agent Resume
This article walks you through the process of creating resumes for real estate. The main points are:
Listing your contact information;
Describing your professional experience;
Specifying any applicable education;
Highlighting specialized skills;
Adding supplementary pertinent details;
Writing a cover letter.
Overall, this guide provides an overview of how to create a comprehensive and effective real estate resume with examples. By following these steps you can be sure that the resume reflects your knowledge and experience.
The average salary of a real estate agent in the United States is $95.151 per year.
Use Resume Builder
Are you looking for a way to make your job search easier? Consider using an online resume builder.
Rather than crafting a resume from scratch using a plain text editor, ave yourself time and energy by using pre-formatted real estate resume templates.
These are few benefits:
Professional design. A real estate resume template is created by professionals with expertise in recruitment and job applications. This ensures that a resume has a polished, professional look that's modern and eye-catching to potential employers.
Formatting. A template will already be formatted correctly and include all the necessary sections and headings for a standard resume.
Editing. Because templates are digital documents, they can be easily edited and updated as needed. This means you can keep your resume fresh without having to start from scratch each time you need to make a change.
Ready for printing. They will also usually be set up ready for printing or emailing, so you won't have to worry about converting them into other formats or making sure they look right on paper.
Moreover, the career blog contains resume examples and specific information about what types of data should be included in each section. So, it's easier for you to know what details to include in your own resume.
Utilizing a resume creator can assist in simplifying your job search while ensuring that your real estate agent resume template appears current and professional. Give it a try today!
Real Estate Resume Sample
Summary:

Dynamic real estate professional with 5+ years of experience in property management and leasing. Able to effectively evaluate and negotiate contracts, maximize potential ROI, and maintain positive relationships with clients. Proven track record of successful lease renewals and tenant retention.

Experience:

Property Manager | ABC Real Estate | May 2016 – Present

Manage over 300 residential units, including rent collection, tenant relations, maintenance requests, eviction proceedings, and compliance with fair housing standards.
Negotiate and execute new leases for tenants.
Ensure timely completion of projects within budget constraints.
Utilize Yardi software for tracking performance and expenses.

Leasing Consultant | XYZ Property Management | June 2014 – May 2016

Marketed available properties to qualified prospects.
Analyzed credit scores and other financial documents to determine eligibility for leases.
Prepared paperwork and completed lease agreements in a timely manner.
Collaborated with maintenance staff to ensure a safe living environment for tenants.

Education:

Bachelor of Science (BS) in Real Estate | University of Florida | Graduated in 2013
Associate of Science (AS) in Property Management | Miami Dade College | Graduated in 2011

Skills & Certifications:

Housing Regulations;
Yardi software;
Microsoft Office Suite;
Customer service principles;
Contract negotiation techniques;
Certified Real Estate Agent (CREA).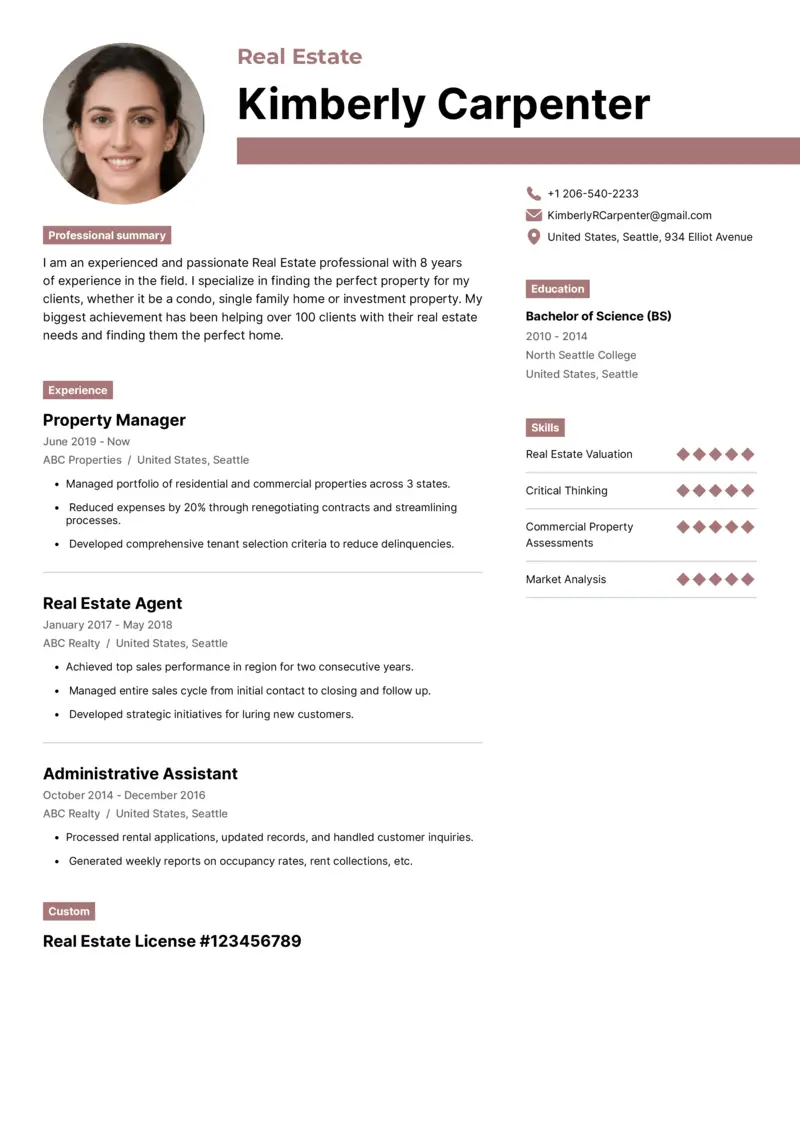 Use the Correct Wording
Success in real estate comes down to two factors: taking care of and valuing the customer.
Use concise, powerful words that describe who you are and how you understand the industry and the position. Utilize job-related terminology throughout the resume to demonstrate mastery in the field.
For example, rather than simply saying "I reviewed contracts", you might say "I reviewed purchase agreements and lease contracts".
Employ bullet points and numbered lists to break up text and draw attention to key elements. This will help employers find the information they need quickly.
Words to boost your real estate resume:

Experienced: Evidence of knowledge in real estate.
Skilled: Displays proficiency in a specific field.
Driven: Exhibits a drive to succeed.
Innovative: Illustrates the ability to think outside the box.
Certified: Reflects formal training or recognition.
Professional: Indicates a level of quality and excellence.
Negotiator: Refers to the capacity to facilitate agreements between two parties.
Results-oriented: Delegates the authority to achieve results with limited resources.
Strategic: Develops the capability to plan for the future and make wise decisions.
Analytical: Identifies the skill to understand complex data and make informed decisions.
Detail-oriented: Has an eye for detail and accuracy in work product.
Creative: Refines the solution to a challenging problem.
Collaborative: Establishes a commitment to working as part of a team.
Organized: Has the proven talent to manage multiple tasks effectively.
Customer focused: Has a strong dedication to providing excellent client service.
Personable: Has a knack for building rapport with customers and colleagues.
Resourceful: Ability to solve problems without relying on traditional solutions.
Add Contact Information
It is vital for this section to be concise, organized, and relevant. An overload of facts in the resume of a real estate agent can confuse the reader or take away from the other parts.
Personal data must comprise your name, address, email, phone number, professional website and any applicable social media accounts (more information below). It is necessary to include the right contact information so potential employers can reach out with further questions.
Real estate is the purest form of entrepreneurship.
State Experience
Your work history should be ordered chronologically, starting with the most recent job first. This allows employers to quickly comprehend the sequence of your job history and determine any pertinent experience for the real estate opportunity in question.
For each job, start by recording the job title, name of the company/organization, and dates of employment. You can then use bullet points to list accomplishments or skills acquired during your time there.
If you worked as a freelancer, mention that as well.
Real estate agent resume example:

Real Estate Agent, ABC Realty (April 2020 - May 2023):

Negotiated and closed on over 20 deals in the first 6 months;
Built relationships with clients, vendors, and team members;
Developed an effective online marketing strategy to increase the visibility of listings.

Property Manager, DEF Rentals (January 2018 - March 2020):

Managed a portfolio of 100 rental properties across three states;
Maintained high occupancy rates through tenant relations;
Created a streamlined process to improve the efficiency of monthly rent collection.
By including details like these in a real estate agent resume, you denote that you've attained the necessary skills and knowledge to excel. It also shows prospective employers that you have experience working with clients, negotiating deals, and managing properties.
Attention
Providing inaccurate information about your work experience can be disadvantageous when pursuing a real estate job role.

For example, potential employers will not be able to properly assess your suitability for the position if you only list job titles without any details. It is, thus, critical to include as much detail as possible about each job on your resume.
Organize Education Section
Seeking a position in real estate demands that you present your educational background accurately. Sorting your education in chronological order is the best way to organize this resume section. Make sure that all relevant information is included.
Here are two real estate agent resume examples:
John Smith:

Bachelor of Science in Real Estate, University of Washington, 2009;
Associate of Applied Science in Real Estate Appraisal, Seattle Central College, 2007.

Jane Jones:

Masters of Business Administration in Real Estate Investment & Finance, University of Southern California, 2019;
Bachelor of Science in Real Estate, University of Southern California, 2012;
Certificate in Property Management, Los Angeles Valley College, 2011;
Certificate in Real Property Law & Practice, Santa Monica College, 2010.
John Smith has acquired an educational qualification in real estate, showing that he is well-versed in the subject.
Similarly, Jane Jones's education includes a certificate in property management and a diploma in real estate law and practice which indicate her expertise in these areas.
Wrong ordering and formatting of education:
Sarah Anderson:

Bachelor's Degree from UW - 2009.
Master's Degree from USC - 2019.
This kind of listing does not provide any specific information about Sarah Anderson's academic background or qualifications. Include specific details such as the name of the degree or program and/or institution.
Put Real Estate Agent Skills on Resume
Keeping up with changes in technology is the most difficult task for 48% of agents.
It is important to add both soft and hard skills to illustrate the traits and capabilities of an accomplished realtor.
Soft skills encompass personal traits: communication, conflict resolution, and teamwork.
Hard skills are those that are more related to the job itself like knowledge of contracts, the ability to negotiate, and understanding of legal regulations.
Soft skills:
Communication – effectively communicate with clients and colleagues;
Problem-solving – use creative solutions in order to resolve issues;
Team-building – develop strong relationships with coworkers;
Adaptability – willingness to adjust strategies based on market conditions;
Interpersonal Skills – establish rapport with people on a personal level.
Hard skills:
Contracts and regulations knowledge – understanding of legalities associated with property dealings;
Negotiation – skill in obtaining favorable terms for buyers or sellers;
Financial acumen – familiarity with economic statements, budgets, and investments;
Market research – comprehension of current sales trends and changes;
Technology – proficiency in using technology for marketing purposes.
Including these skills for real estate agent will help demonstrate an individual's abilities. Provide specific examples for each skill in order for employers to gain a better understanding of what a person is capable of achieving.
Write a Real Estate Agent Resume
Include Social Media: Pros and Cons
There's always opportunity in real estate. It's just a matter of finding that opportunity in the current market.
The social network offers a more comprehensive view of a candidate, which can be especially useful in the real estate industry. Clients tend to find agents on the Internet, so it is vital to have a well-maintained profile.
Pros:
Incorporating social media links to an agent resume can showcase skills, and expertise, and provide evidence of success.
An Instagram account full of beautifully photographed properties or a Twitter that regularly shares relevant industry news could help evince a candidate's understanding of the topic.
LinkedIn is an excellent platform for showcasing professional connections as well as education and training.
Cons:
Connecting through media may not be beneficial for a real estate agent resume.
Employers may feel overwhelmed by too much information or may be deterred by inappropriate posts or pictures.
Applicants should maintain professional profiles that are tailored to their industry, and they should avoid posting offensive content or comments.
In the end, it is up to the individual to decide if utilizing networks in a resume is right for them. The online presence should accurately reflect qualifications and experience.
Real Estate Agent Resume Summary
An outstanding real estate resume summary should emphasize relevant skills and successes, demonstrating why they are most suitable for the job. Here is an example of a terrific summary on a resume for a real estate expert:
Experienced real estate agent with 8+ years in the industry, specializing in residential property transactions. Proven record of success in negotiating contracts and closing deals. Committed to providing first-class customer service to ensure repeat business. Proficiency in local market analysis and trends, as well as a thorough understanding of real estate legislation and rules.
Here are 3 tips on crafting an impressive real estate agent resume summary for a real estate professional:
Include relevant keywords from the job description.
Focus on accomplishments. Highlight the successes you've had in your career.
Showcase your client service skills. Don't just list general skills; be sure to include specific examples that demonstrate your expertise.
Specify Additional Information
Bolstering a real estate resume through the addition of personal details is important as it furnishes recruiters with an encompassing outlook of the job applicant.
| Type | Description | Example |
| --- | --- | --- |
| Hobbies. | Pastimes can suggest that you have leisure activities outside of work, which can show your diverse interests. | "Experience in photography or social media marketing". |
| Courses. | Detailing any classes in property management or finance exposes your commitment to learning and expanding your industry knowledge. | "Construction Management", "The Art of Visual Storytelling". |
| Languages. | Emphasizing language fluency means that you are able to interact with clients from diverse cultural backgrounds. | Fluent in Spanish. |
| Honors. | Awards indicate that industry professionals have recognized you for your excellence and contributions. | "Top Sales Award", "International Property Award". |
| Internships. | Traineeships provide valuable experience and insight into the real estate sphere and merit inclusion. | "An international real estate internship." |
| References. | Putting letters of recommendation gives interviewers an insider's view of you as a professional. | Letters from previous employers, colleagues or clients. |
| Certificates. | Documenting any professional certificates shows head hunters that you are knowledgeable in the field and may be qualified for certain positions. | "Certified Residential Specialist", "Accredited Land Consultant". |
43% of real estate agents are college graduates with a bachelor's degree or higher.
How to Write a Real Estate Cover Letter
Crafting an impressive cover letter is an indispensable part of applying for a real estate job. A good real estate agent cover letter can make the difference between getting your real estate agent resume read or not and can give you an edge over competing applicants.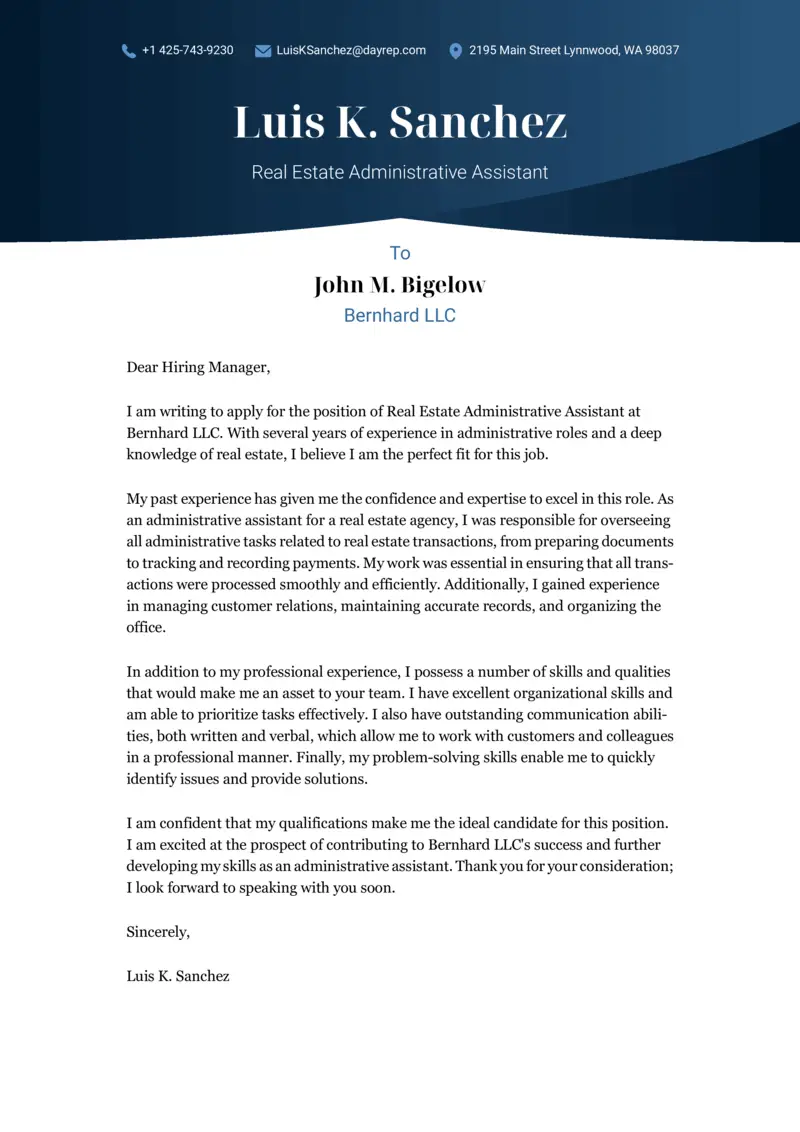 Here are some suggestions that could assist you in crafting:
Check that the cover letter is personalized and tailored to the specific job you are vying for.
Point out any particular abilities or credentials that you have, such as certifications, permits, or further instruction.
Refrain from using excessively flowery language or cliches.
Use strong action verbs to reveal your passion and drive for the position.
End your letter with an appropriate closing such as "Sincerely" or "Best regards", followed by your name.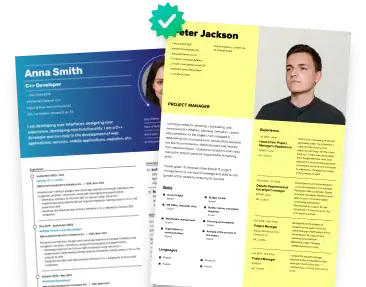 Good Example:
Dear [Hiring Manager],

I am writing to apply for the role of Real Estate Agent at your esteemed firm. I believe that my 8 years' experience in the real estate sector, combined with my people skills, will prove to be a great asset to your team.

I have a proven record of success in closing deals; in my current role I have been able to close 12 deals per month on average with a total value of $400K. My ability to establish and nurture relationships with clients has been a major factor behind this success.

Moreover, I am adept at selling properties - I have earned numerous awards and recognition for my sales figures over the years.

I consider myself to be an excellent communicator; I am confident in negotiating and presenting both verbally and in writing, and I have an eye for detail when it comes to contracts and other paperwork.

My knowledge of the industry is extensive - I am well-versed in all aspects of real estate legislation, marketing techniques, and building regulations.

I am highly motivated and take pride in my work. My attention to detail and outgoing personality help me to build strong relationships with clients and colleagues alike. In addition, I am an excellent team player who is willing to go the extra mile for the benefit of the team as a whole.

Thank you for taking the time to consider my application. I look forward to discussing this opportunity further with you in person at an interview.

Sincerely,

[Your Name]
Bad Example of a Real Estate Cover Letter:
Hey there! My name is [Name] and I'm really interested in this real estate job you posted! I just graduated college but I think I'd be really great at this job because I always dreamed of being a realtor when I was younger! My friends tell me I'm pretty good with people so that should help too! Please let me know what else you need from me!
This example is bad as it doesn't provide any relevant information about the candidate's skills or experience.
Additionally, the letter is not tailored to the particular position and does not show any excitement about the opportunity. The language is also too informal and does not demonstrate professionalism.
Entry-level Real Estate Resume Cover Letter Template:
Dear [Hiring Manager],

I am expressing my desire to obtain the real estate position at [Company Name]. Despite lacking a professional background in this field, my knowledge, skills, and dedication make me an ideal job seeker.

I have a natural interest in real estate, and I've been keeping up with the latest trends in the industry. My education includes a degree in [Field] from [University Name], which has given me a strong foundation for understanding the business aspects of real estate. Additionally, I possess excellent communication and negotiation skills, which will be essential.

Furthermore, I am a highly organized and hardworking individual who is eager to learn and grow professionally. Being new to the field, I am confident that I can quickly get up to speed on the company's procedures and policies.

I would love the opportunity to discuss my qualifications further and illustrate how my skills can contribute to your team. I appreciate you taking the time to consider this.

Sincerely,

[Your Name]
General Advice for Newcomers:
Showcase your knowledge of the industry by mentioning any relevant trends or news items you are aware of.
Express your enthusiasm for the role by highlighting specific aspects of it that you find interesting or appealing.
Display clear examples of any transferable skills you may possess such as research ability, problem-solving skills, etc.
Overall, focus on what makes you a great fit for the job despite having no experience in real estate yet!
Approximately 1 in 10 Americans sell their homes due to paranormal activity.
Check Your Real Estate Resume
It is essential to carefully review your real estate agent resume. Poor spelling, grammar, and typos can give off a negative impression and make employers question your professionalism.
In addition, it is vital to employ proper syntax and language that accurately represents the real estate business.
Here are tips to aid you in proofreading your resume for real estate:

Read the resume out loud. This will help you identify any errors in punctuation.
Take a break before proofreading so that you can look at your work with fresh eyes.
Ask someone else to read through your paper to get another opinion.
Use a spell checker, such as Grammarly, to review for mistakes or incorrect words used.
Proofreading your real estate agent resume is an essential step in the job application process. It ensures that you present yourself in the best possible light and gives employers confidence in your attention to detail and professionalism.
Bottom Line
I'm a big believer in a high-quality realtor and I endorse realtors for that reason. High-quality real estate agents all over America.
This article gives a comprehensive overview of constructing a resume for a real estate agent. The resume holds the key to uncovering new prospects and advancing your career.
Key takeaways:
Ensure that the summary and contact information at the top of the document contain pertinent data.
Use specific examples of how you have exceeded expectations or achieved success in past roles.
Utilize job-specific terminology and demonstrate an understanding of real estate industry trends.
Highlight any special certifications or licenses that you hold.
Creating a real estate agent resume can be time-consuming and stressful. But it doesn't have to be! An online resume builder with real estate agent resume templates can simplify the process and help you create a professional-looking document in minutes.
So don't wait any longer – start creating your real estate resume now!