Sending a thank you email after an interview is essential for constructing a notable impression. It will demonstrate your excitement for the position and the company, as well as your gratitude for their time and consideration.
This article will provide tips on how to write a thank you email after an interview.

You will learn when to send thank you email after the interview and why you should compose one.

Above all, you will see post-interview thank you email templates for different scenarios, like online and offline interviews.
By following our steps and guidelines, you will know how to write a proper thank-you note after an interview. It will surely leave a lasting impression on employers, getting you one step closer to landing that dream job.
Are you ready for your interview?
Are you only at the preparation stage for your interview? Look at our other articles to help you get ready for the meeting with your potential employer:
More to that, use our resume and cover letter builders to help you polish your application materials. Equipped with such knowledge, you will surely land your dream job in no time!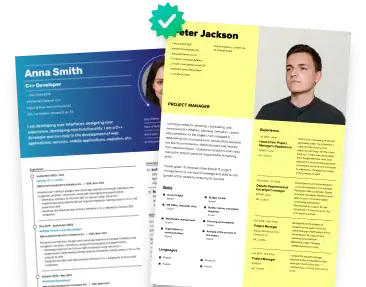 1. Why should I send a thank you email?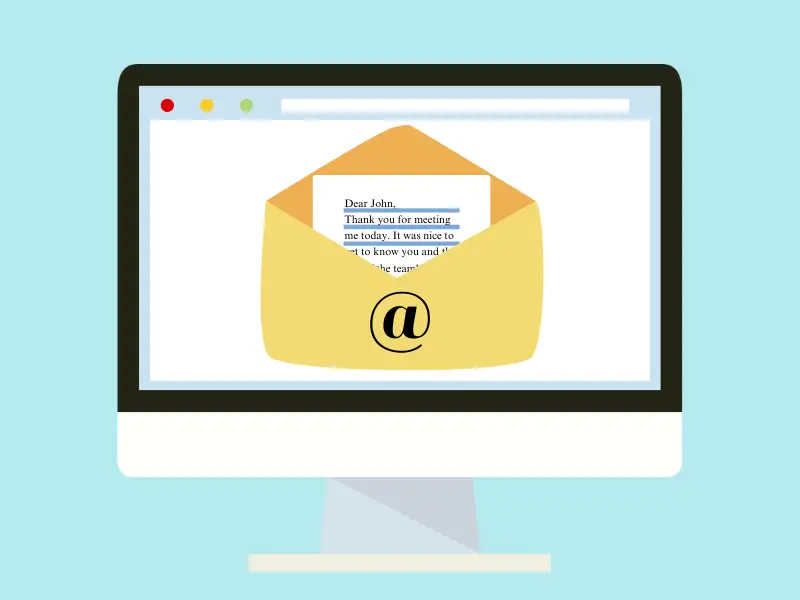 When you have finished a job interview, you may feel differently: stressed or relieved, excited or calm.
No matter how you think the interview went, it is necessary to demonstrate your appreciation for the interviewer's time. Sending a follow-up interview email is the best approach to do this.
"As we express our gratitude, we must never forget that the highest appreciation is not to utter words, but to live by them."
You can either send an email or a traditional letter. Emails are quicker, easier, and often preferred. However, if your interviewer has specified that they prefer letters, then it is advisable to follow their preference.
Regardless of the way you deliver your post-interview thank you letter, ensure that it is personalized and sincere. This can make all the difference!
2. When to send the email?
On your way home from the meeting, you may wonder, when to send thank you email after the interview?
Generally, it is best to send your follow-up email promptly after the interview. However, you can follow up the next day after the interview, which will refresh the memory of the conversation with you.
Hiring managers prefer receiving a thank-you message within 24 hours after the interview, indicating the importance of timeliness.
The post-interview thank you letter indicates that you are keen and driven, and will leave a positive impact on the employer.
It also gives you the opportunity to address any concerns or questions they may have had during the interview.
3. Who to send my thank you emails to?
At some point in your job interview, you may wonder, "Who should I send a thank you email to after an interview?"
During the interview, do your best to remember the names of people you met there. Even if you forget their title, knowing their names will help you look them up. There may be several scenarios of whom to send your thank you for interview email.
On-site interview
You may be interviewed by the person who contacted you - a hiring manager, team lead, or manager of the department you will be working for.
Alternatively, the person who interviews you may be someone else. Hence, you may send a thank you email after the interview to one of them or better both.
If you do not have the contact details of your interviewer, ask for their business card during the interview or inquire about this information from your recruiter.
Here is an example of what you may write in the follow-up interview email:
Thankful for your willingness to make time for me today and explore the [role] position at [company]. I relished discovering additional information about the team and the activities. I'm excited about the possibility of joining your team and contributing to your company's success.
Remote interview
If your interview is conducted virtually, it is even easier to get everyone's names. Make a screenshot of your meeting or write down the names if you have a minute.
Also, often when the link to a group meeting is sent, you may be able to see the email of all the people included. Hence, getting emails from your interviewer(s) may be even easier when doing a remote interview.
Below is an example of a thank you email after a Zoom interview:
It was a pleasure speaking with you about the [role] position at [company] yesterday. I eagerly anticipate hearing back from you and continuing the conversation. Your insights into the role and company have been invaluable in helping me understand why this position is perfect for me.
Group interview
Be prepared that a group of people may interview you. This can happen both, during an online interview and during an in-person meeting.
On such occasions, you should try and reach out to each interviewer with thank you emails after the interview if possible.
If you are unable to do so, email the recruiter and ask to pass your thanks to the interviewing team.
Look at the below sample thank you email after the interview for ideas of what to say:
Thank you for taking the time to speak with me last week about the [role] position at [company]. Connecting with everyone on the team and learning more about their experiences was a fantastic experience. I'm confident that I have the skills and experience to contribute to your team's success.
4. How long should the email be?
How long should your post-interview thank you email be to make a good impression without overwhelming the hiring manager?
DON'Ts:
Avoid lengthy or overly intimate content in your thank you message.
While it is important to be polite, don't overdo it. Too much flattery could come off as insincere or inappropriate.
DOs:
The ideal length of your message should be between four to five sentences.
Keep it a professional exchange and focus on the conversation that happened during the interview.
5. How to write a thank you note?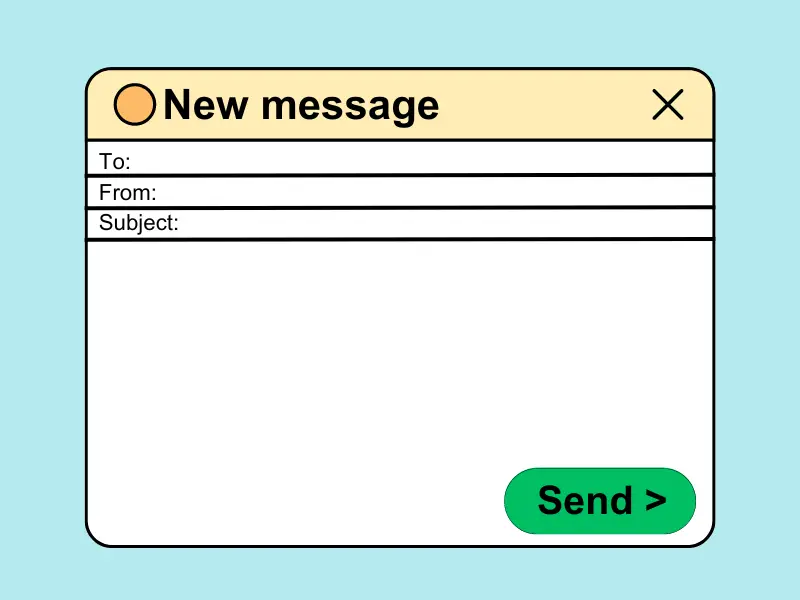 Constructing a follow-up email after an interview is a considerate move to signify your gratitude for the interviewer's investment. A standard thank you for interview email can be effective but personalizing it can make it even better.
To guarantee the highest effectiveness of your message, employ these recommendations for how to write a thank you email after an interview:
DOs:
Make it brief and delightful. Make sure the interviewer comprehends your gratefulness for their time and attention without going into too much detail.
Personalize it. Reference topics that were discussed during your conversation, highlight points that resonated with you and make sure to include the interviewer's name.
Show your enthusiasm. Make sure your tone is enthusiastic and positive, as this will make an indelible mark on the interviewer.
Follow up on any unanswered questions. If any topics were not covered during the interview, use your thank you email as an opportunity to provide additional information.
Say something memorable. Include something memorable or unique about your conversation with the interviewer - maybe something funny or insightful that was said.
Express your gratitude again. At the end of the email, ensure to thank you for having the chance to be interviewed by them and restate your enthusiasm for the opportunity to collaborate with them
Check for errors before sending. At last, make sure you go over your email thoroughly before dispatching it, so there won't be any spelling or grammatical blunders!
The post-interview thank you letter is a wonderful way to show appreciation for the interviewer's consideration and time and reiterate why you are the ideal candidate.
"Appreciation can make a day, even change a life. Your willingness to put it into words is all that is necessary." Margaret Cousins
Adding customization will demonstrate that you took the taking the initiative to create a special message for this interviewer, making it more likely that they will remember you when making their hiring decision.
Adhering to these instructions and tips, your interview follow-up email will stand out from the rest of the applicants.
6. What to avoid in the email?
Crafting a post-interview thank you letter is an outstanding approach to conveying your thanks and distinguishing yourself from other hopefuls. However, there are certain elements you should omit from your thank you email to guarantee that it's effective.
DON'Ts:
Don't be verbose. While you want to express your gratitude, be succinct and direct. Long emails can be overwhelming and may not be read until the end.
Don't use informal language. Even if the interviewer was very friendly and had a casual conversation with you, it is essential to maintain professional language in your thank you email. For example, this means using words like "thank you" instead of "thanks".
Don't sound too desperate. Make sure your message comes across as confident rather than desperate or overly eager. Showing enthusiasm is great but avoid phrases like "I'll do anything for this job" or "I'm the perfect candidate."
Don't be generic. Always personalize the email. Take the time to address the interviewer by name and include specific details from your conversation. This will show that you were engaged during the interview and demonstrate your interest in the role.
Utilizing these tips can help you construct a courteous and professional thank you email after a Zoom interview or an in-person meeting with the potential employer. You be able to signify your gratefulness and proficient manner.
7. Are there thank you email templates?
To assist you in making a good impression on recruiters, hiring managers, potential employers, and prospective team members, here are some thank-you email templates you can use to craft the perfect interview follow-up email.
Sample thank you email after interview #1:
Dear [Name],

I am immensely appreciative of you devoting your day to converse with me about the [Position]. Gaining insight into the role and its responsibilities. I trust that my capabilities and knowledge make me an excellent choice for the role. I am greatly appreciative of your time and consideration.

I hope to hear from you soon.

Sincerely, [Your Name]
Interview thank you email template #2:
Dear [Name],

Thank you for giving me the opportunity to discuss the [Position]. It was a pleasure meeting with you and learning more about the role. I am confident that my qualifications make me an ideal candidate for the job. I am excited about this position and would love to join your team. Let me know if you need any additional information.

I look forward to hearing from you soon.

Sincerely, [Your Name]
Thank you email template #3:
Subject Line: Thank You for [Company Name] Interview

Dear [Name],

I deeply appreciate your willingness to spend time discussing the [Job Title] position at [Company Name] with me yesterday. It was an honor to learn more about this opportunity and I am very impressed by what I heard.

I am highly interested in joining [Company Name] and feel my talents and expertise are well-matched with the requirements of this role. this role. I believe I could make a valuable contribution and help [Company Name] reach its goals.

Thank you again for your time and consideration. Kindly inform me if more information is required. I eagerly anticipate a response from you.

Sincerely, [Your Name]
Sample thank you email after interview #4:
Dear [Name],

I appreciate you making time to meet with me today. I was delighted to gain further insight into the [Position] role and the [Company] team. It was a pleasure meeting you today. I am very excited about the opportunity to be part of this great organization.

Best, [Your Name]
Thank you email template #5:
Subject Line: Appreciate You Sparing the Moment to Interview Me

Dear [Name],

I wanted to show my gratitude for devoting your time to our meeting and discussing the [position] at [Company]. I relished researching the role further and I am delighted to have the chance.

I believe my background and experiences make me well-suited for this position. I am confident that I would be an asset to your team and help contribute to your success.

If there is anything else I can provide to help with your decision, please let me know. I eagerly anticipate your response.

Sincerely, [Your Name]
8. How to send a 2nd thank you email?
If you have already expressed gratitude in a post-interview thank you email, you may be wondering if there is anything else you should do. A second follow-up email can powerfully illustrate your sustained commitment to the position. You may consider sending it after two weeks after your interview if you do not hear back from the hiring manager.
Here is advice for writing an additional follow-up email.
Keep it short. Your follow-up email should be concise and to the point. Try to limit yourself to two paragraphs or less.
Be polite and professional. Use a polite, professional tone throughout your email and avoid sounding impatient.
Mention something from your interview. Referencing something that came up during your interview will help your recipient remember who you are. This could be something the interviewer said or a project that was talked about.
Inquire about timing. Ask about the timeline of when the hiring decision will be made. You may request to be contacted regardless of the outcome and remain on their list for future opportunities.
End on a positive note. End your email by expressing your thanks for their time and restating your interest in the position.
Sending an additional email after the interview is a great means to make sure you stay on the same page with the hiring manager while also demonstrating professionalism and enthusiasm for the role.
Keep these tips in mind when crafting your message so that it has the best chance of getting noticed!
9. How to proofread the follow-up email?
Compiling a thank you email after the interview shows resourcefulness and can assist in distinguishing you from other job seekers. It is also the ideal occasion to ensure you leave a lasting impression on the hiring manager.
However, before you hit send, make sure your post-interview thank you email is error-free.
Ensuring your note is accurate should be a priority. Just like in a resume or cover letter, typos, and spelling errors will take away from the professionalism of your message.

So take the time to read through everything and check for any mistakes.
It is also a good idea to double-check any links or attachments you included in your thank you for the interview email. Make sure they are correct and working properly.
If you sent an incorrect link, it could create confusion or frustration with the hiring manager. Plus, they may not have time to request the link again and will simply skip your application.
Finally, assess the words and courteousness of your interview follow-up email. Confirm that your message is personalized and friendly but not too casual.
Conclusion
In this article, you learned how to send a thank you email after an interview.
Writing a thank you email after an interview is a necessary stage in the job application process. It shows that you are polite, professional, and thoughtful.
Thank you emails after the interview should be succinct, and clear, and demonstrate your gratitude for the chance to connect with the interviewer.
"Appreciation is a wonderful thing. It makes what is excellent in others belong to us as well."
It should also include what specifically you enjoyed about the interview and any other points of interest that may have come up during the conversation.
The follow-up interview email is your opportunity to create a positive impression of yourself in the mind of the interviewer and potentially increase your chances of being hired. So, use the provided guidelines to help you stand out!