Have you ever had a recruiter or hiring manager start an interview like that? In essence, it should be an easy common question - easier than "What's your biggest weakness?" or "What is your greatest achievement?".
Yet, you still feel nervous. This is your first impression and first impressions mean so much. You know you have to nail this question.
However, potential hires consistently struggle with this open-ended prompt and the results can be devastating to a job search. You start on the wrong foot and, from there, you just try to regain your composure for the rest of the interview, stumbling over all the other questions.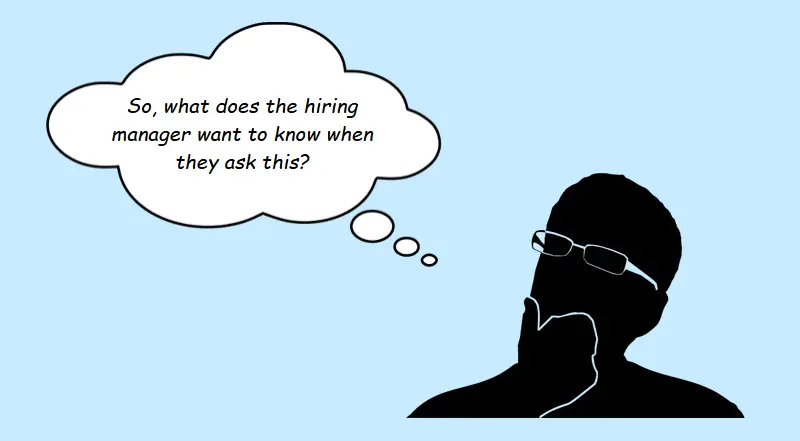 In short, they want to hear about the value you can bring to the company.
But that doesn't really help you answer the question, so let's explore why interviewers ask this question, ways to approach answering it, and some other general tips and tricks for this oft-asked prompt.
Why is "Tell me about yourself" such a common first interview question?
Imagine how nervous you might be for a job interview. It could be your dream job, your escape from an unsavory situation, or the raise you deserve for your expertise. It can be a lot of pressure.
Now, think about the nerves of the interviewer. They don't know you. They may have glossed over your resume and cover letter for a few moments, but you are still a stranger. As much as you need time to read the interviewer, the interviewer needs time to read you.
So, an icebreaker is in order, and that's why "Tell me about yourself" is a prevailing beginning question. It's a query you can take in any direction while still giving some critical information to the interviewer.
If you answer it optimally, it can lead to related follow-up questions, making the interview seem more like a casual networking conversation as opposed to a stiff and rehearsed set of answers. This can raise your professional stock significantly while proving to the recruiter that you are not only the most qualified person for the job but also already aligned with the company's culture and philosophy.
It's all about getting to know who you are, so prepare yourself and shine.
Other ways to ask "Tell me about yourself"
You have to formulate a response to this interview question, but it can be asked in a few different ways.
It's best to familiarize yourself with these common versions of how interviewers ask it.
"I've looked over your resume, but what's most important about you?"
"Tell me something that isn't on your resume."
"Walk me through your resume."
"You have some impressive accomplishments, I'd love to hear about your career journey."
"Can you tell me more about your background?"
"So what do I need to know about you?"
It might sound different, but these are all the same interview questions.
How do I answer "Tell me about yourself?"
As mentioned, your response here sets the tone for the interview. You'll want to prepare a short, but rich answer that:
Explains the professional history,
What you can do for the company,
That you can communicate effectively,
Demonstrates the skills that set you apart from the other candidates, and
Why do you want this job?
That's a lot to pack into an answer that should be under 1 minute. So let's break it down into those five parts.
Begin by acknowledging the interviewer
The first words out of your mouth in any interview should be some variant of "Thank you for taking the time to meet with me today."
It seems superfluous, maybe a bit unnecessary, but it demonstrates that you value time of who you are speaking with, as well as the opportunity to share more about yourself. An interview is a fairly one-sided conversation and this three-second address can engage the interviewer just a little bit more.
Most important sentence: revealing yourself
When starting the important part, think about where you are now in your career. This is of immediate relevance to the hiring manager as it shows what you are doing right now.
You should begin with your industry, expertise, and career level. That directly establishes your experience as it relates to the position on hand, proving why you are in the room in the first place.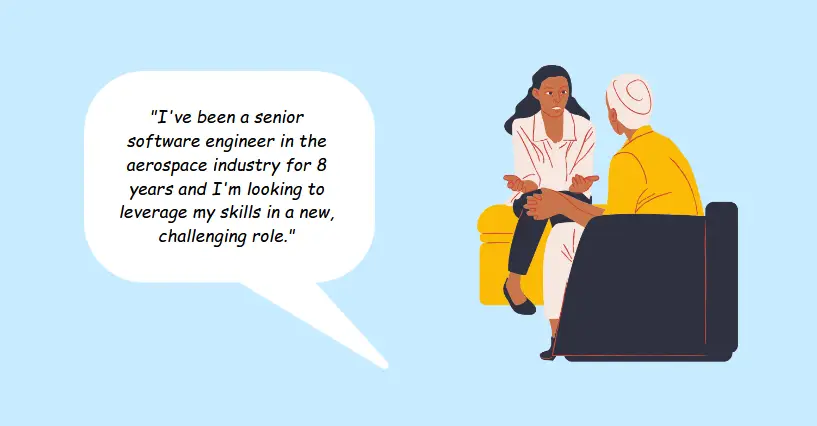 But what if you don't have experience in that industry or at that level?
Let's go over a few strategies for these trickier situations.
Recent graduate
If this is your first job out of high school or college, then you can't really share a career journey. However, you still have a journey to share.
You can connect the job description to your degree, clubs, volunteer experience, or internships. What you want to underline is that you are a driven individual with a specific interest and growing skill set as it pertains to that position.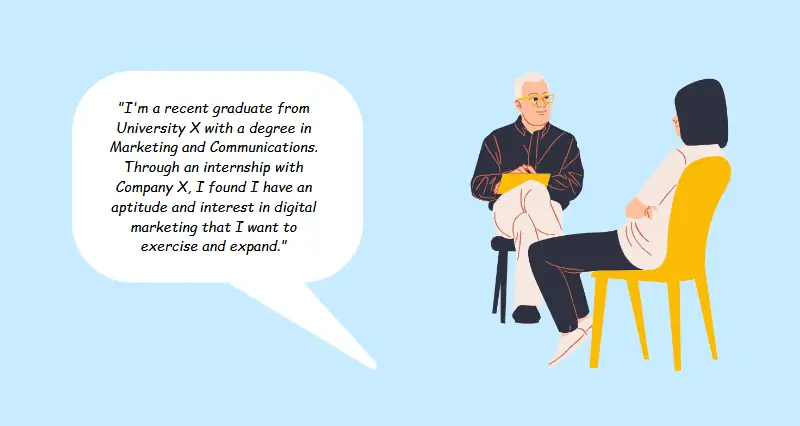 Career change
Now, what if you're looking for something fresh? Maybe it's switching industries or switching careers entirely.
Then, you want to highlight transferable skills. There are both hard and soft skills that transcend industries and even professions! Communication, collaboration, and adaptability are all great attributes that contribute to the success of every professional.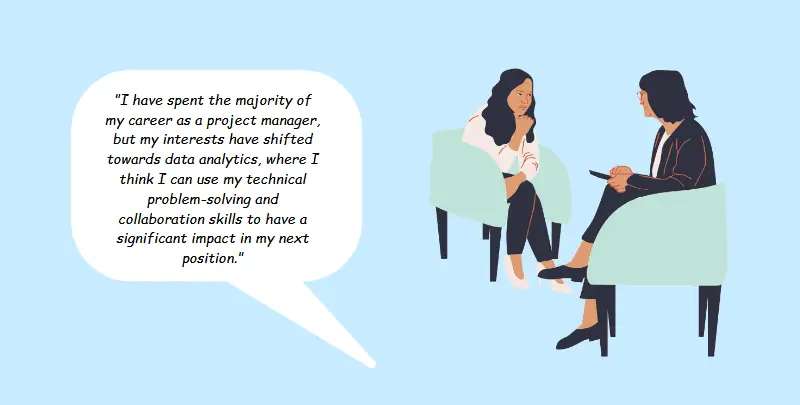 Moving up the corporate ladder
At some point in your career, you will want to seek additional responsibilities to be recognized as a senior expert and leader in your field.
To substantiate why you are deserving of a promotion or higher title, emphasize your fluency in business planning, executive-level communication, analytical decision-making, and cross-functional collaboration. Of course, these are just a few of the needed skills for a leader, so always match your response to the job description.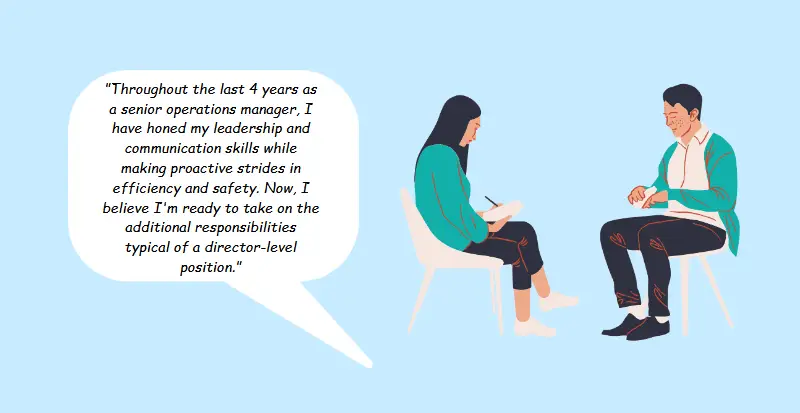 By leveraging some of these strategies, you will come across as a confident professional who can clearly communicate their top skills, current position, and career aspirations.
What value do you bring to a company?
Although the prompt "Tell me about yourself" seems like the interviewer wants to know about you, they really want to know about you in terms of what you can do for the company. This is a theme that should always be present in the resume and cover letter as it will differentiate you from other candidates.
Not only for this question, but for everything related to a job search think: How do I add value?
This requires not only a thorough understanding of your own professional accomplishments but also of the job description and the company's position in their respective industry.
Understanding company needs
Finding out more about the company is required prior to every interview. In fact, you should be tailoring your resume to each job posting to raise your chances of being asked in for an interview.
Before speaking with the interviewer, familiarize yourself with the in's and out's of:
| The topic | The question to answer |
| --- | --- |
| The job posting. | What are the preferred skills and necessary credentials listed on the position listing? |
| The company's mission statement. | What is the culture of the company and its primary goals? |
| The standing of the company. | How is the company viewed within its industry? |
By connecting the middle portion of your answer directly to these three topics, you are able to show that:
You understand and can fulfill the requirements of the position.
You can easily align yourself with the larger objectives of the organization.
You are ready to operate and communicate within a specific professional sphere.
For the following example, imagine the position requires interdisciplinary project leadership for a startup company that emphasizes customer satisfaction.
"In my current role, I have organized and directed teams of technicians, analysts, and individual contributors to improve user engagement and adoption for an innovative and new direct-to-consumer mobile app."
Know your audience
Now this goes hand-in-hand with understanding the goal of the company, but it also includes the setting in which you are being interviewed and the seniority of the interviewer.
The goal of an interview session is to find the right person fit for the job, not just to fill a role. It is finding the right cord that will spark the fire that makes stuffs work in real-time, and it is a two way thing for both the interviewer and the interviewee.
For example, suppose you are a finance director who's seeking a horizontal move to a new company. The way you speak to a hiring manager in an initial interview is very different than how you would approach speaking to the CFO in a final-round interview. The former wants the big picture to show you understand the requirements of the role and the latter would want a more technical answer on how you can directly help that company.
With this, consider again where the company is in its history. Chances are that an interview with a tech startup is going to be much more lax than one with a Fortune 500 bank with 100 years of culture and reputation.
Highlight applicable accomplishments & skills
It's time to shine and prove you are the person for the job.
You've done your research on the company, understand its goals, and can communicate appropriately to the interviewer.
Now connect it all back to something you have accomplished in your career. Ideally, this is an achievement from the past 5 years or your current position. Something you improved last year is much more important to potential employers than the same accomplishment 10 years ago.
Whenever you can, whether that be in interviews, your resume, or your cover letter, attach a number and a "how" to your achievement.
As an example, which sounds more impressive?
I reduced department spending.

or

I reduced department spending by $500,000 in 4 months by automating daily processes.
Focus on sharing one exemplary achievement for this question - you'll have more opportunities to share others later in the interview. But don't just regurgitate a bullet on your resume. Instead, add emphasis to your achievement by tying it back to your opener.
Earlier this year, I was awarded President's Club for generating over $1M in annual sales. That experience showed me that I want to contribute to building an organization from $0 in sales to that $1M mark.
Finishing strong
You've nailed the first two parts of this question. You've explained where you are in your career and what you are seeking in your next opportunity. You've shared one of your top achievements and related it directly back to the needs and culture of the company. It's time to wrap it up.
Remember, the answer to "Tell me about yourself" should be under one-minute.
And, not to add pressure to this seemingly daunted initial question, you want to share what's your top priority and:
Why you want this position
There's a reason you are in that room interviewing for that opening.
Do Not:
Don't distill it to "I would make more money at this job" or "I need something fresh". Instead, take a deeper look at your professional journey and what your values are. Then, connect those directly to the position at hand.
Portray the opportunity as something special - a chance you had to take. You don't have to bend over backward to make the interviewer and the company feel all fuzzy, but think about how this position facilitates your future goals.
I'm really seeking an opportunity that aligns with my interests in continuous improvement and technological innovation. And Company X is one of the industry's top innovators. So, when I saw a software engineer opening at this company, I knew I could fully leverage my skill set while still constantly growing as a professional.
Does this sound like you?
You always want to remain authentic throughout your job search. You can prepare and rehearse multiple answers to this question and be ready for any version of this question.
But, if it comes across as rehearsed, as if you are reading it directly from a page in front of you, the interviewer won't be as engaged.
They won't be as interested. They may not ask a direct follow-up and the entire interview can seem like a scripted middle school dance. It could just be a little awkward.
Instead, you want to tango.
Show your passion for your career. Share your desire for something more, something substantial in your professional life. Make it sound like you're talking to a colleague you've known for years.
To do this, consider writing 3-to-5-word bullet points that outline your answer rather than writing every single word as you are preparing for the interviewer. This will allow you to naturally fill in the gaps in a way that a normal person speaks. Plus, it's less for you to remember.
However, remember this is your elevator pitch, not your memoir. Pique the interest of the interview, but don't get too deep.
Be who you are, not someone you think they want you to be.
A "Tell me about yourself" sample answer
A Sales Representative seeking a leadership role

"First off, thank you for inviting me in for this opportunity. Throughout my career as a Sales Representative, I have always focused on cultivating those key relationships to propel wins and generate revenue, whether those relationships be with the internal team, prospective clients, or long-term accounts. By keeping this as my driving force in every conversation, I was able to secure contracts with 18 new major clients in the past year, individually netting the company over $5M in revenue. And I've been able to share these strategies with other Sales Reps, helping propel their success. Due to that experience, in particular, I found a real passion for leading and improving a larger sales organization. I'm seeking an opportunity to prove my leadership and training skills, so when I saw a Manager opening for a well-known retail company with the same relationship-first values as my own, I knew it could be a great chance to take on a new challenge."