Calling all aspiring waitresses and champions of customer service! Get ready to serve up success with a show-stopping waitress resume.
In this article, we'll pour out expert advice and insider tips on how to create a resume that will make employers hungry to hire you.
From showcasing your impeccable serving skills to highlighting your ability to handle high-pressure situations with a smile, we've got you covered.
So grab your notepad and prepare to take orders for the ultimate waitress resume that will have hiring managers requesting you as their main course!
How to Write a Resume for a Waitress?
The main points include:

Composing an objective statement;
Highlighting relevant skills;
Adding experience and education;
Listing additional information;
Proofreading the document.
By adhering to our guidelines for building a waitress resume, prospective employers will gain insight into your qualifications and evaluate whether you are a qualified candidate for the job.
Try a Resume Builder
Are you looking for a way to make an outstanding resume? You should consider employing a professional resume template from an online resume creator.
Pre-designed waitressing resume templates allow you to customize it with your own information and create an outstanding document. No start from scratch. It can save you time, energy, and headaches - all while making sure your resume looks polished.
Plus, when you use a waitress resume template, you don't have to worry about formatting issues such as font size, margins, spacing, and alignment. Everything is already set up for you in the right way, so all you have to do is fill in the blanks.
Using one also makes it easy to include job-specific keywords that can help your application stand out. This can be especially helpful if the employer uses scanning software to quickly filter through applications.
The waitress resume examples available through an online service are designed by experts and look great on any device. They often come with advice from experts for your particular field or industry.
In addition, many services offer additional resources such as writing tips and links to other career-related materials. This guarantees your resume stands out from the competition and strengthens your candidacy.
So why not give yourself a leg up by taking advantage of a waitress resume template? It could be just what you need to take your job search to the next level!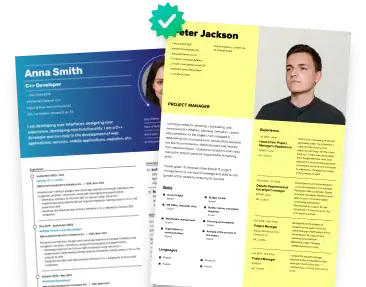 Waitress Resume Sample
Objective:
Highly motivated and knowledgeable waitress with exemplary customer service talents, looking to apply my knowledge and experience to a new opportunity.
Experience:
Two years of serving experience in a busy restaurant;
Interacted with customers daily, providing efficient and effective service;
Skilled in taking orders quickly;
Potential to operate independently or as part of a team to meet customer needs;
Experienced in food handling and safety regulations;
Trained in wine knowledge and pairing;
Processed payments accurately and efficiently.
Skills:
Service-oriented mindset;
Outstanding interpersonal abilities;
Capacity to multitask productively;
Knowledge of food and drink menus;
Being meticulous when taking orders or processing fees;
Time management and organizational skills;
Proficiency in proper table settings, silverware use, etc.
Education:
Graduation Certificate, June 2018.
Certifications/Achievements:
Achieving Food Safety Authorization, 2020;
Silver Medal Winner in National Waiter & Waitress Championship, 2019.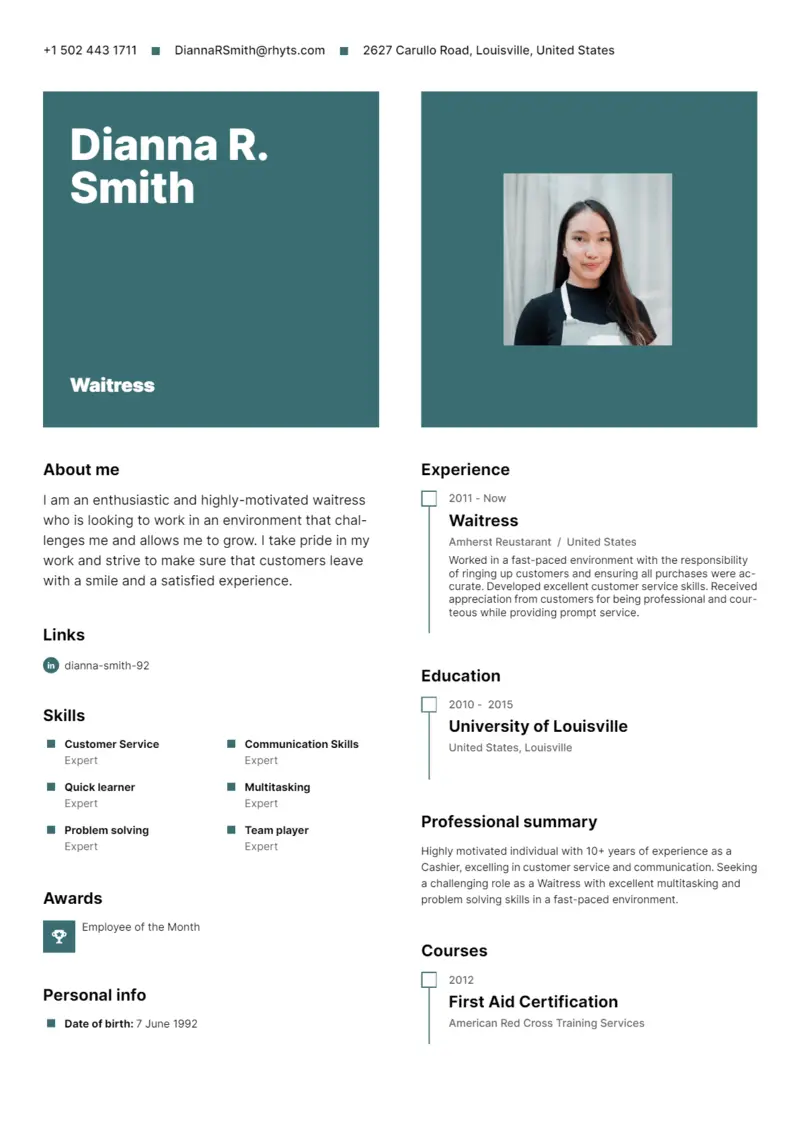 The majority of waiters and waitresses in the US are female. In fact, about 71% of the occupation is made up of women.
Restaurant Resume StyleGuide
Compiling a waitress resume requires careful consideration of the overall style and words you use to describe yourself. It is important to use concise language and affirm that the text is plain, free of errors, and provides relevant information.
Job-specific terminology should be used to make the resume more professional and compelling. See some examples below:

Serve: e.g. serve customers with a friendly attitude;
Greet: e.g. greet guests, welcome customers, provide customer service;
Prepare: e.g. prepare tables, set up dining areas, pre-bus tables;
Monitor: e.g. Monitor guest satisfaction, maintain neatness and tidiness in dining areas;
Clean: e.g. clear dishes and glasses, wipe down tables, sweep floors;
Take orders: e.g. Record orders with accuracy and speed, enter them into the computer system;
Deliver: e.g. deliver meals and drinks to customers, respond promptly to customer needs;
Inform: e.g. inform customers of daily specials, answer questions about menu items;
Train: e.g. train new members on restaurant policies and procedures;
Cash handling: e.g. process payments accurately, maintain cash drawer accuracy;
Supportive: e.g. provide support to kitchen staff, ensure timely delivery of food;
Communicate: e.g. communicate effectively with customers and staff members;
Problem solve: e.g. resolve customer complaints quickly;
Meticulousness: e.g. observe safety protocols, follow health code regulations.
How to Enter Contact Information
Include precise personal and contact data in the resume. This way, employers will have a clearer picture of who you are and how they can get in touch with you.
When listing contact information on a waitress resume, include:
Full name;
Address;
Phone number;
Email.
Confirm the info is up-to-date and accurate. Also, consider including any additional contact details such as your social media profiles or website URL.
You may also include a professional headshot photo, preferably in business attire, at the top of the resume section to create a good first impression. This will aid employers in swiftly recognizing you when they are examining resumes.
Specify Experience
Crafting a resume for a waitressing position necessitates the enumeration and structuring of all work backgrounds. This can help employers quickly assess the applicant's qualifications and decide if they are the right person for the firm.
Previous experience should be organized in order of occurrence. Start with your most recent position and go back in time. Include particulars such as job title, name of the employer, dates of employment, and a brief description of your responsibilities.
Furthermore, helpful to include any awards or accomplishments you may have achieved while working as a waitress.
Below are two waitress resume examples of how to order experience:

Waitress at Happy Café (May 2020 - Present)

Taking orders from customers;
Preparing food items according to customer instructions;
Offering top-notch customer care;
Assisting with basic restaurant maintenance tasks.

Server at Fine Dining Restaurant (February 2017 - April 2020)

Delivering food items to tables promptly;
Greeting customers and furnishing details of the menu;
Following up with customers to ensure satisfaction;
Perform cashier functions, such as taking payments from customers.
Putting work-related experience can be an asset when applying for a waitressing job. It indicates to HRs that you have prior knowledge and expertise in the field.
Employers want to hire someone who can provide excellent guest service, handle cashier duties, and serve food according to company standards. Demonstrating your time as a waitress highlights the essential prowess and understanding necessary for the vacancy.
Providing an inadequate listing and format of work experience may be harmful.
Instead of putting experience chronologically, some applicants record their tasks under each employer without specifying dates or job titles. This creates a challenge for employers to comprehend an applicant's work history and may lead to them disregarding an otherwise suitable candidate.
Write a Waitress Resume
Education Section
When creating a profile for an employment opportunity as a waitress, it is imperative to structure and arrange your academic credentials properly.
Your educational background ought to be arranged in chronological order, beginning with the most recent educational experience first.
If you have recently attained a college degree or achieved a certification, those should be the first items listed on the resume. This facilitates easier for the employer to quickly identify your related qualifications and skills.
Waitress Resume Sample 1:
Bachelor of Business Administration;
The University of Washington (2017 - 2021);
GPA 3.8.
San Diego County's Nutrition Protection Program (2020) - Approved Food Safety Credential.
This example shows an applicant who has graduated college and obtained a food hygiene certification. Having these qualifications is favorable when seeking a waitressing job position.
The degree indicates a comprehensive knowledge of business practices and the certification denotes an acquaintance with FDA regulations.
Waitress Resume Sample 2:
Professional Food Security Credential - San Diego County Food Protection Initiative (2020);
Roosevelt High Diploma - Certificate of Completion (2015).
In this example, the applicant has most recently attained their licensed food sanitation accreditation, followed by their high school diploma.
Once again, both of these qualifications are useful to have when applying for a job as a waitress or waiter. They are a testament to the applicant's understanding of nutrition safety standards and basic background.
Incorrect ordering and formatting of education on a waiter resume:
Graduation from Roosevelt High School;
University of Washington - Bachelor of Science in Business Administration;
Professional Food Protection Credential.
Here the education experiences are not in chronological order and lack clarity. It is best to avoid this type of formatting since it can make it difficult for employers to quickly assess your qualifications and skills.
Waitress Resume Skills
The inclusion of both soft and hard skills on your waitress resume proves your range of talents and attracts the interest of hiring managers. Soft skills are the personal attributes that help you work with others, while hard skills cover technical abilities.
Begin by listing hard skills first, followed by your soft skills. Your hard skills should be specific to the job you are applying for; for example, apprehension of different types of wines, and customer service techniques.
Soft skills should demonstrate how personable and capable you are as a waitress.
To name just a few examples of soft skills that could be mentioned: possessing exceptional verbal and written communication, interpersonal and problem-solving skills, being organized, and having the ability to work well under pressure.
Ultimately, possessing a comprehensive waitress resume with skills is essential to reveal one's suitability. Make sure you list both sets of skills in an easy-to-read format.
Waitress Resume Examples of Soft Skills:
Excellent communication;
Strong social & troubleshooting powers;
Being organized & reliable;
Capacity to perform in a stressful environment;
Flexibility & adaptability;
Time management;
Positive attitude & friendly demeanor.
Waitress Resume Examples of Hard Skills:
Comprehension of various kinds of wines;
Adherence to regulations for food preservation;
Cash handling & client relations strategies;
Knowledge of restaurant operations & policies;
Basic math & computer literacy;
Food preparation techniques & food handling procedures.
Being a waitress can be physically demanding due to extensive walking, standing, and carrying heavy trays of food and drinks.
Social Media in Waitress Resume
In general, adding social media links to the resume for a waitress is not common. However, it can be beneficial depending on the situation.
Pros:
Exhibits to potential employers your ability with technology and your understanding of the different forms of communication;
Gives potential employers the opportunity to delve deeper into your character and pastimes outside of work.
Cons:
Let your bosses know what you are doing on your own time;
Employers may be concerned about what they find if have a look at your social media accounts.
A good example would be a server who is seeking employment at a restaurant that is known for its creative atmosphere. Including a link to their Instagram page, where they present their own food creations, could be very beneficial.
For instance, a waitress who is applying to an upscale restaurant has an active presence on Twitter.
Linking to their own Twitter account - which includes reviews of other restaurants, advice on how to improve customer service, and recommendations for the best dishes - would show that they understand the importance of consumer relations in the industry.
Waitresses often earn a significant portion of their income through tips. The federal minimum wage for tipped employees is $2.13 per hour, but if their hourly wage plus tips does not reach the regular minimum wage (currently $7.25 per hour), the employer is required to make up the difference.
Waitress Resume Summary
A first-class summary for a waitressing resume should be succinct yet impactful and display why you are the ideal candidate for the role.
Example:

Waitress with extensive experience and 4+ years in the hospitality industry. Proven track record of delivering exceptional customer service and creating memorable dining experiences. Outstanding multitasker with excellent communication skills, adept at executing instructions precisely and quickly.
Tips for Writing a Great Resume Summary:
Highlight Your Strengths. Focus on your skills, knowledge, and experience that are relevant to the position.
Keep it Concise. Use short sentences and make your summary between four to six lines long.
Showcase Your Experience. Demonstrate your background in the field by giving examples of how you have successfully completed tasks in the past.
Whenever you serve someone from your heart, the food tastes so much better.
Write a Resume Summary
Apply More Information
Supplementing a waiter resume with additional personal information is of utmost importance. It enhances the impression that one is highly qualified and a potential asset to the company. It helps the manager understand who the interviewee is and how will be applicable.
Hobbies. Hobbies on a waitress resume must be tied to the occupation, such as being a member of a local restaurant association or volunteering at food-related events. It illustrates that they are excited about the sphere, have expertise in similar areas, and can bring innovative thoughts to the team.
Courses. Adding classes can reflect not only knowledge but also dedication to learning new things. This might be anything pertaining to hospitality, customer service, or the food industry.
Languages. Being able to communicate in numerous languages is an advantage, as it signifies versatility and communication skills that can help in dealing with different types of cultures.
Awards. Honors illustrate recognition for hard work and devotion to past projects. Accolades related to human relations or sales can help to evince excellence in these particular areas.
Internships. Interim positions are valuable experiences that convey a willingness to learn new skills and gain hands-on mastery in the industry. They also show that one has already gained some insight into how restaurants operate.
References. Letters of recommendation are important because they provide evidence of former work history. Having references that can attest to one's performance is vital to ensuring that employers get an accurate picture of whom they are considering.
Certificates. Certifications represent the validation of competencies acquired through learning or study. Obtaining a portfolio focused on FDA, customer service, or hospitality emphasizes a candidate's commitment to acquiring new knowledge and improving their professional development.
In areas with diverse populations or popular tourist destinations, being multilingual can be an advantage for waitresses. It allows them to communicate effectively with a broader range of customers.
How to Write a Cover Letter for a Waitress Resume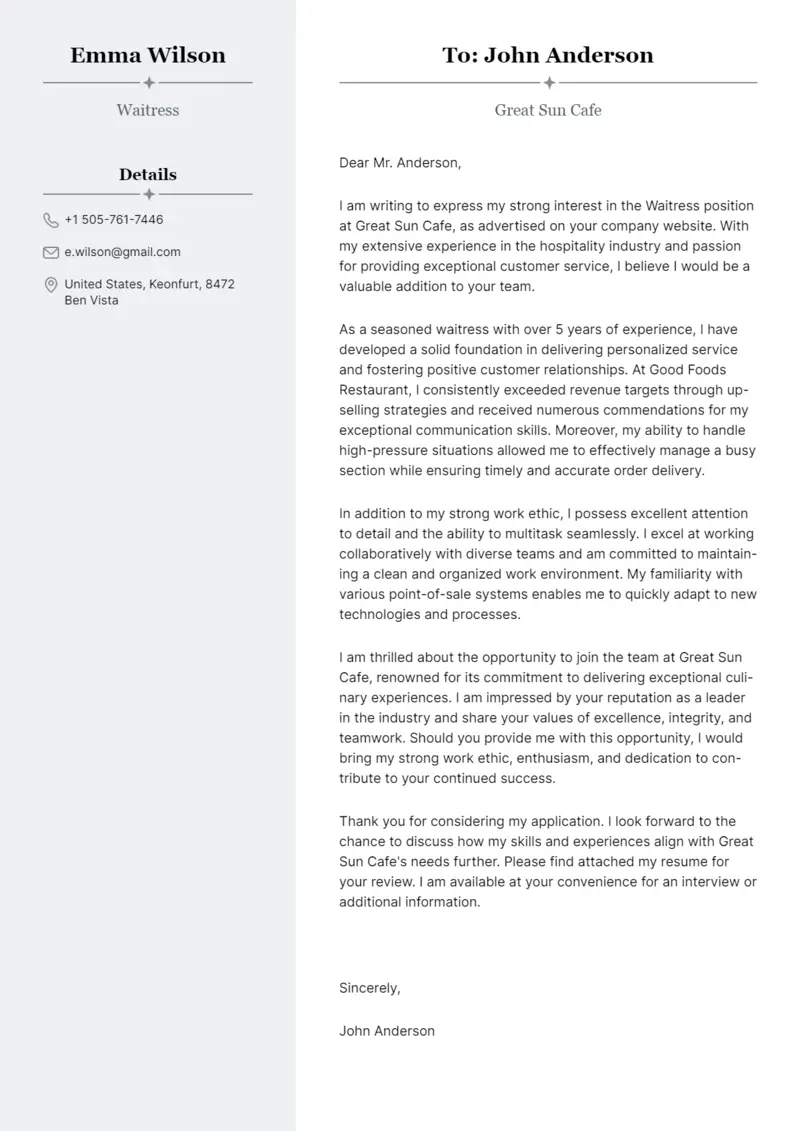 Crafting a letter of application for a waitressing resume can be an intimidating undertaking. Take a look at these suggestions to assist you in drafting an effective cover letter:
Keep it short: A cover letter should be no longer than one page. Check that your letter is concise and to the point.
Underline your skills: Illustrate how your capacities and experience make you the right fit for the role. Focus on your background, knowledge, and abilities.
Show enthusiasm: Display to employers that you are excited and passionate about the opportunity. Discuss why you love working as a waitress and the way your desire will benefit their business.
Tailor it to the position: Secure that you tie your cover letter to the job in question. This will demonstrate that you have taken the time to research the company and understand what they are looking for in a candidate.
Here is a great cover letter sample:
Dear [Employer],

I am inquiring about the position of a waitress at [restaurant name]. I have extensive experience in offering high-quality customer service and working within busy hospitality environments. My carefulness, love of food, and upbeat attitude qualify me as a good candidate for this role.

I have faith that my skills in serving customers, taking orders, and ensuring guest satisfaction will serve your restaurant well.

I am confident I could contribute significantly to helping [restaurant name] reach its goals. Additionally, my work ethic and dedication to delivering outstanding customer service would be beneficial in this role.

Thank you for taking the time to consider my application. I look forward to discussing this opportunity with you further.

Sincerely,

[Name]
This is substandard cover letter example:
To Whom It May Concern,

I am writing to apply for the post of waitress at [restaurant name]. I confidently possess all the required qualities for this job. Being a hard-working and reliable person, I enjoy interacting with people.

Plus, I know all about food safety so your customers will be safe when eating at [restaurant name].

Please take my application into account, as I am sure that my previous experience would be an asset to your business.

Best regards,

[Name]
This is a weak cover letter due to the lack of applicable skills or information about why the individual is aspiring to this position. It does not state how his/her background will enhance the restaurant. It is also too generic, suggesting that the applicant did not take the time to tailor their cover letter specifically for this company.
Entry-Level Waitress Resume Cover Letter Example:
Dear [Employer Name],

I am reaching out to showcase my enthusiasm for the role of waitress at [Restaurant Name]. I strongly believe that my excitement and devotion to supplying remarkable customer service make me an ideal pick for this role.

My background includes working with people in various settings, such as retail, food, and customer service. I have a strong record of solving customer problems and creating a positive environment. I am confident that my skills will prove beneficial to your restaurant.

I am aware of the necessity of attentiveness, speed, and accuracy when serving customers. In terms of ensuring that customers are satisfied with their experience at your restaurant, I strive to go above and beyond. Furthermore, I'm certain of my aptitude to cooperate, converse proficiently with customers and associates, and remain organized even during hectic shifts.

My desire for the profession is matched by an understanding of excellent customer service. My passion for food service makes me a supreme candidate for this position.

I eagerly anticipate speaking with you further about this opportunity. Please feel free to contact me at your earliest convenience. I am grateful for your time and thoughtfulness.

Sincerely,

[Your Name]
General advice on writing[cover letter for a waitress resume:
Focus on your eagerness to provide superior customer support;
Highlight your skillset;
Demonstrate your capability of collaborating;
Mention any previous experience in the food service industry;
Signify knowledge of the company you are applying for;
Be concise and include only relevant information;
Use correct grammar and spelling;
Address the letter directly to the hiring manager;
Show professionalism throughout the letter;
Consider using bullet points for better readability.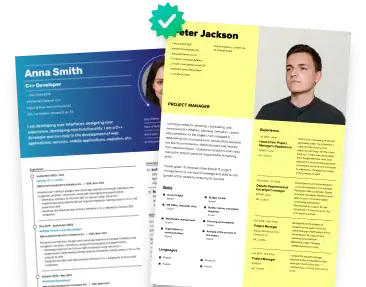 Proofread Your Waitress Resume
Thoroughly correcting any mistakes in your restaurant resume is indispensable. Even small errors in grammar, spelling, or punctuation can make the difference between getting an interview or having your application overlooked.
Knowing how to use English syntax and words is important because it reveals that you have a good command of the language. Particularly in a waitress's job, which involves interacting with customers. It also displays attention to detail, which is an essential trait for a customer service job.
Use the following advice to review your resume and supporting letter:

Read slowly and aloud;
Focus on one sentence at a time;
Take short breaks to clear your mind;
Run grammar and spell check;
Ask someone to review it for you, and look through it more than once.
Proofreading your resume and cover letter may seem like an arduous task, but it's worth it. It will tell potential employers that you are thorough and professional, increasing your chances of getting a great job as a waitress.
While many waitresses view their job as a temporary or part-time role, some choose to make it a long-term career. They may progress to supervisory or management roles within the restaurant industry or even open their own restaurants.
Drafting Waitress Resume: Conclusion
This article provides an in-depth guide for writing a waitress resume. No matter if you're an experienced waiter or just starting out, this detailed guide will step you through the process of creating an amazing resume.
Here are the most vital things to keep in mind:
Make certain to include the relevant job duties, such as taking orders and serving food.
Include any additional experience that demonstrates your skills, such as customer service or working with a Point of Sale system.
Spotlight any awards or accomplishments that make you stand out as a waiter.
Write a resume summary that underlines your skills and experience.
Tailor the content of your resume to each job you're applying for.
Writing a waitress resume can seem overwhelming. However, using the online resume builder will make the process easier.
This builder will let you rapidly assemble an organized, appealing resume that moves you one step closer to your next job.
So don't hesitate - begin crafting your waitress resume right now!