Elementary teachers play an important role in the early stage of children's education. Highly qualified professionals are needed in this area.
Hence, a strong elementary teacher resume is required to get your foot in the door and start on the path to a successful career as an educator.
The median annual wage for elementary school teachers, except for special education, was $61,690 in May 2022. (U.S. Bureau of Labor Statistics)
In this article, you will find detailed instructions on how to craft a remarkable elementary school teacher resume. They will help you secure your desired job.
Create your resume with a builder
Ready to begin your new job search but need to update your elementary teacher's resume? Look no further! Try using our online resume builder!
Resume Trick offers ready-made resume layouts you can use, including elementary teaching resume templates. Crafting your resume with the platform offers several advantages over writing your document from scratch.
For instance, you don't need to spend hours formatting your resume as this task is already done for you.

The elementary teacher resume template will help you ensure your document includes all the important details that employers look for.

Plus, you can also save time and energy by selecting a professional design that looks polished and comprehensible.
Through a selection of layouts, you are sure to find something that suits your style.
Ready to give it a try? Resume Trick is the perfect way to create a one-of-a-kind elementary teacher resume!
Elementary teacher resume examples
Experienced elementary teacher. Proficient in developing tailored lesson plans and employing diverse teaching techniques to accommodate individual learning needs. Committed to cultivating an inclusive and supportive classroom environment through collaboration with colleagues and engagement with students and parents.

Education

Master of Education in Elementary Education | Xavier University (Cincinnati, OH), May 2018

Defended a thesis on Culturally Responsive Teaching in Elementary Education.

Graduated with honors.

Bachelor of Science in Education |University of Cincinnati (Cincinnati, OH), May 2015

Graduated with a 3.80 GPA.

Dean's List Recognition, Exemplary Service to the Community Award (2015).

Teaching Certification | Ohio State Board of Education, July 2015

Teaching Experience

Fourth grade teacher Chase Elementary School (Cincinnati, OH) | March 2020 - Present

Instruct fourth-grade students in all core subjects.
Encourage student growth and development.
Coordinate with parents to discuss student progress.
Craft various learning activities to captivate students.

First grade teacher at Carson School (Cincinnati, OH) | September 2015 - June 2020

Taught first-grade students reading, writing, and math.
Developed and implemented lesson plans.
Assisted students with studying and completing assignments.
Managed classroom behavior and created a positive learning atmosphere.

Skills and Qualifications

Expertise in Common Core State Standards (CCSS).
Knowledgeable on best practices for English Language Learners (ELLs).
Experienced using online learning platforms such as Google Classroom.
The capability of directing large groups of children effectively.
Expert in creating stimulating lesson plans.
Skilled in Microsoft Office Suite and educational software programs.

Awards and Honors

Teacher of the Year Award | Carson School (June 2020).
Selected to serve on the district curriculum committee (2021 - Present).
Authored an article on successful reading instruction published in the local newspaper (2022).
Entry-level elementary teacher resume examples
Passionate and dedicated entry-level elementary teacher seeking an opportunity to foster a positive learning environment that encourages the intellectual and social development of young minds.

Education:

Bachelor of Science in Elementary Education | University of South Florida (Tampa, FL) 2019-2023

Relevant coursework: Classroom Management, Child Development, Teaching Strategies for Elementary Education, Curriculum Development, Educational Psychology

Certifications:

State Teaching Certification in Elementary Education (2023)
CPR and First Aid Certification (2021)

Practicum Experience:

Elementary Education Practicum | Oak Park Elementary School (Tampa, FL) April 2023 - November 2023

Assisted the lead teacher in developing and implementing lesson plans for diverse learners in classrooms.
Provided one-on-one support to students requiring extra assistance, fostering an inclusive learning environment.
Managed classroom activities, including grading assignments and maintaining accurate student records.
Collaborated with fellow teachers to create a positive and engaging classroom atmosphere.
Designed and executed engaging activities to supplement lesson plans and promote student participation.

Additional Skills:

Proficient in educational technology tools such as SMART Boards, Google Classroom, and educational apps.
Strong interpersonal skills and ability to communicate effectively with students, parents, and colleagues.
Understanding of diverse learning styles and ability to adapt teaching methods to accommodate different needs.
Organizational skills to manage classroom activities and maintain a structured learning environment.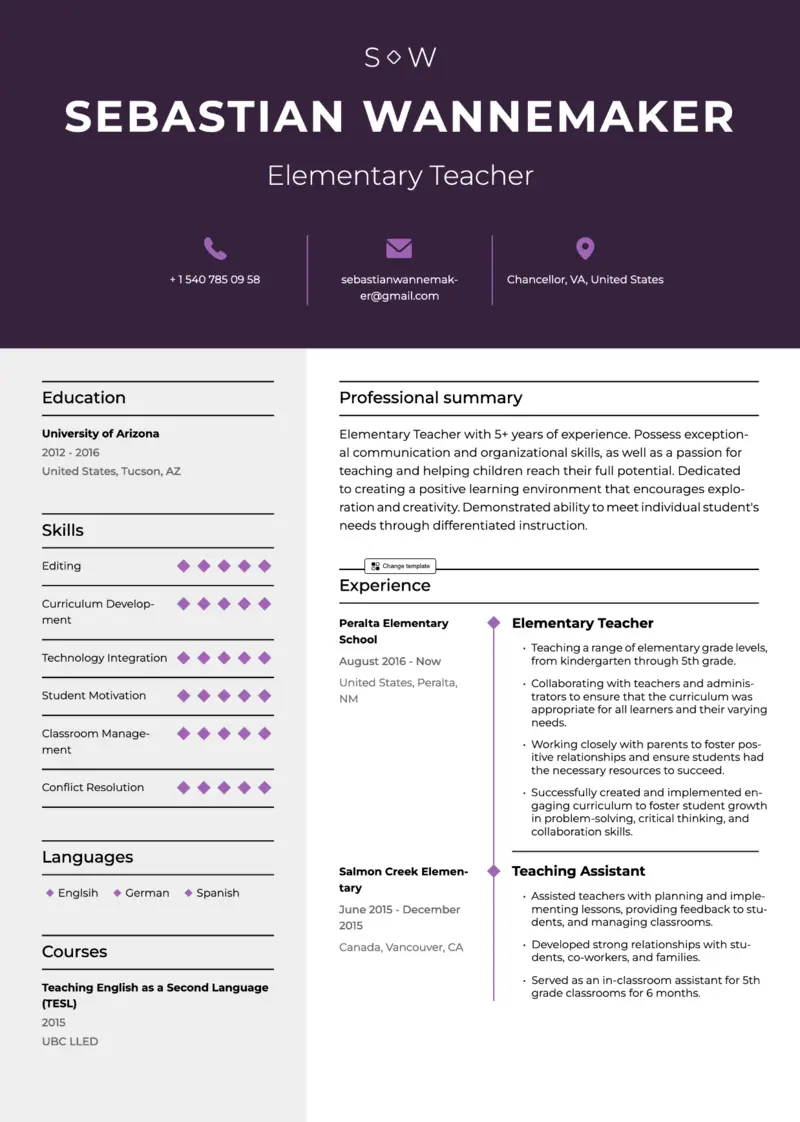 Resume formatting tips
To present yourself as a competent candidate, you need to utilize the correct format and style in your elementary teacher's resume.
In addition, you have to be considerate of word choice, spacing, and other details to ensure your resume is clean but memorable.
Here are some tips for you.
Font. Select a professional-looking font and font size. Use bold and italics to divide the sections of your resume or emphasize details like job titles. Ensure that your contact details are prominently visible at the top of the page.
Language. Write in language that is straightforward and succinct. Avoid using flowery language or clichés. Stick with active verbs and avoid using third-person pronouns.
Word choice. Choose words that demonstrate your qualifications and skills as an elementary teacher. Focus on keywords related to instruction such as classroom management, curriculum development, assessment practices, etc.
Spacing. Make sure you provide enough white space between sections of your resume to create a neat and organized look. Sections should be separated by lines or bullet points.
Ultimately, carefully review your resume before sending it out. Be consistent throughout the document for a polished appearance.
To make the resume-building process easier, use our elementary teacher resume templates that already have all the formatting done for you!
Contact information
When providing personal details, include only the most essential information.
This includes your full name, mailing address, phone number, and professional email. Elementary teachers may need to include additional information like the district they work in or the state of teaching certification they possess.
There are more than 2 million elementary teachers as of 2022. It makes a half of all the teachers in the US. (MDR Education)
Adhering to these principles when including your personal background and contact information in an elementary teacher's resume, you can be certain that your document is up-to-date and professional. This will facilitate making potential employers recognize you among other applicants!
Employment history
As you compose your resume for elementary teachers' roles, structure your work experience in a way that emphasizes your teaching knowledge.
Begin with your most recent job and progress backward listing other relevant employment information. You should also include any other applicable experiences such as internships, volunteer work, or tutoring.
"Teaching kids to count is fine, but teaching them what counts is best."
Include details of the subjects taught, the age group you worked with, and any key achievements or skills developed.
Moreover, it is beneficial to mention examples of how you used innovative teaching techniques to capture students' attention.
Elementary teacher resume - sample work history:
Elementary Teacher | Concordia Charter School (2019 – Present) Mesa, AZ

Teach Mathematics, Science, and Language Arts classes to 4th-grade students.
Created groundbreaking lessons using technology to engage students.
Received positive feedback from colleagues and parents on successful teaching strategies.

Substitute Teacher | Franklin At Alma Elementary (2018 – 2019) Chandler, AZ

Filled in for teachers at various grade levels when needed.
Ensured that all students followed school policies while fostering a stimulating learning atmosphere.
Adapted quickly to changing classroom atmospheres.
Ultimately, when you write your resume, remember that organizing your work experience has to be accomplished clearly. This will guarantee that your elementary teacher's resume will give hiring managers a comprehensive understanding of your professional skill set and qualifications for the position.
Additionally, ensure that you use bullet points or numbered lists when organizing your experiences. This will allow HR to quickly find the information they are looking for.
Teaching credentials
When creating an elementary teacher resume, it is imperative to arrange your academic qualifications efficiently.
Education should be presented in the order of its date, beginning with the most current degree or certification and going backward. State details like the name of the school attended, the degree obtained, and any remarkable accomplishments.
It is also helpful to add a section that lists any relevant continuing education courses or workshops you have taken.
For example:
Bachelor of Arts in Elementary Education | ABC University (2021)

Completed advanced coursework in Mathematics and Reading Instruction;
Interned at the local elementary school for 3 semesters.

Additional credentials:

State-certified Elementary Teacher;
Certified in Early Childhood Curriculum;
Awarded Teacher of the Year at XYZ Elementary School.
Adding this kind of detail not only makes your elementary teacher' resume easier to read but also helps demonstrate your aptitude for the job. It can show hiring managers that you are highly qualified and have the experience necessary to succeed.
Higher percentages of public school teachers in 2020–21 than in 2011–12 held a master's degree (51% vs. 48%). 90 percent held a regular or standard state teaching certificate or advanced professional certificate. (National Center for Education Statistics)
Overall, in the academic section, make sure to detail your educational history to showcase your professional expertise. Use bullet points to make the information more accessible.
Avoid listing irrelevant information that does not relate directly to being an elementary teacher.
Use the elementary teacher's resume template
Elementary teacher's skills
Supplying your elementary teacher's resume with skills must reflect a wide range of your capabilities.
"The duties of a teacher are neither few nor small, but they elevate the mind and give energy to the character."
As a primary school educator, you are expected to be an expert in child development. Moreover, you must have excellent communication skills and be capable of instructing students in core subjects such as mathematics, science, language arts, and social studies.
To give you a competitive advantage, here are some of the top elementary teacher's resume skills:
| Skill | Description |
| --- | --- |
| Classroom Management | Crafting an environment that is beneficial for learning is essential for any teacher. Demonstrate your ability to manage student behavior with strategies such as positive reinforcement and classroom rules. |
| Communication Skills | Effective communication with students, parents, colleagues, and administrators is a key attribute of any successful teacher. Give evidence of your verbal and written communication skills throughout your resume. |
| Curriculum Development | A strong understanding of curriculum standards and the ability to develop design enthralling lesson plans is critical for every elementary school teacher. Show how you have devised crafted lesson ideas that comply with state regulations and entice students to study. |
| Instructional Strategies | Being able to employ a variety of instructional techniques allows teachers to reach all types of learners. Demonstrate your knowledge of differentiated instruction, project-based learning, technology-based instruction, and other teaching methods. |
| Special Needs Support | Every school has students with special needs who require extra attention and accommodations. If you have experience providing support for special needs students, say so as it is sure to be a valuable asset for many employers. |
In addition to these selected abilities, you may choose to showcase other soft and hard skills applicable to the elementary teacher's resume.
Elementary teacher resume - examples of hard skills:

Assessment Strategies;
Technology Use in the Classroom;
Subject Knowledge in Math and Science;
Lesson Planning & Preparation;
Ability to Draw Students into the Learning Process;
Psychology.

Elementary teacher resume - examples of soft skills:

Organizational Skills;
Leadership;
Motivation;
Flexibility;
Problem-Solving;
Decision Making.
By exhibiting your professional skillset on your elementary school teacher's resume, you can illustrate to prospective employers that you possess the capacities required to be a competent educator.
Social media links
A teaching resume may benefit from providing links to the applicant's social media profiles. This could include LinkedIn, YouTube, Twitter, Instagram, Facebook, or others. Below are the pros and cons to consider before sharing such details on your elementary teacher resume.
Pros:
These sites can provide potential employers with a glimpse into your professional life, demonstrating your skills as an educator.
These links can serve to connect with other teachers and education professionals.
Cons:
Anything inappropriate or unprofessional could be detrimental to an employer's impression of you.
Social media pages may also be used as a way for hiring managers to check up on your background or personal life.
For example, if you are teaching a course in creative writing, you could showcase student work on Instagram or demonstrate your own lesson recordings on YouTube. In conclusion, the addition of online networking profiles on an elementary teacher's application should be made with caution.
While it is possible to benefit from showcasing teaching skills and networking, ensure that all content posted is professional and appropriate for employers to see.
Resume summary
A compelling resume statement for an elementary teacher should demonstrate the key qualifications, experience, and capabilities pertinent to the position.
Sample elementary teacher resume summary #1:

Elementary school educator with 3 years of teaching practice in a range of settings. Passionate about devising inventive and captivating lesson plans that satisfy the requirements of all learners. Demonstrated capacity to foster an environment of exploration and collaboration that encourages students to reach their full potential.
Sample elementary teacher resume summary #2:

Experienced Elementary Teacher with 8+ years of experience in teaching students aged 4-11 in diverse settings. Crafting stimulating and captivating instructional activities that encourage student development and progress. Dedicated to creating a secure and conducive learning atmosphere through the incorporation of groundbreaking educational methods that foster student involvement and success.
Strategies for crafting an effective resume statement:
Highlight your best qualities. Describe your most valuable qualities and accomplishments. Focus on your elementary teacher certifications, qualifications, and experience that are most applicable to the job.
Showcase your personality. Write in a way that demonstrates who you are as a person and how you can contribute to the role you are applying for.
Use concise language. Use words that are easy to understand and ensure you include only the necessary information about your qualifications to leave a lasting impression on the reader.
Tailor it to the particular job. Customize your resume summary for each application so that it is tailored to the specific job description.
Be succinct. Keep your summary brief - no more than two or three sentences long.
Other facts to mention
"Education is the key to success in life, and teachers make a lasting impact in the lives of their students."
Incorporating extra personal information into your elementary school teacher's resume showcases the variety of abilities and backgrounds you have.
Hobbies
Share with recruiters a comprehension of your interests and passions. Examples of hobbies that could be included are reading, playing musical instruments or sports, gardening, or volunteering.
This type of information gives an idea of how you spend your free time and what values you prioritize.
Courses
Demonstrate the initiative to further your education and gain new skills. For example, you could list a course in early childhood education or classroom management.
This shows recruiters that you are committed to professional development and keeping your knowledge up-to-date.
Languages
Can be a beneficial supplement to an elementary teacher's resume as many schools are looking for teachers who can communicate with students from different backgrounds.
This section should include any foreign languages that you speak fluently as well as any language courses you have completed.
Awards
Highlight any recognition that you have received for your work in teaching and/or other areas.
Incorporate accolades associated with teaching experience such as "Teacher of the Year" or "Outstanding Educator" as these demonstrate that the candidate is highly regarded in their field.
Internships
Present recruiters with evidence of how long and under what conditions they have been teaching. They also show that you have gained valuable experience in a real classroom setting.
Furnish particulars like duration, school/institution name, and tasks fulfilled during internships.
References
Give HR a point of contact who can verify the information provided by you.
Incorporating at least two recommenders on your resume with contact details on your elementary teacher's resume provides reassurance for employers when making a hiring decision.
Certificates
Prove your qualifications related to teaching such as a bachelor's degree in education or a license from a state board.
You need to include all relevant elementary teacher certifications on the resume as it demonstrates your commitment to professionalism and educational excellence.
You are not limited to these sections. Feel free to add any facts that you believe will increase your chances of getting hired. Just mind the length of your resume.
Mention and/or attach articles published, research conducted, conferences attended, licenses earned, or even letters from your students. This is your time to shine!
Build your elementary teacher's resume now
How to write a cover letter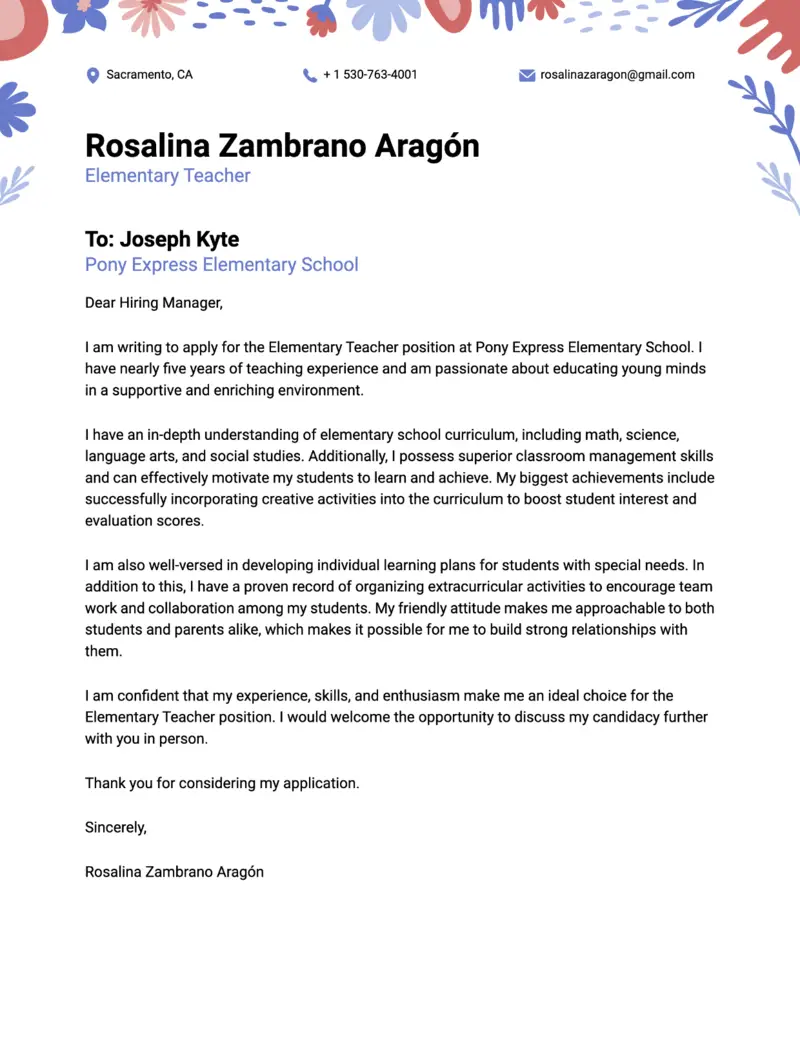 Writing a supporting letter for an elementary teacher's resume is an important step in the job application process.
A well-crafted cover letter can make a big difference in how you are perceived by employers and can be detrimental when the hiring decision is being made.
Here are tips on composing a great cover letter for an elementary teacher:
Start with a strong introduction. Begin the cover letter with an engaging opening statement that captures the reader's attention. Make sure to explain why you are the best fit for this particular position.
Outline your qualifications. Illustrate your qualifications and skills that make you the perfect fit for the position. Be sure to highlight any teaching certifications, any relevant experiences, or any other distinct credentials.
Show enthusiasm. Tell about the research you have done and why you think it would be a great place to work. Demonstrate your knowledge of the school's mission and values, and express why these align with yours.
Indicate unique qualities. Use your letter as an opportunity to showcase unique qualities about yourself that may not come through in other parts of your application. This could include volunteer work, special interests, or leadership experience among others.
Keep it brief. Employers don't want to read a long essay when they are reviewing applications, so keep it concise. Try to limit your cover letter to one page if possible, while still providing all the necessary information they need to know about you as an applicant.
Proofread carefully. Before submitting your application, read through it carefully multiple times to ensure there are no typos or errors. Nothing looks worse than a rushed application.
Elementary teacher cover letter - good example:
Dear Principal [Name],

I am writing in response to the Elementary Teacher job opening at [ABC School]. I strongly believe my qualifications and experiences make me an excellent fit for this role at [School Name].

I am a certified teacher who specializes in early childhood education, with five years of classroom experience at XYZ Elementary School in Portland, OR. During my time there I developed strong relationships with students, parents, and colleagues alike. This demonstrates my ability to create a positive learning environment for all involved.

I also have extensive experience working with English language learners, having completed my graduate studies at Portland State University in TESOL (Teaching English as a Second Language).

My passion for teaching combined with my specializations make me an ideal candidate for this position [School Name]. I'm confident I can bring something unique and valuable to my students' learning experiences here!

I have included my resume along with this application. Please do not hesitate to contact me if you have any questions or would like more information about me as an applicant. Thank you so much for considering me for this role. I look forward to hearing from you soon!

Sincerely,
[Name]
This cover letter example is great because it clearly outlines the candidate's qualifications and experience while also demonstrating excitement for teaching at the specific school.
It also mentions specific examples from professional life and states additional to elementary teacher credentials certifications.
Elementary teacher cover letter - bad example:
Dear Hiring Team,

I am applying for the Elementary Teacher position posted on Indeed recently and I am confident that I am qualified enough for this role. My resume is attached to this email. It describes my background more accurately than words on paper here can do. I am confident that my capabilities as an elementary teacher will be of great benefit at [School Name].

Best regards, [Name]
This example is bad because it does not demonstrate enough enthusiasm for the position applied.
Besides, there is no elaboration on why the applicant would be a good fit for the position. Simply referring to the teaching resume is not sufficient for a supporting letter.
Sample cover letter for elementary teachers with no experience

Dear [Hiring Manager],

I am writing to apply for the position of Elementary Teacher at [Name of School]. I am an enthusiastic and highly motivated individual with a passion for teaching. I believe I have the perfect set of qualities required to excel in this role.

Although I haven't gained any professional experience as an elementary teacher, I have a wealth of relevant knowledge and skills. Hence, I am certain I would make a good asset to your team.

I hold a Bachelor's qualification in Education, am acquainted with the I am well-versed in the educational requirements mandated by the government and have dealt extensively with young people.

I also possess strong organizational and communication skills, which have enabled me to develop effective lesson plans and create an inviting learning environment. Additionally, my capability to foster strong connections with students and their families is invaluable in terms of establishing a positive school experience.

I am confident that my enthusiasm for teaching and willingness to learn will make me a valuable addition to your team. I look forward to meeting you in person to discuss my qualifications and how I can be of benefit to your school.

Thank you for taking the time to consider my application.

Sincerely, [Name]
Advice on crafting a cover letter for entry-level positions
When composing a supporting letter for an elementary teacher's resume at the beginning of your career, showcase your pertinent talents and educational foundation.
Highlight any volunteer work or extracurricular activities that demonstrate your ability to interact with children. Exhibit your understanding of the Common Core Standards or any other educational norms that may apply in the specific job you are applying for.
Provide solid evidence of your previous accomplishments in forming connections with pupils and their families. Overall, emphasize why you would be an asset to the school despite not having any prior teaching experience.
Proofreading
"I touch the future. I teach."
Polishing your elementary school teacher's resume and cover letter is essential. A poorly written application can cost you the opportunity since you are looking to get a job in the education field.
Here are some tips on how to effectively proofread your documents before sending them in:
Begin with a thorough review of the cover letter and resume. Check for spelling errors, typos, incorrect punctuation, missing words, and inaccurate grammar usage. Additionally, check for any inconsistencies in your job history or education.
Try reading your documents aloud or backward. This can help you spot mistakes more easily. After you have finished reading, ask someone else to review your work.
Use a tool like Grammarly that can provide instant feedback on your text. Additionally, take advantage of resources such as dictionaries and thesauruses to improve word choice and accuracy.
Review your contact information. Make sure to include your name, mailing address, email address, and phone number for prospective employers to contact you about interview opportunities.
By taking the time to proofread and spellcheck your elementary teacher's resume and accompanying letter when submitting it, you can demonstrate that you are a competent professional who takes the job seriously.
Conclusion
Writing an elementary teacher's resume can be a challenging task.
However, by following the provided guide, you will surely compose a document that will help you land interviews. Remember to take advantage of elementary teacher's resume samples and templates to accumulate the best writing practices.
To simplify the process, consider using the online resume builder. It will allow you to create a professional-looking teaching resume in no time!
So don't wait any longer - start writing your resume now and get one step closer to getting the job of your dreams!