Attention all future educators! Are you ready to ace your teaching career like a pro?
Dive into the captivating world of resume writing as we unveil the ultimate guide to crafting an impressive teacher resume.
Whether you're a seasoned teacher or just starting in the classroom, this article will equip you with the tools and strategies to create a teacher resume that will have principals lining up to hire you.
So, sharpen those pencils and get ready to leave a lasting impression with your teaching prowess and passion!
A good teacher is like a candle - it consumes itself to light the way for others.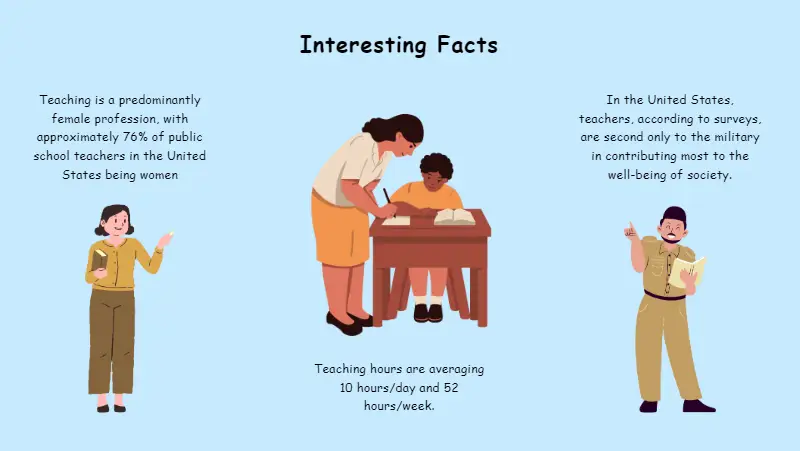 How to Write a Teacher Resume
This guide explains how to overcome teacher resume obstacles in a step-by-step manner. The main topics covered include:

Constructing a resume summary, experience, and education sections;
Fitting resume to each job application;
Highlighting key proficiency and skills;
Writing an outstanding cover letter.
Read this article to find out how to write a teacher resume, displaying your qualifications in the best light and getting you hired for your dream job.
Try Resume Builder
Are you having difficulty writing a resume? Let us help. For jobseekers looking to build a professional and effective resume, we are introducing an easy-to-use online resume creator.
Benefits of using our resume template for teachers:
Choose from a wide selection of teacher resume templates that are professionally designed and modern looking.
Customize the color scheme and enter your details into the resume template.
The builder automatically formats text, dates, headings, and bullets.
No need to write in Word - it's all done on our platform with simple clicks and drag-and-drop tools.
Get the desired job faster by sending a well-structured, easy-to-read resume.
Don't waste time trying to format and layout your resume from zero - let Resume Trick do the work for you!
Teacher Resume Examples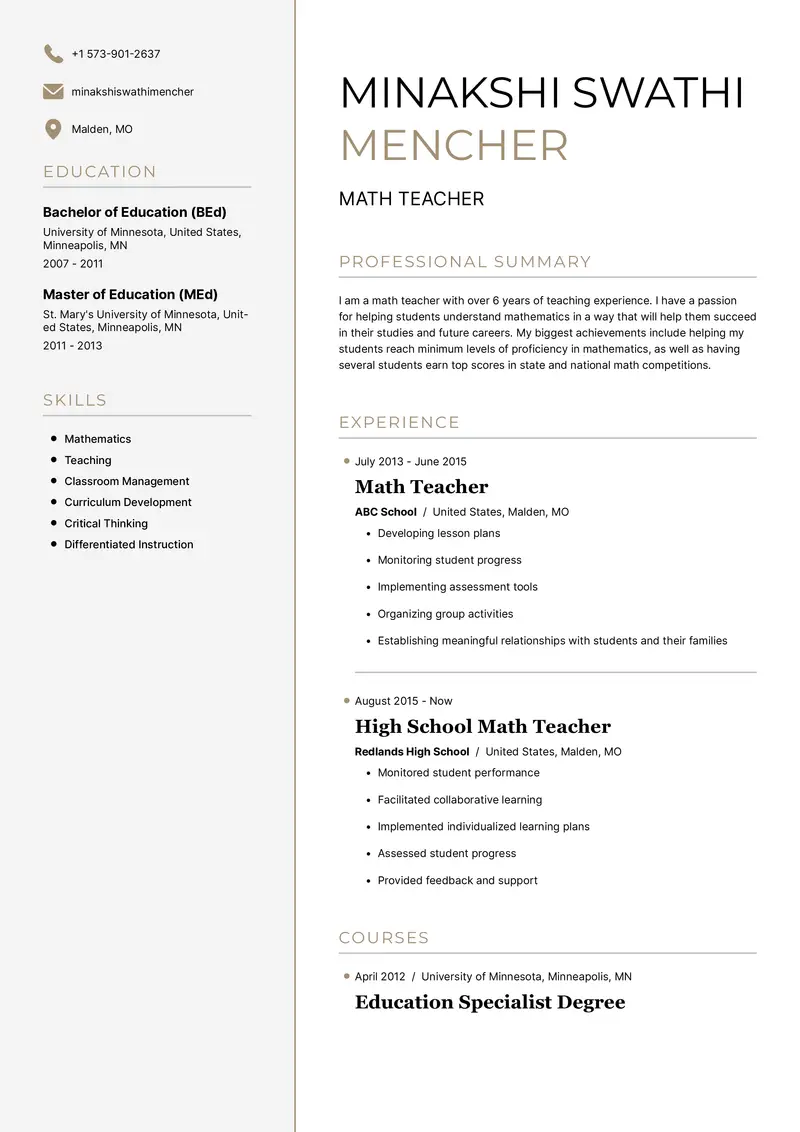 Summary
A dynamic educator with 5+ years of experience teaching at the elementary level. Committed to providing a stimulating learning environment to maximize student potential. Successfully developed and implemented creative lesson plans that engage students and enhance their performance.
Education
University of California, Los Angeles
Bachelor of Arts in Education
Experience
Mission Elementary School, Branson, MO
Elementary Teacher, August 2016 - Present
Deliver engaging lessons in accordance with curriculum standards.
Monitor student progress, supply guidance and feedback, and motivate students to achieve their best.
Utilize available automation and other tools to support instruction.
Built positive relationships with parents, administrators, and colleagues.
Foster a safe and welcoming classroom environment for all students.
Seaside Elementary School, Surfside Beach, SC
Substitute Teacher, May 2014 - July 2016
Assumed the role of the teacher in the absence of the regular tutor.
Followed academic plans provided by the teacher or created plans as needed.
Monitored student behavior, maintained order in the auditorium, and handled pupil inquiries/concerns effectively.
Encouraged student participation in class discussions and activities.
Skills & Certifications
Excellent hall management skills;
Curriculum development;
First aid;
Bilingual: English/Spanish;
Proficient in Microsoft Office Suite (Word, Excel, PowerPoint);
State Teaching Certification, SC.
Action Words
Present yourself as an experienced and knowledgeable teacher. Use the right words to describe yourself and your subject-area proficiency. Note the learning management abilities and dedication to helping scholars reach their academic goals.
Chart of Powerful Phrases for a Resume for Teaching Job:
Caring lecturer. Demonstrates enthusiasm and commitment to the tutoring profession.
Innovative instruction. Able to create engaging lecture plans that encourage student participation.
Student-centered. Dedicated to the individual needs of each pupil.
Results-driven. Achieves profit through the use of innovative approaches and measurable targets.
Experienced leader. Displays the ability to lead a classroom and manage group dynamics.
Effective communicator. Constructs clear instructions and delivers meaningful feedback to students.
Creative problem solver. Thinks outside the box when faced with a challenging situation.
Technology savvy. Comfortable using digital tools to enhance learning.
Collaborative team player. Passionate about working with colleagues and staff members.
Personal and Contact Information
When including identification and related data in your resume for a teaching position, ensure that it is accurate. Make sure to indicate your full name, address, phone number, and email.
You can also add links to your professional social platform accounts if appropriate. Be sure to double-check all the info you give to be confident it is correct.
List Experience
In teaching, you cannot see the fruit of a day's work. It is invisible and remains so, maybe for twenty years.
The best practice is to structure your experience section in chronological order, starting with your most recent job. This helps a potential employer to review and understand your work history quickly.
What to put on a teacher's resume if you have been a teacher for five years? List your teaching experience from the past five years onward. You can divide the details of every job into segments and provide descriptive information about your responsibilities in each position.
Example:
ABC School, Teacher (2020-Present):

Developed and implemented individualized learning plans for students with special needs;
Worked alongside faculty members to devise STEM projects;
Encouraged a positive learning environment for students.

XYZ School, Teacher (2018-2020):

Taught Math and reading comprehension to middle school students;
Led weekly science experiments with students;
Assisted in developing online lessons for remote learning.
This kind of structured format makes it easier for principals to see what experience you bring. It also clearly demonstrates that you have the necessary skills to thrive as a teacher.
Conversely, a long, unstructured, unbulleted section might lack clarity compared to something more organized.
Wrong Example:
I have 5 years of experience teaching elementary school. I developed instructional plans incorporating technology and real-life examples and met with parents and teachers. Also, I improved individualized learning plans for kids with special needs and monitored infant's activity both in and out of the class.
This example will probably not be as neat and organized as the one that is broken down into sections.
Despite the perception of summers off, teachers often dedicate significant hours beyond the school day for lesson planning, grading papers, and professional development.
Organize Education Section
When writing a teacher's resume, listing and organizing your academic information is an important step. List your background in reverse chronological order, starting with the most recent degree or certificate first.
According to the National Center for Education Statistics, around 59% of public school teachers in the U.S. hold a master's degree or higher.
Let's say you recently graduated from a master's program in education and previously earned a bachelor's degree in the same field. In this case, you would list the master's degree first and then include the bachelor's diploma underneath it. Here's how it should look in a resume:
Bachelor's Degree in English, University of California, 2016 – 2020

GPA: 3.8/4.0.
Relevant Coursework: English Literature, Writing for Publication, Introduction to Linguistics.

Master's Degree in Education, University of Colorado, 2020 - 2022

GPA: 3.9/4.0
Coursework Relevant to this Area: Educational Psychology, Curriculum Design, Instructional Strategies
It's also essential to ensure your educational data is formatted correctly. Avoid consolidating multiple degrees or certificates into one section.
Instead, break them down into distinct parts that clearly show each one. This ensures that employers can swiftly recognize your educational background.
To sum up, when creating a teacher resume, sort and organize your academic data correctly. Add credentials that showcase your skills and format them into sections so HRs can quickly identify everything at a glance.
Skills for Teacher Resume
For an educator's resume to stand out in the job market, it is advantageous to exhibit both soft and hard skills.
Soft skills are those interpersonal abilities that illustrate the capacity to communicate efficiently and foster relationships with students, colleagues, and parents.
Hard skills are more technical skills that demonstrate knowledge of the subject matter, curriculum development, and classroom administration.
Soft Skills:
Patience and flexibility;
Strong communication skills;
Empathy and compassion;
Productive problem solving;
Time management;
Conflict resolution;
Active listening;
Positive attitude;
Organizational skills.
Hard Skills:
Curriculum development;
Classroom management;
Technology literacy;
Lesson planning;
Student assessment strategies;
Professional development;
Student support services;
Educational research.
Write Teacher Resume
Social Media Links
To be a modern teacher, you must stay connected and engaged with others in the field. Social media can be a great way to do this, as it allows teachers to connect with each other, educational organizations, and possible employers.
Pros:
Utilizing social media on a resume for teachers can give them an edge over other applicants in job searches.
They can connect with colleagues, which can help them find job opportunities.
These links can also be used to share educational resources with colleagues.
Cons:
Teachers must be careful about what they post on social media, as it could negatively affect them professionally.
Online profiles can distract hiring managers from other important aspects of a resume.
Educators should guarantee that their content is pertinent to their professional domain.
Examples:
A teacher seeking an elementary school job could use her Twitter account to share stories and positive messages about education with followers.
An art teacher could create an Instagram page with images of their or their students' work (upon their permission), showing their creativity and skills.
Teacher Resume Summary
The best education resume summary must focus on the features and experiences you need as a great mentor. It explains how your training style, lesson plans, and events are tailored to the needs of the students. It should also concrete why you're an excellent fit for their department.
Teacher Resume Summary Example:

School teacher who worked for 8 years in elementary school. Proven track record of creating engaging study plans, organizing field trips, and facilitating hands-on activities. Skilled at supporting a friendly learning environment and cultivating relationships with parents and faculty. Passionate about revealing children's highest potential and fostering a love of learning.
Tips for a Great Teacher Resume Summary:
Keep it concise: It should be no longer than two to four sentences. This will guarantee that employers are able to swiftly examine your qualifications while still gaining insight into your accomplishments.
Adapt the summary to the description: When writing your resume summary, make sure that you tailor it to the job posting. Use the keywords from the vacancy to show that you see what the manager is looking for in a candidate.
Certain subjects and regions experience a shortage of qualified teachers. For example, there is a consistent shortage of STEM (Science, Technology, Engineering, and Mathematics) teachers.
Extras to Include in Teacher Resume
It is imperative to supply additional personal information to resumes for teaching positions to demonstrate that you are qualified. This extra information can impress the recruiter.
Hobbies. It's crucial to list pastimes in your teacher's resume as they can give a glimpse into your personality and interests. A teacher who is eager for youngsters' education may list "volunteering at a nursing home" as one of their hobbies.
Courses. Insert details of any courses or relevant training you've completed. This will prove your desire to learn and grow. If you have completed teacher workshops related to the subject you are going to teach, append this.
Languages. If you are fluent in more than one language, it would be beneficial to mention this. If you were applying for a job teaching Spanish, highlighting any other languages you speak would mean that you understand various cultures.
Awards. Add any awards or honors you have received. This will show the recruiter that you have accomplished something noteworthy in your field. For example, if you were given an award for excellence in teaching, add this to the resume.
Internships. If you have had any internships related to coaching or education, it should be highlighted on your teacher resume. This will display your experience in the field and your understanding of the importance of providing quality education.
References. Providing letters of recommendation is vital. They can provide further insight into your qualifications and experience, which can be useful when considering you for a role.
Certificates. If you have any credentials, they should be on your teaching resume. They reflect your devotion and can help convince hiring managers.
Continuous professional development is crucial for teachers to stay current with evolving teaching practices and educational technologies.
How to Write a Cover Letter for a Teacher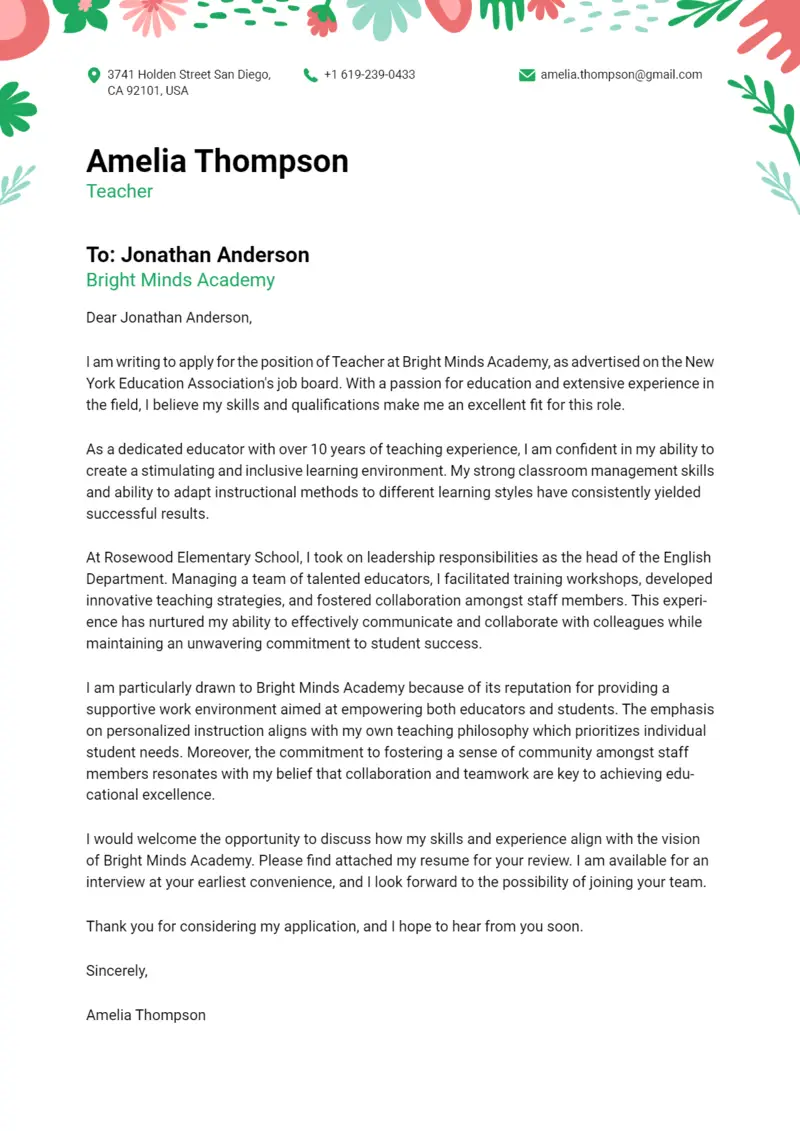 The most important key to getting a job as an educator is writing a great cover letter. A strong cover letter will set you apart from other candidates and will increase your chances of getting an interview.
Use the following tips to help you write a powerful, high-quality letter:
1. Do your research. Before you begin writing, take time to explore the school, district, and position for which you are applying. Look into their mission statement, goals, and values. This can assist you in customizing the cover letter to the organization's specific requirements.
2. Keep it focused. Your writing should be concise and clear. Avoid rambling on about your life story or going off on tangents. Focus on the skills you bring to the job. Also, ensure everything is spelled correctly, and there are no typos or grammatical errors.
3. Highlight your qualifications. When it comes to schooling jobs, experience matters. Underline any relevant qualifications or experience that make you a stronger competitor. Don't forget to mention any awards or special recognition you've earned in prior positions!
4. Show enthusiasm. Demonstrate your enthusiasm about the job opportunity in your cover letter, as well as what drives your passion for teaching in general. Express your eagerness to join the team and start making a difference in the classroom.
5. Leave it professional. While it's important to show enthusiasm, keep your language professional. Elude using slang or overly casual language in your teaching cover letter. Assure that everything is written with a businesslike attitude.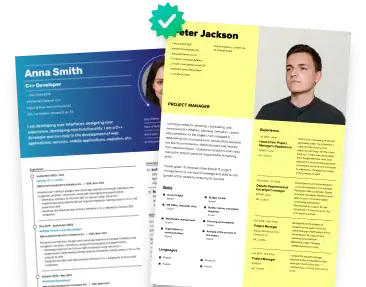 Good Example:
Dear [Principal],

I am submitting my application for the [Position] at [School]. I am an ideal candidate due to my experience as an educator and my passion for bringing students a quality education.

I have taught in both private and public schools for the past seven years. I have helped students succeed academically, build strong relationships with their peers, and improve their leadership skills. I was recognized by my colleagues with an Excellence in Teaching Award two years ago for my dedication to student learning and development.

I am excited about the prospect of joining [School]'s team of coaches and contributing to its mission of providing students with exceptional learning experiences. I believe my skills and experience would be an asset to the school community. I strive to create an engaging learning environment where all students can thrive academically and personally.

Sincerely,

[Your Name]
The above is a good cover letter example because it shows professionalism while expressing enthusiasm for the role. It also provides details about the candidate's qualifications, such as previous awards or public or private school teaching experience.
Bad Example:
Hi there! My name is [Name], and I am applying for the job of [Position] at [School]. I think I'd be perfect for this job because I love teaching kids! My friends always say I'm really good at it, too haha! In my free time, I enjoy playing video games and hanging out with friends. But when it comes time to focus on work, I'm all in! So please consider me - I'd be beyond thrilled if I got this job!
The bad example fails because it lacks specificity regarding qualifications. Furthermore, its tone is overly casual, which can come across as unprofessional or unqualified compared to other contestants seeking the same position.
Cover Letter for an Entry-Level Teacher Resume
Dear [Hiring Manager],

I am writing to apply for the teacher position at [School Name]. I am a recent graduate from [School Name] with a degree in [Field]. I have no previous coaching experience. However, I believe that my enthusiasm for working with kids makes me a highly desirable applicant for this role.

Throughout my studies, I had the opportunity to gain valuable skills in communication, collaboration, problem-solving, and leadership. Additionally, during my coursework, I gained an understanding of child development and the importance of offering students a safe and invigorating learning milieu.

I am confident that I can bring enthusiasm, dedication, and creativity to the classroom. My commitment to quality instruction makes me an asset to any school or district. In addition, I am excited to learn new strategies and techniques that will enable me to become an effective educator.

I have enclosed my resume for your review. Thank you for considering my application, and I look forward to hearing from you soon.

Sincerely,

[Your Name]
Tips on Writing a Cover Letter for Entry-Level Teachers:
Highlight any relevant experience, such as volunteer or part-time work with children or in any academic setting or field.
Use clear, concise language that conveys your qualifications and enthusiasm for the job. Avoid long sentences and overly detailed descriptions - focus on key points only.
Explain why you are passionate about teaching and what makes you stand out from other candidates.
Focus on tangible results and outcomes from past experiences that demonstrate your potential as a teacher.
Proofread Your Teacher Resume
When applying for an academic job, it is essential to spellcheck your teacher resume and cover letter. You must show the employer or school district a polished image of a skillful professional.
Spelling and grammar mistakes give the impression that the contender is not detail-oriented and does not take their job search seriously.
To make sure your educator resume is error-free, consider these strategies:

Read out loud. This could aid in detecting any errors you have missed while reading it silently.
Use the spell-check feature. Most word-processing software has this option.
Have someone else read it. Having a second pair of eyes check for mistakes can be helpful.
Take time between drafts. Editing after a break can help you spot typos or errors more easily.
In addition, it is also necessary to use proper words and grammar. The words used should be appropriate and official in tone. Carefully write your letter using the business style, not an informal one. Similarly, the resume should be written in a competent and easy-to-read manner.
Popular Questions at a Teacher Interview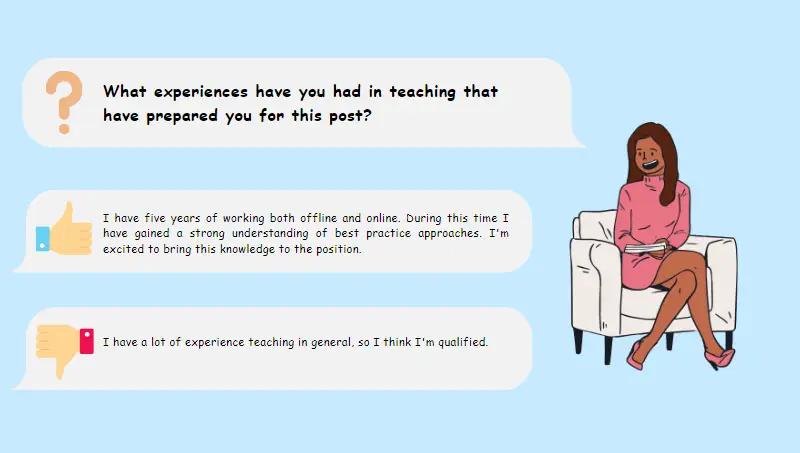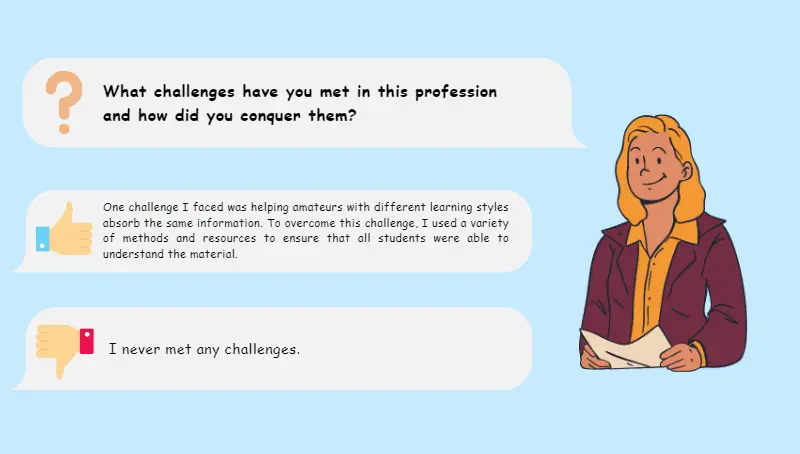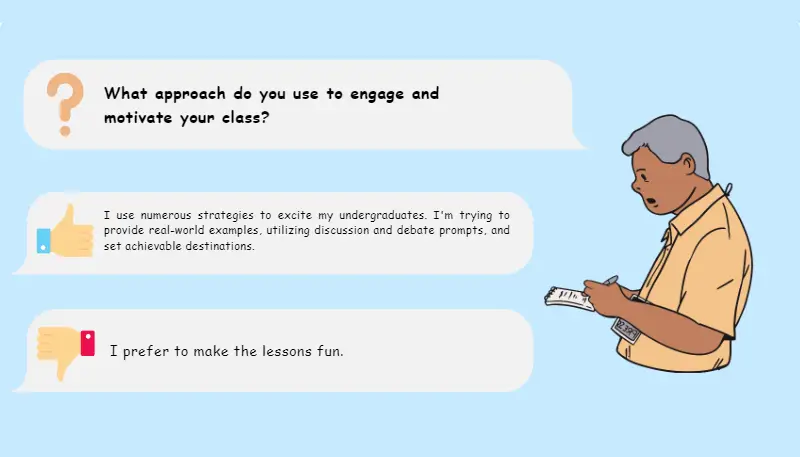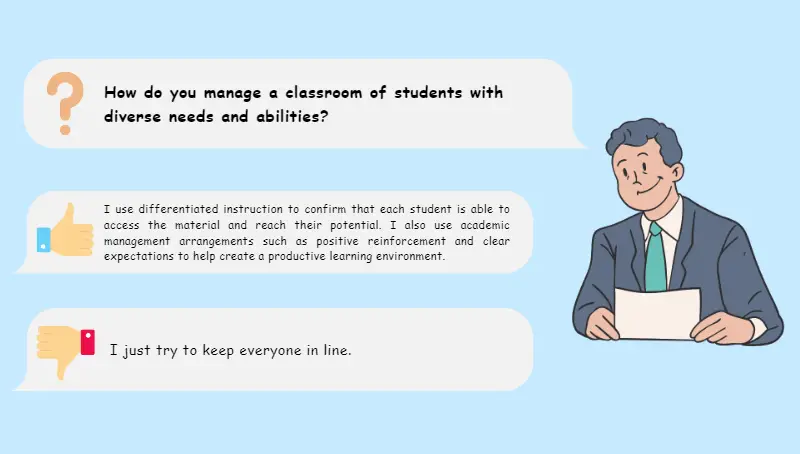 Writing a Resume: Conclusion
I never teach my pupils; I only attempt to provide the conditions in which they can learn.
Some people think that writing a resume can be a difficult task, but it's not. This article provides a comprehensive guide to help you compose an outstanding and rewarding resume for teachers.
The most critical points to consider when writing a teacher's resume are the following:
Keep your resume up to date.
Use keywords related to the profession in your resume.
List your certifications, qualifications, and experience relevant to the teaching job you seek.
Supply examples of projects, classes, or activities you have organized in the past.
Focus on your accomplishments instead of responsibilities only.
Proofread and double-check the document for any grammar mistakes or typos.
Creating an education resume doesn't have to be complicated. With an online resume builder, you can quickly create an effective document that will help you stand out among other applicants. Start writing your resume with teacher resume templates now, and be sure to get noticed.