Are you looking for a job as a housekeeper? Crafting an impressive resume is the first step in getting your dream job. We'll provide you with housekeeping resume examples and essential guidelines to help you stand out to potential employers.
Excuse the mess, but we live here.
In this article, you'll find the essential components of a housekeeping resume and tips on tailoring your application papers to specific job postings. Let's get started on your path to success in the world of housekeeping.
How to Write a Housekeeping Resume
This article provides helpful tips for creating a successful resume for a housekeeping position. The main points include:
Housekeeping resume samples.
Creating an outstanding resume summary.
Listing work experience.
Outlining qualifications.
Highlighting achievements.
Adding extra details.
Writing an outstanding cover letter.
Overall, you will find out how to write a housekeeper's resume example that not only showcases your skills and experience but also helps you make a great first impression on potential employers.
Use a Resume Builder
Crafting a standout resume can be a daunting task, but employing an online resume builder can guarantee that your resume looks professional.
Advantages of using a resume maker:
Efficiency. You can create a polished resume in minutes, without having to start everything from scratch.
Formatting. The service offers a range of pre-made resume templates that guarantee your document looks visually appealing.
Customization. You can easily adjust the sections to include all important information, increasing your chances of success.
Cost-effective. The resume creator is completely free to use.
With a free resume builder, you can focus on creating content that will highlight your skills and accomplishments. You don't have to spend hours attempting to work out to design of your resume for a housekeeping job in Word. So why not give the resume maker a try?
Housekeeping Resume Examples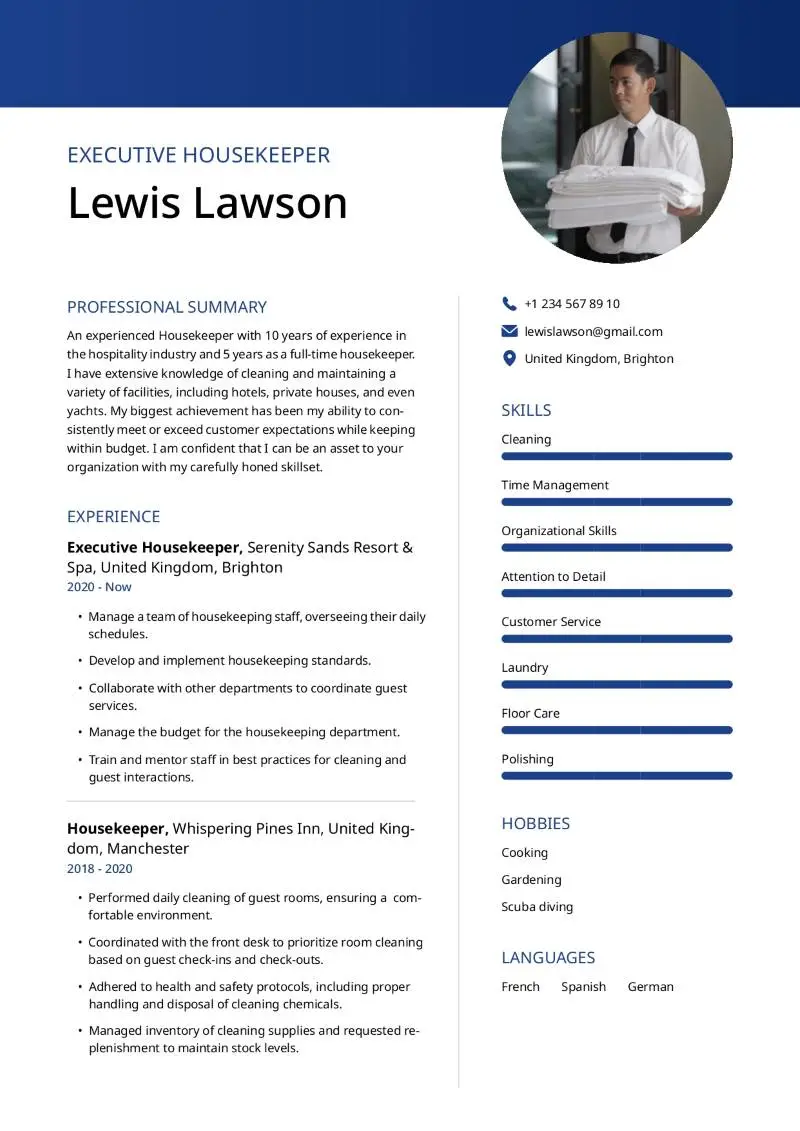 Summary:

Dedicated and experienced Housekeeper with 4 years of experience in providing efficient and comprehensive cleaning services. Adept at maintaining cleanliness and orderliness in both residential and commercial environments. Seeking a challenging housekeeping position to utilize my skills in ensuring a clean and sanitary atmosphere for clients.

Experience:

Housekeeper

XYZ Hotel (2021 - Present)

Perform daily cleaning and maintenance tasks for guest rooms and common areas.
Ensure compliance with hotel cleanliness standards and guest satisfaction metrics.
Collaborate with team members to respond promptly to guest requests.
Handle laundry and restocking of amenities as necessary.

Housekeeping Assistant

ABC Cleaning Services (2019 - 2020)

Assisted senior housekeepers in performing cleaning tasks in residential properties.
Implemented safe and eco-friendly cleaning practices to protect the residents' health.
Participated in training sessions to enhance knowledge of modern cleaning techniques.

Education:

High School Diploma

Oakwood High School (2017)

Skills:

Proven ability to maintain cleanliness of residential/commercial facilities.
Highly organized and detail-oriented.
Excellent time management skills.
Multi-tasking abilities with strong communication skills.
Skilled in using all types of cleaning products and equipment.
Physically fit with the ability to lift and carry heavy objects.
Capacity to operate independently or collaboratively.
Respectful and courteous with clients in their homes/businesses.
Punctual and reliable at all times.

Certifications:

Certified Housekeeping Professional (CHP)

American Hotel & Lodging Educational Institute
Style Guide
There are over 533,686 housekeepers currently employed in the United States.
Using correct wording in your housekeeping resume is crucial to convey professionalism and attention to detail.
Here are some tips on how to write a housekeeper's resume:
Be specific. Provide specific details about your duties and accomplishments. Instead of saying, "cleaned guest rooms," say, "performed daily maintenance and cleaning of guest rooms, ensuring impeccable cleanliness and order."
Use a professional tone. Maintain professional and formal language throughout your resume. Avoid using slang or overly casual language.
Use action verbs. Begin each bullet point in your resume with strong words to describe yourself and your achievements.
Be concise. Keep your wording concise and to the point. Use bullet points to make your resume easy to look through.
Keep it short. Aim for a one-page resume. If you have extensive relevant experience, it can extend to a maximum of two pages.
File naming. Use a clear and professional file name for your resume, for example, "FirstName_LastName_Resume.pdf."
Here are words that can boost your housekeeping resume:

Organized. Demonstrate proficiency in keeping the workplace clean and orderly.
Detail-oriented. Highlight the ability to focus on even the smallest of details for a sparkling clean finish.
Multitasking. Showcase the capability to manage multiple tasks simultaneously with ease.
Time management. Stress the importance of managing time efficiently and getting work done in a timely manner.
Innovative. Emphasize the capacity to devise imaginative answers to diverse issues and problems.
Team player. Add the skill to work well with teams as well as independently.
Customer service. Exhibit providing superior customer service and satisfying their needs and expectations.
Flexibility. Illustrate that you understand the different schedules and demands that come with being a housekeeper.
Communication skills. Mention the ability to communicate effectively with supervisors, co-workers, and guests in a professional manner.
Problem solving. Show an aptitude for quickly identifying problems and devising effective solutions.
Safety consciousness. Showcase an understanding of safety procedures and protocols while using hazardous cleaning materials.
Technologically savvy. Demonstrate proficiency in operating various machines such as floor cleaners, carpet vacuums, etc.
Contact Information
When listing personal and contact information in a resume, it is important to verify that the data is accurate and up-to-date.
It should include:
Full name. It should be placed at the top of the resume in a larger font size.
Address. Place the country and the city you live in directly under your name
Phone number. Provide a phone number where you can be easily reached.
E-mail address. Add a professional e-mail address.
You can also add a link to your LinkedIn profile or other professional networks.
Double-check for any typographical errors, especially in the email address and phone number. That way the employers will be able to easily reach you to invite to an interview.
Experience
When creating a housekeeping resume, it is vital to ensure that all relevant work experience is organized. The best way to do this is by listing your work experience in chronological order.
List each job entry separately, starting with your most recent position.
For each job, include the following details:
Job title. Clearly state your job title.
Company name. Add the name of the company or organization where you worked.
Dates of employment. Specify the years when you started and ended each job. If you're currently employed, use "Present" instead of an end date.
Job description. Provide a description of your responsibilities and achievements. Use bullet points to enhance readability.
Here's an example of how to list housekeeping work experience:
Senior Housekeeper

ABC Hotel (2019 - Present)

Greet guests upon their arrival and direct them to their rooms.
Clean guest rooms, including changing bedsheets, vacuuming carpets, dusting furniture and cleaning bathrooms.
Stock cleaning supplies and linens in guestrooms.
Ensure all safety protocols are followed while performing duties.

Housekeeper

XYZ Resort (2018 - 2019)

Maintained cleanliness of common areas such as lobbies, restaurants, and restrooms.
Replenished linens and other supplies in guestrooms on a daily basis.
Handled customer complaints regarding the cleanliness of the space.
Inspected rooms for any damages before guests arrive.
Including such details will show potential employers that you have the necessary skills for the position. Simply writing "Worked as a Housekeeper at ABC Hotel" would not be as effective in demonstrating your qualifications.
Education
When compiling a housekeeping resume example, education is one of the most important sections of a resume. As higher education isn't necessary for a housekeeper, you might just state your high school.
It is crucial to arrange all educational stages in chronological order. That way employers can easily see the progression of your skills.
Each educational entry should contain the following details:
Degree. Include state the degree you obtained (e.g.: Associate's Degree, Bachelor's Degree).
School name. Mention the name of the educational institution you attended.
Graduation date. Specify the year of your graduation.
You can write additional information such as GPA (if it's impressive), relevant coursework (if it's directly related to the job), or academic honors and awards.
A good example:
Associate's Degree in Hotel and Restaurant Management

Silverlake Community College, Atlanta, GA (2022)

GPA - 3.8/4.0

Certified Professional Housekeeping Management

International Housekeeping Institute (2019)
A bad example:
Willowbrook High School
Summit Valley Community College
Courses at various places
The second example provides almost no information about the candidate's educational background. It lists schools and courses without specifying any degrees or dates. Such phrases are incredibly vague and don't provide any information about what specific courses were taken.
Skills
It is important to add both soft and hard skills to a housekeeping resume to show the qualities and experience you can bring to the job.
Soft skills are personal attributes that are essential for success in any job, such as communication, problem-solving, and teamwork.
Hard skills are technical abilities that are specific to housekeeping work. These include knowledge of cleaning products and methods and the ability to operate cleaning equipment.
Start by making a list of all your relevant housekeeping skills, then narrow them down to the most important ones. When describing each skill, use specific job-related terminology and include examples of how you have used it in previous roles.
Housekeeper resume soft skills:
Communication. Capacity to communicate clearly with colleagues and customers.
Problem-solving. Ability to identify problems and come up with solutions quickly.
Teamwork. Capability of collaborating effectively with colleagues.
Time management. Ability to plan ahead and meet deadlines.
Flexibility. Ability to adapt easily to new situations and environments.
Patience. Ability to remain calm when dealing with difficult customers or tasks.
Hard skills for a housekeeper's resume:
Cleaning products knowledge. Understanding of different products and their uses.
Cleaning methods knowledge. Familiarity with different techniques for cleaning various surfaces.
Attention to detail. Ability to spot dirt and grime quickly and thoroughly clean areas.
Equipment operation. Knowledge of how to use cleaning equipment safely and efficiently.
Organization. Capability to monitor track of supplies and prioritize tasks effectively.
Safety protocols adherence. Understanding of safety protocols and ability to follow them correctly.
Social Media
Including social media profiles on a housekeeping resume is generally not necessary and often not relevant to the position. A resume for a housekeeping post should primarily focus on your qualifications, work experience, education, and skills related to the sphere.
However, there may be some exceptions:
LinkedIn. If you have a professional LinkedIn profile that shows your work history and skills in the hospitality sphere, you could include the link. Ensure your profile presents you in the best light.
Online portfolio. If you have an online portfolio or a personal website that demonstrates your housekeeping skills, consider including the URL. This can be before-and-after cleaning photos or videos.
Remember that employers can check your social media profiles, so make sure they reflect your professionalism.
As an examples, a residential housekeeper might include a link to their Facebook page to demonstrate pictures of the homes they have cleaned.
Resume Summary
A resume summary for a housekeeping position should highlight your proficiency in providing exceptional service.
3 tips on crafting a resume summary:
Be specific. Include specific facts and avoid using overly generic statements that could apply to anyone.
Use keywords. Make sure you incorporate job-related terminology, such as "housekeeping" or "cleaning", as well as industry buzzwords like "safety protocols" or "attention to detail". This will give your resume an edge.
Keep it concise. Your resume summary should be no longer than three sentences and should only be around 150-200 words in total. This will ensure that your summary is easy to read and does not overwhelm the reader.
Skilled housekeeper boasting over 5 years of experience providing excellent client service and ensuring the utmost level of hygiene in all hospitality areas. Possesses an extensive knowledge of appropriate cleaning materials, techniques, and safety protocols. Famous for having the capability to work promptly and proficiently while preserving a high degree of precision.
Additional Information
The personal information can help the recruiter gain more insight into the candidate's skills and abilities.
Hobbies
Including hobbies in a housekeeper's resume can help recruiters understand the candidate's interests outside of work.
For example, if a person enjoys gardening, the knowledge of caring for plants could be useful in the housekeeping sphere.
Courses
Adding courses to a resume can demonstrate the candidate's commitment to learning new skills related to the job.
For example, a course on cleaning techniques or sanitation practices could be a great asset to a resume for a housekeeping job.
U.S.News ranked housekeepers #21 in Best Social Services Jobs.
Languages
Mentioning languages in a housekeeping resume is essential. It shows the ability to effectively communicate with guests from different nations or cultures.
For example, being able to speak Spanish can help the housekeepers understand instructions from Spanish-speaking clients and provide better customer service.
Awards
Displaying awards in a resume will indicate your proficiency in achieving remarkable results. They show that the person is dedicated to their job and strives for excellence.
For example, a "Best Housekeeper Award" could showcase the candidate as an excellent cleaner and detail-oriented person.
Internships
Internships illustrate that the applicant has experience in the field and has encountered different facets of housekeeping.
Nothing inspires cleanliness more than an unexpected guest.
References
Having references in your housekeeping resume can be the decisive moment. It permits recruiters to obtain an unbiased assessment from other people concerning the applicant's work at previous jobs or internships.
Certificates
Including certificates can confirm that the candidate stays current with industry standards and regulations.
These may include ServSafe or OSHA certifications that demonstrate knowledge of food safety or hygiene protocols respectively.
Housekeeper Cover Letter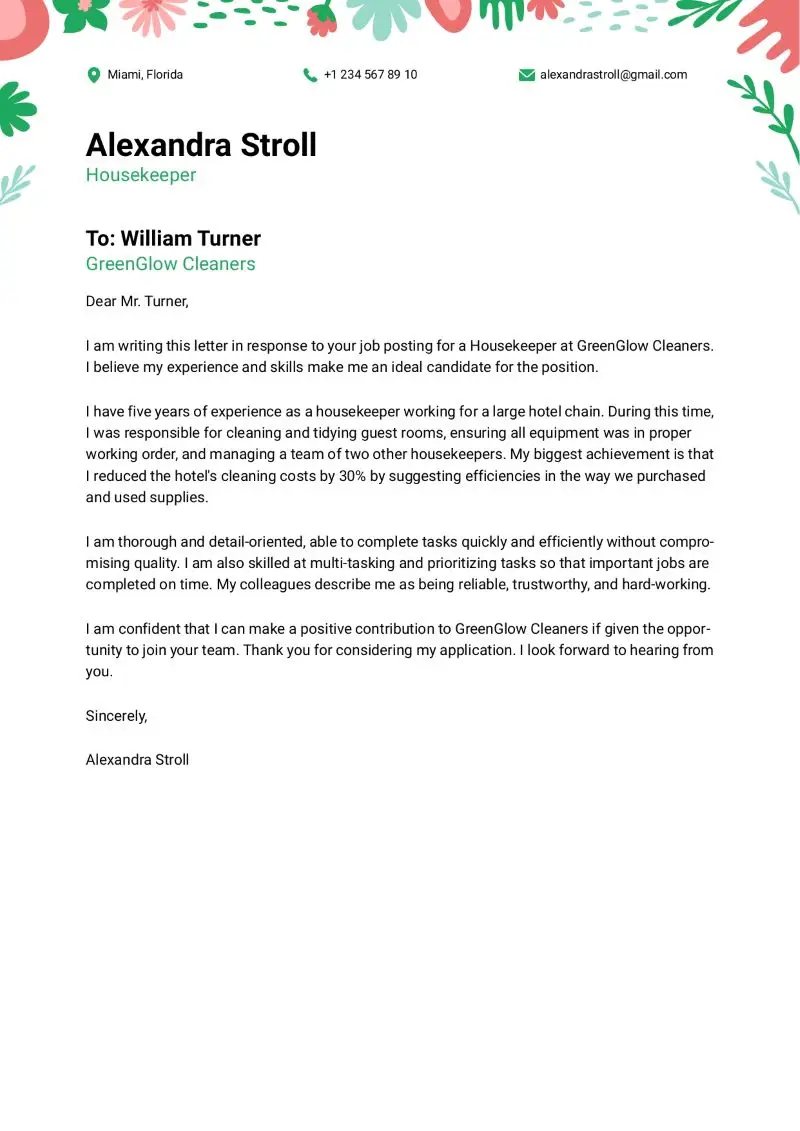 Composing a cover letter for a housekeeping role may appear intimidating, but it doesn't have to be! With some thoughtful planning and a bit of research, you can craft a great cover letter that will help you get noticed.
Here are some tips for writing an effective housekeeper cover letter:
Start with personal information. Include your contact information at the top of the letter, followed by the name of the employer.
Research the company. Learn about the company you are applying to. This shows that you have taken the time to learn about their values and that you care about the position.
Present yourself. Explain why you're the perfect fit for this position and how your skills will contribute to the success of the organization.
Be concise. Keep your cover letter focused on one page and use clear, concise language throughout.
Use professional language. Show respect for potential employers by avoiding slang or overly familiar language.
A good example:
Dear [Hiring Manager],

I am submitting my application for the Housekeeping position at ABC Company. As an experienced housekeeper with over five years of experience, I possess strong knowledge of cleaning services, hospitality management, and customer service skills — all of which make me an ideal candidate for this position.

I am confident my qualifications align perfectly with ABC Company's standards, and I have enclosed my resume for your review and consideration.

I have extensive experience in housekeeping services from my current role as Head Housekeeper at XYZ Hotel where I manage a team of 10 employees who work together to provide exceptional customer service experiences to our guests on a daily basis.

Additionally, I am well-versed in hospitality management — such as hotel security protocols, guest relations, and safety standards — which would be beneficial to ABC Company's operations if hired as a housekeeper.

I am passionate about providing excellent customer service and maintaining high standards of cleanliness and organization. I am sure I could be an asset to ABC Company. I eagerly await news from you soon regarding the next steps in the hiring process!

Sincerely,

[Your Name]
This example demonstrates professionalism with clear language while highlighting relevant skills and experience without rambling on too long or getting too personal in tone or content.
A bad example:
Hi there! My name is [Your Name] and I heard through my friend that y'all need someone awesome like me to fill your housekeeping role sooooo here I am! I'm super excited cuz this job looks sooo cool! If ya hire me then ya won't regret it cuz I'm super awesome at cleaning stuff up! Plus I always get along great with people so y'all'll love me! So what do ya say? :)
The second example is too informal in tone and lacks professionalism, which is disrespectful towards potential employers. Plus, it does not mention any relevant qualifications and skills that would make the applicant stand out from other candidates.
Entry-level cover letter
Dear [Hiring Manager],

I am writing to apply for the position of Housekeeper at [Hotel Name]. I am confident that my strong organizational skills and enthusiasm for hospitality make me an ideal fit for this role.

I understand that a great housekeeper is someone who is reliable, pays attention to detail, and can work well as part of a team. I have all of these qualities and am eager to take on any housekeeping tasks I am asked to do.

Although I have no work experience in housekeeping, I have been working on my cleaning skills since I was very young. I also possess excellent verbal and written communication abilities which will enable me to collaborate effectively with other staff members and guests.

Furthermore, I am no stranger to hard work and understand what it takes to do a job properly. After all, nothing is more important than making sure guests have a comfortable stay in our hotel or resort.

I'm excited about the possibility of joining your team and look forward to discussing my qualifications with you further. Please find my resume attached. Thank you for your time and consideration.

Sincerely,

[Your Name]
Tips for writing an entry-level housekeeper cover letter
Introduce yourself in the first paragraph. Mention why you are interested in the role and how your skills make you an ideal candidate.
Highlight any transferable skills that are related to housekeeping such as organization, meticulousness, punctuality, etc.
Demonstrate any applicable training or credentials connected to hospitality sphere.
Emphasize your passion for customer service in order to show that you are capable of providing guests with an enjoyable stay.
Maintain a professional and respectful tone throughout the cover letter.
Express your desire for an interview and thank the employer for considering your application.
Create a professional cover letter
Proofread Everything
Proofreading and spellchecking a resume and cover letter for a housekeeping job is essential for making a good impression on potential employers.
Using proper grammar and words will help to show the employer that you take your job seriously and that you are proficient in written communication.
How to proofread your housekeeping resume:

Reading out loud. This can assist you in finding typos, spelling errors, and grammatical mistakes.
Seek feedback. Ask a friend to read it to catch any errors you may have missed.
Read a physical copy. It is also helpful to print out a copy of the document. This allows you to look at it from a different perspective.
Check the words. Make sure you didn't forget about action verbs and used them in the correct tense.
Use a spell checker. Utilize a spell or grammar checker tool in your word processing software to catch basic errors.
Conclusion
In conclusion, crafting a compelling resume is the key to unlocking doors of opportunity in the hospitality and service industry.
By following the guidelines and drawing inspiration from the provided examples, you can create a resume that highlights your housekeeping skills and experience. Plus, it will demonstrate your dedication to maintaining a clean and welcoming environment for guests.
For an easier time writing a housekeeping resume, consider using an online resume builder. This will simplify the process of creating a great resume in no time.
So what are you waiting for? Start writing your resume now and land that dream housekeeping job!