As you look for a new opportunity, be it seeking a job or applying for school, you may need to write a motivational letter.
Composing inspirational letters requires creativity, thoughtfulness, and an appreciation of the message one intends to convey. When compiled correctly, it can be an effective way to express yourself and your motivation.
This article offers tips on constructing an outstanding motivation statement. We will discuss what should be included in the letter and how to format it. Additionally, the article will cover what words to use to ensure your letter is as strong and persuasive as possible.
Additionally, we will provide some motivation letter samples so you can get an idea of what works best.
Equipped with this advice, you will be armed to construct a noteworthy motivational statement that will help you reach your aspirations.
Prepare all your application materials
When sending out an application of some kind, you will likely need to submit a package of documents. You may need to complete an online application, provide letters of recommendation, and send a copy of your resume.
To ensure you present yourself in the best light, consider polishing your resume with a free online resume builder!
The builder offers resume templates to help you create a neat and appealing document that clearly presents all your best qualities and expertise.
The AI-powered writing assistant helps come up with the best words to describe you as a professional.
Save time, money, and effort while writing your best resume with Resume Trick.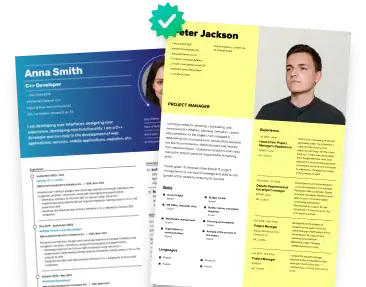 What is a Motivation Letter
A motivation letter is a document that serves to introduce who you are and elucidate your personality. This type of inspirational letters may be used to accompany an application for a job or for a college/university program.
The letter of motivation should be written in a professional yet personable tone to show your inspiration to apply for a certain position or a degree. You should also demonstrate your enthusiasm for the opportunity and express what motivated you to apply.
The main goal of the motivation statement is to get the reader to look at your CV or resume.
An effectively written letter of motivation can leave a notable impression on prospective employers or admission counselors. It often can be the deciding factor for the "yes" or "no".
Devote enough time to produce a unique, intriguing letter that will aid you to be noticed among the others!
Motivational Letter vs. Cover Letter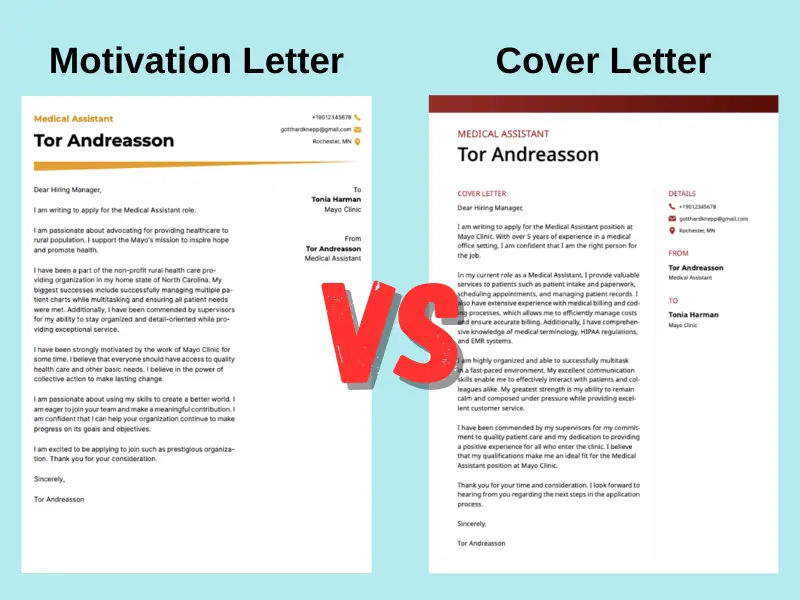 Motivational statements and cover letters are documents used in the application process. However, they are different in purpose and content.
What is a motivation letter?

A motivation letter elaborates on why the candidate is passionate about a job or course. It needs to focus on their goals, skills, and qualifications, as well as their enthusiasm for the role.

What is a cover letter?

A cover letter is more formal, providing an overview of the applicant's skills and experience. It needs to illustrate their suitability for the position and give reasons why the employer should consider them for it.
The motivation statement must be composed in a friendly, conversational style. It expresses your passion for the opportunity, talks about the talents you have, and how you can help the organization reach its goals.
The cover letter should be professional and concise. It must be well-structured and provide a clear summary of your credentials and skills. It has to be direct and to the point, highlighting relevant experience and qualifications.
Despite the differences, you can try using our cover letter templates for formatting and organizing your motivational letter.
In conclusion, a letter of motivation and a cover letter are two distinct documents. While the two are both important, they serve different purposes and must be written differently.
Ensure that you select the correct type of letter based on the requirements and compose effective supporting materials for your application.
When to Use a Motivational Letter
Crafting a motivational letter may be needed to aid you in being noticed. Here are some occasions when you may need to compose a motivational statement.
| Purpose | Description |
| --- | --- |
| Applying for college/university | Sending a motivation letter for a university application helps demonstrate why you are passionate about the program. |
| Joining a club or organization | If you are signing up to become a part of an organization, including a motivational statement can illustrate why you could be an ideal participant in the group. |
| Applying for an internship | Many companies require a motivational letter when seeking an internship. It helps demonstrate your commitment to the position and what value you could bring to their company. |
| Requesting funding | When you are applying for scholarships or grants, a motivation statement in your application can help. It explains how you plan on using the money and how it will benefit you and your project or studies. |
| Applying for a job | A motivation letter for a job can provide employers more insight into your skills and experiences, as well as express your eagerness to join the team. |
A well-written motivational letter serves as a great tool for setting yourself apart from other contenders and exhibiting your keenness for the role or opportunity. Make sure to include all relevant information that is needed to make your application successful!
How to Format a Motivational Letter
The formatting of the motivation statement has to be concise but appealing. Although the requirements are less strict as compared to the cover letter writing, it is a professional document, not a note to a friend.
Tips for formatting your motivation letter:
Use a readable font, such as Arial or Times New Roman, in size 11 or 12.
Leave 1-inch margins on all four sides of the page.
Begin by writing your name and address on the initial line.
Include the date underneath your address.
List the recipient's contact information below the date.
Use a polite salutation, such as "Dear Mr./Ms./Dr." followed by their last name.
Ensure that each paragraph is no more than five lines long. Each sentence should contain no more than 12 words.
End with a polite closing such as "Sincerely" and include your name underneath.
Include any relevant documents, such as a resume or references, after your signature.
By following these simple steps, you can guarantee that your motivational statement has the right format and appears professional.
How to Structure a Motivational Letter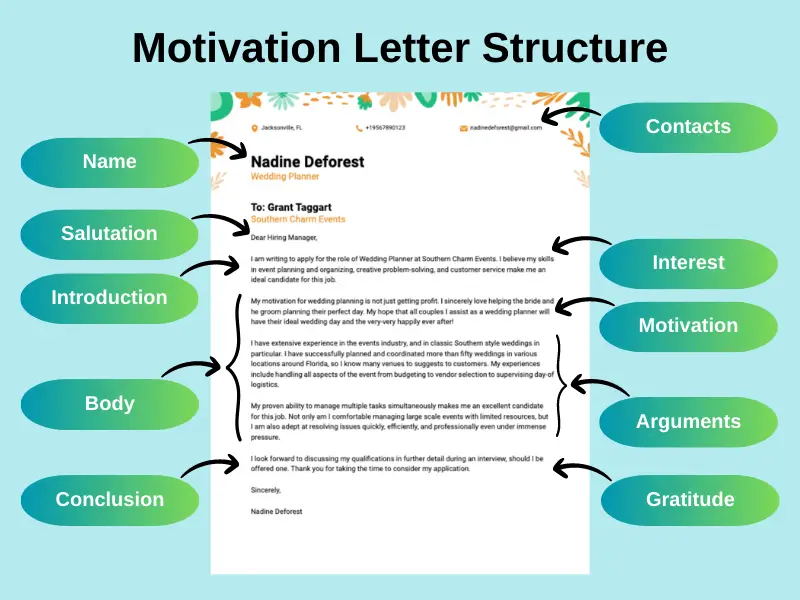 Drafting such a letter can help you make a good first impression. So, it's worth investing time into crafting a well-written document that outlines your skills, qualifications, and suitability for the role.
Your motivational letter ought to be brief and limited to one page. It has to include the following: an introduction, body paragraphs, a conclusion, and your information.
In the beginning, you should articulate your interest in the role and how it complements your career plans. The body paragraphs should explain why you are qualified for the job by showcasing your qualifications and exhibiting your enthusiasm about the opportunity.
The conclusion is that you can share your excitement for the role and thank them for taking the time to look at your application. At the end of your motivation letter, be sure to include contact information. This will ensure you can be reached out if there are any questions or for further discussion of your candidacy.
Make sure it is tailored to the job and reflects your enthusiasm, then send it off with confidence!
Tips on how to Write a Motivation Letter
Motivational letters are a necessary component of competition. It helps companies or schools make decisions about who to choose and shows them what kind of person you are.
Developing a compelling motivation letter can assist you in surpassing other applicants and displaying your devotion to the role or program.
Follow the below steps to create an impressive letter of motivation that will leave a good impression on potential employers or admissions boards.
Motivational letter writing tips:
Prepare for writing. Think about what you want to say and why you are writing it. Ensure that you are prepared to explain your interest in the letter.
Start with a captivating introduction. Introduce yourself, your goals, and your reason for applying.
Use compelling language. Be clear and concise so your motivational statement is easy to read and understand. Keep your sentences short and to the point.
Demonstrate your enthusiasm. Tell about your passion for the position, the program, or the project you are applying for.
Describe your goals and objectives. Explain what you hope to gain from this opportunity and how it fits into your long-term goals.
Show your commitment. Speak about how you will contribute to the company/university and its mission.
End your letter with an emphatic declaration. Illustrate your eagerness for the discussed matter and express gratitude for the reader's consideration.
Proofread and edit carefully. Ensure that there are no grammar, spelling, or formatting errors in your letter before sending it.
By abiding by the above instructions, you will be able to compose an impassioned motivation letter which will give you a head start on attaining the job or getting into the university.
Dos and Don'ts
It is important to remember that success comes from within. Here are some dos and don'ts to keep in mind when it comes to creating a motivation statement:
Dos:
Write clearly and concisely.
Make sure your letter is tailored to the specific job or program you are applying for.
Use powerful language that exudes confidence.
Incorporate relevant examples or reasons behind your motivation.
Highlight any special aspects that make your application unique.
Don'ts:
Don't copy and paste from other letters or applications.
Don't use weak phrases like "I think" or "I believe". Instead, use stronger words like "I am confident".
Don't be too general with your statements. Be specific about what you can bring to the table.
Don't leave out any important details. There should not be questions left for the reader.
Motivation Letter Examples
An engaging motivational statement can make the difference between being accepted and rejected. Below you will find examples of letters for various purposes. Use them as a reference for crafting your own.
Example of a motivational letter for a university application
Dear [Admission Officer],

My name is [Your Name]. I am writing to you to support my application for admission to the [University Name]. I am enthusiastic about obtaining a degree in Computer Science. I am confident that your school will give me the ideal opportunity to realize my goals.

I have been interested in the informatics field since I was a child. I have been coding ever since I was 12 years old. I love solving problems and developing new applications. In high school, I completed courses in computer programming and web development, which sparked my interest in software engineering.

In college, I plan to continue to explore the world of computer science. I want to learn more about Artificial Intelligence and Machine Learning, two topics that fascinate me. Additionally, I plan to become involved with research projects related to these topics as well as other areas of computer science.

I am confident that the [University Name] can provide me with the best education to help me achieve my goals. Not only does it have excellent faculty members and research opportunities, but also offers a stimulating environment where I can grow both academically and personally.

Appreciation for your thoughtfulness in reviewing my application. I anticipate your reply!

Best regards, [Your Name]
Examples of a motivation letter for an internship
Dear [Company Name],

I am writing to apply for the position of [Job Title] at [Company]. With my background in [Field], I believe I am well-suited for this job and can bring value to your team.

I am currently pursuing a degree in [Field] from [University/College]. During my studies, I am taking part in several projects related to this field, which provide me with more practical knowledge. For example, I was the team lead for the [Name of the Project]. Throughout this commitment, I gained skills in research, collaboration, and leadership, as well as advanced my knowledge of the topic. My commitment to continue learning new things makes me an excellent candidate for the role.

Finally, I am sure that my customer service skills and communication abilities will be a beneficial addition to your team. I am passionate about the [Field] and wish to apply my work for the benefit of the community. I believe that these qualities, combined with my technical expertise, will contribute greatly to achieving success at [Company].

Thank you for taking the effort to read my application and consider me as a potential hire for this position. Please do not hesitate to contact me if you require any supplementary details concerning my qualifications or experiences. I look forward to hearing from you soon.

Sincerely, [Your Name]
A motivation letter example for a job application
Dear [Name of Recipient],

I am writing to apply for the [Position] role at [Company]. I have [X] years of experience in the field. I am confident that I possess the necessary skills and qualifications to make an immediate impact on your team.

I am passionate about [Field] and have worked hard to develop a deep understanding of the industry. During my time at [Previous Company], I was responsible for [Achievement]. It allowed me to gain valuable insights into how to best serve customers.

I am highly motivated and eager to contribute to the success of the company. I have a proven track record of meeting deadlines, exceeding expectations, and delivering high-quality results. I am also highly organized and take pride in ensuring that projects are completed according to set deadlines and standards.

Furthermore, I have excellent interpersonal skills and enjoy working as part of a team. I am comfortable working with people from diverse backgrounds and cultures and collaborating seamlessly with colleagues at all levels.

I would be delighted to put my skills and experience to work for your organization. I believe my qualifications render me a perfect fit for the role and would welcome the opportunity to discuss this further in an interview. Thank you for considering my application.

Sincerely,
[Your Name]
A motivational letter example for joining an organization
Dear [Name],

I am writing to express my interest in becoming a part of your organization. I understand that your mission is to achieve greater social and economic justice and that your efforts are making a real difference in people's lives.

I have been strongly motivated by the work of your organization for some time. I believe that everyone should have access to quality education, health care, housing, and other basic needs. I believe in the power of collective action to make lasting change.

My background has prepared me well for this role. I have a degree in political science and experience working in the public sector. I have a deep understanding of policy issues and the best practices for achieving social change. I was also recently part of a team that successfully lobbied for new legislation on climate change.

I am passionate about using my skills to create a better world. I am eager to join your team and make a meaningful contribution. I am confident that I can help your organization continue to make progress on its goals and objectives.

Thank you for considering my application. I anticipate learning more about how I can be part of your mission and make an impact in the world.

Sincerely, [Your Name]
A motivation letter sample for funding application
Dear [Selection Committee],

I am writing to apply for funding that will help support my project. My project aims to create a series of educational videos that promote sustainability in our community.

The videos will feature individuals from our community who are passionate about sustainability and showcase their work. The videos will be shared on social media platforms, with the goal of inspiring others to act and make positive changes in their lives.

The funding I am seeking will be allocated to cover equipment and production costs, as well as any associated travel costs. This funding would allow me to develop a unique series of videos that can be shared with our community and beyond. This endeavor is important because it will raise awareness about sustainable practices in our community and inspire people to take action. It has the potential to have a positive impact on our environment and the lives of many people.

In addition to my passion, I possess a distinct set of abilities and know-how that render me a suitable candidate for this position. I have worked with non-profits, government agencies, foundations, and other organizations to create sustainable projects with long-term impact. My experience includes conducting research, creating effective programs and campaigns, and developing relationships with key stakeholders.

My commitment to excellence will ensure that any funding that I receive will be used effectively and efficiently. I understand the importance of meeting deadlines and staying within budget while delivering results at the highest level of quality. With my proven track record of success, I know I can make a real difference for your organization.

I believe this project is worthy of your consideration and hope that you will support it with the requested funding. Thank you for your time and consideration.

All the best, [Your Name]
Writing a motivational letter: conclusion
Constructing a letter of motivation can be laborious. Yet, it does not have to. Follow the provided guidelines and the motivation statement examples to build yours.
Key takeaways:
It is essential to be clear and concise in your writing, as well as to make use of effective language.
Highlight your enthusiasm and illustrate why you are the most suitable person for the opportunity.
Ensure that the letter is adapted to the specific employer or school you are applying for.
Demonstrate your passion and devotion.
Proofread and edit your letter for any errors.
Don't forget to include a professional signature at the end.
Now, send your letter and wait for a response. Remember: be patient, confident, and positive! Good luck with your application!