Ready to take the legal world by storm and make your mark as a stellar legal assistant? Your first step towards career triumph starts with an impressive legal assistant resume.
Legal assistants are the backbone of a legal team, providing vital support and contributing to the success of the cases they work on.
This guide will show you how to weave together your legal skills, experiences, and unique traits into a captivating document. Get ready to unlock opportunities, dazzle hiring managers, and pave the way for an exciting legal assistant journey.
Let's dive into the art of composing a winning resume!
How to Write Legal Assistant Resume
This guide outlines how to write a resume in a step-by-step manner.
The main points covered are:
Write a powerful summary statement. A well formatted summary statement should underline your legal experience, skills, and achievements.
Highlight your skills and experience. Showcase your best experiences and skills in the core competencies section, using keywords from the job description.
Include relevant professional achievements. Craft impressive bullet points that spotlight your accomplishments and achievements.
Proofread and update your resume. Edit your resume for any typos or errors and make sure it reads clearly and concisely.
By following these steps, you can construct a compelling legal assistant resume that will bright you up among other applicants and get noticed by potential employers.
Use Resume Builder
Do you need a resume but don't know where to start? Look no further! We offer a ready-made legal assistant resume examples that will give you an edge.
With our service, you can quickly and easily create an eye-catching and well-structured legal assistant resume.
Our legal assistant resume templates are designed by experienced tutors and industry experts. You can be confident that using these templates will make resumes look professional.
Creating your resume with us has numerous advantages over writing one in Word as plain text:

Our legal assistant resume examples provide a structure for your resume which simplifies the organization of all the information in the correct way.
All templates come with a choice of fonts and colors. This makes it easy to customize your resume to make it individual and unique.
Service is completely free - all you need to do is fill in the blanks!
So why not give it a try? Create a top-notch, market-ready resume today with our easy-to-use template!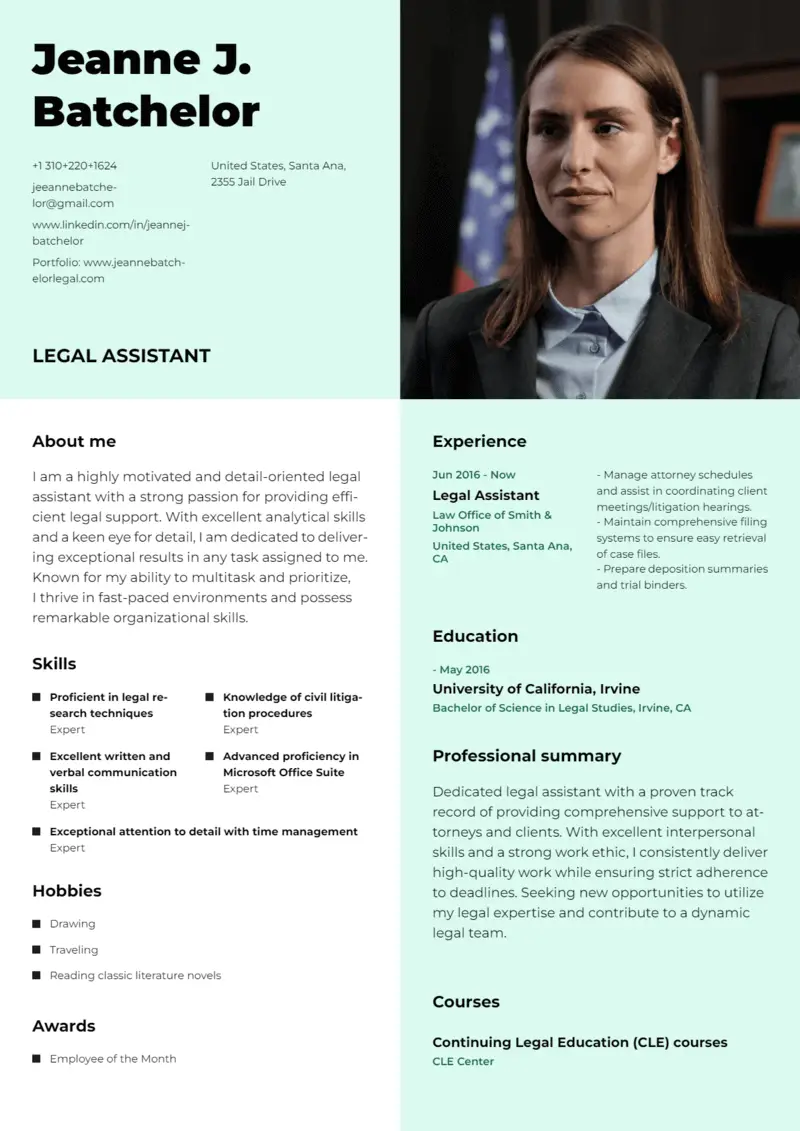 Strengthen your Legal Assistant Resume
Using concise language is essential. Your resume for a legal assistant should be organized and include only information about your experience, skills, and education. Take advantage of special industry words:
Legal Terminology. Demonstrate knowledge of vocabulary, contracts, and court proceedings.
Communication Skills. Communicate effectively with clients, colleagues, and superiors.
Organizational Abilities. Organize large amounts of data accurately and efficiently.
Document Preparation. Prepare legal documents in compliance with applicable laws and regulations.
Problem-Solving. Identify potential problems and develop solutions to resolve them quickly.
Research Skills. Consult cases, statutes, and other legal references to aid attorneys' work.
Time Management. Manage multiple tasks simultaneously while meeting tight time limits.
Client Relationships. Maintain boundaries while building trust with clients.
Flexibility. Adapt quickly to changing circumstances and prioritize tasks accordingly.
Consideration for the Small Things. Check documents for accuracy and completeness before submitting them.
Computer Proficiency. Utilize advanced PC systems to store, retrieve, and manipulate data.
There are over 426,833 employed legal assistants and paralegals in the United States, according to National Today.
Fill in Contact Information
While putting down personal and contact information on a legal assistant resume, it is necessary to be succinct and employ just the mandatory facts. Refrain from excessive repetition of words and make the text more distinctive and varied.
Utilize precise job-oriented language and markdown for formatting. Creating a resume uniquely, rather than relying on automation, can help it shine.
The following data is essential for your paralegal resume:

Name. Indicate your full name with the correct spelling and capitalization.

Address. Display your current address or provide your city, state, and zip code.

Phone number. Provide a number that you can be reached at or a valid voicemail.

Email address. Give an appropriate email.

Website URL. If applicable, attach a site showcasing your skills or credentials.

LinkedIn profile. Include a hyperlink to your LinkedIn.
The inclusion of all this information on your resume will make you stand out as a legal assistant candidate. It also gives employers a way to contact you directly if they have questions or need more information from you.
Set up Your Legal Assistant Experience
It is imperative to structure your work background in the most advantageous way possible. Starting with the most recent experience, list each of your entries in chronological order. This will provide employers with an overview of your career in a brief and organized manner.
For each job history entry, you should add the name of your employer, location, job title, and dates employed. Also enumerate any key duties or achievements that are typical for the paralegal resume.
Carrying this out facilitates employers to rapidly examine the resume and comprehend what talents you possess.
Here are two legal assistant resume examples of how to organize experience:

Legal Assistant - XYZ Legal Practice - Los Angeles, CA (March 2018 - Present).

Drafted legal documents counting pleadings, motions, and correspondence.
Conducted research on relevant case law to support attorneys' arguments.
Assisted attorneys with trial preparation along with witness contact and document management.
Coordinated client meetings and court appearances.

Paralegal Intern - XYZ Law Office - San Francisco, CA (June 2017 - August 2017).

Researched state laws related to civil cases.
Prepared briefs summarizing case law applicable to various cases.
Filed documents with courts following established bounds.
Performed factual investigations by gathering information from clients and external sources.
Employers will understand your accomplishments and value to the company if you invest the time to sort and organize the experience. Ensure that resume grabs attention by incorporating the above tips when recording and organizing your work information.
Legal assistants are projected to grow 14% from 2021 to 2031, faster than the average for all occupations, according to the Bureau of Labor Statistics.
Demonstrate Your Education
When constructing a legal assistant resume, it's helpful to keep your academic background properly stated and organized. Focus on including the most pertinent data that can describe you in a best way.
It's best to arrange your education chronologically, starting with your most recent degree or certification.
To help you craft an effective resume, here are some listing tips:
Start with your highest degree.
State the school's name, location, degree, and year of completion.
If you have more than one certification, rank them in reverse chronological order.
Remember to add any courses you have taken that are analogous to the field of law.
If you have any honors or awards related to your education, include them.
Don't forget to record internships or apprenticeships you may have had.
These two legal assistant resume samples demonstrate how a legal assistant might list their education on the resume:

Juris Doctor Degree

Harvard Law School | Cambridge, MA | 2018.

Completed coursework in civil procedure and evidence law.
Member of Harvard Law Review.
Received the Dean's Award for Outstanding Academic Achievement.

Paralegal Certificate

Boston University | Boston, MA | 2016.

Coursework in legal research and writing.
Participated in an internship with a local law firm.
Graduated with honors.
Put these into practice: applying mentioned tips can make the education section on legal assistant resumes shine and attract employers.
Legal Assistant Skills
It is crucial to incorporate both hard and soft skills. Hard skills are those that can be measured and are specific to the job. Soft skills are more personal qualities that make someone successful in their role.
Legal Assistant Resume Soft Skills:
Communication: Articulate and persuasive speaking and writing abilities.
Interpersonal. Ability to interact with co-workers, clients, and other stakeholders.
Problem-solving. Creative thinking and initiative to solve problems efficiently.
Time management. Ability to prioritize tasks and manage deadlines.
Organizational. Excellent skills in managing documents and data.
Teamwork. Ability to work effectively in teams.
Legal Assistant Resume Hard Skills:
Legal research. Understanding of research tools and techniques.
Document drafting. Ability to draft legal documents accurately and quickly.
Court filing procedures. Proficient understanding of procedures in different jurisdictions.
Litigation support. Skilled in providing support such as discovery management, document review, etc.
Technology proficiency. Awareness of software such as Microsoft Office, document management systems, etc. used by legal professionals.
Legal terminology. Familiarity with law glossary and court filings used in the practice area.
Write Legal Assistant Resume
Integrate Social Media
Altogether, a legal assistant's resume ought to feature social media links if appropriate to the job. It is advantageous for a candidate to demonstrate knowledge and interest in the legal field, as well as show their connections in the industry.
And it could give employers a better sense of an interviewee's personality and work ethic.
Nonetheless, there are some disadvantages to adding social media links. Prioritizing the safety and confidentiality of data when linking to personal accounts is important. Employers may be turned off by posts that do not reflect positively on the job seeker.
For instance, a prospective paralegal could have a proactive LinkedIn account with connections and updates on topics within the law. On the other hand, they should avoid including personal Twitter or Instagram accounts that contain data unrelated to work or expertise.
All in all, appending links to a resume can be profitable for legal assistants if managed carefully. It can be beneficial to link to profiles that reflect knowledge of the subject matter and provide insight into one's personality.
Legal Assistant Resume Summary
A good legal assistant resume should concentrate on the key skills that make you the best-suited contestant. It should be concise and to the point, engagingly presenting your information.
Legal Assistant Resume Summary Example:

Highly motivated and detail-oriented legal assistant having 5+ years of experience in offering comprehensive assistance to attorneys, paralegals, and other professionals. Experienced in drafting documents, researching case law, preparing presentations, filing pleadings, and organizing case files. Expert in Microsoft Office programs and legal software platforms such as LexisNexis and Westlaw. Skilled communicator with the ability to build rapport with clients and colleagues alike.
These are 3 strategies for crafting an impressive resume summary:
Display your primary qualifications and triumphs that are suitable for the job you hunt.
Use action verbs like "organized", "developed", or "negotiated" to describe your accomplishments.
Avoid using too many adjectives or making it sound too generic by employing phrases like "hardworking" or "team player".
According to Statista, legal assistants in the United States earn an average annual salary of approximately $63,000.
More Additional Information
Adding such information is paramount because it informs employers about past work history, education, and skills. It also highlights relevant accomplishments that demonstrate your skills.
It gives employers an idea of who you are outside of work by listing your hobbies, courses, languages, and awards. Including credentials like the ABA Recognized Paralegal Certificate can also show employers that you have the training for the position.
Finally, adding references can vouch for your character and confirm your qualifications.
Here are the examples of what to mention:
Hobbies: Reading legal journals for development, attending local bar association meetings, and volunteering with pro bono organizations to provide assistance to those in need.

Courses: Completed lections in civil law, criminal law, contracts, constitutional law, and evidence.

Languages: Proficient in English and Spanish; basic French phrases.

Awards: Received the Outstanding Student award for maintaining a high GPA and demonstrating excellence in the study of law.

Internships: Completed a summer internship at a small firm specializing in family law and estate planning. Conducted legal research, drafted pleadings and motions, and attended court hearings and client meetings.

References: Recommendation letters are available upon request from former employers, professors, or colleagues.

Certificates: Certified Professional Paralegal by National Association of Legal Assistants.
Legal Assistant Resume Example
Summary
Highly organized and meticulous legal aide having more than 5 years of experience aiding lawyers in a variety of matters. Skilled in research, paper preparation, filing, and client communication. Proficient in the use of legal software and Microsoft Office applications.
Experience
Functioned as a Legal Assistant for ABC Attorneys since May 2015
Prepared and filed documents for proceedings.
Compiled evidence and drafted pleadings for trial.
Scheduled appointments for attorneys and set up meetings with clients.
Monitored deadlines for filing documents and other tasks.
Wrote correspondence to clients and other law firms.
Assistant to a Lawyer, XYZ Attorneys - Summer 2013
Researched case histories and relevant laws.
Assisted in drafting case briefs and memorandums.
Carried out legal research using Westlaw and LexisNexis databases.
Prepared documents for court filings, as well as motions, subpoenas, and affidavits.
Skills
Document Preparation: Experienced in preparing legal documents - pleadings, affidavits, subpoenas, contracts, etc. - according to court rules.
Legal Investigation: Knowledgeable in conducting research utilizing databases: Westlaw, LexisNexis.
Software Competence: Excellent in Microsoft Office Suite (Word, Excel, Outlook), and programs such as Clio, Law Ruler, and AbacusLaw.
Education
Bachelor of Science in Legal Studies – ABC University – 2013.
Certifications
Certified Paralegal (CP) – National Federation of Paralegal Associations – 2016.
How to Write a Legal Assistant Cover Letter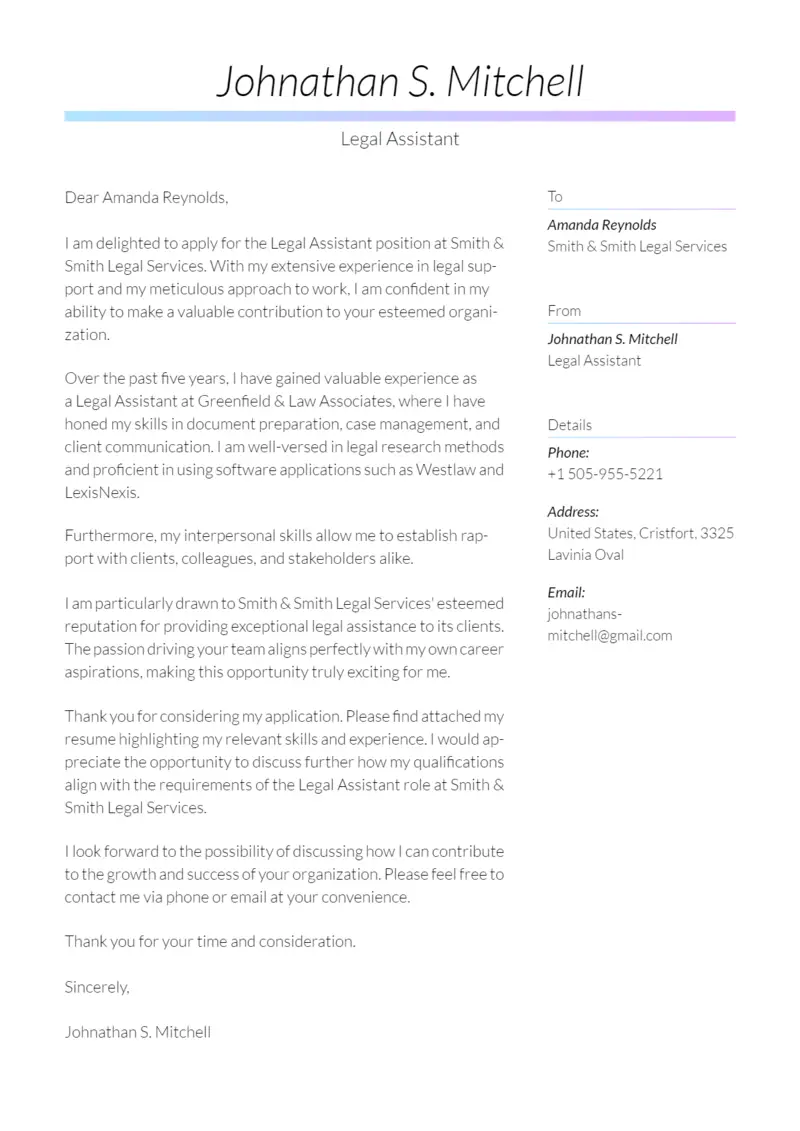 Write an attention-grabbing cover letter that will get you noticed with a little guidance. Here are some guidelines for creating a compelling legal resume letter.
Strong Introduction
At the beginning of the letter, you should introduce yourself and the vacancy you have in mind. Make sure to keep it short, and ensure that you incorporate relevant details about the background.
Highlighting Your Skills
Your cover letter should center on the talents that position you as a top choice. Focus on the skills you need and provide supporting documentation.
Conveying Enthusiasm
Employers need to understand that you are sincerely eager about the job opportunity. Use language that conveys passion and expresses your willingness to work hard and take initiative.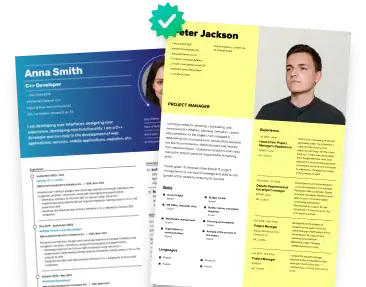 Good Example of Legal Assistant Resume Letter:
Dear [Hiring Manager],

I am applying for the post of Paralegal at [Company Name]. My qualifications, experience, and strong interest make me an excellent contender.

I am currently pursuing my law degree at [University]. I have extensive knowledge in various areas including contract law, family law, and civil litigation. Additionally, I worked as an assistant to a lawyer at [Law Firm] for two years. There I developed research skills and expertise in paper drafting. My ability to work well under pressure contributed to keeping high client satisfaction ratings during my time as an intern.

I am sure that the skills I have acquired are a perfect match for this position. I am excited about the prospect of working at [Company Name]. Thank you for considering my application. I anticipate hearing from you soon.

Sincerely,

[Your Name]
Bad Example of Legal Assistant Resume Letter:
Dear [Hiring Manager],

After viewing your job listing online, I am keen to apply for the position of Legal Assistant at [Company Name]. Attached is my resume with all qualifications listed such as a law degree from [University] and experience with [Law Firm]. I think I'm qualified enough so please consider me!

Thank you!

[Your Name]
This legal assistant resume letter example is bad because it lacks enthusiasm or any real effort put into creating an appealing introduction. There is no emphasis on relevant skills or qualifications.
There is just a list with no explanation or evidence of why you are qualified for the job. It fails to provide any specific details about why they should be considered over other applicants as well.
Cover Letter Entry-Level Legal Assistant Resume:
Dear [Hiring Manager],

I am inquiring about the vacancy of Assistant to a Lawyer at [Company Name]. I have no previous work experience in this sphere. However, I believe I am an excellent candidate for this position because of my academic record and special talents.

I recently graduated from [University] with a Bachelor's Degree in Law. I was trained in various fields such as contract law, family law, criminal law, civil litigation, etc. My university has given me strong analytical skills. These skills come in handy when researching cases or helping attorneys prepare documents related to their cases. During my studies, I also successfully completed two internships at local law firms, gaining valuable insight into day-to-day operations.

I am confident that if given the opportunity, I can excel in this role, utilizing my research skills along with my knowledge of varied areas. I want to learn more about this position and demonstrate how my qualifications can benefit your organization.

Thank you for your interest - I'm eager to get your reply!

Sincerely,

[Your Name]
This case is illustrative because it begins with a compelling introduction that explicitly states why someone is applying along with the needed qualifications. Then explain what was learned during the internship.
This cover letter example demonstrates that author is knowledgeable about numerous aspects of the law, even without prior practical experience.
No Room for Error
Double-checking the resume and cover letter is a must. Grammatical errors, typos, and poor formatting can leave employers with an unfavorable impression of you.
Not only is it important to use proper grammar, but also the accurate words. It's essential to choose descriptive words, as this will set you apart from other applicants.
Here is a guide for reviewing your legal assistant resume:

Read the entire document out loud - This allows you to hear any errors or awkward phrasing.
Check all facts - Make sure your education, experience, etc., are correct.
Get an outside opinion - Ask a family member or friend to inspect the document; they could potentially discover something you overlooked.
Double-check punctuation - Ensure all commas, periods, colons, etc., are in the appropriate place.
Perform a word count - Having too few or too many words can hurt your chances of landing a job.
Make the effort to proofread and spell-check the piece of work if you want to provide a good impression. Taking these extra steps will show that you care about your work and take pride in it.
The NALA survey also found that most paralegals work full-time, with 41% reporting 40 hours per week and 27% working more than 40 hours.
Final Words
Formulating a legal assistant resume may be daunting, but with the proper strategy, it can be streamlined. Begin by highlighting all of your accomplishments. Ensure to include your contact information and certifications.
Additionally, highlight your experience with case management, document filing, and litigation.
Add a professional legal assistant resume summary at the top of your resume that will grab the attention of the reader. Incorporate terms associated with the vacancy you are applying for to maximize your visibility to employers.
List all your skills with software and communication systems. Include any other relevant experience such as customer service or administrative work.
Finally, have someone else read over the legal assistant resume before submitting it. This will help ensure you have included all necessary information and that there are no errors in spelling or grammar.
Writing a resume can seem intimidating, but along with the right guidance and resume builder with legal assistant resume examples, it is achievable.