Writing a great resume as a pharmacy technician is essential to stand out amongst the competition and advance your career in the field. A well-crafted pharmacy technician resume will attract recruiters and hiring managers, making it easier for you to secure an interview.
As of May 2022, there were approximately 453,630 pharmacy technicians employed in the United States (U.S. Bureau of Labor Statistics).
In this article, we will walk you through the steps of creating a standout resume for a pharmacy technician. From choosing a format to including the right information - we cover it all.
So, if you are ready to make a lasting impression with your resume, keep reading!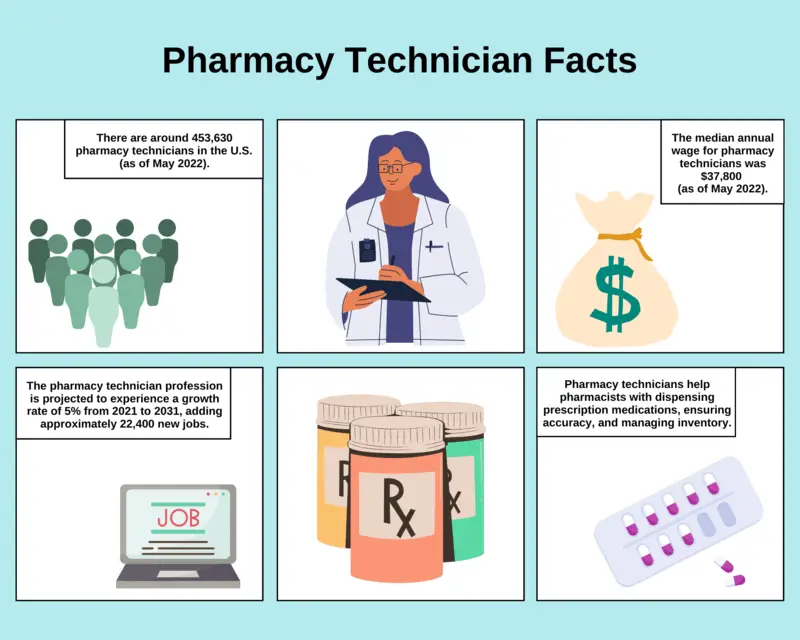 1. Overview of the article
This article explains how to compose a pharmacy technician's resume. It contains key tips to make your resume impress potential employers.
Firstly, it suggests listing your most relevant qualifications in order to create an effective summary.
Secondly, it advises highlighting your pharmacy technician's skills and accomplishments in a way that shows you are the perfect candidate for the job.
Additionally, the article recommends adding references and pharmacy technician licenses that demonstrate your competence.
After reading resume-building tips, you will also get an insight into the pharmacy technician's cover letter writing.
Above all, you will get a better understanding of what to include and how to structure your application materials. Pharmacy technician resume examples and cover letter samples will help you to do so.
Overall, this article provides clear guidance on constructing a professional profile that will make you conspicuous among other applicants.
2. Using a resume builder
Are you seeking a new job and need to compile a resume for a pharmacy technician position? Do you want to guarantee that your resume appears professional and gets noticed?
Resume Trick ensures that by providing a pre-made pharmacy technician resume template!
Utilizing a resume template comes with numerous benefits:
You save time, as you don't have to start from scratch when writing your pharmacy technician resume.
You get access to professionally designed layouts that look good and are tailored for the job you are applying for.
The provided templates are customizable, so you can easily fill in the information and adjust it as you like.
You will experience no formatting issues as the resume is already pre-formatted for you.
The layouts meet industry standards, making your application competitive in the job market.
Templates will help design an eye-catching document presenting you in the best light. Most importantly, it guarantees that hiring managers pay attention to accomplishments rather than errors or typos.
Taking advantage of the online resume builder is a great method to showcase your pharmacy technician's qualifications without spending too much time!
Try Resume Trick right now for producing an outstanding pharmacy technician's resume!
3. Pharmacy technician resume examples
Profile Summary

Compassionate and experienced pharmacy technician boasting 8+ years of experience in retail and hospital settings. Skilled in preparing medications, filling prescriptions, administering vaccinations, and offering top-notch service. Knowledge of HIPAA regulations and pharmacy operations. Passed the PTCB exam and hold the state pharmacy technician license.

Education

Bachelor's Degree in Pharmaceutical Science - ABC University (2012 - 2016).
Certified Pharmacy Technician - ABC Board of Pharmacy (2017 - Present).

Work Experience

Lead Pharmacy Technician | XYZ Hospital (July 2019 - Present)

Dispense medications accurately according to physician orders while maintaining security protocols.
Verify the accuracy of prescriptions before dispensing them to patients.
Prepare sterile products such as intravenous admixtures.
Perform data entry into the hospital pharmacy computer system.
Answer patient questions regarding their treatment.
Administered vaccinations per state regulations.

Pharmacy Technician | DEF Retail Pharmacy (May 2016 - June 2019)

Assisted in training new pharmacy technicians on proper procedures and protocols.
Handled medication inventory management by organizing the stockroom and restocking shelves daily.
Maintained accurate records of prescriptions filled, patient profiles, and insurance information.
Provided excellent customer service by answering questions about drugs and health products.

Technical Skills

Familiarity with Pyxis, McKesson, and Cerner Pharmacy Systems.
Proficient in Microsoft Office Suite (Word, Excel, PowerPoint).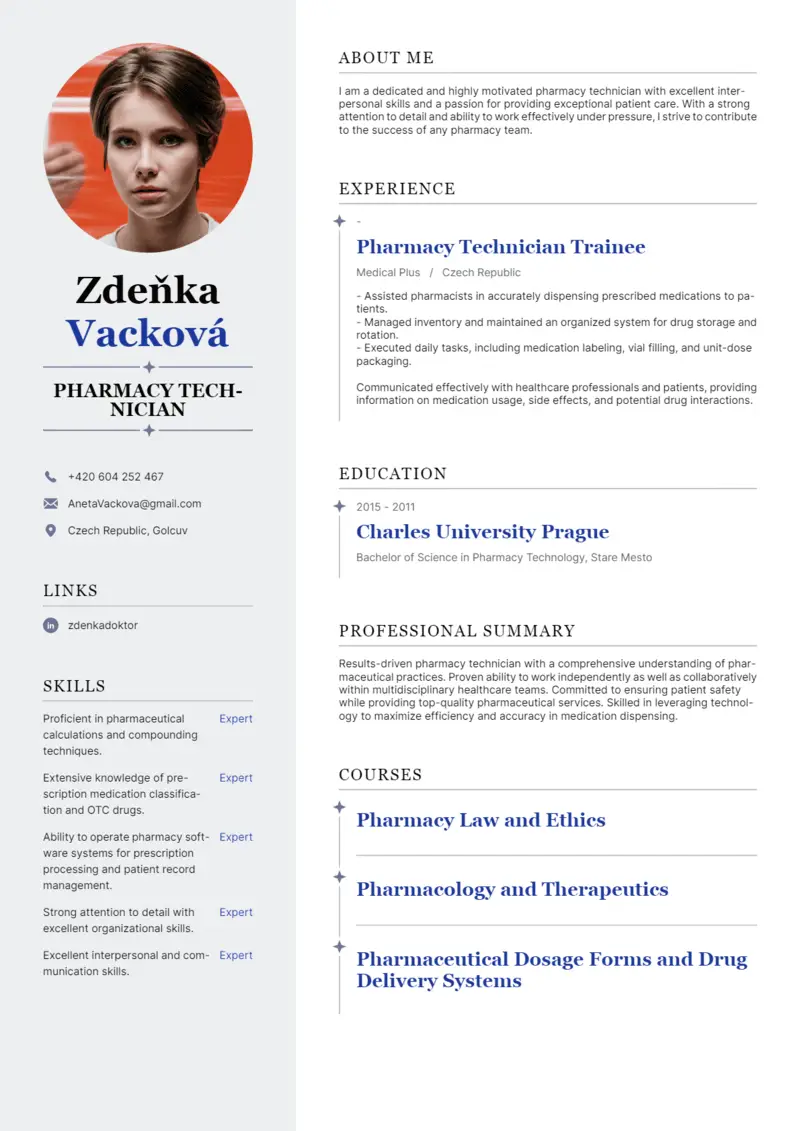 4. Formatting and style
When constructing a resume for a pharmacy technician, be concise and direct.
DON'Ts:
Avoid using complex language and acronyms. The reader may not be familiar with it as your resume will most likely be viewed by a hiring department specialist.
DOs:
Choose a font that is easy to read, like Arial or Calibri.
Utilize headings and bullet points to facilitate the skimming of your resume.
Include keywords from the job posting.
Look for words and phrases in the job description that match up with what you can bring to the table. This will put your pharmacy technician's resume ahead of other candidates who have not altered their documents accordingly.
5. Contact information
It is crucial to include personal and contact information in your pharmacy technician resume. It provides employers with the opportunity to reach out to you if they are interested in hearing more about your competency.
This information usually consists of:

your name;
current address;
telephone number;
professional email.
You should also state a professional title such as "Certified Pharmacy Technician" if applicable. Contact information should be easy to locate on the resume and has to be up-to-date. The email address you use must be professional and easy to remember.
You can always double-check how your resume compares to other pharmacy technician resume examples. This will help to determine whether you have included all the necessary elements or have forgotten something.
6. Work experience
To make a solid impression, you need to organize your resume sections in an efficient and attractive way.
Your work experience information has to be presented clearly and concisely. This will help employers to understand your background and pharmacy technician qualifications to determine if you are the right fit for the role.
The best way to display employment history is in chronological order, starting with the latest occupation.
You should mention key details about each previous position, such as job titles, company names, dates of employment, and an outline of your duties and responsibilities.
Pharmacy technician resume - sample work history:
Pharmacy Technician - ABC Pharmacy (Jan 2019 - to date)

Assist in stocking shelves and keeping track of inventory;
Organize filing of patient prescriptions and insurance forms;
Prepare medications for pharmacists to dispense.

Pharmacy Technician - DEF Pharmacy (Nov 2017 - Dec 2018)

Processed customer orders and maintained records of medications received and dispensed;
Assisted in preparing labels and performed checkout at the register.
Incorporating this level of detail into your pharmacy technician resume could be advantageous. In this way, employers get a better idea of your qualifications.
Conversely, providing too little information or formatting it incorrectly could lead to your application being overlooked.
7. Education credentials
Describe your most recent education first, followed by your previous degree or certification for pharmacy technicians. Ensure that each item is concise and accurately reflects your preparedness for the job.
"Pharmacy has been consistently rated the most trusted profession."
Use bullet points when listing your academics on your resume to stress on details of your academic journey.
Share selected coursework, recognitions received, GPA earned, etc. This allows employers to quickly scan and understand what you have achieved.
Pharmacy technician resume - example of the academic section:
Certified Pharmacy Technician (CPhT), American Pharmaceutical Association (2019, 2021)

Bachelor of Science in Biology, Wingate University (2020)

4.00 GPA, graduated Summa Cum Laude.
Distinguished Graduate of the Year and member of Rotary International.
Relevant coursework: Pharmaceutical Compounding, Pharmaceutics & Drug Delivery, Foundations of Clinical Pharmacology.
This listing demonstrates that the applicant has both the educational pharmacy technician qualifications and the professional certification necessary.
More to that, it shows high academic achievements as well as involvement with a volunteering organization.
Such an academic section reveals that this job-seeker is committed to helping others, devoted to their career path, and has kept up advancing their education.
To better structure this and other elements of your resume, utilize the online resume builder.
Use a resume template
How to become a certified pharmacy technician
Although not required, it is now very common to ask for certification for a pharmacy technician or a license for a particular state.
To become certified, you have to pass an exam. These credits can be earned through online classes or by attending seminars and conferences related to pharmaceuticals and healthcare.
The median annual wage for pharmacy technicians was $37,800 in May 2022, with the highest 10% earning more than $50,000 per year (U.S. Bureau of Labor Statistics).
For example, The Pharmacy Technician Qualification Exam (PTCE) is administered by the Pharmacy Technician Qualification Board (PTCB). The exam covers topics such as pharmacology, pharmacy law, pharmaceutical calculations, and other related areas.
Certification for a pharmacy technician resume - examples:

PTCB Exam by the pharmacy technician certification board;
National Healthcareer Association's CPhT Certification;
Institute for the Certification of Pharmacy Technicians CPhT Certificate;
National Pharmacy Technician Association's Certified CPhT Certificate.
The certificate confirms that you have met all of the requirements for becoming a certified pharmacy technician. Upon attaining your certification, it is important to maintain it by renewing your credentials. The timing depends on the type of certificate and the state where you work.
8. Pharmacy technician's skills
A successful resume showcases skills of a pharmacy technician, such as the ability to accurately dispense medications, maintain pharmacy inventory, and provide customer assistance.
Highlight the combination of aptitudes on your pharmacy technician's resume to indicate your competence to work with both, drugs and people.
Pharmacy technician resume - examples of soft skills:
Ability to collaborate with other professionals;
Exemplary communication skills;
Readiness to work in a fast-paced environment;
Attention to detail;
Problem-solving capabilities;
Confidence when dealing with customers;
Capacity to handle multiple tasks simultaneously;
Adaptability in changing situations.
Pharmacy technician resume - examples of hard skills:
Proficiency in HIPAA and pharmacy legislation and guidelines;
Completing prescriptions;
Computer literacy and record keeping;
Drug compounding and mixing;
Knowledge of medication dosages and uses;
Expertise in PrimeRx, and other prescription management systems;
Familiarity with pharmaceutical products and supplies;
Inventory management experience.
By demonstrating both types of pharmacy technician skills in your resume, you can show employers that you are an experienced professional with job-specific knowledge and excellent communication abilities.
9. Social media
Inserting social media links on a pharmacy technician's resume may not be the best decision.
Pros:
Profiles like LinkedIn will offer a more detailed overview of your candidacy as not everything could fit on a one-page resume.
It gives employers a chance to see your clients and managers' feedback and form a connection with you before they meet you.
Cons:
Do not share links to accounts like Facebook if it will not professionally present you.
Employers may be put off by too much personal information being shared on a resume.
When making your decision about sharing social media profiles on a pharmacy technician's resume, think of your media presence. List only those details that evidence your professionalism, ethics and deep knowledge of the industry.
10. Resume summary
For a pharmacy technician resume, an effective summary should illustrate your key proficiencies. It should be concise and to the point, stressing your best attributes and making it clear why you are the perfect fit for the position.
Pharmacy technician resume summary sample:

Highly competent pharmacy technician having over 5 years of know-how in both retail and hospital pharmacy realms. Possesses superior customer service, communication, and problem-solving capabilities. Skilled in accurately filling prescriptions, managing inventory, and ensuring accuracy in all activities. Seeking to leverage my knowledge and experience to provide exceptional care at ABC Pharmacy.
Tips for composing a resume summary for pharmacy technicians:
Be sure to call attention to relevant credentials, such as certificates or licenses that demonstrate your professional expertise.
Display your strengths by including any awards or recognition received during your career as a pharmacy technician.
Focus on achievements instead of just mentioning job duties on your pharmacy technician resume.
11. Additional information
Supplementing your resume with extra personal details furnishes hiring managers with a thorough understanding of the jobseeker's proficiency and pharmacy technician qualifications.
The pharmacy technician profession is projected to experience a growth rate of 5% from 2021 to 2031, adding approximately 22,400 new jobs (U.S. Bureau of Labor Statistics).
This can be especially beneficial when a candidate's qualifications are not enough to make a strong impression on the recruiter.
Extra details to put on a pharmacy technician resume - examples:
Mentioning hobbies can reveal your activities outside of work, providing recruiters with an idea of your character. For example, if you list "Yoga" as your hobby, it may signify that you have good discipline that could be beneficial in the job.
Highlighting courses on your pharmacy technician resume manifests your commitment to advancing your professional development. This could be courses related to pharmacology or customer relations, which would help express your dedication to the job.
Incorporating knowledge of languages can be of great benefit showing your understanding of how to interact with people from different cultures or countries. It can also indicate that you have an open-minded attitude.
Demonstrating awards might exemplify that you have been acknowledged for your success in the profession. These may include customer service badges, outstanding performance awards, and other recognitions.
Covering internships can demonstrate your experience in pharmaceuticals and healthcare, even if only on an entry-level basis. This will show your willingness for learning new skills as a pharmacy technician.
Providing references offers prospective employers additional information about you beyond what is included on the resume. These sources could be recommendation letters from employers or colleagues who have worked with you before. This will help paint a positive picture of you for recruiters.
Listing certificates exhibits that you have made a special effort to continue your education in the industry. It also indicates that you have done your research on how to become a certified pharmacy technician and took the initiative to complete such credentials.
12. Cover letter for pharmacy technicians
Formulating an engaging supporting letter for a pharmacy technician opening can help you set yourself apart from other contenders and acquire an interview.
A well-written cover letter will demonstrate to employers that you possess the expertise, experience, and excitement to thrive in the role.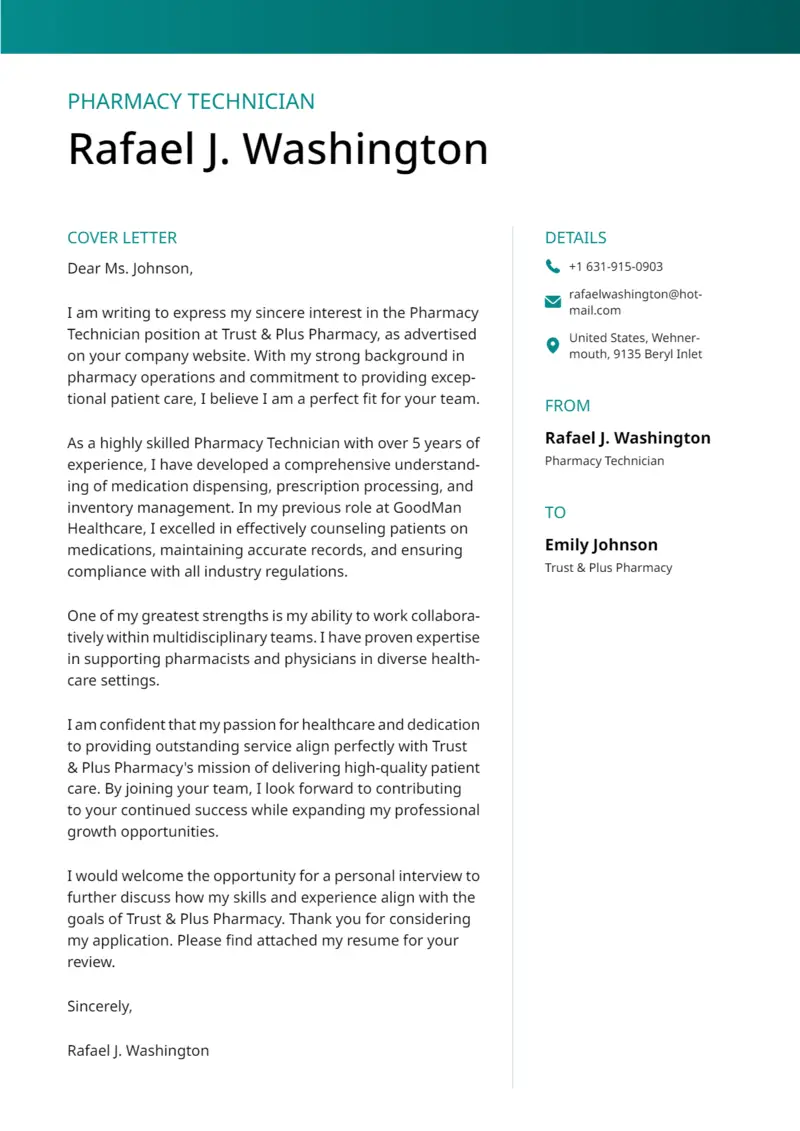 Tips for writing a pharmacy technician's cover letter:
Customize your cover letter. A cover letter ought to be adjusted to the particular job and should emphasize the pertinent skills, knowledge, and experience.
Express your enthusiasm and passion. Employers want to know that you are passionate about the role so demonstrate this in the accompanying letter.
Spotlight your achievements. Make sure to display awards or accomplishments that relate to the position.
Use relevant keywords. Incorporate applicable terms in your letter to illustrate the capabilities needed to succeed.
Keep it concise and clear. Your supporting letter should be brief and easy to read. Aim for one page of text with four or five paragraphs, focusing on only the most important information.
Do not repeat information from your resume. Instead, give deeper comprehension of why you are the ideal candidate for the job.
Bad example of a cover letter for pharmacy technicians:
Hi there!

My name is [Name] and I'm interested in becoming a pharmacy technician at [Company Name]. I've been working as a cashier at [Store Name] since last year so I think I have what it takes! Can't wait to hear back from you soon!
This is a bad example as it does not give enough information about why the job seeker is qualified.
Also, it disregards any particular qualifications or experience related to such positions and does not offer any insight into why they are applying or display enthusiasm for the role.
In the end, it fails to end with gratitude or other courteous sentiments.
Good pharmacy technician's cover letter example:
Dear [Hiring Manager],

I am writing to apply for the position of Pharmacy Technician at [Company Name]. I strongly believe that my qualifications, combined with my passion for helping others, make me an ideal fit for this role.

I have a Certificate of Pharmacy Technician issued by [Institution] and three years of experience functioning as a pharmacy technician in various retail pharmacies.

During my time in this role, I have sharpened my customer service competencies, as well as a thorough knowledge of commonly used medications and their associated side effects. In addition, I have acquired extensive knowledge of the specialized software utilized in pharmacies, such as medication databases and electronic record-keeping systems.

I am excited at the prospect of joining [Company Name] as I believe my skillset would be an asset to your team. I am reliable, organized, and detail-oriented, and take great pride in delivering outstanding assistance to both patients and staff. Besides, I can work efficiently under pressure while maintaining accuracy in all tasks assigned to me.

I eagerly await the opportunity to discuss my pharmacy technician qualifications further during an interview and express my appreciation for your careful consideration of my application.

Sincerely, [Name]
This is a good example of a cover letter for pharmacy technicians because it is well-crafted, succinct, and aligned with the job posting.
It spotlights pertinent experience, conveys eagerness, offers additional insight regarding what makes the applicant suitable for the job, and finishes with thanks for considering their application.
All these elements make this an effective cover letter that will be read and taken into account.
13. Cover letter with no experience
When crafting a cover letter for pharmacy technician positions with no prior experience, emphasize your pharmacy technician qualifications and capabilities.
It is also important to indicate your enthusiasm for the job opportunity as well as your interpersonal abilities.
Exemplify your pharmacy technician's skills, mention any certifications, completed training and internship, and other professional development you have achieved so far.
Ensure that you use simple language that communicates your value to the employer. Finally, don't forget to thank the employer for taking the time to read the letter at the end.
Overall, invest enough time and effort in writing a pharmacy technician's cover letter.
Examples of a cover letter for pharmacy technician entry-level jobs:
Dear Hiring Manager,

I am writing to express my interest in the pharmacy technician position at your facility. I am a recent graduate from the University of California, Irvine with a Bachelor's degree in [Major].

Throughout my studies, I had the opportunity to gain valuable knowledge and skills that I believe render me a suitable contender for this role. During my studies, I completed an internship at [Hospital/Pharmacy Name].

There, I acquired a strong knowledge of medications, their classifications, and their usage. I also have experience in measuring, counting, and pouring medication. Moreover, I am experienced in accurately reading and interpreting prescription labels and instructions.

I am proficient with computers and have experience working with automated pharmacy software systems, such as PrimeRx. Also, I have remarkable customer service aptitudes and can work effectively both alone and as part of a group.

I am confident that my credentials, knowledge, and skills as a pharmacy technician make me an ideal candidate for this position. Therefore, I would be grateful if you could arrange an interview so that we can discuss my candidacy further.

Thank you for your time and consideration.

Sincerely, [Your name]
You can refer to this example as you write your supporting materials or use the cover letter builder to simplify the process!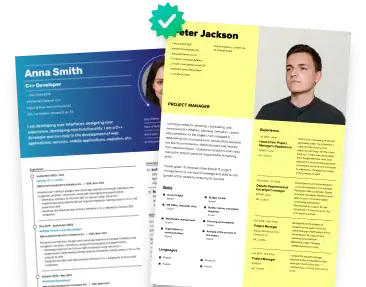 14. Proofreading
Making certain that your resume for pharmacy technician and accompanying letter are polished before sending them to the recruiters is paramount to the success of your job search.
Not only does it demonstrate your attention to detail, but it also conveys professionalism and confidence. A poorly written application may be seen as a lack of care or effort, resulting in your candidacy being disregarded.
To proofread your pharmacy technician resume, start by reading through both documents slowly and carefully. Double-check that all names, titles, dates, and contact information are correct.

Check for any spelling errors or typos. Review your materials a few times If possible, get somebody else to look over them too. They may notice an error you missed.
Finally, review the requirements listed in the job posting one last time before submitting your pharmacy technician resume and cover letter. Making sure that your documents are tailored specifically for the specific position.
Conclusion
This article provides instructions on how to craft a pharmacy technician resume. By adhering to the advice and tips in this guide, you can construct an effective and professional resume that will give it an advantage over other applicants.
In addition, consider using the online resume builder to simplify the process of creating a professional document. Customize the sample pharmacy technician resume templates so you can increase your chances of getting the job you want.
Compare your document with the existing pharmacy technician resume examples and see how yours stands out!
So what are you waiting for? Begin building your pharmacy technician resume now!