"Every day, in every city and town across the country, police officers are performing vital services that help make their communities safer."
A great police officer's resume consists of a summary of professional achievements, work history, and key skills. However, working on it may seem challenging at first.
The article delivers guidelines for composing an effective police resume.

It starts by emphasizing the importance of the right format.
Then, it outlines the main elements of a resume, going into detail about what should be included in each section.
Lastly, it gives tips on cover letter writing.
Each section is supported with specific police officer's resume examples to help you get a better picture of what your final result should look like.
With the proper guidelines, you will be able to create an impressive document that could secure you your dream job.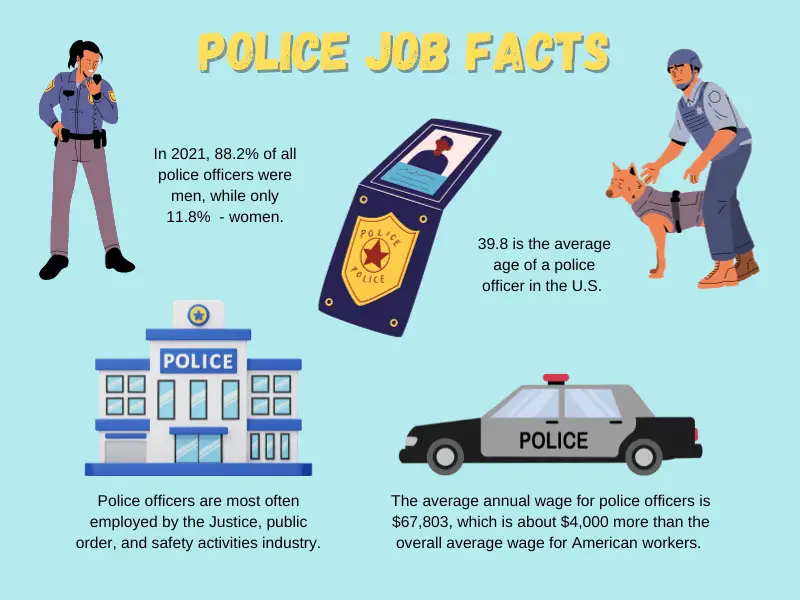 1. Builder recommendation
Are you looking for a way to make the resume crafting process easier while not sacrificing quality? Build a pro-looking document with a ready-made police officer resume template!
Resume Trick offers a wide range of templates. Rather than working on your police resume from scratch, choose a design and get started in minutes.
Each police officer resume template has been built with the job market requirements in mind, so you can be sure you have what employers seek.
The platform also provides advice on how to best optimize your police resume. The AI suggestions will help you showcase your personality and qualifications.
With the fast and secure online system, editing a police officer's resume becomes easy, so you can ensure yours is always up-to-date.
Why not try Resume Trick today? Create a powerful resume that will help you land the job of your dreams!
2. Police officer resume examples
Summary: Highly experienced police officer with over 12 years of service in the US Army. Trained in crisis management, criminal investigation, and community relations. Skilled in multitasking and working under pressure to handle complex tasks. Solid communication and problem-solving skills.

Education

B.S. in Criminal Justice, University of California (2006)
Advanced Law Enforcement Training, US Army (2008)

Work Experience

Police Officer, US Army | San Jose, CA (2008 - 2020)

Responded to urgent calls and reported to crime scenes.
Investigated suspicious activities and conducted interviews.
Developed strategies to prevent criminal activities.
Monitored public areas and responded to threats.
Collaborated with the legal department to ensure compliance with the law.
Educated the community on safety measures and assisted with emergencies.

Police Trainee, US Army | San Jose, CA (2006 - 2008)

Acquired knowledge of police procedures and protocols.
Performed administrative duties, including filing paperwork and preparing reports.
Maintained a safe environment by patrolling public spaces and responding to emergencies.
Performed data entry for criminal records and maintained updated logs of activities.

Skills

Crisis management;
Criminal investigation;
Community relations;
Tactical operations;
Conflict resolution;
Computer proficiency.

Certifications/Licenses/Awards

Commendation Award, US Army (2018)
CPR Certification, American Red Cross (2008)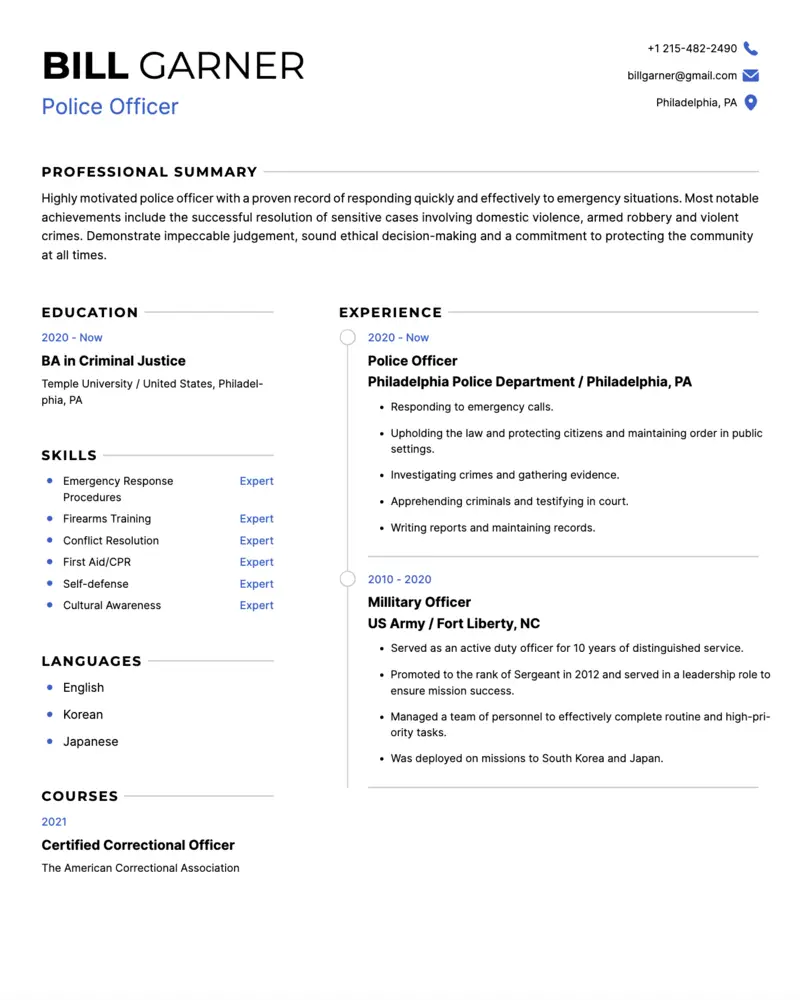 3. Style and format
In your police officer resume, emphasize the qualifications pertinent to the role you seek. Utilizing specific occupational terminology will demonstrate your expertise.
Use clear resume formatting with a readable font and pick an adequate size.
Leave enough space between lines, and do not overload the page. This will simplify the process of going through your resume.
On a population-adjusted basis, there are 3.5 police officers for every 1,000 Americans. Louisiana has the most police officers per 1,000 residents - 4.78. (Safe Home)
4. Contact details
Sharing contact information in a police officer's resume is needed to leave the way to get in touch with you.
Personal data should consist of your full legal name, current address or location, reachable phone number, and professional email.
You may add any extra details you wish, such as your birth date, disabilities, or political affiliation. The inclusion of a LinkedIn profile is also an option if you have one.
These details will ensure that the employer has all the necessary information to reach out to you when inviting you for an interview.
5. Work experience
When composing a police officer resume, it is critical to itemize your experience to properly exhibit your capabilities.
"Law enforcement officers are never "off duty". They are dedicated public servants who are sworn to protect public safety at any time and place that the peace is threatened. They need all the help that they can get".
To effectively exemplify your competence in the field, start by listing each job in reverse chronological order. Begin with your current or most recent job first and then write down the older position below.
Ensure you include the company, the dates you worked there, and a brief overview of the role. Providing more detailed descriptions of each job can be especially beneficial when applying for a law enforcement position.
Police officer resume - sample employment history:
Police Sergeant at ABC Law Enforcement Department

Responded to emergency calls and led investigations as needed.
Managed daily operations of eight policemen.
Maintained compliance with department regulations and procedures.
Developed and implemented crime prevention strategies.

Police Officer at XYZ Police Department

Addressed and assisted other officers on active duty.
Conducted investigations into criminal activity.
Assisted in apprehending suspects and issuing citations.
Developed solid communication skills by interacting with citizens.
Use a list of key responsibilities or accomplishments applicable to the job. This will allow you to highlight police officer's skills on your resume.
6. Education details
The most common majors achieved by police officers in 2021 were Protective Services (127,256 people), Business (43,192 people), and Social Sciences (37,071 people). (Data USA)
In terms of organizing education information for a police resume, it is important to follow a few fundamental principles.
First, catalog your credentials chronologically, beginning with the most recent one. This will help employers better understand the trajectory of your educational journey.
Second, provide specifics. State all your certifications and degrees, including the dates awarded and the schools that issued them.
Finally, consider using bullet points to break up the information on your resume. This will make it easier for recruiters to swiftly examine your academic history.
Below are 2 good police officer's resume examples of the education section.
Example #1:

Master of Science in MSc Justice Studies (University of California - Berkeley, CA), 2020

Graduated top 10 of the class.

Bachelor of Science in Criminology (University of West Georgia, GA), 2018

Minor in Law Enforcement Policy - 2018;
Certificate in Police Training - 2016;
Certification in Police Tactics - 2015.
Example #2:

Associate of Arts in Criminal Justice (Arizona State University, AZ), 2014

Certificate in Law Enforcement Procedures & Protocols - 2013.
By following these principles, you can ensure that prospective employers will get an accurate and detailed picture of your background and qualifications to work as a police officer.
Try a police officer's resume template
7. Police officer's resume skills
"The biggest qualification to be a good police officer is to have a high degree of emotional intelligence."
When indicating qualifications on a police resume, make sure that the skills are relevant to the job duties and responsibilities. Consider adding both, hard and soft skills, exemplifying your professional and interpersonal abilities.
Examples of hard skills:
Firearms training and use;
Arrest, search, and seizure laws;
Crowd control techniques;
Patrol procedures and strategies;
Computer literacy and software use;
Defensive maneuvers and handcuffing techniques;
Report writing and documentation procedure;
Evidence collection and preservation methods;
Surveillance tactics and tracking processes.
Examples of soft skills:
Strong communication abilities;
Flexibility to work in various environments;
Professionalism;
Self-motivation;
Conflict resolution;
Stress management;
Compassion and empathy;
Patience and understanding;
Respect for diversity.
8. Social media links
A police officer's resume may provide links to social media accounts on Twitter, Instagram, and Facebook. This can be beneficial as it allows officers to build their public persona, likely leading to more job opportunities.
At the same time, however, policemen must be aware of the possible consequences of having their work on social media. Posts might be misinterpreted or taken out of context. Any inappropriate comments could lead to disciplinary action or even dismissal from the force.
Pros:
Social media can help reveal how police officers interact with people and handle difficult situations.
It allows recruiters to better understand an officer's professional behavior.
Applicants can use it to feature their achievements and establish relationships with prospective employers and citizens.
Cons:
Excessive use of social media may be seen as unprofessional by some employers.
It could also lead to privacy concerns if the officer is not careful enough about what they share online.
There is also the risk that an applicant's posts may reveal sensitive information that could damage the department or individual.
It is mandatory for police officers to carefully consider how they present themselves on social media and what kind of content they post.
"When residents feel like they can talk to the police, officers can stop crime before it starts."
For instance, an officer could choose to post about newsworthy cases they have been involved in or share what career development courses they have attended.

Alternatively, they could focus on sharing stories and experiences from their daily lives that indicate their enthusiasm for the occupation.
Overall, the candidate must assess the potential rewards and drawbacks before deciding whether or not to include these links in their police resume.
9. Resume summary
An impressive resume summary for a police officer must reflect your key qualifications - understanding of the law, competence in various tasks, and excellent interpersonal skills. Furthermore, mention awards or commendations the officer has received.
Here are a few tips on crafting a noteworthy statement:
Focus on accomplishments. Highlight your most impressive recognitions in law enforcement. This will illustrate your experience and knowledge in the field.
Use relevant keywords. Incorporate job-related words for describing yourself to ensure it is picked up by applicant tracking systems (ATS). Doing this will guarantee your resume will be viewed by recruiters.
Keep it brief. The police resume summary should be short and to the point – no longer than 4-5 sentences. Keeping it concise ensures that the hiring manager can quickly scan through and pick out the most important points about your background.
Police officer resume summary sample #1:

Extensive experience in public safety operations. Demonstrated proficiency in patrol operations, investigation of suspicious activities, and tactical response to emergencies. Proven record of maintaining the highest levels of community engagement and residents' trust. Possess an excellent understanding of law enforcement procedures, firearms operations, defensive tactics, criminal codes, and evidence collection protocols. Committed to providing superior service to ensure the safety of all citizens.
Police officer resume summary sample #2:

Accomplished police officer possessing 10+ years of experience as a policeman. Expertise in responding to urgent matters, crowd control, and apprehending suspects. Skilled in providing exceptional service and de-escalating tense situations. Earned several awards for remarkable achievement and commitment to service.
10. Additional information
States with higher violent crime rates tend to have more police officers per capita. This could suggest that some states are attempting to reduce crime by adding more police to their forces. (Safe Home)
Anything not mentioned above but worth mentioning in your police officer's resume will contribute to creating a comprehensive overview of your person. Supplementary resume details offer HR specialists one more approach to assess your suitability for the role.
Consider listing the following, if applicable:
Hobbies;
Courses;
Languages;
Awards;
Internships;
References;
Certificates.
These attributes can also reveal particular qualifications or honors you have received that apply to the police officer position you are seeking.
Moreover, they allow employers to see if you have additional abilities that could benefit their organization.
Build your police officer's resume now
11. Cover letter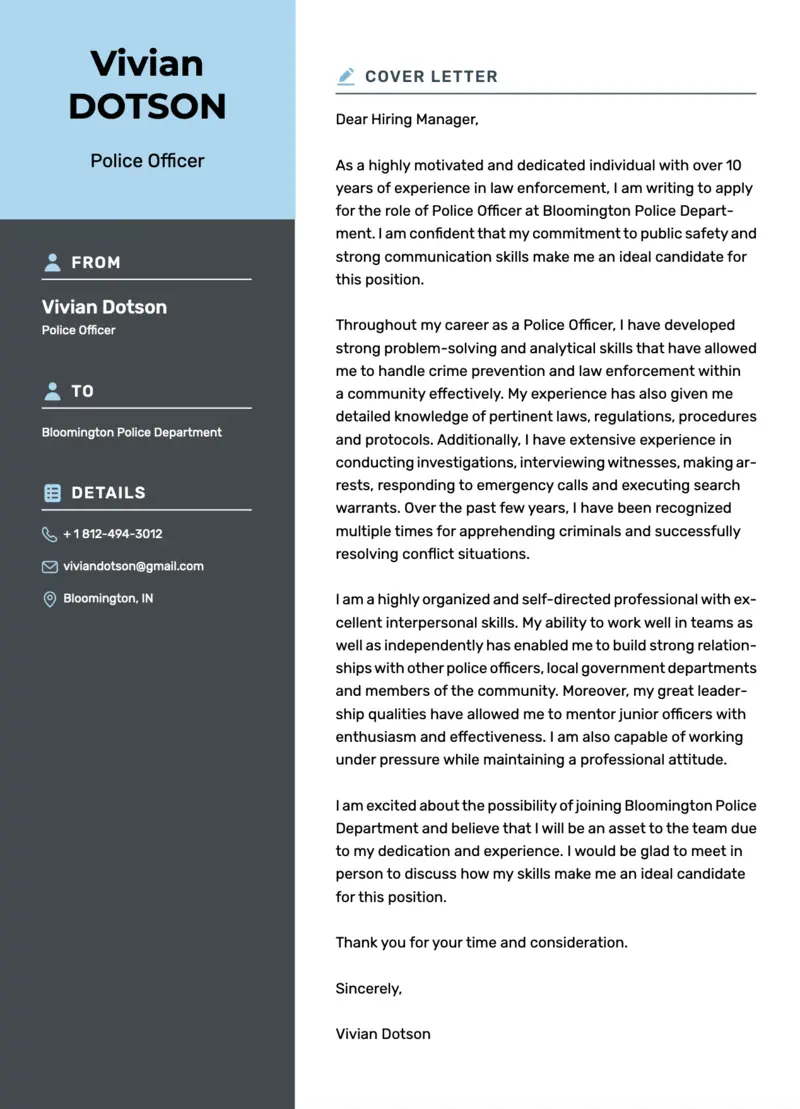 Writing a cover letter is an integral part of the application process when applying to become a police officer.
A well-crafted supporting letter for a police officer's resume can help you distinguish yourself and explain why you may be the ideal candidate.
Below are the things to keep in mind when drafting your cover letter:

Ensure your letter is tailored to the specific job. It should explain your experience and capabilities directly related to the job requirements.
The ideal length should be no more than one page. Ensure to include keywords from the job listing, as recruiters use these to find the most qualified applicant.
Always include a professional greeting at the beginning of the letter. If possible, it should be personalized to the hiring manager and addressed by their name and title.
Write an introduction that shows why you are interested in the vacancy and what makes you the right fit.
Provide evidence of your qualifications. This is where you give examples of your success in similar roles or tasks.
Remember to include quantifiable data, such as numbers and percentages whenever possible.
Close the supporting letter by expressing your enthusiasm for the position and summarizing your attributes of an ideal candidate.
Add a final call-to-action message and thanking them for their time and attention.
Once you complete your letter, proofread it multiple times before sending it. Such an approach will guarantee your document has no typos or grammar mistakes.
Police officer cover letter - bad example:
To whom it may concern:

I'm interested in the police officer role at [Company Name]. I'm prepared because I'm strong, intelligent, and committed to service. I'm sure these qualities will make me successful if hired by [Company Name].

I'm also experienced when it comes to law enforcement since I studied it in college. Also, I served in some areas as a volunteer police officer over the summertime during my college years. Besides, I have attended several seminars to stay updated on all new procedures.

If granted the chance to join [Company Name], I'm sure that my commitment to service and extensive knowledge will benefit the community.

Sincerely yours, [Name]
This example is not compelling. It does not explain why the job-seeker is interested in or how their qualifications are applicable to this particular role.
Furthermore, it does not include concrete examples or accomplishments from past roles. Hence, there is no evidence of their capabilities.
Finally, there is no call-to-action at the end of the letter. Such a letter appears less professional and may end up being rejected.
Police officer cover letter - good example:
Dear [Hiring Manager],

Submitting my application for the police officer position with [Organization Name]. With my law enforcement background and passion for justice, I am certain I would be an excellent addition to your team.

I have earned a Bachelor's in Criminal Justice from [University Name]. Additionally, I have over 5 years of experience working as a police officer with [Previous Employer].

I have demonstrated skills in answering urgent calls, surveying designated regions, investigating criminal activity, enforcing laws, and providing assistance at public events. My abilities have been recognized by awards from supervisors for exemplary performance and dedication to duty.

I firmly believe that my knowledge and experience will be an asset to [Organization Name]. I am keen to explore further how I may be of service. I appreciate your time and consideration.

Sincerely, [Name]
This police officer cover letter example excels as the candidate furnishes relevant details about qualifications and past experience while being enthusiastic about the role they are applying for.
It also includes key terms from the job advertisement which proves that the applicant has scanned through it carefully.
Lastly, all grammar and spelling errors are corrected, showing meticulousness.
Cover letter example of a police officer with no experience:
Dear [Hiring Manager's Name],

I am applying for the post of Police Officer at [Company Name], as seen in the job posting on [Job Board]. Although I do not yet have a professional background in law enforcement, my academic experience and strong character make me a qualified applicant.

I graduated top of my class from [University] with a degree in Criminal Justice in 2018. I developed an understanding of criminal behavior and law enforcement processes through coursework. This coursework covers Criminology Theory & Practice and Law & Justice Systems in Society among others.

Additionally, throughout college, I participated in extracurricular activities, i.e. Model United Nations, which helped me develop essential skills. Those abilities are public speaking and critical thinking, which would benefit me in this role.

I am passionate about protecting people within my community. I am committed to serving with integrity and respect if given this opportunity at [Company Name]. Grateful for your attention; I eagerly await your response.

Sincerely, [Name]
The above example is good because it highlights educational qualifications related to criminal justice while also conveying excitement for joining this organization specifically.
It also demonstrates commitment by mentioning extra-curricular involvement and is well-written to make a good impression as a potential hire.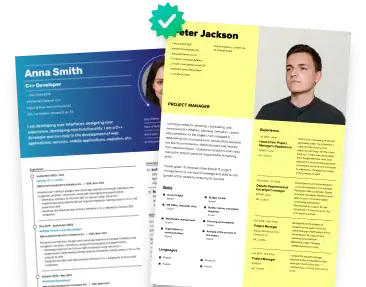 12. Proofreading
"To me, there are only 5 real jobs in America: Police Officers, Teachers, Firefighters, Doctors, and the Military Service."
Polishing your police officer's resume and cover letter is imperative when applying for a position in law enforcement.
Use proper grammar and words. It will reflect positively on your overall professionalism and attention to detail, two qualities that are important to have as a police officer.
There are several ways to proofread the law enforcement resume and accompanying letter:

Take the time to read through it multiple times, noting any errors you may find.
You can also have someone else go over it for a second opinion.
Use checking tools such as spellcheckers or grammar checkers to catch mistakes you may have missed.
Overall, rereading your police officer's resume is an essential step in presenting yourself in the best possible light when looking for a job.
It shows potential employers that you take care of the details and can be trusted to handle tasks accurately.
Conclusion
Composing a successful law enforcement portfolio requires an effective combination of technical knowledge and creativity, regardless if it is an entry-level police officer resume or an application of an experienced professional.
At its core, the resume for a police officer should be crafted to showcase the candidate's credentials and expertise. Utilizing the tips from this article, you can create a police officer's resume that accurately reflects your qualifications and experience.
Try the online resume builder to increase your chances of landing an interview for the perfect job!