Are you ready to share your expertise and help others succeed? Writing a tutor resume can be the first step in landing the perfect job that allows you to do just that. But how do you make your resume stand out among the rest?
This article provides a step-by-step guide to help you write a tutoring resume that highlights your skills and experience.
No man is born wise; but wisdom and virtue require a tutor.
We'll provide you with tips and insights on how to craft a standout tutor resume that will help you land your next job.
Whether you're a seasoned tutor or just starting, this guide will help you put your best foot forward and make a strong impression on potential employers or clients.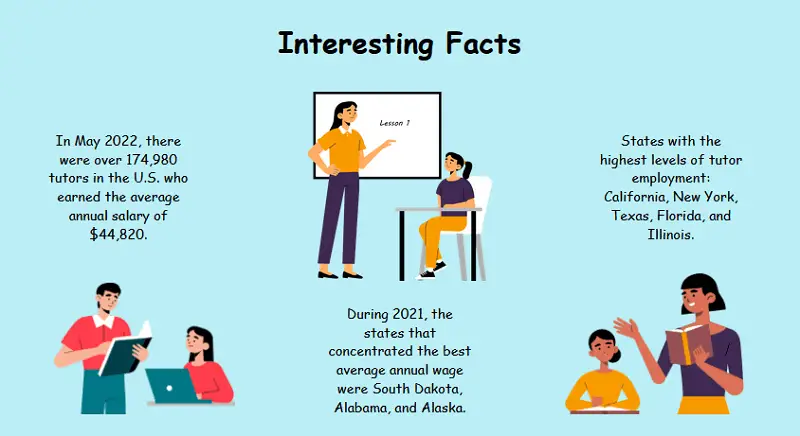 How to write a tutor resume: example
This article focuses on the structure of a tutoring resume, listing key elements such as:
Contact information;
Education, certification & training;
Work experience;
Skills & qualifications;
Summary statement;
Professional affiliations & hobbies.
Additionally, it offers tips on how to make the resume distinctive from others, such as using action verbs and industry-related keywords.
Finally, the article emphasizes the importance of proofreading before submitting the resume. And the necessary steps to write a perfect cover letter.
These tips will help you build a strong resume that differentiates you from other applicants and effectively communicates your teaching skills.
Resume builder
Are you looking for a method to make your resume conspicuous? Have you ever considered using a ready-made tutor resume template?
A professional resume template provides an effective way to quickly construct an impressive, eye-catching document that showcases your qualifications and background. Our online resume builder can provide you with an array of tutor resume templates tailored to the job market.
Utilizing it will save you time. With a few clicks, you can create a document that's both aesthetically pleasing and easy to read. You'll also have access to tutor resume examples and guidance on how to write your application even better.
You won't have to worry about making formatting mistakes or forgetting to include important information. Furthermore, there would be no need to spend hours writing your content - the AI writing assistant will help you to build a resume.
A well-crafted resume plays an important role in the recruitment process when it comes to making an impression on future employers. Make sure yours stands out by using Resume Trick!
Tutor resume sample
Professional summary

I am an experienced Academic Tutor with a passion for helping students reach their full academic potential. My experience includes working with students of various ages and educational backgrounds. Additionally, I have experience in creating lesson plans and practice materials to help reinforce learning concepts. I have a strong record of success, evidenced by my ability to motivate students to reach their highest levels of achievement.

Education

Bachelor's Degree in Education – ABC University, June 2013 - August 2017

Master's Degree in Education – XYZ University, August 2017 - July 2019

Experience

Private Tutor, ABC Learning Center, September 2022 - Present

Tutor elementary and secondary school pupils in Mathematics, English, Science, and Social Studies.
Develop customized lessons for each student according to their individual learning needs.
Implement differentiated instruction to meet the needs of various student levels.
Encourage students to acquire study skills such as time management and organization.
Assist students in establishing test-taking strategies.
Provide feedback on student progress and achievements.

Grade 8 Teacher, XYZ School District, July 2019 - August 2022

Taught a variety of subjects including Math, English, Social Studies, and Science.
Crafted lesson plans to captivate students and make learning enjoyable and interactive.
Monitored student progress and provided timely feedback on assignments.

Certifications/Awards

Certified Teacher – ABC School Board, 20XX

Skills & Abilities

Excellent communication skills with the ability to communicate effectively with adults and children of all ages.
Ability to work under pressure while meeting deadlines.
Proficient in MS Office Suite (Word, Excel, PowerPoint).

References

Available Upon Request
Style guide
Always use clear and appropriate words for describing yourself. Choose the keywords associated with the position throughout your resume for tutoring to ensure that it is optimized for applicant tracking systems (ATS).
Useful phrases:

Highly knowledgeable. Demonstrated expertise in instruction, coaching, and guidance to students.
Passionate educator. Developed effective lesson plans and teaching materials to engage learners and facilitate learning.
Committed to student success. Focused on creating a stimulating learning atmosphere and aiding kids in accomplishing their ambitions.
Outstanding communicator. Established strong relationships with students, faculty, staff, and the community.
Skilled in differentiation. Tailored instruction to meet individual student needs and maximize potential.
Experienced tutor. Instilled confidence in students with one-on-one tutoring.
Dedicated mentor. Mentored students in academic success strategies and personal development skills.
Creative problem-solver. Applied imaginative approaches to facilitate student comprehension of difficult concepts.
Documented performance history. Consistently achieved positive results from the implementation of innovative methods.
Adaptable team player. Worked collaboratively with educators, parents, and administrators to support student success.
Enthusiastic learner. Continued professional development activities to stay abreast of best practices in education.
Contact information
When entering personal information in a tutor's resume, be concise and accurate. Include your full name, current address, email, and telephone number. You may also add your LinkedIn profile or other professional website URL.
Make sure the information you provide is current. Employers may want to reach you to set up an interview or discuss the job further.
Tutor experience
The number of students receiving tutoring services has increased significantly in 2022, according to the Pew Research Center report.
How to put tutoring on a resume in a right way? it is important to have an effective outline and organization of work experience section. The best method to do this is to record your work history in reverse chronological order.
It is also important to use bulleted lists to provide specific examples.
For example, if a candidate is working as a math tutor at an after-school program, they could list the experience this way:
Math Tutor at After-School Program (2020-present):

Assist students with their math homework;
Lead small group math events;
Develop individualized learning plans for each student.
This type of work listing can be beneficial when applying for a tutoring job. It provides information about the relevant qualifications.
Sorting work background incorrectly can be detrimental to the application process.
How not to do
For example, simply writing "Tutor at After-School Program" without giving any details or examples of actual job duties could make it difficult for employers to assess the individual's abilities and qualifications.
Education
When writing your tutor resume, the key is to include and organize your information efficiently. Education is one of the most important qualifications a tutor can have. Therefore, it should be emphasized in your resume.
It is better to chronicle your training backward. This will make your resume easier to read, and give the reader a better understanding of your academic background and other education issues.
For example, if you are a recent college graduate looking to become a tutor, you should list your degree first. After that, you should include any relevant term papers or certificates completed during college.
This is how to correctly organize your educational history:
Bachelor's Degree in Maths, ABC University (2020)

Completed Courses: Foundation of Maths, Calculus I & II, Linear Algebra.
Summa Cum Laude.

High School Diploma from XYZ (2016)

National Advanced Placement Scholar Award.
By following this resume format, you can help employers to swiftly comprehend your academic qualifications and successes. Additionally, putting down projects related to mathematics will illustrate your knowledge and skills necessary for teaching math concepts.
Here is an example of how NOT to format your education section on a tutor resume:
Bachelor's Degree in Maths from ABC University (2020).
Achieved the highest distinction as a graduate.
Graduation Credential from School (2016).
National AP Scholar Award.
Here, the project has been placed after other educational information, making it hard for employers to figure out what mathematics-related classes you have taken. Consequently, the courses being out of order could lead to confusion for readers.
Verify that all relevant information is listed in sequence with clear bullet points. This will ensure that employers can quickly understand your qualifications and accomplishments when reviewing your resume for a tutor position.
One in five high-income parents have hired a tutor to help their child improve language, math, and reading skills.
Tutor resume skills
Include both soft and hard skills in a tutoring resume to demonstrate the full range of your professional abilities.
Soft skills refer to personal attributes such as communication, teamwork, problem-solving, leadership, adaptability, and time management.
You can showcase these skills by providing examples of how you have effectively communicated with students and parents, collaborated with colleagues, solved problems in the classroom, or managed your time efficiently.
Hard skills are technical skills that you have acquired through training or education.
For a tutor position, this may include:
Expertise in a subject matter;
Proficiency in using certain software or tools;
Certification in a teaching method.
Make sure to list these skills in a concise manner, and highlight how they have helped you in your previous teaching experiences.
Remember to list only those skills that are relevant to the job you're applying.
Tutor vs teacher skills
Tutors and teachers both play an important role in providing students with the education they need to succeed. However, there are some key differences that entry-level job seekers should be aware of when writing a tutoring resume.
Teachers are typically found in a school or college setting. They are responsible for lecturing classes of students, grading assignments, and creating lesson plans. They must also adhere to school policies, have a license and create a safe learning environment for their students.
Tutors, on the other hand, are often hired on an individual basis. They usually work one-on-one with a student or small group, giving specialized instruction in a particular subject or area. Tutoring is often focused on helping students develop skills and understanding that may have been missed in the classroom.
On a tutor resume, it is important to:
Emphasize the ability to provide individualized support and instruction to students.
Demonstrate how they can assist students in developing critical thinking skills and academic success.
Be prepared to work with parents and help them understand how best to support their child's learning needs.
Tutor resume soft skills:
Communication;
Organization;
Problem-solving;
Patience;
Creativity;
Adaptability;
Self-motivation;
Time management;
Leadership;
Conflict resolution.
Tutor resume hard skills:
Teaching experience;
Technology proficiency;
Data analysis;
Curriculum development;
Assessment & evaluation;
Classroom management.
Write a Tutor Resume
Social media
Inclusion of social media links on a tutor resume example may be beneficial in certain cases.
It depends on how relevant your accounts are to the tutor position you are applying for. If the job will require you to help students with online learning, or if you will use various platforms to communicate with students or parents, then it may be worth mentioning.
However, it is not necessary to include your social accounts on your resume if they are not directly related to your tutoring role.
Pros:
It is an advantageous method to show off your teaching abilities and qualifications.
It can help establish your personal brand and create a sense of trust with possible employers.
Offering a chance to join with other tutors in the same sphere.
Cons:
It may be seen as unprofessional or as an invasion of privacy.
Staying on top of all the platforms and making sure that posts are professional and fitting might be difficult.
This task can take up time and divert attention away from other key duties like lesson planning.
Examples:
A tutor who works with youngsters should consider creating a TikTok account to share fun learning activities with their students.
A professional who teaches more advanced topics might think about creating a LinkedIn account to network with other professionals.
Tutor resume summary
A great resume summary for a tutor should precisely illustrate your competencies, background, and qualifications. It must be concise and compelling, providing potential bosses with quick insight into why you are the ideal candidate.
Example:

Experienced tutor with 5+ years of teaching English and Math to students aged 8-14. Possessing excellent communication and interpersonal skills, able to create engaging lessons and foster a positive learning environment. Proven track record of successfully preparing students for exams, achieving high levels of satisfaction from parents and students alike.
Here are the tips on writing a tutoring resume summary:
Focus on the most relevant information. Use this section to provide a summary of your skills, experience, and qualifications. Be careful not to mix up the resume summary and the objective.
Make sure it is tailored to the job description. Whenever you apply for a new position, tailor your summary to match the occupation you want to fill. This demonstrates that you understand the requirements of the role.
Use action words. Choose powerful words like "developed", "created" or "implemented" when talking about your accomplishments or experiences. This will help prove your level of commitment and professional success in a succinct way.
University tutoring began formally in 1700. The classes consisted of a tutor and 1 or 2 students who met on a regular basis. The tutor guided their learning and checked that they were ready for university exams.
Extra information
This data can be helpful to the recruiting team in assessing the candidate's character and abilities, and in determining whether the candidate is a good fit for the position.
It is also important because through this information HRs differentiate between candidates and make informed decisions during the hiring process.
| Block | Description | Example |
| --- | --- | --- |
| Hobbies | They can expose the applicant's interests and suggest an all-encompassing and varied identity. It also shows interests other than tutoring, which can be beneficial as tutors need to be able to work with various types of students. | Playing chess can show that you understand strategy and problem-solving. |
| Courses | Indicates steps taken to further their education and expertise in topics related to tutoring. This demonstrates a strong academic background and an understanding of the subject matter they are teaching. | Educational Psychology, Learning Strategies, or Curriculum Design. |
| Languages | Displays that the applicant is bi- or multi-lingual and can converse with pupils and their parents from different backgrounds. It also implies that they have cultural awareness and can adapt their teaching methods accordingly. | Spanish, French, Mandarin Chinese, or Arabic. |
| Awards | Illustrates the remarkable achievements in their field and the admiration of their peers. | For example, a tutor could list honors such as the Tutor of the Year Award or Excellence in Teaching Award. |
| Internships | Highlights prior experience working in an educational setting. Therefore, such candidates may have more expertise in educational trends and techniques. | Tutor Ambassador, IDIL graduate program |
| References | Gives recruiters the ability to receive comments from individuals who are familiar with this applicant's work ethic and teaching style. | Recommendation letters from former employers, colleagues, professors, or clients who have seen their work firsthand. |
| Certificates | Reveals that this person has accomplished formal training courses pertaining to tutoring. These certificates can be proof that the person has acquired specific skills. | TESOL certification, Teacher Certification Program certificate. |
Tutor resume cover letter
Compiling an impressive cover letter for a tutoring position is essential to making a positive impact. A well-written letter conveys your passion, qualifications, and experience and makes employers want to discover more about you.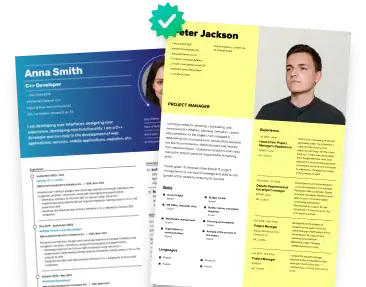 Follow these tips to write a cover letter that makes your application stand out:
Start with an attention-grabbing introduction. Your opening sentence should be brief but compelling and set the tone for the rest of your letter.
Focus on your relevant qualifications. Describe that you are uniquely qualified and explain how your experiences make you an ideal candidate.
Demonstrate your enthusiasm for the role. Emphasize any volunteer or teaching job that illustrates your dedication to aiding others in their education.
Include specific facts and details to support your claims. Use concrete examples whenever possible to display your skills and accomplishments.
Make sure your letter is free of errors. Proofread it several times to check for spelling and grammar mistakes, as well as typos or formatting inconsistencies.
Keep it concise and professional. Aim for no more than three paragraphs, keeping each one concise and focusing on relevant information only.
End with a strong closing paragraph. Detail why your qualifications make you the perfect fit and express gratitude for the opportunity to be considered.
Good Example:
Dear [Hiring Manager],

I am submitting my application for the Tutor position at [Company Name]. I strongly believe that my extensive teaching experience makes me a qualified candidate for this role.

I have taught students from elementary school to college level in both classroom settings and one-on-one tutoring sessions. This has given me a well-rounded background in teaching techniques and subject areas such as math, science, English, history, and Spanish.

In addition, I have awesome organizational skills coupled with; strong interpersonal abilities; I am able to effectively assess student needs while providing meaningful feedback in order to promote learning success.

My passion for teaching drives me to help students achieve their academic goals in an engaging way that promotes critical thinking and understanding of the material. I believe my unique combination of qualifications makes me an excellent fit at [Company Name].

Thank you for taking the time to consider my application; I hope to hear from you soon about these possibilities.

Sincerely,

[Your Name]
This cover letter sample is effective because it provides specific examples of the writer's qualifications, such as teaching experience, communication skills, organization, and passion, that make them ideal for the role.
The letter also includes a strong closing statement that reaffirms why they are the ideal candidate and expresses gratitude for their time and consideration. This creates a favorable view of the applicant's expertise and desire to work with your company in particular.
Bad Example:
Hello there! I would like to apply at [Company Name]. I'm sure I would be perfect because I'm really great with children! Also I'm fond of helping people learn new things so this job looks like it's right up my alley! Please hire me! Thank you!
This example is ineffective because it does not focus on any experience that would qualify them as a tutor or demonstrate their commitment to helping others learn.
Instead, it simply states that they are "good with children" and "enjoy helping people understand," with no concrete examples or details to support these statements.
This leaves employers unconvinced as to why they should hire the candidate over others who may have more relevant qualifications listed on their resume or cover letter.
Entry-level tutor resume cover letter:
Dear [Employer],

I am writing to apply for the position of Tutor at [Company Name]. Although I have no previous tutoring experience, I believe my enthusiasm and knowledge will be beneficial.

I am currently studying [Subject] and have a strong interest in teaching. I have experience working with kids, offering advice, and helping them learn. I am also highly organized, reliable, and enthusiastic.

I understand the importance of teaching students in a fun and engaging way, using different strategies and techniques to help them learn the material. I always strive to create an inspiring environment for my students. I encourage them to participate in activities that will help students learn better.

If given the opportunity, I would love to demonstrate my passion for teaching by taking on this role as a Tutor. I am available for an interview at your convenience and look forward to hearing from you. Please find attached my tutor's resume for your reference. Thank you for your consideration.

Sincerely,

[Your Name]
Tips on writing an entry-level cover letter:
Showcase any volunteering experience or educational achievements relevant to the job.
Point out any leisure or extracurricular activities that can be advantageous in tutoring.
Be confident but not boastful - emphasize your strengths while being humble about your lack of experience.
Reveal your passion for teaching and learning by emphasizing how much you enjoy helping others understand new concepts.
Proofread
It is of high importance to proofread your resume and cover letter. Not only will it ensure that you come across as professional and organized, but it will also show that you have paid attention to the details.
Here are some tips for correcting your tutor resume:
Read your resume several times, slowly. This will help you spot mistakes that you may have overlooked.
Print a copy and read it aloud. So you will understand how the recruiters will see it.
Ask a friend or family member to look over your document for a fresh perspective.
Use online tools such as Grammarly or Hemingway Editor to check for syntax and spelling mistakes.
Checking is an essential component of an effective tutor application. Not only does it demonstrate your meticulous focus on quality, but it also shows your facility with the right language.
Ensuring that your draft is error-free can make all the difference in getting an interview!
A study conducted by San Bernadino Valley College found that students who received tutoring increased their standardized test scores by an average of 12%.
Conclusion
A tutor can make a world of difference to a child.
Creating an impressive resume is a must for landing a tutor job. It will help to show employers that you have the necessary skills and qualifications.
Five key areas to consider:

Objective: Start your tutor resume example with a statement to explain why you are seeking a tutoring job.
Experience: Highlight any prior teaching background you have, such as volunteer work or private tutoring.
Skills: Include important soft skills such as communication, patience, and problem-solving. Do not forget about technical skills like understanding different approaches to learning and the ability to use educational software.
Education: Detail your relevant educational background like degrees, certifications, and training.
Accomplishments: List any awards or recognitions you have earned as well as any successful projects you've completed.
Creating a resume for tutoring position can require significant effort if started from the beginning. To simplify this process, consider using an online resume creator with a range of resume examples for tutors.
Now is the perfect time to start writing your tutor resume - don't wait any longer!